13 Spanish Shows That Will Make It Hard to Leave Your Sofa
October 17, 2022
Updated:

April 14, 2023
Published: October 17, 2022
Are you out of shows to watch already?? I know I have been there, but don't worry, today I've got you covered.
If you were looking for a little twist in your Netflix list, I have the perfect recommendations for a change of air (or content), plus all will help with your Spanish. Imagine! Learning the language by only watching these shows. Here are the best ones: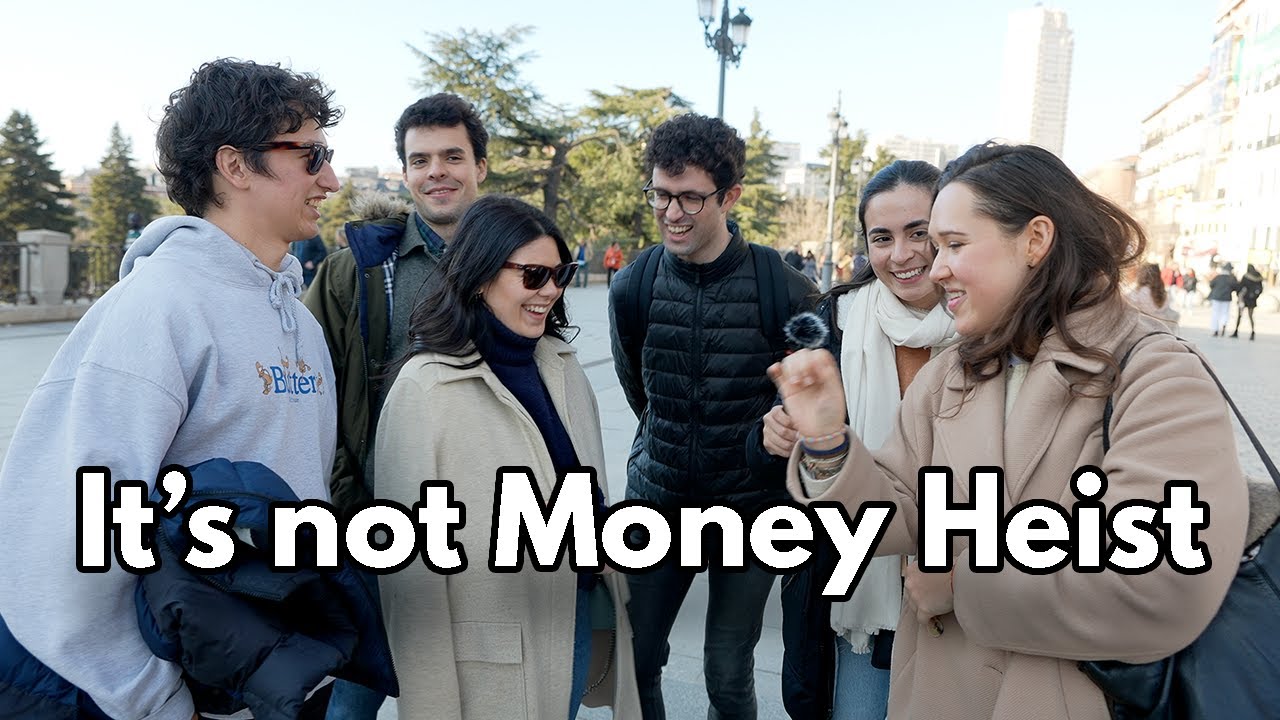 Today I have 13 Spanish shows that will make it hard to leave your sofa!! I am not encouraging a completely inactive life. On the contrary, please take breaks to exercise. But, you will want to binge all these series.
So, get comfy on that sofa of yours and gather some friends to enjoy this Spanish series.
Okay…first of all, this list of Spanish shows has a combination of the best of all times. It was carefully curated by checking rating platforms and, of course, some Oprah recommendations. Once she and I reached an agreement, the list was ready.
The TV shows you'll find here are mainly PG-13 and up, so be careful if you are planning to watch any of these series with children. Also, if you need more information on the shows' rating, check this out.
List of Spanish Shows
| TV Series | Year | IMBd Score | Series Rating |
| --- | --- | --- | --- |
| Cuéntame Cómo Pasó | 2017 | 8.7 | PG 13 |
| La Casa de Papel | 2017 | 8.2 | R |
| Vis a Vis | 2005 | 8.2 | NC 17 |
| Velvet | 2013 | 8.1 | R |
| Fariña | 2018 | 7.8 | R |
| Verano Azul | 1981 | 7.8 | PG |
| Los Serranos | 2003 | 7.5 | PG |
| Las Chicas del Cable | 2017 | 7.5 | R |
| La Cocinera de Castamar | 2021 | 7.4 | NC 17 |
| Intimidad | 2022 | 6.9 | NC 17 |
| Altamar | 2019 | 6.8 | NC 17 |
| Entrevías | 2021 | 6.7 | NC 17 |
| Valeria | 2020 | 6.5 | NC 17 |
Trending Now
1. "Intimidad"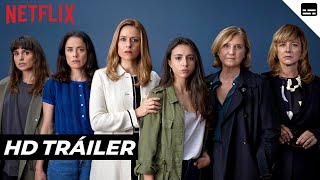 "Intimidad" or Intimacy is a drama series created by Verónica Fernandez and Laura Sarmiento, and it was released in 2022. The show tells the story of a promising politician, Malen (Itziar Ituño), from Bilbao (Basque Country), who sees her career compromised when someone leaks a sexual video featuring her. "Intimidad" depicts the lives of four other women who suffered from the same invasion of privacy, and begin a fight to change the storyline of their lives.  
If you have seen Money Heist ("La Casa de Papel"), then you know that Itziar Ituño (Detective Murillo) gives performances of a lifetime in every character she interprets. And this series is no exception. If you browse through IMBd, you'll see that the show receives nothing but praise for its script, acting, and theme. One of the users wrote:
"Quite an engaging series. It's binge-worthy at 8 episodes. What do I like about it? The script is well-written, the stories are multi-layered, and the themes resonate with the viewer. The viewer, either male or female, easily relates with the characters. And the actors portraying them are praise-worthy; their acting is spot on."
I didn't need much convincing after those words! To produce a story that actually touches people's hearts and minds, it's a hard task and they achieved it gracefully.
The Spanish show has been nominated for three Iris Awards on Best Actress, Best Screenplay and Best Fiction. 
The show is available on Netflix. And, you have our permission to go binge those 8 episodes!!
2. "Entrevías"
If you love the "Taken" kind of movies and shows, this should be on your list! "Entrevías," or On The Wrong Side of the Tracks, is a Spanish crime series created by Aitor Gabilondo (writer of the mini-series "Patria" which was nominated for an Emmy in 2021); and features one of Spain's most renowned actors, Jose Coronado.
The show tells the story of Tirso Abantos, a moody veteran that is sick and tired of drug dealers and crime in his lifetime neighborhood, Entrevias. He decides to take matters into his own hands when his granddaughter is harassed by one of the gangs. The series has two seasons and sixteen episodes.
Like I said before, the plot is like Liam Nesson in "Taken." A man with excellent military training decides to take over crime when someone they love is in danger.
Entrevías is pretty famous, but it caused many mixed feelings among the people of the real-life neighborhood. The community of Vallecas (where Entrevias is located) complained to the producers about the exaggerated image they were portraying of their homes. Around the 80s, drugs and gang problems were real due to the heroine traffic. However, today the story is different; this problem can be found anywhere, and "Entrevías" has been stigmatized. Besides taking over Twitter, people complained to the show's producers about adding a disclaimer at the beginning to remind them that the series' story and characters are complete fiction.
On The Wrong Side of the Tracks is available on Netflix! If you watch it, lt us know what you think!!
3. "La Cocinera de Castamar"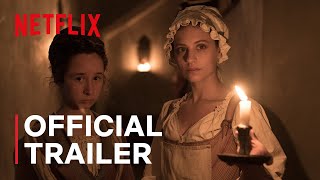 The Cook of Castamar is a Spanish drama series believed to be one of the most successful on linear TV in the last years (Cinemania, 2021). The story takes place in 18th-century Madrid and shows the romance between Clara Belmonte (Michelle Jenner), a new agoraphobic cook, and the duke of Castamar (Roberto Enríquez). It's the adaptation of the namesake novel by Francisco J. Muñoz. 
Like Entrevías, the Cook of Castamar has received mixed feelings in its commentaries. In IMBd, viewers either hate it or truly love binging the 12 episodes. The critics agree with the viewer's opinions, as they say, that it might have a weak beginning but a surprising development of events (Cimania, 2021), and others comment that the setting, customs, and locations were splendid but not enough o say it was great (Criticalia, 2021).
The show received one award for best-supporting actress and 6 other nominations. 
The Cook of Castamar is available on Netflix and Atresplayer! It's only 1 season with 12 episodes.
4. "Valeria"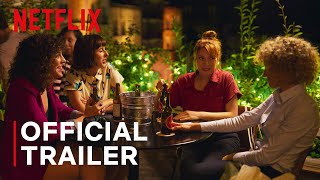 Valeria, or as many viewers call it, "Sex and the City" in Madrid, is a Spanish show that mixes romance, comedy, and drama. The show is based on the saga "In Valeria's Shoes" by Elisabet Benavent, which is liked by 93% of Google's users. That is a pretty significant number. The series tells the story of writer Valeria, who, at 30, doesn't know where her life is going with her career or marriage. However, she finds comfort with her three loyal friends: Carmen, Lola, and Nerea. 
For some critics, the great protagonist of "Valeria" is Madrid. The group of girls and the couples in the series go around all the best places and secret corners that everyone wants to know. A critic from the newspaper "El Confidencial" said:
"How to fall in love with Madrid with a mediocre Netflix series (…) The successful use of the Spanish capital as the engine of the conflicts of its characters is the most exciting aspect." 
Still, the show is one of the most famous Spanish series from recent years. It was released in 2020 and has 2 seasons with 17 episodes. 
Valeria is available on Netflix!!
5. "Altamar"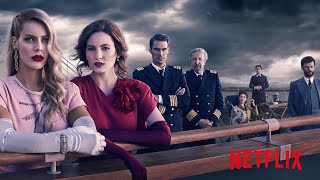 "Altamar" or High Seas is a Spanish show for all mystery lovers. Any Agatha Christie fan will find this series entertaining. It is kinda like Death in the Nile but in Spain and some other unexpected twists. 
The show aired in 2019, and the ones in charge of the production and plot are famous in Spain. "High Seas" was created by Bambu Producciones, also responsible for "Velvet," "Fariña," "Las Chicas del Cable," and "Gran Hotel." It was intended to have two seasons, but the audience liked it so much that they stretched to three. Actually, they were supposed to do the fourth one, but Covid came in the way. 
So, what is it about? Well, I gave you some clues in the first few sentences. "Altamar" takes place in the 1940s on the transatlantic ship Barbara Braganza. The plot involves two sisters, one murder, and multiple secrets. It goes from deep family secrets to lethal viruses that could kill thousands. The three seasons available will entertain your weekend!
This is what other people say:
"We love mysteries. Love them; great pulpy mysteries like the ones Agatha Christie wrote. But we don't see that kind of mystery on TV anymore, where the people and setting are glamorous, and things are violent but not dark. The Spanish miniseries High Seas is that kind of mystery".
High Seas is exclusively on Netflix!
6. "Las Chicas del Cable"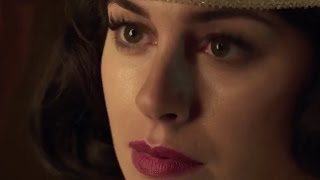 "Las Chicas del Cable" or "Cable Girls" is a tricky business. Like most Spanish shows or any show in history, it has received love and hate. Cable Girls is a Spanish drama series created by the same writer of "High Seas," Ramón Campos y Game R. Neira. Campos is also responsible for the 2011 hit "Gran Hotel"; the latter was part of the writer from "Fariña" that we will discuss later. The show was released in 2017 and aired its last episode on July 2020.
Cable Girls begins with the story of four women in the 1920s that are hired by Spain's biggest phone company. In the first season, they face secrets love triangles and crime. However, the plot in the following seasons evolves and navigates through different topics such as crime, domestic abuse, dramatic love, LGTB+ rights, and even the Spanish Civil War.
The show received 5 awards and several nominations during its first four seasons.
Cable Girls is exclusively on Netflix, it has 5 seasons and 47 episodes. I think it's the perfect show to put as "white noise" to practice your Spanish.
People's Favorites
7. "La Casa de Papel"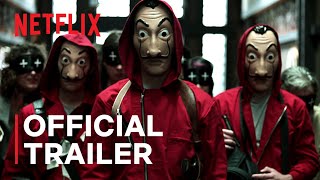 Honestly, I was so surprised that Money Heist came out second on the list. I think it was the most famous Spanish series of ALL time. But, you know, 2 points more or less it was loved around the world!!!
"La Casa de Papel," or Money Heist, was created by Alex Pina, who also took part in the production of "Los Serrano" and "Vis a Vis" (both part of this article). The show has won 36 awards and 46 nominations from Spain, France, Brussels, Italy, Monte Carlo, the United States, and Canada.
Let's move on to the plot if this hasn't convinced you to watch it. Money Heist tells the story of an unusual criminal band led by the "Profesor" (the Teacher), who has spent his whole life planning the most perfect and precise bank robbery in history. His plan: was to steal 2,4 million euros from the "Fábrica Nacional de Moneda y Timbre" (Royal Mint). For this, he hires the best criminals in Spain to join forces with the same purpose.
Besides all the insults and killings involved, Money Heist wins over the hearts of many through a plot that makes you hold your breath several times. Unlike Games of Thrones, the audience was thrilled with the series ending as they say the writers were true to the original story. 
"(Money Heist) Stays true to its essence and provides a memorable last ride." 
This is what the statement by the online newspaper High on Films. If you haven't watched anything, then don't read that article. 
Money Heist is a Netflix's baby, and there is where you will find it!!!
8. "Fariña"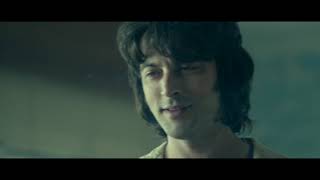 "Fariña," or Cocaine Coast, narrates real-life events during the 1980s in Galicia. Two of the most significant audiovisual producers in Spain, Atresmedia Television and Bambu Producciones, produced the crime miniseries aired in 2019. 
As a curious fact, you should know that "fariña" means flour in Galician, making an allegory to the cocaine that entered Europe in the 80s. 
So, Cocaine Coast is based on the namesake novel by Nacho Carretero. Another important event coming up! The former mayor of El Grove in Galicia filed a lawsuit against the author of the book due to suppose insults and calumnies about his involvement with the drug traffic. However, the author won the case and returned "Fariña" to the bookstores. 
Cocaine Coast tells the story of Sito Miñanco (Javier Rey), Spain's most significant drug dealer, from the 1980s to the 1990s. He was the one that allowed Latin American narcos to get the drug to Europe. The show concludes with the "Nécora Operation," the biggest police operation in history, with 350 agents mobilizing from Madrid to Galicia. 
The show received 14 awards and 4 nominations!
The 10 episode miniseries is available on Netflix and Atresplayer.
9. "Vis a Vis"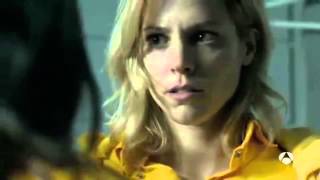 "Vis a Vis," or Locked Up, is a Spanish drama series that aired for the first time in 2015 and ended in 2019. The show tells the story of Macarena, a young woman who falls in love with her boss and lends herself to controlling accounts and embezzling money from the company they work in. For that, she is framed and sent to prison, where she will have to find a way to survive.
Alex Pina (the creator of Money Heist) was part of the team that produced "Vis a Vis." The show had 4 seasons, 51 episodes, and received 8 awards plus 26 nominations while it aired.
The series is available in Netflix, Prime Video and Disney +.
10. "Velvet"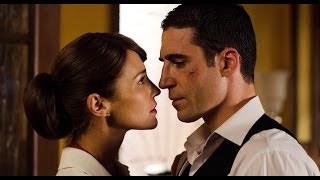 A little note on the video above, it's a bit of an episode because I couldn't find a worthy trailer.
Velvet is one of my favorite Spanish series! It has everything you might want from a story: love, mystery, twists, and great endings. Promise I am doing no spoliers! You'll need to watch it to know what I am talking about.
Velvet was aired for the first time on December 2014 and ended on December 2016.
So, this Spanish soap opera (if I can call it that) tells the story of Ana (Paula Echeverria) and Alberto (Miguel Ángel Silvestre). She is a seamstress in the galleries that he inherits from his father. Like in any good love story, they fell in love as kids, but status (aka Alberto's father) pulled them apart. As a result, we begin the series with the reunion of the former couple, which goes on for 4 seasons and 55 episodes.
Velvet received 6 awards and 18 nominations during its 4 seasons.
I am not the only one who thinks this is super cool. Just look at some reviews on Google. I will add one from a year ago:
"Fabulous Spanish show. This is about a high end, couture, fashion store in Madrid where the staff live within the store. After episode four I was addicted and for me this is my most favorite series I've watched on Netflix. The fashion store itself was lovely and a real treat to see the lovely dresses. The storyline moves along nicely and has plenty of humor and blackmail".
You see? I hope you give this one a try!
Sadly Velvet is no longer on Netflix, but you can watch it on Amazon Prime.
Let's Go Back in Time
11. "Los Serrano"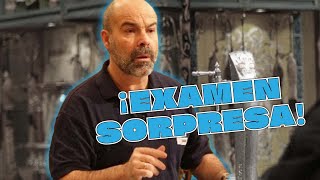 "Los Serrano" is a Spanish comedy series that follows the life of the Serrano family in Madrid. The show takes place in a fictitious neighborhood of Santa Justa in Madrid. The protagonist's family runs a tavern and a school. This sitcom follows the family on their adventures and misadventures for 8 seasons.
The video above is a little quiz that will give you all the details on the sitcom!
Once again, Alex Pina (Money Heist and Vis a Vis) was part of the team that created this show. Unlike all the other shows above, the Spanish classic was aired on TV for the first time on April 200, almost 20 years ago!!! The last episode was released on July 2008.
"Los Serrano" is very much in the heart of Spaniards and is considered an iconic Spanish show. During its 5 years on TV, it received 4 wins and 15 nominations.
Now you can watch the complete 171 episodes on Amazon Prime Video.
12. "Cuéntame Cómo Pasó"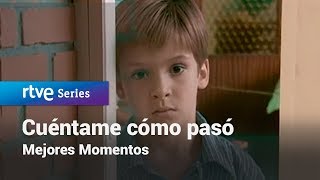 Just a little heads up on the video above, it is a bit of the first episode!
Okay. This is another Spanish classic, "Cuéntame Cómo Pasó" (Tell me How It Happened), which has been on the air for almost 22 years!!!
"Cuéntame Cómo Pasó," tells the story of the Alcántara family as they transition from a Spain under Franco's rule to democracy. The narrator of the story is the youngest son of the family called Carlos, who, with his mother, father, two older siblings, and grandmother, experience evolution and growth through the years.
This is a classic Spanish comedy series but also seasoned with some drama and romance. During its 22 seasons, the show has received 71 awards and 112 nominations.
You can find "Cuéntame Cómo Pasó" in Amazon Prime Video.
13. "Verano Azul"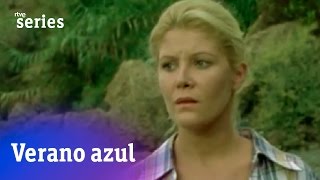 If you are ready to fall in love with Spanish beach towns, have a peak of "Verano Azu" or "Blue Summer." This Spanish comedy takes place in the 80s and follows the adventure of seven kids who meet up with two grown-up friends that live in Nejar (Málaga). 
This Spanish classic is a charming show showing why we love our summers and how we used to enjoy them back then.
"Verano Azul" had one season and 20 episodes and won an award for Best National Series in 1982. 
"Verano Azul" is currently available on Amazon Prime Video and RTVE Play
And that would be it! You have 13 Spanish shows to binge for at least a year. I hope you enjoy one of them and if you do watch one, let us know! We will love to read you!