13 Super Tasty Spanish Recipes You Can't Miss on Thanksgiving
August 31, 2022
Updated:

January 23, 2023
Published: August 31, 2022
What? Spanish Thanksgiving? As you know, Thanksgiving is an American tradition, but we Spaniards are all in and sign up for everything. We look for any excuse to get together, and there's no better way to do it than sharing a good meal. So, there's no way we'll miss the opportunity to cook something delicious and spend quality time with our loved ones.
I will do your belly a favor and share my favorite and super tasty family Spanish recipes. Something different from what you've been eating so far on Thanksgiving that will leave you with no words.
You will experience a fantastic feast accompanied by incredible appetizers, sensational main courses, and dreamy desserts. Make sure you don't miss anything to add to your next Thanksgiving meal! Now take your bib!
Spanish Thanksgiving Appetizers / Entrantes o Aperitivos
1. Spanish Charcuterie and Cheese Platter / Tabla española de embutidos y quesos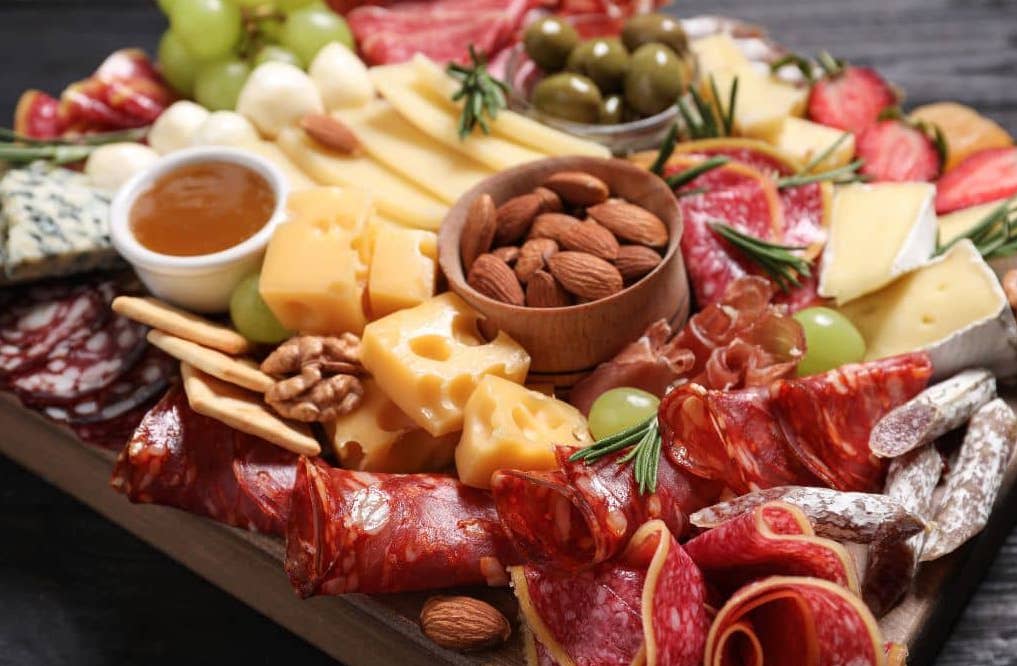 Something that never fails and that almost everyone likes, the perfect appetizer for any occasion and Thanksgiving. I recommend using a large wooden board that holds the weight well. It won't take you long to prepare it, but make sure the presentation is beautiful! Be original and combine the colors and shapes of each of the ingredients you are going to use.
For the cured meats, you can use "jamón ibérico de bellota," the best prosciutto ever, "lomo ibérico". I bet you haven't tasted anything like it, salami, fuet ("Espetec" from "Casa Tarradellas", in my opinion, the best one) and you could add some ham.
To select the cheeses, mix different textures, aromas, and different types of milk (cow, sheep, or goat). In my family, we love to combine a brie cheese spread with crackers, truffle cheese, Gorgonzola, Idiazabal cheese, Torta del Casar, and the famous Manchego cheese.
And then I always love to complete the board with other ingredients such as different types of crackers, dried fruits (I love nuts and raisins), and dried fruit (apricots always give a very nice touch with cheese). A good option could also be red fruit jam, spicy mustards, fresh fruit (figs and grapes are my favorites, but you can also add strawberries, blueberries, pear, and apple), some olives, and pickles.
You could give a final touch by adding some flowers and fresh herbs on the top. It will be a guaranteed success!
2. Clams in Green Sauce or Sea Scallops / Almejas en salsa verde o zamburiñas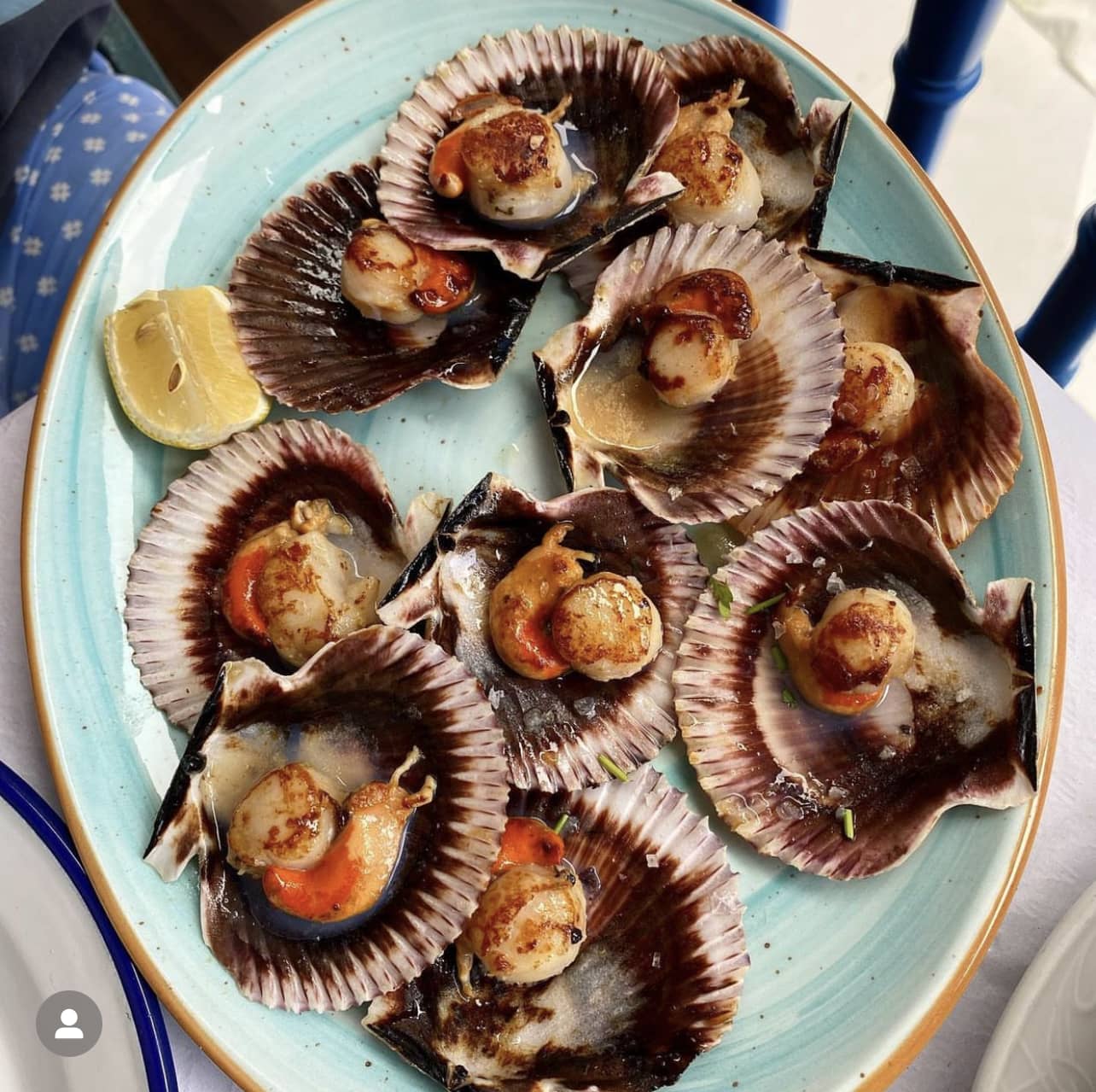 I've put these two dishes together because I didn't know which one to choose and didn't want to leave one out! I love both because they are effortless to prepare, have lots of flavors, and are healthy! You can't ask for more! Both are very juicy dishes and will look great with parsley, garlic, and lemon on top. If you like seafood, this is a must-try!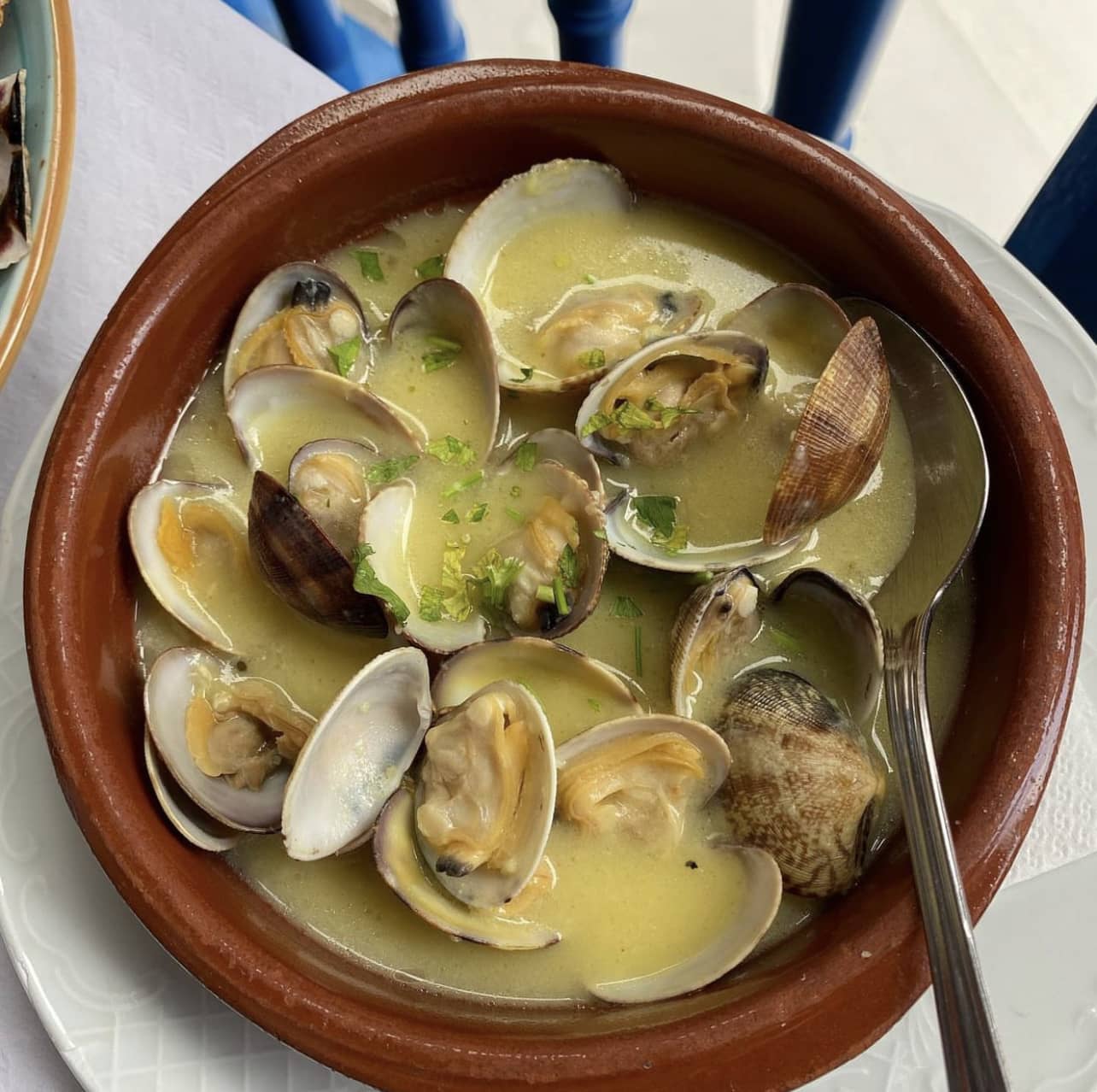 TIP: Take a piece of bread and dip it in the clam green sauce. TRUST ME!
3. Braised Octopus Leg with Truffled Mash Potato / Pata de pulpo braseada con puré de patata trufado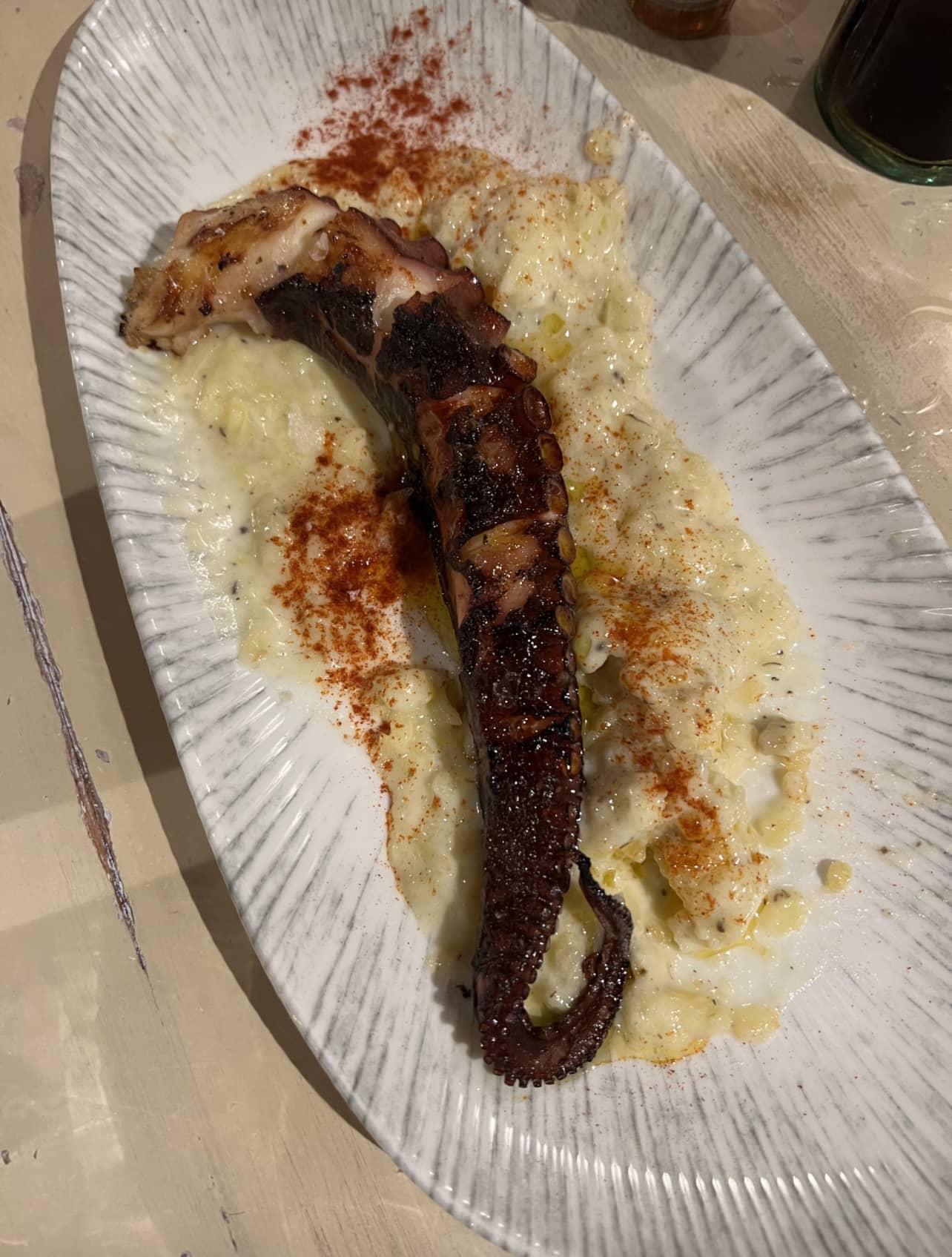 It's a straightforward recipe and even more so if you buy the octopus already cooked. You can cook it in several ways, but without a doubt, my favorite is the one where you put the whole octopus leg, and it gets crispy on the outside with paprika on top. I think the secret is also in the truffle you add to the creamy mashed potatoes; it will give the plate an incredible flavor.
4. Spanish Croquettes / Croquetas españolas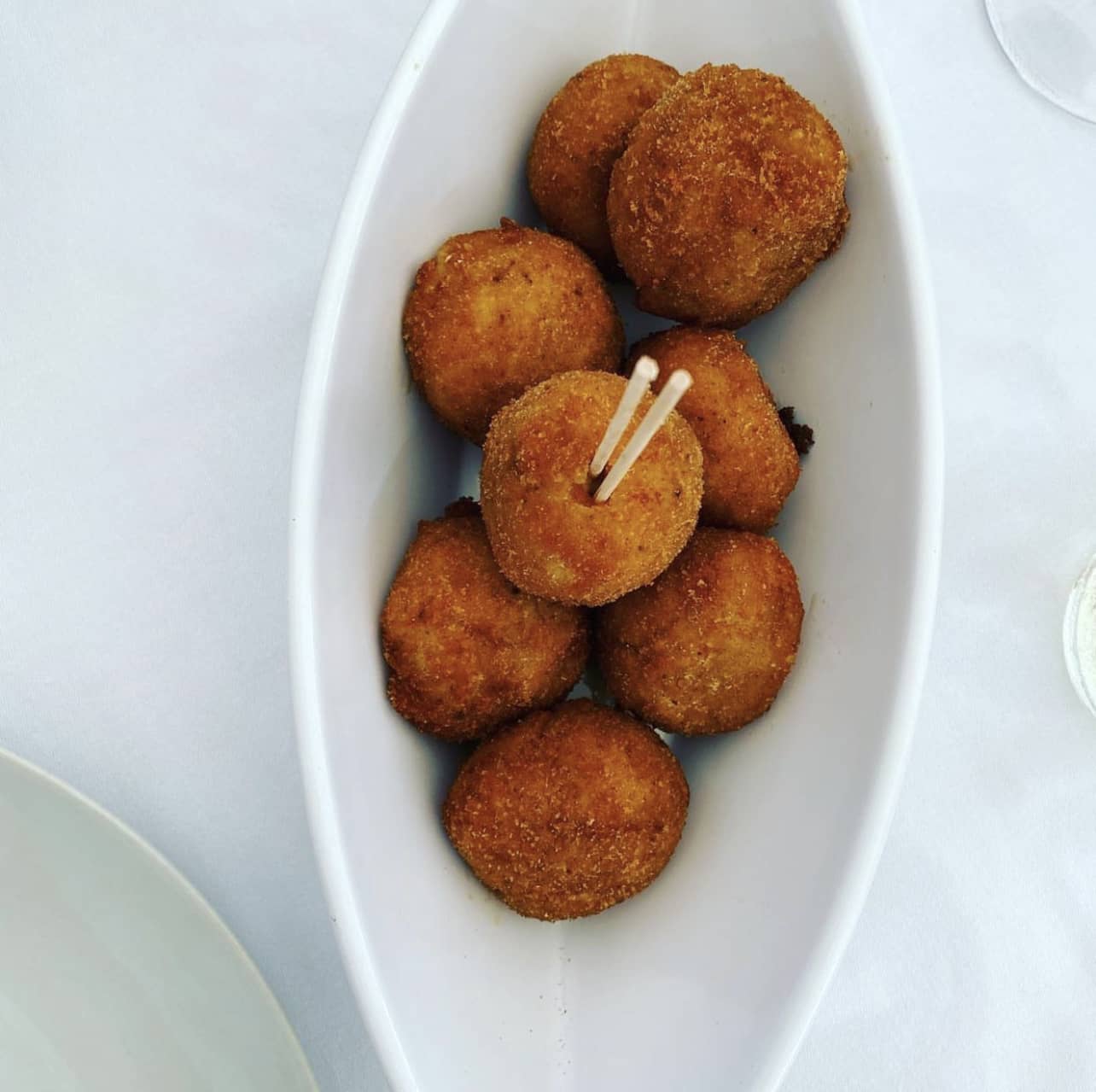 Spanish croquettes are present on any occasion, so they could not be missing in a good Thanksgiving meal. It is undoubtedly one of the most famous Spanish recipes, and everybody loves them. It's also a very typical New Year appetizer. They are filled with bechamel sauce, but you can add different ingredients like "jamón serrano," chicken, boletus, cheese, "cocido madrileño," codfish…
A recipe that will always be on my list and now also on yours!
Make sure you have left some room in your belly because the first courses are coming!
Spanish Thanksgiving Main Courses / Platos Principales
5. Red Cabbage with Pine Nuts, Raisins and Apple / Lombarda con piñones, pasas y manzana
A very healthy and tasty veggie dish perfect for an occasion like Spanish Thanksgiving. Maybe when you see it, it isn't the dish you like the most, but I think you will change your mind once you try it. Please trust me and add some pine nuts, raisins, and apples. Try it and let me know what you think!
Lombarda is a perfect plate to accompany something else, such as the fish I will share later.
6. Onion Soup / Sopa de cebolla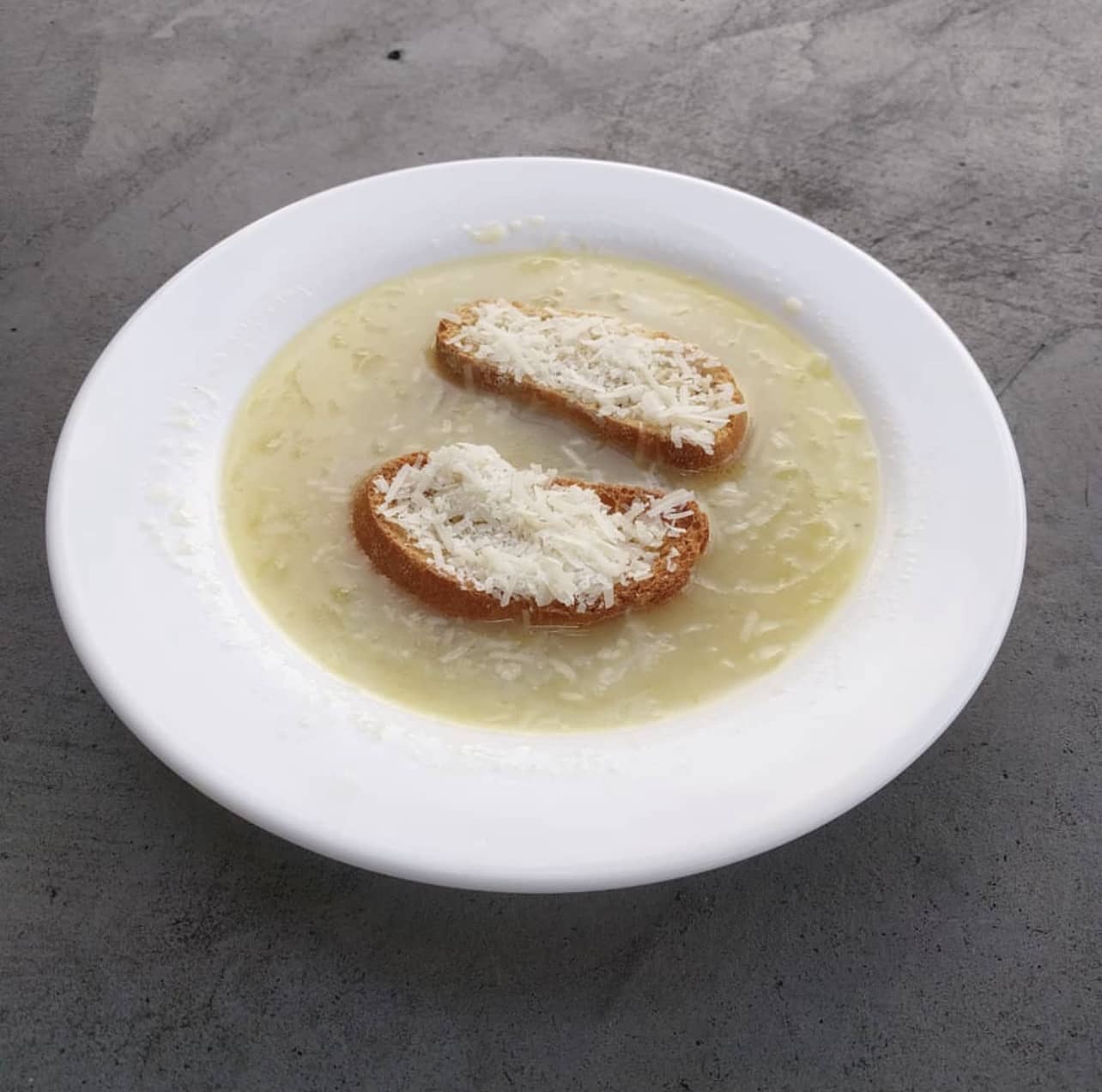 To whet your appetite and get ready, you can start with a warm onion soup, a perfect recipe to combat the chilly weather. What makes it different and original from other soups is that you can serve it with toasted bread and Emmental cheese on top. I love to add a drizzle of olive oil. It's a dish that will not fill you up too much, and then you can accompany it with a second dish, like the ribs with honey that I will mention later.
7. Spanish Stuffing with Pancetta, Fried Eggs and Grapes / Migas con pancetta, huevos fritos y uvas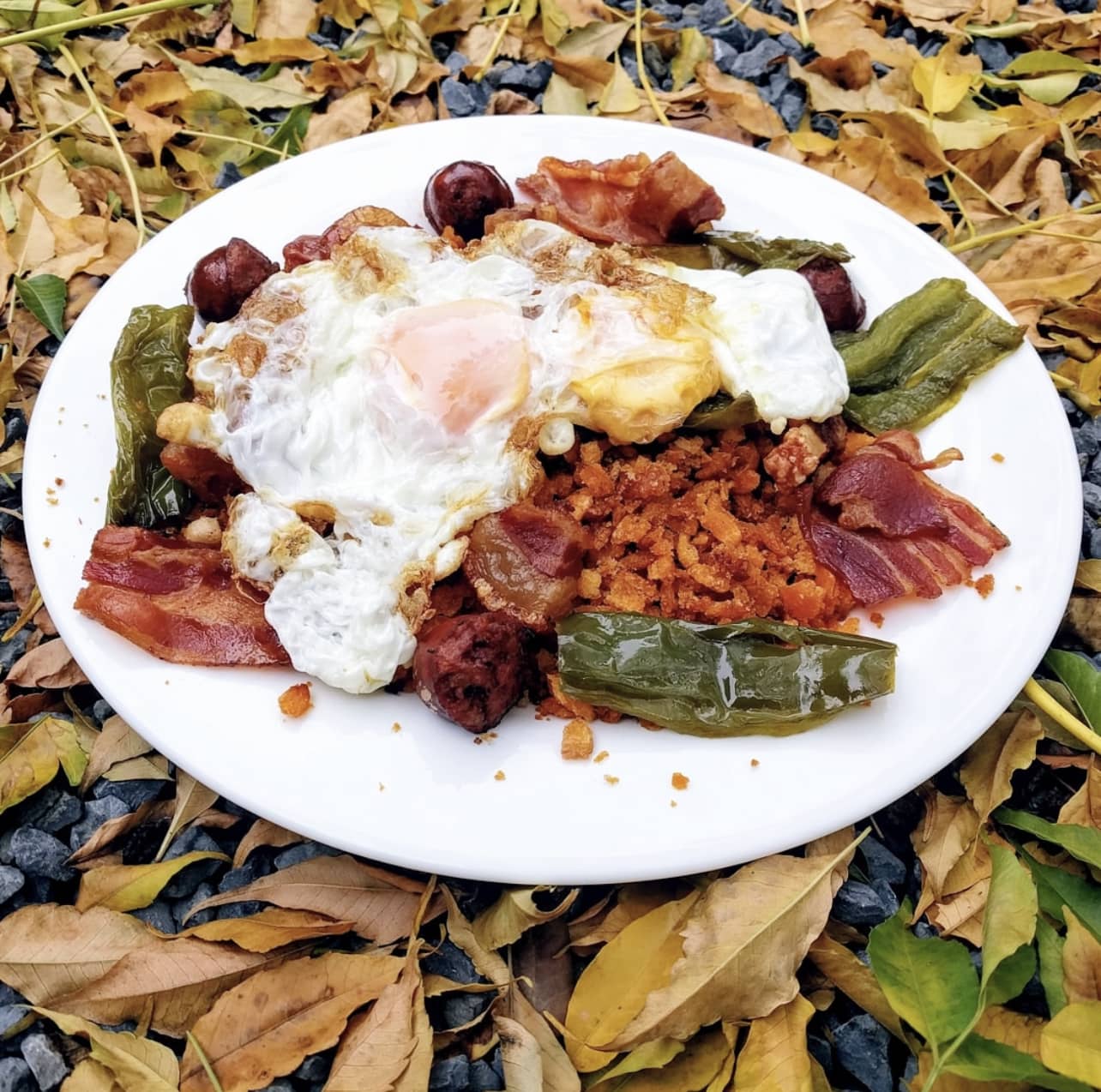 The base is made with coarse bread crumbs. It's a slightly caloric dish, but it is spectacular! In my family, we love to add grapes, bacon, and a fried egg on top because it gives it a great touch. It provides the dish with a mix of savory and sweet, which is so delicious! If you want to complete it, you can add some green peppers on the side. I like it served on individual plates so that there are no fights and everyone can get their own fried egg.
8. "Asturian" Bean Stew / Fabada asturiana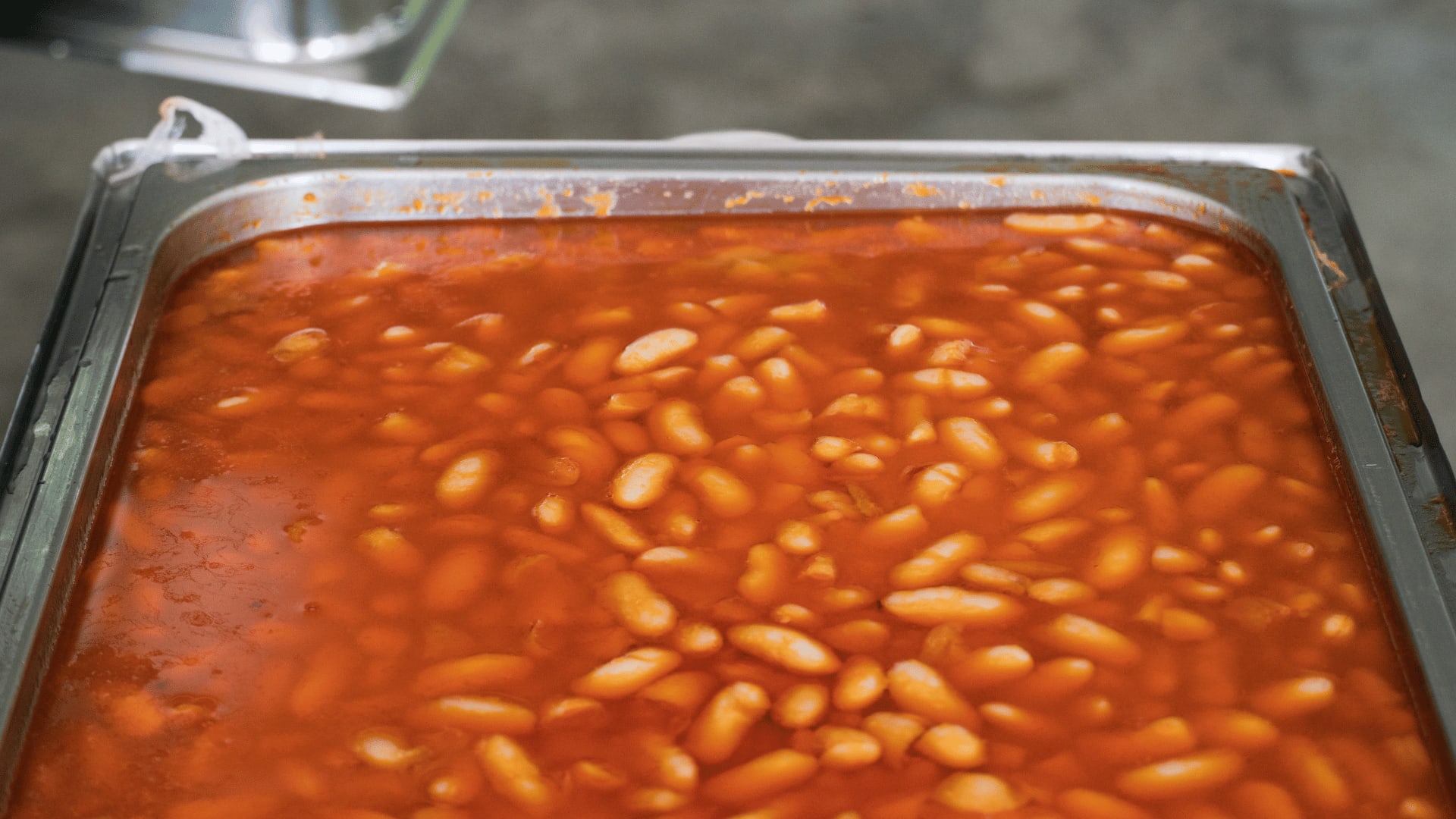 It's a typical dish from Asturias, the north of Spain. This plate is served as a unique dish because it is very filling due to the ingredients it contains. The base is made of white beans and what makes it unique is the meat that is added to it, which gives it all the flavor. It's usually accompanied by "chorizo," "morcilla" and "panceta." Don't worry; you won't be hungry after a good "Fabada asturiana"! So you won't need to top it off with anything else; make sure you leave some room in your belly for dessert!
9. Roasted Pork Ribs with Honey / Costillas de cerdo asadas con miel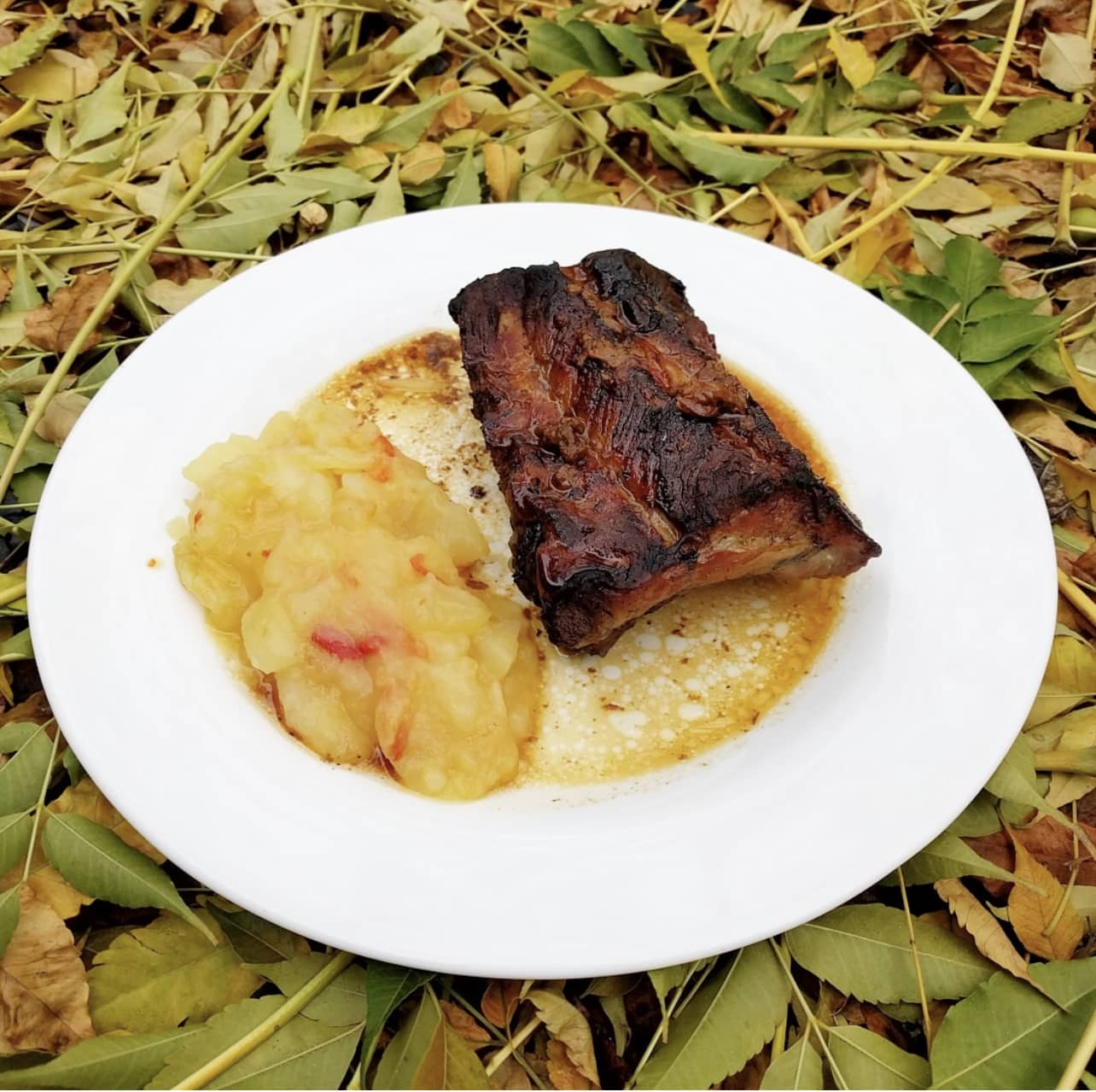 The way to get the most out of this dish is with slow cooking, either in the oven or in a pot, whichever is more convenient for you. The meat falls apart when you cut it and separates from the bone easily. You will die with this recipe! I love to cook it with potatoes and onions. OMG, my mouth is watering while I'm telling you about it.
Oh! You could also use lamb instead of pork, but personally, in this case, I prefer to use pork.
10. Cod Loin with Potatoes, Veggies and Seafood Sauce / Lomo de bacalao con patatas, verduras y salsa de marisco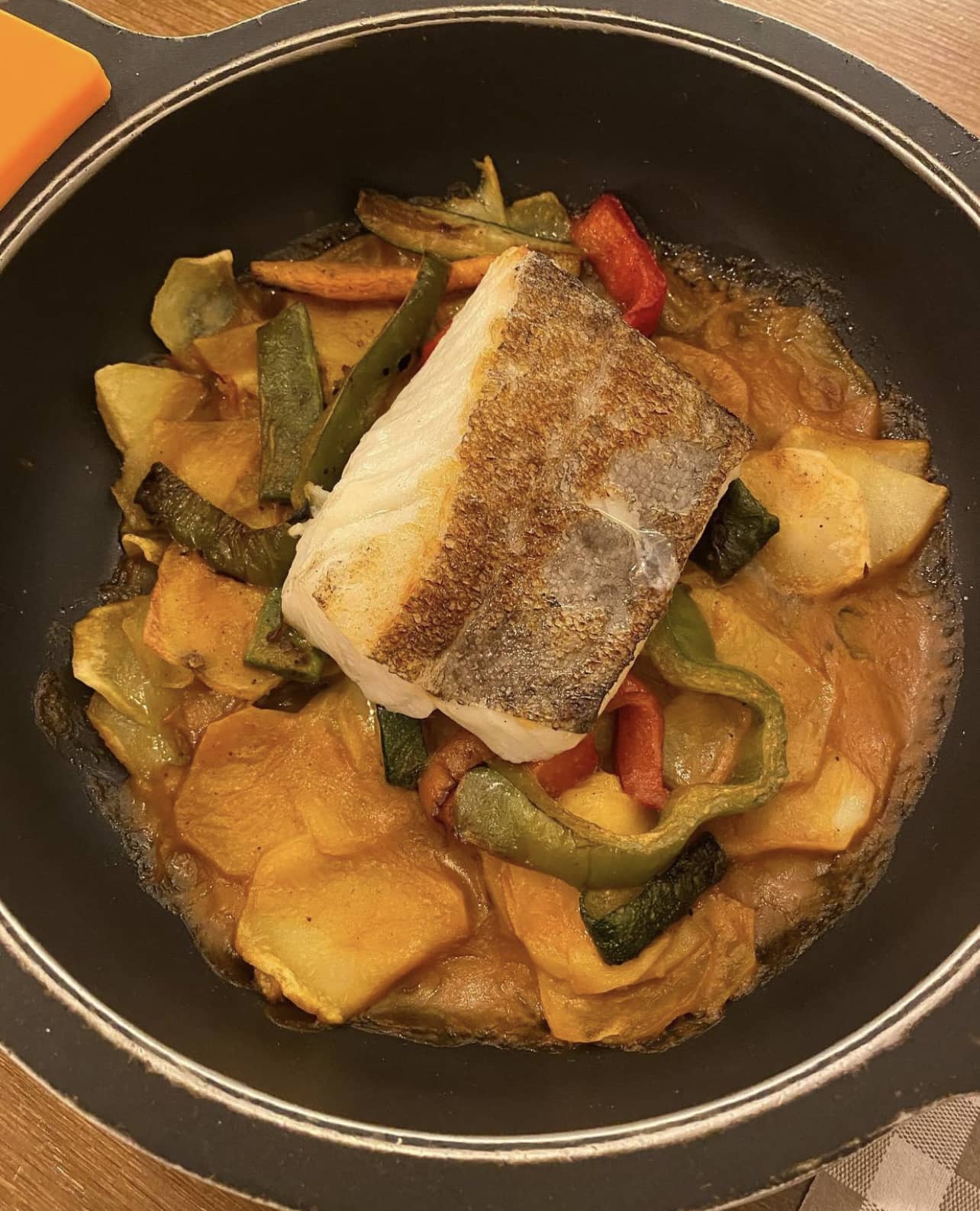 This recipe is a simple and healthy traditional stew. It's one of my favorite fish; it has a vibrant flavor and contains practically no fat. You can find cod in many recipes, but the way I like it best is with baked potatoes and veggies. My family loves finishing the dish with a special seafood sauce.
Please, if you make it till here, you can't leave the table without one of these fantastic Thanksgiving desserts.
Spanish Thanksgiving Desserts/ Postres
11. Spanish Cheesecake / Tarta de queso española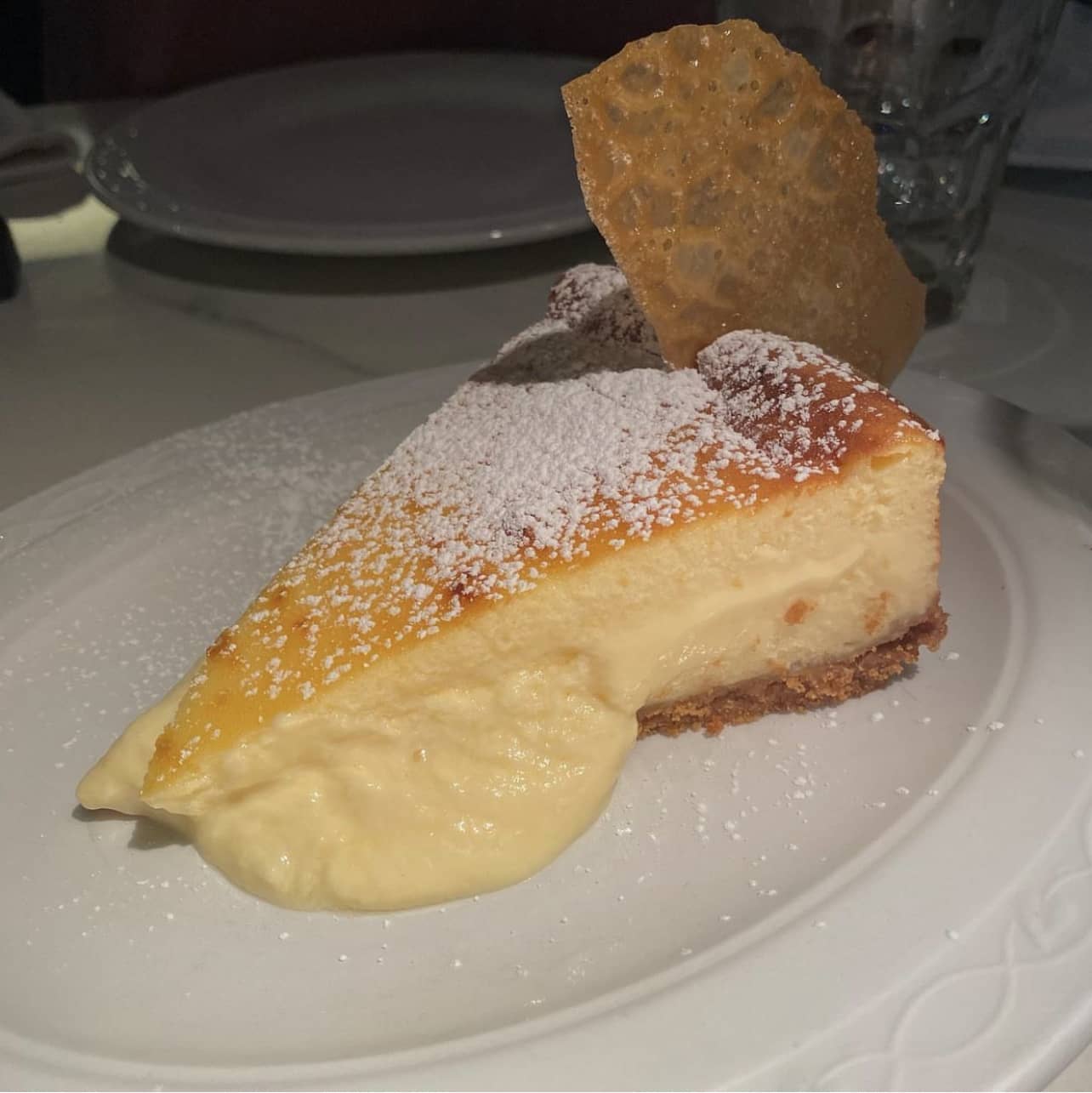 Without a doubt, this is my favorite cake. I'm the biggest fan! You can choose to have it cold or baked. But both ways are a HIT, and one of my recommendations to end a perfect Thanksgiving meal.
It's easy to make, and the ingredients aren't expensive. You can add some red fruit jam on top, giving it a great flavor!
My favorite is the one with a cookie base and dulce de leche on top with fresh red fruit like raspberry. So delicious!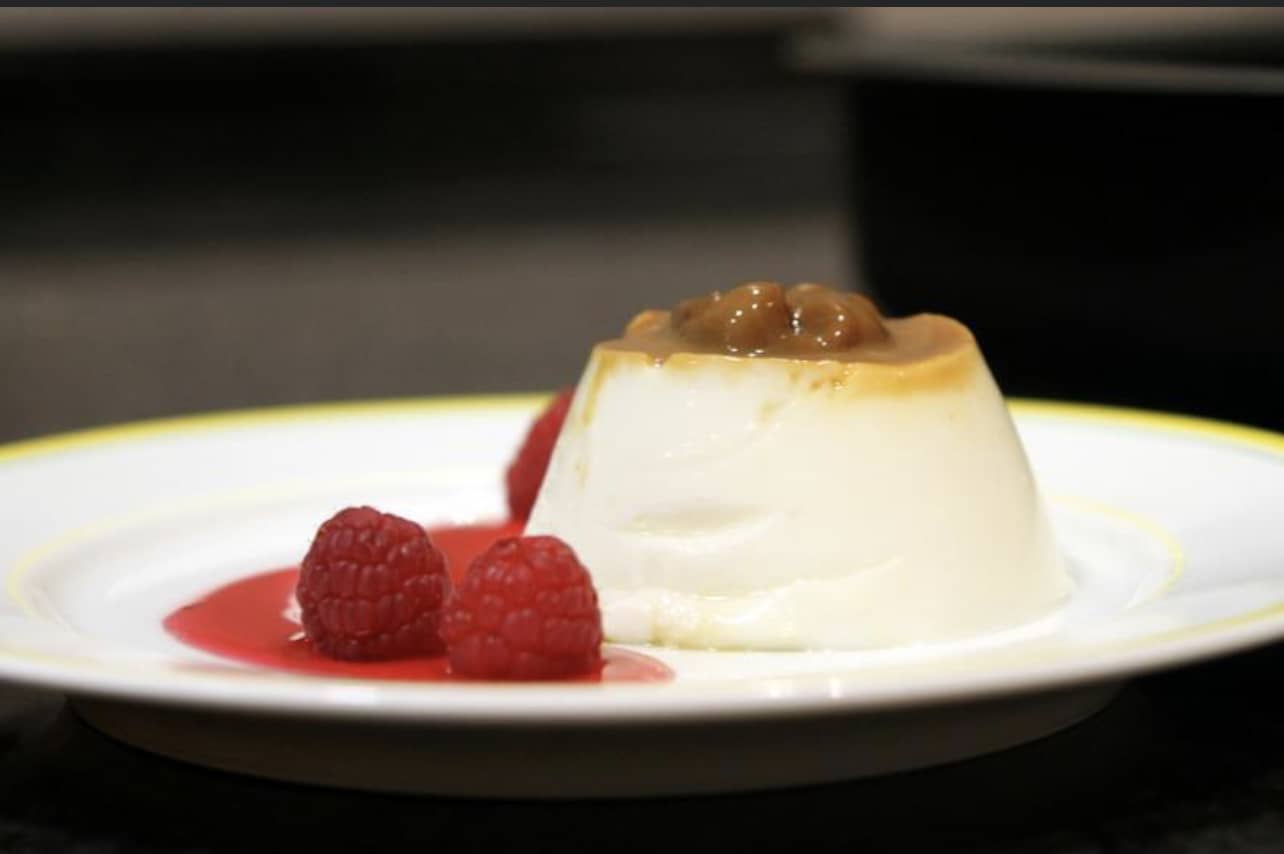 12. Crème Brûlée "Catalana" / Crema catalana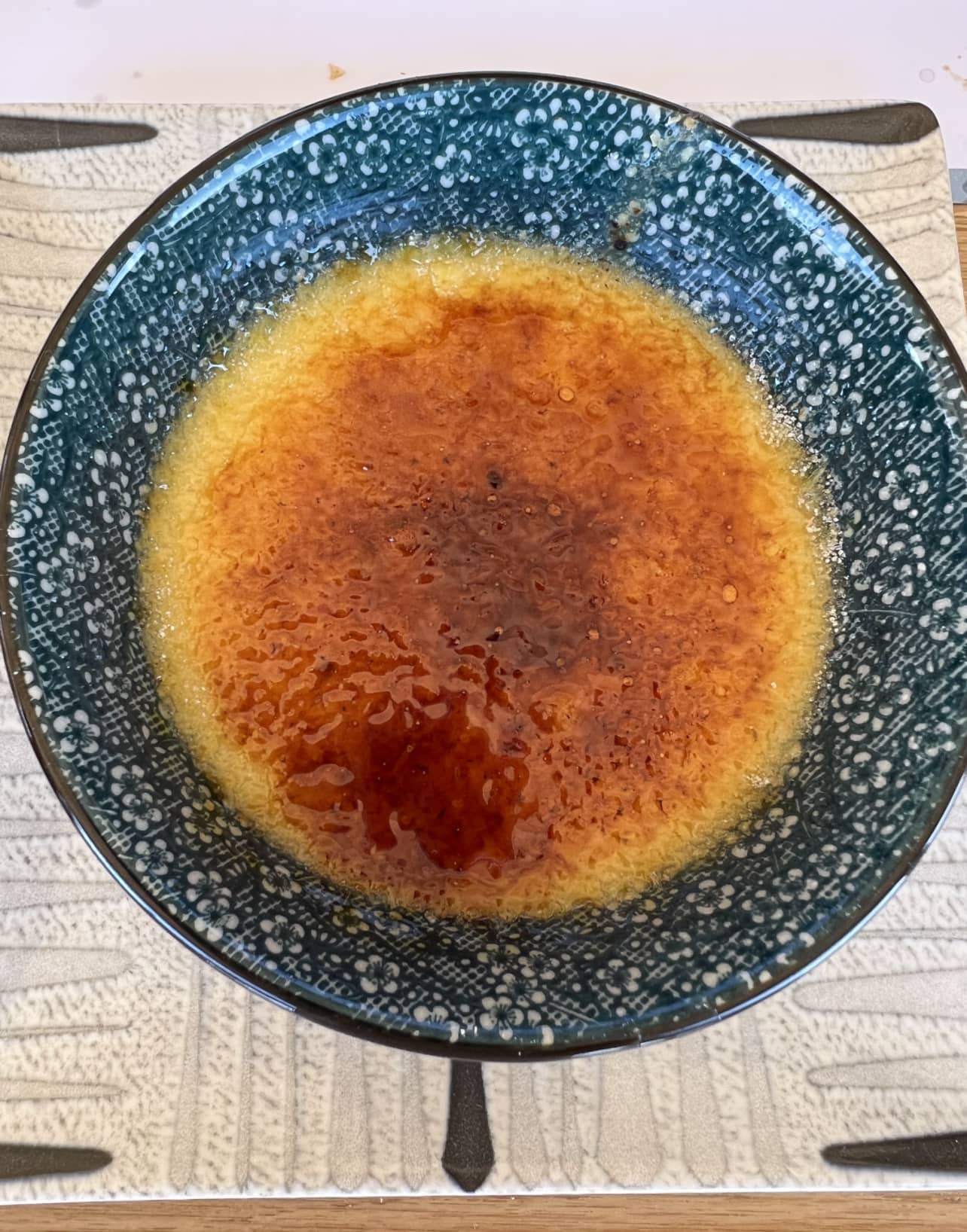 A classic of Catalan cuisine. A traditional homemade dessert, very similar to the French creme brulee. It is considered one of the oldest desserts in Europe.
What makes this dessert unique is the caramelized sugar on the surface. The mixture of the crunchiness of the sugar with the creamy texture inside makes this dessert an incredible experience.
A must-try!
13. Rice Pudding with Mango Ice Cream / Arroz con leche con helado de mango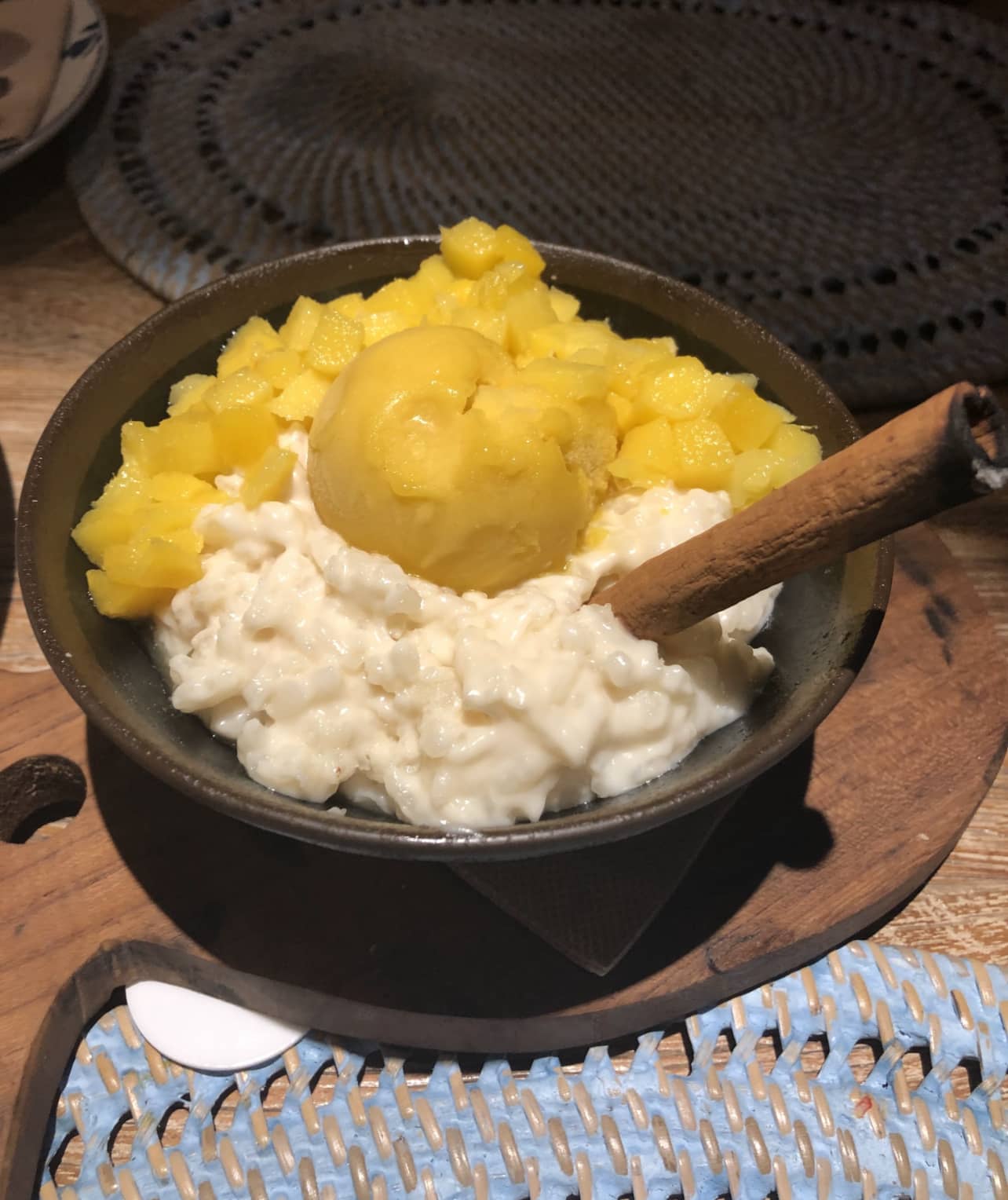 This particular rice pudding is your option if you want to finish with a fresh, original dessert. You will leave everyone speechless!
Accompany the rice pudding with mango chunks, and my tip to die for is to add a scoop of mango ice cream. A 5 STARS dessert!
If you want, add a cinnamon stick for a more astounding presentation.
I'm sure after these amazing and delicious recipes; your belly is ready to add some Spanish flavors into your next Thanksgiving celebration.
Now you have the opportunity to do something different and surprise your family with your new repertoire. Go and check how some countries in Europe celebrate Thanksgiving!