11 Spanish Villages to Add to Your Vision Board
October 23, 2022
Updated:

February 6, 2023
Published: October 23, 2022
Let's teleport to some of the most beautiful villages in Spain!
Spain is fortunate to have a great variety of villages, some very different from each other, with characteristics that make them authentic paradises for rural tourism lovers.
Medieval jewels, hidden villages in the mountains, and small coastal towns that you will die to visit! There's something for everyone's taste!
The quantity is innumerable, but here are 11 of my favorites! Are you ready to discover them?
1. Cudillero, Asturias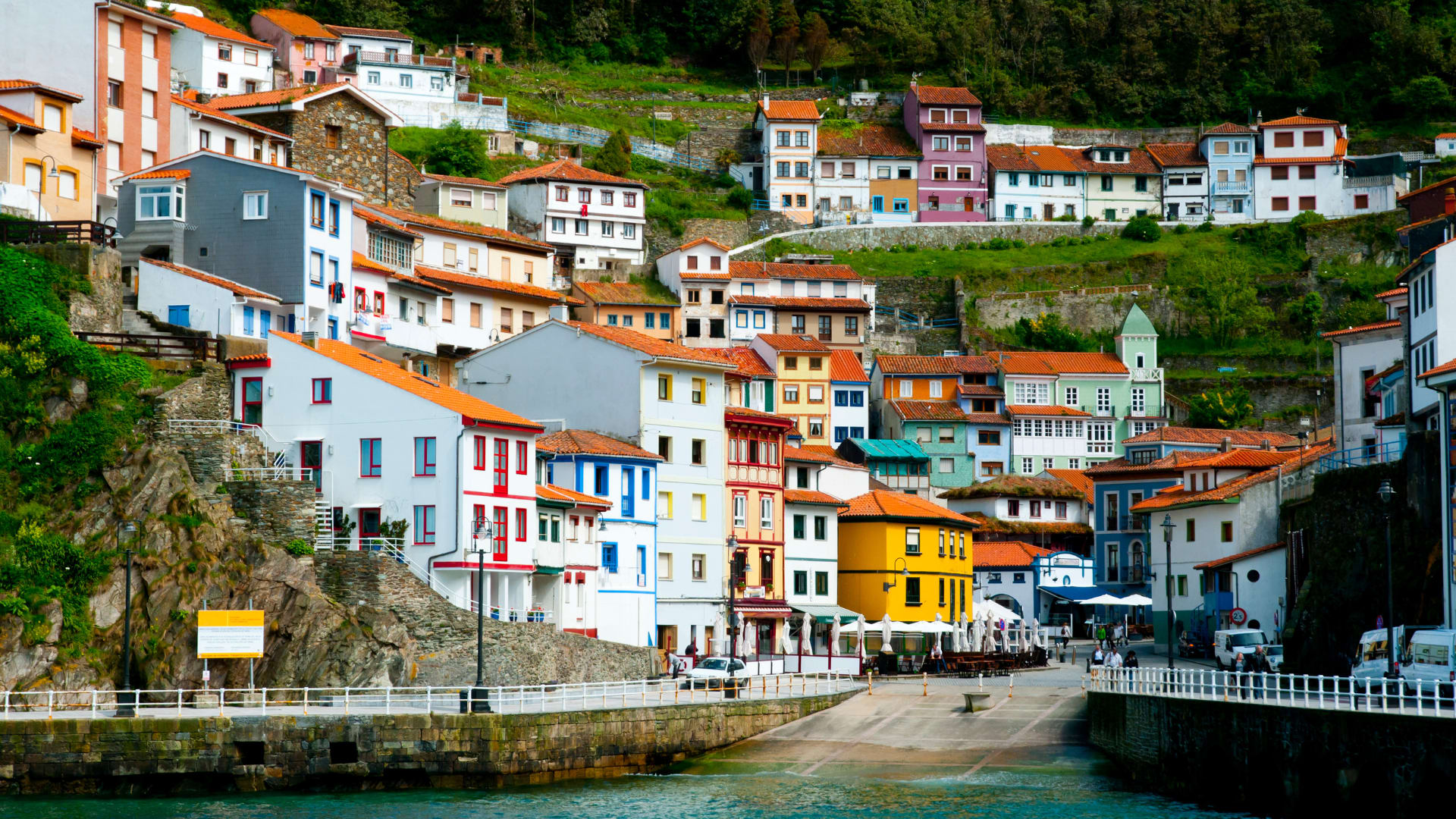 This beautiful fishing village has a particular charm and even has its own language, the "pixueto."
Its colorful coastal houses are the most famous of Asturias. Cudillero is one of the very present on social platforms; don't be surprised because the town looks like something out of a postcard!
It's a place to stroll and enjoy each and every one of its corners. Do not miss the route of the viewpoints, the lighthouse (where you will have amazing views), and the "Plaza de la Marina." But most importantly, don't forget to try one of the typical dishes of Asturian gastronomy!
Another must-see in Cudillero is the Selgas Palace, known as the "Asturian Versailles" and the Humilladero Chapel.
You can also make one of its beautiful routes, such as the "Ruta de las Brañas Vaqueiras" and the route that goes to "Cabo Vidio."
Cudillero is usually full of people in the summer months, so I recommend that if you want to enjoy its charm calmly, come at another time of year.
"Cudillero is a small and beautiful town! I've been twice, and I've eaten incredible food! I would say that the best fish I've ever tasted! I'm 100% I'll be back!"

Guillermo, 26 yo from Madrid.
Cudillero has been declared a Historic-Artistic Site.
2. Albarracín, Teruel
This medieval village of barely 1,000 inhabitants is located in the beautiful province of Teruel. Together with the famous town of Cudillero, Albarracín usually occupies the first position in all the rankings of the most beautiful villages in Spain.
It's one of the most famous villages in our country, and its fame is well deserved.
This village stands out for its reddish tones due to the red plaster material with which the houses are made. You can walk peacefully through the streets of this old town and enjoy its charming corners.
Albarracín has been National Monument since 1961. In addition, it won the Gold Medal for Merit in Fine Arts in 1996 and was declared a World Heritage Site by UNESCO.
3. Calella de Palafrugell, Girona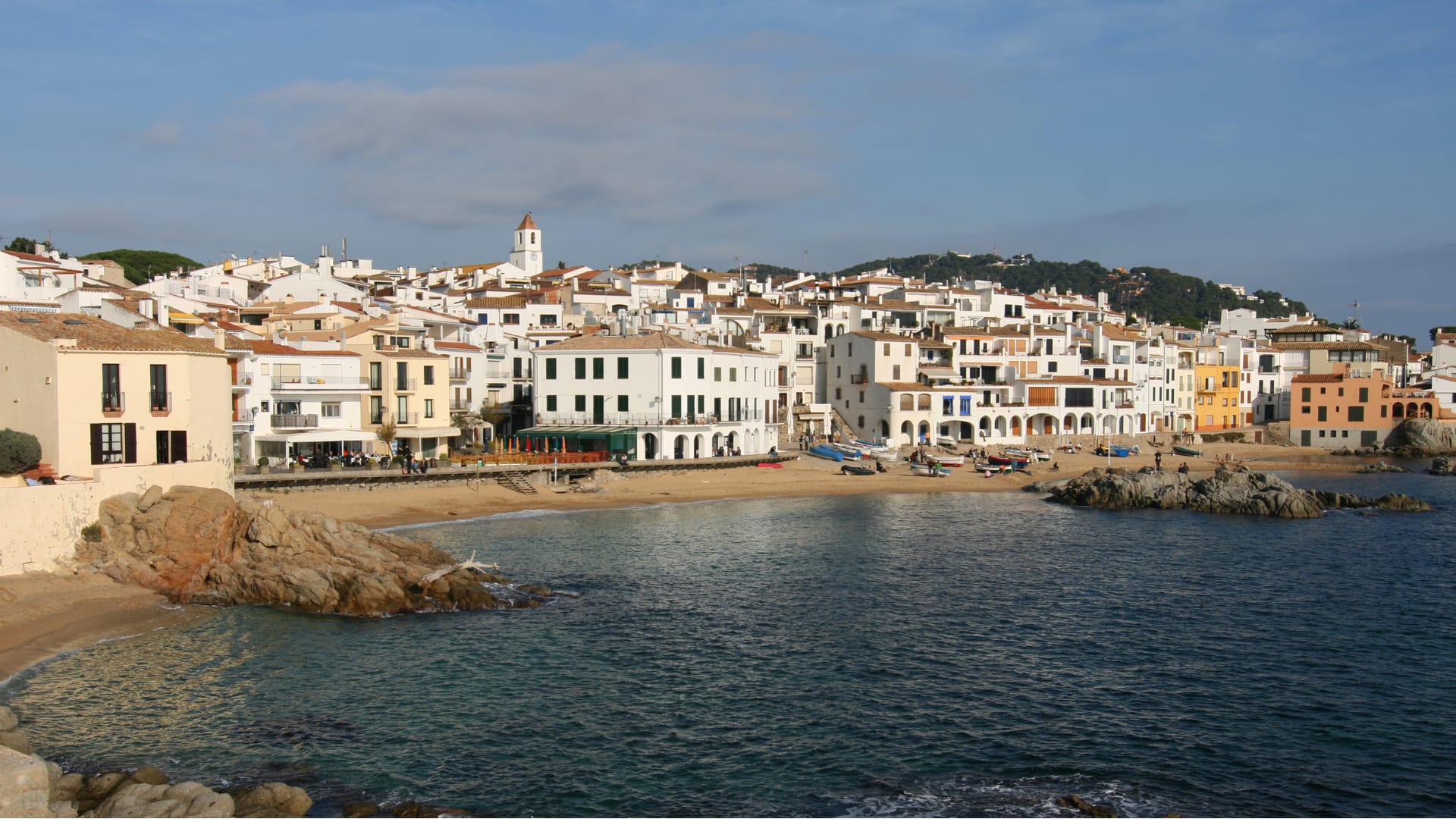 As soon as you set foot in this town, you will fall in love with it. Its white and colorful houses located in front of the port give a special touch to Calella.
Located in a privileged location, on a rocky coast, and surrounded by beautiful coves with crystal clear waters. All this makes Calella one of the most beautiful villages of the Costa Brava and the province of Girona.
This old fishing village has managed to preserve its essence over the years. Its old part stands out for its narrow streets with white facades. You will want to photograph each and every one of them!
In Calella de Palafrugell, you have the beautiful beach of Port Bo, also known as the "beach of the boats." On the sand, you can see the small and colorful boats of the fishermen. I also recommend looking at the "Mirador de Manel Juanola i Reixach."
Ohh! And don't forget to enjoy the delicious fish!
I recommend walking the famous "Camino de Ronda" from Canadell Beach to Llafranc, another beautiful village 100% worth a visit. During the walk, you will have incredible sea views with fishing boats. It takes about 15 minutes.
4. Deià, Mallorca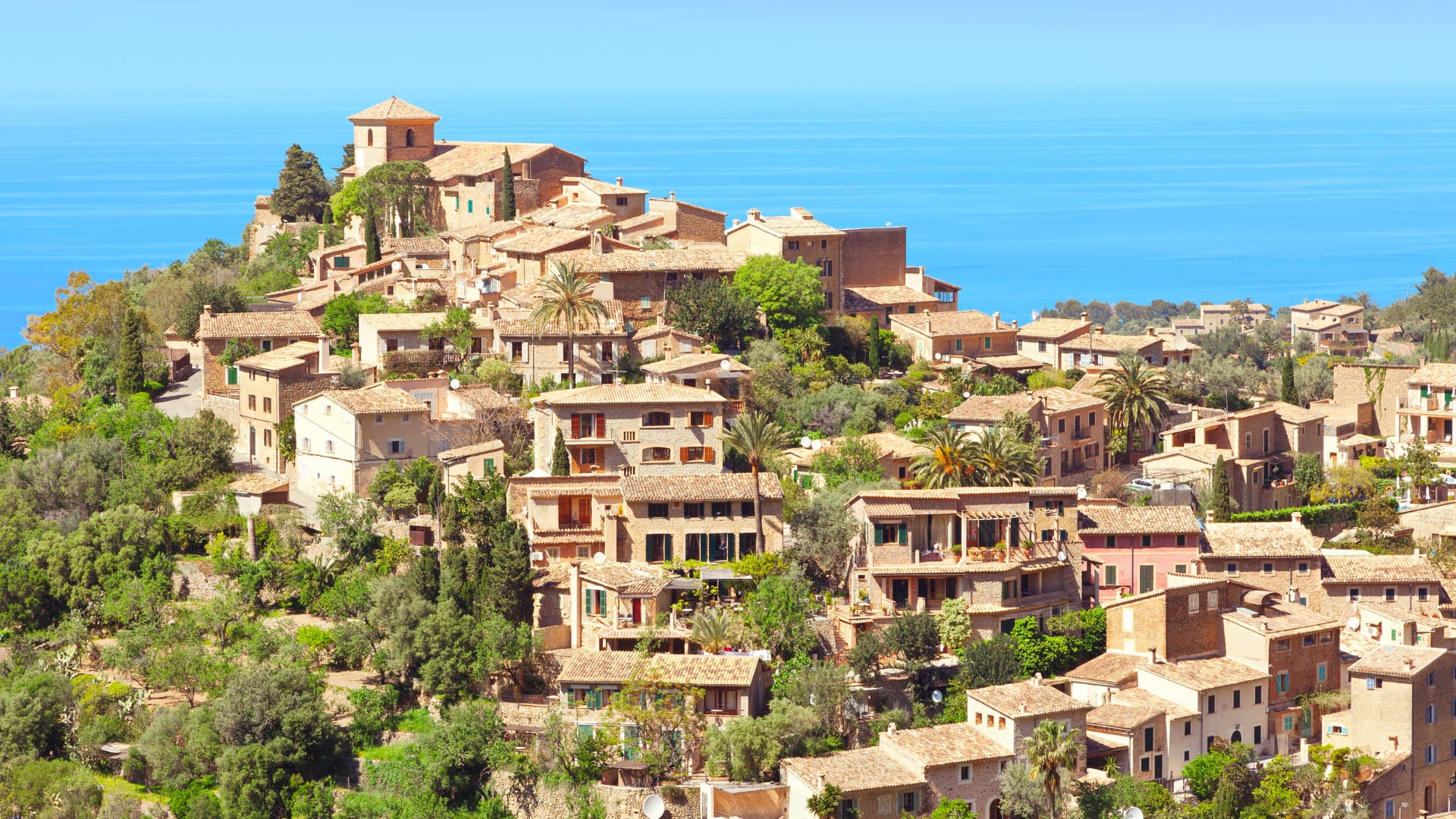 This village has it all! Located between the spectacular Mediterranean Sea and the beautiful Tramuntana Mountains of the island of Mallorca.
Deià stands out for its charming stone houses and steep streets. It's a town of beauty that enchants anyone who visits it and is one of the most called on the island, especially in the summer months.
In addition to strolling through its beautiful streets, I recommend you visit the Parish Church of Sant Joan of the sixteenth century and the beautiful Municipal Cemetery of the seventeenth century. Don't miss Robert Graves' house! He was a well-known writer who fell in love with this town and stayed there until he died in 1929.
Deià is one of your obligatory visits if you go to Mallorca, but I advise you to go out of season!
Next to Deià, you have the small village of Fornalutx, which is also worth a visit!
If you have the possibility, I recommend staying at the spectacular hotel "Belmond La Residencia." Believe me, you will want to stay there forever! You can also enjoy dinner at its beautiful restaurant. But remember to book in advance if you go in high season! It's a hotel that looks like it's straight out of Tuscany. An absolute beauty!
5. Bárcena Mayor, Cantabria
This village looks like something out of a fairy tale. It's one of the most picturesque villages of Cantabria and with an incredible charm.
Bárcena Mayor is very small, so I recommend you to walk through its streets to enjoy the typical rural architecture of Cantabria. You'll fall in love with its mountain-style houses with balconies full of flowers.
If you are one of those who like to eat like me, in Bárcena Mayor you can enjoy the typical "cocido montañés" which has also won the first award several years!
You'll find the beautiful Argoza river inside the village, which you can cross through the bridge. You will enjoy stunning views of the village from the bridge, and you can also enter the Natural Park of Saja-Besaya from there.
Bárcena Mayor is the perfect place to disconnect from everything!
It's the oldest village in Cantabria and was declared a Historic-Artistic Site in 1979.
6. Pasai Donibane, Gipuzkoa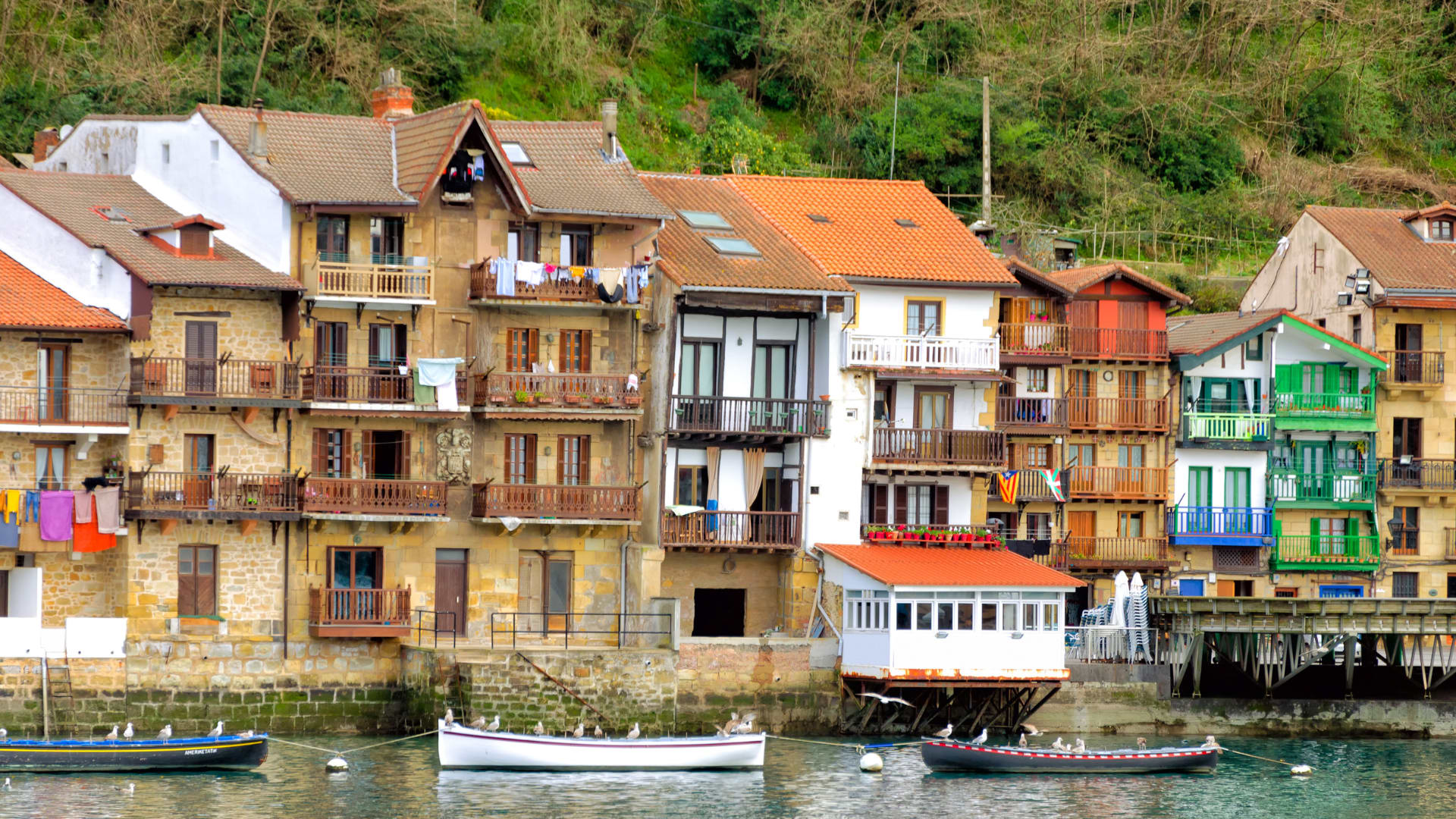 This village is a real gem! It's one of the most charming villages in Gipuzkoa.
If you are in San Sebastian, a must-visit is Pasai Donibane. It's only a few minutes away!
Its houses with colorful facades and at the foot of the bay are love at first sight. It's a fishing village where the houses are lined up in a row on a single street, "Donibane Kalea," along the harbor.
Walking through the village, you will discover the beautiful church of "San Juan Bautista," which combines a baroque and neoclassical style. Also, you can enjoy the hermitage of "Santa Ana" or marvel at the Renaissance house Miranda.
But the best place is "Plaza de Santiago," open to the sea and where all the locals usually gather. There you will find the colorful building of the old town hall on one side and the castle of Santa Isabel on the other.
Pasai Donibane looks like something out of a postcard!
Suppose you want to visit two villages in one day. In that case, you can cross the river from Pasai Donibane to Pasai de San Pedro in the popular boat called "La Motora."
7. Potes, Cantabria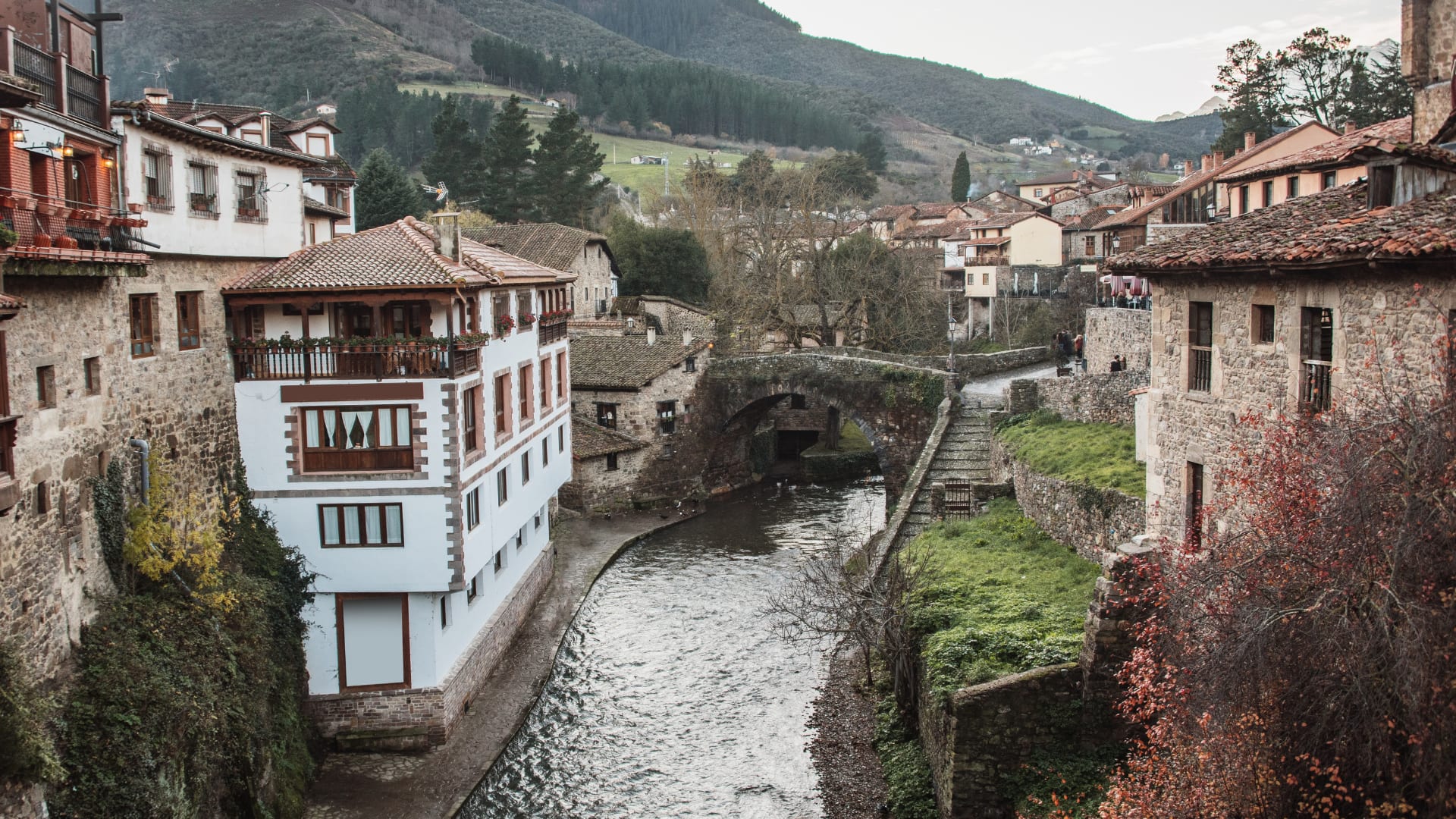 Potes is the capital of the Liébana region. You'll find this picturesque village in the surroundings of the Picos de Europa National Park and at the foot of the beautiful Arabedes mountain. You can't miss the Picos de Europa, they are absolutely stunning!
The village is beautiful, but the surrounding environment makes it even more spectacular!
This village is located in a privileged place where four valleys converge and the rivers Deva and Quiviesa pass by.
Potes is known as the town of bridges and towers, in addition to its cobbled streets. It's small and easy to walk around, and you will want to sit on each of its terraces to enjoy the atmosphere. Among the things to see in the village are "San Vicente Mártir" and the "Torre del Infantado."
Being a hiking lover, you also have spectacular routes to explore the area.
Since 2019 Potes has belonged to the association of the "Most Beautiful Villages in Spain."
After the civil war, its historic center was almost completely rebuilt and declared a Cultural Interest and Historic Site in 1983.
8. Alcalá del Júcar, Albacete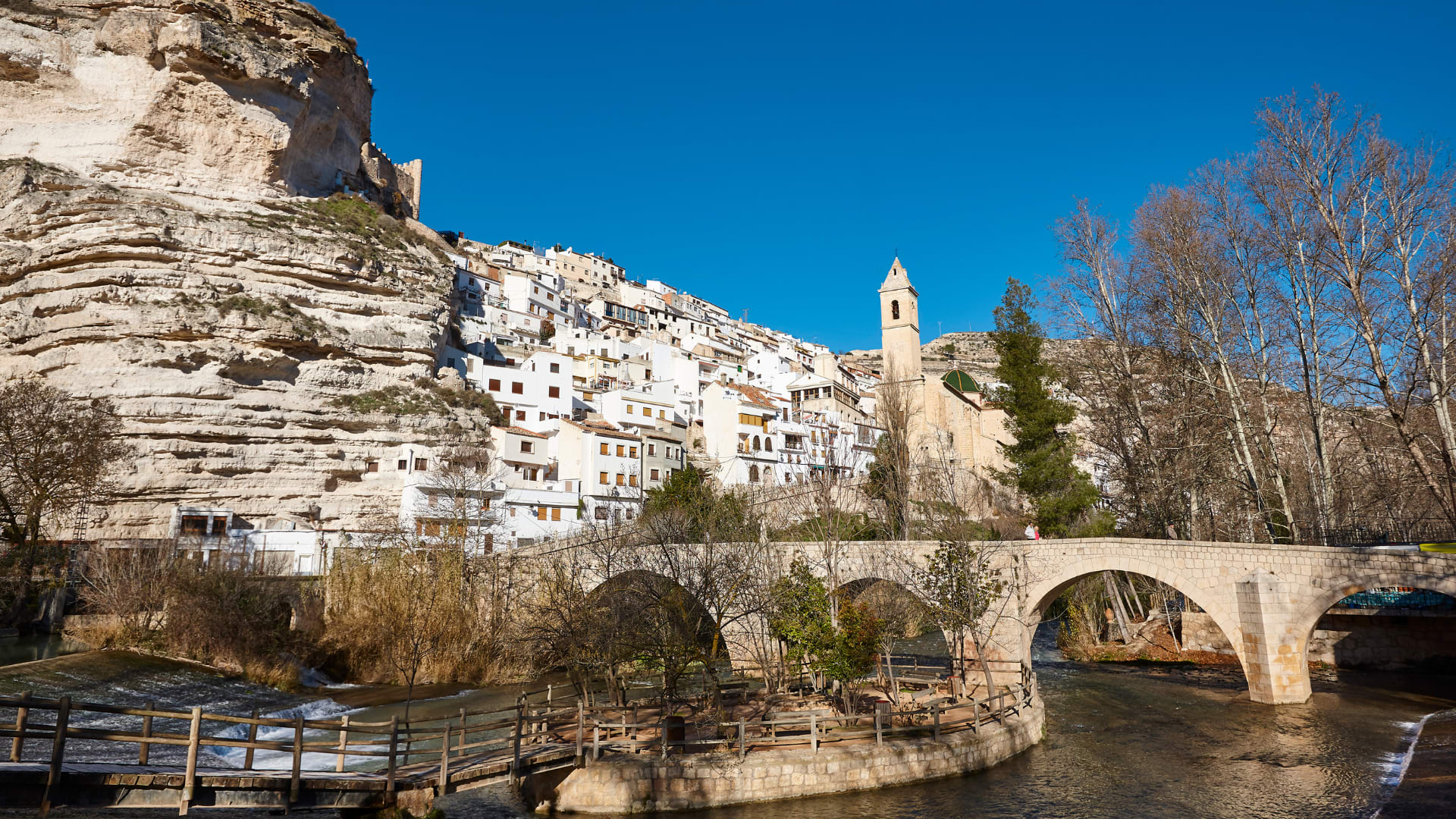 Alcalá del Jucar is the most beautiful and visited village in the province of Albacete. It's the only one included in the Association of the Most Beautiful Villages of Spain.
The perspective from where you look at the village doesn't matter because it's beautifully seen from anywhere. The town is located on a hill and on the banks of the well-known and beautiful river Júcar.
Its architectural ensemble is photographic, with its houses scattered along the hillside and its beautiful castle. The best thing to do is to cross the Roman Bridge and go into the old town to visit the curious Devil's Caves and get lost in its narrow streets full of tiny houses and steep stairs.
Alcalá del Júcar was declared a Historic-Artistic Site in 1982.
9. Patones de Arriba, Madrid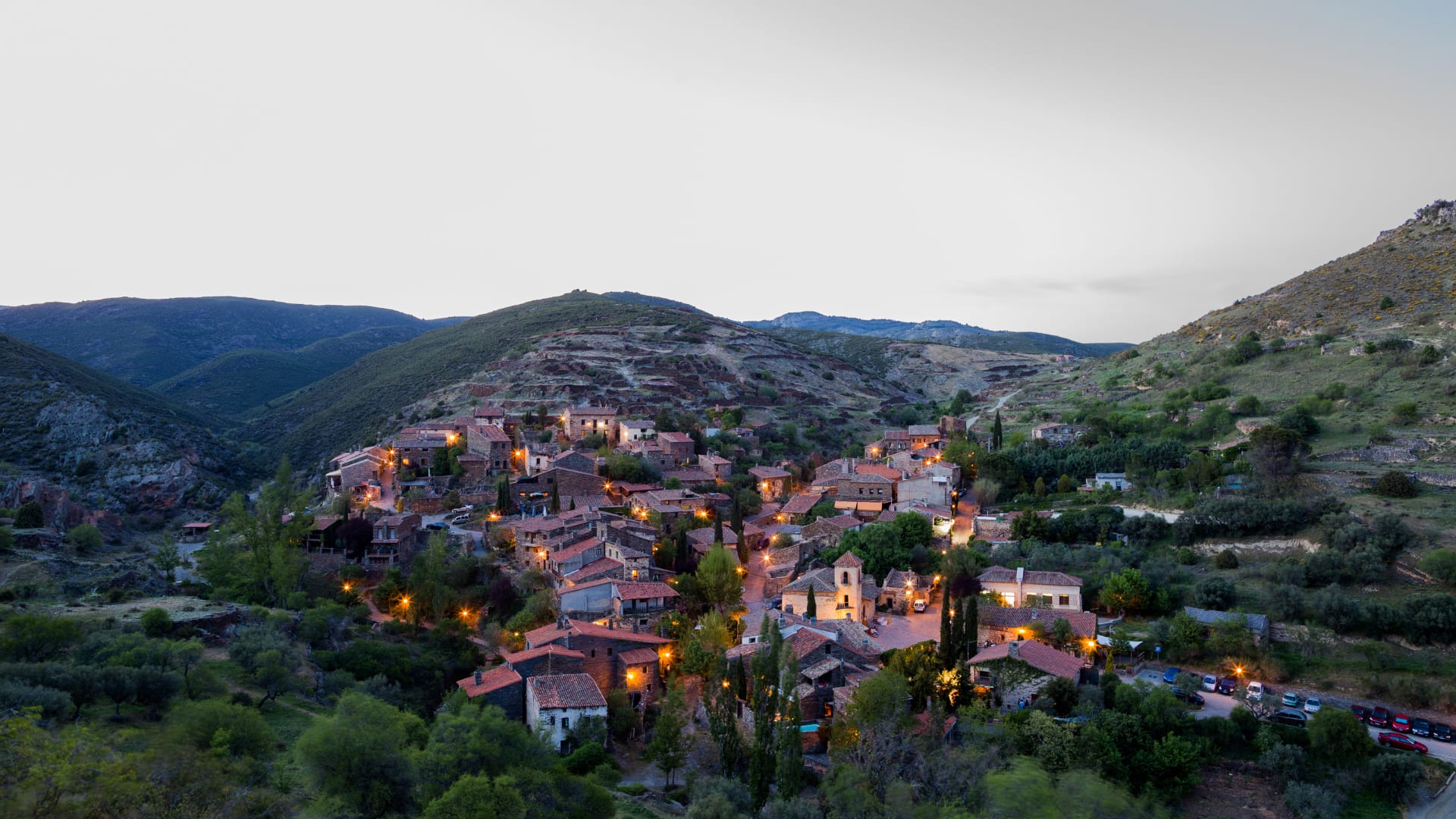 This beautiful village located in the Madrid province is very characteristic of its "Black Architecture." Its slate houses have made it one of the most popular and visited by rural tourism lovers. In this small village, it seems like time has stopped; it's a magical place.
A visit to this picturesque village is a must! In addition to strolling through its streets of stones and houses decorated with flowers, you can enjoy spectacular gastronomy. You can find different ecological and handicraft stores, workshops, and rural homes to come and spend a weekend.
Patones is one of the most visited villages, but it gets very crowded on weekends! That's why access to vehicles is forbidden inside the village.
10. Santillana del Mar, Cantabria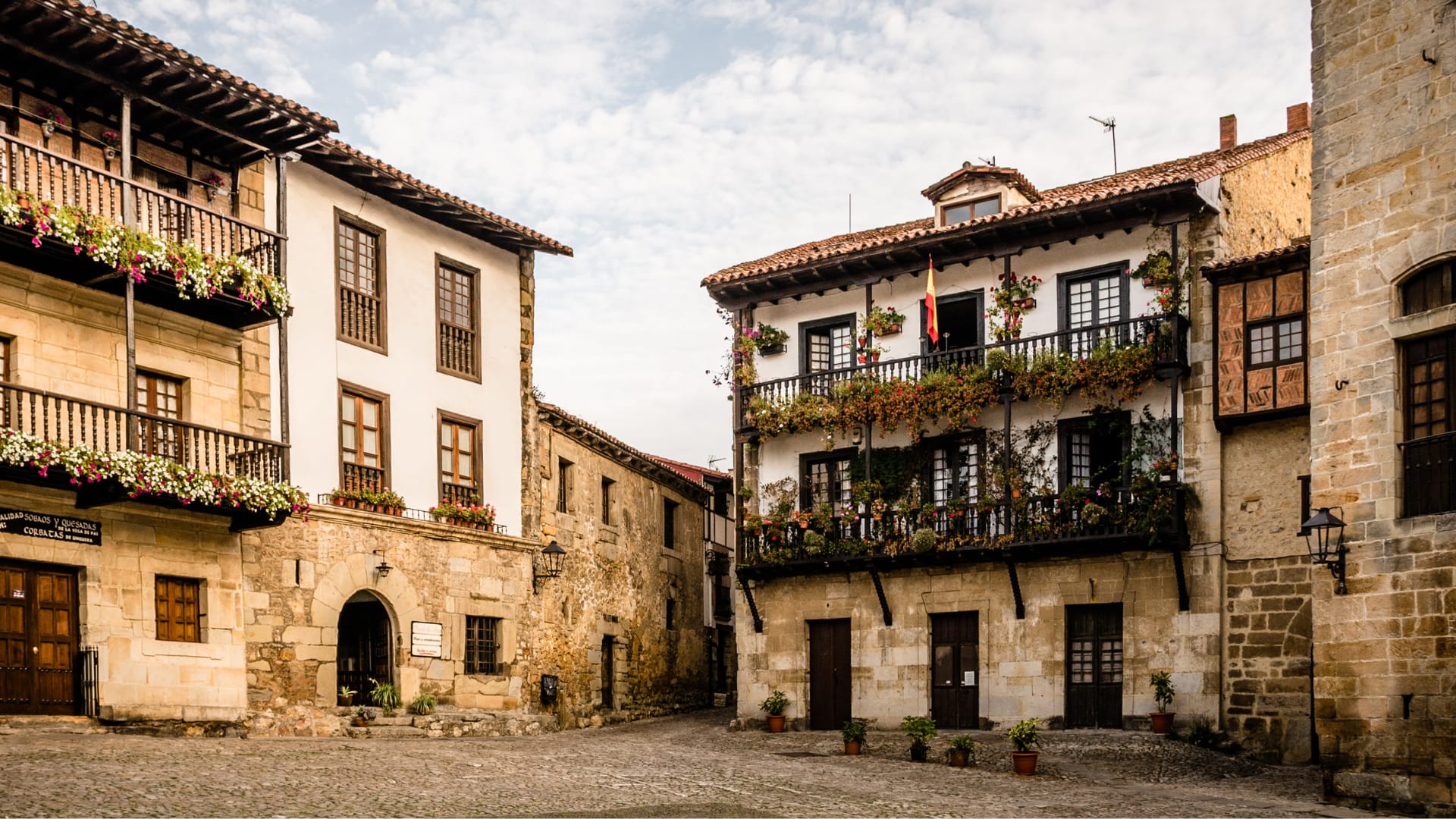 Santillana del Mar is one of Spain's towns with the most significant historical and artistic value. It's also one of the main tourist places in Cantabria. In this beautiful village, you can find the famous Altamira cave, considered a World Heritage Site.
If you want to know more about this cave and other spectacular caves that you can find in Spain, I recommend you to take a look at this post: 7 Spanish Caves That Are Considered True Hidden Gems.
You cannot miss the famous Collegiate Church of "Santa Juliana," the "Plaza Mayor," the Palace of "Los Velarde," and walking through its beautiful cobbled streets.
Since 2013 Santillana del Mar has been part of the network "The most beautiful villages of Spain."
In 1889, Santillana del Mar was declared a historic-artistic site.
Take my advice and try their delicious and famous "Quesada" with a cold glass of milk in the town's main square.
11. Pedraza, Segovia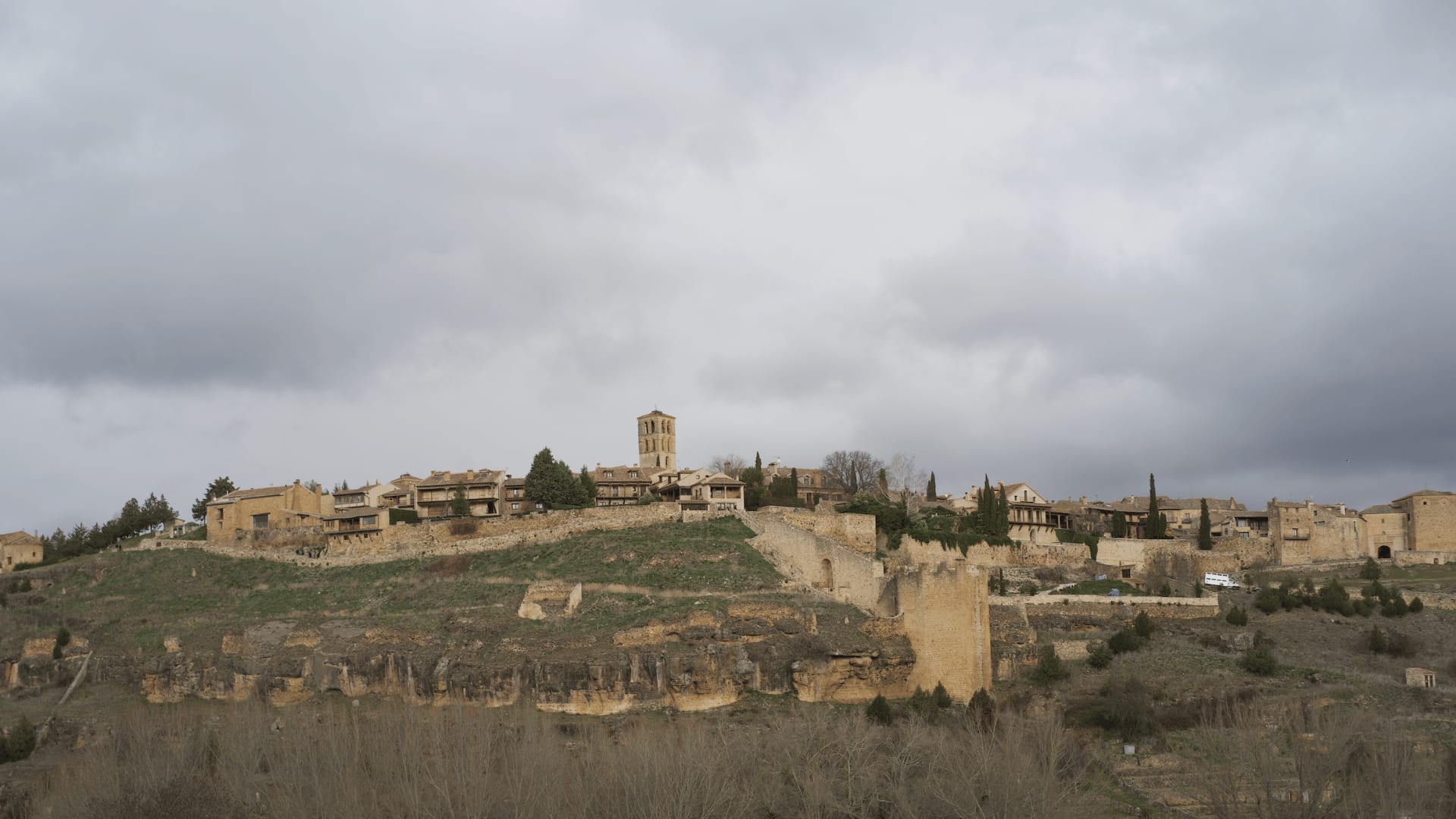 This small but spectacular medieval walled village is located in the province of Segovia. It's considered the most famous of this locality and it's also one of the most beautiful villages in Spain!
This small village has a population of only 500 inhabitants, which makes it an authentic place of peace. A super quiet and original place with beautiful architecture!
Pedraza has maintained its historical and cultural essence throughout the centuries. In fact, walking through its streets makes you feel like you are in another era. You should also get lost in its streets if you want to discover all its corners!
In Pedraza, I recommend visiting the "Plaza Mayor," a real gem! But you cannot miss the castle, the church of "San Juan Bautista," and the "Puerta de la Villa." I'm sure you will love it!
Pedraza was declared a Historic Site in 1951.
If you come to Pedraza in July, you can enjoy a candlelight show! The village is decorated with candles, the public lights are turned off, and a super unique atmosphere is created!
Here's a map so you know where to find them!
The list could always be extended because so MANY villages are worth exploring! These are some of my favorite towns in Spain, and I recommend everyone to visit them!
You must read these posts if you don't want to miss our best coastal towns and the most beautiful white villages in Spain:
If you have been to any Spanish village that you think should be on this list, I would love you to share it with us! It would be great to discover new places!