Spanish vs Mexican: Which was first? How Do I Know the Difference?
November 30, 2022
Updated:

February 14, 2023
Published: November 30, 2022
Imagine this. You have been learning Spanish for a year now, classes two times a week, a lot of personal studies, actively participating with your classmates, and playing Duolingo constantly. To sum up, you were doing everything in your power to get that Spanish in your system; your chance finally comes to put it into practice.  
However, something goes wrong! You get to Spain and find yourself completely lost when the taxi driver asks you where you are from. But why? You were the best student! Once in the hotel, you get into the web to research the differences between Spanish and realize that each country molds the language to its culture. 
The latter situation can happen to everyone! But, if you visit this article before your trip, you did the right thing. Each country has its Spanish-language expression, and today I will share the differences between Mexico and Castilian Spanish. 
All the stories above won't happen to you if you read a little about the Spanish differences in different countries. 
Did the Spanish come from Mexico or Spain?
If we go back in history, exactly five hundred and three years ago, Hernán Cortes arrived on the coasts of Mexico, defying the orders of his captain to leave Cuba and head back to Spain. Cortés sailed in the other direction and came to the shores of Cozumel, the eastern side of Mexico.
Then, in 1519, he established the first settlement Yucatán, spreading north towards Veracruz, where he founded Villa Rica de la Vera Cruz. The rest is history, what we know as the conquest of Mexico, but we are not here for that class. We are here for language, and Hernan Corté's settlements were the birthplace of what we now know as "Mexican Spanish."
There are a lot of Mexicans whose part of their ancestors are Spanish; actually, the northern regions in the Latin American country have a higher degree of Spanish heritage. But why is this? There were three big waves of migration from Spain to Mexico. We already talked about the first one. During the colonial period, around two hundred thousand Spaniards move to Mexico. Then, there was another migrant wave in the twentieth century when Mexican general, Porfirio Díaz, seized the government and began significant reforms that invited foreign investment to the country. Finally, the third migrant wave happened during the Civil War when thousands of Spaniards fled to Mexico through France.
As you see, the Spanish from Mexico or "Mexican" comes from Castilian Spanish. Still, the blend of the official language of the Spanish Empire with the native Mexican dialects evolved into the famous Mexican accent and words we love today.
What do you mean by "Mexican"?
If you directly search "What is Mexican?" in Google, the answer will be "a native from Mexico," but today, we are focusing on language. So, when we say "Mexican," it means the Spanish spoken in the country, which receives that title due to the accent, unique words, and personality that comes with speaking Mexican Spanish.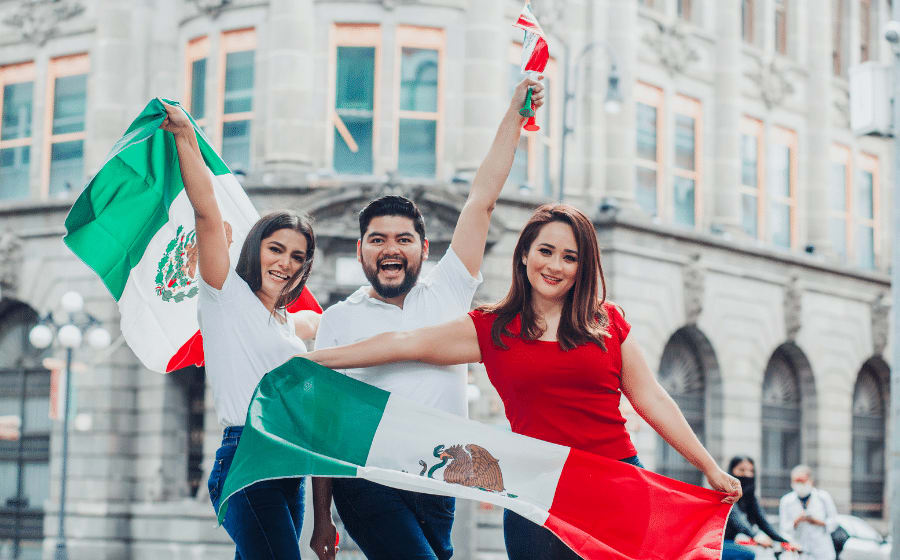 What do you mean by "Spanish"?
I think it is pretty clear what we mean by Mexican; a similar explanation goes to "Spanish" or "Castellano," as we call it in Spain. So, Castilian Spanish is the original Spanish language version that evolved from romance or vulgar Latin. The Spanish from Spain is referred to as Castilian to differentiate it from the generic version of the language and the Spanish from the other twenty-one countries that speak it. 
What are the similarities between Spanish and Mexican?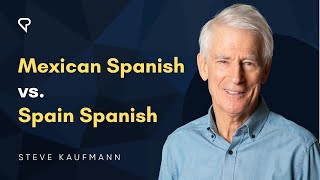 Polyglot or multilingual specialist Steve Kaufmann argues that when it comes to learning, there is no difference between Mexican Spanish and Spain Spanish. He states that "learning a language is primarily a matter of learning words", and with the right amount of vocabulary, anyone can speak Spanish anywhere, even if they were taught in a different dialect. 
So, what are the similarities between both? Well, the basics. Both Spanish use the same grammatical rules; the difference relies on pronunciation, slang, and communication styles.
What is the difference between Spanish and Mexican? 
So, the Spanish from Mexico and Spain have the exact origin, and today they still follow the same rules. However, there are three differences to remember when traveling to either of these countries: pronunciation, addressing, and vocabulary. For the latter, we created a special list of valid words and phrases that differ in Spain and Mexico. Same meaning but a different expression.
Pronunciation
Have you ever seen a Mexican movie or a Spanish series? For some English-speaking people, the differences might not be evident at first, but the more they interact with both Spanish speakers they find out the details that set them apart. 
Did you watch Toy Story 3? There is a scene when Buzzlight Year is reset in the Castilian Spanish version with a matador attitude. If you watch until minute two of the video below, you will notice the pronunciation change between both translations.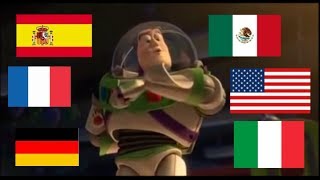 Do you notice the difference? Most Spaniards pronounce the letters "s," "z," and "c" as a "th" in English. The sound with the "z" ("th in English) is supposed to happen before the letter "i" or "e," but you can feel over the place. On the other hand, Mexicans pronounciate the letters "s," "z," and "c" as an "s" for everything.
Let's give an example. For the word "thank you," Spaniards would say "grathias," while Mexicans would say "grasias." While the correct form of the word is "gracias."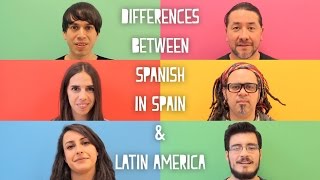 Addressing
Vosotros/Ustedes 
"Vosotros" and "ustedes" are second-person plurals with the same meaning, but aren't used the same way. In Mexico and most countries of Latin America, "usted" (second person singular) and "ustedes" are used as a form of respect and to address a more extensive crowd, respectively. For example, Mexican teenagers address their teachers or elders with "usted" because it is the formal version of "tú" (you).
However, in Spain, this works differently. Adults don't like to be addressed with "usted" because it makes them feel too old, and they usually ask younger people to use the informal version of "tú" (you). Also, in Spanish people don't use the "Ustedes" to address a larger crowd. Instead, they use "vosotros". 
List of words to keep in mind
This is list of street vocabulary that mean the same, but are expressed in completely different ways in each country.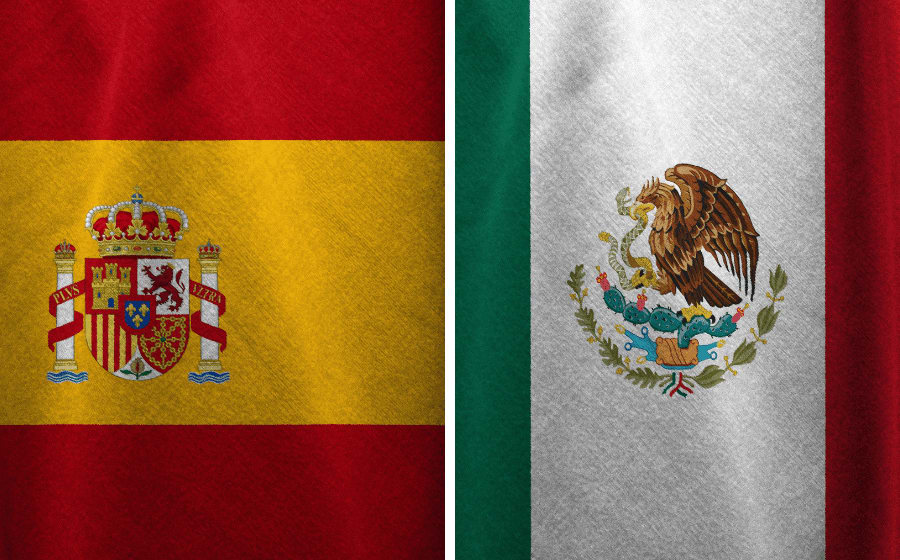 | Slang to Keep in Mind | Castilian Spanish | Mexican Spanish |
| --- | --- | --- |
| Dude | Colega/ tío | Wey/ cuate |
| Hangover | Resaca | ¡Estoy crudo! |
| No problem! | ¡No hay probelma! | ¡No hay pedo! |
| Cool | Guay/ mola | Está chido/ Está padre |
| Kid | Niño | Chamaco |
| Okay | ¡Vale! | Ok/ Va/ Órale/ Dale |
| I like that | Me mola | Me late |
| Posh | Pijo | Fresa |
| Beer | Caña/ botellín | Chela |
| Is that true? | Estas de coña? | ¿La neta? |
| This is awsome! | ¡Mola muchísimo! | ¡Estás con madre! |
| I don't care! | ¡Me da igual! | ¡Me vale madre! |
---
Okay! Now you know the main differences between the Spanish in Spain and the Spanish in Mexico. Both come from the same root, but interaction with other cultures, geographical features, and more have influenced how people express themselves and pronounciate.
There are no better or worse, just different and super interesting Spanish types! And you can check out more about this right here!
The 6 Languages Similar to Spanish that are Easy to Learn

Why is Spanish hard? 9 Reasons why this language is so difficult!