22 Best Things to do in Barcelona: Fun Activities & Food!
March 10, 2023
Updated:

March 29, 2023
Published: March 10, 2023
You probably already know the main landmarks and attractions to visit in Barcelona. But I bet you don't know the most original, unique, and fun plans to improve x1000 your experience in the City.
In this article you will find the list of the 22 things you must do in Barcelona, so you don't get bored. I hope you have time to do them all because they are worth it.
This is for all kinds of preferences. You'll see activities from cultural, recreational, sports, partying, relaxing, and bizarre experiences.
So, if you think there is nothing more to do here than walk down the street, eat, and celebrate, you are totally wrong.
Ready to discover the best of Barcelona?
---
1. Visit the extraordinary Museum of contemporary art, Moco Museum 🎆
You have to visit one of my favorite Museums of contemporary art. The Moco Museum strives to bring art closer to teenagers, it is full of attractive and photographable rooms and spaces, perfect for Instagram lovers.   
You will find numerous works of modern, contemporary, and street art. You will see creations from well-known artists such as; Banksy, Jean-Michel Basquiat, JR, and KAWS, among others.
But where does it comes from? It is a private initiative of Kim and Lionel Logchies, a couple of Dutch collectors with another Moco museum in Amsterdam.
The Museum can be found in the Palau Cervelló, a building full of history in the heart of El Borne. This 16th-century palace used to be the private residence of the noble family Cervelló until the 18th century.
The exposition divides into 5 parts:
The Moco Masters: Dedicated to the Modern part of the Museum. It is aimed at the masters of art, those who paved the way.
The Moco Masters: Dedicated to Contemporary art. It shows the new generation of artists.
Banksy temporary exhibition: The British artist is one of the main protagonists of the Moco Museum. However, he already has a temporary exhibition in Barcelona at the Museu del Disseny. 
The Diamond Matrix: This brings visitors into contact in a fun way with art.
Flowers and People: An interactive area. The flowers scatter at once when people move in front of the artwork. But when people stop, the flowers grow abundantly.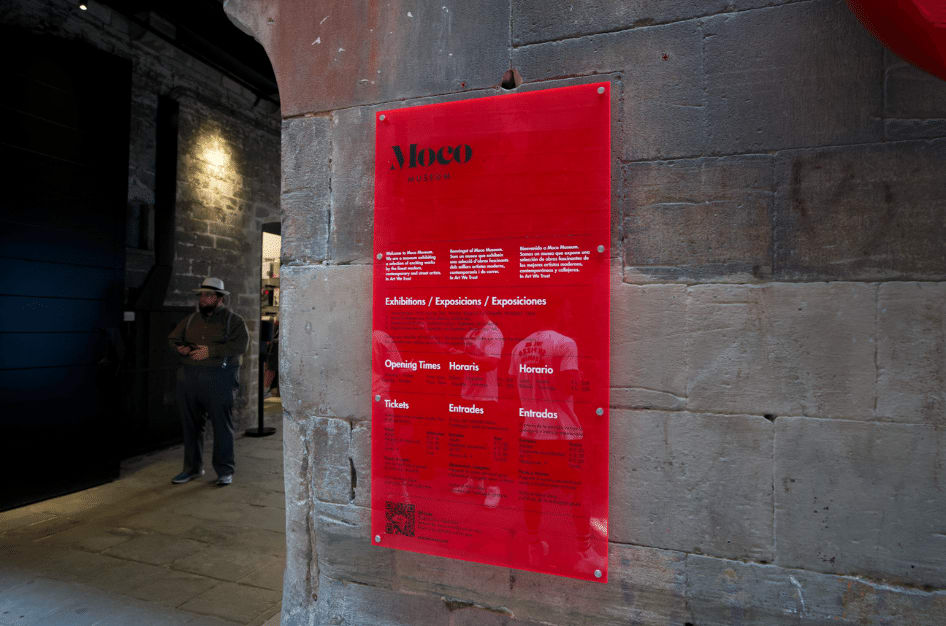 You can't miss this incredible Museum on your visit to Barcelona! 
 Hours: Monday to Thursday 10:00-19:00 and Friday to Sunday 10:00-21:00
Address: Carrer de Montcada, 25, 08003 Barcelona
Tickets: General: 14,95€ | Reduced: 9,95€ 
For more information on Museums in Barcelona, visit this article:
---
2. Go to the National Art Museum of Catalonia & enjoy an incredible sunset 🌇
The Museum is located in the imposing National Palace of Montjuïc, and it includes all types of art and covers a broad historical period, from the Romanesque to the 20th century.
But, it is mainly known for its excellent collection of Romanesque art, considered the most complete collection in the world. 
If you want to watch an unforgettable sunset, note the National Art Museum on your list. There's no better plan than to enjoy a legendary view from the terraces of one of the most important museums in Barcelona and Spain. 
The Museum has fascinating collections of Romanesque art, Catalan modernism, Gothic, Renaissance, and Baroque. It is a very flexible museum that offers both temporary and permanent exhibitions. 
More than sightseeing, this Museum is said to be a space for debate and artistic dialogue to generate knowledge and awareness about the world.
After, visitors can enjoy a 360º view of the city and see the main buildings and monuments that make up Barcelona's skyline.
Remember to take your camera with you! 
Mirador Opening hours:
Tuesdays to Saturdays 10:00 - 20:00 h.
Sundays and holidays 10:00 - 15:00 h
Access is included in the general admission or ticket 2€.
"This was so memorable as my first view of the city. Even though it was busy at sunset with quite a lot of visitors, there was lots of space for everyone and a very festive atmosphere." 

- Jay. 35 years old, from New Jersey.
---
3. Visit Gaudí's beautiful buildings in Passeig de Gràcia 🏛️
New York has Fifth Avenue, Paris has the Champs Elysees, and Barcelona has the Passeig de Gràcia. On this street, you will find the main stores of the most prestigious brands and spectacular restaurants and bars. 
In this street, we also find a space for culture and history. It is the heart of modernism in the city and home to some of Barcelona's main monuments. 
If you don't know who's Antonio Gaudí, he is Barcelona's star architect, and it is said that Passeig de Gràcia was like a canvas for him.
For example, Casa Batlló is one of the best illustrations representing Gaudí's modernism, inspired by nature.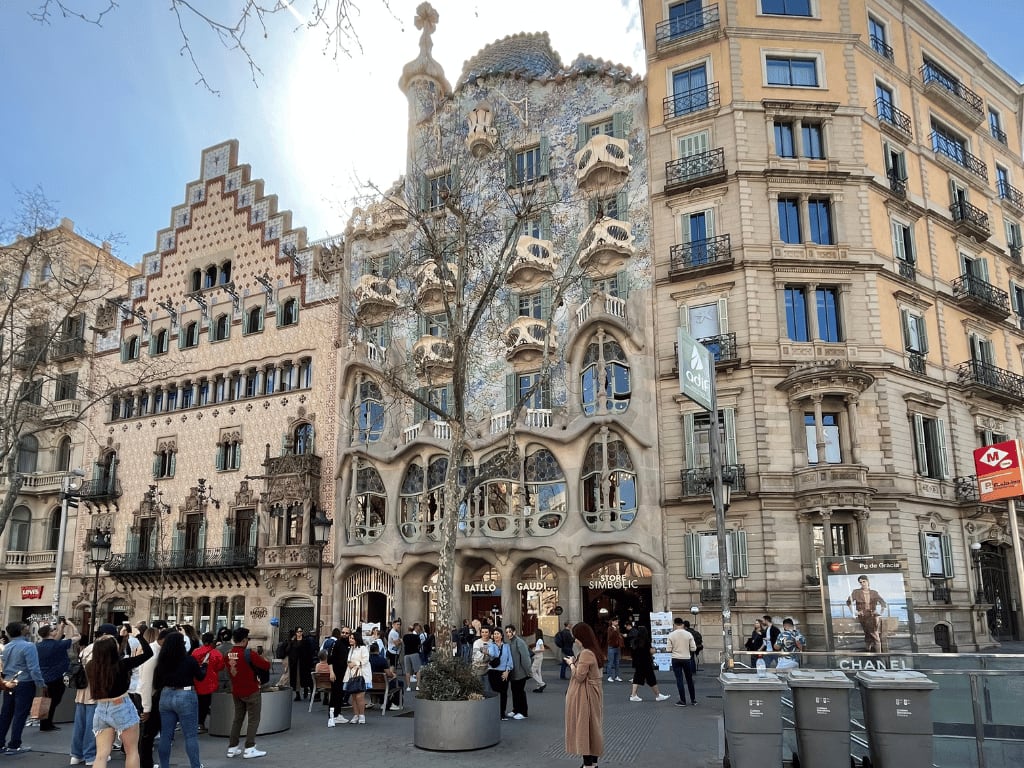 In fact, it was awarded the best monument in the world in 2021.
On the other hand, La Pedrera, another Gaudí masterpiece, is somewhat more discreet than the Batlló house. It has the same forms, and the inside is an architectural prodigy. I can assure you that it is worth paying the entrance fee to enter and see how all its rooms reflect forms of nature and are full of symbolism.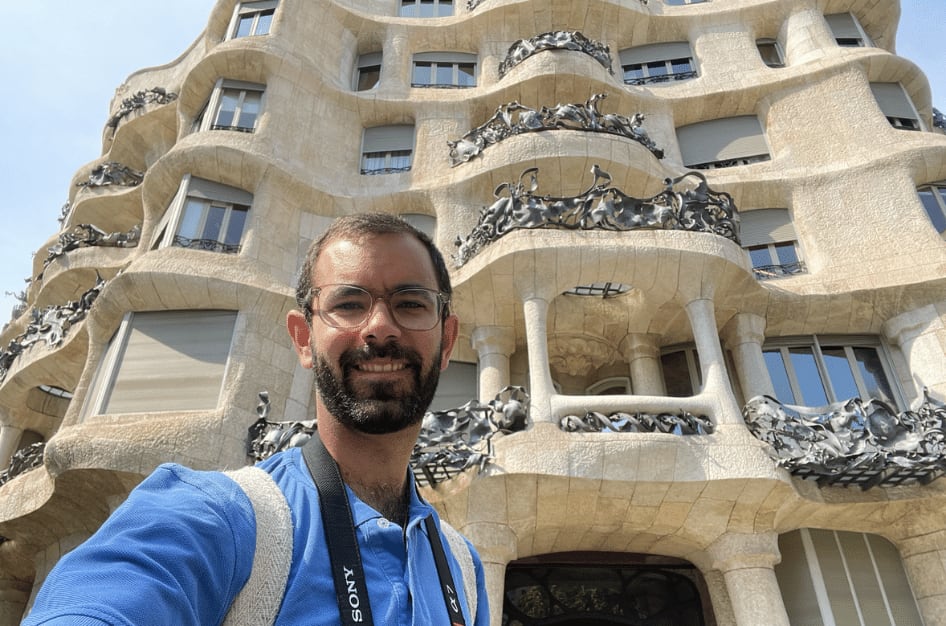 Also, there's a roof on top of La Pedrera, known as the roof of the warriors, that offers incredible views of Barcelona.
---
4. Go to a concert in the Palau de la Música Catalana 🎶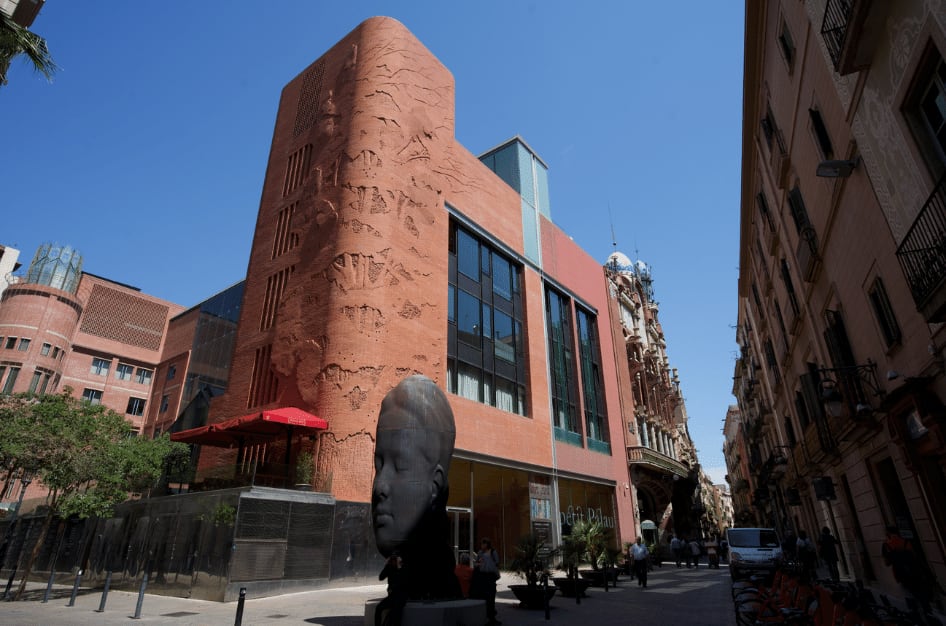 The Palau de la Música Catalana is the only modernist concert hall declared a World Heritage Site by UNESCO.
Their purpose is to promote music, focusing on choral singing, knowledge, and the dissemination of cultural heritage.
This is a privileged setting for all types of music: symphonic, chamber, choral, jazz, modern, and flamenco.
As you might see, it is no news that we love music in Spain. See what Spanish people usually listen to in the streets in this video!
So, back to the topic, the modernist hall of the Palau hosts the most prestigious musical seasons in Barcelona and internationally renowned festivals, offering the public an incredible musical and architectural experience in a unique environment. Everyone loves coming here!
If attending this event is now on your bucket list, remember to pack a suit for men and an elegant cocktail dress for women in your suitcase. Still, the dress code will depend on the type of concert to be held.
---
5. Attend an iconic FC Barcelona football match ⚽
One of the main reasons thousands of people came to the Catalan capital is to watch an FC Barcelona match. They are considered the best soccer team in the world by many.
The largest stadium in Europe is Camp Nou, which has a capacity of 90.000 people. It is a very steep stadium, but you can watch the game from most of the seats despite this.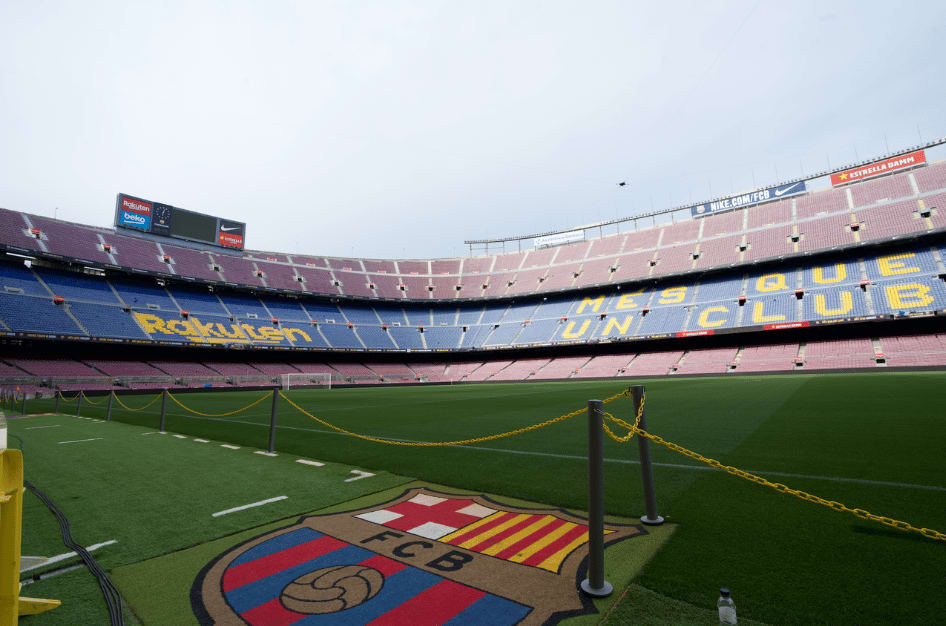 The FC Barcelona website is the easiest and safest way to buy tickets. Another option would be buying them through Ticketmaster, an official partner of the FC Barcelona website. Purchasing tickets from another third party is not recommended. 
You should know that Camp Nou has no roof, which means it can be pretty chilly in winter if the sun is not out to warm you up, so take a coat and a scarf with you if this is your case!
---
6. Enjoy a 360º degree Barcelona view at the bunkers 🌆
The Carmel Bunkers is an old anti-aircraft battery essential in Barcelona's defensive system during the Spanish Civil War (1936-1939). 
Located at the top of the "Turó de la Rovira," it provides a perfect viewpoint over Barcelona, with a unique 360º panoramic view of the sea, Montjuïc, the Sagrada Familia, the streets of the Eixample, the Glòries Tower, the Parc de la Ciutadella, the mountains of Barcelona, Tibi Dabo, the residential neighborhoods, and many more!
For some years, the Bunkers have been very popular and have become a tourist attraction for foreigners and locals. You will feel as if you have been here before, as it has been the scenario of movies, commercials, and TV series.
I always say this is the perfect place for a picnic in the city. Get a bottle of wine and enjoy an exceptional panoramic view of Barcelona.
---
7. Watch the Magic Fountain of Montjuïc at night ⛲
A spectacle of lights, music, and water at dusk. The Magic Fountain of Montjuic is a group of several illuminated fountains and waterfalls that you can find in Barcelona's Carles Buïgas square in the district of Sants-Montjuïc.
It was built in 1929, and this circular fountain attracts tourists daily, especially families with small children.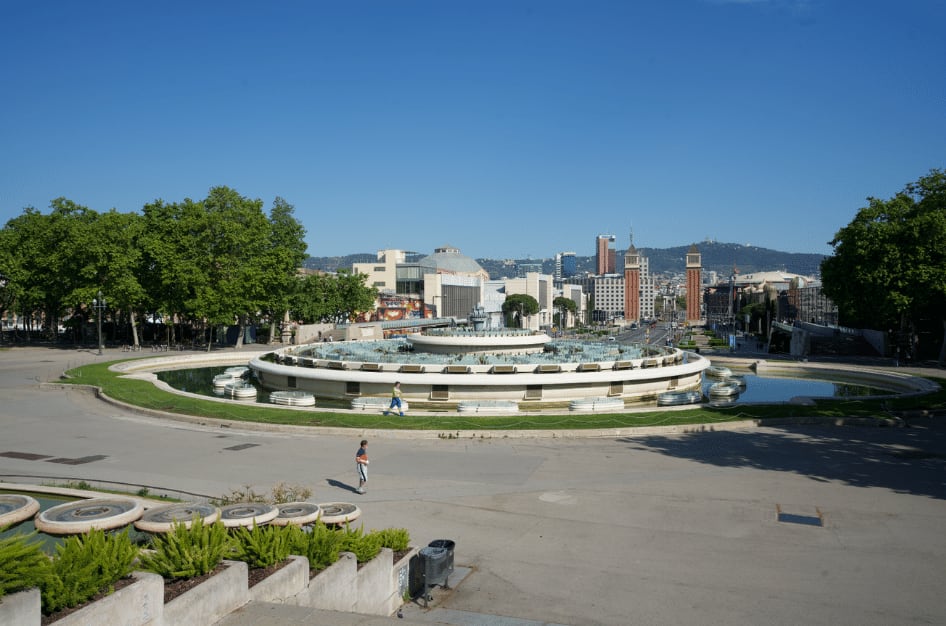 And, curiously, it is not a regular fountain; you can appreciate a water spectacle with lights and music at night!
But I'm sorry. I can't spoil the beauty of this place, so I won't show you what it looks like at night… You'll have to see it for yourself.
Definitely, an out-of-the-ordinary activity to spend the evening outdoors instead of having a drink in a bar. Not that is anything wrong with that. We also love to do so!
---
8. Go to Mauri, one of the oldest pastry shops 🥐
Mauri will become your favorite pastry shop in Barcelona if you have a sweet tooth. Almost 100 years old, opened in 1929, this cake shop with sweet goods straight from the oven.
This pastry shop is located in the upper part of Rambla de Catalunya. It stands out due to its massive variety of products and the extended opening hours.
You will find pastries, sweets, a wide variety of bread, mousses, chocolates, everything you can imagine! You can have it in a restaurant or as a takeaway service. 
It also has a terrace, tearoom, café, and delicatessen, as well as two private rooms ideal for celebrating all kinds of events. If you are considering organizing a party, there is also an exclusive catering service!!
---
9. Admire the Sagrada Familia at the right time! 🕒
I know, I know, classic! You might already know this one, but I'm sure you don't know about this unique trick of mine for making this visit special…
First, Antoni Gaudí began building the Sagrada Familia in the late 19th century, and it was never finished. 
Today, more than 2.500.000 people visit the temple each year, and the money raised from the entrance fees goes towards the project, expected to be completed in 2026 as it will become the tallest church in the world with a height of 170 meters.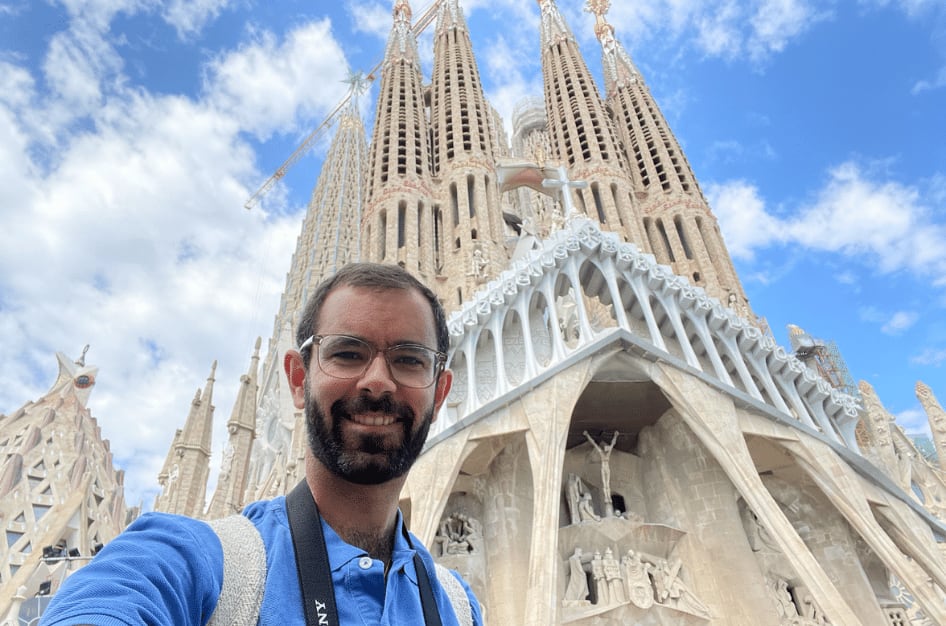 So, listen up to the best tips to visit this impressive landmark:
To avoid queues, purchase your ticket online in advance, or buy The Barcelona Pass, which combines fast-track entry to the Sagrada Familia and Park Güell with discounts at Barcelona's other top attractions.
The best way to visit the Sagrada Familia is through a guided visit and finishing up the Nativity Towers.
Keep in mind the dress code restrictions for visiting the Sagrada Familia:
• No see-through clothing.
• Tops must cover the shoulders.
• Trousers and skirts must come down to at least mid-thigh.
• Visitors may not enter in swimwear.
• You can't wear special clothing or decorations designed to distract or draw attention for artistic, religious, promotional, or other purposes.
Don't miss your time slot. Arrive on time. Tickets are allocated based on a system of 15-minute time slots.
The best visiting hour is from mid-morning to mid to late afternoon when sunlight strikes the windows directly.
---
10. Have some drinks next to the beach 🏖️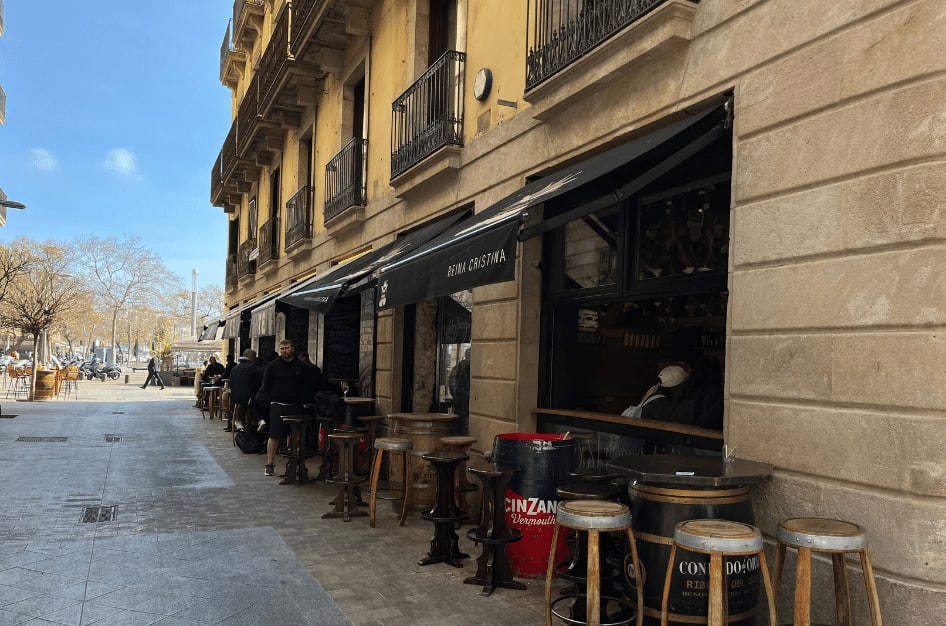 In Barcelona, you will find a large number of bars located right on the beach. This may explain why people get this impression of a laid-back atmosphere and lifestyle.
These are some of the most famous and chic bars on the beach of Barceloneta: 
Pez Vela is a beach bar in Barcelona located on the sand. You can enjoy high-quality dishes made with seasonal ingredients. Perfect place to eat and taste Mediterranean dishes such as paella, fish, and seafood, with beautiful views of the beach and the Mediterranean.
Bambú beach bar: You will find delicious food and a varied menu of drinks at affordable prices in a comfortable and relaxing place. It is located next to the Garcia Fària linear park, a popular area in the city that is very easy to find.
---
11. Discover a World Heritage Site by UNESCO: Park Güell 🏞️
Park Güell is so beautiful that in 1984 it was declared a World Heritage Site by UNESCO. 
I'm here to confirm that the hype regarding this place is absolutely true, unlike anything you can find in Europe!
The park was inaugurated in 1922, and since then, it has become one of the main tourist attractions in Barcelona. It is covered with wavy shapes, tree-like columns, animal figures, and geometric shapes. Most surfaces are decorated with mosaics made of small pieces of colored ceramics that make this park unique.
It owes its name to Eusebi Güell, a wealthy businessman passionate about Gaudí's works and acting as his main patron. 
Initially, this place was supposed to be a luxury residential complex. Still, this project was abandoned with the passing of the years, and a park worthy of a fairytale setting was built.
You can see the city's best views from the Calvary Monument inside the park.
---
12. Eat in a typical Catalan restaurant (Dos Pebrots) 🍽️
"Dos Pebrots combines its informal character with a unique concept which focuses on minutely researched cooking that narrates the evolution of Mediterranean gastronomy."
It must be illegal to leave Barcelona without eating traditional Catalan dishes. 
For this reason, I recommend you go to one of the most iconic places to discover modern Catalan creations based on traditional Mediterranean recipes, Dos Pebrots. 
The Restaurant has an formal character with a unique concept that focuses on minutely researched cooking that narrates the evolution of Mediterranean gastronomy, run by the famous Michelin-starred chef Albert Raurich.
---
13. Do some shopping in the famous street of La Rambla 🛍️
La Rambla street is one of the best-known places in the city. It is a pleasant 1.3-kilometer promenade that connects Plaza de Cataluña with the city's old port. 
You will always see it lively, full of tourists and street performers who act as human statues. You will find designer stores, art galleries, exclusive hotels, and incredible restaurants along the way.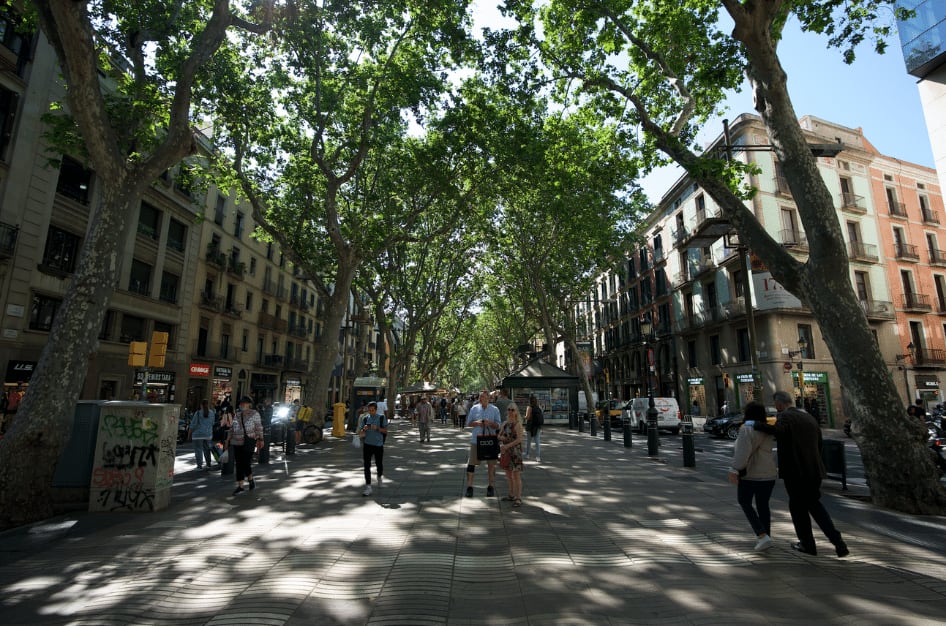 The different Ramblas, starting from Plaza de Cataluña:
Rambla de Canaletes: A bustling and lively area in the highest part of Las Ramblas.
Rambla de los Estudios: With its construction, the Universitat o dels Estudis Generals could begin teaching Barcelona students who wanted to study a career.
Rambla de las Flores: The most colorful and fragrant part of Las Ramblas, full of beautiful flower stalls and plants. You will find the famous Boqueria Market.
Rambla de los Capuchinos: You will find numerous places of interest, such as the Gran Teatro Liceo, the Palacio Güell, or the nearby Plaza Real.
Rambla de Santa Monica: Functioning as the port's lobby, the Rambla de Santa Monica is a lively area full of bars and restaurants. 
Along the Ramblas, you will find clothing, shoe, and accessories shops… Brands include Sephora, Intimissimi, Massimo Dutti, Zara, H&M, and many others. For more information regarding shopping in Barcelona, read the following article:
13 Best Shopping Places in Barcelona: Streets, Outlets and More 
Afterward, you might want to sit in one of the cafés and relax while you enjoy watching the people walk around. 
---
14. Get lost in the Labyrinth of Horta 🍃
The Labyrinth of Horta is one of the most stunning gardens in Barcelona. It is the oldest preserved garden in the city, and you will recreate the famous stories of Ancient Greece. 
It was born as a neoclassical garden with a touch of Italian style but ended up as a romantic garden.
This garden leaves a mark on the tourists who visit it. It is a remarkable natural space full of romanticism and architecture, as this place merges the two perfectly. It is a perfect excursion to do for a date!!
You will find all kinds of flora along the route. Also, there is a garden called "The Garden of Love," with a plantation of agapanthus, a violet flower known as the flower of love. 
This garden can be considered a museum since it proposes a tour of neoclassical and romantic buildings of all kinds.
I recommend getting lost in this garden, which is full of fountains, springs, and mythological sculptures. 
Undoubtedly, the Horta labyrinth is an excellent option to escape from the chaos of the city.
---
15. Check out the City's main buildings replicated in the Lego store 🔍
Lego opened its largest European store in Barcelona just a few months ago, and you must visit it! There is even a replica of the Sagrada Familia in the store, built with more than 200.000 Lego bricks. 
The shop has been designed and built under the "Retailtainment" concept, a new type of consumer experience based on interactivity and digitalization as entertainment. 
Together with the one in New York and Guangzhou (in China), it is the third store in the world with these characteristics, and you will only find it in Paseo de Gràcia, 9.
The store has a Minifigure factory, allowing customers to design their own Lego figure and see it printed.
There is a "mosaic maker" to make mosaic portraits and have the instructions and bricks to assemble them or the possibility of ordering the exact elements needed for a specific construction. 
You will also see life-size replicas of other symbolic elements of the city.
---
16. Do a gastronomic market tour around Barcelona 🥘
Eating in a restaurant with a menu is going out of fashion. If you want a unique experience, discover Barcelona's top 3 best gastronomic markets. Whether you prefer something more traditional or try modern dishes.
Sant Josep de la Boqueria: A mandatory stop if you are walking along the Ramblas. You will find it crowded with tourists as it is the most popular in the city. But if you visit early in the morning, you can enjoy small stores with fresh food (such as vegetables, fruit, fish, meat, cheese, spices…) or restaurants with terraces offering quality dishes.
Santa Caterina: You can easily find this market due to its curved and colorful roof on Via Laietana, the main street of the El Born neighborhood. The market has top-quality products at reasonable prices. And fish is their specialty!
Mercat de Sant Antoni: Besides food stalls and fresh food, on Sundays from 08.00 to 15:00, there is a market for second-hand books, furniture, and other collectibles.
See other iconic markets in Barcelona you can't miss in this article:
---
17. Get to know Picasso's works 🎨
Picasso has a museum in Barcelona since he was very attached to Barcelona from his youth, so he wanted the city to have a memory of him forever. 
The Museum exhibits works by Picasso from different periods, especially highlighting an extensive collection of sculptures besides paintings, drawings, and ceramics.
It is home to one of the most extensive collections of Picasso's artwork. It has over 4.000 works containing the world's most complete collection of works from Picasso's youth, making the Museum an important center for studying the artist's life and work.
All of this makes this Museum a great activity to add to your bucket list, as it has a variety of activities for adults and children, including workshops, guided tours, and lectures.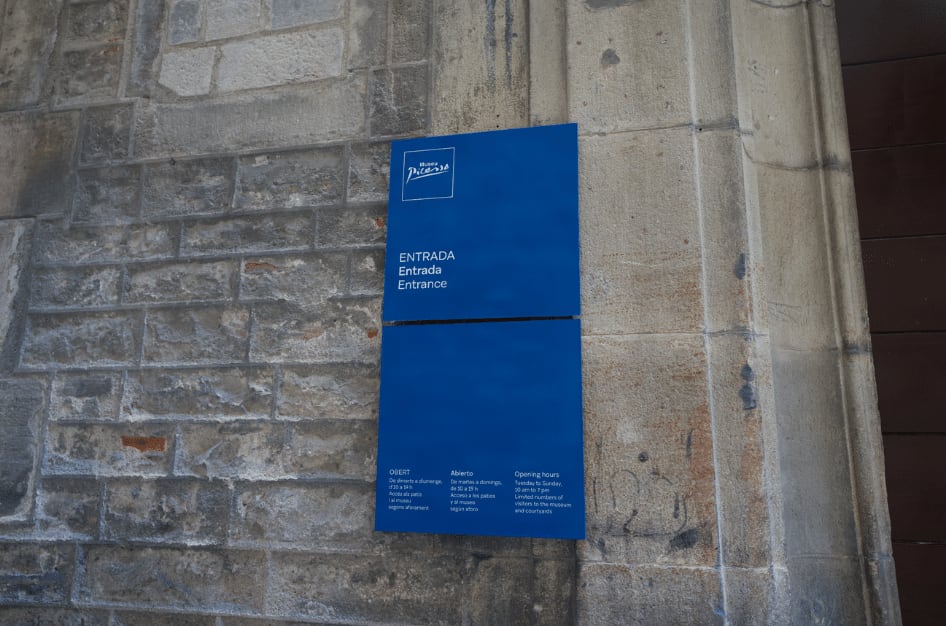 Buying tickets in advance is highly recommended to avoid long queues and save some extra cash! Here are other money-saving tips, in case you were wondering. 
Too many great things to do and little money. Huh? Buying tickets in advance is highly recommended to avoid long queues and save some extra cash! Here are other money-saving tips, in case you were wondering. 
Also, remember to check out the outdoor courtyard, a peaceful oasis in the middle of the El Born neighborhood. It is beautiful!
---
18. Escape from the heat with a swim in La Barceloneta 🏊
If you are in the capital, I recommend you go to Barceloneta beach, which is 422 meters long and one of the city's oldest and most traditional beaches. 
This is a fun activity to enjoy anytime, as you will be greeted by pleasant sand and a wide range of fish and seafood restaurants. 
The beach is perfect for sunbathing and swimming. Several water sports activities are available, including windsurfing, kite surfing, and stand-up paddleboarding, have fun playing tennis or volleyball or relaxing.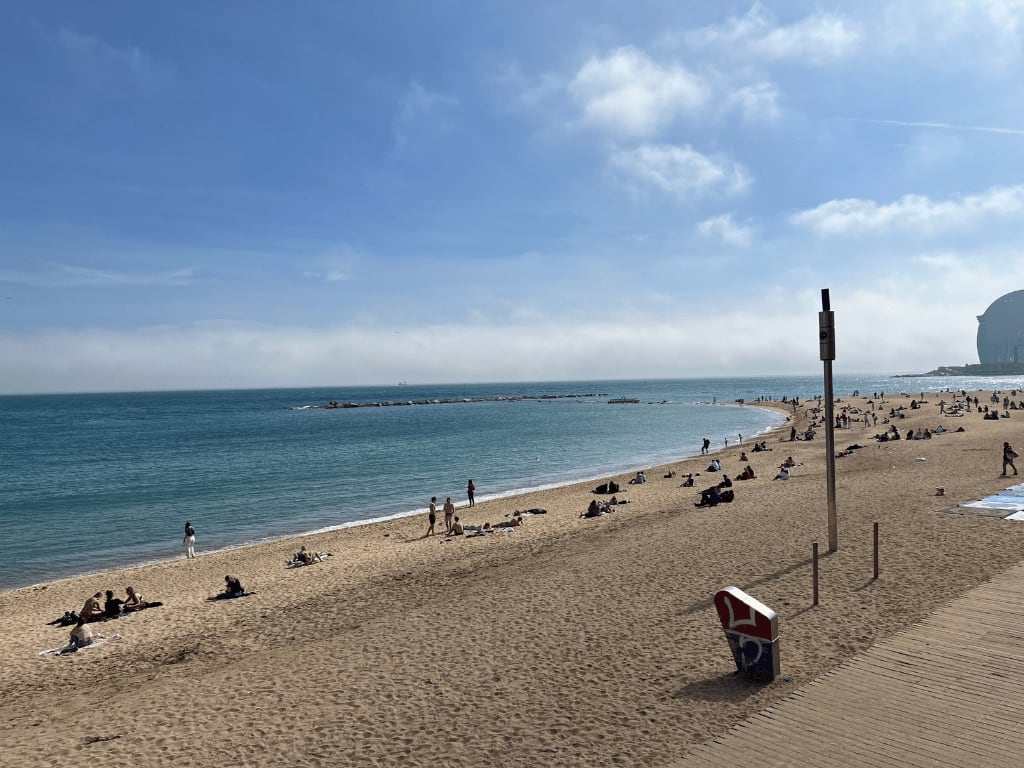 The Barceloneta beach has lifeguards, so you have nothing to worry about when you or the little ones take a dip.
To all this, I must add that the beach has immense historical value, as it is believed to be where Miguel de Cervantes was inspired to place the duel between Don Quixote and the knight of the White Moon.
Overall, you can easily spend a whole day there enjoying the various activities and attractions and finish strong with drinking the best Vermouth at Minyan in Barceloneta.
---
19. Enjoy the Best of Barcelona's Nightlife 🕺
Barcelona's nightclubs are one of the main attractions of the city. You will find many clubs to have fun at until the early morning hours.
Pacha Barcelona: People's favorite and most famous clubs. You will have the opportunity to enjoy different musical styles every day. There are local, national, and international DJs full of talent who play great music to memorable nights.
You will feel as if you were in Pacha Ibiza as the decorations are marked with an Ibizan style, with rounded shapes in red and white tones. It is in a privileged location, north of Somorrostro beach and south of the casino of Barcelona.
Moog: Another excellent option for a fun nightclub in Barcelona. It has two floors in a building used as a party space for over 100 years. 
The interior is divided into two floors that offer very different atmospheres. On the second floor, you will find a room with mirrors where pop-oriented music is played, while on the first floor, they usually play commercial house and techno music.
Sala Apolo: Lastly, Sala Apolo has been operating as a concert hall for decades and offers weekly theme nights. For example, indie rock is usually the main protagonist on Mondays and Tuesdays, while on other nights, very different styles are played, such as reggae.
Tip: If you are going to go to Sala Apolo, you should arrive before 01:00. After that time, the venue tends to fill up, and no more people are allowed in.
---
20. Have a lovely family day trip to the Aquarium of Barcelona 🐟
L'Aquàrium de Barcelona is a great choice to go with your kids, they will have a great time, and you will enjoy having a great family day in the most important Mediterranean-themed center in the world. 
It is located in the Old Port of Barcelona and is home to some of the most representative species of the Mediterranean, including moray eels, sunfish, sea bream, and rays, among many others!
Another reason you should visit is that it has many interactive exhibits allowing visitors to get up close and personal with some animals. You can even touch some species living in the aquarium's touch tank!
The aquarium is an entertaining destination and an opportunity to learn about marine conservation and the importance of protecting our oceans.
Don't miss this opportunity and have a lot of fun! You'll leave with a greater understanding of the underwater world.
---
21. Enjoy an immersive experience in Dalí Cybernetics 😯
With this exposition, Dalí enters the metaverse through an interdimensional digital art portal in the IDEAL of Barcelona, the Center of Digital Arts.
It is a totally different experience where you can travel through the mind of the painter Salvador Dalí. Here you will enjoy an exciting journey through all his most representative works throughout history and appreciate them from a new perspective.
It is a super fun and excellent plan to give as a gift. The best part is the metaverse.
---
22. Eat the Best Brunch at Brunch and Cake 🧁
Undoubtedly, the best place to have brunch in Barcelona, whether as a couple, with friends, or as a family. It's hard to find a better place after trying this one!!
Jimena and I are fans of this Restaurant. The food is excellent, and the prices are excellent value for money. The decoration is elegant, and the waiters are so friendly you will feel at home!
Another bonus point to highlight is that not a single detail has been left out in this place. The bathroom faucets, the mosaic floor, and the mirror are very well selected. 
They have great cakes and cupcakes, and everything from the menu is freshly served.
---
See? There's so much more to do than what you typically see as the "tourist offer." Barcelona is a gorgeous city worth visiting, and you better get the best out of it and do the right activities!
On a positive note, most of the activities I mentioned are free! And they can be enjoyed at any time of the year. However, make sure you know which season suits you best. These articles will guide you according to your preferences and the type of activities you want to do:
10 Best Activities for the Perfect Summer in Barcelona!
I hope this article has encouraged you to write your bucket list! Let me know in the comments about other great activities in Barcelona. :)