What to Eat in Spain: 31 Tasty & Traditional Dishes
May 8, 2023
Updated:

May 12, 2023
Published: May 8, 2023
One of the most challenging things about eating in Spain is that you can't try everything, even if you wish. But hear me out before you start shaking!
Gastronomy is one of the most fantastic ways Spain expresses its identity. 
And curiously, it is difficult to speak of the national cuisine of Spain as a whole. Instead, traditional food is made up of many regional cuisines that use an endless variety of quality products. 
So, if you are still determining what the dishes in Spain have in store for you, or you are just looking for more flavors to taste outside of your usual meals, then get your taste buds ready! 
Must read: I have created a guide for Eating Out in Spain that is also very helpful— Eating Out in Spain: Where to Eat & Best Food to Order
Well, from Tortilla de Patatas to something as exotic as Boquerones en Vinagre, read on to discover 31 Spain food favorites to try and taste while in Spain. 
---
1. Tortilla de Patatas
The famous Tortilla de Patata is one of the most popular dishes in Spain, consumed in every home, and is the most requested tapa in bars and restaurants, no matter in which province or region you are.
Any time of the day becomes an excuse to enjoy this dish, and it is a must at any party or gathering with family and friends. 
It has simple ingredients: eggs, potatoes, and salt. Although you can taste great tortillas stuffed with ham, truffle, cheese, and alioli. But the key to making the best one is using high-quality products, timing, heat, and technique.
Spanish people divide into two groups: those who say the tortilla does not include onions and those who are normal human beings (just kidding).
Tip: Rumor has it that the best tortilla in Madrid is in Casa Dani. 
2. Paella Valenciana
Besides being one of the most emblematic dishes in Spain, the Paella is an authentic, traditional, and popular stew created by the Valencian farmers with the ingredients they had at hand ages ago. 
With time and the experimentation of new flavors, this dish has been incorporating ingredients that enhance flavor and textures. 
But, the ones that can not be missing are rabbit and chicken, flat green beans, garrofones (a legume similar to broad beans), ground paprika, saffron, squid, norway lobster, monkfish, shrimps, and mussels.
Everyone agrees that the best place to try the Paella Valenciana is, without a doubt, the region of Valencia!
However, this dish has risen to many variations of delicious typical rice dishes, which are preferred over Paella for many people, such as Arroz con Bogavante, Arroz Negro, and other classics we will see later.
3. Cocido Madrileño
The one and only comforting dish for Madrilenians during the colder months.
The Cocido Madrieño is a stew with chickpea or garbanzo as the main ingredient. As for the veggies, it has mainly potatoes, cabbage, and carrots; in some cases, green beans or green-leaved veggies are also added. Also, the meat is fundamentally pork belly (fresh or cured), chorizo, onion, morcilla, and dried and cured jamón serrano.
The dish is usually eaten in two or three courses. First, you eat the broth like soup as the first course. Then the rest of the tasty ingredients become the main course, often in two rounds. First, the chickpeas and vegetables, and then the meat.
You can eat it all together if you can! This meal is for champs, after eating this, you'll definitely want to enjoy a Spanish siesta.
4. Pulpo a la Gallega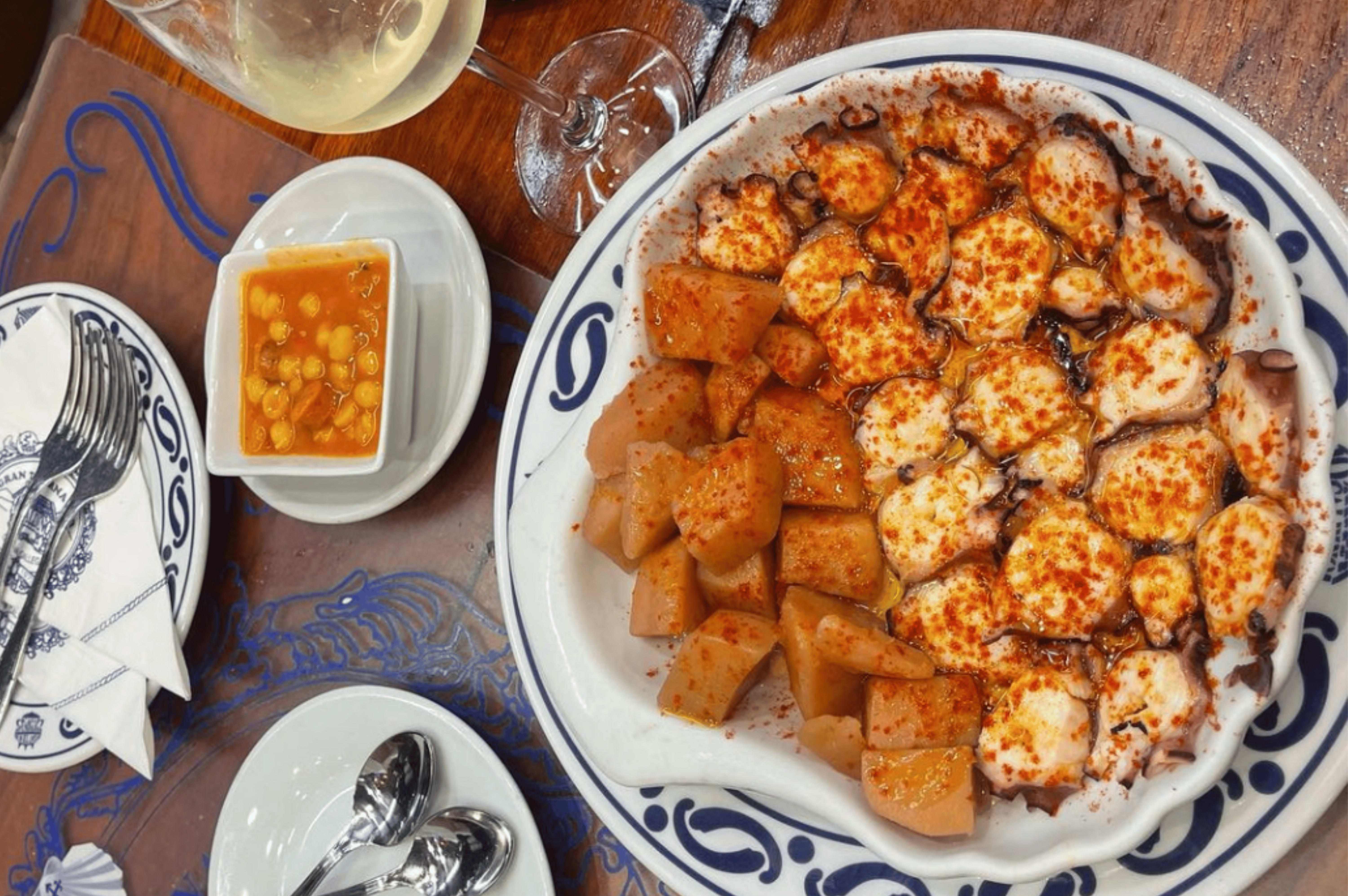 You should not miss this dish while in Spain. The famous Pulpo a la Gallega is full of flavor, life, and sea!
Curiously, back in time, the octopus was one of the few seafood products brought from Galicia to the north of León during "Las Ferias de Ganado." 
In Galicia, the produce was rehydrated with olive oil and seasoned with paprika for better preservation during the trip.
That is why the origin of this recipe resides in León, even in Extremadura, according to some. Still, it soon began to be served in Galicia as well. 
With time, Galicia added a boiled potato as a garnish, differentiating it between the "Pulpo a feira."
This dish is found in many parts of Spain today due to its immense flavor. Definitely a must-try!
5. Gambas al Ajillo
"Gambas" or prawns, is the name given to crustaceans.
These are like shrimps, yes. But Spain only uses that term to refer specifically to the tiny ones. 
This recipe was born when garlic was one of the most used ingredients for cooking. Inside the dish, you'll find: prawns, garlic cloves, chili pepper, olive oil, salt, and chopped parsley.
This simple dish is consumed in practically all coastal and non-coastal bars in Spain. In short, in all of Spain.
Traditionally this dish is prepared directly in a clay or terracotta casserole, suitable for the oven. As is said that its material enhances the flavor!
6. Gazpacho y Salmorejo
Gazpacho is an ideall summer dish. It is a cold soup usually served as a first course.
It usually consists of tomato, bell pepper, cucumber, garlic, bread, salt, extra virgin olive oil, and vinegar.
Gazpacho and Salmorejo are often confused, but the main difference is that Salmorejo uses tomatoes as the main star while gazpacho adds others, such as cucumber and bell pepper, and water.
Both recipes are convenient because they are cheap, refreshing, and nutritious, so they have become a household staple.
7. Jamón Ibérico de bellota 
The "Jamón Ibérico" is one of the emblems of the Mediterranean diet. 
Spaniards enjoy it at any time. It can be at mid-morning as tapas, a starter to a good meal, or an appetizer to open the mouth before dinner. You name it! The Iberian ham is the perfect pick-me-up snack!
You should know that there are differences between the quality of the ham you can find out there. The flavor, texture, and taste of this superfood depend on the origin and feeding of the animal, and finally, how the ham is cut influences the flavor. 
While the famous "Jamón Ibérico de Bellota" comes from 100% Iberian pigs fed on acorns, so it is considered the best quality!
8. La Fabada Asturiana 
It is the traditional dish of Asturias' cuisine and one of the best known nationally. It is a bean stew with Asturian Faba beans (in Asturian called fabes), sausages such as chorizo and Asturian morcilla, cured pork shoulder, and cured bacon. 
The main ingredient, fabes beans, is a native legume, slightly larger than beans and much more buttery, which provides a tastier final texture. Also, they are not the same as Fava beans, which look more like edamame, but they are not.
And these beans are always accompanied by a compango, which is the name given to the set of meats added to the stew. 
9. Patatas Bravas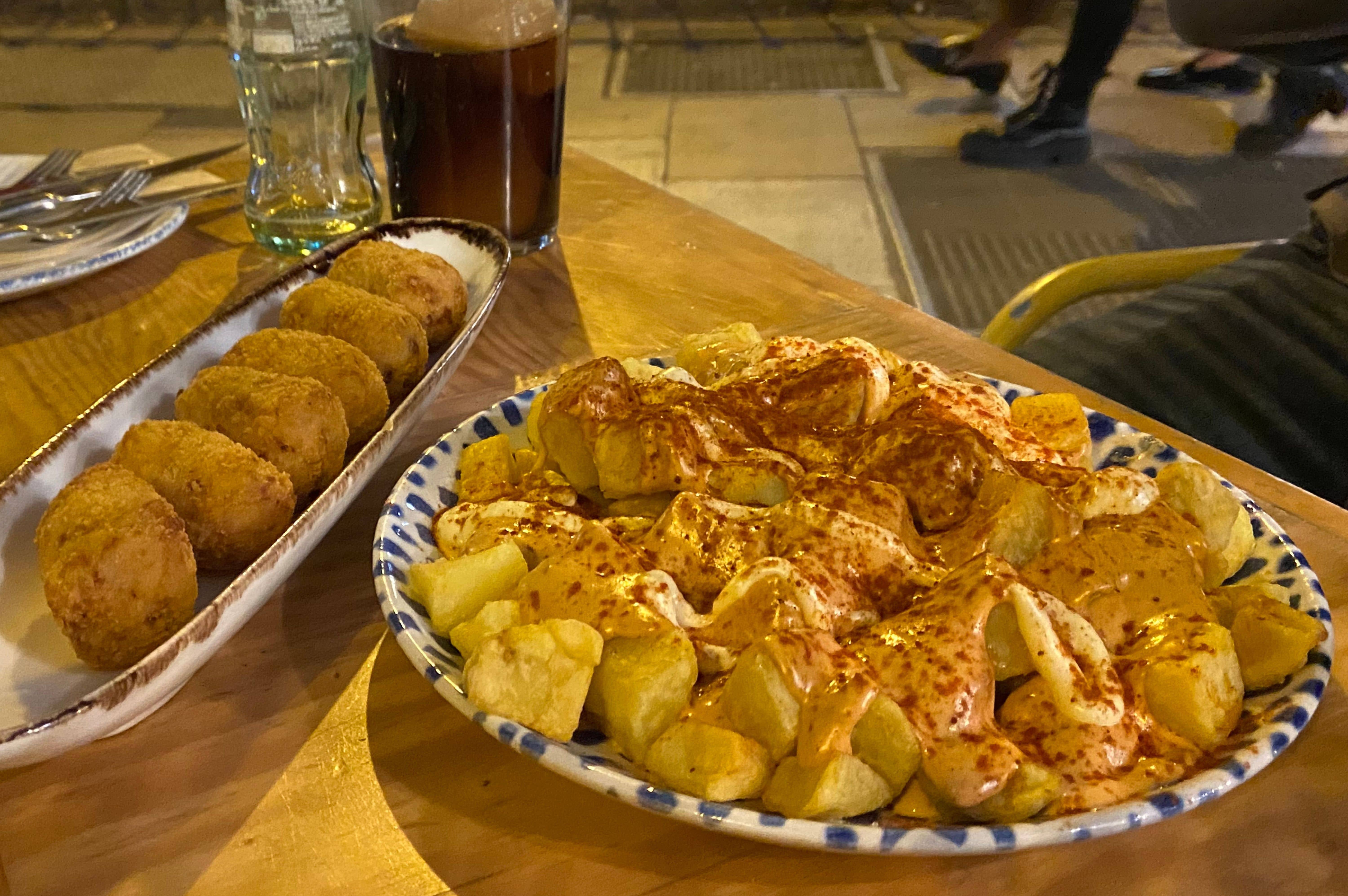 The delicious papas bravas, also known as patatas bravas or patatas a la brava, are a classic tapa that cannot be missed in Spanish bars.
They are called "bravas" (translated as brave) basically because of the spicy flavor of the sauce. Although they are not so spicy compared to other gastronomies like Mexican. So don't be scared. 
The exciting thing about this dish is that there are infinite variants and ways to prepare them, depending on the cook, which has become a matter of who prepares the best bravas.
The best is to pair them with alioli (A sauce made with crushed garlic and oil to which egg yolk is sometimes added). This combo is superior!  
10. Callos a la Madrileña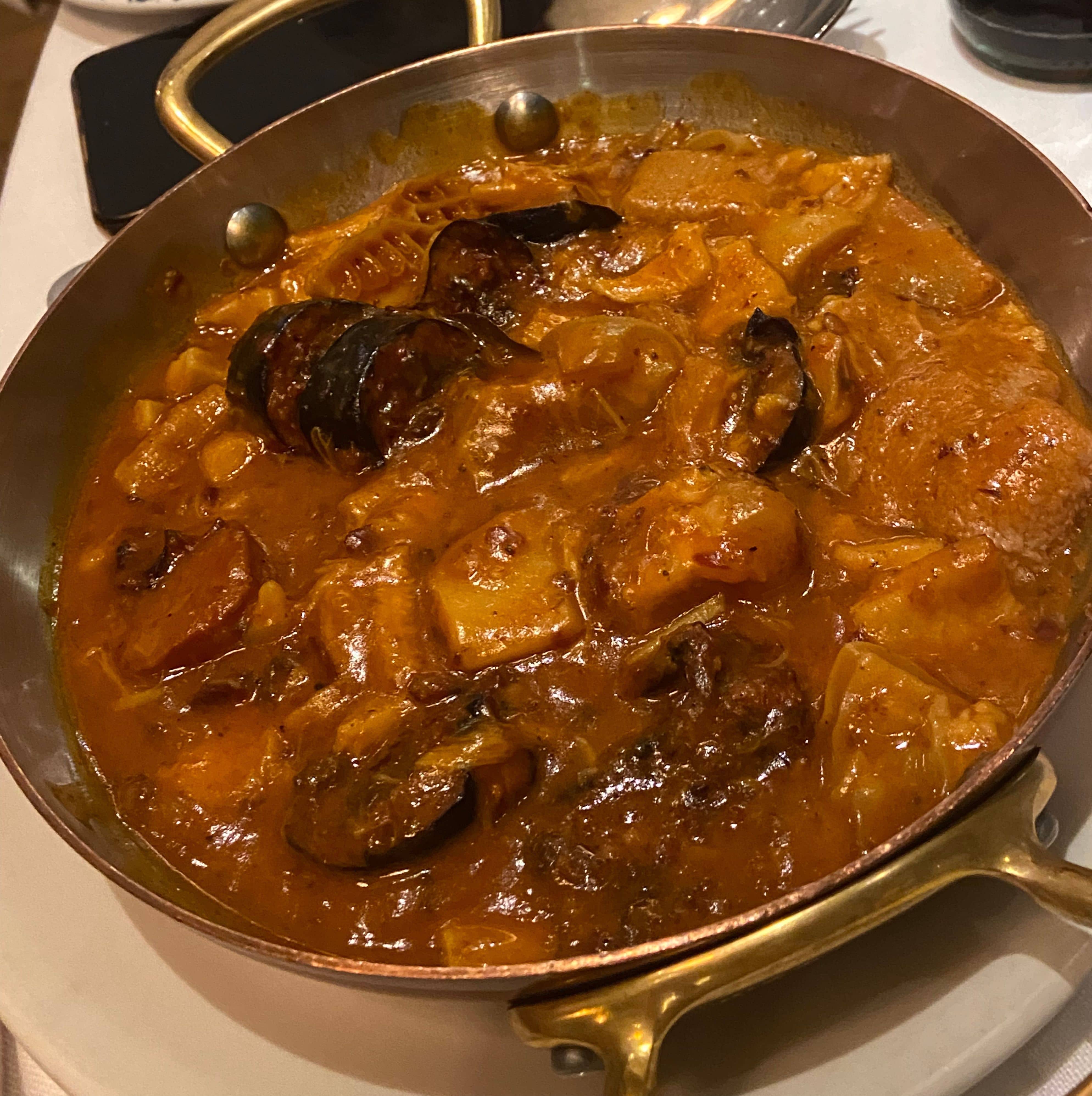 Callos a la Madrileña is one of Madrid's most recognized and appreciated dishes. 
The so-called Callos, or tripe, is the main ingredient of this traditional stew, usually eaten with bread to dip in the sauce. It contains beef tripe, Asturian chorizo, black pudding, dried chili pepper, pig's trotter, bacon, tomato sauce, onion, carrot, etc.
And among the spices that make possible the explosive and powerful flavor of this dish are cayenne powder, ground bay leaf, sweet paprika, ground cumin, and ground black pepper.
Also, you should know that the Madrid version is far from the Galician one. In Galicia, tripe is usually served with chickpeas, while in Madrid, we don't add them. 
In addition to Galicia, you can find callos a la andaluza or callos a la asturiana. The same thing happens to any tripe recipe, a very typical ingredient.
11. Bocadillo de calamares
Besides being a squid sandwich, the famous "bocadillo de calamares" is part of a very characteristic custom in Spain, the sacred Spanish tapas, sharing a meal with friends or family on any terrace, and informal dinners. This dish is a must-try while in Spain. 
They are also known as "bocadillo de rabas," popular in northern Spain. You can easily find them in several bars and restaurants in Cantabria and the Basque Country, where the coasts provide fresh squid. 
It is one of those plates that will never be missing on a typical taverna madrileña. Also, we could say that bocadillos are a Castillian "fast food," As many modern kitchens have adopted this recipe and created their own. 
For example, in Castellana in Madrid, there's a place called Punk Bar, where they have a modern version of a bocadillo that is really worth trying!
12. Arroz con Bogavante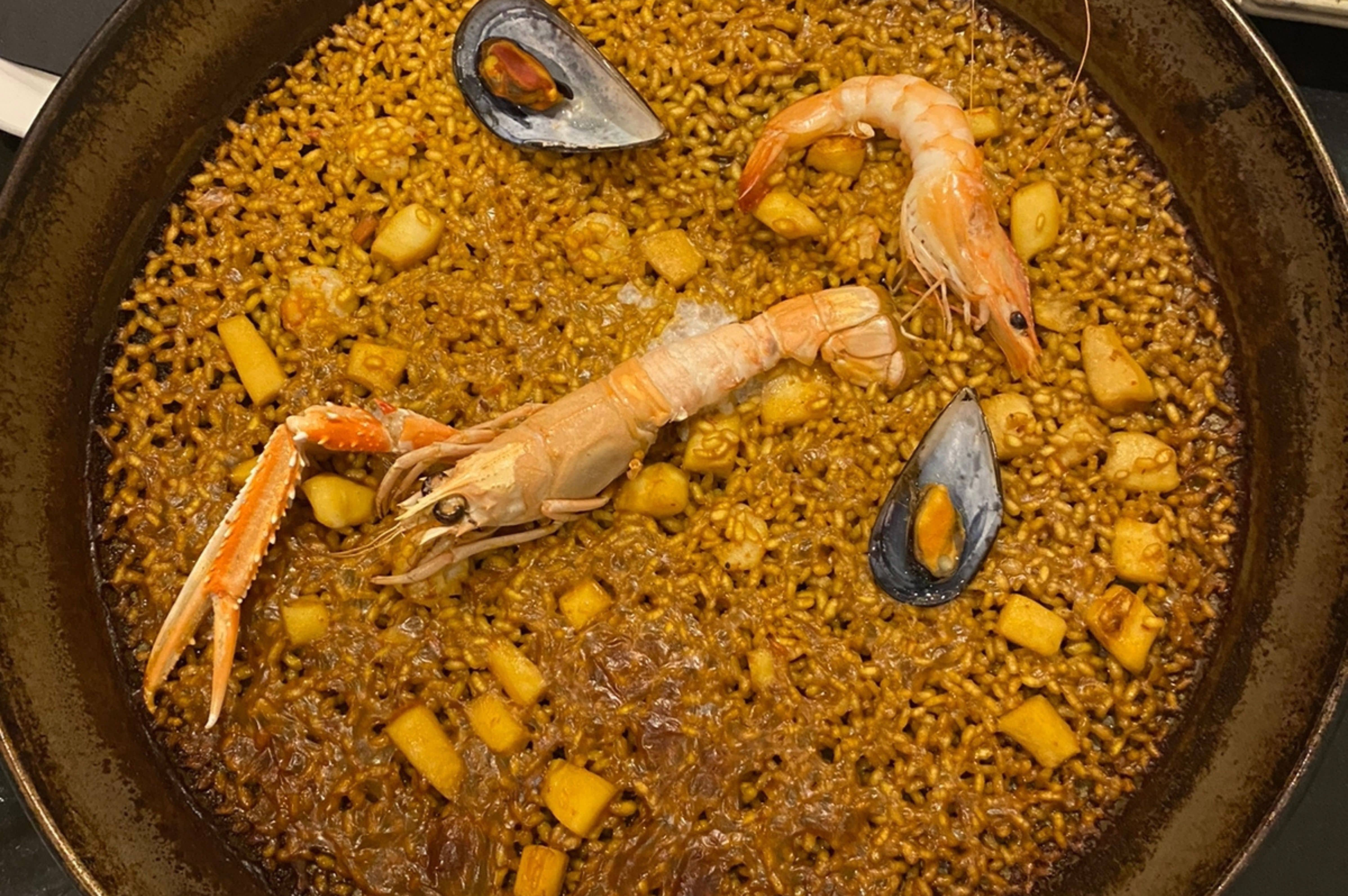 This is an incredible complete dish, very typical of the Spanish coastal towns. It is often confused with Paella because of how it is prepared and served in the same "paellera" or "caserola" and because it looks like it is the same. However, it is different from Paella Valenciana. 
It has round rice, tomato, Italian green bell pepper, red bell pepper, fish broth or fumet, garlic clove, and fresh lobster.
It is usually served, like all rice dishes, freshly prepared. And this type of rice can be cooked dry or with broth, leading to an "arroz meloso or caldoso" with a creamier texture, like this variation: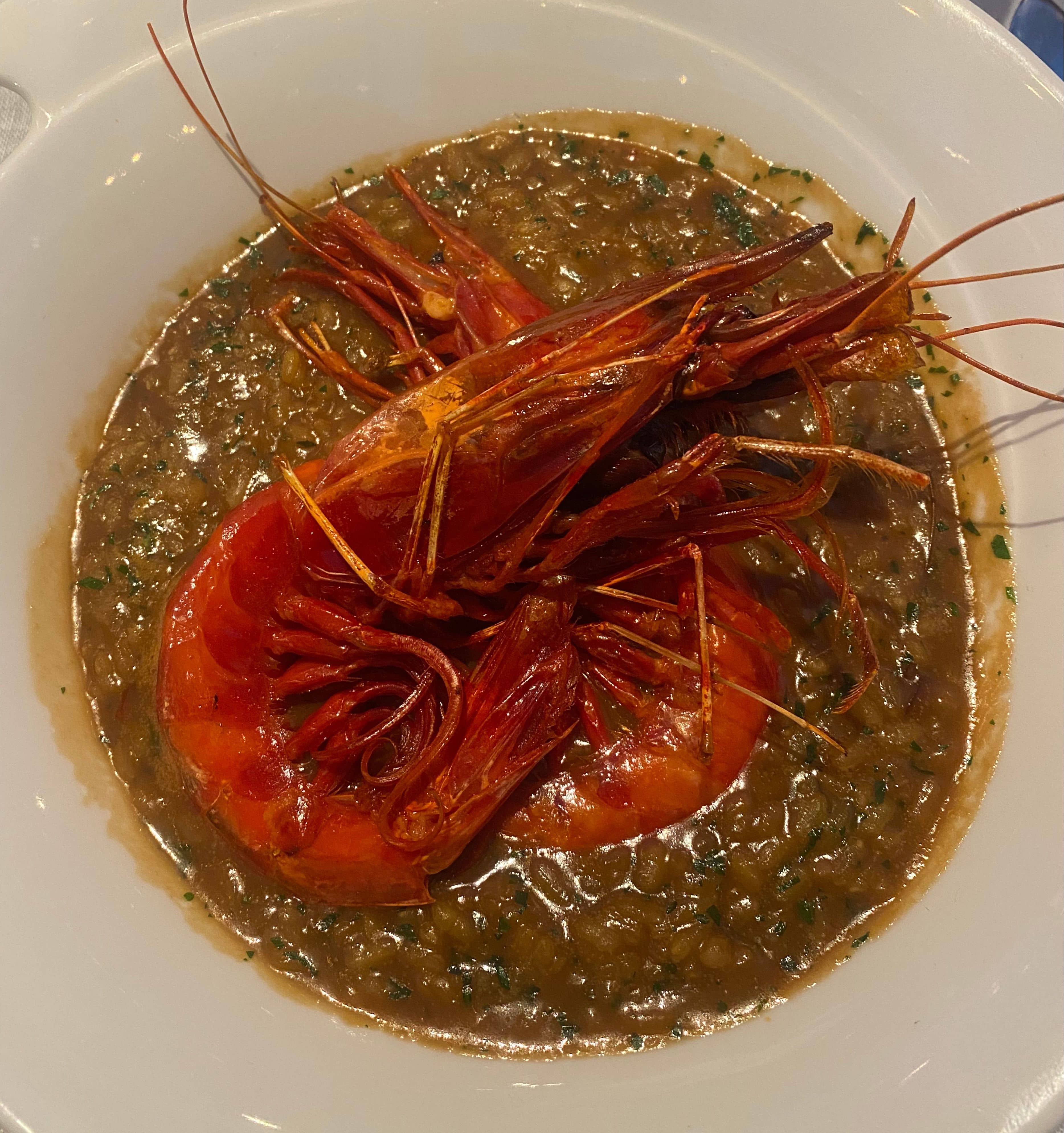 This tasty rice with lobster has fibrous meat with little fat and intense flavor. In Spanish gastronomy, eating lobster is typical in celebration meals, family gatherings, formal meals, and so on. 
13. Croquetas
Croquettes are fried buns consisting of a thick binder and a filling. I'm sure you've heard of them before, as they are well-known internationally, but believe me, Spanish croquettes are out of this world.
They are served as a side dish, snack, or fast food worldwide.
The dough contains oil, milk, flour, garlic, onion, parsley, egg, and bread crumbs. While the filling can be whatever you want, but preferably usually, proteins such as chicken, ham, cod, and mushrooms.
A very curious fact is that croquette doughs were previously made from leftovers, usually chicken or ham, from previous days' dishes. 
In fact, serving stew on Wednesdays and Thursdays in many Spanish homes and restaurants was a tradition to save the leftovers for croquettes.
14. Cochinillo Asado
The roast suckling pig is one of the most typical dishes of Castilian cuisine, especially in the city of Segovia. 
This dish's hype lies in the roasted pig's tenderness and demonstrating how delicate the meat is by cutting the pork with a plate instead of a knife.
The meat is juicy, super tender, and melts in the mouth with lots of flavors, while the skin is perfectly crispy! 
The difference between suckling pigs and the pigs we are familiar with is that the piglets are much smaller than the typical outdoor roasts. They can be hard to find in the USA and are about one-third the size.
In Segovia, you can't miss the famous cochinillo de Jose Maria. This traditional and long-standing restaurant is frequently awarded for its cochinillo asado, which they cut with a plate right before you!
15. Escalivada
This is a traditional dish from Catalonia, Valencia, Murcia, and Aragon of smoked, grilled vegetables, usually composed of peppers, eggplants, and other roasted vegetables.
Depending on taste, sometimes potatoes, artichokes, tomatoes, leeks (calçots), or garlic cloves are also blanched.
It is very famous for how easy, nutritious, and delicious this recipe is. Its versatility allows it to be a complete meal by pairing it with hard-boiled eggs, fish (such as anchovies, sardines, or salted cod) or eaten with sausages (such as chorizo criollo or chistorra).
16. Ensaladilla Rusa
The Russian salad is a mythical recipe in every bar and our grandmothers and mothers' houses. 
The recipe is originally from Russia, but Spain adopted it by giving it a unique touch!
Although it is a perfect side dish, the Ensaladilla Rusa is also eaten as a tapa, as a first course, for dinner, or as a sandwich. The ingredients are as follows: large potatoes, carrots, peas, tuna in vegetable oil, olives stuffed with anchovies or peppers, hard-boiled eggs, mayonnaise, and salt.
As you can see, it is a complete dish since it combines vegetables, fish, and eggs.
17. Pisto Manchego
This dish of chopped and fried vegetables is another classic in the Spanish recipe book and a must in traditional Spanish houses.
This is a "humble dish" initially prepared by the peasants of La Mancha with the products of the garden.
Among the main ingredients are onion, zucchini, green pepper, red pepper, tomatoes, olive oil, garlic cloves, and bay leaf. Although the ingredients can vary throughout the country, every house gives its personal touch and seasoning with the available ingredients.
Plus, adding a fried egg on top and crushing that yolk with a piece of freshly baked bread is something you MUST do to eat this dish as an authentic Spaniard!
18. Arroz negro
Another rice dish? Yes, keep 'em coming! 
Rice is a very popular preparation in our country, so the famous Arroz Negro is an exceptional dish you should not miss in Spain, as it is one of the tourist's favorites while they visit.
The most characteristic of this rice is precisely the black color of the rice and a flavor reminiscent of the sea thanks to the squid ink incorporated into the preparation of the fish broth that is added to the rice, which then dyes this rice.
The most important ingredients are bomba rice, fish broth or fumet, squid ink, cuttlefish, garlic cloves, tomato, saffron strands, extra virgin olive oil, paprika, and of course, a paellera!
It is eaten freshly prepared, and you must accompany it with a homemade alioli sauce to enhance the experience.
19. Pescaíto Frito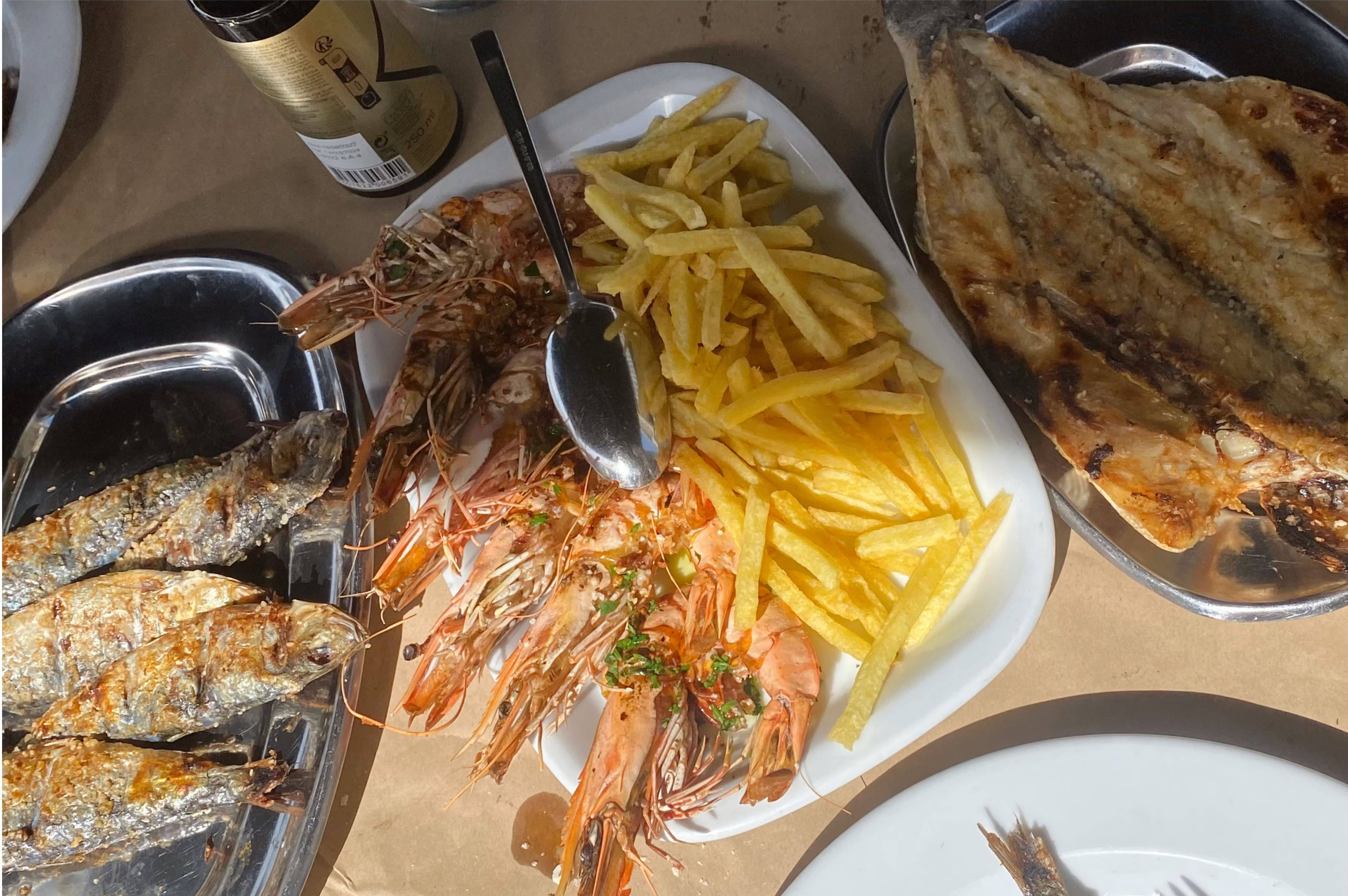 This is one of the most popular specialties in the Andalusia region in southern Spain.
It is a simple but delicious dish of crispy fresh fish dipped in a thin layer of flour and fried in oil until golden and crisp. Today it is a tapas option you should try if you are in the South, for example, in Cádiz, Málaga, and Huelva, where it is consumed the most.
They are called "pescaíto," a diminutive of "pescado," since this fish is smaller than a regular one. They have a unique flavor and provide a crispy texture on the outside and juicy inside.
The best ones are usually the "choquitos," the "calamaritos," the "acedías," or the "boquerones."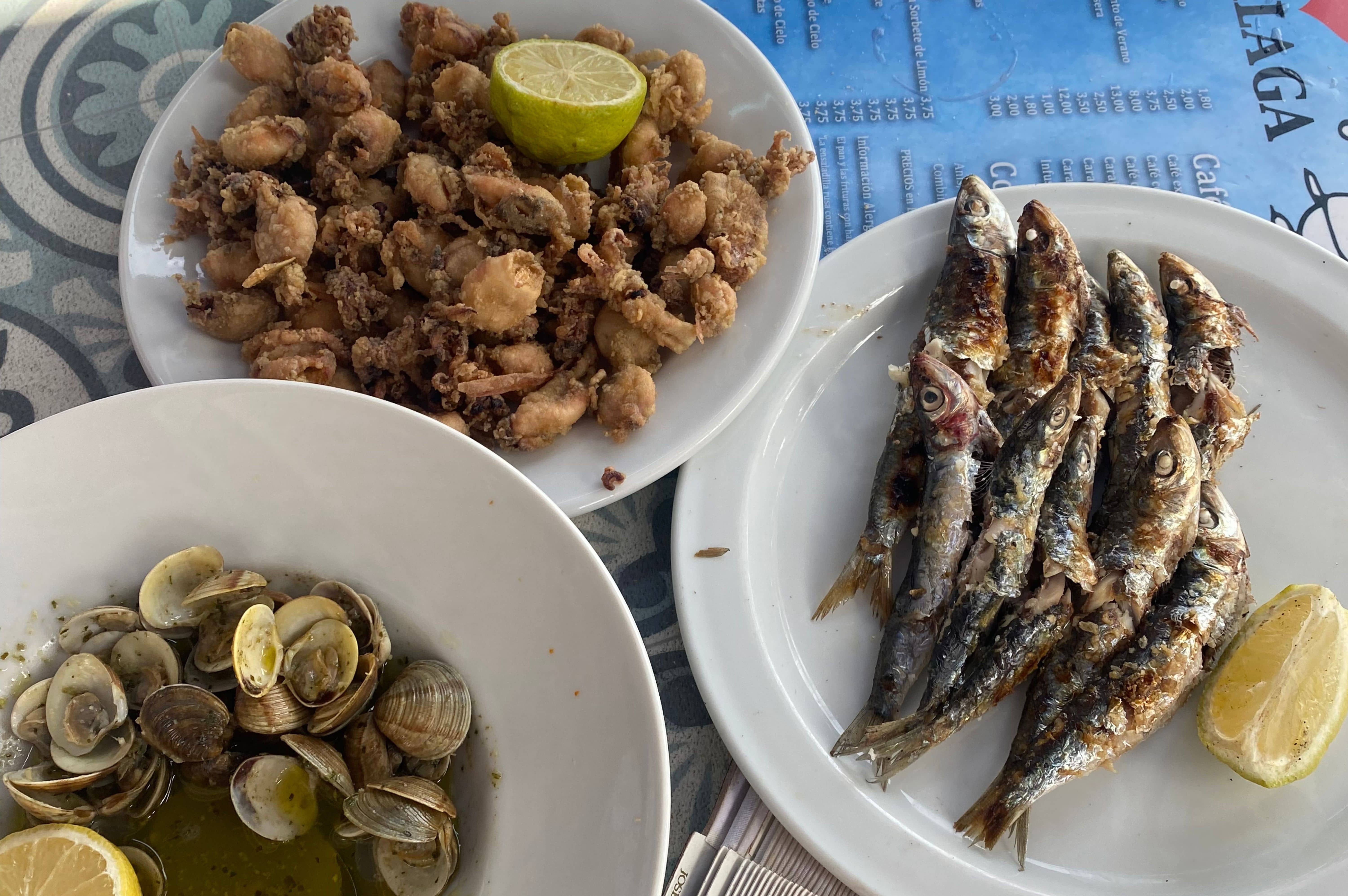 20. Migas Extremeñas
Migas is one of the most traditional dishes of the gastronomy of Extremadura and is super convenient for breakfast, in between meals, or as a side dish at lunch. This plate was traditionally prepared in rural areas as a main meal.
The famous migas are made with laminated or crumbed bread, sautéed with fat and meat from different animals in a simple refried sauce of garlic, tomato, pepper, and onion.
21. Chuletón Navarro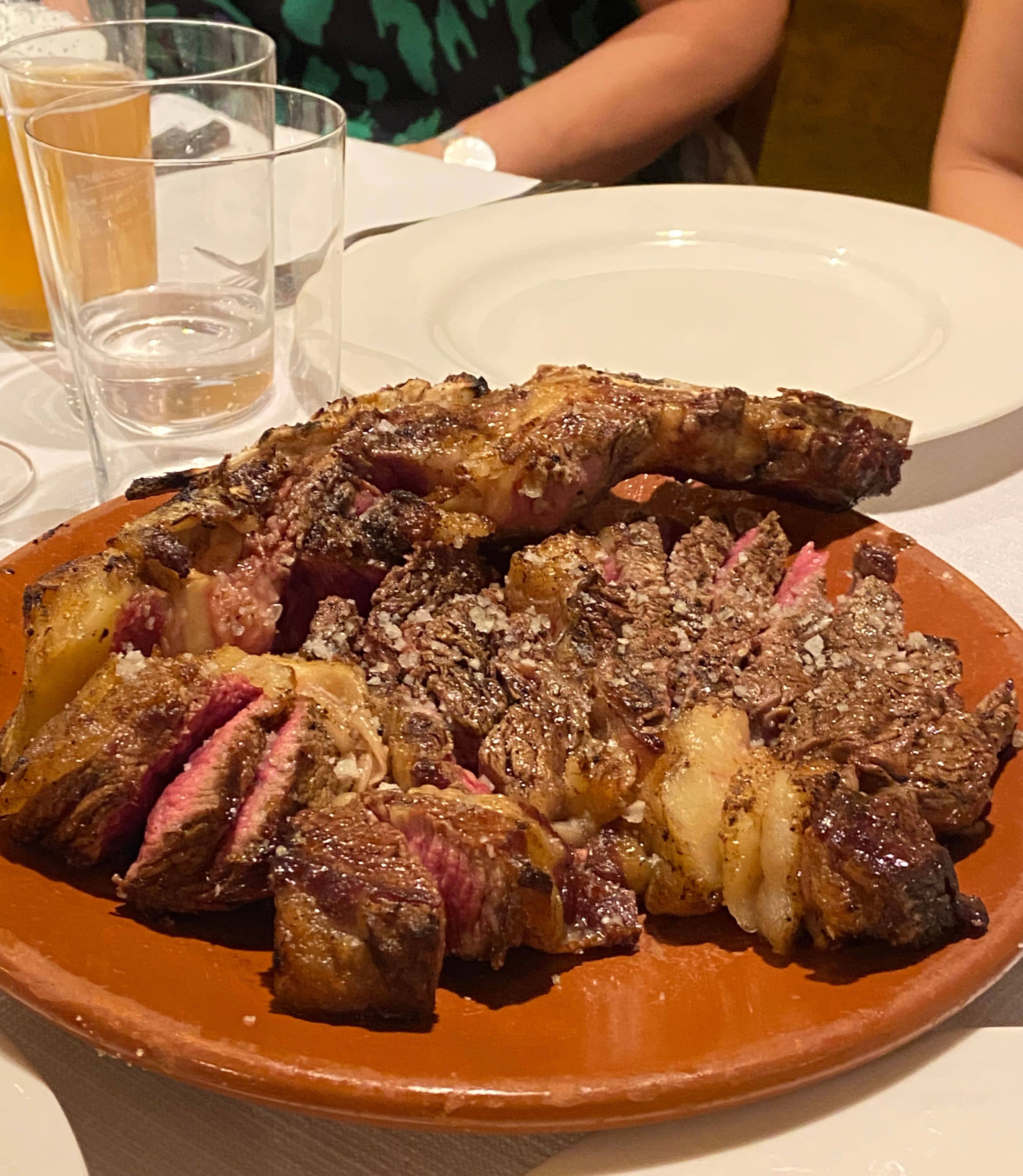 Please, do yourself a favor and try the famous Chuletón Navarro while in Northern Spain. 
The T-bone steak is one of the excellent references of Navarre gastronomy.
This dish is very typical in the mountain area. They can be roasted with vine shoots which provides a particular taste.
I recommend accompanying it with some rich piquillo peppers that go with everything.
22. Lechazo o cordero lechal al horno
The "Lechazo" or "Cordero lechal" is prevalent in Spanish cuisine on special occasions and during traditional celebrations in Spain.
It consists of very tender meat with little intramuscular fat, incredible juiciness, and a very soft texture with a pearly white or pale pink color.
The roast lamb is a roasted variety of lamb not yet weaned. Traditionally it is made in a wood-fired oven, in clay pots, and served to diners hot, with crispy outer meat.
It is one of the most important dishes of the gastronomy of Castilla y León and in Asturias. 
The suckling lamb is consumed mainly at Christmas gatherings. To see more typical dishes that adorn the tables during the dates, visit the following post:
23. Rabo de Toro
Rabo de Toro is a typical stew frequently cooked in various Andalusian cuisines, specifically in Córdoba. 
This is a stew, ragout, or stew of meat cut into small pieces of cow or bull tail. 
It is a very traditional dish to discover Andalusian gastronomy at its best. 
24. Pintxos vascos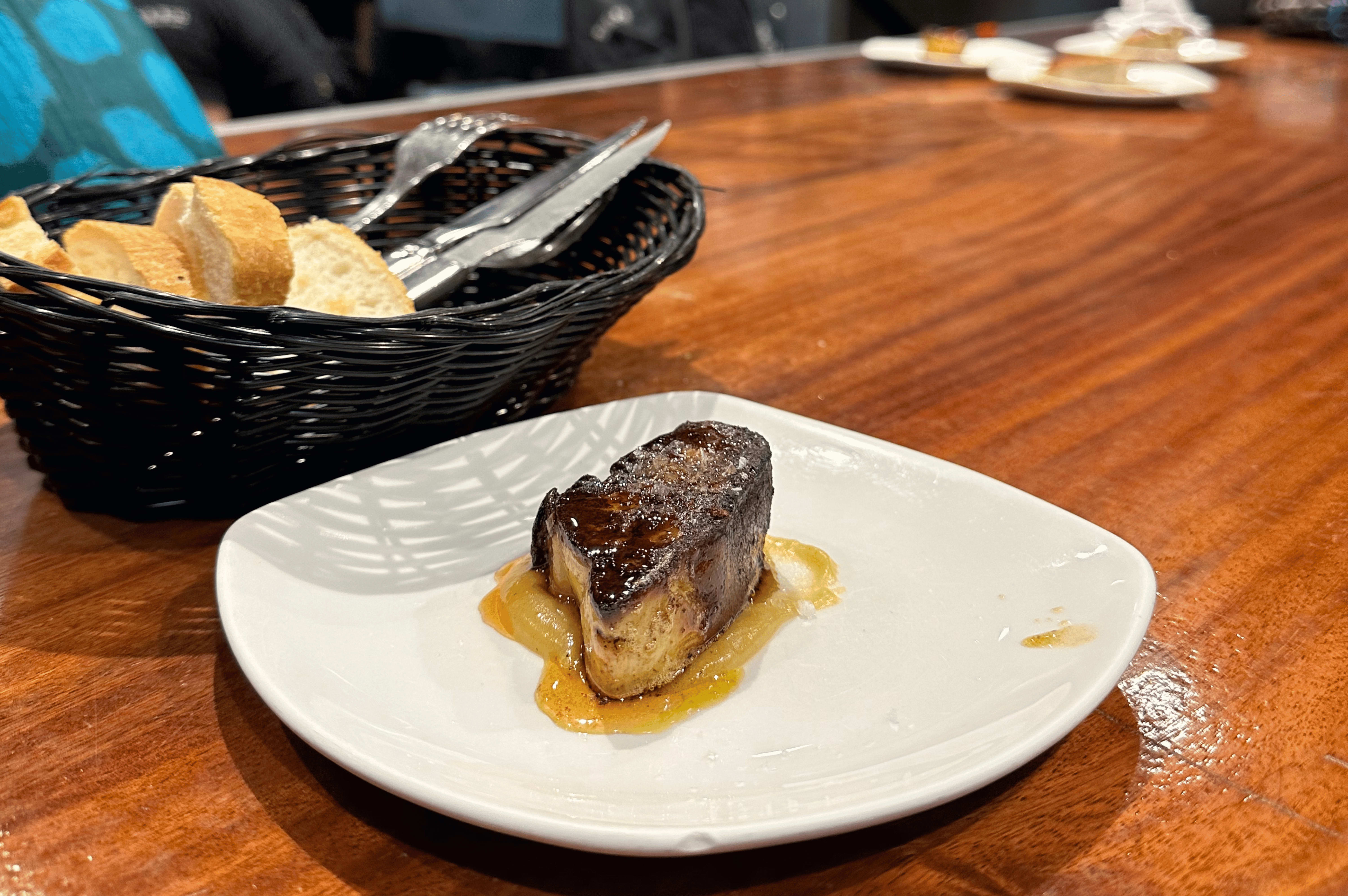 Pintxos are bite-sized appetizers served in bars and taverns throughout the Basque Country. They are the most representative of Basque cuisine and the center of the local gastronomic culture, mainly found in Bilbao and San Sebastián. 
In short, "Pintxos" are small-sized pieces of heaven!
In Basque, they are called "pintxos" because the food was initially attached to the bread with a toothpick (although it is not mandatory).
Some features can serve as a guide to differentiate a pintxo from a tapa. For example, they tend to be smaller than traditional tapas. It usually is a bite, not to share; They have a better elaboration and assembly, whether cold or hot; He usually has a skewer (obviously); It usually goes on bread, although not always.
If you visit San Sebastián, try el "pintxo de foie" at La cuchara de san telmo, the "pintxo de txuleta" or "pintxo de carrillera" in Gandarias and the "pintxo de erizo" in Casa Vergara. They are absolutely fantastic!
25. Fideuà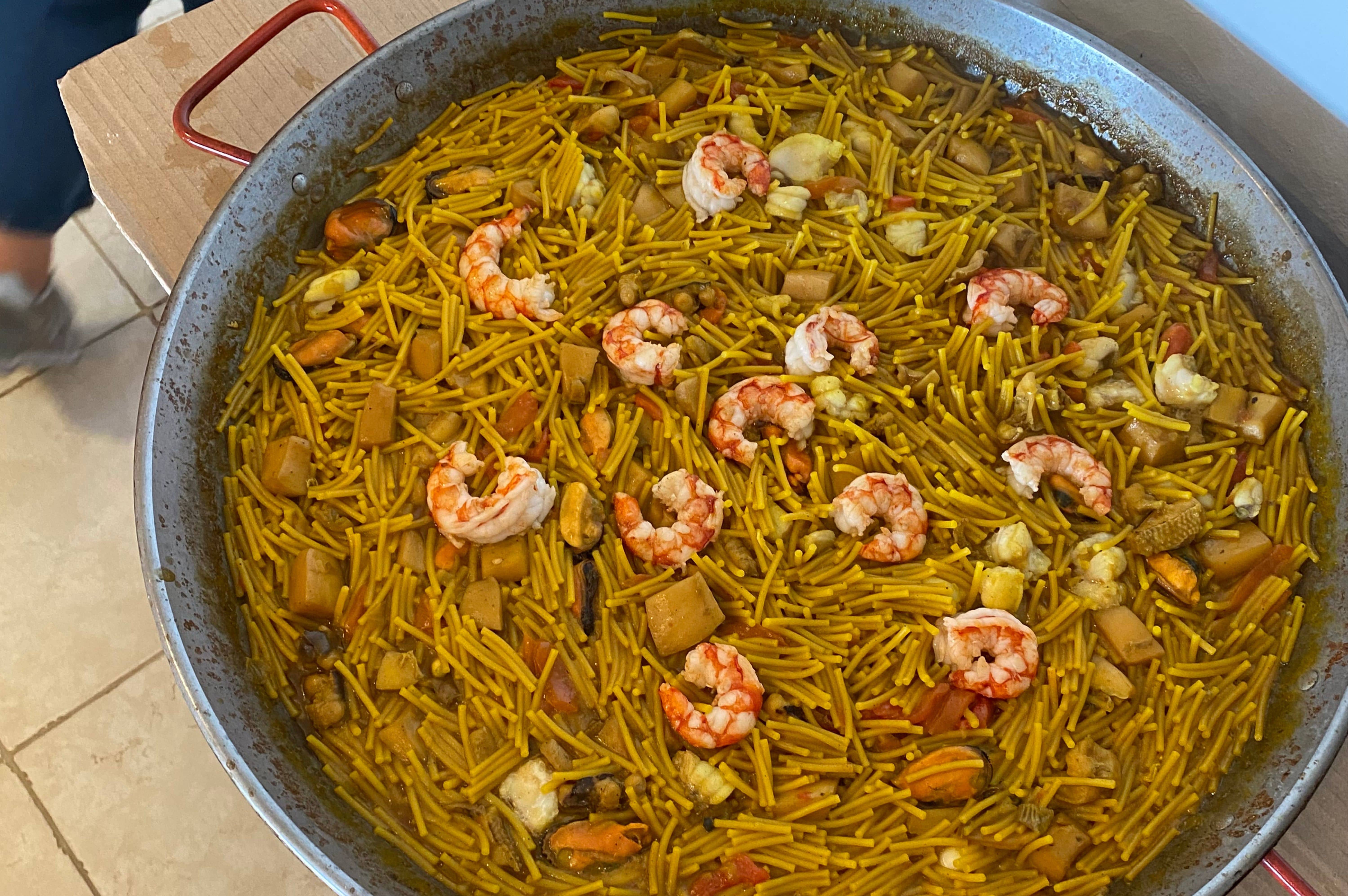 The fideuá is a seafood dish originally born in Gandía but has now spread to the entire Valencian Community.
It is similar to Paella, and even more so to arròs a banda, and is also cooked with a paellera.
Its main ingredients are pasta noodles (often hollow), fish (rockfish, monkfish, cuttlefish, squid), shellfish (squilla mantis, shrimp, crayfish), red pepper, green pepper squid, homemade fish broth, saffron or coloring that gives the deep flavor of the sea.
La fideuá and Paella's main difference is that the first has noodles instead of rice.
26. Boquerones en vinagre
Boquerones en vinagre are a common appetizer or tapa found in Spain's most traditional and typical bars and tavernas.
These are anchovies marinated in vinegar, resulting in a cold and acid marinade or "escabeche."
At this point, there might be some confusion between anchoas, bocarte, and boquerones. But it's the same fish. The difference is that the anchovies we usually know (often used as a pizza topping) are salty.
While the ones that are in vinegar or the fresh versions that are fried are called boquerones en vinagre or boquerones fritos. 
Also, in the South, people use the term boquerones more. While anchoas and bocarte are synonyms that are used more in northern Spain.
27. Crema Catalana
Now let's fish strong with the sweetest dishes in Spain. 
The famous and delicious crema catalana is undoubtedly the most typical dessert of Catalan cuisine.
It is pastry cream with an egg yolk base covered in a crunchy layer of caramelized sugar. Some consider it an evolution of custard, while others compare it to the French crème brûlée. However, the Catalan cream is way on top of that league! 
You will mostly see it in its classical version, accompanied by a small cookie cone that breaks the candy on top.
Also, Catalan cream is associated with Saint Joseph, served on the saint's feast day. This explains why this desert is sometimes found in Catalonia as Sant Josep cream. To see related holidays, read this article:
28. Churros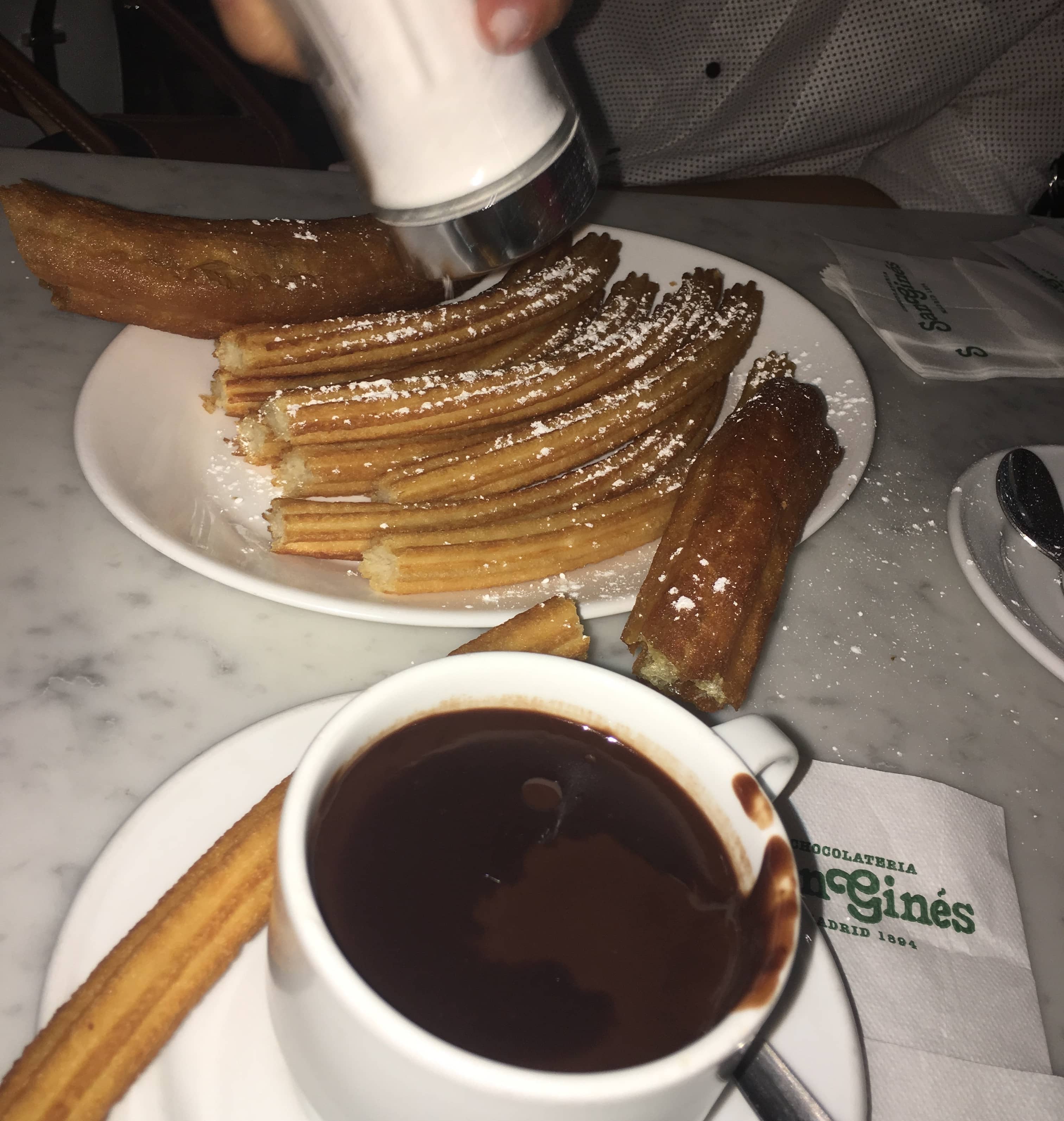 Simply iconic.
Chocolate with churros is a typical sweet dish of the gastronomy of Spain.
"Churros" is a dough made from wheat flour cooked in oil in the shape of a star and are served with all manner of fillings from chocolate to jelly, custard, and even Nutella if you want. 
The main difference between Churros and Porras is in the dough. These two are like cousins, but the key is in the dough. Churros are made with boiling water so that the yeast burns. On the contrary, Porras require warm water, which gives them a more spongy texture.
This dish can be consumed for breakfast or as a snack and is usually taken more frequently during the cold winter. Also, one of Spain's most important New Year's Eve traditions is eating churros on January 1st! Read more:
29. Torrijas
Torrijas deserve a VIP spot in heaven.
The French toast is a sweet dessert of European origin but with a long tradition in Spain.
It consists of a slice of bread, other than fresh, soaked in milk or wine and, after being coated in egg, is fried in a pan with oil.
Then, it is sweetened with honey, molasses, or sugar and flavored with cinnamon. It's similar to French toast but with a twist!
This dish is typical of Cuaresma and Holy Week mainly because, back in time, people needed to do something with leftover bread. Since meat could not be eaten, bread was less consumed since Spaniards always paired meals with a piece of bread.
30. Arroz con Leche
Rice pudding is a traditional dessert in Spain and many Latin American countries.
The essential ingredients of rice pudding are simple: rice, milk, and sugar.
Then, depending on taste, it can be flavored with cinnamon, orange or lemon peel, cardamom, or rosemary honey and made creamier with cream and sweeter with condensed milk.
In each Spanish region, this dessert is consumed with different ingredients, but all its versions are equally sweet and creamy. Worth a try!
31. Flan
Lastly, we have one of the most acclaimed desserts, which kings considered the most stylish way to end a good meal or table in the past.
The flan is a dessert made with custard, having whole eggs, milk, and sugar as the main ingredients, which are then refrigerated to obtain a creamy and gelatinous texture.
The key between an exquisite flan and a regular flan is in the preparation, as it is cooked in a bain-marie.
Some variants add fruit juices, compotes, melted chocolate, coffee, cream cheese, or yogurt from the basic recipe.
And, if you have a sweet tooth like I do, you can always add almonds, pistachios, or dulce de leche for a better taste!
---
We've covered a lot of ground by now. I hope this complete list has you ready and steady to get up, hit the streets, and discover the best Spanish gastronomy!
Please, feel free to comment below your top favorites while in Spain and those dishes you recommend first-timers to try trying, so we help our community out. :)