Eating Out in Spain: Where to Eat & Best Food to Order
May 22, 2023
Spain has a diverse culinary landscape. It has a vibrant and enthusiastic food culture and endless delights awaiting travelers.
In this article, we will explore the countries' gastronomic offerings through a complete guide to Eating Out in Spain with everything you need to know: Different types of food restaurants, best places to eat depending on the region, tips and recommendations to finding hidden gems you will definitely not want to miss.
Make sure to visit this introductory article on Spanish cuisine first. It will guide you through the best and most typical Spanish dishes you should know about.
Let the belly growls begin!
---
Where to Eat in Spain: Types of Places
Tabernas and Traditional Restaurants 
To begin with, I would like to introduce you to the concept of Tabernas. These mythical places have been the main meeting points of Spanish society for generations and long decades ago. 
They are usually found in rural areas to have an authentic dining experience with regional dishes and home-style cooking. 
When is the best time to go to a tavern? Whenever you want. Spaniards go for breakfast, after work, to watch a game with colleagues, or to eat and drink abundant food, which nowadays represents the Spanish lifestyle. 
These places have seen artists grow, many generations pass, and families have preserved the authentic flavor of Spanish cuisine in their homes over the years.
Chiringuitos - Beach Bars
These places are known for being the most convenient places to stop and grab fresh seafood and refreshing drinks after a long day sunbathing and relaxing at the beach. Some of them are very touristy, so pay attention to our recommendations. Plus, you have fantastic coastline views as these places are next to the sea!
📌Read more: The 9 Best Restaurants in Mallorca: A Food Lover's Guide!
Michelin-Starred Restaurants
Spain is your place if you want a high-end experience in exclusive and elegant dining locations. It has multiple Michelin-starred restaurants and excellent chefs recognized worldwide that will surprise you with high-quality cuisine. Most are a mix of traditional food with modern and sophisticated touches. 
Tapas Bars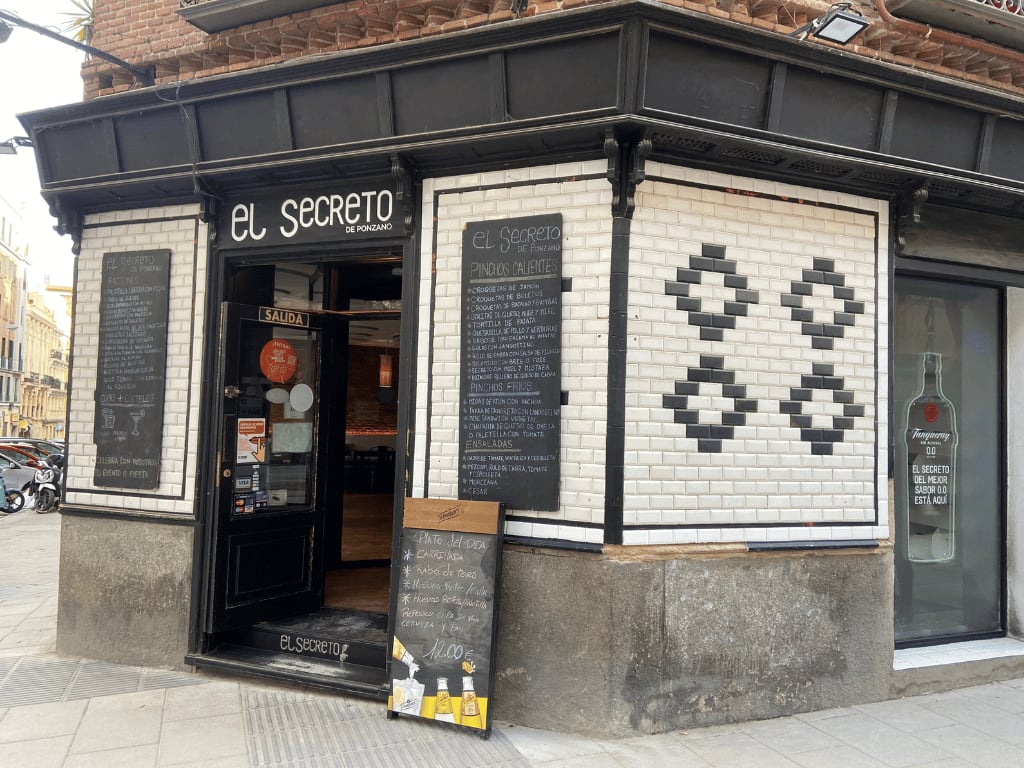 You will find Tapas Bars in every corner of Spain. In these places, you will find drinks and small portions of food (called tapas) in a laid-back atmosphere, less formal than a restaurant. You can eat standing up or sit in high chairs so you can casually stand up and leave after you finish.
People often get confused since Tapas tend to be small portions in some cities, while they give you big bites in other cities. Also, they're free in some places, whereas others charge for them.
📌Read more: 10 Best Tapas Bars in Seville for Local Bites & Drinks!
The best tapas bars are usually very crowded, so you will see a lot of movement and waiters serving food quickly to accommodate the crowd.
You can find cold and warm tapas, tostas (toasts), tablas (tables, usually with cheese, ham, and charcuterie), and pintxos (from the Basque Country).
You do have to pay for tapas, but some bars often give out simple tapas for free, usually after buying drinks or wine to complement the chat. 
Markets
Markets are another option for eating out in Spain in a traditional way to try local and regional products.
In addition to being a tourist attraction, these places are centuries old, and many are in the heart of their towns and cities where local merchants bring their products. 
📌Read more: 12 Best Markets in Madrid to Explore Food & Crafts
You can try fresh products, seafood, meat, imported products, cold cuts, wines, and the best cheeses you will ever try since Spain is one of the countries with the best raw materials and gastronomy. Food can be eaten there as a casual dining option, or you can buy produce and take it home.
International Food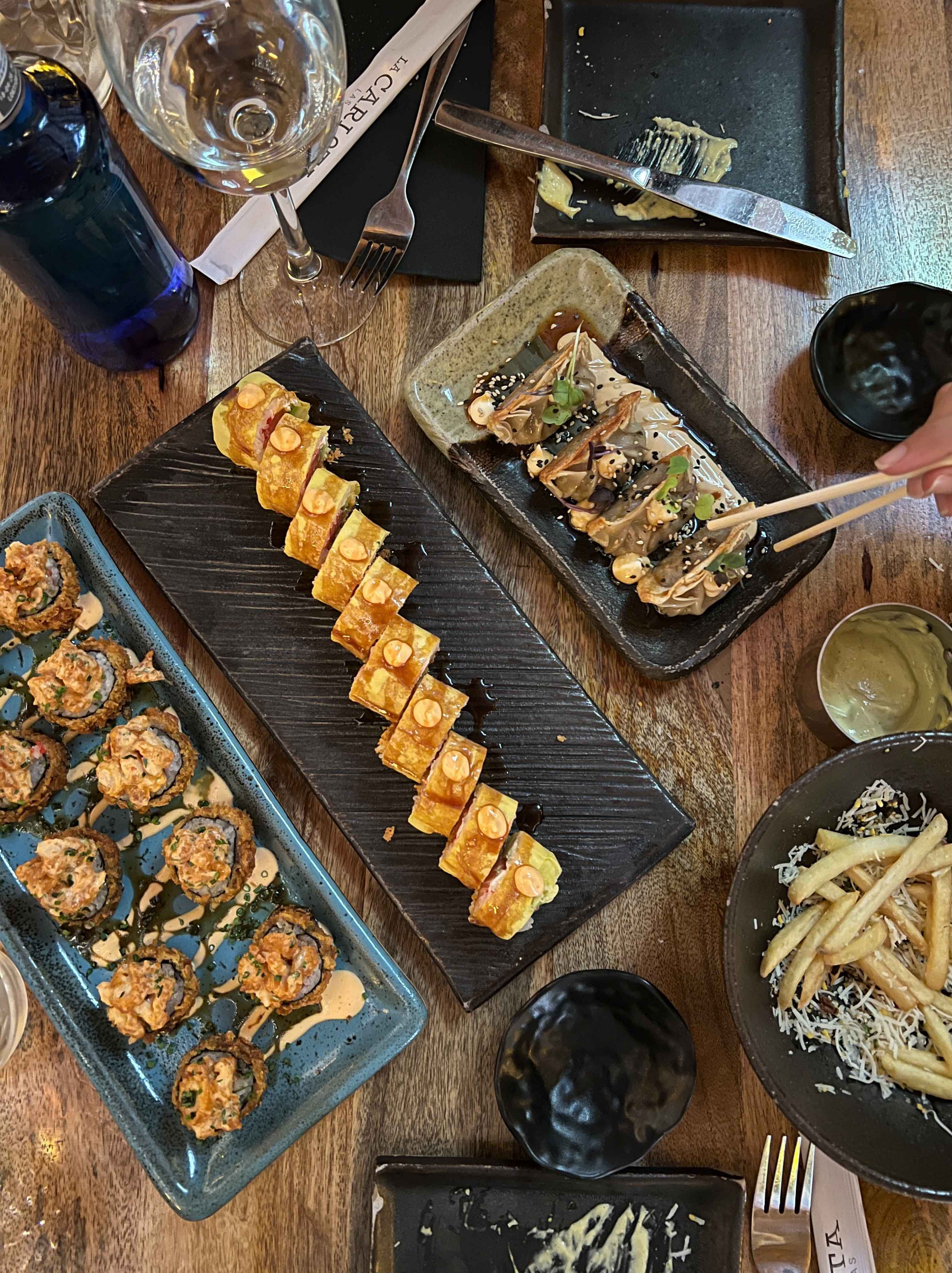 Spain is open to influences from other countries, and we like international food like anyone else.
You will find high-quality Italian food, and thanks to the proximity of both countries, it has already been adopted in traditional culture to eat pasta or pizza at least twice a week.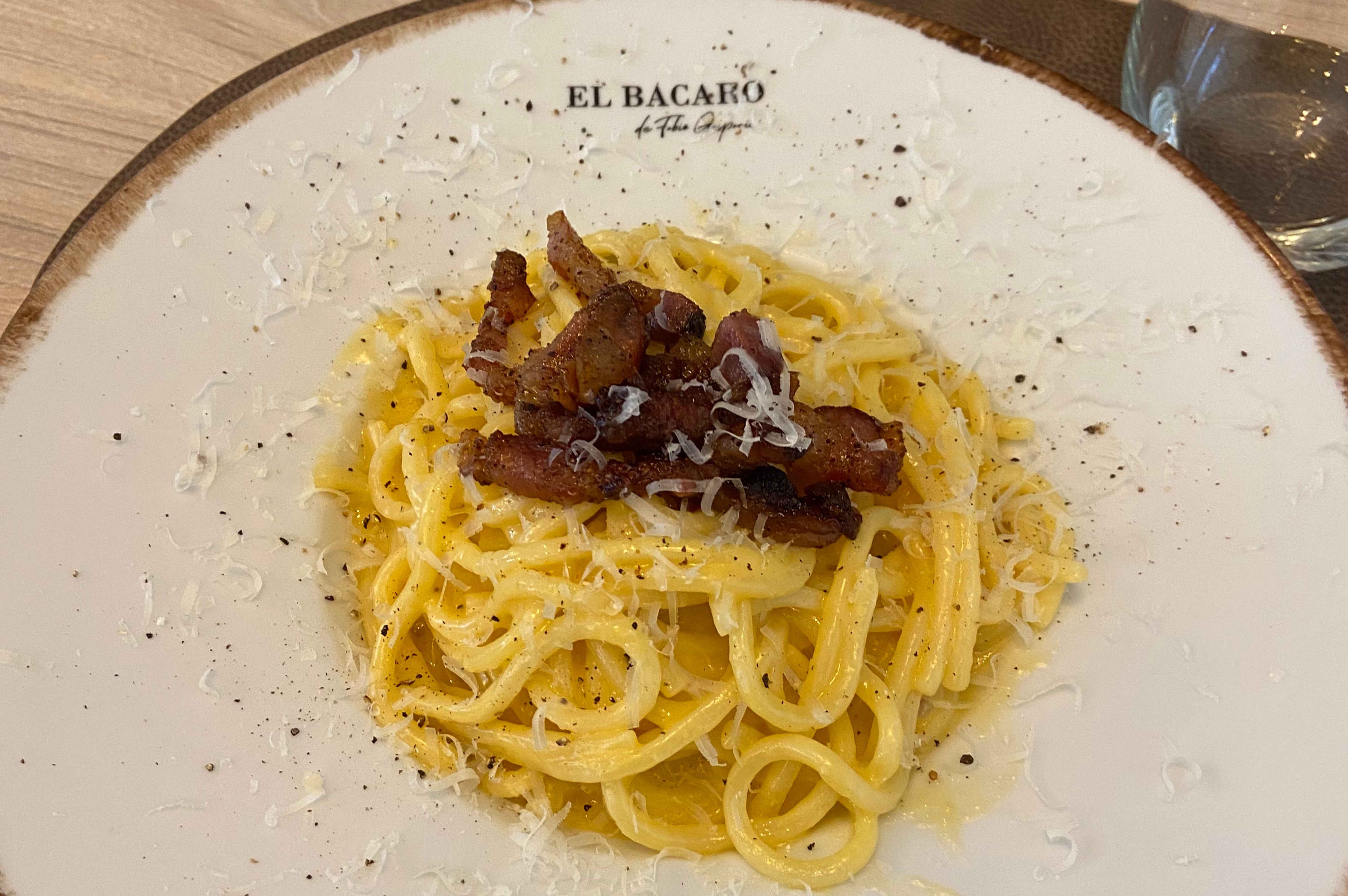 On the other hand, there is a lot of American food, from cozy restaurants set in the 50s to hot dogs, French fries, and others.
Many Chinese, Japanese, and Thai places are also increasingly common in large Spanish cities. There is also a lot of Mexican food, especially in Madrid and Barcelona, and the list could go on.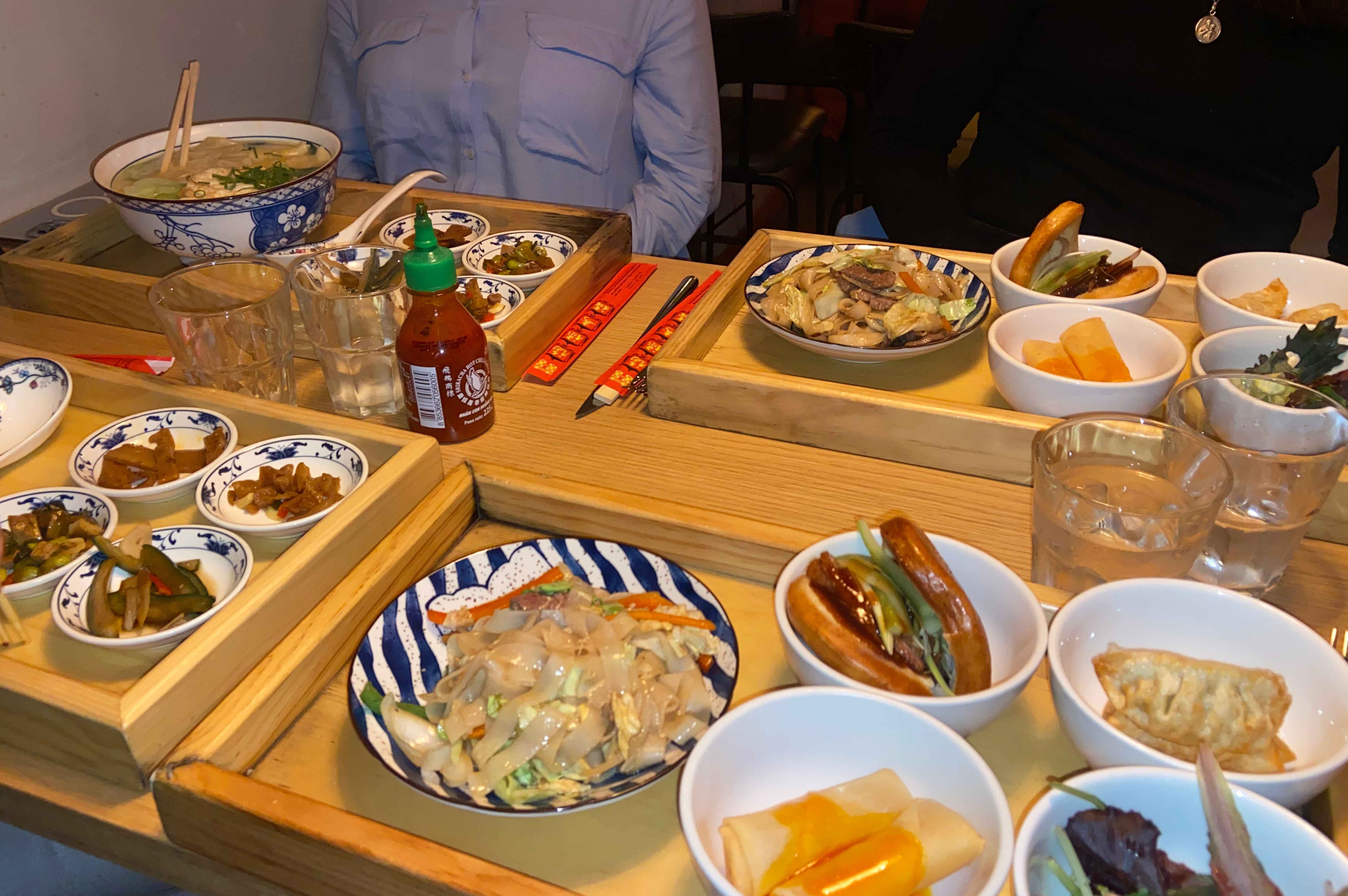 In addition, the Spanish culinary landscape offers many good fusions of traditional food with international cuisine and national and international chefs, leaving your mouth watering.
Cafés and Coffee Shops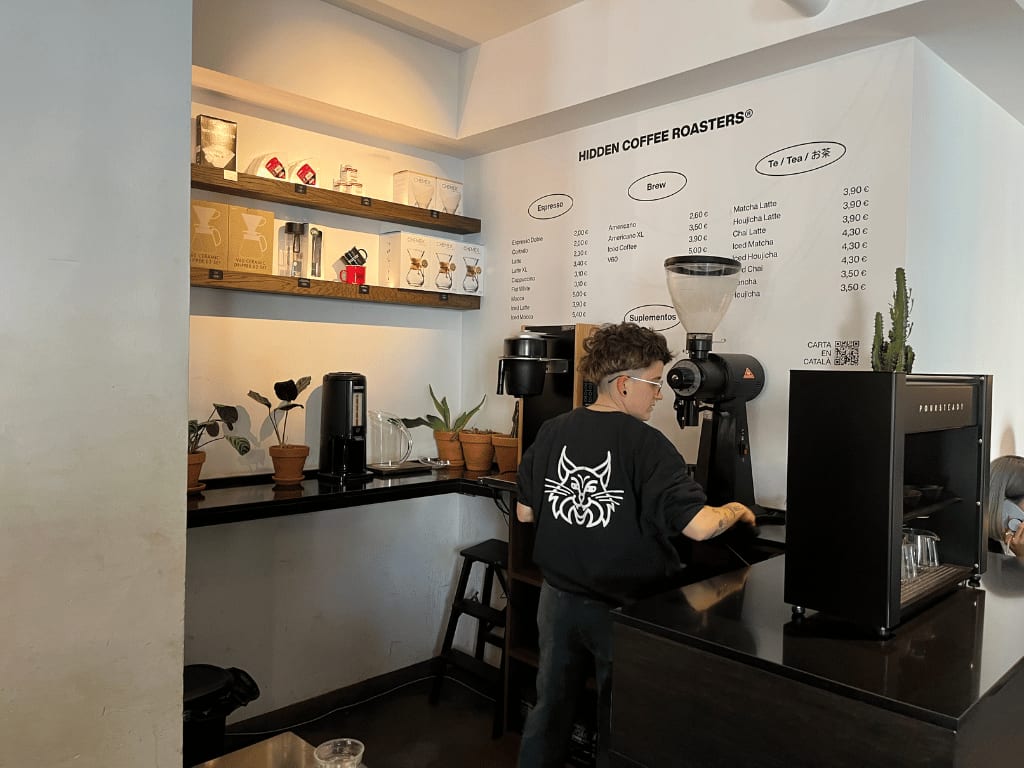 Spain has a coffee culture. You will find local cafes almost everywhere and modern specialty coffee shops in the big cities to enjoy a lovely afternoon, have breakfast or even work. 
📌Read more: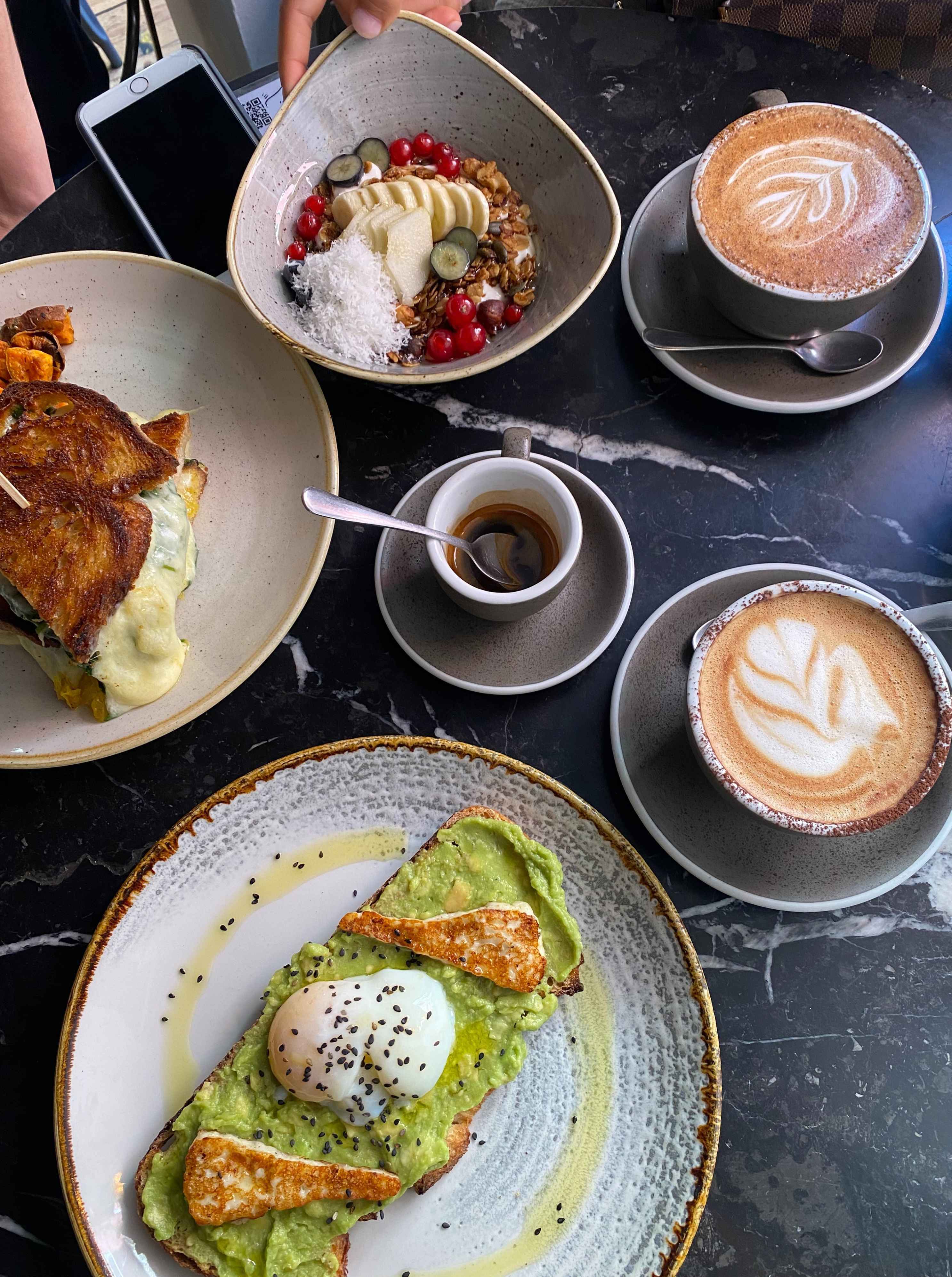 Fast Food Chains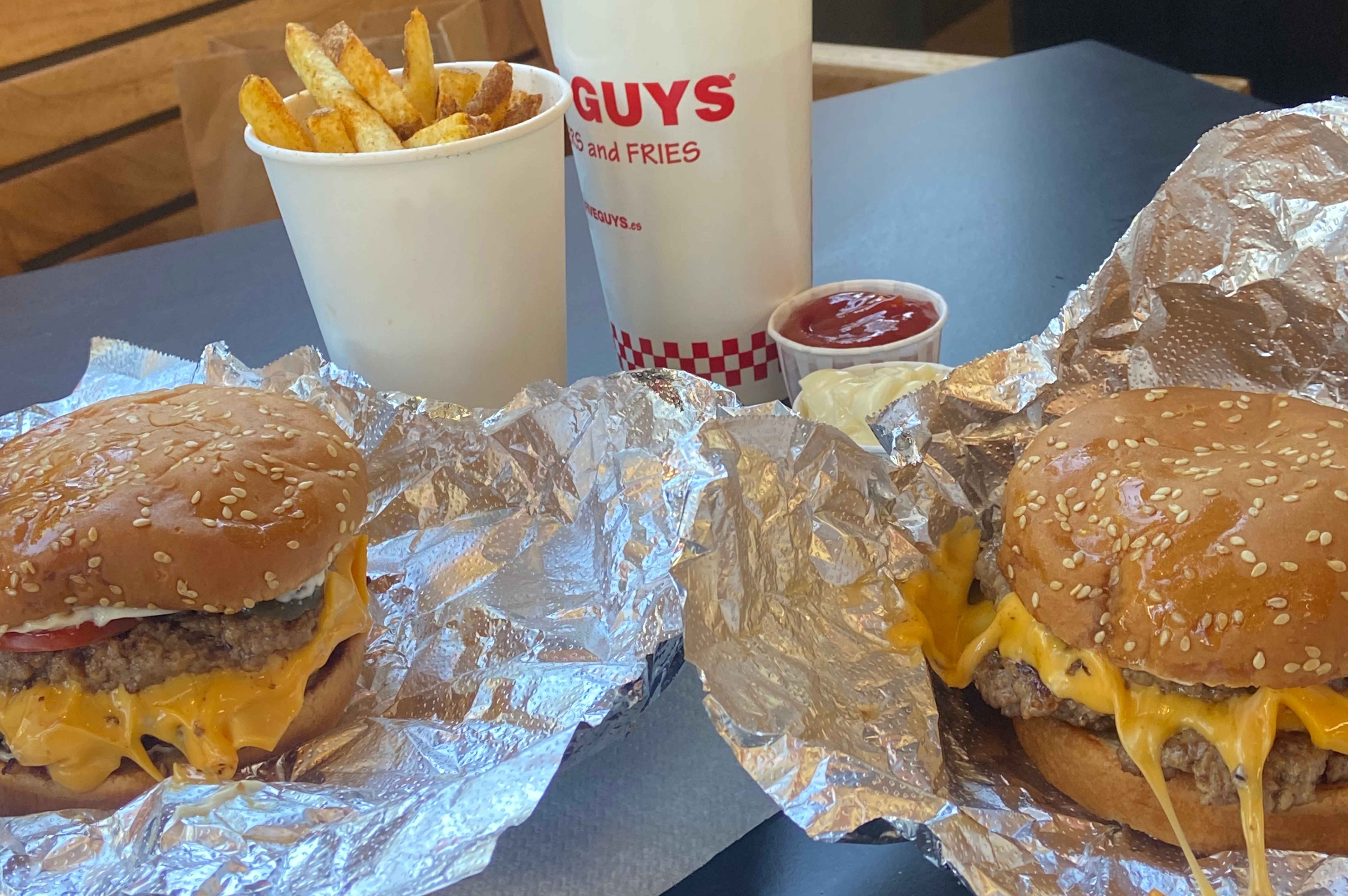 And, of course, the ones that can never be missing: Fast Food Restaurants. 
They get us out of emergency at any time of the day: Mcdonalds, Five Guys, Dominos, Telepizza, Pans & Company, Burger King, KFC, and all the establishments known for providing convenience since arriving at the airport.
I know it might be tempting. But don't you dare only eat fast food in Spain as one of the most important cultural highlights is enjoying Spanish gastronomy. Give it a chance, and you will never go back.
Where to Eat in Spain: Best Places By City
Barcelona
Without a doubt, one of the best places to eat in Barcelona. Super consistent with the service and quality food always. It is a bistro with a cosmopolitan atmosphere located on the side of the emblematic Avenida Palace Hotel. Try the oysters, clams, and cockles— They are fantastic!
Madrid
Although Madrid is full of restaurants and it is almost impossible to decide on just one, La Bien Aparecida restaurant is one of the best, and this one is just excellent. It has a contemporary place in a sober, elegant, warm environment where you can enjoy Cantabrian cuisine.
Be sure to try the ensaladilla, the arroz con pollo de corral, and the Ajo Blanco with smoked tuna and grated cauliflower.
Sevilla
This is a fantastic restaurant and a good option if you want to have lunch near the old town of Seville. The food is fantastic, and there's a relaxed setting with a romantic atmosphere so that you can enjoy a date with your partner here.
The center of Lalola's gastronomic proposal is the Iberian pig, the house's specialty, so you should try it! The diverse dishes present different stake cuts and ways of cooking and plating them.
Valencia
This is a trendy restaurant of Quique Dacosta, a renowned Spanish Chef. You can watch your food being cooked from your table, which is entertaining.
Make sure to try the prawns boiled in seawater or Josper, grilled shrimps, and the grilled Dénia rock octopus leg.
Galicia
This is an excellent option for eating in Galicia. It is a very simple, minimalist place with tasty dishes. You will try local and traditional food, with variety and quality.
Be sure to try the best tapa in Galicia. It's called "Queixo" by Álvaro Pérez.
San Sebastián - Basque Country
San Sebastián is known for being a benchmark in gastronomy for offering the best culinary experience through the concept of "pintxo."
If you need to get more familiar with food terms, visit our article, where you can find a guide with the main foods and descriptions of traditional dishes.
Although there are many places in San Sebastian, be sure to stop by the Atari restaurant, it offers market cuisine with seasonal products, and after 11 pm, it becomes a cocktail bar.
Try the grilled octopus, the foie pintxo, and the braised beef cheeks.
Málaga
This is a top-class restaurant that offers an incredible culinary experience. All dishes are 10/10, and I suggest you follow the waiter's recommendations. But you should try the Iberian Pork and the Cod; everything is freshly prepared and tasty. 
Tenerife - Canary Islands
You will love this place. This restaurant offers a creative fusion cuisine with Japanese inspiration, local ingredients, and top-quality dishes. Portions are big, and the prices are very affordable for what you get!
It is a bit further away, but traveling from the South to this marvelous place surrounded by vineyards is so worth it! Try the "Lomo de bacalao," their cheesecake, and also, is it redundant to say you should order the wines? Well, you should!
Mallorca - Balearic Islands
While in Mallorca, you must visit this place. The restaurant offers creative and artsy dishes and exceptionally high-quality food. It gets busy, so you should book in advance.
The atmosphere is also a plus, and you can get almost all dishes vegan or gluten-free. Also, try the tomato tartare with figs and ricotta!
Ibiza - Balearic Islands
The best Mediterranean restaurant in the Balearic islands. You will have fantastic food, by far more elaborated than what you usually find here. So it is an excellent option for lunch or dinner. Please, try the octopus! It is very well-cooked and will leave your mouth watering. They also have the "Confit de pato 'Can Pau'"
Where to Eat in Spain: Insider Tips and Recommendations
Ordering Like a Local: cultural norms, everyday menu items, and dining etiquette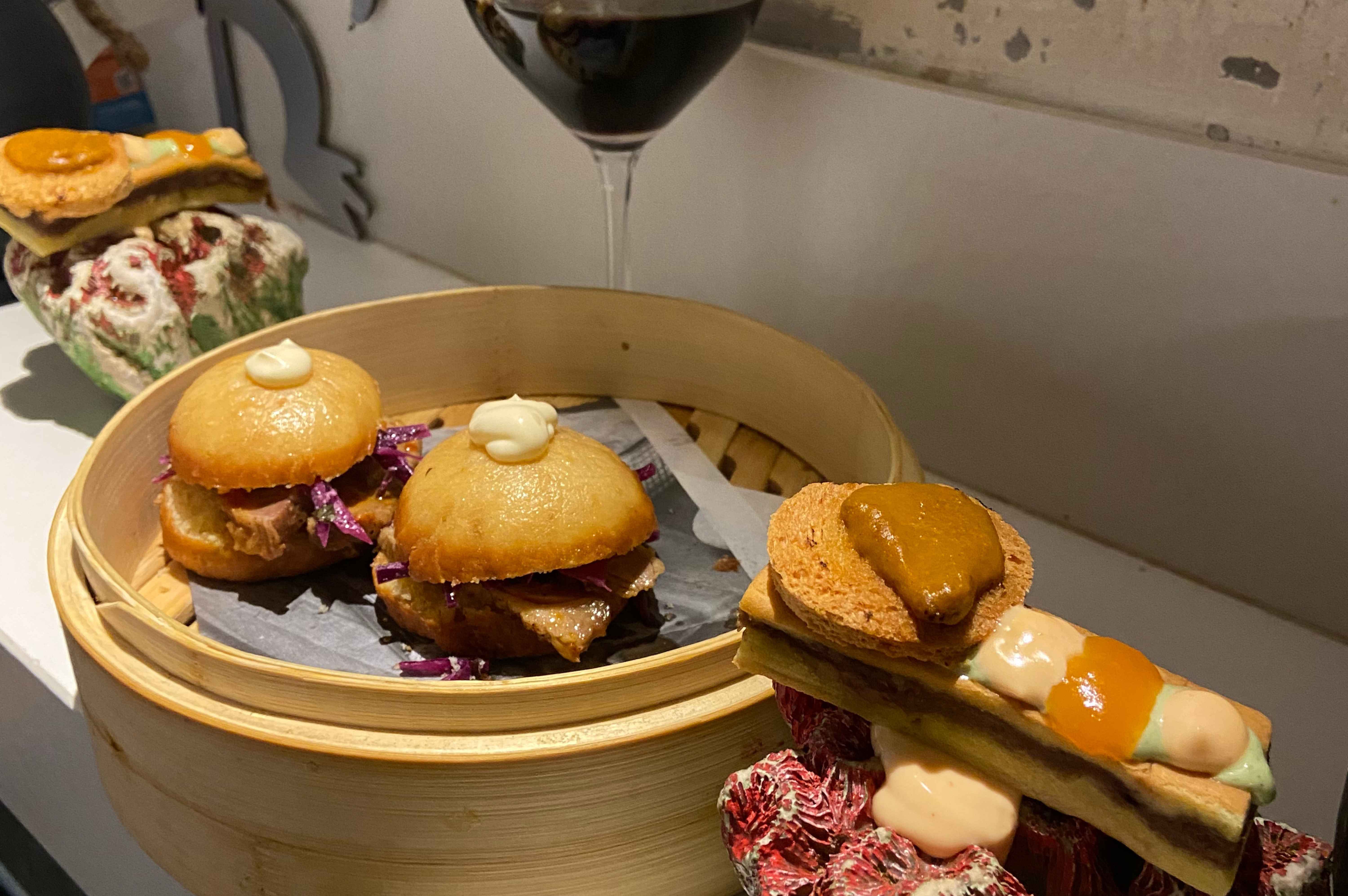 🍷**"ir a tomar algo"**
The concept of "quedar a tomar algo," or "ir a tomar algo" is very prevalent in the Spanish customs. This will be going to a bar and drinking a beer with tapas (small food portions). 
That is the number one plan Spanish people make, they do it very often, literally every week, and you should be aware that these excuses for sitting on a terrace and socializing can end in a bar! It is hard to say no to Spaniards when they're up to doing something. 
⏰ Dinner time
Dinner begins, at the earliest, at 9:30 pm. You will hardly find people dining at 6:00 pm or 7:00 pm… Most establishments will still be closed by this hour, so make sure you keep that in mind before making reservations and planning your night.  
🥖Always say yes to side bread
Side bread is a must. It is often free and comes before the appetizers and after the beverages. Some restaurants usually charge for bread without asking first. Ask the waiter if it's free and it's up to you to take it or miss it. 
🍴Bread as a knife? Tell me more!
Another local custom regarding bread is that Spanish people use it as a knife, and it is not considered breaking etiquette or a lack of education. It is a local custom to push your paella, fideuà, or patatas to the alioli or whatever sauce or olive oil remains on your plate. Do this to enhance your culinary experience to the maximum!
"Sobremesas"
"Sobremesas" this term does not have a specific translation, but "above the table" is the closest one. It refers to the conversation and socializing after a meal. Instead of eating the last bite and leaving immediately, Spanish people stay at the table talking, enjoying the company, and having a digestive drink.
🥘**"Menú del día"**
"Menú del día": The day's menu is something all Spaniards live up to! It is a fixed menu of first course, second course, dessert, and a drink (often coffee, wine, or a soft drink) which are very convenient in terms of price. The average menu of the day costs around 12,8 € in Spain and can be found in almost every establishment. It is so part of the culture that modern restaurants have adopted this custom to adapt to the market. 
🧾Tipping custom in Spain
It is customary to leave a courtesy tip after a meal in a restaurant. Learn if it is mandatory and in what situations you should and should not tip according to Spanish customs in this article.
📌Read more: Is tipping mandatory in Spain? When and How Much?
Wine 🤝🏻 Coffee
Wine and coffee cannot be missing from an authentic Spanish table. The culture of wine is deeply rooted, and glasses of wine usually accompany the dishes. At the end of the meal, they order cortados, cafés con leche, or espresso to close.
Spanish gastronomy is rich and honors its ancestors by renewing, modernizing, and keeping the traditional dishes consumed in Spanish towns for centuries alive. However, some are more forgotten than others, and in the restaurants that tourists have to go to, they do not find these dishes.
That is why I bring you some hidden gems of Spanish gastronomy that I recommend you write down so you can be aware if you find them on any of your trips. You will be amazed after trying them, as they are dishes with a lot of flavor, history, and culture.
1. Miguelitos — typical pastries from La Roda in the province of Albacete in Castilla-La Mancha, made from puff pastry, filled with pastry cream, and sprinkled with sugar.
2. Zarangollo — a scrambled egg, onion, and zucchini dish that you must try! It is typical of Murcia. 
3. Coca de llanda — which is not a forgotten dish, rather typical of the Valencian community, is a hidden gem and a must if you visit Valencia. This dense, fluffy cake with that crunchy layer of sugar is truly irresistible.
4. Kokotxas de merluza —Typical of the Basque Country, these fish barbels (hake or cod) are delicious and well-known in these lands.
5. The filloa — also called (Frixuelos) is a kind of crêpe but much thinner and only with wheat flour, which is typical of Galicia.
6. Frangollo — it is a tasty and typical dessert from the Canary Islands made from milk, millet flour, lemon, eggs, sugar, butter, raisins, almonds, and cinnamon (also not as sweet as it sounds!)
Also, Spain has many Street Food dishes that are worth discovering. Find out here:
📌Read more: 10 Best Street Food Dishes in Spain. You'll Love them!
Vegetarian and Vegan Options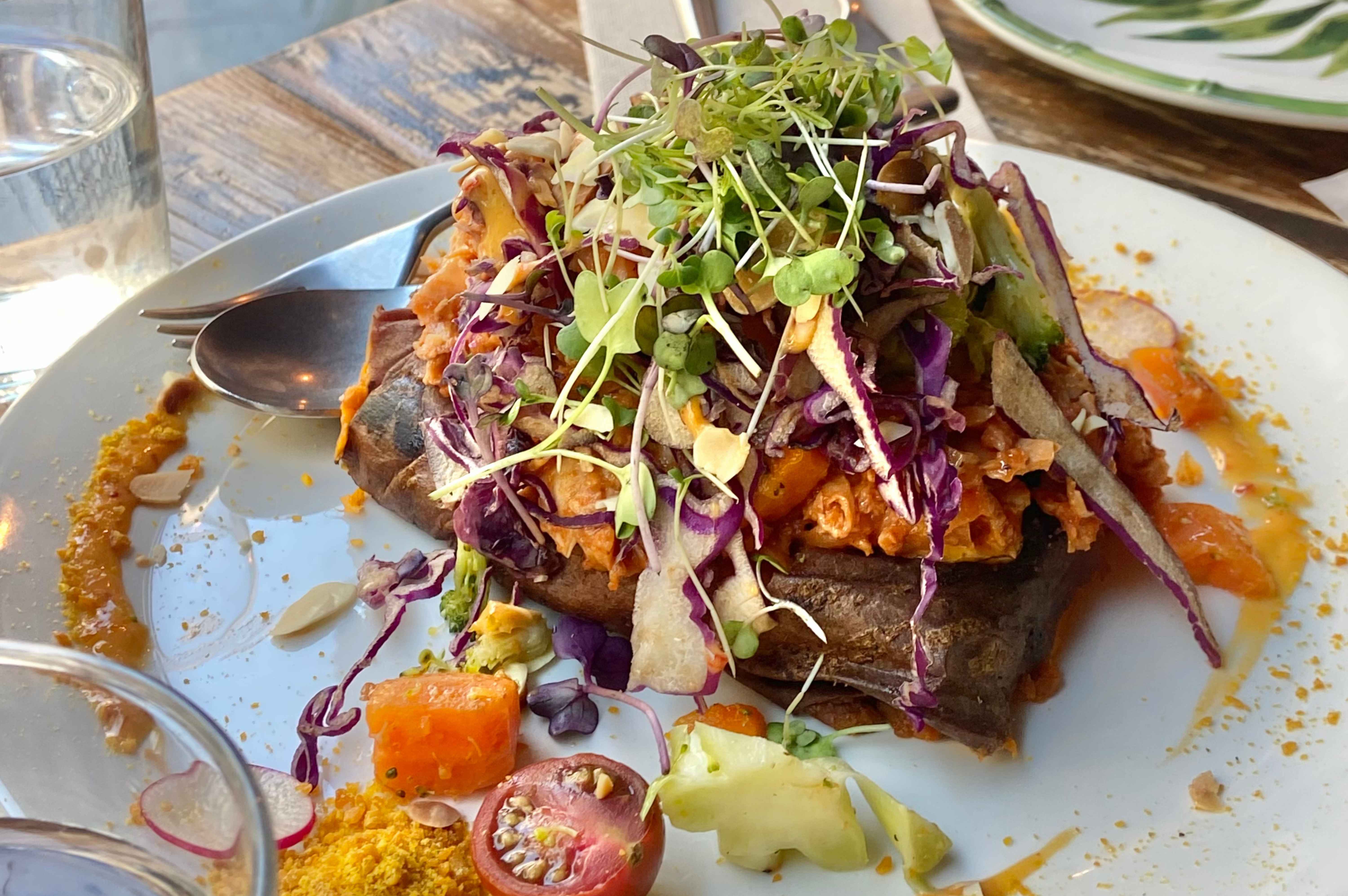 So, don't worry. If you come to Spain, you will not have issues finding plant-based, vegan, gluten-free, or vegetarian places to eat. Even Michelin-starred and traditional restaurants offer modifications for the main dishes so everyone can try the best of Spanish cuisine. Some of my favorite are The Green Spot, Zest, Superchulo, Pizzi & Dixie, Veggie Garden, Honest Greens and Veganitessen.
As you can see, the culinary landscape in Spain is vast and diverse. It offers incredible experiences to anyone who visits the country.
No matter where you go, you'll always find top-quality food and representative dishes from all regions. Make sure to follow these recommendations to enjoy our gastronomy to the maximum! I hope this Eating Out Guide 101 was helpful.
Let us know in the comments which guides you'd like to see next, as we'll keep the articles coming!