10 Best Neighborhoods in Seville: Students, Expats & Tourists
April 12, 2023
Updated:

April 18, 2023
Published: April 12, 2023
Looking for a change of scenery, somewhere to stay for vacation, or an area to move to while you study abroad in Seville?
This guide will uncover everything you need to know about the different neighborhoods and areas of the city so that you can decide where to move more easily, know your options, and choose the one that best suits what you are looking for.
I will show you what characterizes each area, if it is touristy or not, family-friendly, nearby services, the downsides, and, of course, how much it costs to live in the best neighborhoods of Seville.
Moreover, if you didn't know, the city has two huge annual festivals: the April Fair and Holy Week, two attractive tourist occasions! So, wherever you decide to stay, I'm sure you'll have a great time if you come around those dates.
---
1. Sevilla Este
🚇 Transport: 3 bus lines (27, 22, and B4). Also 6 kilometers from Nervión. 📸 Landmarks: The FIBES auditorium, Lagunas de Torreblanca, Infanta Elena Park, Guadalpark. 🌆 Things to do: Spend an afternoon in the Infanta Elena Park.
If you would like to get away from the hustle and bustle of the city, Sevilla Este is undoubtedly a fantastic option!
It is one of the most desirable neighborhoods for its calmness and good quality of life. Best for families with children or those who look for comfort surrounded by many green areas and parks, like the Infanta Elena Park, with more than 35,000 m2, including a lake!
If you visit the neighborhood, try de "Cañas de Chocolate" from Pepi, an authentic Andalusian bakery and patisserie specializing in pastries, cakes, and sweet and savory artisan bread.
The neighborhood is well-communicated with the rest of the city and close to the airport. It may be further away from the city center and the touristy spots, but it has many leisure offers and services.
The type of apartments that you can find in this area is primarily residential and villas. The average monthly price in this neighborhood is much more affordable than most. You can find the cheapest for 450 euros per month and the most expensive for 1,200 euros per month.
It also has a nearby waterpark, perfect to go with children.
---
2. Barrio de Triana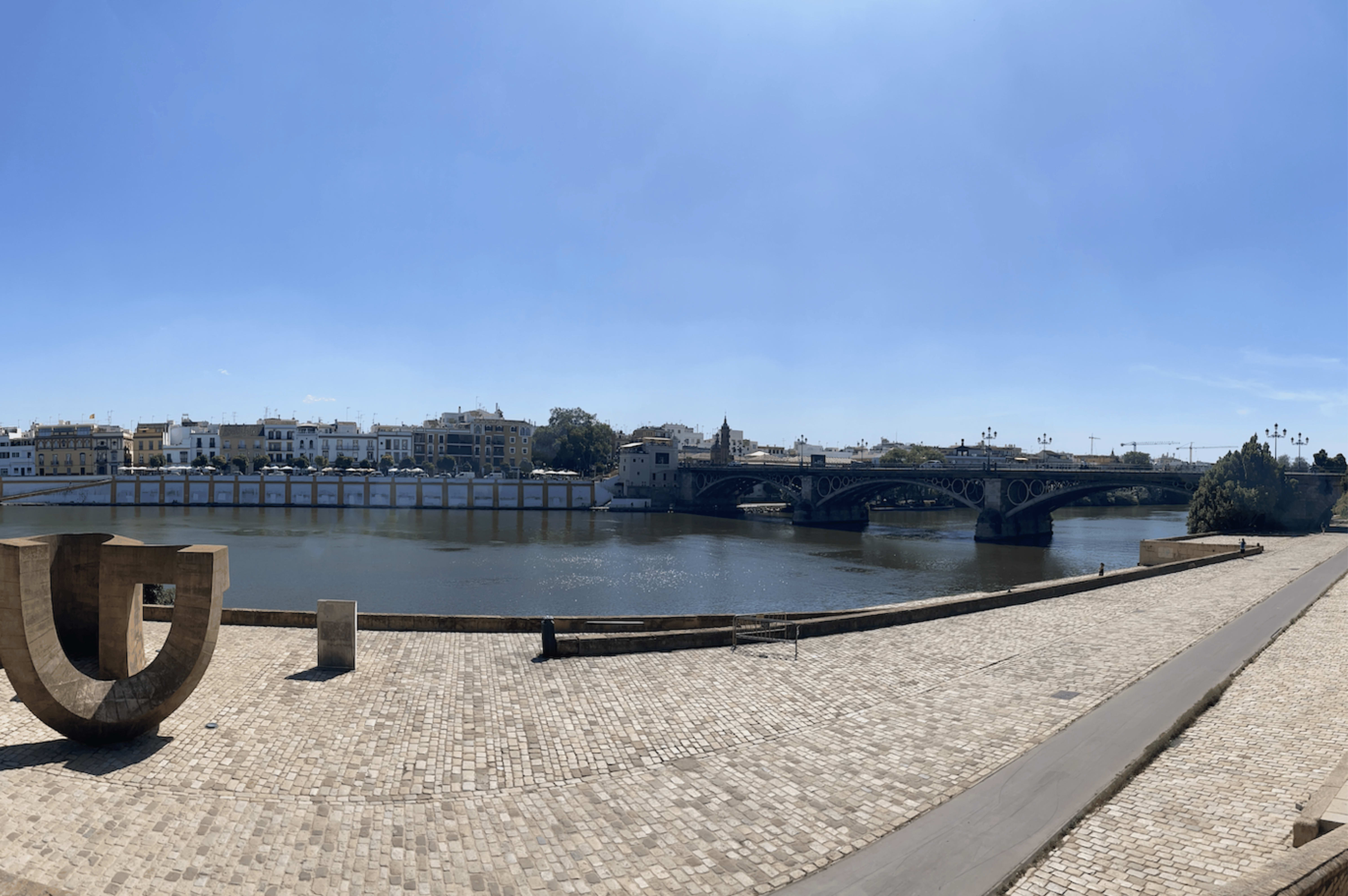 🚇 Metro: L1
📸 Landmarks: Triana Bridge, Capilla del Carmen, Triana Market, Betis Street.
🌆 Things to do: Visiting the Triana Bridge and attending a flamenco show.
The famous neighborhood of Triana is one of the main spots where you can appreciate the Sevillian culture. 
It is a perfect neighborhood to live in. Triana is a tranquil area with a unique charm.
The cheapest apartments in the area are around 500 euros a month, and the most expensive flats can be rented for 1,500 euros a month (excluding luxury residences, which are between 2,500 and 4,000 euros each month).
Walking through these streets, you see many singers, dancers, artists, and artisans since this is a neighborhood of master potters.
Moreover, it is home to the Triana Market, where you can enjoy various fruit, meat, and vegetable stalls.
Last but not least, you have Betis Street in this neighborhood, one of the best viewpoints in Seville to see the Torre del Oro, the towers of Plaza España, and the Maestranza.
---
3. Santa Cruz
🚇 Transport: T1, Puerta de Jerez and Archivo de Indias Tram Stops, Buses (05, 21, A1, A3, A4, A8) 📸 Landmarks: Royal Alcázar of Seville, La Giralda, Archivo de Indias, Catedral de Sevilla, Casa de Pilatos, Plaza de Alfaro. 🌆 Things to do: Visit the Pura Vida Rooftop in the Hotel Fontecruz Seises to watch Seville's skyline.
Santa Cruz is perfect for staying in a central neighborhood near the tourist area.
This area is home to centuries-old institutions, monuments, churches, gardens, and plenty of picturesque squares and courtyards, winding streets with ancestral houses with Jewish identity.
On average, the apartments are around 575 euros, the cheapest, while the most expensive can exceed 2,000 euros, excluding luxury homes rented for more than 6,000 euros per month.
There are many bar areas for tapas, drinks, and yummy food. It also has an excellent communication network, close to Puerta Jeréz and Prado de San Sebastian.
With this said, Santa Cruz is a beautiful enclave to live in!
---
4. La Macarena
🚇 Transport: C1 📸 Landmarks: Basílica de la Macarena de Sevilla, Hospital de las Cinco Llagas, Puerta de la Macarena, Santa Marina Church. 🌆 Things to do: Go to El Caminante Andaluz. Great place to have affordable and tasty homemade food.
La Macarena is one of the most traditional neighborhoods of Seville. Most known for its hip, creative vibe, markets, and typical bars and places to eat.
It is almost a village in the center of Seville, with monuments, legends, and traditions, like the Basílica de la Macarena, which houses a revered Virgin of the Macarena statue.
In this neighborhood, the cheapest apartments stay above a rent of 500 euros per month. On the other hand, the maximum price can reach 1,600 per month.
It is an excellent area for students. Living in Macarena is the closest to living in the center, but without paying the full price for a downtown apartment.
---
5. Santa Clara
🚇 Transport: Bus (21, 28, EA, M-124), C4 Train, L1 Metro. 📸 Landmarks: Santa Clara Cultural Center, Santa Clara Church, Santa Clara Park. 🌆 Things to do: Go to the Rocódromo Polideportivo San Pablo, the first climbing wall inaugurated in Andalusia as a sports facility.
Before the capital of Seville expanded, Santa Clara was one of the most outlying neighborhoods. It is a tranquil and calm area with many villas, residencies, and multi-story buildings that lead a quiet life.
It began as an American colony to house military families and ex-military people. After dismantling the base, the first tenants left and left behind a typical construction of a "North American residential neighborhood."
Nowadays, approximately around 8,000 people currently live there.
Some things to take better care of are some streets without sidewalks and stuff like that. Otherwise, everything is okay!
Santa Clara, in the San Pablo-Santa Justa district, is the wealthiest neighborhood in Seville. According to the latest data from the National Institute of Statistics (INE), its average income per household is 50,000 euros per year.
Therefore, this neighborhood is ideal for those transferring to Seville for professional reasons, with a well-established family wanting an excellent quality of life in a quiet area.
---
6. Los Remedios
🚇 Transport: Metro L1 and L4 (Plaza de Cuba, Blas Infante, and Los Príncipes) Bus (41, 42, 6, 5) and Tram (C1 y C2)
📸 Landmarks: Parque de los Príncipes, San Telmo Bridge, Guadalquivir River, Parque de María Luisa, el Real de la Feria de Abril.
🌆 Things to do: Shop in the Calle Asunción, a pleasant pedestrian and commercial street, also the true heart of the neighborhood. 
We are talking about one of the most elegant and affluent neighborhoods to stay in Seville. 
It is very close to the Triana area, but not so touristy. It is primarily a commercial, leisure, and residential location. 
Also, best for young couples and entrepreneurs because it is close to the center and offers a relaxed atmosphere and little nightlife. 
The lowest rent prices exceed 500 euros, while the most expensive can reach 3,000 monthly. Still, you can find good deals in this neighborhood. 
Also, many fashion boutiques and upscale interiors stores are in the pedestrian walk of Calle Asunción. To see similar places to go shopping, read this article:
---
7. Nervión
🚇 Transport: Metro (Nervión station), Train (Cercanías to San Bernardo and Santa Justa stations), Bus (5, 22, 32, 52, A4, B3, C2) 📸 Landmarks: Sevilla FC stadium, Sevilla Santa Justa Central Railway Station, Los Arcos Shopping Center, Parroquia de la Concepción Inmaculada. 🌆 Things to do: Visit one of the city's two rival teams: The Sevilla Fútbol Club.
Talking about shopping places, the Nervión neighborhood is also one of the primary and most interesting zones for its enormous commercial offer.
It is known for its proximity to the city center and for being full of leisure and gastronomic options. Also, it has one of the best places to go shopping, the Centro Comercial Los Arcos. Read more about where to shop in Seville in the following article:
Seville Shopping: Top 8 Must-Visit Streets, Markets and More
Compared to the other neighborhoods in Seville, this is a relatively expensive neighborhood, the cheapest rent you can find is around 600 euros per month, and the most costly could be up to 1,500 euros per month (excluding luxury).
Before urbanization began, the old and extensive Cortijo del Maestre Escuela. At the beginning of the last century, it started to develop gradually.
Its privileged location allowed it to connect on its west side with the old town, becoming one of the new geographical centers of the city.
---
8. El Arenal - Old Town
🚇 Transport: Bus (03, 05, 27, C4, EA, M-153), Train (C1, C4), Metro (L1) 📸 Landmarks: The Torre del OroNaval Museum Torre Del Oro, the Maestranza bullring, Avenida de la Constitución, Muelle de la sal, the Postigo del Aceite, and the Torre de la Plata. 🌆 Things to do: Visit the famous Bullring, La Maestranza de Sevilla.
The Arenal neighborhood is part of the Casco Antiguo district and one of the busiest tourist areas.
It also carries the weight of history behind it. El Arenal is today what once was the walled enclosure of Seville, marked by magnificent defensive towers that went from the Guadalquivir River to the Alcazar!
It is a very touristy neighborhood; therefore, you'll find horse-drawn carriages for rent around the Torre del Oro to see the city.
Today only the Torre del Oro, the Torre de la Plata, and the Torre Abd el Aziz survived.
The downside is that the neighborhood could be more cleaned, and unfortunately, many homeless people can be found in Casco Antiguo.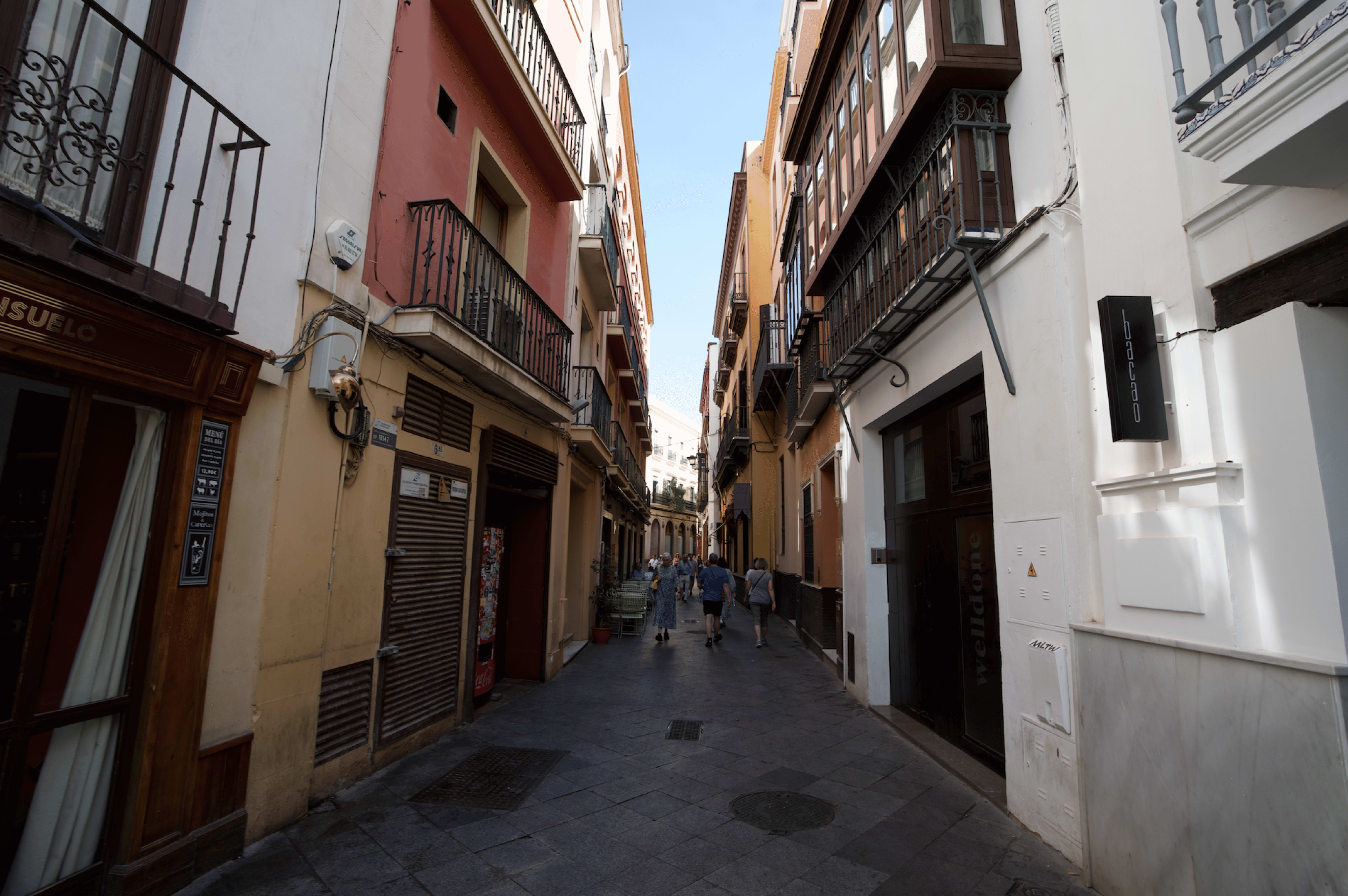 On the other side, there is all kind of establishments in El Arenal and a wide range of gastronomic experiences.
If you are looking for traditional tapas, this is a great place to stay since you'll be close to everything, especially on Adriano Street. Find out more:
---
9. San Bernardo
🚇 Transport: Metro (T1, Prado San Sebastian Station) Tram (C4), Bus (21).
📸 Landmarks: Royal Alcázar of Seville, San Bernardo Bridge, Fàbrica de Artillería, San Bernardo Church. 
🌆 Things to do: Go to San Bernardo Bridge, where you'll have to start walk to explore the city.
San Bernardo is one of Seville's most modern neighborhoods with the best university atmosphere. The area is close to the center, and you can walk for 20-30 minutes and get everywhere quickly.
Young student rentals are abundant due to the proximity to the university faculties of Viapol. Therefore, the area is full of many bars and terraces packed with students where you can have a drink at a great price.
The downside is that the neighborhood needs more supermarkets than it has. However, you can find nearby places to buy food since this area is small and everything is very close.
The cheapest apartments in the area are around 700 euros a month, and the most expensive flats can be rented for 1,500 euros a month (excluding luxury residences).
I suggest you look at the following article in case you don't know where to find accommodation:
---
10. La Alameda
🚇 Transport: Bus (13, 14, C5)
📸 Landmarks: Alameda Theater, Espacio Santa Clara, Casa de las Sirenas.
🌆 Things to do: Go to the cinema or a theater, and enjoy any leisure offer or outdoor activities.
This is your place if you want to live surrounded by culture and modernity. This neighborhood has become the beating heart of old Seville. 
The famous Alameda de Hércules has become a fashionable boulevard full of terraces. You'll see everything from art galleries to vinyl stores, bookstores, and cafés.
Today, the neighborhood is undoubtedly one of the most open-minded in Southern Europe.
It has a bohemian essence, despite the significant increase in the price of housing in the area, which is above a rent of 650 euros per month. On the other hand, the maximum price can reach 2,000 per month.
Here you can find great specialty coffee shops like Virgin Coffee in C. Regina, 1.
If you're a coffee lover, you should definitely read our guide about Spain's best specialty coffee shop. Hope you like them as much as we do:
8 Best Cafes in Barcelona for a Unique Coffee Experience

9 Best Coffee in Madrid: Your Guide to the Best Coffee Shops
Due to the energetic, diverse, and international trends living together in this neighborhood, many people agree that visiting this vibrant neighborhood is different from actually living there. However, it depends on the type of area you look for.
---
As you can see, each area of Seville is different and has its charm.
I hope this article has helped you identify the best neighborhood for your stay in Seville. Let me know in the comments about which areas you vibed the most with!