International Women's Day in Spain and Its Fascinating Origin
November 4, 2022
Updated:

February 14, 2023
Published: November 4, 2022
"Freedom is learned by exercising it." This is a very famous phrase by Clara Campoamor, the person responsible for Women's Right to vote in Spain.
Like her, many other women have dedicated their lives to the constant struggle for freedom and equal opportunities for men and women. Thanks to them, today we enjoy numerous rights that yesterday were almost unthinkable.
In this post, we will talk about International Women's Day, why it originated, and, more specifically, how it is celebrated in Spain (video included)
To continue making history, you must first know and understand the past. So stay tuned!
---
Is Women's Day Celebrated in Spain?
Spain commemorates Women's Day on March 8. Back in 1908, on this day, 120 women were burned to death for defending their rights in a textile factory in the United States. It marks the struggle of women and their participation in society, their emancipation, their full development as a person, and their struggle for equality.
The Fascinating Origin of Women's Day
In short, on 1975 the ONU decided to create this day to give official status to the demands of women for equal opportunities to men. However, this struggle has origins since the beginning of the last century. So let me explain why Women's Day is celebrated from its origins and chronology.
In 1908 there was a fire at the Triangle Shirtwaist factory in New York:
The International Ladies Garment Workers Union led a strike in 1909 in which they were demanding higher pay and shorter and more predictable hours. But Blanck and Harris' company was one of the few factories that resisted engaging in those new policies. Max Blanck and Isaac Harris owned the Triangle factory in downtown Manhattan. Getting into detail, it was a cramped space lined with workstations and packed with immigrant workers, primarily teenage women with poor working conditions.
The disaster was caused because the employees were unable to leave the building. The owners always closed all the stairs' doors to avoid the common robberies in the area. The problem was that, at the fire time, there were four elevators with access to the factory floors, but only one was fully operational, and it could hold only 12 people at a time. There were two stairways down to the street, but one was locked from the outside to prevent theft by the workers, and the other only opened inwards. The fire escape was shoddily constructed and could not support the weight of more than a few women at a time.
Additionally, the owners had a bad reputation for not taking the appropriate security measures with this factory and with past companies. Besides, they were known for having "notorious anti-worker policies" since their employees were paid $15 a week, despite working 12 hours a day.
Then, on March 25, a fire broke out in a dumpster on the eighth floor. Modern references say that 123 women and 23 men died due to the fire. Most victims died of burns, suffocation, or blunt impact injuries. From the ashes of that tragic event arose the flame of the pursuit of social justice for women and men.
Then in 1909, the first National Woman's Day took place across the United States
On February 28, Women's Day in the USA took place for the first time, and the Socialist Party of America organized it at the suggestion of activist Theresa Malkiel. People continued to commemorate this date every last Sunday of February until 1913.
1911: Proclamation of International Women's Day
In 1911 it was the Proclamation of International Women's Day following the decision agreed upon at the International Conference of Working Women in Copenhagen. At the conference, the "Women's Office" leader for the Social Democratic Party in Germany proposed the idea of ​​an international women's day. Clara Zetkin suggested a celebration for women on the same day every year in every country to press for their rights and demands. Her idea got unanimous approval, and following this result, the day was recognized for the first time in Denmark, Austria, Germany, and Switzerland on March 19, 1911. Where thousands of men and women attended rallies campaigning for women's rights to work, vote, be trained, and hold public office.
March 8 of 1917: women had the right to vote in Russia.
Russian women were given the right to vote. This fact would give rise to the definitive date for the celebration of this day. For this reason, the day is commemorated on March 8 of each year.
1975: International Women's Day was conmemorated for the first time by the United Nations
This particular day commemorates the presence, work, and role of women around the world. It crosses borders, and numerous countries around the world observe this day. Throughout history, women have fought for equal participation with men in society, and I would like to highlight one of our famous Spanish women in history who fought for the right to vote in Spain, Clara Campoamor, you can find everything about her and other important Spanish women here on this post:
How do Spaniards Celebrate Women's Day?
The world continues to commemorate International Women's Day. On this day, millions of voices rise and join in claiming their rights and recognizing and appreciating the efforts of past generations that, if it were not for them, women would not have the rights they have today.
The world is home to many women who fought to achieve what we have, and every year we remember and spread awareness about the value and importance of women in equality with men in society.
Moreover, Some political unions call for active participation in the different acts, mobilizations, and demonstrations of Women's Day. Here is a video of how Madrid observes and commemorates this day.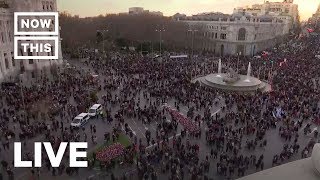 On women's day, we continue learning and educating ourselves, always speaking from love, respect, and empathy. Hope to see you soon around here to observe this day with us!