How to Get Around Madrid + 8 Tips I Wish Someone Told Me
February 16, 2023
Updated:

March 29, 2023
Published: February 16, 2023
Walking through the streets of the historic center of Madrid is my favorite option, and the most recommended if you want to get lost in its streets and discover its beautiful corners!
The good thing about Madrid is that the main places of interest are within walking distance of each other, so if you come with time and you like to walk, you can go from one place to another without having to take public transport.
Even so, in Madrid, there are many things to see and do, many neighborhoods worth visiting, and above all, many restaurants to try! So if one day you are tired and you see that you have a distance of three kilometers to get to the place, you may find it interesting to move by one of the means of transport offered by our city.
In this article, I will tell you everything you need to know when you visit the Spanish capital: how to move around Madrid, where and how to buy tickets, prices, and even applications from your mobile. Are you ready?
---
Bus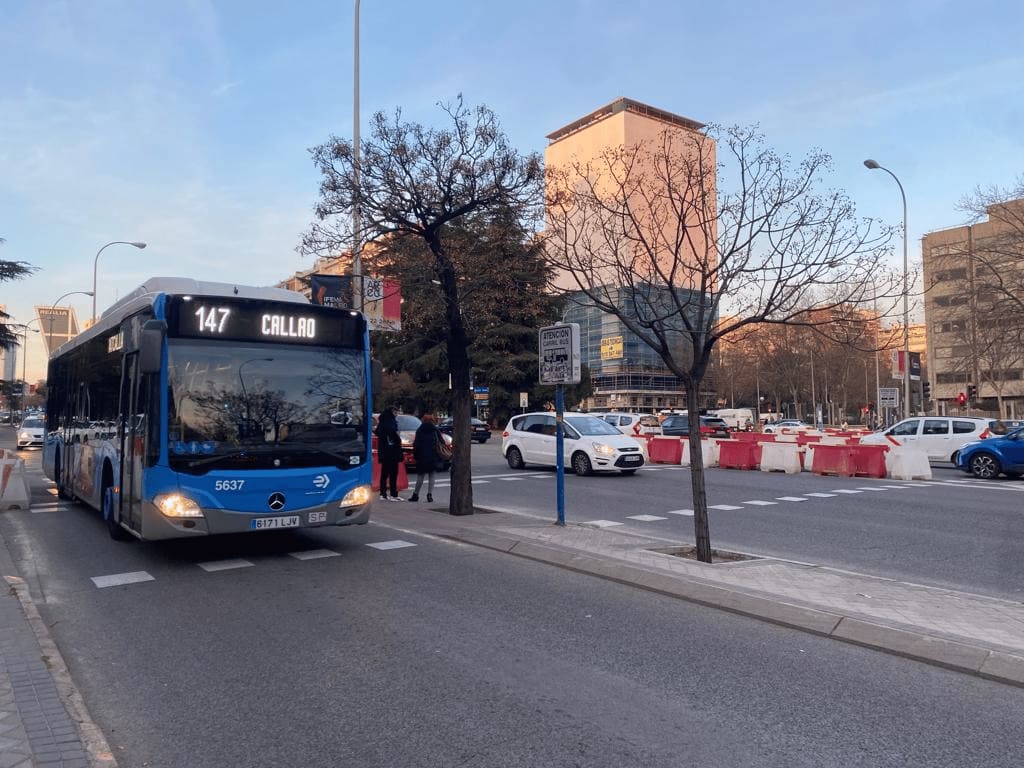 Madrid has an extensive network of urban buses. It has a fleet of 2,000 buses for more than 200 different lines connecting every part of the city. The bus line network spreads around 3,000km (1,864 miles) with over 10,000 stops.
There are some places where Madrid Metro does not reach, but the buses do. The buses are managed by the EMT (Empresa Municipal de Transportes). During the day, there are more than 190 lines from 6 am in the morning until 11:30 pm.
From 11:55 pm until 5:50 am, there are almost 30-night buses, known as "búhos" (which means owls in English), and they cover most of Madrid. Their price is the same as the daytime buses, although their frequency is lower.
In Madrid streets, there are bus lanes. Still, it must be taken into account that during rush hours, there is a lot of traffic, and buses also suffer from this lack of fluidity, making them slower than the Madrid Metro.
Madrid has comfortable and modern buses. If you come to Madrid, I recommend you download the EMT Madrid app or Moovit, which will suggest the buses you should take to get to your destination.
The single ticket cost is 1,50€. You can buy it on the bus and pay in cash (they do not accept tickets over 5€ for the change), and you can't pay with a credit card, so make sure you have cash!
There is a "Metrobus" multi-card which allows you 10 trips for 12,20€, and you can also use it for the Metro. It's sold in the vending machines in the Metro, tobacconists, and other authorized sales points.
---
Metro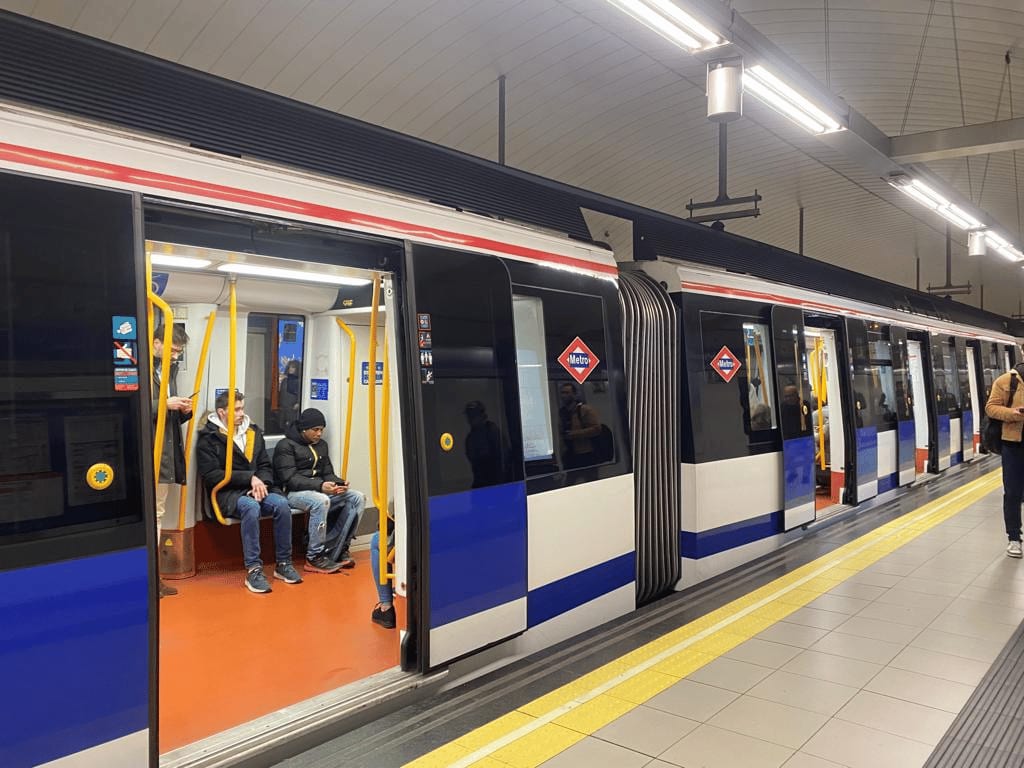 The metro of Madrid is the fastest and most efficient means of transport in Madrid. It's one of the world's most extensive and widely used subway services. It is the 7th longest metro system in the world after London, New York, or Shanghai.
More than 100 years ago, in 1919, Alfonso XIII inaugurated the first line of the Madrid Metro between Puerta del Sol and Cuatro Caminos. Something exciting is that the metro sold "first-class" and "second-class" tickets during its early years. The first trains in Madrid were from Paris and were second-hand.
In the beginning, there were only 8 stations and barely 3.5 km of the route; nowadays, we have more than 300 stations with 294 km.
The Madrid Metro system covers all parts of the capital, including nearby towns.
The metro is one of the best options to go from Madrid airport to the center. It is not the most comfortable option, because you will probably have to transfer and take several trains. Still, it is certainly the cheapest and easiest way to get to the center.
The price of the metro ticket varies between 1.50€ and 2€. This depends on how many stations you travel.
If you are going to spend a few days in Madrid, the most common thing is to buy the "Metrobús" of a 10-trip pass, with a price of 12,20€, each trip costs only 1,22€. You can buy it at each station's vending machines, tobacconists, and other authorized sales points.
To use the metro, you must purchase the Multi card, a rechargeable card that costs 2.50 €.
The recharge card can be purchased at the automatic machines of the Metro network, tobacconists, and other authorized points of sale.
If several people travel together, purchasing more than one card is optional, as they can use the same one. Tickets are valid for both metro and bus, and children under 4 years old can travel without a ticket.
The metro opens at 6:00 am and closes at 1:30 pm.
---
Train
Local trains are cheap and fast, so they are one of the best options to move around Madrid, running along 370 km of railway tracks with 89 stations. In some cases, the train in Madrid can be faster than the Metro.
There are 12 train lines or sub-lines that pass through the center of Madrid, where the two main train stations are Atocha and Chamartín.
This is one of the cheapest and fastest ways to get from Adolfo Suárez-Madrid Barajas airport to the center of Madrid, and the ticket price is only 2,60€.
Madrid trains allow you to make excursions to nearby cities such as Alcalá de Henares, Aranjuez, or El Escorial, all declared World Heritage Sites by UNESCO.
To travel around Madrid by train, you should buy the "+ Renfe & You" card. You can buy this card directly at the vending machines, where you also pay in cash or card for the journey you are going to make, or at the ticket offices of the stations.
The most common thing is to move within zone 0; in that case, the ticket costs 1,70€, but if you move around other zones, the price varies up to 5,50€. Children under six years old can travel for free!
Remember! You must keep the train ticket during the trip, not only because it is reusable. So you save supplements on other journeys, but because you will need to present it to leave the station.
The single ticket is valid for one trip during the two hours following its issuance. The Bonotren is a 10-trip voucher valid for one month and can be used by several people simultaneously.
Madrid commuter trains start running every day between 5:00 am to 00:00 pm.
---
Cab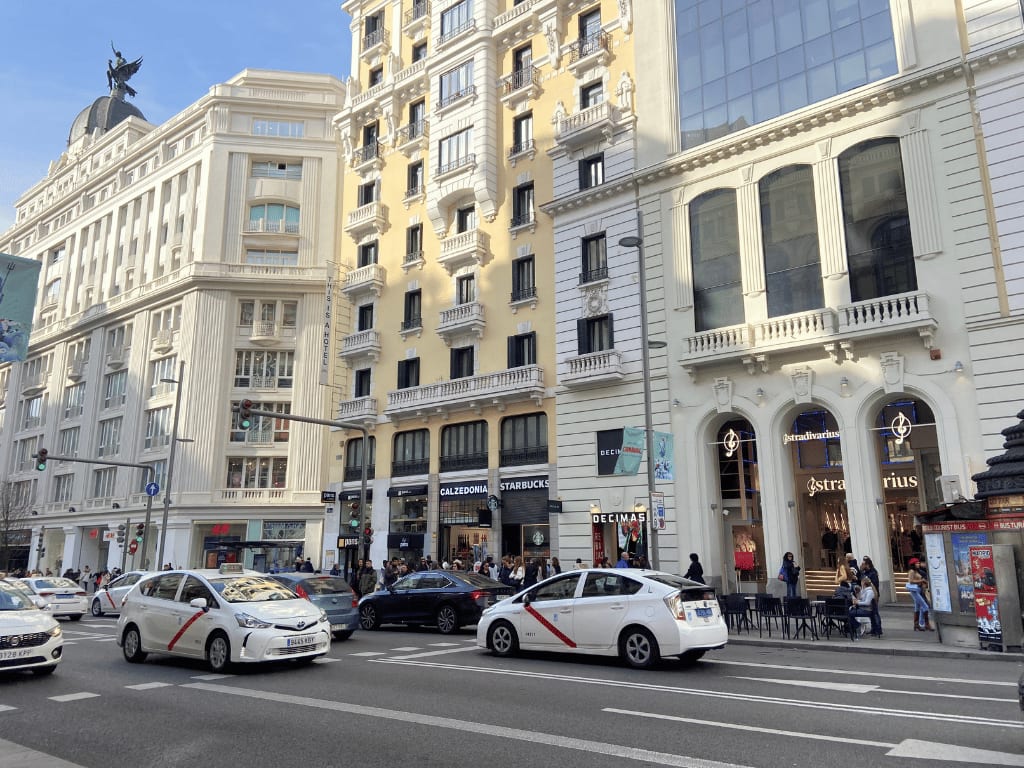 Usually, you will not have any problems finding a cab if you come to Madrid. There are almost 16.000 cabs in the city, you will be able to move comfortably and at quite reasonable prices if you compare them with other European cities.
You can hail a cab on the street or get into the first one you see parked at a cab rank (marked with a white "T" from "taxi" on a blue background). You can identify them quickly because they have a red diagonal stripe on the driver's and passenger's doors and the city's coat of arms.
If a taxi is free, the green light on its roof sign is lit, and travelers must raise their hand to hail it to be picked up.
If you are at the train, bus stations, or airport, you must take them at the corresponding taxi ranks. In the rest of the city, they can be hailed on the street.
If you travel from Madrid airport to the city center by cab, there is a fixed rate of 30€. All vehicles accept payment by credit card, and you can also pay in cash.
Taxis in Madrid are a great choice, especially when traveling at night, if you are in a hurry, or carrying too many bags. As a recommendation, only a few taxi drivers speak English, so you should always write down the address where you want to go to make sure everything is clear.
The minimum fare from Monday to Saturday from 6 am – 9 pm is 2.50€. Sundays and any other day from 9 pm to 6 am are 3.15€.
The price per kilometer also varies depending on the day and the time. From Monday to Friday, between 7 am and 9 pm is 1.10€ and then on holidays, Saturday, and Sunday, from 9 pm - 7 am is 1.35€.
In case you know the route, tell the cab driver from the beginning the path you want to follow. And if you don't know the route, activate google maps to ensure it is the right way. Some cab drivers try to take advantage of tourists and choose the longest route.
---
Uber & Cabify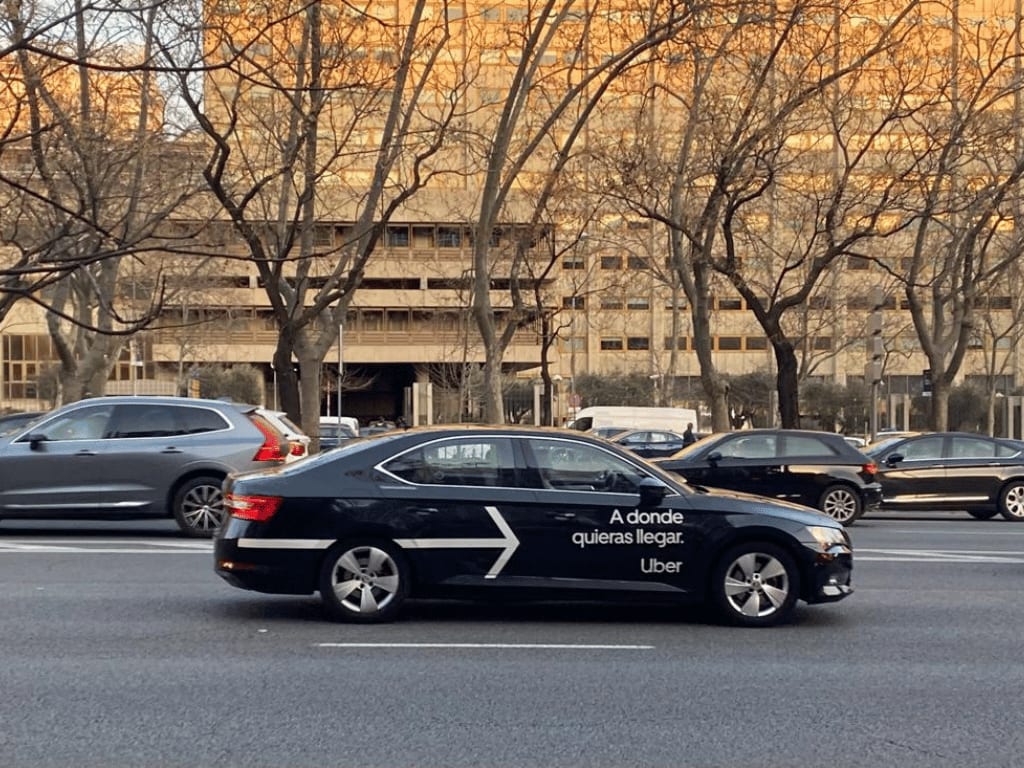 Uber and Cabify are great options for moving around Madrid, and there are alternatives to cabs.
Uber currently has 93 million active users in the world. It is available in 71 countries and 10.000 cities and has 3.5 million drivers worldwide. It's a French company, but it has had a massive influence on the life of every Spaniard.
Cabify, in exchange, is a Spanish-origin company that currently operates in countries all over the world, such as Chile, Colombia, Argentina, Mexico, Peru, Brazil…
Some people believe that Uber and Cabify are cheaper than cabs. Still, that depends on the demand, as Uber and Cabify increase or decrease their price according to the demand.
You must download their app if you want to take one of these vehicles. In it, you will be able to book the service, and it will indicate the place of pickup and destination. You will also be able to compare with other companies that offer the same service and see the estimated prices that the app gives you.
You can also order a vehicle in advance! They operate 24/7, 365 days a year.
Before getting into an Uber vehicle, ensure the car and driver are correct; ask the driver to confirm your name and share the details of your trip with your loved ones.
---
Electric Bikes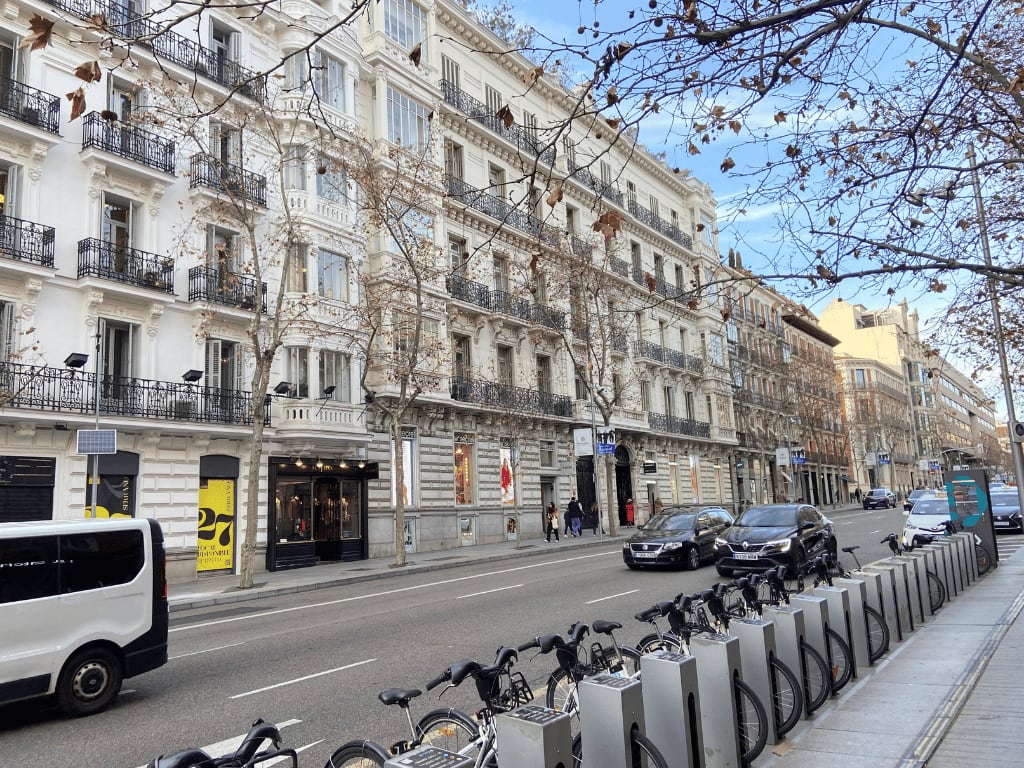 A few years ago, the electric public bicycles that already existed in other cities, such as London, also arrived in Madrid. Today, there are about 3.500 bikes spread over 260 stations in the capital.
The electric public bikes are managed by BiciMAD, offering a practical, simple, and sustainable service.
When you rent the bike at BiciMAD, you can get a card depending on how many days you are using the bike (1, 3, or a 5-day card).
Renting bikes to visit the city is a great option; it doesn't pollute and is cheap. The bicycle allows you to see the city at your own pace while you exercise and enjoy the outdoors. Although the capital should put more emphasis on preparing the city to travel by bicycle.
Renting a bike for 1 hour has a price of 2€, renting the bike for 2 hours 4€ and renting the bike one-day costs around 12€. If you rent a bike and you leave the bike at a station in the BiciMAD network, a 50% discount will be applied.
In Madrid, you can also join a guided tour by bike; I'm sure you will love it!
If you see that the light is green, the bike is available. If the light is red, the parking space is free, and you can leave your bike parked there without any problem. The blue light informs you that someone else has already reserved the parking space. And if there is no light, bad luck because it means that the bike is not working.
---
Electric Scooters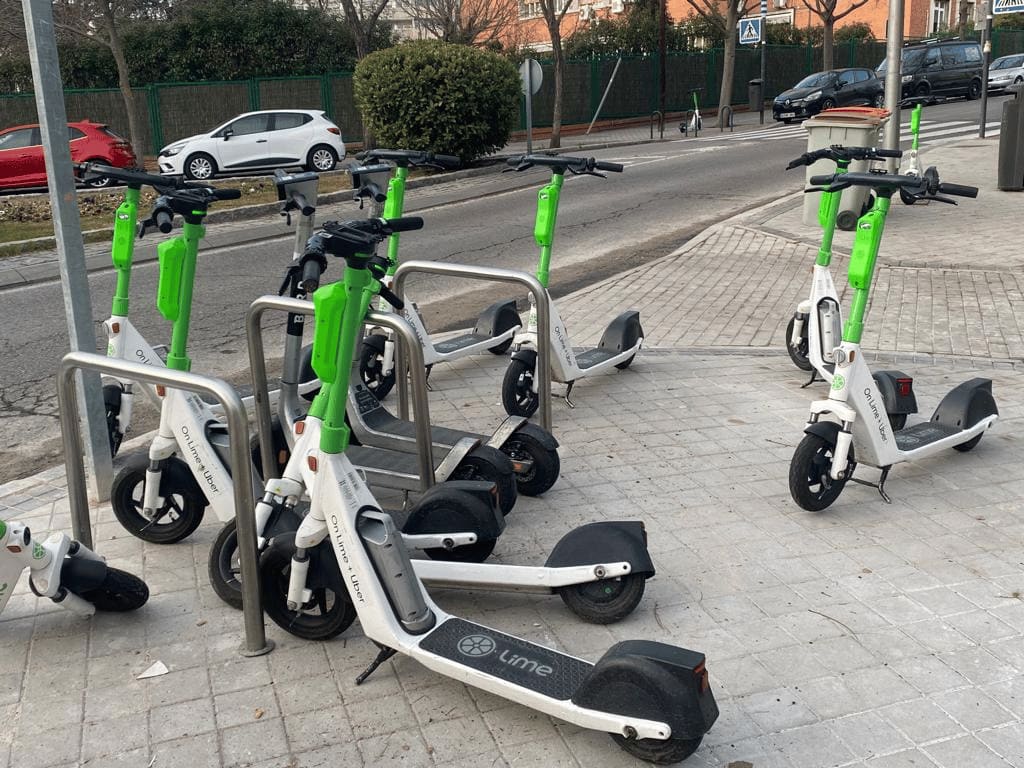 Electric scooters are also very popular in the city. They are distributed along the streets of the 21 districts of the city.
The main electric scooter companies you will find in the center of Madrid are Lime, Voi, and Bird.
As with car sharing, you have to download the application of the corresponding company, register with a payment method, get next to the scooter, scan the QR of the same. Then you will be able to start using it.
The average price is 0.15 € per minute, with some companies offering them at 0.11 and others at 0.23 € per minute.
Important! Remember to indicate that you have finished the end of the trip, or it will continue running the time of use and, as a consequence, the cost.
Always leave the scooter in the corresponding areas, or you will be charged extra for leaving it anywhere.
---
Electric Motorbikes
If you are one of those motorcycle enthusiasts, you are lucky because Madrid is one of the European cities with the largest number of motorbikes.
Without spending much money, you will have access to a two-wheeled vehicle.
In Madrid, there are more than 5.000 shared bikes, and 97% are environmentally friendly vehicles, as they reduce the ecological footprint generated by fossil fuels since 97% of the services offer electric cars of which are electric. For this reason, the implementation of these electric scooters in the capital continues to grow.
Some of the most popular companies offering electric scooters are Acciona, Cooltra, and Cabify.
To rent them, you have to download the application of the company you rent the bike from. You can rent them by simply registering your personal data and entering a bank account and driver's license number. Through this, you will be able to have access to a large number of motorcycles, which are spread throughout the city.
Many motorcycles are at your disposal after downloading the applications in the city.
Once registered, you must search for the closest vehicle to your position and book it. The price depends on the company you choose, but there is an average fare of about 5 € for a 20-minute ride.
Do not worry about your safety; all motorcycles have a helmet incorporated!
Once you reserve the vehicle, you have about 15 minutes to take the bike. The best of all is that the reservation is free, so do not worry if you change your mind and decide not to take it after. Ohh! And remember to always check that the helmets indicated in the app are there! If any of them is missing, you must notify the company to avoid a financial penalty.
---
Ready to move around Madrid? What means of transport do you like to use the most?
As I said in the beginning, I'm more of a walker, but if I have to move quickly through the center, the most comfortable in my opinion is the subway. Although the option that I like the most is the electric scooter because I enjoy the beautiful streets of Madrid and I find it very fun!
Tell us from where you read us and tell us which means of transport works best in your country!