Experience Madrid on a Budget: 7 Money Tips on 2023
February 3, 2023
Updated:

June 15, 2023
Published: February 3, 2023
I first moved to Madrid on a very hot, sunny day in August. If I remember well, it was a Wednesday. I expected the city to be packed with tourists as August is the general month of a European vacation. But, to my surprise, it was empty!
I had visited the city with my parents, which was perfect, but I had a little problem this time: I was on a budget. 
And I was going to be on a budget for quite a while, so I decided to rediscover the city while saving money. 
After more than six months, three seasons, and many, many mistakes, here are seven money tips for experiencing Madrid on a budget in 2023.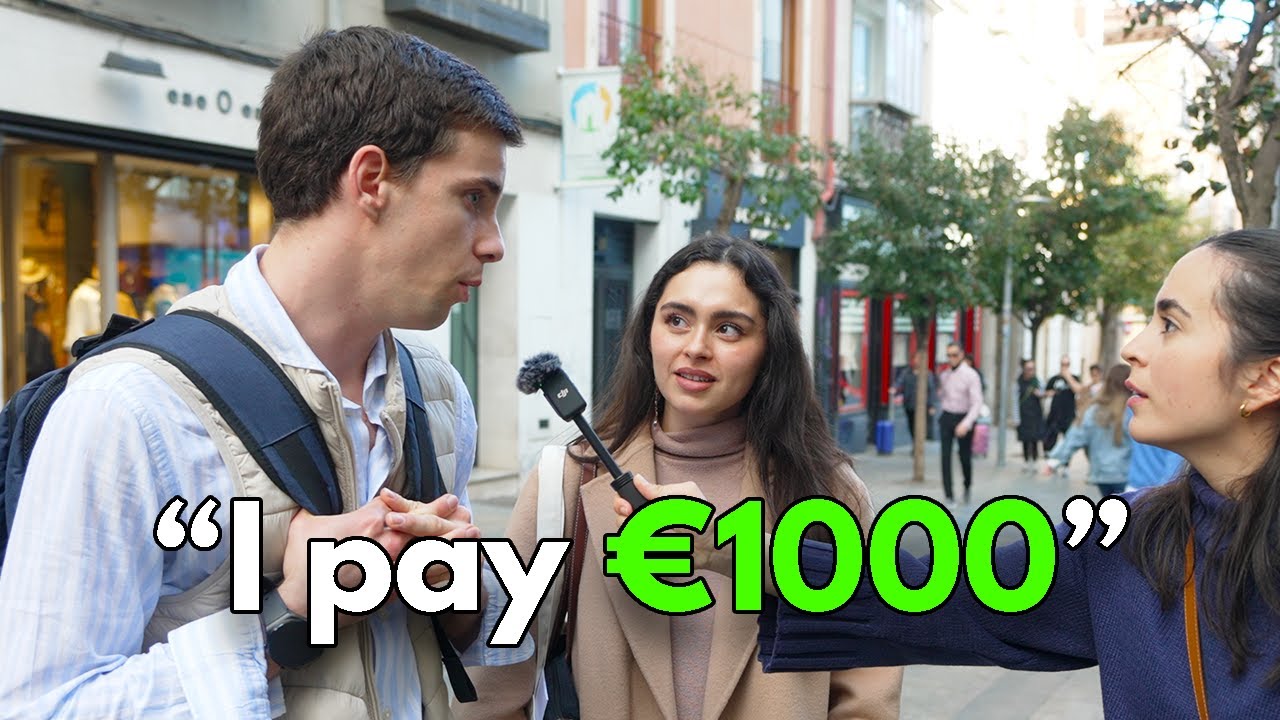 1. Choose to travel during Madrid's off-season 
One of the best things you can do if you want to see the world on a budget is to visit cities in their off-season. And, if you are planning to experience Madrid and save money, this is your way to go!
What are Madrid's off-seasons? 
The best time to visit Madrid on a budget is in January (after the 6th), February, August, and November. 
As I mentioned before, I got to Madrid in August, and I must be honest, it was hot. I have never experienced 45 °C (113°F) in my life! But, I got around it because the city council organizes plenty of activities for people to choose to stay in the city. 
To know more about Madrid during summer and activities to get the best out of the city, we got you covered with the article below!
If you are on a budget, traveling to Madrid off-season will get you better deals with hotels, hostels, and Airbnb, as there is less demand. 
The downside of traveling in August is that many local stores reduce their working hours, but that is not a problem in other off-season months.
Here is another crucial tip for traveling to Madrid on a budget, you plane ahead; otherwise, your wallet will suffer. 
2. Plan and Book tickets in advance (Saves you money and time!)
Going back to the off-seasons, a friend from Almeria came to visit me in November. I told her that she should get her accommodation and tickets with time, but life got in between, and she bought everything last minute. And yes, that was very expensive.
So, if you want your trip to Madrid on a budget, start on the right foot. Plan ahead! 
This includes buying tickets for museums or paid landmarks; digital passes are usually cheaper. So, you save money and time, making your trip more efficient to squeeze the best out of Madrid. 
3. Get a transport card to move around the city
One of my favorite things about Madrid is that you can walk everywhere. But, if you come on a schedule, the best thing you can do is use public transport. 
When traveling, there is always a moment of the day (usually very early in the morning or late at night) when we are not in the mood for walking. 
A taxi or an Uber might seem very appealing, but that will add more to your bill. Instead, get a city transport card to move around the city. 
I recommend getting either the Touristic Multi Public Transport Card or the 10-Trips Multi Public Transport Card, depending on the days you'll be staying. 
The Multi Public Transport Card allows getting around Madrid by metro, and bus.
Benefits of the card:
 Use the same card by different people.
Paying the trip to companions who share the same trip.
Contain tickets for trips other than the usual one.
The card above is different from the  Touristic Multi-Public Transport Card. This one is a personal ticket and allows an unlimited number of journeys on all regular passenger transport services operating within the chosen area (exceptions indicated). 
Unlike the 10-Trip transport card, you can only get this in more locations such as:
At Adolfo Suárez Madrid-Barajas Airport at terminal T1-T2-T3.
Sales and Tourist Information Office (T2)
Tourist Information Service: Monday to Sunday from 10:00 to 18:00 h at Terminal T4.
At the Atocha and Sol management offices
All Metro stations
At the Consorcio Regional de Transportes de Madrid headquarters, Plaza de Descubridor Diego de Ordás, 3.
The point is that getting a transport card will save you from desperate taxi needs while visiting Madrid.
STEP BY STEP TOURIST CARD
The guide will show updated prices of the tourist card in 2023
STEP 1: 'Tipo de billete' or transport card of choice. As you can see you, the main options are 10-trips cards, airport trips and tourist card. Click on 'De 1 a 7 días (Turístico)'.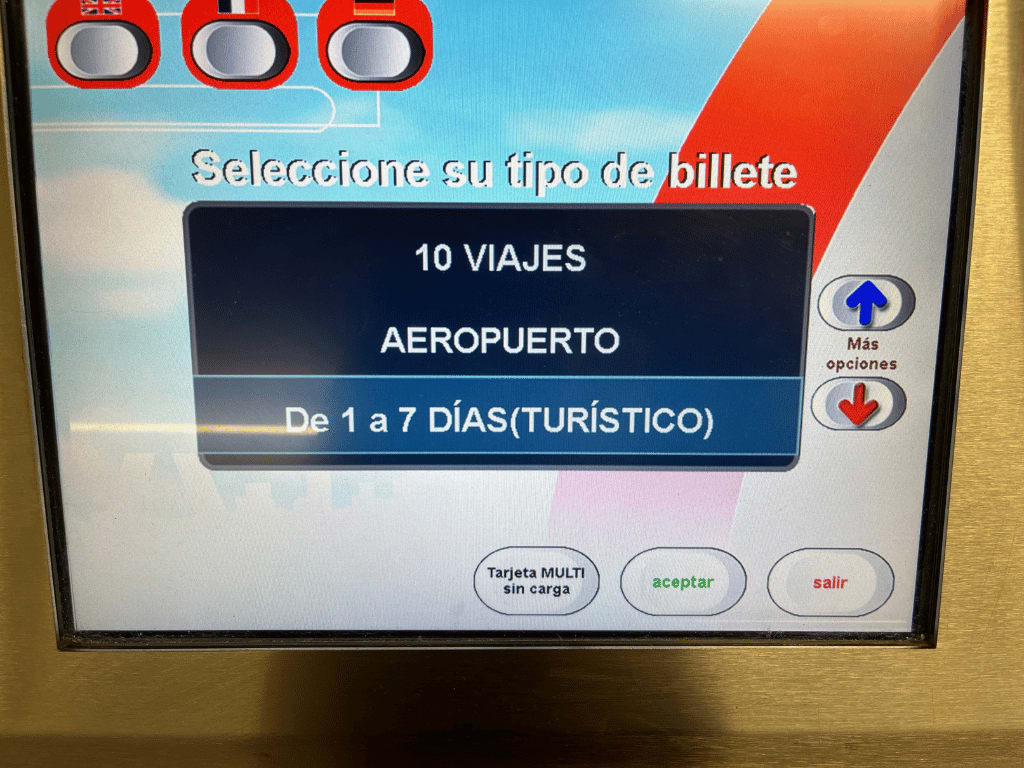 STEP 2: Choose the amount of days you will be staying in Madrid.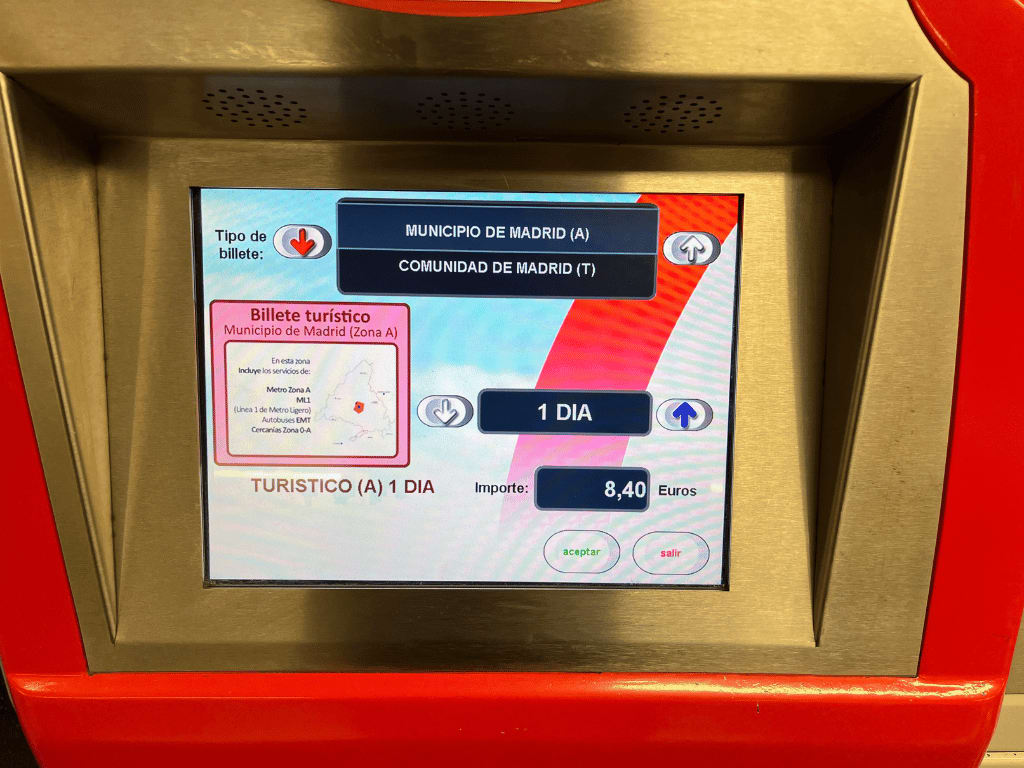 ---
---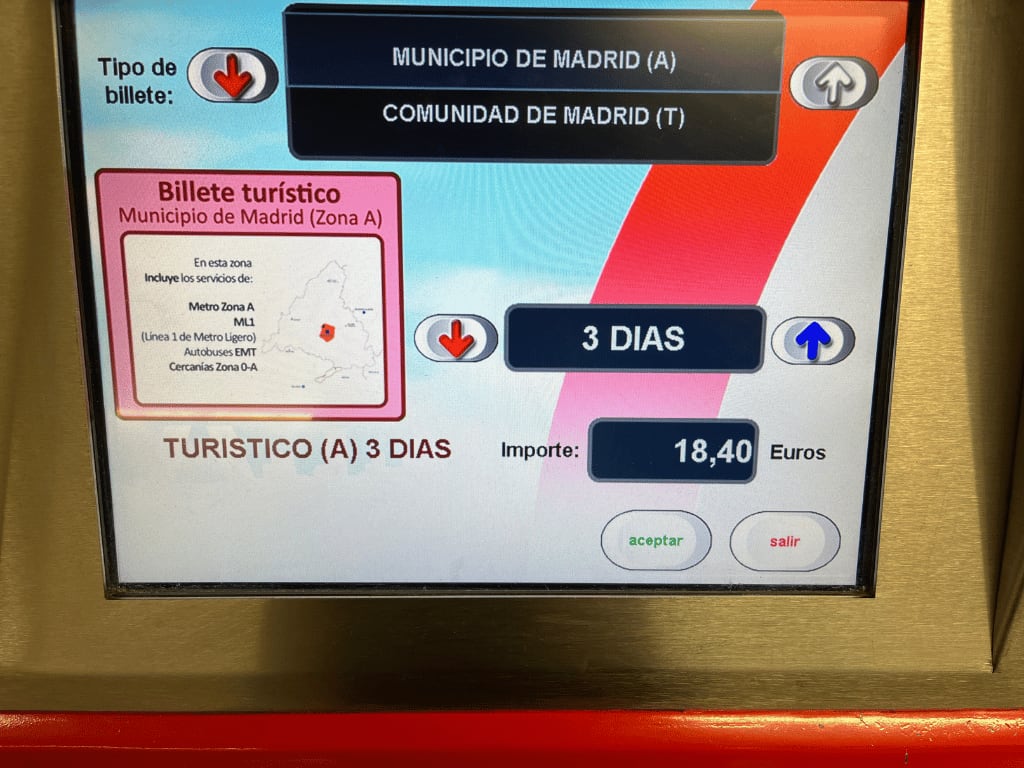 ---
STEP 3: Make sure you buy the ticket for the right areas. There are two type of tourist card, for Area A and Area T. AREA A or 'Zona A' allows you to ride metro and bus; while Area T or 'zona T' allows to go travel inside all the Autonomous Community of Madrid in metro and bus, plus you get to ride intercity buses to Toledo and Guadalajara.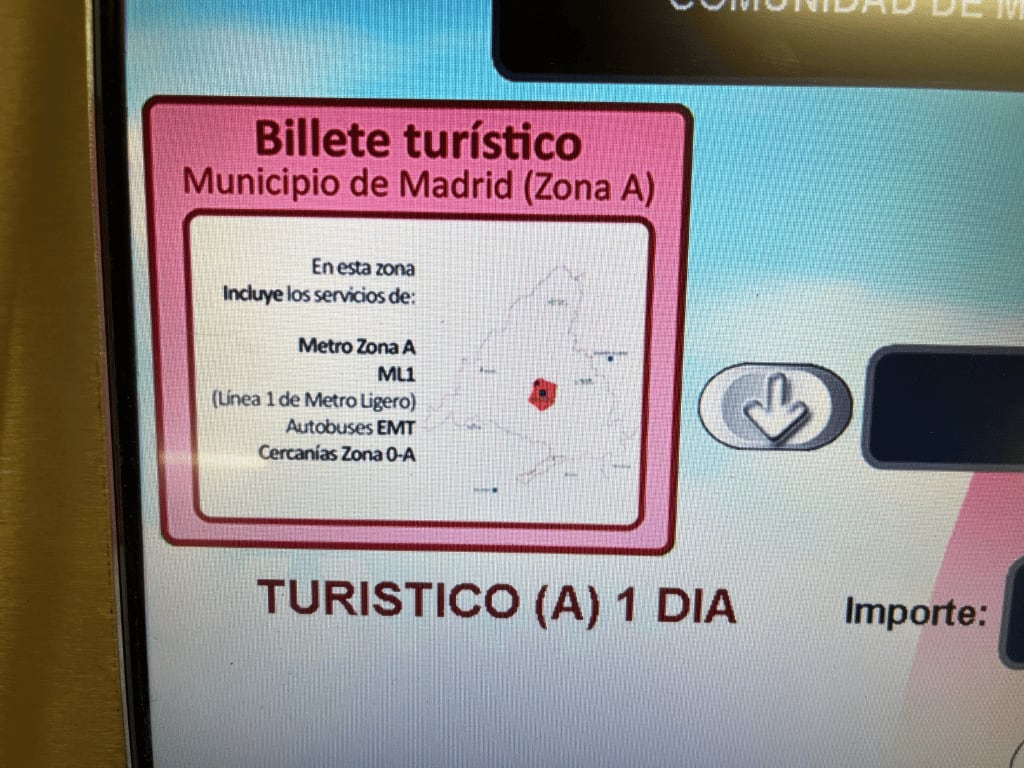 ---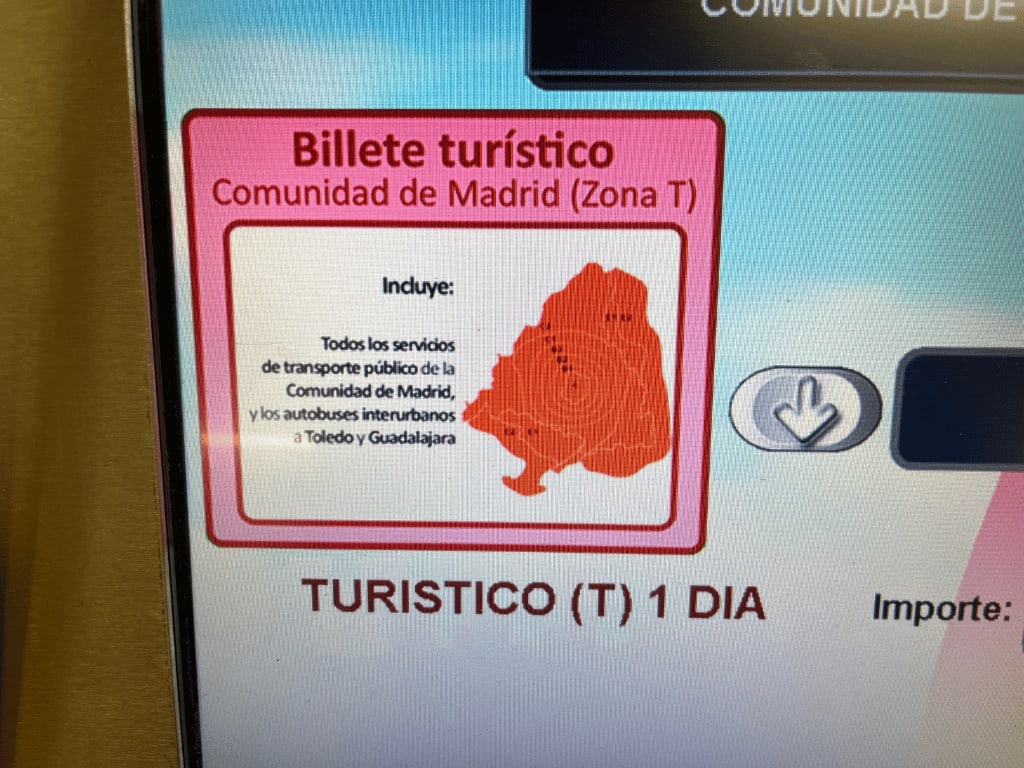 4. Go for tapas instead of trying out multiple restaurants
I must be honest with you: I haven't repeated a Madrid restaurant. This means two things; there is an infinite variety of places to try delicious dishes, and two, they are affordable. 
The three top places to get free food are El Tigre, La Petisqueria, and 100 Montaditos. The characteristic treat about these three bars is that you get tapas with your drink! There is no better deal than that. 
Safe choice? Always go for croquetas, patatas bravas, and tortilla de patatas. Those three have never failed me.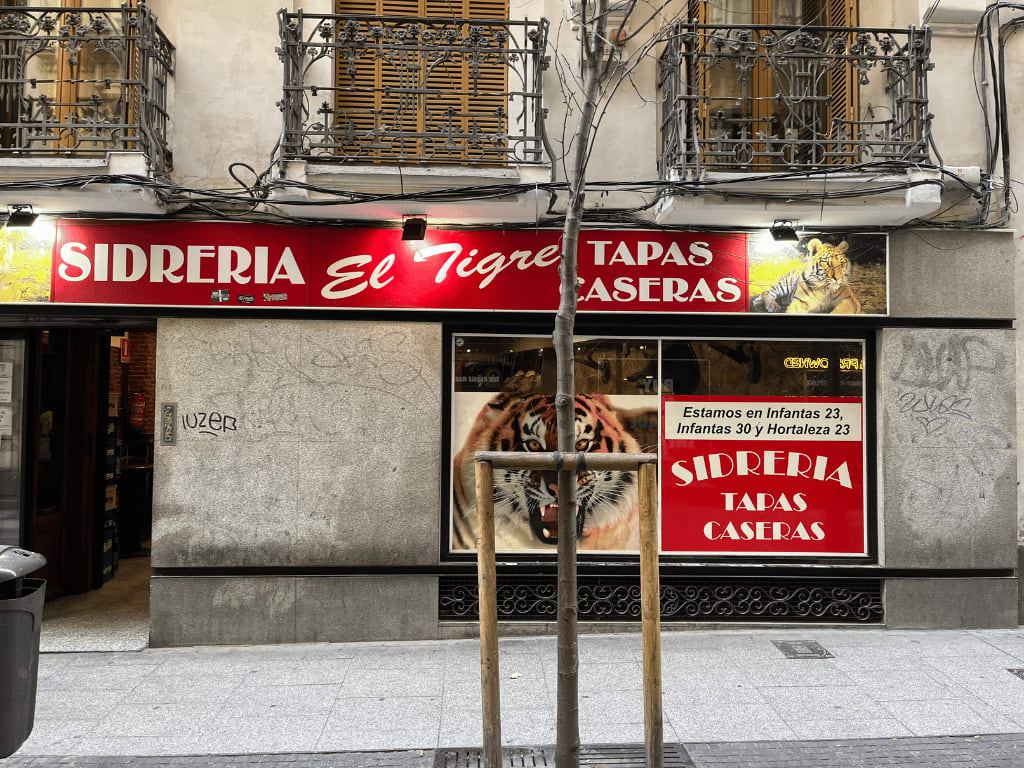 El Tigre: 
Neighborhood: Chueca (very close to Gran Vía)
Address: Calle de las Infantes, 23, and calle de Hortaleza, 23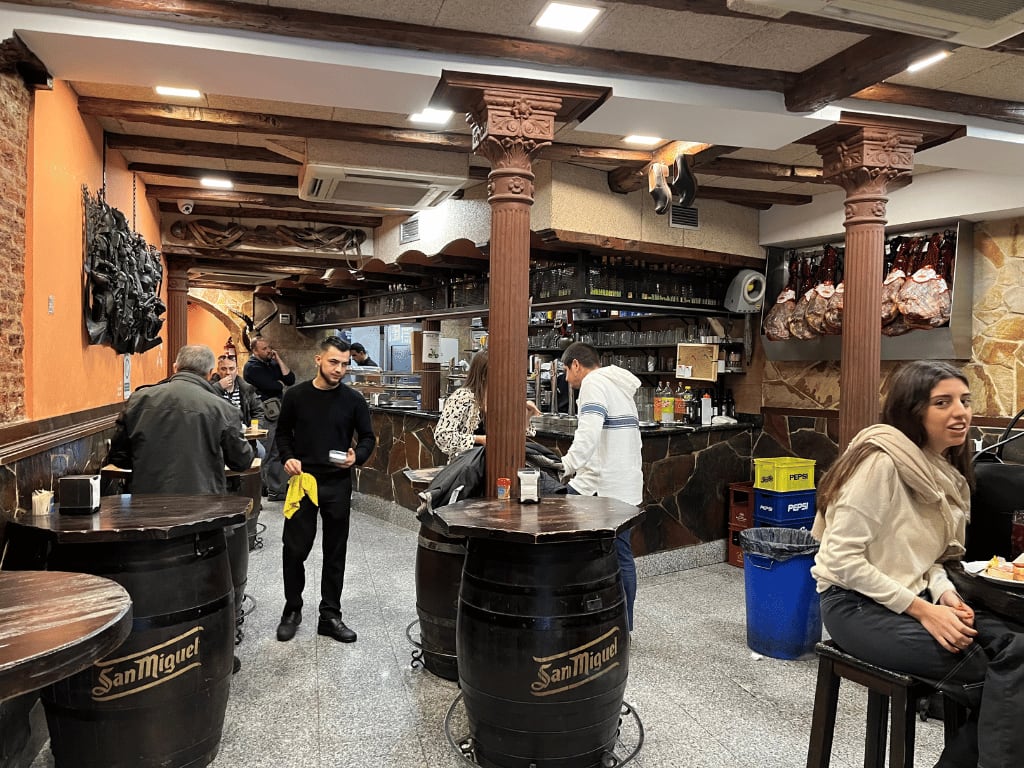 La Petisqueria:
Neighborhood: Malasaña 
Address: Calle de Churruca, 6. 
100 Montaditos: 
This is a tapas chain, so that you will find one anywhere!
An extra tip I have for you if you come to Madrid on a budget is to buy some snacks for the day in our supermarkets (Mercadona, Carrefour, Día, Lidl, etc.), so you get brunch and dinner. 
5. Visit the museums during their free hours
Madrid is one of those cities that will have something for you even if you are on a short budget. One of my favorite activities in Madrid during summer was visiting museums during their free hours and open galleries.
You should know that if you are a student (from anywhere!), you have a reduced fee in all museums. 
Museums
Monday-Saturday: 18:00 - 20:00 h 
Sundays and holidays: 17:00 - 19:00 h
Museo Nacional Centro de Arte Reina Sofía
Monday: 19:00 - 21:00 h
Wednesday-Saturday: 19:00 - 21:00 h
Sunday: 12:30 - 14:30 h
Museo Nacional Thyssen-Bornemisza
Open galleries
CentroCentro is a cultural center located in the Cibeles Palace which offers art exhibitions all year long. From architecture to music, they organize open exhibitions that you can enjoy inside Cibeles, one of the most stunning architectural landmarks in the city. 
The Caixa Forum is an initiative from 'La Caixa Bank' to provide access to and diffusion of culture. 
Just like CentroCentro, the Caixa Forum has exhibitions all year long. The entrance has a price of 6 €, a significantly reduced fee if you are an art enjoyer. 
So, if you are into art and culture; and visiting Madrid on a budget, check the museum's free hours and reduced fees in advance and make the most out of your visit with less.
6. Visit Madrid's parks: nature is free!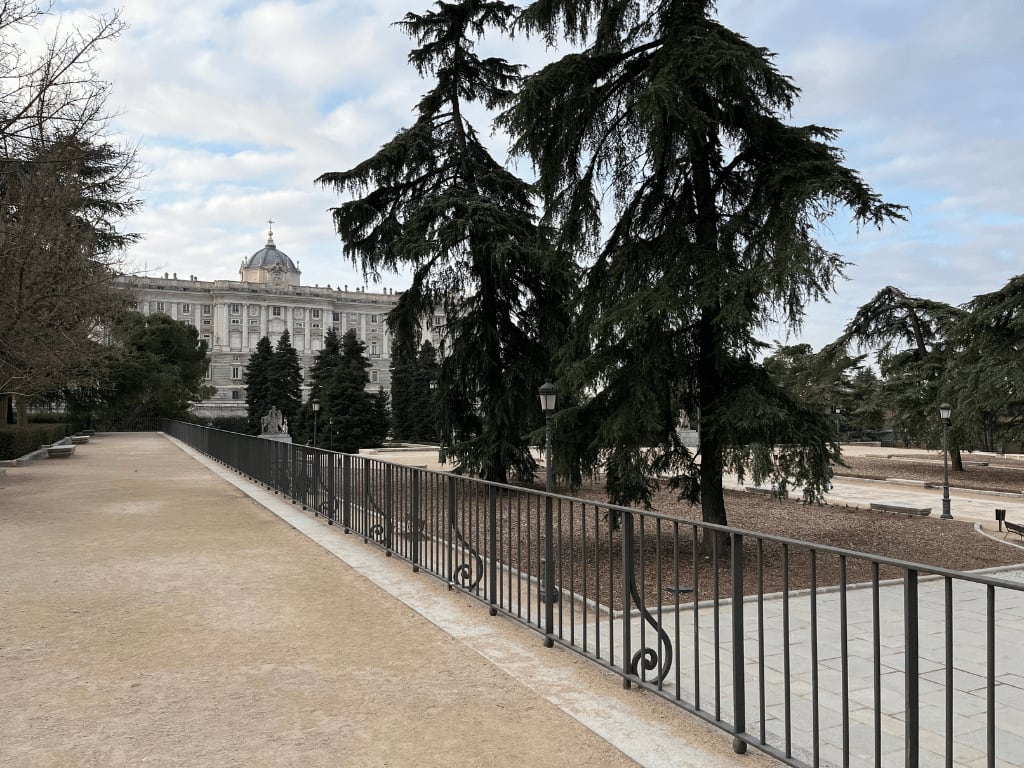 One of my favorite things about Madrid is that most of its landmarks are open to the public. The Puerta de Alcalá, the Palacio de Cibeles, and the Plaza Mayor are all waiting for people to visit them. And, if you ever get tired of the city smog, Madrid has plenty of parks to escape to and enjoy some time by nature. 
These parks saved me on Madrid's hot summer days and gave me five plans to know the city a bit deeper. I will list the parks from north to south, which will be visible on the map below!
1. Retiro Park
2. Sabatini Gardens 
Close to the Royal Palace
3.Campo del Moro Gardens
4. Debod Temple Park- Western Park
5. Casa de Campo Park 
You can enjoy the cable car ride that departs from Western Park. The price is €6 round-trip and €4,5 one-way. 
7. Take advantage of Madrid's budget experiences!
These are not-so-known places in Madrid that you can add to your bucket list without going over the top of your bills.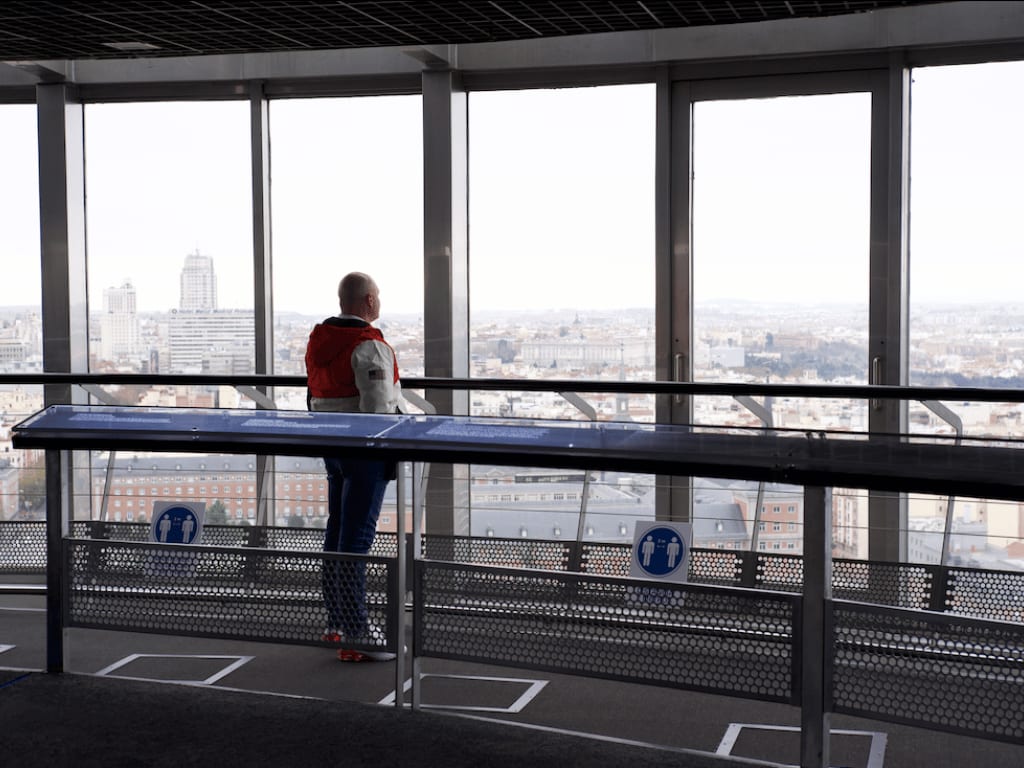 1. Faro de Moncloa
Moncloa's Lighthouse is located in Ciudad Universitaria/Moncloa-Arava, very close to the student neighborhood of Arguelles. If you find yourself in Plaza de España, it would only be a fifteen-minute ride to Moncloa in line 3 (yellow). 
The fee would be €4, and you get a breathtaking view of Madrid, especially if you go for the sunset. So, instead of going to the RIU to spend over €20 to visit their terrace and get a beer, choose the Moncloa Lighthouse and use the other €6 for some tapas.
2. The Alameda Castle
Okay, if we are getting the best out of Madrid on a budget, you need to see the hidden gems that most people don't know. 
The Alameda Castle is a 15th-century military fortress located in the district of Barajas, a 40-60 minute ride from Madrid city center. Admission to the castle is free and a nice addition to your Madrid bucket list. 
3. Chamberi Ghost Station
Did I already tell you that there is no way you will get bored in this city? Another activity you can experience in Madrid for a budget is visiting the Chamberi Ghost Station.
I know it sounds spooky, but the Chamberi Ghost Station is one of the original eight metro lines of the city. Unfortunately, it had to be closed down in 1966, and now it remains a museum. 
Visiting this metro station is like traveling back to the 50s; it will let you see how people from almost seventy years ago took the metro. 
This Madrid attraction is free; you have to book your ticket in advance right here! 
These were the top seven tips to visit Madrid on a budget! Let us do a quick review. If you are traveling with your saving and want to get the most out of Madrid, first of all, travel off-season, plan, and book necessary tickets in advance, get a metro card to avoid expensive taxi drives, go for tapas, visit a museum on the free hours, and go for low-budget experiences like parks and hidden gems. 
I hope these tips are helpful for your trip! If you have any questions, don't doubt to contact us.