Madrid in Winter: 13 Cool Things to do in this Magical Season
February 9, 2023
Updated:

June 5, 2023
Published: February 9, 2023
The best thing about spending Winter in Madrid is that you can always enjoy a warm and pleasant midday sun in this beautiful city!
This season is cold and dry, and snow is very uncommon. But it can happen at the end of December and January, the coldest month.
The good news is that Madrid is filled with countless plans and activities designed for the joy and entertainment of all audiences, including Christmas activities, shopping with the best sales, concerts, and musicals.
In this article, you'll see the best plans that every traveler has to experience if they come to Madrid in Winter, especially during Christmas time.
I aim to ensure you get the best out of your visit to Madrid on these dates. Have a memorable meeting with your family, enjoy incredible plans, and eat delicious local food!
Let's get into it.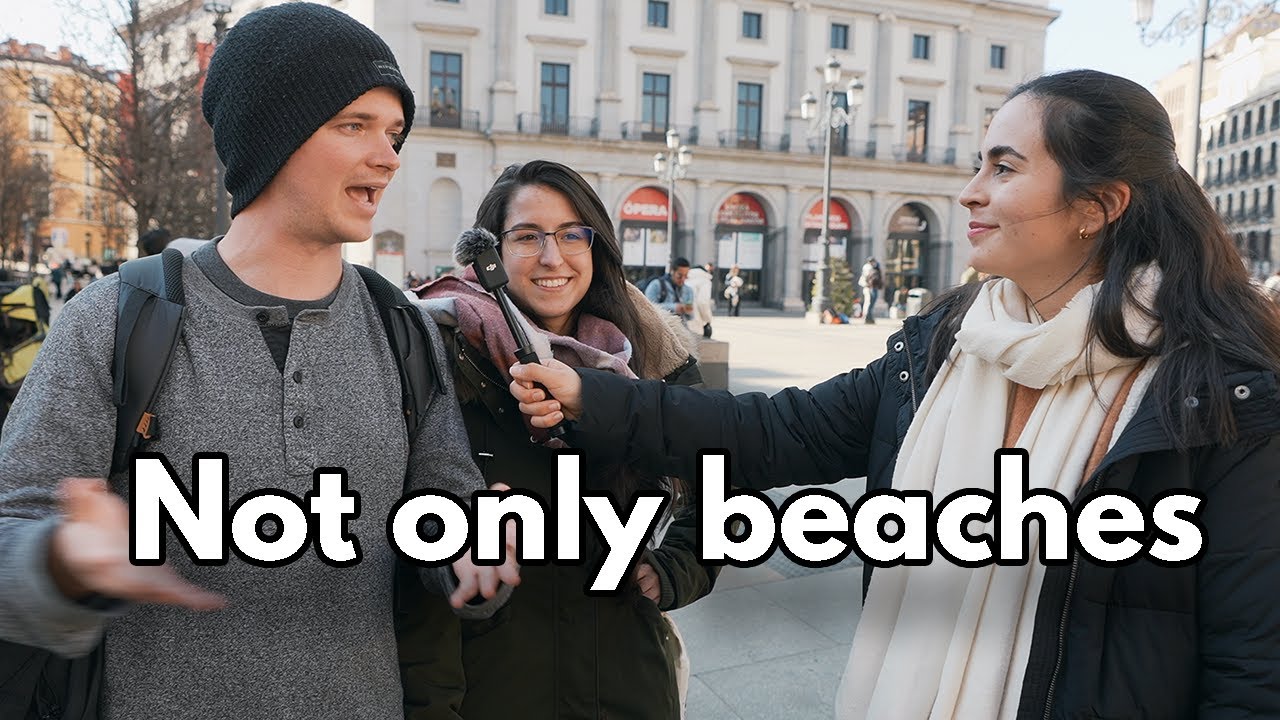 1. Visit Madrid's wonderful Christmas markets
One of Madrid's most significant Christmas traditions is visiting the traditional markets set up throughout the city. 
This a perfect opportunity to find everything you were looking for, enjoy a lovely day, delight yourself with heart-warming chocolate with churros, and spend a magical time with friends, family, and loved ones. 
The most famous market is the Plaza Mayor market. They usually open it from November until early January. 
It has more than 100 colorful booths where citizens and tourists find all kinds of Christmas musical instruments, toys, Bethlehem figures, Christmas decorations, traditional articles from Madrid many years ago…
One of the most famous pop-up markets in the capital is the "El Gato" Market. It is hosted every year in the Westin Palace.
You can see more than 60 exhibitors who will offer selected products of fashion, crafts, gourmet, decoration, accessories, children's fashion, cosmetics, jewelry, and collectibles. 
Going on another trendy market that I love visiting is the one in the Corte Ingles of Castellana. 
You can find everything from gift items for Christmas music and light shows. 
They also have famous food trucks with the most typical food in Spain and great chefs such as David Muñoz with 4 Michelin stars. 
You will find food from all over the world. Some of the brands you will see are Chocolatería San Gines, Santerra, Disney, Lego, El Almendrado, and many more!
---
2. Escape the cold in cultural experiences and museums
What if it's raining or you have bad weather conditions in Madrid? 
There are only a few options for you to enjoy here. But this city can offer you thousands of alternatives when this happens. 
 One of them is to spend a day in one of Madrid's museums. The city holds more than 44 museums, including some of the most important ones in the world. So, what are you waiting for?
The most famous is the Prado Museum, with more than 3 million annual visitors. It's a must-see.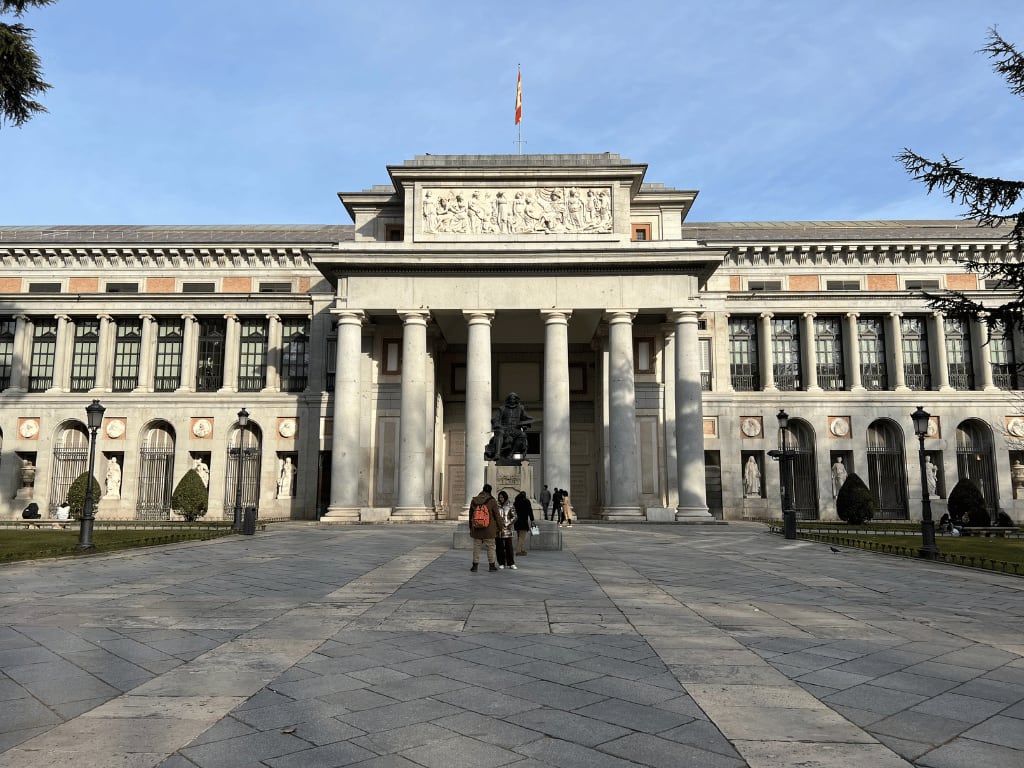 Another one is The Reina Sofía Museum, a huge contemporary art museum that offers us the best works of Pablo Picasso, Salvador Dalí, and Joan Miró, to name a few.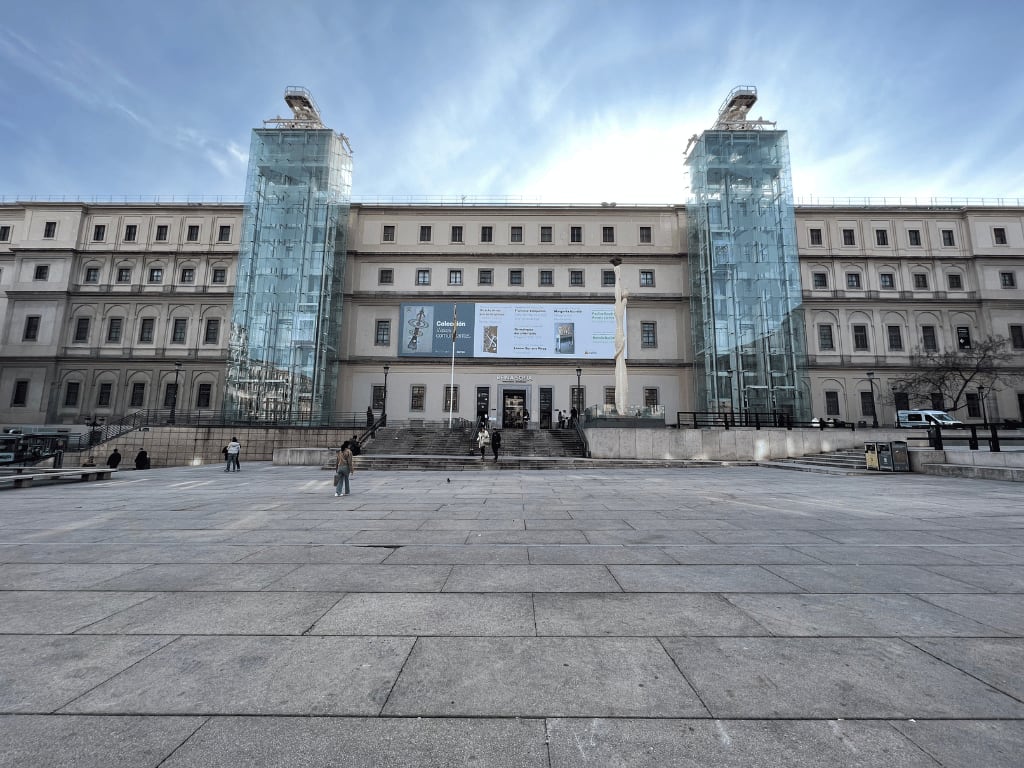 There is also the Thyssen-Bornemisza Museum, the third most important museum in Madrid. You can find foreign painters in the museum, unlike in the Prado or Reina Sofia museums.
These are just 3 museums in Madrid, but there are way more to enjoy a great experience while learning. You can also visit Conde Duque Cultural Center, La Casa Encendida, or Matadero Madrid. Read our related articles for more:
Another must-attend event in the capital if you're a travel enthusiast is FITUR. It is a famous tourism fair every January at the IFEMA in the community of Madrid. 
---
3. Ice skating in the best rinks in Madrid
On Christmas is when Madrid has more ice rings, you will find them everywhere. 
For example, the one in Plaza de España is very beautiful and tries to relate to Rockefeller in New York (but it's impossible). 
I must admit, we don't have the most sophisticated ice rings in the world. But I assure you you'll have a great time ice skating. 
There is a giant fir tree with Christmas lights and a luminous nativity scene. This central space also has a large outdoor natural ice rink of 450 square meters.
Also, I recommend you go to the Ice Palace in Madrid. One of the most iconic ice rings in the capital. 
It is the stage for various sporting activities, such as skating, field hockey, and curling. Due to its large surface area and Olympic-sized surface area, it holds multiple high-level championships.
Whether you have experience with roller skates or not, you'll see the ice up close a few times and laugh your ass off.
Also, it's the perfect excuse to get outside, breathe in the fresh air, and soak up some vitamin D if it's sunny.
The truth is that Winter in Madrid has ideal weather, and there are many blessed sunny days and pleasant temperatures.
---
4. Skiing in Madrid: in Valdesquí and Xanadú
Skiing is not something you do every day, nor is it something you do just anywhere. 
Winter creates the perfect weather conditions for enjoying nice ski weekends in Madrid and having a unique shared experience with friends and family. 
You can practice this incredible winter sport in places like Andorra and the Sierra Nevada, the top locations to practice skiing. But let me show you the best in the city. 
Valdesquí is the largest and busiest of all the mountains in the Community of Madrid. I like going from time to time, and it's where many kids from Madrid learn to ski.
Also, it has a ski resort located in Rascafría, northwest of the Community of Madrid. 
Although it doesn't have a lot of skiable kilometers, if we compare it with the Pyrenees or the Alps, it has 220 hectares with 22 skiable kilometers and 21 lifts. 
This is one of many places where you can go skiing, a few kilometers from the capital, we have Xanadú Snowzone, the only indoor track in Spain and one of the largest in the world.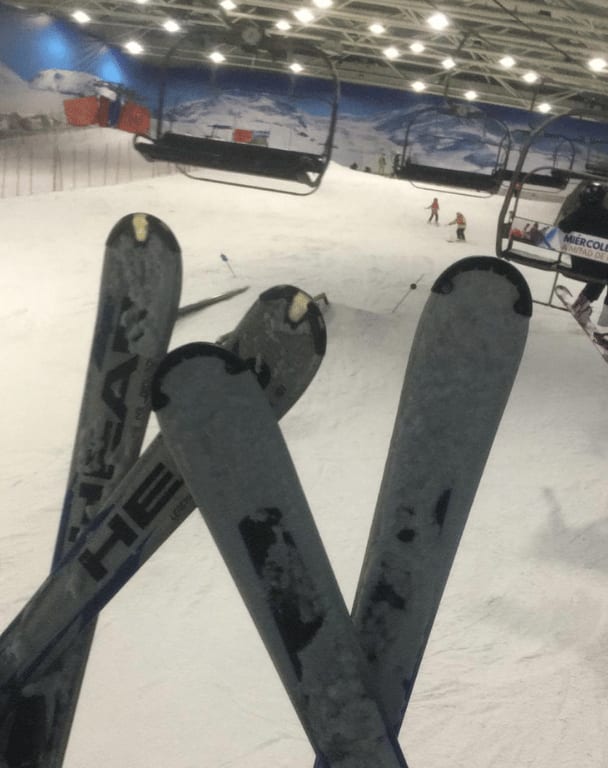 The indoor space is designed for everyone. You don't need to be an expert skier! In fact, it has an area where you can practice (initiation slope) and an area dedicated to children (Telebaby).
---
5. Enjoy Hot Chocolate with Churros
 One of the most typical things to do in Madrid during wintertime is to have traditional hot chocolate with churros. If you come to Spain, you can't miss it. 
When the cold weather arrives in the capital, few things are more appealing than enjoying this delicious treat.
The tradition has been going on for many years, since the early 19th century.
During that time, hot chocolate became the favorite drink of the aristocrats, who used it as a snack offered to their guests.
It would be best if you went to San Ginés, one of the oldest chocolate shops since 1894. It is located halfway between the Puerta del Sol and the Teatro Real, in the heart of Madrid.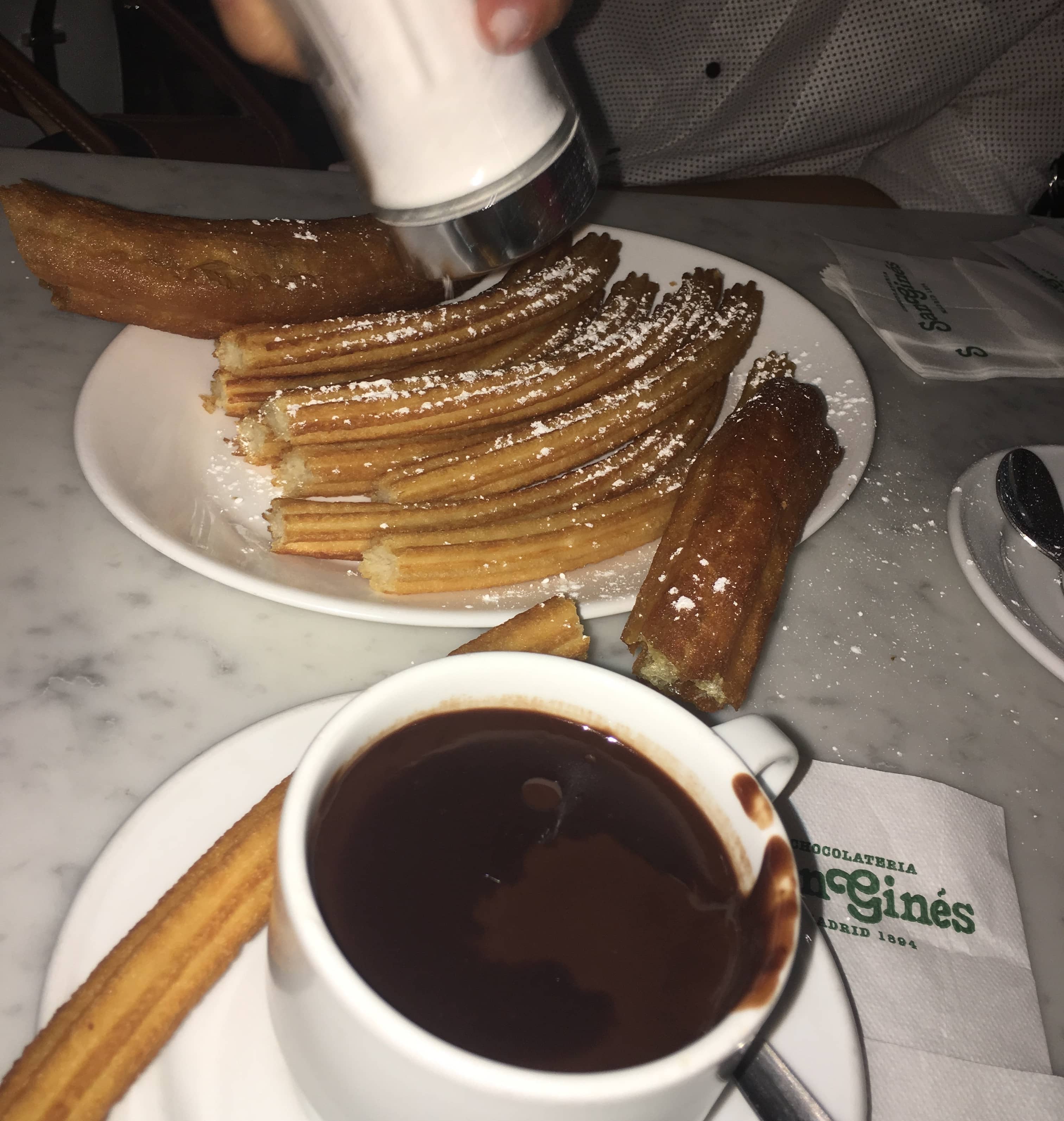 This bar is so popular that its tables have hosted celebrities such as Valle-Inclán, Maradona, and U.S. President Jimmy Carter!
The success of its chocolate with churros is the result of centuries of tradition. Every day hundreds of people pass through its door to taste the best chocolate with churros in the capital.
But don't worry. If you can't get to San Ginés, many traditional "chocolaterias" around Madrid are also worth it! Here's a good one. Chocolatería La Antigua, near Tribunal and Alonso Martinez.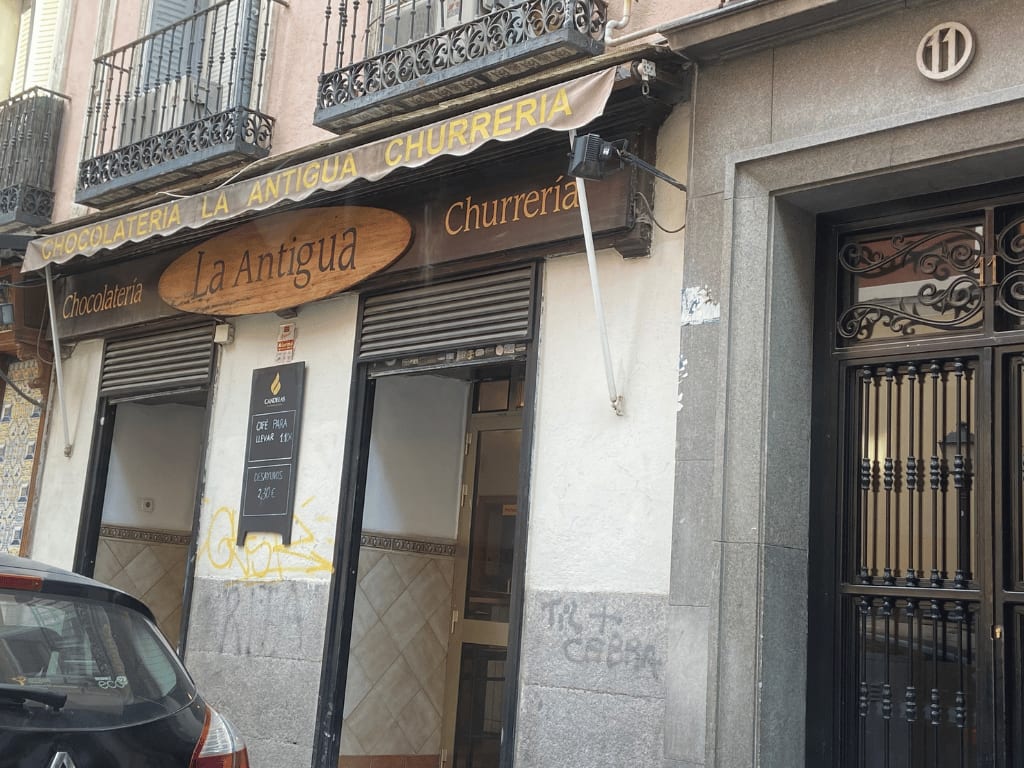 ---
6. Go to El Escorial by train
I'm 100% sure you've never been on a train like this one. It was from Felipe II, a Spanish king.
This train is one of the most memorable ways to get to the monument from Madrid and see everything that the monastery of El Escorial has to offer. 
It consists of four cars from the 40s pulled by a diesel locomotive. 
The train leaves behind the Principe Pio station in Madrid. It enters the Sierra de Guadarrama, a natural environment a few kilometers away from the capital.
And, in less than an hour, you will reach this peaceful mountain town. 
It's a unique way to learn about the history and tremendous wealth of El Escorial. 
The entrance fee is 30€, and travelers will enjoy a guided tour of the interior of the Monastery of San Lorenzo de El Escorial. 
You will also learn about this town's history and unique buildings accompanied by guides. 
If you are one of those transport enthusiasts, you have one more reason to come here. 
Moreover, Cocheras del Rey, a collection of horse-drawn carriages, sleighs, and other objects, is very close to the monastery, so you can also make a pit stop.
I encourage you to live this incredible and unforgettable experience, which is perfect for doing in Winter!
---
7. Try the traditional Cocido Madrileño
Cocido madrileño is one of the most representative dishes of the Spanish cuisine. It consists of a stew whose main ingredient is chickpeas, vegetables, meats, and pork bacon with some sausage. 
If I lost you at "stew," hang on because it is a unique dish, common in the cold winter months to warm up and feel at home. Because when the temperatures begin to drop, the body asks for a stew, much more than a noodle soup.
If you want to try this dish, some restaurants I recommend going to are Lhardy, La Gran Tasca, El Charolés (el Escorial), and Casa Carola. All of them are excellent options for enjoying an authentic Cocido Madrileño.
But, if you want to see the OG place to have it, visit this article that will guide you through the best restaurants in Madrid for every occasion and cuisine.
---
8. Head to a musical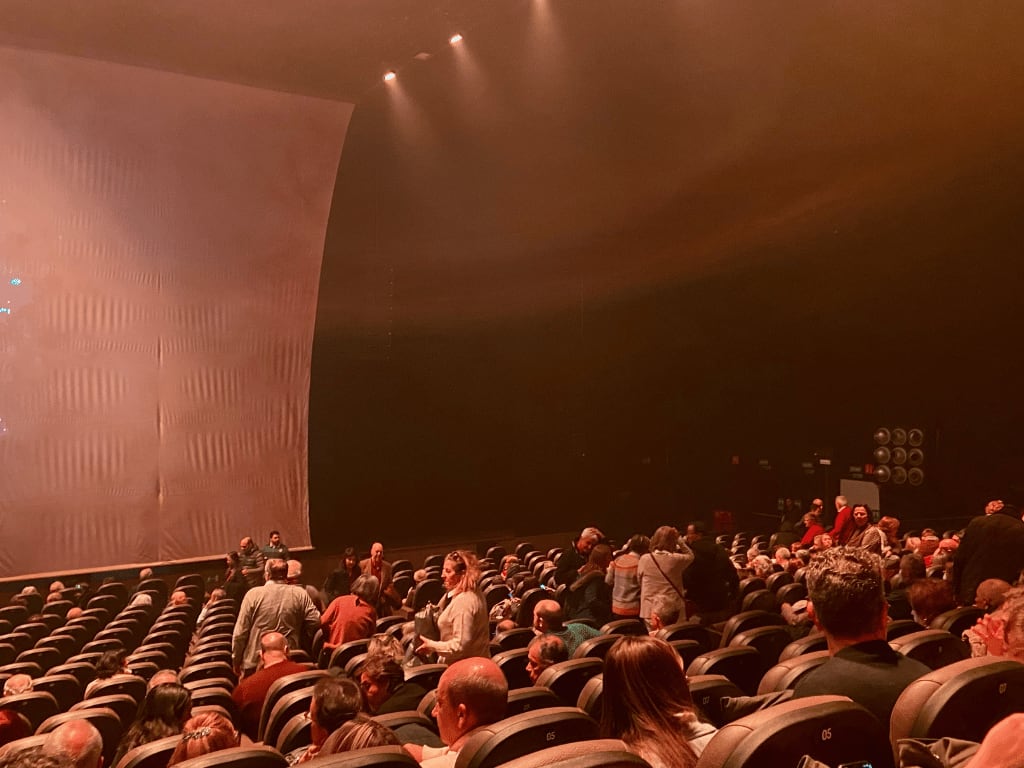 Rumor says that the theater in Madrid is undoubtedly a reference in the national cultural scene. 
From great international classics such as The Lion King to true national wonders such as La Llamada, Madrid's best musicalsshow why it is the great capital of Spanish musical theater.
Every day hundreds of plays are performed. Great musicals, classical theater, monologues, humor, mystery… everything has a place in Madrid.
Musicals such as The Lion King, Ghost, Grease, Charlie and the Chocolate Factory, Hair, and Follies are perfect options. Most of them are all year-round available. 
As we can see, the city has so much to offer that it can even be overwhelming to know where to begin. Here's a map with the best theaters in Madrid worth visiting. 
---
9. Go Bowling
With the arrival of cold weather, indoor plans have gained prominence, and one of my go-to activities is Bowling. A fun plan for the whole family and friends. 
I will give you a list of 3 of my favorite bowling alleys in Madrid.
1. Chamartin Bowling: Located in Chamartín station, this bowling alley has 20 totally renovated lanes, a games area with billiards, table soccer, and many arcade machines.
     Price: 3,50€-8€.
2. Bowling La Ermita: This is an incredible place. It is set in the '50s. Bowling la Ermita will make you spend an unforgettable afternoon bowling. In addition to its 18 bowling lanes, and has a large recreational area, arcade machines, and football tables. The cafeteria area offers spectacular sandwiches that you can't miss.
In addition, there are some weekends and evenings where they host events such as concerts or monologues. 
Price: 5€-6,5€ | Bowling Wednesdays: 3,5€ 
3. CityPlay Ice Palace: My last recommendation is CityPlay at the Palacio de Hielo, a very complete leisure center where you can enjoy many bowling lanes. One of its strong points is the bowling alley with black lights.
On weekends and holidays, when it's 9pm, the lights turn black and have many cosmic effects. This bowling alley also has arcade machines, billiards, and even mini golfs with 18 holes.
Price: 6 €-12 € | Offers combining mini golf
10. Visit Ratoncito's Perez House
A lovely way to spend a kid-friendly winter afternoon in Madrid is to visit Ratoncito Perez's House.
If you don't know who Ratoncito Perez is, I suggest you read this article that might help:
Who is Ratoncito Perez?! A Spanish Twist to the Famous Tooth Fairy
This fantastic story gave rise to the famous character of El Ratoncito Perez, and it even has a museum! It is located where, according to tradition, the endearing rodent lived with his family. 
The museum has two small rooms where children and adults can see the house where the mouse lived, historical documentation about the character, and the "certified" milk teeth of personalities such as Beatrix Potter, Beethoven, Isaac Newton, or Rosalía de Castro.
Very cool and out-of-the-ordinary winter activity you can only do in Spain. 
11. Take the Christmas Bus to Enjoy Magical Christmas Lights
November and December are when you can take the fantastic Christmas bus, Naviluz. 
This bus tours the city's most emblematic streets and enjoys the Christmas lights in a different way. 
We will make a panoramic tour of Madrid to see all the scenery and Christmas lights of the capital of Spain.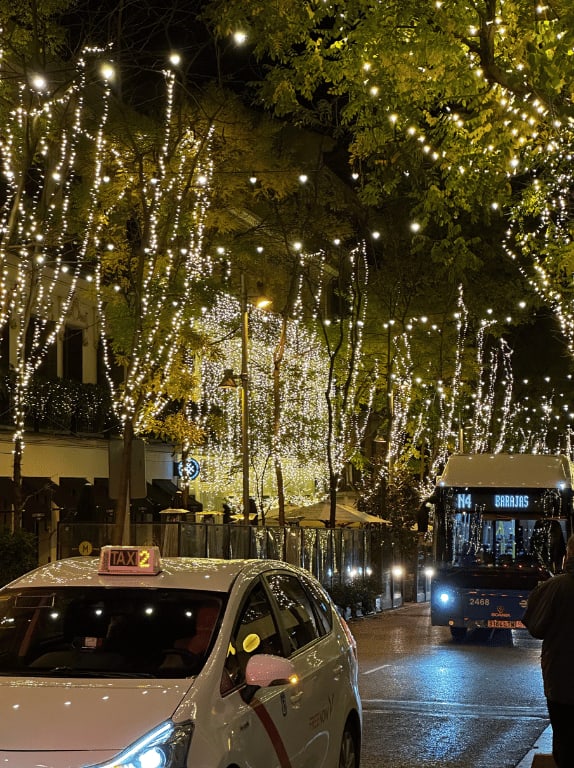 The duration of the time is approximately 50 minutes.
It is a covered and closed bus with a complete heating system and air conditioning that makes it comfortable, to be honest.  
The bus has a great sound system, lighting equipment, and everything necessary for the animation on board.
The Itinerary is:
Departure from Serrano Street
Puerta de Alcalá
Alcalá Street
Plaza de Cibeles
Alcalá Street
Seville Street
Carrera de San Jerónimo
Plaza de las Cortes
Plaza de Neptuno
Paseo del Prado
Glorieta de Carlos V
Plaza de Atocha
Paseo del Prado
Cibeles
Alcalá
Puerta de Alcalá
Velázquez Street
José Ortega
Gasset Street
Serrano Street
You can't miss living this great experience in Madrid. You will remember it for the rest of your life, especially on a date night or a lovely family evening. 
Admission fees:
6 euros: general admission.
3 euros: reduced access for seniors over 65 and children from 7 to 11.
Free: for children under 7.
As you can see, Madrid is full of activities to enjoy during Winter. Especially since Christmas break begins and Spain takes this holiday very seriously. Here are other important dates in our calendar so you plan your visit around those dates:
I hope you enjoyed this article and are ready to come to Madrid this Winter and cross these activities off your bucket list!