Summer in Seville: 13 Top Activities to Beat the Heat
April 24, 2023
Updated:

April 25, 2023
Published: April 24, 2023
Let me be honest, traveling to Seville in summer is not the best experience if you are not mentally prepared to face the heat of Seville.
I don't mean to be a party pupper but Andalucia is the hottest region of Spain, and Seville is a city with no beach, which will makes it harder to sustain the heat. 
But, as we know that the months of June, July and August are very popular moments to travel around the world, we created a survival list, so you enjoy Seville even under 40 degrees. 
Always remember to use sunscreen and take a bottle of water with you, so you keep yout body hydrated! 
1. Boat trip on the Guadalquivir River to watch the sunset
Seville is known for its beauty and, without a doubt, also for its river: the Guadalquivir. One of the best things to do on your visit to Seville is to take a boat along the riverbank. It is one of the most relaxing activities you can do in the city. 
It is best to wait until sunset to take the boat during the summer, as temperatures in Seville can reach up to 43ºC during the day.
Discovering Seville by boat will give you a different perspective of the city. You will be able to observe the various illuminated bridges that unite the two parts into which Seville is divided. Taking the boat at sunset allows you to admire how the sky changes color. 
Seville has been a commercial center with America, as it was a route of conquistadors, a source of fishing and water, recreation, and, nowadays, a very important tourist navigation area.
You can find daily tours from 19€ that will take you through the waters of this river from 8am to 10:30pm on weekends. If you do it in summer, you will also have the advantage of calm waters. 
Doing this boat tour during sunset is an excellent option as the heat will be less, and the city lights will adorn the scene.
2.  Spend a day at Agua Magica and refresh yourself
Agua Mágica is Isla Mágica's aquatic area, and it is a perfect plan for your visit to Seville. Indeed, Seville doesn't have a beach, but it has this fabulous water park in exchange, which will make you not miss the beach. 
In Isla Mágica's aquatic area, you can enjoy multiple activities with your family; numerous attractions, including a water area with a giant wave pool, thrill slides (for the most daring ones), sand simulating a natural beach, sun loungers and umbrellas where you can relax, among many other things.
If you go with young kids, don't worry; they have El Arrecife, a swimming area of 800 square meters with children's playgrounds and a hammock area. 
Isla Magica is located in the Isla de la Cartuja, central and well connected by public transport. Isla Magica also offers shows, games, stores, and restaurants inside.
It has a price of about 25€, where you will enjoy a full day of fun and, above all, cool off and enjoy an oasis in the middle of the Sevillian heat. 
I recommend buying your tickets online because the box office prices are much higher.
3.  Escape from the heat in the museums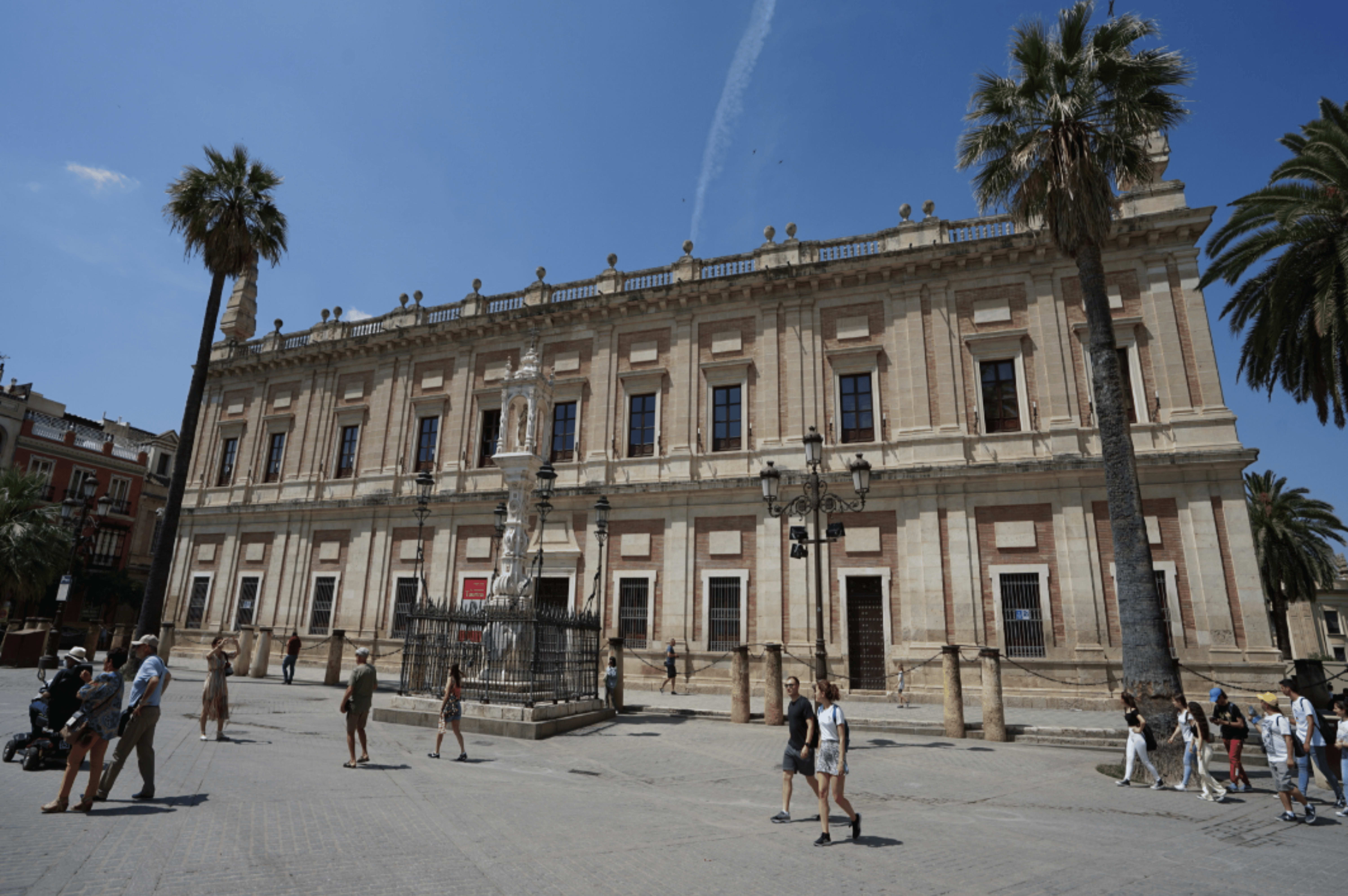 Coolness plus heritage, art, and culture all are things that can be achieved with a visit to one of the museums Seville has to offer you. Nothing is better than visiting a museum to escape the heat in difficult hours. 
You could visit the Archivo de Indias, a unique building that holds all the documents about the colonies, thousands of anciente treaties, and maps.
The Museum of Fine Arts is a great option where you can get lost in its 13 rooms that can be visited to see the succession of the collection in chronological order. This museum has beautiful patios, typical of Seville, which invite you to rest. 
On the other hand, if you are a contemporary art lover, visit the Andalusian Center of Contemporary Art. The museum is located in the Cartuja Monastery and hosts an exciting program in addition to its art collection. Its extensive gardens at sunset time are another attraction.
It is located in the buildings of the Monasterio de la Cartuja. It is the ideal place to see the best national and international contemporary art. In addition, to amaze you, it will be a place that will leave a good taste in your mouth, I can assure you!
🎨If you are a culture buff, check out our article on palaces and art galleries right here: 
4. La Velá de Santa Ana 
One of the most popular festivals in Seville is the festival par excellence, the Velá de Santa Ana. It takes place every year at the end of July in the famous neighborhood of Triana. If you are visiting Seville at that time, it is a must-see.
To know its origin, we must date back to the middle of the 13th century. It is said that when King Alfonso X was cured of an eye disease after being touched by the hand of the Virgin of Santa Ana, in gratitude, the king ordered to build of a temple: The Temple of Santa Ana.
With the past of the year, and like it happens in many festivities, this origin and religious motif, over time, was added a more festive tone with music, dance, and food. You will not miss here seeing flamenco dancing, painting exhibitions, concerts, theater cycles, good gastronomy, and even cucaña competitions in front of the river.
This is a perfect plan as it takes place around 7 in the afternoon to avoid the heat, and it is a plan you will find on these long summer nights.
5.   Explore natural pools near Seville! 
One of the best things to do in Seville to get away from the hot temperatures is to go to the paradise of natural pools in the province of Seville. They are perfect for a dip without the need for an overnight stay. One of the most refreshing alternative plans when going outside becomes possible late afternoon.
Here are some options:
Lakes of Serranos: the beauty of these lakes is ideal for water activities or hiking trails.
Pantano el Pintado: It is near Cazalla de la Sierra and has several picnic areas and a camping area. As in any reservoir, you must be careful, but you will have a modest "quiet beach" day.
Las calderas: In the town of Villaverde del Río, this place is also known as Pozos de Villaverde. The Siete Arroyos River forms spectacular bathing areas in this enclave. Vegetation, pools, and waterfalls surround the clear water of this paradise.
6. Take a dramatized night tour of the Real Alcazar
Whenever I go to Seville in the summer, I take a dramatized night tour of the Real Alcazar. It is one of my favorite plans. The concert series Nights in the Gardens of the Real Alcázar has XXIII editions. This is one of the main cultural events that Seville hosts in the summer season returns, which will last until mid-September. 
In your vacations in Seville, I'm sure you had never imagined knowing the rooms of the Real Alcázar of the hand of some of the most important historical figures who have lived in them, right?
I thought the same way when I didn't know this. The route takes an hour and a quarter. Isabel La Católica, Pedro I, María de Pineda, or Queen Isabel II will be in charge of telling you the secrets and mysteries lived in the oldest Royal Palace in Europe.
You will feel like you have traveled in a time; you will go back through the centuries and visit the most emblematic and beautiful places of the Alcázar of Seville in a very different and fun way. Its rooms and gardens will be illuminated at nightfall, making everything prettier and mystic.
The entrance fee is 12€ per person and is only available on Fridays and Saturdays from 9 pm, with passes every half hour.
7. Go to a summer cinema 
One of my favorite plans to do in summer is to watch a movie in a summer cinema. This is an excellent plan for Seville nights to escape from the heat. 
Thinking about pipes, packets, and folding chairs takes us directly to the summer cinemas. They take place in the neighborhoods of Seville and nearby municipalities.
Several summer cinemas program in the summer months in Seville with a billboard adapted to all genres and ages. These are some of the outdoor cinemas in Seville: 
Cinema of the Patio de la Diputación 
Veranillos del Alamillo Cinema 
Circus Cinema 
Cinema Zone
8.   Enjoy an 80's Arcade planet!
Arcade Planet is a perfect plan if you go with kids or are a videogames lover. In Arcade Planet, you will travel in time to a universe of the arcade machines of the 80s.
Everything took place from the passion of five retro video game collectors, who have brought the universe of the arcade machines of the 80s, to Dos Hermanas, a province in Seville, for six years. 
In the past years and without realizing it, they created the largest video game show in Spain and the 2nd most important in Europe. 
The Arcade is where you can go back to the past, remembering the best arcades and video games with which you grew up and playing without limit to more than 200 arcade machines. Pac-Man, Missile Command, Out Run, After Burner, Hang On, Street Fighter II, Mortal Kombat, and Super-Pan originate from the '80s.
It is a fun game and an excellent option to escape from the Sevillian hot temperatures. 
9.   Enjoy a nightly open-air music shows
A perfect plan to do during the summer months, at night, Seville turns into a scene of music shows in different parts of the city. Seville has become the best place to listen to live music.
You will be able to listen to music from terraces with spectacular views to the most iconic and emblematic places of the city through the masterful gardens such as:
Gardens of the Alcazar: They are a must-see. Concerts have been held daily here for many decades. You will be able to listen to many different music genres, such as performances of early music, classical, and, obviously, flamenco are some of the shows. 
Patio de la Montería: The Patio de la Monteria is another stage of the Alcazar grounds where open-air concerts are occasionally presented.
Centro Andaluz de Arte Contemporáneo: Outside the palace, we find the Centro Andaluz de Arte Contemporáneo. In this trendy place, concerts are held in the summer evenings.
They all host the Sevillian music scene's most alternative and traditional groups. No matter what music style you like or want to listen to, you can always do it live and with Seville as a backdrop.
10. Enjoy some drinks on a beautiful rooftop or have some "tapas"
In Seville, the summer terraces, located on the rooftops or focused on nighttime enjoyment, are a perfect option to enjoy the city despite the high temperatures, which is why I recommend you do it at night time. 
The night is the ideal time to go out to these spaces in Seville, where having a drink or a tapa is a perfect plan. On some terraces, you can listen to ambient music or dance until late at night. Chile Terrace, Libano, or The Pond House are some options to spend a perfect night listening to music till the wee hours. 
If you want a different plan, go to the Santa Cruz neighborhood for some tapas. This neighborhood is the perfect place to shelter from the heat and enjoy these dishes and refreshing drinks in a very Sevillian atmosphere.
The area of the Plaza de El Salvador is another excellent place to go and have some tapas. The bars in this area are trendy among young people mainly, keeping alive the old Alfalfa neighborhood.
11.   Walk through the old spaces of La Casa de Pilato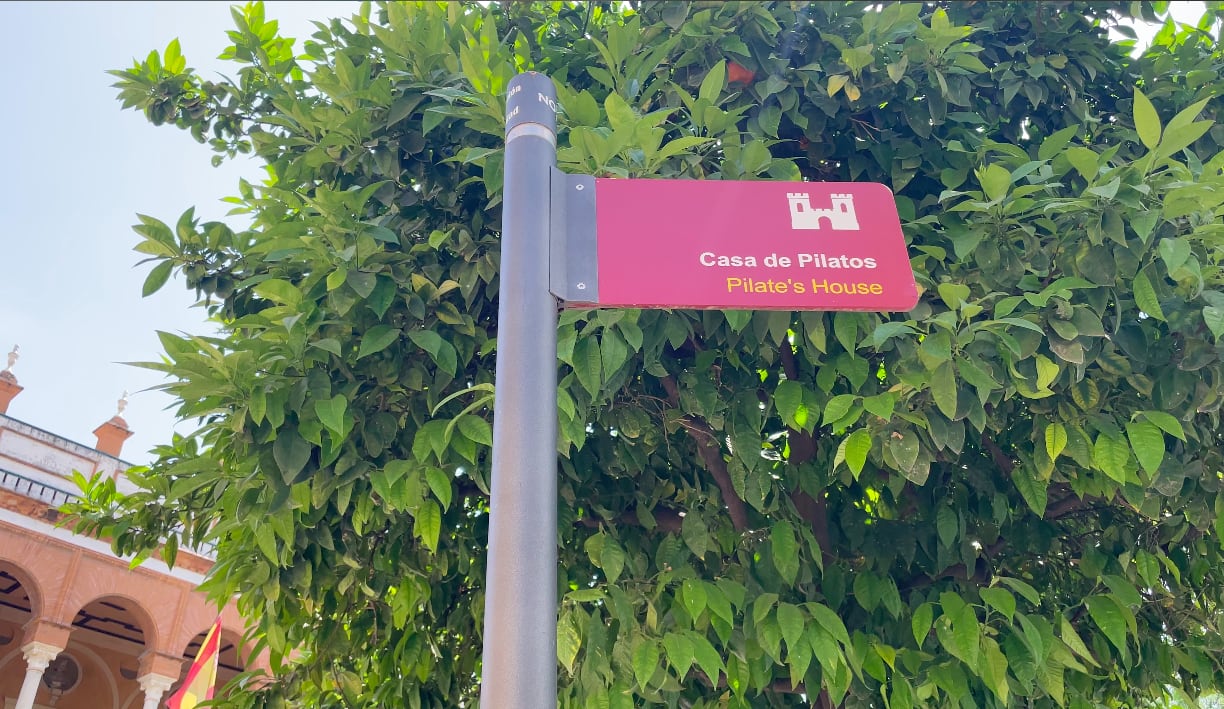 Suppose you are looking for a place to shelter from Seville's high temperatures. In that case, Casa Pilatos is an excellent option. You will not only escape the heat but also learn about the Andalusian culture. A unique place to experience firsthand the history of the Andalusian capital.
During the Renaissance, the city of Seville was adorned with splendid architecture. Wealthy families inspired by the Reales Alcazares decided it was time to build residences, and Casa de Pilatos resulted from it.
These houses usually had on the ground floor a central courtyard and several halls around. On the upper floor was where all the rooms were. These houses' basic designs were inspired by the Mudejar Palace.
The Casa Pilatos is an excellent example of these designs. It clearly incorporated Mudejar plasterwork and elements of Gothic and Renaissance architecture and sculpture. It is a setting worthy of being seen. It has been the scenario of several movies like The Kingdom of Heaven" by Ridley Scott, recorded here.
The Casa Pilatos is located in the Plaza de Pilatos, near Calle Águilas and the Jewish Quarter. The entrance fee is around 10€. I can assure you it is worth going, and even more in summer to avoid the heat. 
12. Spend an evening in a palace 
A great time to visit palaces is in the evening or at night since it is the time when it is the least hot in the city.
Nights at the Buhaira Palace hosts eleven theater and music performances daily for the cycle of Summer Nights at the Palacio de la Buhaira, which will begin in July and finish in September.  
Another palace that opened its doors is the Palace of the Marquises of La Algaba, where 30 theater performances take place, music, and magic, among other proposals. They are free and for different types of audiences.
13.  Have an ice cream in one of its delicious parlors
Due to the hot temperatures in the city, ice cream parlors of Seville have been able to adapt to new times and realities while increasing their offer. Made with organic products, suitable for gluten or lactose-intolerant people, for vegans… They are now more demanding and exquisite. These are my top 3:
Verdú: You have to try the Jijona nougat ice cream, typical from Spain
Freskura: True italian ice cream
Puro & Bio: Ecological ice cream
---
Well, that is it! This list of 13 things to do in Seville to escape the heat will help you get the best out the Andalusian capital. There are plenty of things you can do indoors, during the hottest moments of the day.
And remember that if you do any activity outside, use a good amount of sunscreen, hats, sunglasses and keep a bottle of water right next to you!