Football in Spain: How to Buy Tickets Online + 5 Pro Tips!
May 17, 2023
No experience in this life could ever compare to attending a soccer match in Spain. Witnessing your team and favorite athletes play is one of the greatest satisfactions every football lover shares. 
And there's a lot of confusion regarding how to get soccer tickets to watch the famous Spanish football teams play. This is why I'll give you a complete guide on how to attend a football match 101. 
I'll explain the differences in prices between matches, the top competitions and rivalries in Spain you should not miss besides "El Clásico," the different stadiums you can watch your favorite teams play, the atmosphere and vibes inside the stadium and, most importantly, the best tips you will ever get on how to buy tickets to get the whole experience and avoid getting scammed by fake webpages.  
By following this guide, I assure you that you will not only be able to buy tickets, but you will know exactly what to look for when beginning your research.
---
What's the hype about football in Spain? Why should you attend a match?
Football is part of the Spanish society's culture, economy, and identity. 
I firmly believe anyone visiting Spain should attend a Spanish match to feel the undefinable. Football is a shared passion that connects and gives the country a sense of belonging, a source of pride and unity, and a way of living for most Spaniards. 
Also, attending a Spanish football match means seeing the world's best players competing, like Messi, Benzema, Luka Modric, and many other world-famous players in real life. And who knows, get pictures with them! Who wouldn't love that?
What are the top competitions in Spain?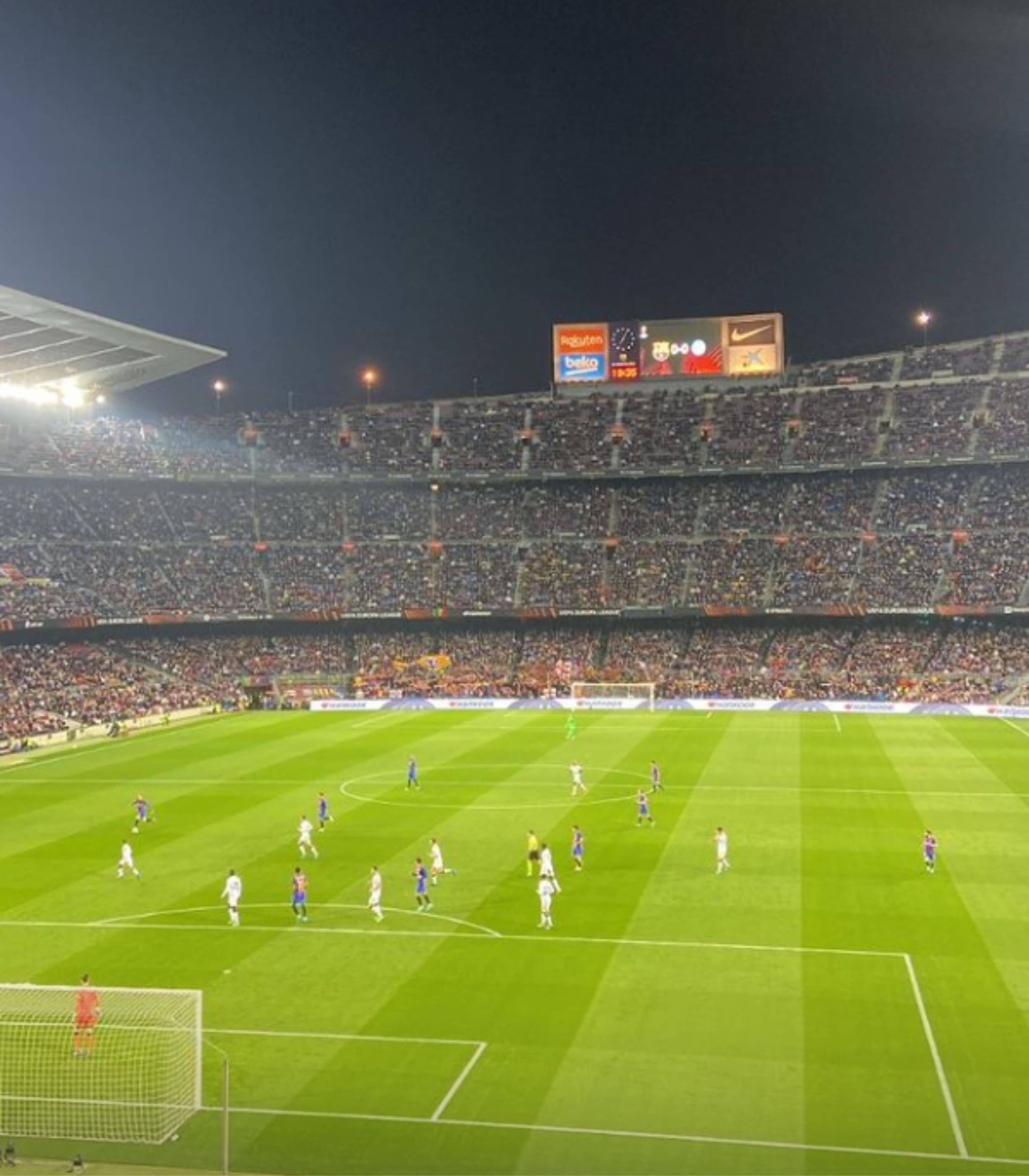 The 3 most essential club competitions in Spain nowadays are La Liga, The Copa del Rey, and The Supercopa de España.
1. La Liga (Domestic League)
La Liga refers to the top division of Spanish soccer. It is one of the world's most popular and wealthiest professional sports leagues.
It is a double round-robin competition between Spain's 20 best soccer teams. It is divided into the Primera División (First Division) and Segunda División (Second Division). 
At the end of each season, the 3 clubs at the top of the standings are relegated to the "Segunda División." And the top 2 teams in the "Segunda Divivión" automatically qualify for LaLiga.
The following teams will play in LaLiga 2022/23:
Read more: What is LaLiga for Dummies: League Rules, Teams, Players
| Football Shield | Soccer Team | Stadium |
| --- | --- | --- |
| | Almería | Power Horse Stadium |
| | Athletic de Bilbao | San Mamés |
| | Atlético de Madrid | Cívitas Metropolitano |
| | Barcelona | Spotify Camp Nou |
| | Betis | Benito Villamarín |
| | Cádiz | Nuevo Mirandilla |
| | Celta | Abanca-Balaídos |
| | Elche | Estadio Martínez Valero |
| | Espanyol | RCDE Stadium |
| | Getafe | Coliseum Alfonso Pérez |
| | Girona | Montilivi |
| | Mallorca | Estadi Mallorca Son Moix |
| | Osasuna | El Sadar |
| | Real Sociedad | Reale Arena |
| | Rayo | Campo de Fútbol de Vallecas |
| | Real Madrid | Santiago Bernabéu |
| | Real Valladolid | José Zorrilla |
| | Sevilla | Ramón Sánchez-Pizjuán |
| | Valencia | Mestalla |
| | Villarreal | Estadio de la Cerámica |
2. The Copa del Rey (King's Cup)
The Copa del Rey, or King's Cup, is a national football competition organized annually by the Royal Spanish Football Federation and contested by 115 clubs in Spain. 
It is equivalent to the English FA Cup, the Coppa Italia, or Germany's DFB-Pokal.
It should not be confused with La Liga since they are two different competitions in Spanish football. 
LaLiga is a double round-robin competition between the top 20 teams in Spain. While the Copa del Rey is a knockout competition involving teams from different divisions. 
Read more: What is the Copa del Rey? The 1st National Spanish Football Cup
LaLiga is the Spanish League organized by the LFP (Professional Football League), while the Copa Del Rey is the Spanish Cup by the RFEF (Royal Spanish Football Federation). 
Also, LaLiga qualifies teams for the Champions League, while the Copa del Rey qualifies for the Europa League
3. Supercopa de España (The Spanish Supercup)
Now, the Spanish Super Cup ("Supercopa de España") is an official soccer competition organized by the Royal Spanish Football Federation and held since 1982. 
Since 2020 has pitted the top two finishers of the Primera División League and the two finalists of the previous season's Copa del Rey against each other.
In other words, it is a 4-team competition composed of: The champion and runner-up of La Liga and the winner and the runner-up of the King's Cup. So, the League champion will face the runner-up of the King's Cup and vice versa.
How do ticket prices vary for different kinds of games?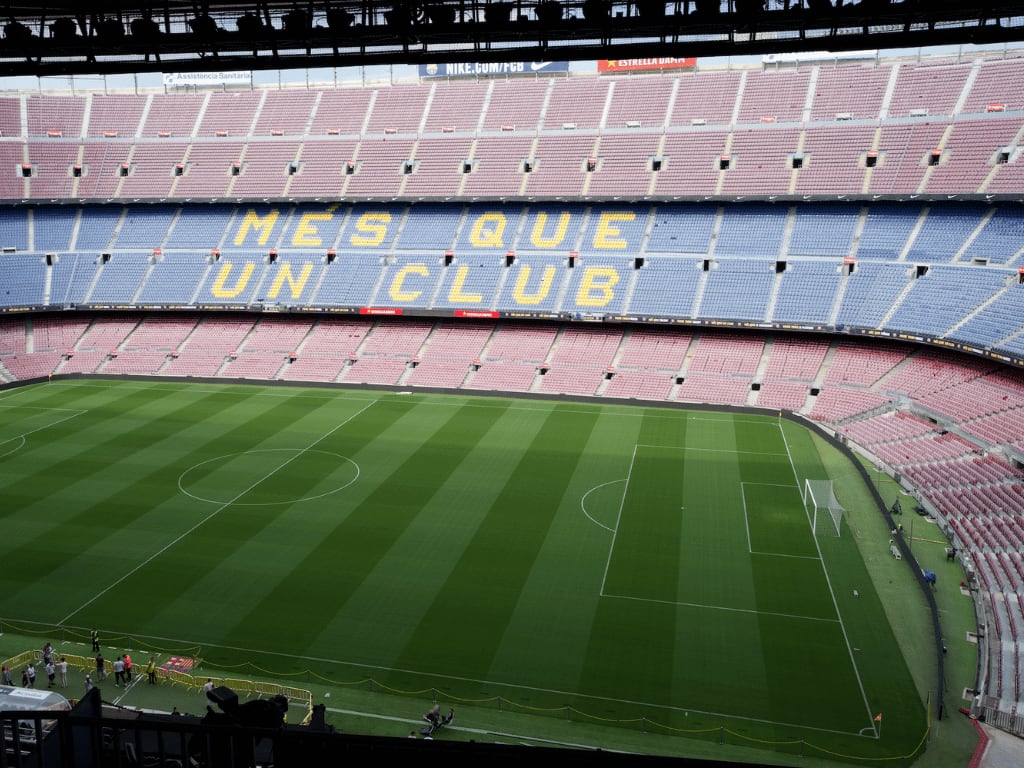 The price of watching a match can vary depending on various factors:
On the one hand, theteam's popularity means more demand for specific games where the club plays. For example, a ticket to see the Osasuna team costs between €10 and €65, while watching Real Madrid vs. Barcelona at Camp Nou averages between €250 and €416 (if you buy it in advance, knowing that resale can reach up to €1500)
So, these kind of matches have also become a tourist attraction, making the prices vary significantly since important players will play. I bet Messi fans (almost half of the world population…) will pay anything and travel anywhere to witness him play. 
Then there's the rivalry between the two teams playing. In general, whenever a club faces one of the most popular teams, traditional rivals, or if it's a decisive match for those fighting in the top positions in La Liga. 
For example, in the case of Valencia FC, a ticket for the match where they face Villarreal CF varies between €25 and €90, depending on the location. On the other hand, when they play against Real Madrid, it can be up to €85 and €230.
Still, if you want to attend a First Division match, know that it reaches an average of 70 euros in our country.
There are also different categories and prices for seats. For example, in the Santiago Bernabeu, you will find: Category 1, Category 1 Premium, Category 1 Superior Level, Category 2 Behind the Portery, Category 3, Category 2 side stand, Boxes, and VIP. These vary in location and height (how elevated or low they are), closeness to the exit doors, and the overall arena's POV. You can choose your spot online.
The best zones are the "lateral zones" or the side areas of the field for price and point of view.
If you purchase last-minute tickets, you will most likely have to pay double the price of the initial ticket cost if it is an important game.
However, attending a football match in Spain doesn't have to be expensive unless you prefer the VIP experience of watching Real Madrid play in the Champions League on short notice. 
Otherwise, if you only want to take a shot at the experience without minding much about the players, there are plenty of inexpensive tickets to get, such as La Copa del Rey, which is often cheaper to watch. 
Which major domestic leagues and cup competitions in Spain should I attend?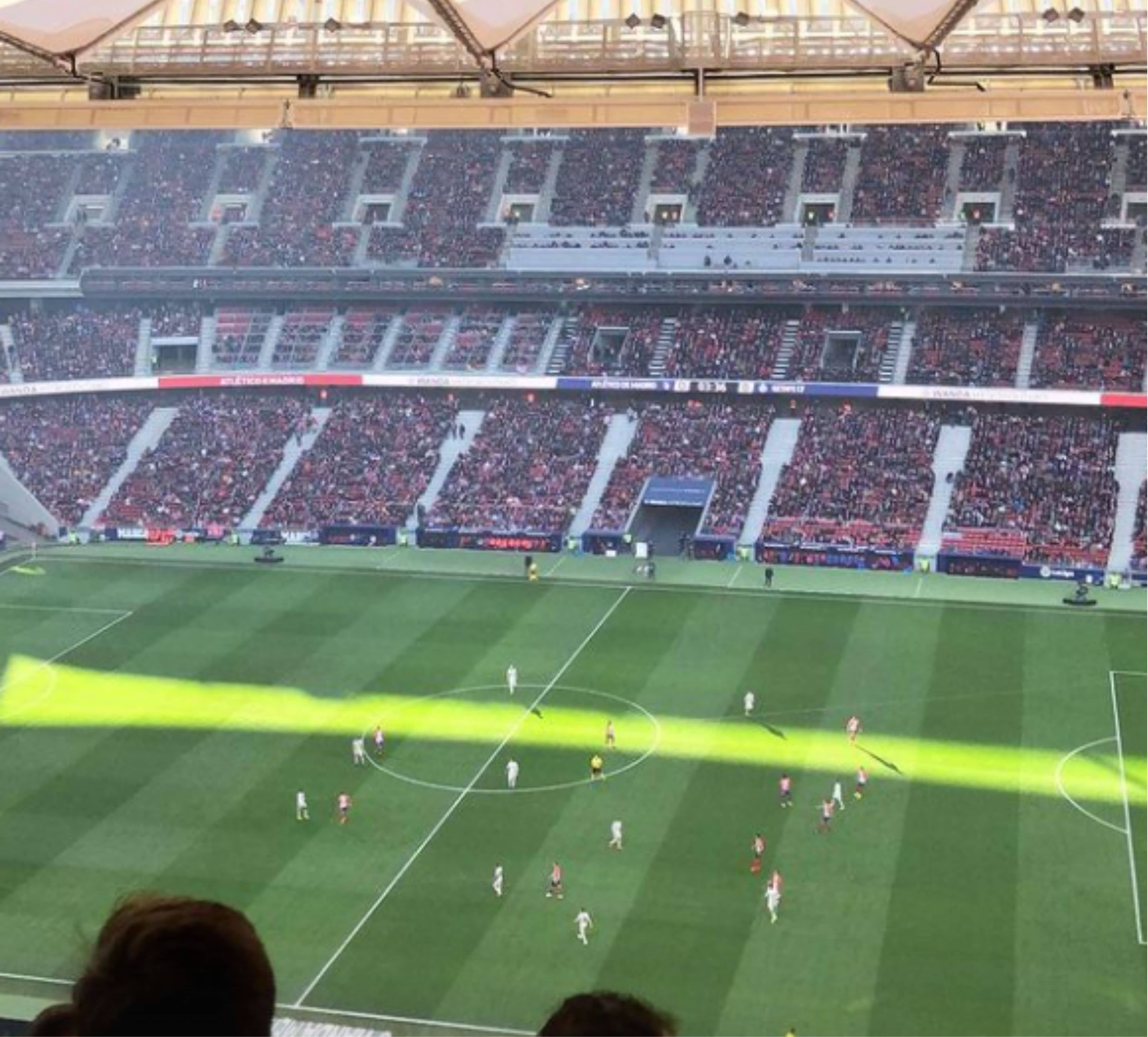 The best matches usually occur in the first-division competitions that define those qualifying for the Champions League or Europa League, which are also the highest in price.
On the other hand, games such as derbis and finals or semifinals of the national cups (King's Cup and Super Cup) are usually the most exciting, entertaining, and meaningful games to watch for those who love the sport!
Difference between a classic and a derby
People use the term "derbi" to refer to a match between teams from the same city or region. While "the classic" refers only to the matches played between the two most important teams of a country or a continent. Usually, there should be only one per nation. 
Some examples of a derby between teams from the same city are Atlético vs. Real Madrid. Or, the Sevillian Derbi, Sevilla FC vs. Real Betis Balompié.
Also, a duel from the same region is the Basque derbi: Athletic Club de Bilbao vs. Real Sociedad de Fútbol de San Sebastián.
There is a derby by geographical proximity, even if they are not in the same region, city, or Autonomous Community, such as the Derbi navarro-aragonés, a duel between Osasuna and Real Zaragoza.
On the other hand, in Spain, "El Clásico" is Barcelona vs. Real Madrid. In the same way that in England, there's Liverpool against Manchester United.
What's the atmosphere like in the Spanish football stadiums?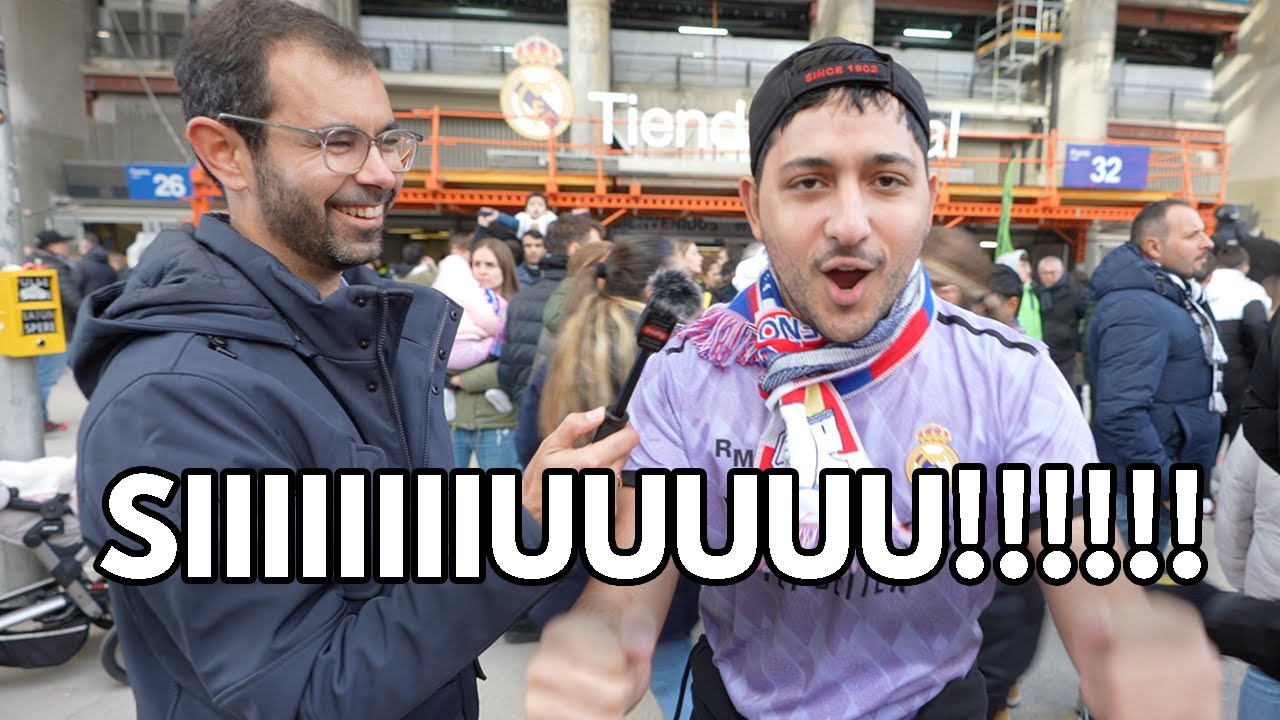 In general, any game you attend is going to be awesome. The vibes in the stadiums are from another world. You will see people singing, supporting their team, shouting, crying, dancing, and feeling all kinds of emotions. 
But, indeed, some stadiums in Spain are better known than others for being home to the best soccer clubs in the country with the most significant number of fans and iconic players.
Santiago Bernabeu
For example, the Santiago Bernabeu Stadium has seen some of the greatest football matches ever. You can see it for yourself in the following video. People from around the globe come to these matches mainly to support Real Madrid, who has won the most Champions League titles in football history!
Wanda Metropolitano - Civitas Metropolitano
But Madrid also has another great stadium, home to the Atlético de Madrid club and the Atleti fans, the Wanda Metropolitano, also known as Estadio La Peineta. You can enjoy many football matches; the stadium has become famous for concerts and significant events.
Then we have Camp Nou, the largest stadium in Europe with a capacity for almost 100,000 people! Undoubtedly one of the greatest modern stadiums. I really suggest you pay a visit to this place if you're in Barcelona!
Mestalla - Valencia
On the other hand, the Valencia team is not far behind! The Mestalla is one of the most demanding stadiums in Spain since it has a perfect inclination, which allows good views from different points and, above all, one of the best atmospheres in Spain due to the fans.
Ramón Sánchez Pizjuán Stadium
And if you visit Seville, how not to go to the Ramón Sánchez Pizjuán Stadium? This is the home stadium of Sevilla FC, named after a famous Spaniard, the former club president: Ramón Sánchez Pizjuán.
The arena is located in the middle of Seville and offers a unique experience thanks to its LED lights. 
How do I buy tickets for a Spanish football match?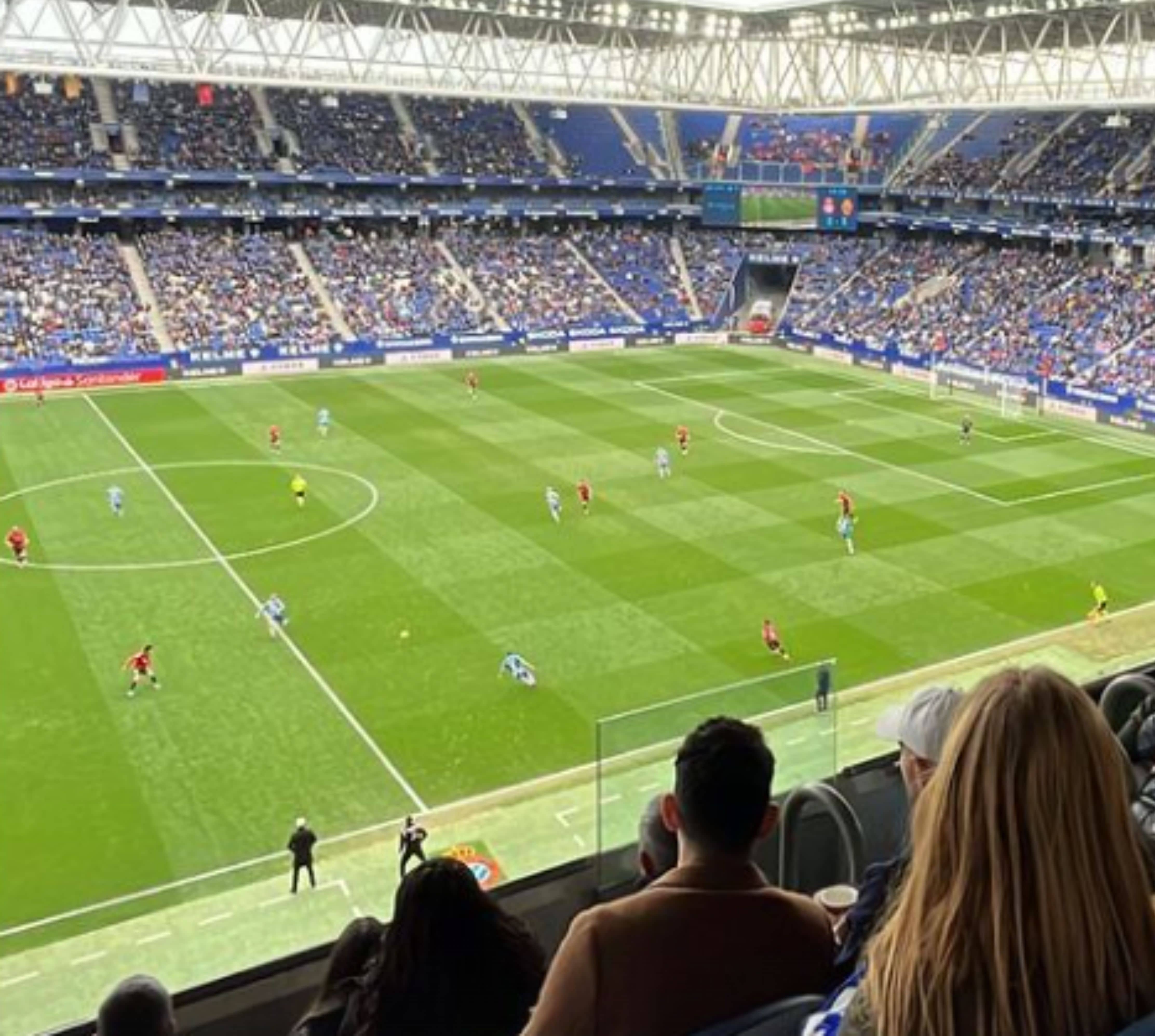 There are 3 main ways to get tickets for a Spanish football match:
1. Getting general entrance tickets:
People like you and me who want to go to a game buy tickets on the team's official website.
However, it is also possible and more traditional to buy match tickets at the ticket windows, what we call in Spain "taquillas" of the stadium. The offcies often close in the early afternoon (on non-matchdays). Make sure to check that up!
Ticket sales generally start the week before the match and often only a few days before. 
Look them up to ensure sales dates and office opening hours. 
2. Sale to members/subscribers: these are "club season ticket holders," people who pay a certain amount of money to have a ticket that allows them entrance to all the games. While a season ticket holder is more "special," these people have their seats signed with their name in the stadium.
To become one, you have to wait on a waiting list for a certain amount of time, sometimes reaching up to 10 years waiting list (at least for Real Madrid, which is the biggest club in Spain). 
3. A mix of 1 and 2, but for resale: you can buy your ticket on Ticketmaster or Viagogo for resale. Most people do this very often, and these tickets are resold by a club member. 
5 Pro tips for attending a football match in Spain, like local
🎟️Pro tip #1: Buy tickets 2 weeks before the game because they get sold out quickly. Tickets are sold in order of priority. The first ones go to those with a card for the whole season, then to club members, and then to holders of the "Carnet Madridista," a fan club card available through the Real Madrid website for €35.00 a year. 
🎟️Pro tip #2: If you need to pick up your tickets at the stadium, get there an hour earlier to prevent any last-minute stress in finding your seat. And, if you already have your tickets, you can arrive approximately half an hour before the start of the game. 
🎟️Pro tip #3: Wear your team merch! Bring the shirt and all the other accessories from the club that you may have purchased before the match.
🎟️Pro tip #4: Do a "pregame," drink sangria, beer, or wine, and eat tapas in a local bar with friends before going to the stadium.
🎟️Pro tip #5: You can take food and drink with you, but make sure liquids are non-alcoholic, uncovered, and less than 500ml, as you will be forced to throw away any forbidden items before entering the stadium.
---
By now, I believe it is pretty clear that attending a football match cannot be replicated on a television screen.
You are going to understand a lot more about the culture, learn firsthand the importance of football in the country, and see the sport of the highest world quality with the most important professional players out there!
Just make sure to book your tickets on the official pages of the clubs, and don't be fooled by the expensive scalpers, please.
I promise that attending a football match in Spain will give you a core memory you will never forget.