Do Spaniards Sleep?! Crazy Bedtime Hours and its Problems
September 5, 2022
Updated:

February 14, 2023
Published: September 5, 2022
Bedtime hours in Spain are a cultural shock for everyone. You don't have to live on the other side of the world to accept that they are tough. We have been living in a sleep-deprived culture for around 70 years.
And if you are planning to visit, study, or work in the country, you should know you'll probably sleep less than you already do.
Don't snooze! I am watching you! I sleep way less than you do, and I am right here trying to tell you something important. I am just kidding. But seriously, sip a bit of coffee, and let me tell you why we sleep SOOO late.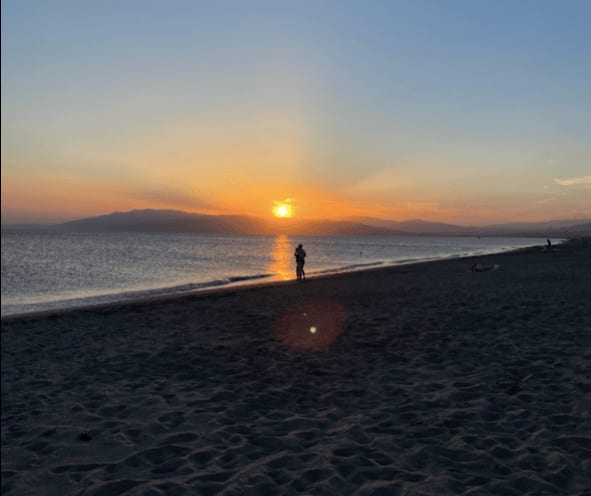 What's the Spanish Sleeping Schedule?
Spanish people usually go to bed between 23:00 and 01:00. That is very late. No sleep doctor would be happy about this. And according to the Sociology Research Center (CIS), 3 out 4 Spanish go to sleep past 23:00. It seems one person is getting a night of good sleep!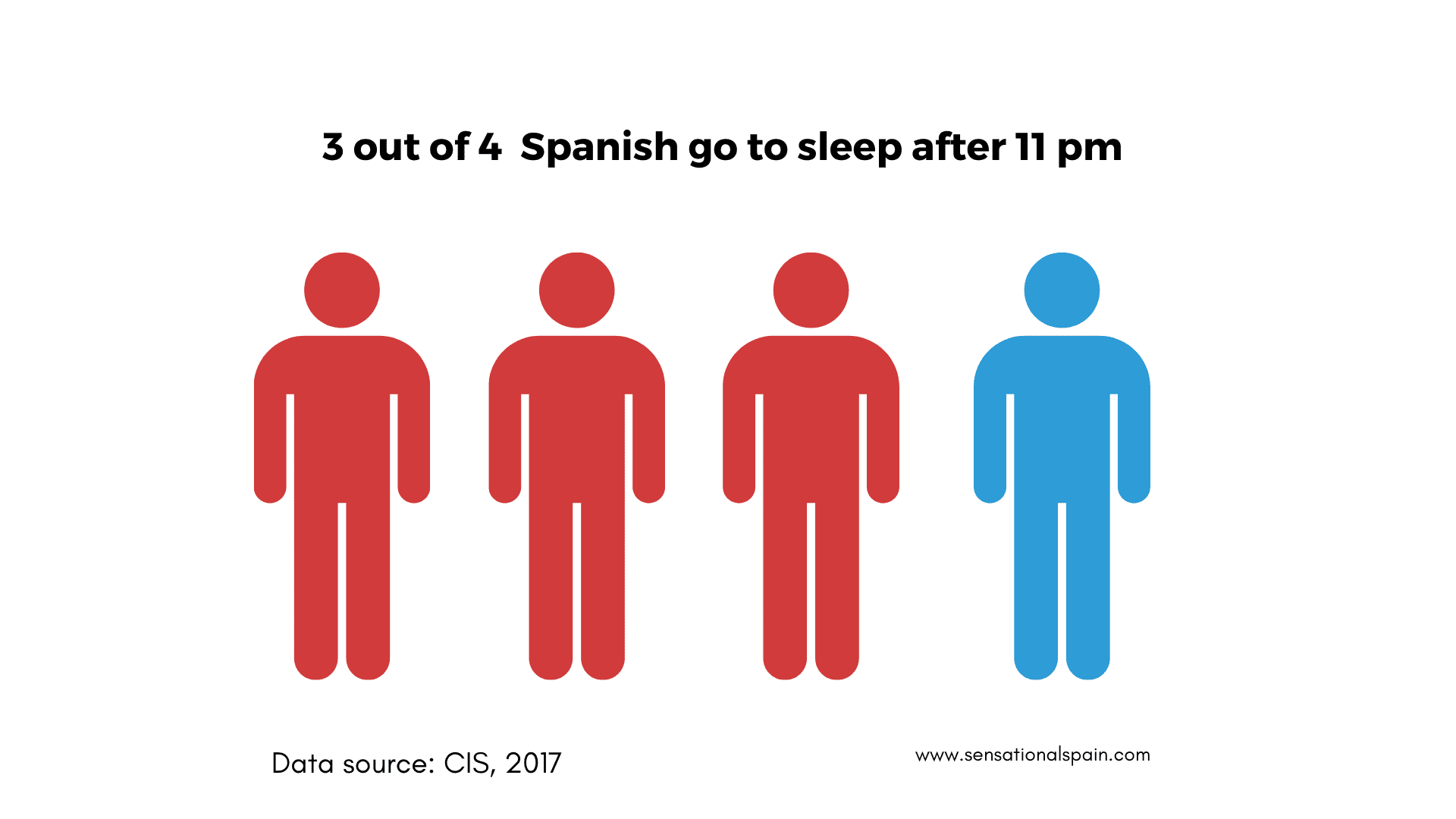 As if sleeping late isn't enough, we are also big fans of the phrase "a quién madruga, Dios lo ayuda" (who gets up early, God helps him, this sounds better in Spanish). This means that we wake up early. Again, according to the CIS, almost 80% of Spanish wake up between 7:00 and 8:00. So the average sleep time goes around 7.10 hours during weekdays. 
I know. We have a sleep deficit. But we have found ways to live through it. Does the word "siesta" ring a bell? I believe it is another custom for which we are very known. The "siesta" or our 2-hour lunch break was our ancestor's way to adapt to different changes in their life. We actually have three theories on the origin of these traditions, I'm gonna leave it for you right here.
What's the Reason Behind Our Late Nighters?
Now that you know when… you might wonder "Why?? Why on Earth would you go to sleep sooo late??" Well, in our defense it's not our fault. This culture of being late-nighters is the fault of a man that dared to play with time zones. 
But before we dive into this, let me tell you about GMT and CET. GMT stands for Greenwich Meridian Time while CET means Central European Time. They are both time zones, and the main difference is that GMT can be used by any country while the CET is applicable to 31 nations. 
Wanna know something curious? The countries that use these time zones need to change them every summer 'cause they have more daylight. What do they do? The time managers add the word "summer" to the time zone name. I am NOT kidding. GMT changes to British Summer Time, while CET becomes the Central European Summer Time. I have always thought this to be funny! 
Okay, back to the real reason. Before WWII Spain would live under GMT like the UK, Portugal, and Morocco. BUT, and I know this is not a surprise for you anymore. The word of ONE man changed the schedule of a WHOLE country. Can you guess who?
Yes. You guessed right, Francisco Franco is responsible for our 70 years of jet lag.
After the Spanish Civil War, the country was devastated and received lots of help from Hitler and Mussolini. So, in solidarity with his allies, Franco changed the country's schedule from GMT to CET. This means that he changed Spain's time an hour later. Not very nice for those who like sleeping!
Don't you think is shocking? The word of ONE man had the power to move hours. When WWII was over, he could have changed them back, but he didn't. That is why Spaniards are known for having a unique lifestyle. It's not that we are laid-back (at least not always), or actually sleeping past 11 pm. These were and are ways to adapt to the random decisions of a man.
Curious to know more? I think this video explains it pretty well.
Is our bedtime an actual problem?
Yes, it is. It is such an important issue in Spain that we have our own time zone commission. It is called the "Comisión Nacional para la Racionalización de Horarios Españoles" or National Commission for the Rationalization of Spanish Schedules. 
In addition to all of this, in 2016 former president, Mariano Rajoy proposed to get Spain's time zone back to GMT. The objective of his proposal was for Spaniards to enjoy a better schedule like the rest of the countries in Greenwich Time. And he was right to try and change it. There are studies that prove that Spain sleeps the less, works the most, and is one of the least productive countries in Europe. There is real evidence about our productivity right here. 
He didn't get what he wanted, but his proposal began a conversation about the pros and cons of our time zone. There are people who think it won't change anything, others that argue it will harm our tourism, and others who believe the impact would be so good it could help improve our economy.
In theory, changing the time zone would directly benefit our hours of sleep. We would go to bed at normal hours like the rest of Europe. In theory, changing the time zone would directly benefit our hours of sleep. We would go to bed at normal hours like the rest of Europe. If we compare Spain with countries like France or the UK, we sleep one hour less than all of them. It's not a HUGE difference, but you have listened to the doctors. The ideal sleeping time should be 8 hours.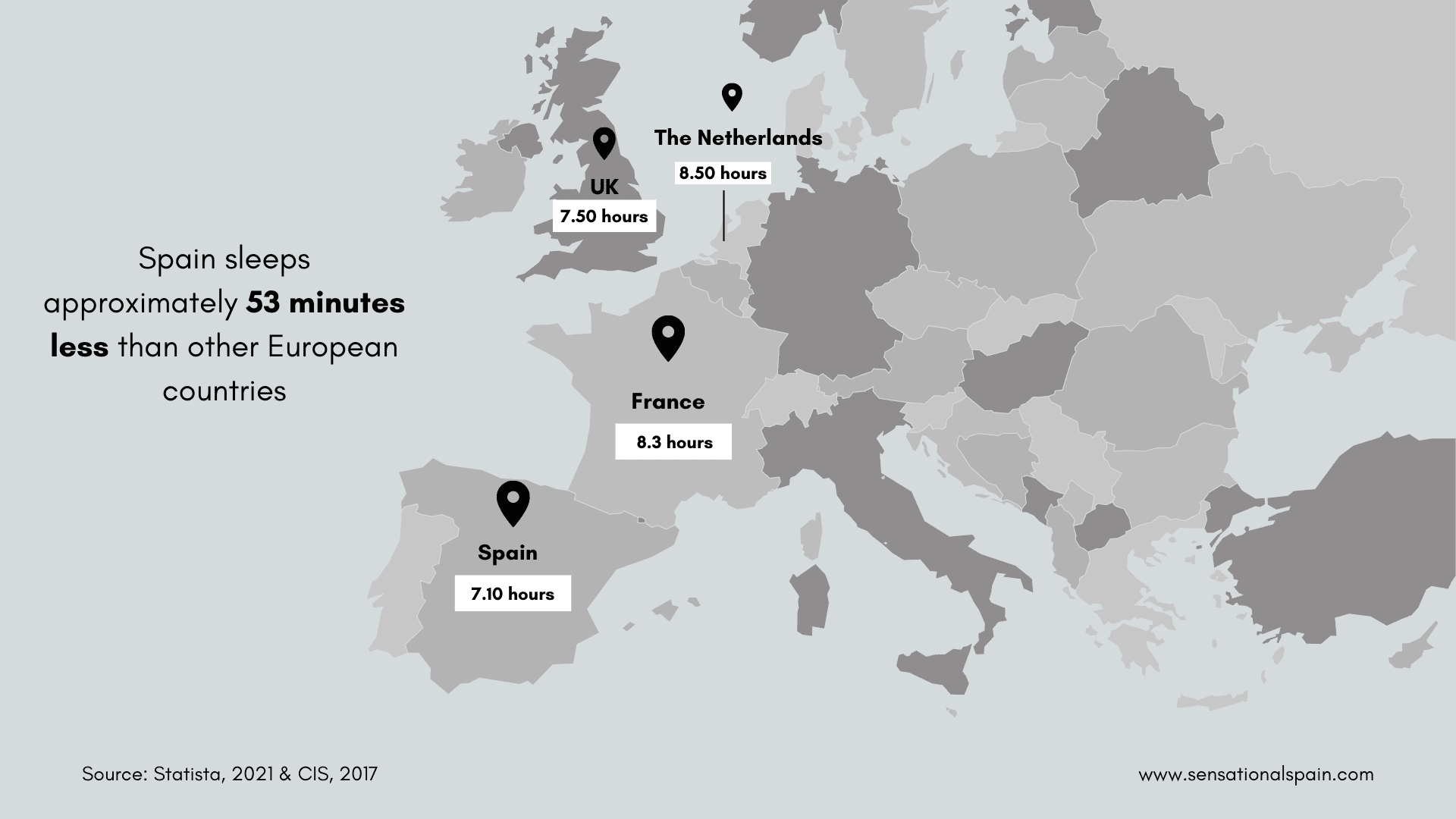 Don't you think it is crazy how our bedtime schedule can be rooted in history? That's how we do things in Spain! Now you know what to expect when you come to visit us. It can be a bit tiring but we are always fun to be with. 
There is something else you should know. Living an hour ahead means we are used to partying late, very late at night. So late, that we stay in the club until 6 am to be able to get the metro back home. Bet you didn't know that!