Barcelona in Spring: 9 Reasons Why It's My Favorite Season
March 6, 2023
Updated:

March 21, 2023
Published: March 6, 2023
If you are traveling to Barcelona in Spring, you need to know the key dates to avoid waves and waves of people in the streets and get the best out of your trip.
To be completely honest, Barcelona is always full of people. Just like Madrid, it is a city that people all around the world visit at any time of the year.
Still, there are key dates that you will want to avoid if you are the kind of person who dreams about walking the Ramblas and not being pushed through them.
Last year I traveled twice to Barcelona, once at the beginning of spring and the second time towards the end of the season. I can tell you that one experience was better than the other one, so keep reading to find out!
1. There are fewer tourists in Spring (except for one week!) 📸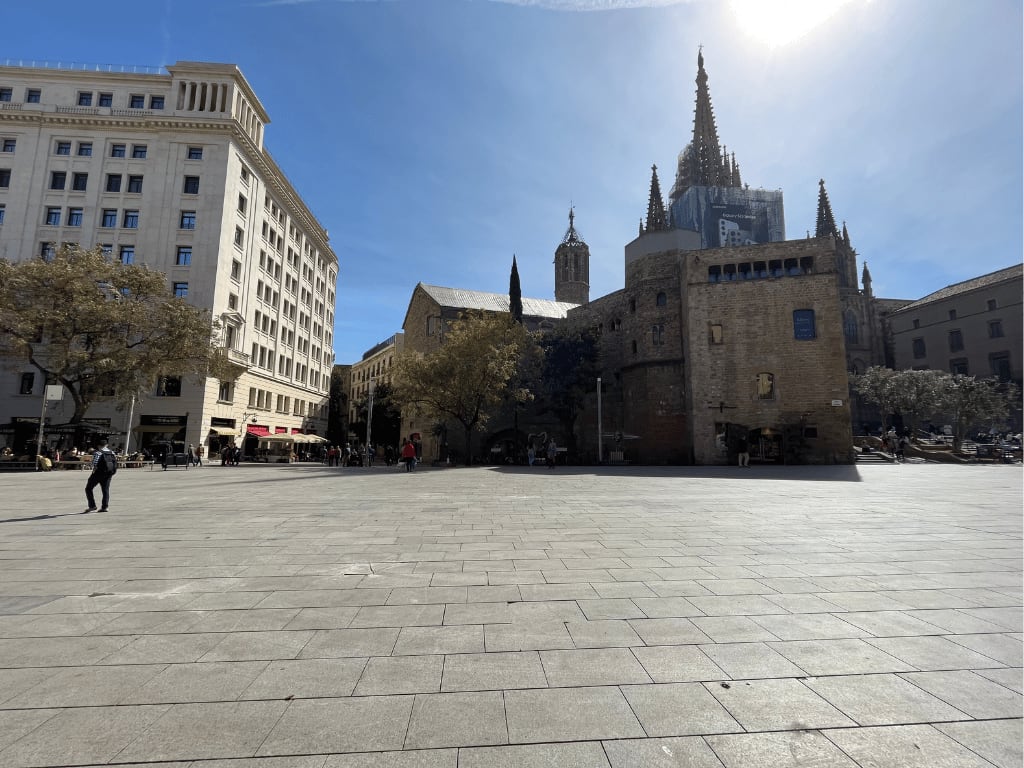 So, during Holy Week, I visited Barcelona towards the end of March last year. I was there for a day before taking a plane to Rome, and I promise I have never seen a city so full of people. 
The Rambla was so full that if you stood in front of it from Plaza Catalonia, you could see no space between one person and another. It all seemed like one big sea of heads. 
Do know that Spring is a low season for Barcelona, except for Holy Week when other tourists from Europe and around the world come to the Catalonian capital to sightsee. 
So, what's the best spring month to visit? That would be March! 
The weather is not as sunny, and the temperature will fluctuate between 10° and 17° degrees (a bit cooler than anyone would like). However, March is the perfect month to visit Barcelona with fewer people running around you. 
Now I can't say the same about April and May. As I mentioned before, Holy Week (April) is very attractive for people worldwide, so count on dodging many people. 
The second time I visited Barcelona was at the beginning of May. It was decent; important landmarks like Casa Batllò, Casa Milà, and the Sagrada Familia weren't as full. 
You could enjoy these landmarks without pushing people around, and the weather was warm enough to wear shorts but not incandescent.
2. Avoid crowds on the beaches of Barcelona 🏖️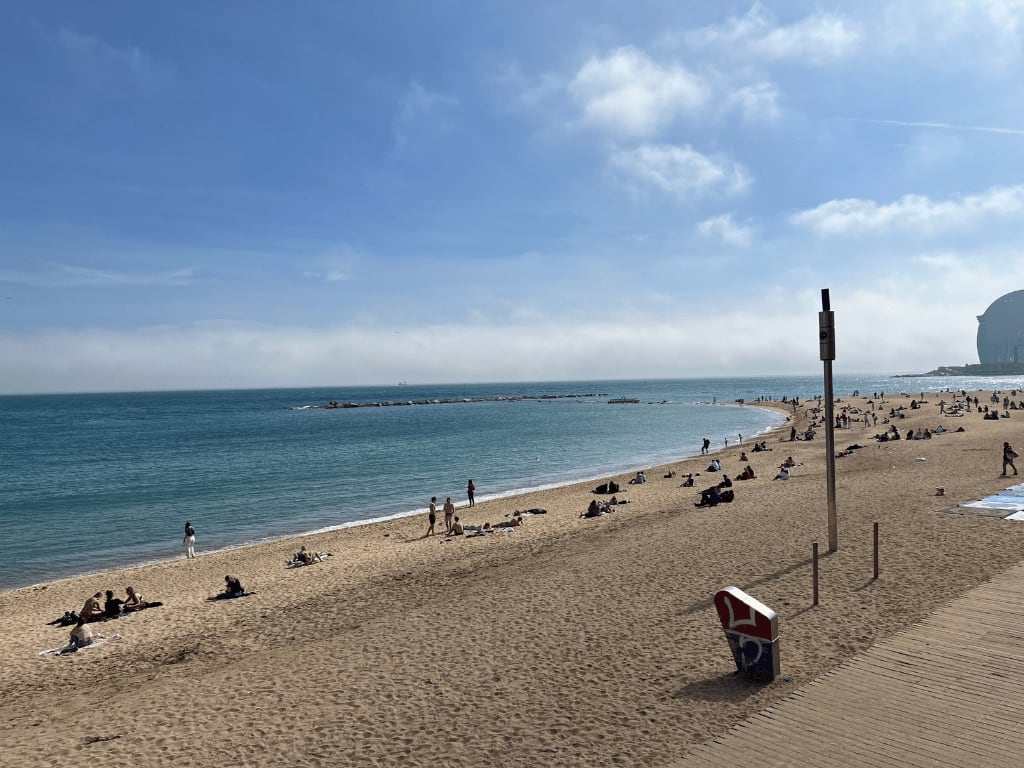 The weather in Barcelona in Spring is still less pleasant than in summer, but if you visit towards the end of May, you may enjoy the most beautiful beaches of the Mediterranean without crowds.
As I mentioned before, temperatures don't go over 20° degrees during Spring, except towards the end of May, which might get to 25° degrees.
 However, don't let a chilly afternoon stop you from walking on the beach or visiting other coastal towns around Barcelona. 
Recommendation 👇 
If you don't want to go too far from the city, visit La Barceloneta, Playa Bogatell, or Playa La Mar Bella, which are the closest to the city. 
Option 🧺plan a picnic! Go to the closest supermarket store, grab some Spanish snacks, and spend a lovely morning or afternoon at the beach. Friend reminder! Remember to take the trash with you and depose in the proper cans. 
Another beach to visit during Spring is the Playa del Prat, a 30-minute car drive from Barcelona's city center. Besides taking a stroll, you can go to the Mirador Semafor. It is a 19th-century abandoned house previously used to control maritime traffic; now, it was turned into a lookout point to the Mediterranean with walkway leads.
3. Enjoy a drink on a terrace 🍹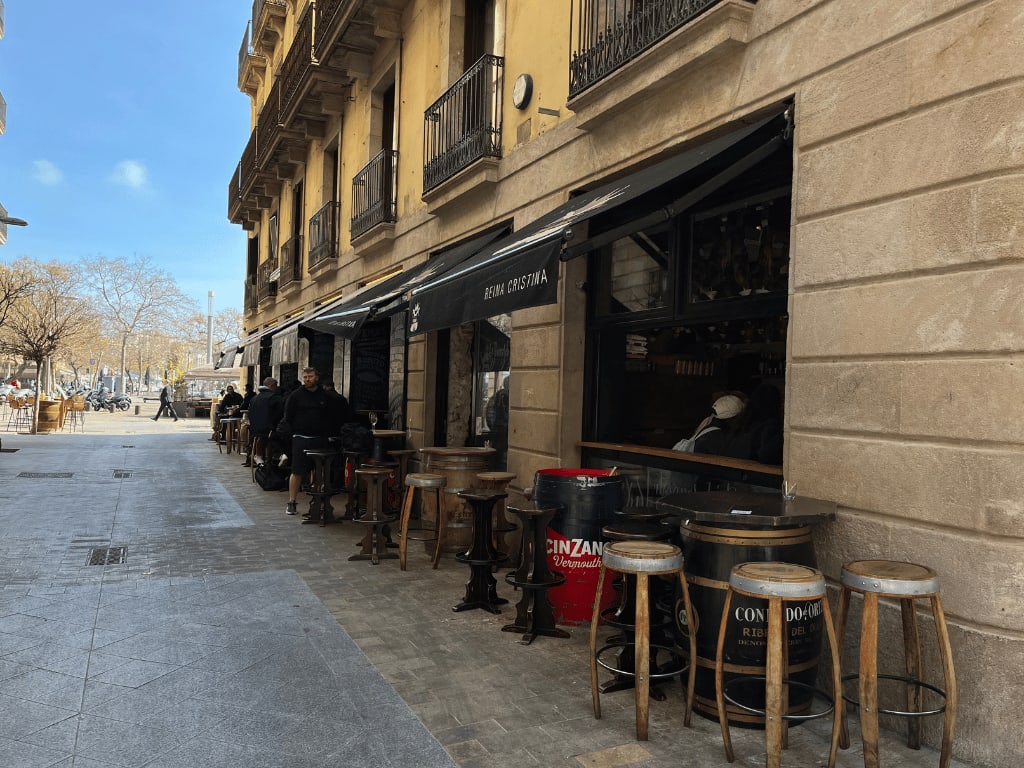 When Spring is just around the corner, terraces open up to welcome the public. 
The improved weather of the new season encourages people to spend more time outside, catching every single ray of sun possible. 
So, if you travel to Barcelona, give yourself some time to slow down and enjoy a beer or a tinto de verano on a terrace in the Gothic Quarter or the Passeig de Gracia.
Recommendation 👇 
Book a night at La Pedrera- Casa Milà and enjoy some drinks, live music, and lovely views from one of Gaudi's most famous houses. 
4. Visit one of Europe's oldest amusement parks! 🎢
The Tibidabo is the highest point in Barcelona and an iconic mountain part of the Collserola mountain range that surrounds the city. One of Europe's oldest amusement parks is hidden at the top of this mountain: Tibidabo Amusement Parc. 
The place opens at the beginning of March; it is a perfect plan to do during the spring months!
Getting to the top of the mountain will take 30 to 60 minutes, depending on which part of Barcelona you are staying in. You can get to the hillside of the Tibidabo by metro, bus, or car and then take the funicular to the top. 
Recommendation 👇 
Plan your visit! As it takes some time to get to the Tibidabo, plan! 
Check out their schedules and buy tickets in time, making your experience as smooth and enjoyable as possible. 
5. Enjoy the blooming of nature at Parc Güell 🏞️
Parc Güell has a unique view of the city and its exciting history. The Catalan architect Antonio Gaudi was initially hired by Eusebi Güell to create a residential project for the aristocrats in the city. 
The project took off in 1900, but the idea didn't sell, and by 1914 the project of a residence with more than sixty houses was left behind. However, Gaudi's architecture was so unique that the municipality decided to turn Parc Güell into a public green space. 
Today, you must get tickets of €10 to visit the unique features such as the houses, the Hypostayle room, or the Laundry Room.
Spring in Barcelona is the best time to visit because the vegetation will grow and flower, and the weather is pleasant for walking in the park. 
Recommendation 👇 
Like any other tourist place, I recommend booking your tickets in advance and avoiding making long queues.  
🎫 Get your tickets to 👉 Park Güell
6. Celebrate the day of love and literature 💐
Love should be celebrated every day, and if you disagree, just watch the Spaniards' opinions on Valentine's Day; I think they will make you change your mind!
But that is not the point of this Spring activity in Spain. So, as I was saying before, love should be celebrated every day, but Catalonia has two specific days: Valentine's Day and Sant Jordi!
Sant Jordi is the saint patron of Catalonia, and the legend says that he saved a princess from a dragon; and when he stabbed the dragon, a bush of red roses sprung out of the blood that spilled. 
So, what day in Spring is Saint Jordi? April 23rd is the designated Saint Jordi Day, and if you travel to Barcelona during that day, I promise you will love your time there. 
Barcelona streets, buildings, and plazas get filled with roses and book stalls 📚🌹. The tradition goes this way: women gift men books, and men gift women roses. I know it sounds old fashion, but today people can give both to their partner, but it's a sweet custom. 
Recommendation 👇 
Walk along Passeig de Gracia and marvel with Casa Batllò; for Saint Jordi, the famous Gaudi house is covered in red roses. On top of that, you will stumble across multiple stalls of books and roses, so go ahead and gift someone to your significant other. 
Another top recommendation! 🥂 Visit La Cava Cakery! It's a delicious pastry shop that matches cupcake flavors with a delightful cava type. I was there once with my aunt; it was one of the more authentic, sweet experiences I have had. 
7. Rent a boat at the Ciutadella Park 🚣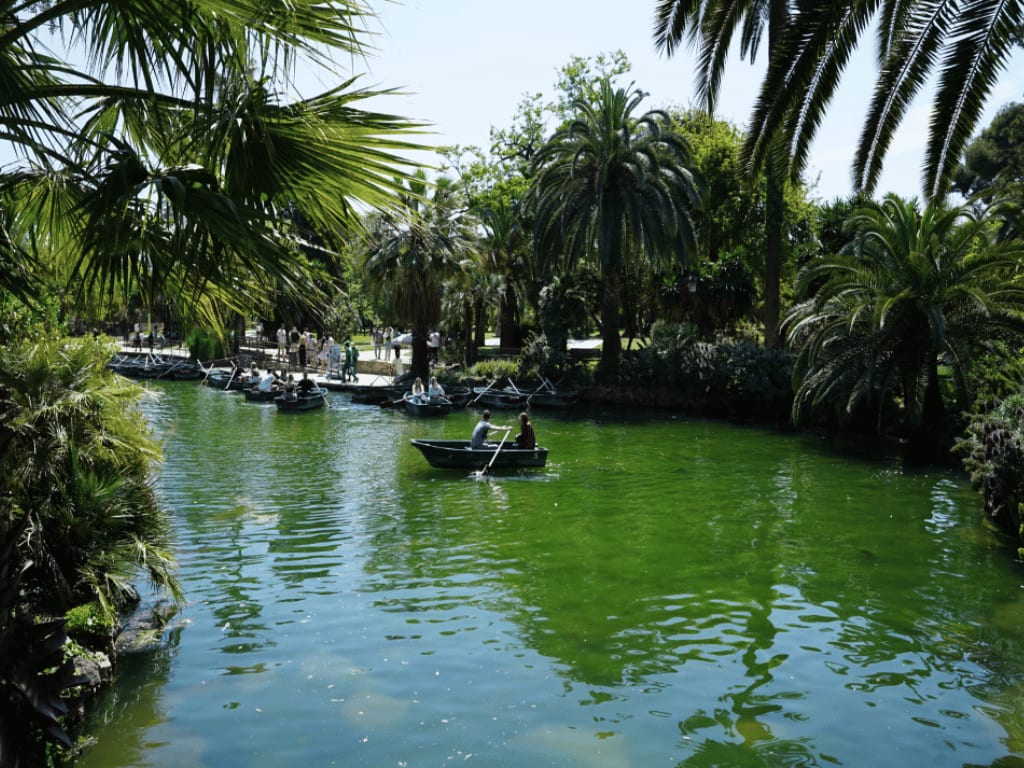 Ciutadella Park is the biggest green space in the city center of Barcelona, a great spot to escape the noise of cars and pollution. 
When Spring comes in Barcelona, an afternoon at the Ciutadella with some refreshments will make all your afternoons better. One of the top activities to do in Spring is renting a boat and rowing in the park's central pond lake. 
The average price is €6 for 30 minutes and two people, so this plan can be the perfect spring activity to do with your partner in Barcelona. 
👉 In case you are not in the mood for rowing, you can walk the park, have a picnic, or visit the Barcelona Zoo if you like animals!
8. Take a day trip to Sitges 🐚
Sitges is one of Spain's most beautiful and culturally important coastal towns. During the Francoist regimen, the province became the center of Catalonian counterculture, which gave it the reputation of "Ibiza in miniature." The town is also known as the "Spanish Saint Tropez." 
Sitges is known for its Film Festival and as an LGTB Community advocate. On top of that, the coastal town is internationally known for its beautiful beaches. 
Sitges is only 40 minutes away from Barcelona city center; you can go by bus or train, and the tickets for a round trip will be less than €20. 
Activities 👇
Explore the old town center
Enjoy fresh seafood
 Stroll the Passeig Maritime
Enjoy cocktails at Casa Bacardí
Explore more towns near Barcelona, in the article below!
The 15 Best Barcelona Towns for a Nice Day Trip!
9. Visit the underrated parks in Barcelona! 🌳
This is a list of reasons why Spring is a beautiful season to visit Barcelona, and my purpose is to provide you with different ideas than the usual tourist landmark tour. 
So, if you want a different experience of Barcelona, visit its most underrated parks!
Parc del Laberint d'Horta: The Labyrinth Park of Barcelona is a park that includes an 18th-century neoclassical garden and a 19th-century romantic garden. It's not located in the city center like Ciutadella Park. Instead, it is closer to the Collserola mountain range in a 30-minute ride by public transport. Labyrinth Park is the best-conserved garden in the city and is the ideal spot to take a break from the city. 
Cervantes Park: Since 2001, Cervantes Park has been the host of the International Rose Competition, and during May and July, the flowers of the rose bloom and create a beautiful view. If you appreciate roses, I recommend visiting Cervantes Park and seeing the stunning creations that experts have planted. On top of that, the park has extensive grassy areas ideal for jogging, cycling, and gymnastics. 
---
So, now you have our nine main reasons why Spring is the perfect season to visit Barcelona. Before we say goodbye, let us remember that the first month of Spring is not the same as the last.
June will always have more people than March, and that is because of the time proximity to summer.
Still, I hope you can get the best out of your trip, and let us know if you need any help!