The 9 Most Successful Spanish Businesses To Consider
November 15, 2022
Updated:

February 14, 2023
Published: November 15, 2022
In adult life, there are a lot of things to consider. Choosing the companies that we want to work with can occupy a lot of Spain in our minds.
To make it easier for you to know the best Spanish businesses, I made you a list of the top 9 from different industries.
After reading this article, you will have enough information to choose the Spanish company of your dreams.
So, read this carefully and open nine tabs to look up the companies. Yes, you read right! I will give you all the relevant information, but you also got to do some judging by yourself.
As my goal is to present you with the best Spanish businesses, some crucial details will be mentioned in every single company on this list. The elements are market capitalization, assets, benefits, and the number of employees.
I will do my best for every single company to have all these details, and I will additionally link you to their website.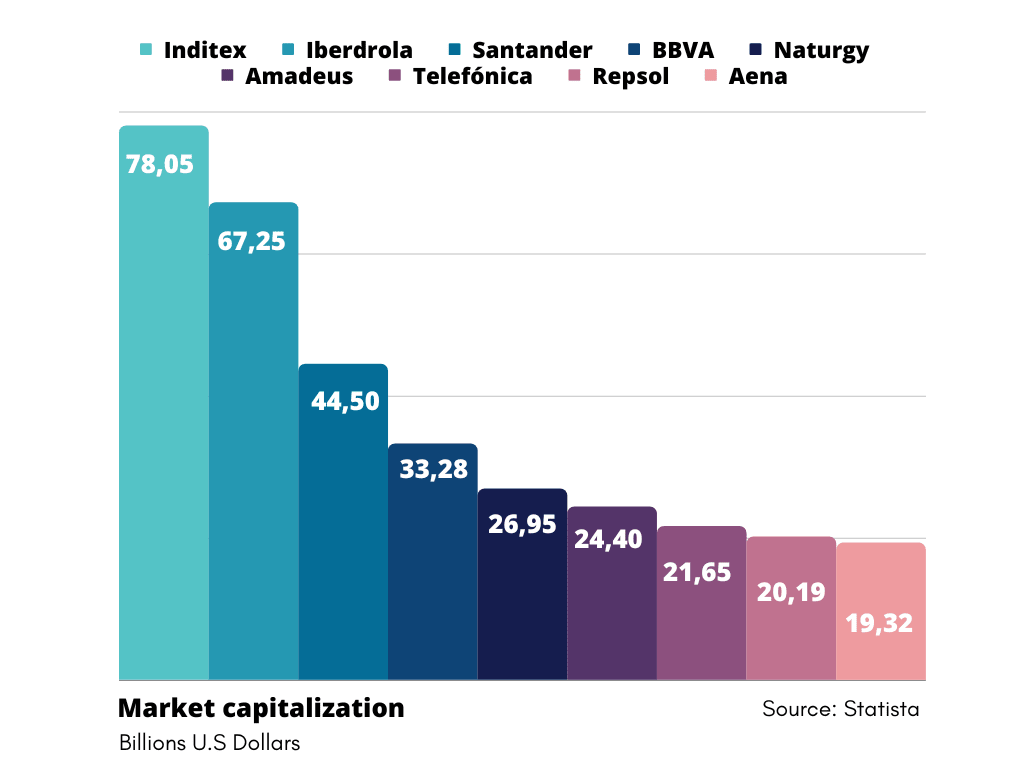 As you can imagine, "Banco Santander belongs to the banking industry and has offices worldwide. The story of this bank is pretty simple, a group of merchandisers in Santander (Cantabria) came together after working for a while in exports of wheat and cereal. It became an official bank in 1857 under the reign of Isabel II.
Santander is one of the world's most important banks. It was recently named "Mejor Banca Privada" (Best Private Bank) by the magazine The Banker, and it is also one of the twenty-five best companies to work in. Additionally, it ranks positions sixteen and seventeen worldwide for the largest bank company and market capitalization, respectively.
Santander Banks has offices in twelve countries: Spain, the United Kingdom, Portugal, Polonia, the United States, Mexico, Brazil, Argentina, Uruguay, Colombia, Chile, and Perú.
Santander has a 3.6 star-reviewed by its employees in Glassdoor.
Here are crucial details to keep in mind:
Market capitalization: 44. 61 billion
Assets: 1.6 million
Benefits: 2.5 million
Employees: More than 190,000 around the world.
Telefónica is our largest telecommunication company, founded in 1924 by the Spanish state. This Spanish business was created under the dictatorship of Primo de Rivera, its original name was Spain National Telecommunication Company, and it has remained public for more than 70 years.
In the 1990s, the name changed to Telefónica S.A, and it became a private business in 1995.
Today, Telefónica is in more than twenty countries between Europe and America. It has created three different brands to serve a different audiences. For example, Movistar works for Spain and Latin America, O2 for Europe, and Vivo for Brazil.
When moving to work in a different city, it is vital to consider some things beforehand. I have the perfect article to help you decide which city in Spain is the best for you. According to different criteria of living standards such as security, health services, and many more!! Find out here:
The Best City in Spain according to your different wants and needs
Here are crucial details to keep in mind:
Market capitalization: 20.98 billion
Assets: 115 million
Benefits: 3.3 million
Employees: More than 120,000.
Repsol is a Spanish business that you might already know. These past years, the media has focused a lot on oil companies, and Repsol is no exception. 
Actually, it was the protagonist of the news for causing an oil spill in Peru; and for being the Spanish company responsible for the highest emissions of CO2. Yes! But I am not here to only mention the negatives. I am here to give you all the facts you need to consider a company, so let's dive into the business-related ones.
Repsol defines itself as a multi-energy global provider that works towards facilitating the evolution of low-emissions energy models. The company was the result of the re-ordering of the energy sector by several oil-related businesses in 1987.
The direct creator of Repsol was the National Institute of Hydrocarbons (a public company), which merged with other companies to make the oil giant possible. Only a few years after its creation, negotiations to sell Pesol began, and eight years later, it became a private company. 
Something else to consider about Repsol is that it has a 3.7-star review on Glassdoor from its employees. 
Here are crucial details to keep in mind:
Market capitalization: 20.90 billion.
Assets: 56 million
Benefits: 2,499 million
Employees: 25,000 employees
BBVA, or Banco Bilbao Vizcaya Argentaria, is the fourth-largest company in Spain by market capitalization (Statista). Yes! The fourth largest, and I give you the big figures below!
I know that I mentioned the market cap way later with the other three. But I could keep you in your full sense by throwing some interesting numbers. As you might suspect, this Spanish business belongs to the banking industry, the competition of Santander. 
The story of the BBVA starts in 1857 with Banco de Bilbao (Bilbao's bank). It was born as a "pioneering initiative, driven by a context of economic growth in the region." In 1988, BB merged with the Banco de Vizcaya (Vizcaya's bank) and adopted the name BBV. Then, another merger took place in 1990 between BBV and Argentaria Public Bank, and changes name to BBVA. 
BBVA has offices in several countries between Europe and America, specifically Argentina, Colombia, Peru, Mexico, Venezuela, Uruguay, Turkey, Italy, and Switzerland. 
This company has 3.8 star-reviewed by Glassdoor. That's pretty good, and yuo can check the pros and cons of employees. 
Here are crucial details to keep in mind:
Market capitalization: 33.28 billion
Assets: 675.842 million
Benefits: 1.651 million
Employees: More than 110,000 employees
To be honest, I didn't know about this company until recently, and I am utterly impressed. I know I should only be giving you the facts, but I got to tell you this one is super interesting. 
So, first of all, let's understand what they do. The mission of this Spanish business is to support the travel industry and connect it by providing technological solutions, systems, and better operations. 
Amadeus is present in more than 190 countries and has been awarded for its software by Forbes. 
Amadeus IT Group was born in 1987 as Amadeus Marketing SA, the child of four major airlines, Iberia, Air France, Lufthansa, and SAS. It began as software that facilitated the research and bookings of travel agents., and by 1995 Amadeus was used by more than 9,000 agencies. 
Amadeus IT Group has a FOUR star-reviewed by Glassdoor. Honestly, while reading some comments, I would say this should be among your top Spanish businesses to consider. 
Here are crucial details to keep in mind:
Market capitalization: 24.4 billion.
Assets: 11.18 billion
Employees: Around 16, 433 employees
Iberdrola is the fourth most valuable energy company in the world! Yes, in the WORLD, and the number one in Spain.
As you can guess, this Spanish business belongs to the energy industry (in Spain, it kinda dominates it). It has more than 170 years in the sector, and Iberdrola is "the leading wind power producer and one of the largest electricity companies in the world in terms of stock market capitalization." In addition, this company works in several countries covering Europe, America, Asia, and Oceania.
This company was born in 1992 with the merger of Hidroeléctrica and Iberduero; over the years, they have tried to merge with other companies like Repsol and Caixa Bank, but the negotiations were never closed.
Iberdrola has a 3.7 star-reviewed in Glassdoor.
Here are crucial details to keep in mind:
Market capitalization: 67.5 billion
Assets: 141, 752 million
Benefits: 3885 million
Employees: More than 28,000 employees
In case you didn't know, Inditex is the Spanish business parent to Zara, Stradivarius, Pull & Bear, Bershka, Oysho, Massimo Dutti, Zara Home, Ulterqüe, and Lefties. And with that, you will understand what is the largest company in Spain by far. 
So, Inditex was born as a very small start-up in the 1960s. Its founder, Amancio Ortega, began selling baby clothes; after that, he iterated, expanded, and analyzed until he opened his first store. From then on, Amancio focused on creating systems that would make facilitate and accelerate production, as well as carefully looking for the next trends. 
Inditex is literally everywhere. EVERYWHERE. And when they open a store, they make sure the other siblings also get a chance in that market. 
Other important things to consider on Inditex are the constant protests by its employees for working conditions and the several allegations of child labor and contamination. 
Okay, this one might be one to worry about. According to Glassdoor, Inditex has a 3.6 star-reviewed; only 68% would recommend a friend to work there, and on top of that, the CEO doesn't want to accept its employee reviews. Yes! You read this right; compared to the other companies in this list, the CEO supports the reviews. 
Here are crucial details to keep in mind:
Market capitalization: 78.05 billion
Assets: 19, 621 million
Employees: More than 162, 450 employees worldwide
Naturgy Energy Group SA is the fifth largest company in Spain by market capitalization, and it works in the gas and energy industry. Remember Repsol? Well, Naturgy is right there with it as one of the Spanish companies with the highest CO2 emissions. 
Naturgy was born in 1841 when a French technician, Charles Lebon, and the businessman, Pedro Gil y Babot, won the contract for gas street lighting in Barcelona at auction. After that, they also won the installation of gas streetlights in the center of Madrid in 1832. The electric part of the business came in 1912 when they merged with Unión Eléctrica Madrileña.
Naturgy offers three services: light, gas, and solar energy; they are present in Spain, Latinamerica, and Moldovia. 
Naturgy has a 3.6 star, reviewed by Glassdoor. 
Here are crucial details to keep in mind:
Market capitalization: 26.95 billion
Assets: 47,322 million
Benefits: 3915 million
Employees: Around 22,000 employees
If I had to describe Aena, I would call it an airport chain. Aena owns almost every single airport in the country except for the ones in Lleida, Castellón, Teruel, and Ciudad Real. The last two are private.
Aena wasn't always called that way before; it was simply founded in 1931 as Madrid's National Airport. But with the years, it expanded its operations until it became what we know today as the "Aeropuertos Españoles y Navegación Aérea" (Aeropuertos Españoles y Navegación Aérea).
This Spanish company is 51% public and 49% private. It has forty-seven airports on the Spanish territory, plus fifteen internationals it helps administrate. All of the data I shared before makes Aena the world's leading airport operator by the number of passengers.
Aena has a 3.8 star-reviewed in Glassdoor.
Here are crucial details to keep in mind:
Market capitalization: 19.32 billion
Assets: 8.324 billion
Benefits: 2,766 milion
Employees: 1,442 million
Now you know the nine best Spanish businesses to consider for any reason you might want to. Either curiosity of wanting a new job, with the article you have all the necessary information to make an informed decision.
I hope this was of helped!