How to Use your Phone in Spain: 4 Options Compared & Tips
July 25, 2023
Updated:

August 22, 2023
Published: July 25, 2023
Let me guess, you are traveling to Europe for the first time, and you need to figure out how you will keep your cell phone connected during your journey.
If you have traveled to Europe before this article might come in handy to check out other options to stay connected, if you are traveling for the first time then you should read this article to make the best choice for you and your budget.
Below I will compare four options to stay connected with your phone in Europe, mobile Wifi hotspots, and important emergency contacts to have in hand.
After reading this article, you will be able to make an informed decision and choose the best way to stay connected with your phone.
WILL MY SMARTPHONE WORK IN EUROPE
Unless you have an internet plan that covers traveling or an internet connection in other countries, your smartphone won't work in Europe. 
As a traveler, I have used different internet services to stay connected while traveling Europe. Then, when I moved to Spain, I discovered better ways to keep my family connected during their visits. 
The three options I will give you in this article are personal roaming, European, SIM Card, and portable WIFI. I have used all of them, but only one is my ultimate favorite.
1. Personal Roaming (Roaming)
The first option to stay connected in Europe is to pay an extra fee to your local internet provider. Whether it is T-Mobile, Verizon, AT&T, or Sprint, your current mobile SIM Network will probably have some roaming options for your upcoming trip.
In this case, you have to find out the price for the service and if it is worth it concerning the amount of GB provided. 
Let's take T-Mobile as an example. If T-Mobile is your SIM Network provider, you must know they have a service called "International Pass." The latter offers three different GB extenders for traveling.
The first one is $5 for a day of high-speed international data; the second option costs $35 for ten days of global data (5GB); and $50 for 30 days of high-speed internet. 
You are granted an exact number of days to use your international data in these services. If you misuse it, you'll lose connection for days; if you need clarification on the data and the limit arrive, you lose what was left. 
If you have the Go5G Plan, check your advantages because that plan category includes 11 European countries.
Another example is Verizon's International Monthly Plan, which you can add to your current service. With the International Monthly Plan, you can text and call in 210+ countries and destinations for an extra $100 to your montly pay.
👉The important thing to know with this option to stay connected in Europe is to ask every detail about the international roaming to your SIM Card provider. For some people, 5GB is more than enough to stay connected during their trip, but if you are like my dad (who never stops working), you will probably need more than 5GB to stay connected in 10 days.
Every case is unique, so ask your SIM network provider all the necessary questions.
2. eSIM Card
If you are unsure what an eSIM Card is, let's start by defining it. 
"eSIM is an embedded/digital version of the traditional physical SIM card. So instead of installing a physical SIM card to change your mobile provider, you connect to a new mobile data service provider using an app".
The truth is that an eSIM card has advantages and disadvantages. For instance, not all smartphones are compatible with eSIM cards, but most iPhones, Samsungs, or other smartphones produced after 2019 should be able to connect to them.
An eSIM Card saves time and trouble from looking for the one that fits your needs best, you don't need to replace or remove your current card, and you usually can control everything from the provider app. 
Below, I will list the best eSIM ard companies I know; the prices go from $19.99 to $40, so it is worth checking each website and the perks each company provides. 
3. European SIM Card
A local prepaid SIM Card is my to-go-to stay connected while traveling Europe. I know you would prefer to be connected as soon as you touch the ground, but you will survive some minutes without the internet.
So, what do I mean by a European SIM card? I am talking about any "rechargeable" SIM card you can get at any internet company. These SIM cards are somehow disposable, as you can have them for a month and then save them as a souvenir of your trip. 
A European SIM Card is usually cheaper and perfect for traveling to more than one country. A prepaid SIM Card can be as affordable as 10 euros depending on the giga bites you consume. 
👉For example, when my parents or friends visit me in Spain, I recommend getting the Vodafone prepaid SIM Card for 15 euros. This plan offers unlimited WhatsApp, social media, and the possibility to have a cell phone connection in any European country.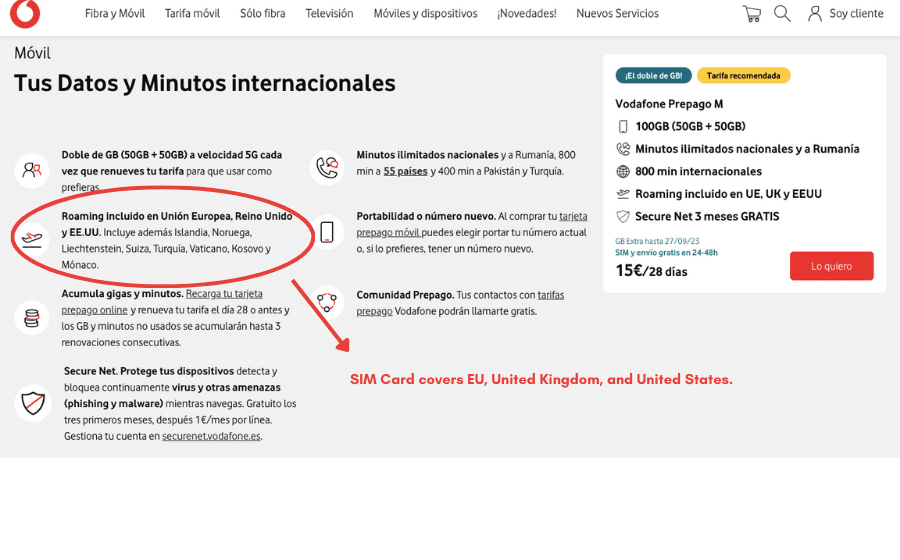 Europed banned mobile companies from charging for roaming within the EU area. So here is a list of the countries where one SIM card will be enough to stay connected throughout your journey: Andorra, Azores, Aland islands, Austria, Balearic Islands, Belgium, Canary Islands, Cyprus, Corfu, Crete, the Cyclades, Croatia, Czech Republic, Denmark, Estonia, Faeroe Islands, Finland, France mainland, Germany, Gibraltar, Greece, Guernsey, Hungary, Ireland, Iceland, Italy, Jersey, Latvia, Liechtenstein, Lithuania, Luxembourg. Madeira, Malta. Isle of Man, Norway, Netherlands, Poland, Portugal, Rhodes, Romania, Spain, United Kingdom, San Marino, Sardinia, Sicily, Slovakia, Switzerland, Sweden, Vatican.
Options to stay connected with your cell phone in Europe:
1. Vodafone
2. Orange
3. Movistar
---
4. Pocket WIFI 
The fourth option to stay connected in Europe is the pocket wifi. You might be asking yourself, "What is a pocket WIFI?" Pocket wifi is a portable wifi router that provides wireless internet access. 
It is like taking your home WIFI with you where ever you go. There are some disadvantages to portable wifi, such as the fact that it has the size of a portable phone battery, and you need to remember to carry it everywhere with you. 
However, a significant advantage is that it is a helpful hotspot for a maximum of ten people. 
Pocket wifi can cost 2 to 5 euros a day, and you can get it from companies such as Wifiaway, Wifivox, and Spain Internet.
MOBILE WIFI HOTSPOT IN SPAIN
There are some places in Spain where you can stay connected without any of the options above. In some of them, you will have to buy a product, and there is one where your connection will be 100% free.
The Santander Co-working, also known as Work Cafe is an initiative by the bank Santander, and it consists of co-working spaces spread throughout the country. Each co-working office has plenty of group and individual tables, meeting rooms, and a cafe. 
Anyone can use the Santander Co-working to exchange your data, such as name, email, and phone number. 
If you are a client of the bank, then you will get a discount on all its products and advantages when using the meeting rooms. 
The Work Cafe is a place for remote working people who need a space to do their job; however, if you find yourself with no Internet and spot one, go ahead and connect your device to the Wifi for a bit. 
The Corte Inglés is the biggest is the biggest department store in Spain. Like Macy's, the Corte Inglés offers between 3 to 6 floors of clothes, shoes, home decoration, sports, hobbies, electronics, restaurants, and more!
So, if you are in the mood for shopping or window shopping, locate a Corte Inglés and connect to their Wifi while checking out their offers. 
3. Starbucks
I think Starbucks is every tourist's best friend; they are spread all over Spain, especially in Madrid, where just in La Gran Vía and close to it, you can locate over five shops. 
In this case you are not getting any Wifi for free! To experience a comfortable connection, you must get at least a bottle of water. 
I remember that during my first trip to Madrid, my family and I would get to any Staburch possible to rest our feet, charge our phones, and use their Wi-Fi. It was our designated place to stay connected with our phones. 
Of course, there are more restaurants, cafes, and hotspots where you can use your cell phone in Spain, but these three are great options in big cities like Madrid and Barcelona.
Preparing for Emergency Situations in Spain
Now that you have all the tips and ways to stay connected in Spain, is essential that you have all the emergency numbers in case of trouble during your journey.
| Type of Emergency | Phone Number | Notes |
| --- | --- | --- |
| Police | 112 | General emergency number |
| Medical | 112 | Also applicable for medical help |
| Fire | 112 | Also applicable for fire incidents |
| Ambulance | 112 | For medical emergencies |
| Tourist Police | 902 102 112 | Specialized assistance for tourists |
| Roadside Assistance | 900 123 505 | For car breakdowns |
| Maritime Emergencies | 900 202 202 | Coastal or sea-related incidents |
| Mountain Rescue | 112 | In case of hiking/climbing accidents |
---
I hope this article comes in handy when you travel to Spain, we have compared four ways to stay connected with you cell phone while travelling and you can choose the one that suits you best.
I personally prefer the European SIM card because they have always worked for me and my family. For a friend, the portable wifi is her way to stay connected and she gets them everytime her family visits.
If you have any other suggestions on what would be the best way to stay connected with your cell phone in Europe, comments below! We love reading you, and your experience helps other fellow readers.