Mallorca vs Menorca: 11 Key Differences for Tourists
May 23, 2023
Updated:

May 24, 2023
Published: May 23, 2023
Deciding to travel to Mallorca or Menorca? If you are already traveling to the Balearic Islands, you might as well spend your best vacations just yet on two of the most beautiful islands in the world.
However, if you still only want to visit one, in this article, you will find the 11 most important differences between Menorca and Mallorca to help you decide. 
Plus, if you would rather listen to this article, we have a video about all the Spanish islands, including a comparison between Mallorca and Menorca. 
Now, get some pen and paper, weigh the pros and cons of each island, and choose the one that you have dreamt about all this time!
Here is my WhatsApp 🤳 +34917401167 in case you prefer to solve some doubts with a quick text!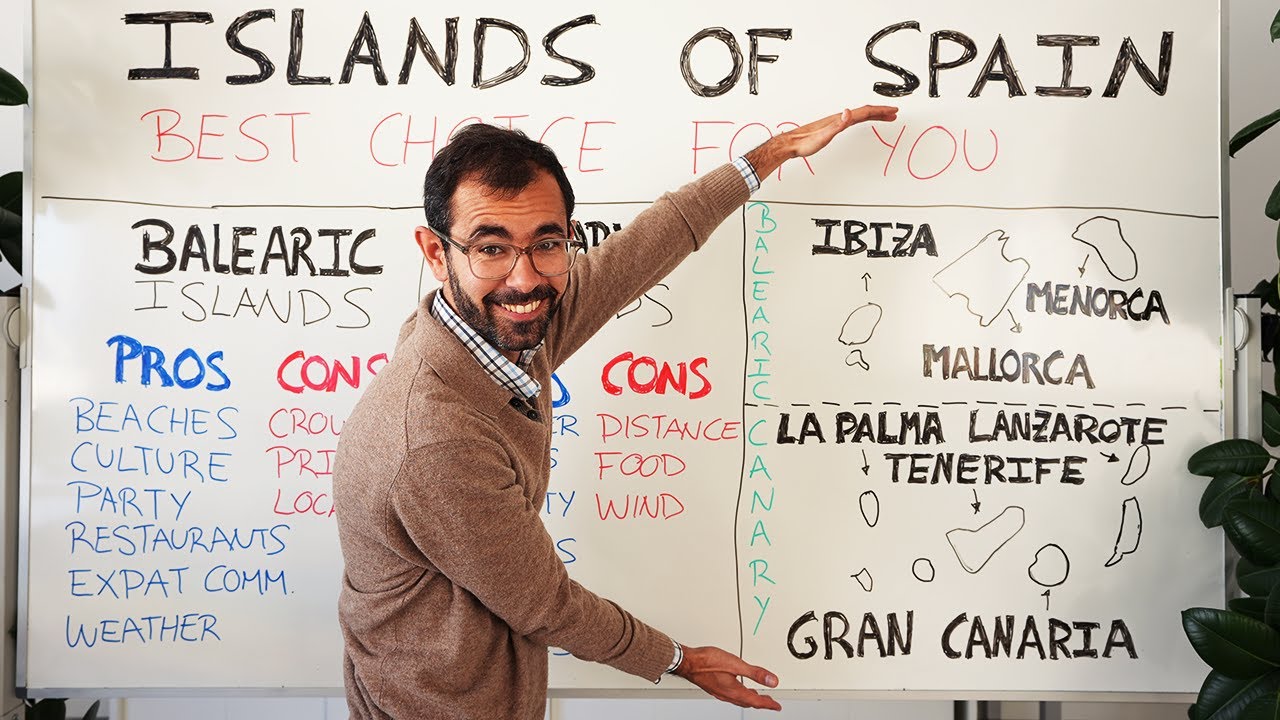 1. Menorca is a great destination to go with kids 
Menorca is an excellent destination for kids. It is much quieter than Mallorca so it will be a more relaxing trip. It has been named a Biosphere Reserve by UNESCO. Menorca has managed and kept its nature intact by combining tourist development with the preservation of its territory.
In addition, there is a wide variety of hotels specifically for kids so that all family members can enjoy top vacations on the island.
The nature, the open spaces, and the many activities and excursions you can do make Menorca a fantastic place for a family vacation. 
For example, you could go to the S'Albufera des Grau Natural Park for a nice time in nature; close to it, you will have Es Grau beach and a big lagoon where you can kayak. 
Menorca is an ideal destination for traveling with children, as it offers various activities and attractions.
2. There is more nightlife entertainment in Mallorca 
I have been to Mallorca several times, and I can assure you the nightlife there is impressive. If you like to party at night, you would prefer Mallorca. It is a popular destination for young adults as they are the ones who enjoy the nightlife of Mallorca.
Palma de Mallorca, the island's capital, is full of places that offer good parties from the afternoon until late at night. This city offers many clubs and discotheques, such as Tito's and Pacha Mallorca, where, without a doubt, you can experience some of the best nights of your life. 
Another option is BMC; this large discotheque offers theme parties on weekends. 
On the other hand, the nights in Menorca tend to be much quieter, and finding clubs and discotheques is much more difficult.
3. Mallorca has more beaches 
The largest island in the Balearic is Mallorca; it has a coastline of 555 kilometers with more than 200 beaches of all types. 
The island offers a wide variety of beaches, from beaches with all amenities and services to the wildest and most remote, surrounded by pure nature. 
Mallorca has a diverse and extensive coastline, with various beaches, coves, and cliffs. Some of Mallorca's most famous beaches include Playa de Palma, Cala Millor, and Cala d'Or. 
For example, one of the most popular beaches of Mallorca is Es Trenc. It stretches along 2 kilometers of white sand and transparent turquoise-blue waters. These types of beaches are what make Mallorca one of the best vacation destinations.
If you are only staying in the capital, Palma de Mallorca, choose the Es Trenc beach over the one right next to the city. Es Trenc is stunning and way bigger than Es Arenal. Plus! There is paid parking lot! So, wake up early, get a spot, and enjoy Es Trenc.
Menorca is bit of the opposite. Menorca is known for its smaller, quieter beaches with a wilder and less developed coastline. Cala Macarella, Cala Turqueta, and Cala Mitjana are some of Menorca's beautiful coves.
Menorca also offers many beaches to discover around a much less populated area. The island has 216 kilometers of coastline, smaller than Majorca, and up to 75 different beaches, most of which are small coves of fine sand hidden between rocky cliffs.
4. In Menorca, you can take relaxing day trips 
Menorca is a perfect destination for a relaxing day trip. You can go for a walk, bike, or even horse riding. The most famous and popular hiking route is the Camí de Cavalls (The Way of the Horses), which runs around the island's perimeter for more than 185km.
But here are three options for your perfect relaxing day trip in Menorca: 
Ciutadella: A charming port town perfect for a day trip. You can stroll through its picturesque streets, visit the impressive Ciutadella Cathedral and explore the old town with its stores, restaurants, and historic squares.
S'Albufera des Grau Natural Park: This natural park is a UNESCO-declared biosphere reserve home to various flora and fauna. You can enjoy hiking the trails, bird watching, or visiting the Cap de Favàritx defense tower and relaxing on the unspoiled beaches of Es Grau.
Mahón and the port: Mahón is the capital of Menorca and has one of the largest natural harbors in the world. You can explore the historic center of Mahon, visit the church of Santa Maria, and enjoy the panoramic views from the Fort of La Mola. You can also take a boat trip around the harbor to admire the views and learn about the island's maritime history.
5. Menorca is a better destination for couples
Menorca is a smaller island than Mallorca, but Menorca has incredible things to offer. From walking its historical path, the Camí de Cavalls, to discovering its ancient and unique history or tasting its traditional cuisine.
All this and its quiet coves and postcard landscapes make Menorca a perfect island for a couple's vacation.
It has many romantic plans that can be made on the island. Still, one of my favorites is to enjoy a spectacular sunset from one of the lighthouses of Menorca.
6. You will spend the same money in Mallorca or Menorca
During the high season months of July and August, Mallorca can become a more economical vacation destination. As Menorca is a smaller island, everything is unique and authentic. You can also find this in Mallorca, but there is more variety of hotels and restaurants than in Menorca. The hotel offer is inferior to Mallorca's, although extensive and diverse. 
Also, Mallorca is a more meaningful and popular tourist destination; more than 10 million tourists go annually. In exchange for Menorca, they only go 2 million people. 
So, all this, added to the lower influence of tourism, means that prices in Menorca can be slightly higher than in "the neighboring island."
For transportation both destinations have public transportation options, but costs may be similar. That said, you will find options suitable for all budgets in both islands.
7. You can enjoy more water sports in Mallorca
Indeed, Menorca only has a few services for water activities on its beaches. However, enjoying its calm, transparent waters by kayak can be a perfect alternative.
In exchange, Mallorca is the ideal place to practice water sports in the heart of the Mediterranean. Mallorca is known for its incredible crystal-clear waters and beautiful reefs, so diving is a great option.
Going on, Mallorca is a popular destination for sailing enthusiasts. There are sailing schools offering courses for beginners and boat rentals for those with experience. Windsurfing is another excellent option to practice on Mallorca's coastline as it provides the perfect conditions for windsurfing.
Moreover, exploring Mallorca's caves and coves by kayak is a unique experience. Not to miss practicing paddle surfing! 
8. More tourists go to Mallorca
Mallorca and Menorca have stunning white sandy beaches and crystal-clear waters that are a great attraction for tourists. Both islands have a favorable climate, and their natural beauty and breathtaking landscapes are impressive. 
Mallorca is much more popular than Menorca for tourists. Mallorca receives more than 10 million tourists yearly compared to the 2 million visitors that go to Menorca annually. 
Mallorca has a solid tourist infrastructure that includes many accommodation options, from luxury hotels to apartments and villas for rent. It has many activities, including the water sports mentioned above. 
Mallorca is easily accessible from many points in Europe. It has an international airport that receives regular flights from different countries.
9. Experience one of the most beautiful sunsets in Menorca or Mallorca 
Every day you spend in Menorca or Mallorca is a new opportunity to see an incredible sunset. I have seen these islands on the best evenings of my life. That is why I'm going to give you some tips.
When looking for the best sunsets in Mallorca or Menorca on the internet, there are high chances that are going to recommend you to go to the typical Beach Club where you will have to book in advance, show up much earlier, make queues, and then you will be able to take the panoramic picture at sunset time but with thousands of other tourists wanting to do the same. 
In Menorca, the sports where I recommend you go and where I've seen the best sunsets of my life are Punta Nati (lighthouse in the north of the island) and Pont d'en Gil, which are impressive cliffs just 15 minutes drive from Ciutadella de Menorca. 
On the other hand, the best spots to watch a sunset in Mallorca are Sant Elm, with privileged views of the islet of Sa Dragonera. To get there, you will find a path along the coast until you reach an area known as Punta Blanca. The other option is the Lighthouse of Cap Gros, where you will see an incredible sunset from the cliffs of Cap Gros.
10. Menorca has more natural landscapes 
Beyond the incredible beaches and lighthouses, Menorca has several hiking trails worth it. 
Menorca has a unique natural heritage and a vast network of routes and itineraries where you can practice all kinds of activities in contact with nature, such as hiking, cycling, running, and walking.
One of the most interesting routes is the Barranc d'Algendar, in Ferreries, a ravine with vertical walls up to 80 meters high. Another great option is the Natural Park of S'Albufera des Grau, as it is the core of the Biosphere Reserve.
11. Move around Mallorca is easier
As Mallorca is more extensive, it has different transportation methods to move around the island. Most tourists prefer to move around Mallorca by car to have more freedom of movement. Some people arrive on the island with their car since loading the vehicle on the ferry is possible. Others prefer to rent it.
The motorcycle is ideal for moving around Palma de Mallorca, the capital. You can go quickly to coves near your accommodation or to move around the inland villages.
Public transport is another ideal alternative for those who want to forget about driving. Mallorca has an extensive public transport network. Besides the bus, you can also choose the train, depending on the route you want to take. The train and bus are the cheapest options and work very well.  
Read more about how to get around Mallorca in our featured article:
---
I hope this island comparison has helped you make a decision. If you still aren't sure which one to pick, text us! This is the link to the contact section in our blog; we would love to read you and answer all your questions. 
Plus I will also leave you my WhatsApp number in case you prefer a quick text message 🤳 +34917401167