Mallorca in Spring: 7 Reasons Why It's My Favorite Season
February 21, 2023
Updated:

March 29, 2023
Published: February 21, 2023
Waking up by the sea, going out your window, and admiring the trees blooming is one of the best ways to experience Spring.
Also, with the sea breezes and its sunny months, Mallorca becomes the perfect destination to disconnect, relax and detox about all your worries!
In this article, I'll give you my favorite activities that make this place the ideal destination this season. But you might wonder… why not Summer?
Well… Summer is the high season in Mallorca. Tourism can be exhausting since restaurants' waiting times and entertainment venues can be eternal!
Therefore, visiting Mallorca in Spring is undoubtedly the best option since the temperatures are pleasant enough to walk around without being cold or hot, and the Island is not saturated with people. (AKA: more spots at the beach and better pictures!)
Also, Mallorca is your ideal destination for a romantic getaway. You can go hiking, cycling, going for dinner, and just walking while enjoying nature.
Okay, I have already told you enough! Let's take a look at all it has to offer in springtime.
1. Perfect time for refreshing dips in the Best Beaches of Mallorca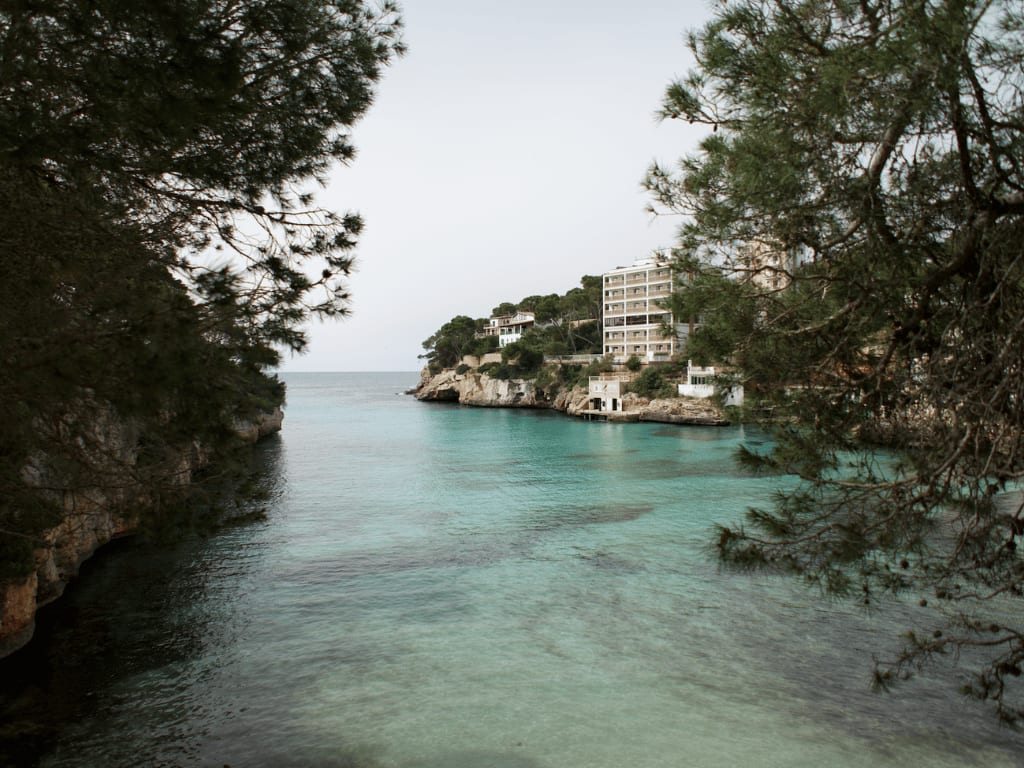 This list must start with a visit to the best beaches in Mallorca. 
Undoubtedly, this is one of the most desired plans for everyone who lives on the Peninsula, our European neighbors, and foreigners worldwide during Springtime.
Considering fewer people visit it than in summer, beaches are emptier, and you can be more relaxed.
There are 262 beaches in Mallorca, reaching a total length of 50 km. We have an article exclusively dedicated to the best beaches and calas. Take a look at it!
Beaches are extensions of land and water, open to the sea and usually many meters or even kilometers long. Calas or coves are small bays tucked between cliffs or rocks.
Well, okay, okay… Here's a sneak preview of the best virgin calas in Mallorca, with spectacular beaches to visit this Spring!
Es Trenc: Virgin, peaceful waters. 
Aucanada: Sandy bottom and rocky areas. Surrounded by pine forests and views of the bay and the lighthouse of Aucanada.
Torrent de Pareis: Impressive beach sheltered between steep rocky cliffs and divided by the Torrent de Pareis.
Caló des Moro: breathtaking waters and landscapes. Make sure to get there early because it gets crowded. Pool beach. 
As for the virgin calas, visit Cala de Satanyí:
Which is a small and virgin holiday resort with a fantastic long beach for snorkeling, clear waters, and white sand. Kid & family-friendly.
you should go to the ones in the Llevant natural park. 
Cala Mitjana: a natural and paradisiac spot, without services, and very close to the previous one. 
Cala Matzoc: 10 kilometers from the town of Artá.
Playa de Sa Font Celada: a cove of fine sand where you'll be surrounded by tranquility. 
Arenalet des Verger: virgin environment, sandy bottoms, and a camping area. You can reach it from the information center of the Natural Park of Llevant.
Cala Torta: with a beach bar to enjoy some drinks. 
As these places are natural paradises, ensure enough water and food. It is hard to find commerce or supermarkets nearby. 
---
2. Great Weather to Explore the heart of Mallorca in the wild Serra de Tramuntana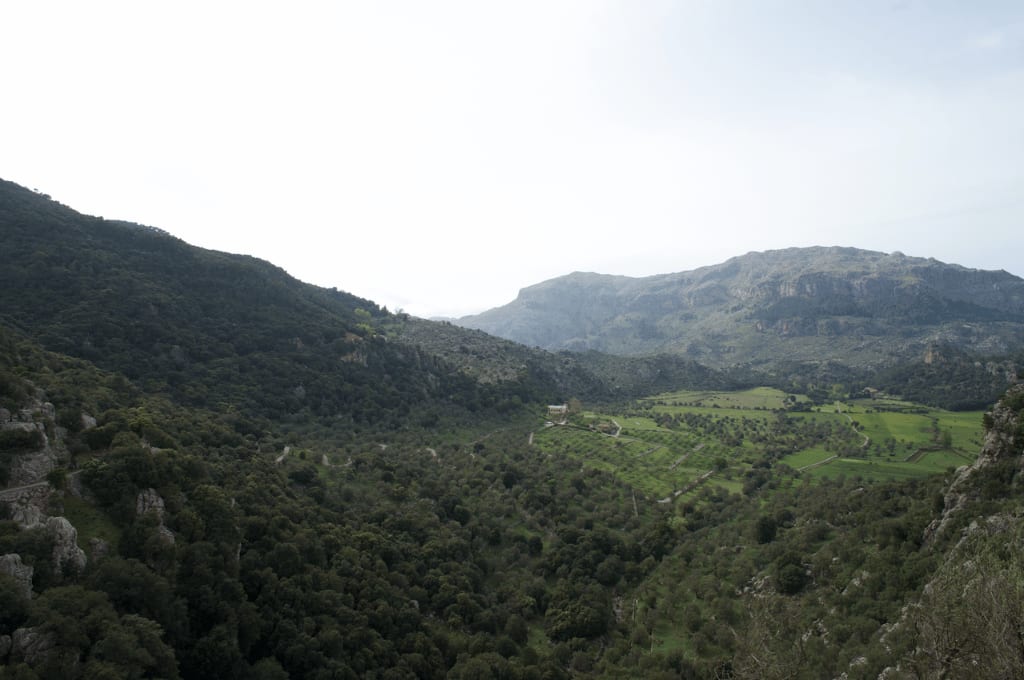 Hikes are an excellent way to get to know a new place, see unexpectedly beautiful landscapes, and let yourself be carried away by nature and what it has to offer.
Mallorca is a stunning island, and hiking around the Serra de Tramuntana will ensure you see up to 60% more of the Island than you would if you stayed in the city center and the beaches.
In addition, the spring weather, the vegetation, and the beautiful flowers blooming create the perfect setting to enjoy a nice hike to get the best views of Mallorca while taking advantage of and getting in touch with nature.
Even more, you can visit the Santuari de Lluc. A mandatory stop if you're visiting the island.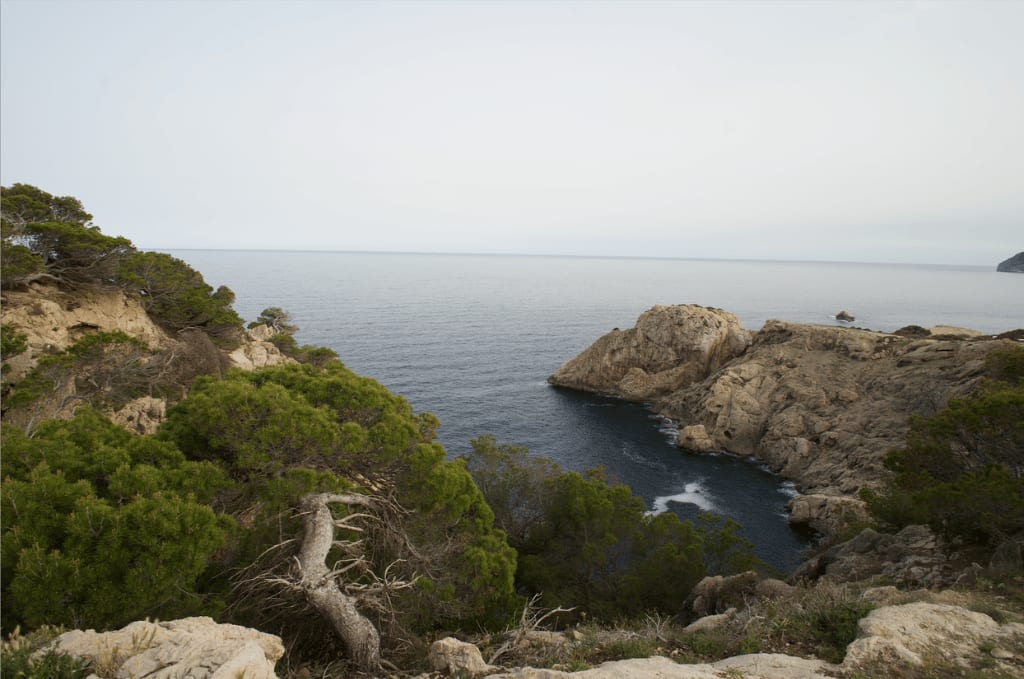 Here I bring you the most famous routes according to their difficulty, from the easiest ones to more challenging routes for you to enjoy an unforgettable outdoor activity.
Camí des Correu: an easy and linear trail that can be done with the family. Difficulty: Easy. 2 hours.
Puig des Teix: one of the most attractive and visited peaks of the Serra de Tramuntana and covers a total distance of approximately 14 and a half kilometers. Medium Difficulty. 4 hours and 30 minutes.
Puig de Galatzó is hikers' favorite mountain. It has a pyramidal shape, and you can see forests and views of the Mallorcan coast. Medium-Hard Difficulty. 4 hours and 15 minutes.
---
3. Best season to visit the Famous and Well-known Local Markets
Mallorca is full of local markets everywhere. Which provides not only food but also many handmade products to take home as souvenirs!
We have an entire article dedicated to the best Markets in Mallorca. 
Either way, I'll name some of the best markets you can visit while strolling the streets of Mallorca during Spring. 
Although some flea markets are seasonal, assigning a specific day each week, others are open all year round. Visit this article to see the calendar:
Tip: Sunday is the day par excellence to go to the market. We can find open markets in Santa Maria (probably the best known of the Island), Alcúdia, and Pollença.
You'll find different products in these places, such as fruits and vegetables, cured meats, cheeses, handicrafts, clothes and accessories, and every type of utensil!!!
Santa María Market
On Sundays, the town fills up with vendors selling fruit, vegetables, and flowers, attracting a lot of shoppers from the surrounding area, both locals and tourists.
Address: Plaça Nova, 07320 Santa Maria del Camí.
Opening hours: Sundays, from 8am to 2pm. Closed from Monday to Saturday.
Pollença Market
In the Plaza Mayor in the town of Pollença. Has more than 300 stalls. 
Address: Miquel Capllonch Square,07460 Pollença.
Opening hours: Sundays: from 8am to 1.30pm. Closed from Monday to Saturday.
Alcúdia market
Receives many visitors, enjoying a festive and international atmosphere.
Address: Paseo Mare de Déu de la Victòria, Alcudia.
Opening hours: Sundays from 8am to 1.30pm.
And lastly, although it is closed on Sundays:
Inca Market: one of the most popular and well-known markets in Mallorca by locals and tourists.
Address: Carrer de la Pau, 0, 07300 Inca.
Opening hours: Monday, Tuesday, Thursday, and Saturday from 8am to 2.30pm; Wednesday and Friday, from 8am to 8pm. 
The great thing about this plan, and the main reason I recommend this so much, is that markets represent the authentic essence of the Island's personality.
---
4. Discover Portocolom and other lovely towns with beautiful views
The weather and temperature in Mallorca during Spring are ideal for excursions. It's way easier to discover local villages and enjoy pleasant walks without worrying about the infernal heat!
I highly recommend you visit Portocolom, a town on the east coast of Mallorca.
It has a natural harbor and a relatively not crowded locality. A morning or an afternoon is enough to see the town's main sights.
This place is an absolute beauty. It has very calm water beaches, a complete offer for accommodation, hotels, apartments and restaurants that will make your visit unforgettable.
This picture above was taken from the Sa Cava Forada. It's a beautiful natural cave arch with good views of the lighthouse.
But Mallorca has thousands of pretty towns worth visiting. This article will tell you everything about them:
---
5. Experience the wonderful nightlife of the Island in these bars and clubs
We come to the most fun part, and probably the one everyone expects when they hear the word Mallorca: parties, bars, and nightclubs. 
If you are a party animal and have endless nights, Mallorca is your ideal destination. 
In this city, there is an atmosphere from sunrise to sunset. 
You will find energetic streets full of life and colorful, cheerful, attention-grabbing places everywhere. 
But, if you don't know where to go, there are emblematic areas and establishments where you will surely experience one of the best nights of your life. Visit this post that will tell you everything you need to know:
And the main advantage, as it is not high season, the entertainment venues, restaurants, terraces… enjoy better prices. You will receive faster and cheaper service without losing quality. 
What else are you waiting for to plan your trip to Mallorca? All I see are wins!
---
6. Watch the sunrise in the Mirador Es Colomer in Polença
A once-in-a-lifetime experience
Contemplating the sunset over the Mediterranean is absolute madness. What else can I say about this Island's hidden spot?
Es Colmer is one of these places that you visit with low expectations and end up being the highlight of your trip.
Watching the landscape of cherry blossoms at this time of the year is an absolute marvel which will mark your life. Without even mentioning the sound of the sea.
Also, from this POV, there are several hiking trails, such as the one that goes to the watchtower of Albercuix, which can also be seen from this viewpoint.
I suggest you visit this viewpoint in the afternoon at sunset, when the changing colors of the sun's rays and clouds create a thrilling spectacle.
Another option is early morning when you can get guaranteed parking space and a fantastic beginning of your day!
---
7. Enjoy the finest bike rides and cycling routes in Mallorca
Where should I begin?
Roads are well paved, the beautiful scenery is abundant, and the infrastructure developed to meet cyclists' needs at all levels makes Mallorca a perfect place to enjoy the best cycling and biking routes.
This is a super fun way to get to know corners of the Island through quiet country roads and secondary highways that invite adventure.
Here are the routes you should not miss if you want to do cycle touring in Mallorca.
| Route | Distance | Difficulty |
| --- | --- | --- |
| Cala Millor - Porto Cristo | 27,26 km | Low |
| Son Carrió | 16,64 km | Low |
| Calla Milllor - Cap des Pinar | 16,64 km | Low |
| Cala Millor - Artà Canyamel - Coves d'Artà | 43,95 km | Medium |
| Cala Millor - Port Vell - Son Servera | 11,85 km | Low |
| Cala Millor - Son Servera - Artà - Sant Llorenç | 43,72 km | Medium |
Also, the Formentor peninsula is one of the most famous cycling routes. It has 20 km and separates the town of Pollença, and the lighthouse of Cap Formentor, offering some of the Island's most spectacular views.
This road is often crowded with tourist buses in high season. Still, as Spring is not the high season… Just saying.
On the other side is Sa Calobra, a small fishing village famous for its hairpin bends, beautiful views, and 10 km of slopes to get you in shape while enjoying the beautiful scenery.
---
Now that we're done, I believe my point is very clear. You HAVE to visit Mallorca in Spring! I see no downsides to it.
Most specifically, the month of May is undoubtedly the best time to take advantage of everything that the Island has to offer.
If you want to know how much that would be, so you can start planning your trip, here's a guide that will give you an idea of how much you could expect to spend in Mallorca.