How to Find a Public Restroom in Spain: 12 Spots!
September 19, 2023
Updated:

September 21, 2023
Published: September 19, 2023
Very common scenario.
You are sightseeing in a city. You walk a lot; you drink a lot of water. You keep walking, and suddenly, the eggs, pastries, and coffee from the hotel's buffet start making your tummy roar.
You need a bathroom ASAP, problem? You don't know where to go.
We have all been there at some point, and it's awful! Believe me, before moving to Madrid, I studied in Pamplona, and I would often visit my cousin who lives in Alcalá de Henares (30 minutes away from Madrid by Cercanías train).
While he was studying, I would travel to Madrid's center to visit my favorite cafes, visit stores, and just enjoy the city. And often, I would need a restroom, which would be the worst minutes of my life!
My to-go places were Starbucks, McDonald's, and the Corte Inglés, but those stores were not everywhere, and I needed more options.
In this article, you will find all the available options for restrooms in Spain, especially applicable to Madrid. So, let's get to it!
Public Restrooms in Spain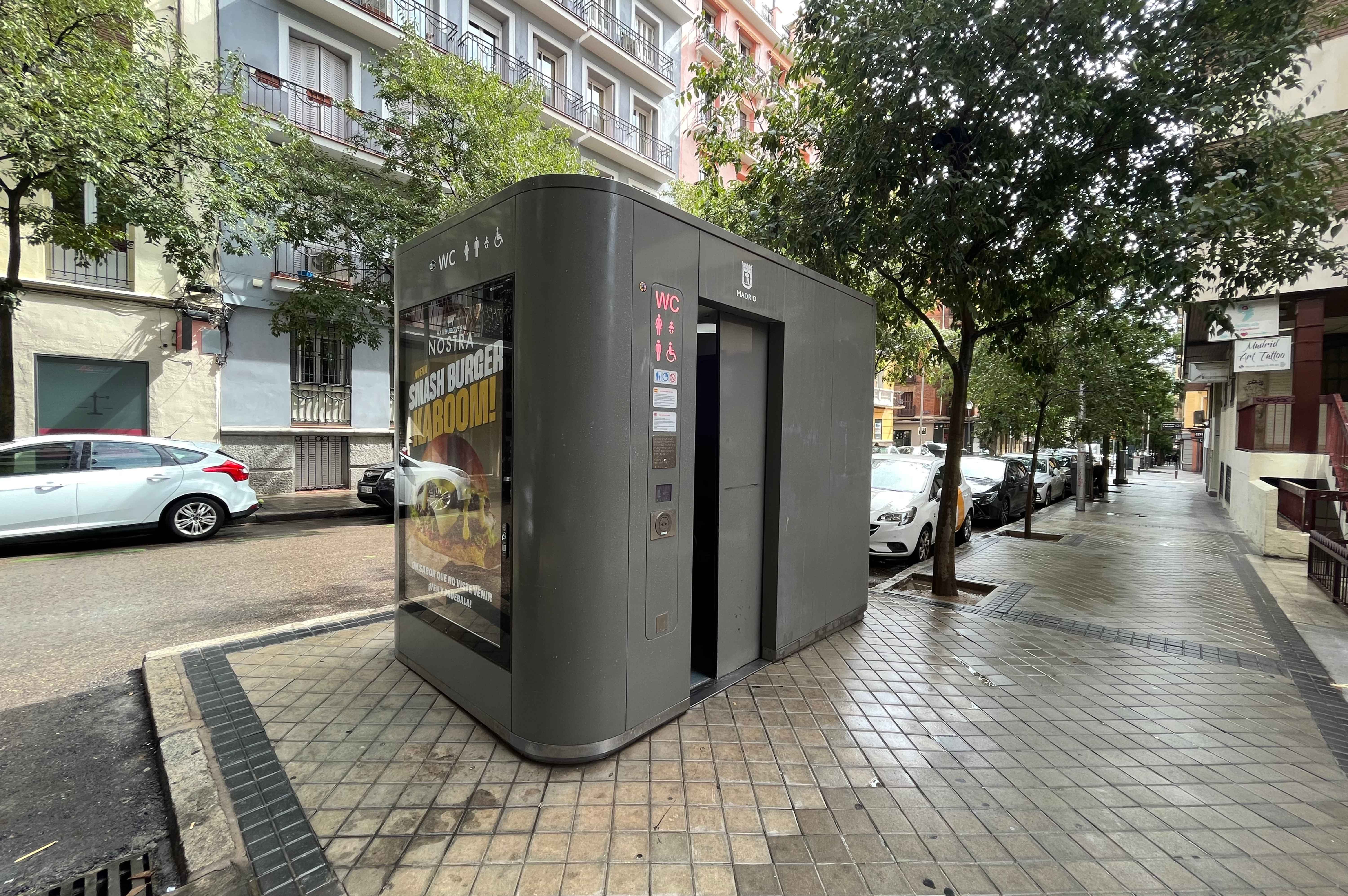 In 2017, the municipality of Madrid announced that it would make 130 public restrooms available throughout the city; more than five years later, they didn't seem to progress on that mission. 
The public restrooms I am talking about are the ones I show in the picture below, medium-sized portable restrooms placed in different spots in Madrid. Their use costs 0.10 cents, and you have 15 minutes at your disposal.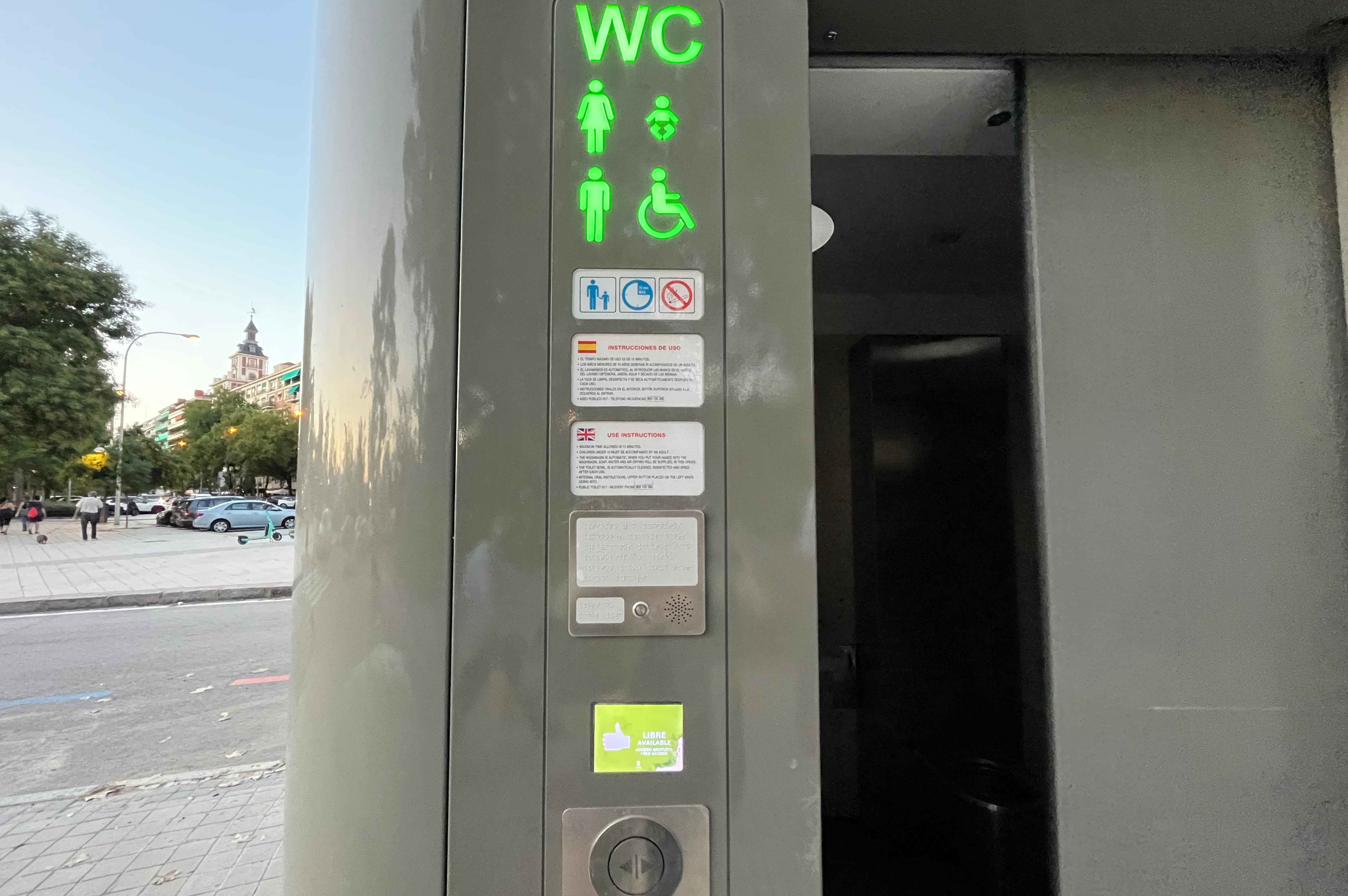 Madrid Center has around 40 of these public restrooms, which are far from clean or decent. Some of them have been reported to be broken and unable to close the doors, with awful odors.
For instance, the one in the picture is located in Andrés Mellado, very close to the Moncloa Bus station.
These public restrooms in Madrid are usually dirty, and I don't recommend using them under any circumstances. If an emergency comes, it is best to ask kindly to a bar or buy a drink from them so you can use a cleaner toilet.
How to ask for the restroom in Spain
Now you know it is best to avoid the public restrooms in the picture above. But, if you have an emergency, how do you ask for the bathroom or toilet in a bar or restaurant?
Well, the translation of bathroom or restroom is "baño," but here you will hear the words "servicios," "aseos", or "WC" more often.
So, if you want to ask, "Where are the restrooms in Spain, you can use the following phrases:
If you are in a restaurant or bar where you have already consumed something, you could ask:
"Disculpa, ¿dónde están el servicio?" (Excuse me, where are the restrooms)
This is the exact phrase you can use if you need to use the restrooms in the list of places I will add below. 
If you really need to use a restroom, and you spot a bar nearby, try to ask kindly:
"Disculpa, ¿puedo usar tu baño?" (Excuse me, may I use your restroom?)
Asking for permission to use the restrooms without consuming would be the polite way to ask for restroom directions, especially if you will not buy anything after all. 
How to Find Restrooms in Spain
In this section, you will find a small guide to help you filter your best options when looking for a restroom in Spain. Just like I mentioned before, the public toilet would be the least of my options, and I don't recommend it to anyone. 
So, here I will give you four alternatives when you need a restroom in the middle of the street. 
5- Stars Hotels
Yes, just like you read it. If you are walking in the middle of Madrid and suddenly need to use the restroom, you need to do the following:
Open Google Maps and type "hotels near me."
Filter your search by stars and select "top-rated" or even "luxury."
Go to the hotels with the highest stars
Once there, take a deep breath and get in; these places see people ALL the time and probably won't remember your face. So, great with confidence and find the bathrooms.
The best part is that good hotels have impeccable restrooms. Be respectful and leave the bathroom as impeccable as you found it, wash your hands, and get out of there with your head held high. 
Restaurants
If you are looking for hygienic toilets, a restaurant will offer cleaner toilets than bars or fast food chains in Spain.  
In this case, you do have to ask for permission. Say you are a bit lost and need to use their restroom urgently. In this situation, the use of the bathroom is not always. Guarantee, but if you don't mind risking the question, go ahead!
Bars
My third option for finding restrooms in Spain is a bar. Bars are usually smaller and are less clean than restaurants. However, I can assure you they are more decent than public restrooms in Spain. 
If you decide to look for a restroom in a bar, first check how many people are in the bar. If it is full, just get in with your head up and look for the restroom.
Key! Most of the time, the restroom would be in the basement. 
If the bar is not full and only has one or two tables, you will need to ask to use the restrooms kindly. 
Fast Food Chains
The final alternative on my list is fast food chains. Restrooms in find food chains are like the lottery; sometimes you will, and most of the time you'll lose. 
By this, I mean that the restaurants in fast-food restaurants are usually dirtier than the options above, especially in tourist areas. 
You can easily enter these restaurants without being perceived and use the restrooms without asking. However, sometimes luck might not be on your side, and they will require a code to get in. 
In this case, get a bottle of water, get the code, and go find your restroom. 
12 Spots
Now that you know how to look for a restroom in Spain, I will give you a list of the best and most decent places to find restrooms in Madrid.
Good luck! 
Accessible restrooms in stores
Now, this is the promised list. Here are some places where you can use the restrooms freely with no questions asked. Most of the places I will list here receive hundreds of visitors daily, so it is normal for the staff to receive such questions. 
1. Palacio de Cibeles
The Cibeles Palace, also known as CentroCentro, is the city council of Madrid, and it is a place where many cultural exhibitions and events occur. These events are usually open to the public.
It is located right in front of the Cibeles Fountain.
This is the first place where you can go to the restroom in Spain with no questions asked. It is located on the bottom floor (last floor), and they are clean and very well-equipped. 
Remember to be respectful and leave the restroom clean after you have used it. On top of that, take a look at the exhibitions they have at the moment; I am pretty sure you will enjoy them!
2. Galerias Canalejas 
Galerías Canalejas is one of the places where you will find full luxury in Spain. The address is Pl. de Canalejas, 1, just a few steps from the Puerta del Sol.
Galaría Canalejas might not receive the same number of visitors, but as an exclusive, luxurious mall, they also provide perfectly hygienic restrooms for their clients… and people who need them. 
So, if you are walking close to Puerta del Sol, know that the restrooms in Galerías Canalejas are located on the top floor. These are incredibly clean, well-equipped, and available to anyone.
Once again, you should be respectful and leave the "services" as clean as you found them. It is important to respect the places that open the restrooms to visitors.
Once you have alleviated your needs, you can perfectly continue sightseeing in Madrid. You could go from Puerta del Sol to Plaza Mayor and Mercado San Miguel.
Note: The Mercado San Miguel also has restrooms, but they ask you to consume in one of the establishments and will give you a code. 
3. Corte Inglés
The Corte Inglés has been my savior so many times! This is the biggest department mall group in the country.
You can find absolutely anything in the Corte Inglés, including decent restrooms in Spain!
Depending on the Corte Inglés you find yourself in, you will find a restroom skipping one floor. Some of them have toilets available on every floor; others don't.
I would advise asking for the restroom on the top floors as they will be cleaner, with fewer queues. 
4. FNAC
FNAC is a retail company famous for specializing in electronic devices, books, music, and desk materials. FNAC is my to-go store when I am looking for a book, or I want to get a cute notebook, and recently, I discovered that it can also be a great saviour for bathroom emergencies.
The public restroom in FNAC is located on the last top floor of their building in Callao. Last time I was there, I had to ask for a code, so I give you a little trick: if you don't want to ask it, wait by the door for someone to come out and take your opportunity!
Again, I remind you to be clean, wash your hands, and check out their books!
5. Primark
Our last store of this list is Primark. Right in the middle of Gran Vía, you will find a hygienic place to meet your needs.
The restrooms of Primark in Madrid are located on the last top floor. It doesn't have many queues, and they are pretty clean.
Remember to leave the restrooms as clean as you found them. We want more kind companies to do so, and it will only be possible if we respect the installations.
Accessible restrooms in restaurants
In this list, you will find fast food restaurants and bars where you can enter and use their restrooms without being perceived. Once again, I will not get tired of saying this: be clean! Be hygienic towards yourself and others, and always wash your hands before leaving the restrooms.
Most of these restaurants require code to get in, so if you are not in the mood to eat or drink anything from them, get water! Water is never enough for your system, and we keep you hydrated.
6. 100 Montaditos
100 Montaditos is a famous tapas chain with plenty of tapas or montaditos for 1 euro plus a beer. This fast food/ bar chain is famous among students and younger people who need a place to meet with friends, eat, and drink without going broke.
Most of the time, you find these restaurants very full, so the staff won't notice you if you want to use the restrooms.
Where to go? Find decent restrooms in the 100 Montaditos closer to Gran Vía, Callao, and Paseo del Prado. I will leave you the addresses below:
Close to Museo del Prado:
Pl. de las Cortes, 3, 28014 Madrid
Close to Puerta del Sol:
C. Mayor, 22, 28013 Madrid
Close to Opera:
C. de Felipe V, 4, 28013 Madrid
Between Plaza de España and Gran Vía:
C.Gran Vía, 63, 28013 Madrid
Here, the restrooms are downstairs to the right.
7. Burger King
I think you don't need any explanation as to what Burger King is, so I will list the restaurants you might need during your trip. 
In Gran Vía and Callao:
Metro, Gran Vía, Pl. del Callao, 40, 28004 Madrid
Close to Puerta del Sol:
Metro Sol, C. de Esparteros, 3, 28012 Madrid
C. de Carretas, 8, 28012 Madrid
Close to Plaza de España:
C.Gran Vía, 69, 28013 Madrid
The restrooms are downstairs. 
8. McDonald's
In Gran Vía:
C. de la Montera, 47, 28013 Madrid
Close to Puerta del Sol:
C. de Esparteros, 1, 28012 Madrid
Close to Palacio Real
Pl. de Isabel II, 1, 28013 Madrid
Next to Plaza de España and Templo de Debod:
C. de la Princesa, 3, 28008 Madrid
9. Starbucks
Starbucks in Gran Vía:
C.Gran Vía, 30, 28013 Madrid

C.Gran Vía, 58, 28013 Madrid

C.Gran Vía, 73, 28013 Madrid

In the last store the restrooms are upstairs to the left; they are usually not very clean, but decent enough for an emergecy.
Starbucks close to Puerta del Sol:
C. de la Montera, 8, 28013 Madrid
C. de Preciados, 3, 28013 Madrid
C. del Arenal, 14, 28013 Madrid
Starbucks Paseo del Prado:
Pl. Canovas del Castillo, 5, 28005 Madrid
Starbucks close to Opera:
Pl. de Isabel II, 4, 28013 Madrid
10. PANS
PANS & Company is a sandwich place where you can find tasty sandwiches and salads to cover your hunger for a few hours. The restrooms are pretty decent and don't forget to leave the places as you found it.
In Gran Vía:
C.Gran Vía, 30, 28013 Madrid
11. Kentucky Fried Chicken 
In Gran Vía:
C.Gran Vía, 52, 28013 Madrid
Close to Puerta del Sol:
C. de la Montera, 7, 28013 Madrid
C. Mayor, 1, 28013 Madrid
12. Rodilla
Rodilla is the Starbucks of Spain, where you will find coffee, mini sandwiches, focaccias, salads, and pastries. I can honestly recommend their Mediterranean salad and the cheese Foccacia. 
But back to what is important, Rodilla has decent, hygienic restrooms where you can make a pit stop. 
In Plaza Callao:
C. de Preciados, 25, 28013 Madrid
In Puerta del Sol:
Prta del Sol, 13, 28013 Madrid
Close to Opera:
C. del Arenal, 23, 28013 Madrid
Close to Puerta de Alcalá:
C. de Alcalá, 67, 28014 Madrid
Map
---
And there you have 12 places where you can go to the bathroom in Spain without suffering from the horrendous public cubicles in the city center.
I must remind you always to wash your hands after you leave, and as a travel tip, carry toilet paper and moist toilet tissue to save yourself form any inconvenience.
Happy travels!