Travel Visa Spain 2023: Requirements & Tips by a Lawyer
May 3, 2023
Updated:

May 8, 2023
Published: May 3, 2023
Spain is one of the most popular travel destinations around the world. In 2022, Spain was the second most visited country in the world after France, and it has been a top destination for years.
People from all around the world travel to Spain to visit its beaches, stroll its big cities, wander through the museums, taste its unique gastronomy, and enjoy perfect weather.
But, to have access to all of the above, plenty of countries need to ask for a Schengen visa and some others for the ETIAS permit (operation in 2024).
This article will specify which countries need a Schengen visa, the prices, requirements, and tips, and which countries need an ETIAS permit. I will also link back to the official websites, so you can have all the information you need to make the best application possible.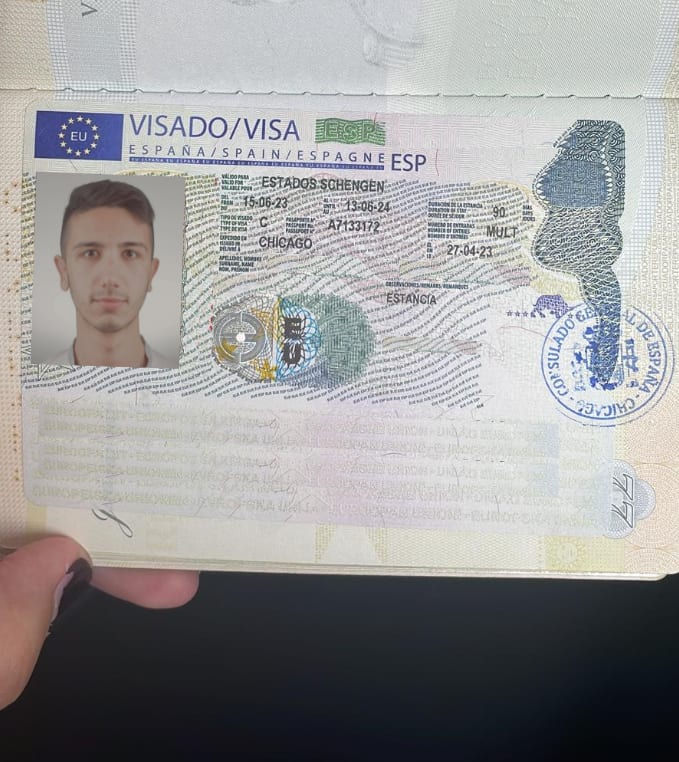 What countries need a Schengen visa to travel to Spain?

First of all, it is important to remember that any country that is part of the European Union doesn't need a visa to cross the borders. This is important for all of you who have double nationality and are wondering if you need to apply for a travel visa. 
For example, suppose you are from the United States, but your mom or dad are nationals of a European country, such as Spain. In that case, you can travel to the Schengen area with your Spanish passport without worrying about any restrictions. 
The following charts present all the countries that need a Schengen visa to travel to Spain:
| Continent | Countries that need Schengen visa |
| --- | --- |
| Africa | Algeria, Angola, Benin, Botswana, Burkina Faso, Burundi, Cameroon, Cape Verde, Central African Republic, Chad, Comoros, Congo, Côte d'Ivoire, Democratic Republic of Congo, Djibouti, Egypt, Equatorial Guinea, Eritrea, Ethiopia, Gabon, Gambia, Ghana, Guinea, Guinea-Bissau, Kenya, Lesotho, Liberia, Libya, Madagascar, Malawi, Mali, Mauritania, Mauritius, Morocco, Mozambique, Namibia, Niger, Nigeria, Rwanda, Sao Tome and Principe, Senegal, Seychelles, Sierra Leone, Somalia, South Africa, South Sudan, Sudan, Swaziland, Tanzania, Togo, Tunisia, Uganda, Zambia, Zimbabwe |
| Asia | Afghanistan, Bahrain, Bangladesh, Bhutan, Cambodia, China, India, Indonesia, Iran, Iraq, Jordan, Kazakhstan, Kuwait, Kyrgyzstan, Laos, Lebanon, Mongolia, Myanmar, Nepal, North Korea, Oman, Pakistan, Palestine, Philippines, Qatar, Russia, Saudi Arabia, Sri Lanka, Syria, Taiwan, Tajikistan, Thailand, Timor-Leste, Turkey, Turkmenistan, United Arab Emirates, Uzbekistan, Vietnam, Yemen |
| Europe | Kosovo |
| North America | Cuba, Dominican Republic, Haiti |
| Oceania | Kiribati, Marshall Islands, Micronesia, Nauru, Palau, Papua New Guinea, Samoa, Solomon Islands, Tonga, Tuvalu, Vanuatu |
| South America | Bolivia, Colombia, Ecuador, Guyana, Paraguay, Peru, Suriname, Venezuela |
---
What countries need an ETIAS permit to travel to Spain?
So, there are two types of travel visas to visit Spain, and the one you need to apply for will depend on your country of origin. Just like the chart above was for the countries who need the Schengen visa to enter Spain, the following chart lists the countries that are visa-exempt from the Schengen area but that from 2024 will need to apply for the ETIAS permit to travel.
| Continent | Countries that need an ETIAS permit |
| --- | --- |
| Europe | Andorra, Bosnia y Herzegovina, Georgia, Macedonia del Norte, Moldova, Montenegro, Reino Unido, Serbia, Ucrania |
| North America | Canadá, Estados Unidos |
| Central America | El Salvador, Guatemala, Honduras, México, Nicaragua, Panamá |
| Caribbean | Antigua y Barbuda, Bahamas, Barbados, Dominica, Granada, San Cristóbal y Nieves, Santa Lucía, San Vincente, Trinidad y Tobago |
| South America | Argentina, Brasil, Chile, Colombia, Paraguay, Perú, Uruguay, Venezuela |
| Asia | Brunei, Emiratos Árabes Unidos, Hong Kong, Israel, Japón, Macao, Malasia, Singapur, Taiwan, Timor Leste |
| Oceania | Australia, Islas Marshall, Islas Salomón, Kiribati, Nueva Zelanda, Palau, Samoa, Tonga, Tuvalu, Vanuatu |
---
What is the difference between the ETIAS and the Schengen visa?
As I mentioned before, depending on your citizenship, you will have to apply for a Schengen visa or an ETIAS permit to travel through Spain. 
Bear in mind that these two are not the same.
The ETIAS is an electronic authorization developed for countries that DON'T need a visa to enter the Schengen area. However, to improve security and have better control over the borders, the European Union developed a system that would keep track of visitors from visa-exempt countries. 
The ETIAS will become operational in 2024. And to learn more about the requirements and application of ETIAS, head to our article! 👉 🇪🇺 How to Apply for ETIAS in 4 Easy Steps (Spain 2023)
On the other hand, the Schengen visa is a travel authorization that allows non-visa-exempt countries to enter European areas for a limited time. It has a higher cost and more restrictions than the ETIAS permit.
There are different types of Schengen visas depending on the type of travel you will do, which I will explain in the following section. 
What are the types of Schengen visas available?
There are four Schengen visa types: a, c, and d. 
Type A: Airport Transit Visa
The type A Schengen visa or Airport Transit Visa is the travel permission that people need to issue when they need to go through the airport of a Schengen country. 
This is a compulsory visa for people traveling from a non-Schengen country to another non-Schengen country, but they need to get their connecting flight in a Schengen state. 
Having an Airport Transit Visa exclusively allows you to change flights in the airport in the Schengen zone, but you can't and won't be allowed to leave. 
If you need to transit through more than one airport within the Schengen area, you are no longer eligible and must apply to the Type C.
List of countries that need a transit visa:
Afghanistan
Bangladesh
The Democratic Republic of the Congo
Eritrea
Ethiopia
Ghana
Iran
Iraq
Nigeria
Pakistan
Somalia
Sri Lanka
Some European nations have their list of countries that need a transit visa to connect flights at their airports. For example, Spain lists 21 countries requiring a Schengen-type visa to wait at their airports.
Requirements for the Airport Transit Visa
Visa application form. A regular short-stay visa application form, fully completed, printed, and signed at the end.
Two recent photos. Taken within the last three months and according to the requirements for a Schengen visa photo.
Valid passport. With at least two blank pages, affix the visa sticker to it. It must be no older than ten years and with validity.
Documents related to the onward journey to the final destination
Travel insurance policy. That covers any medical emergencies with a minimum of €30,000**.**
Proof of paid visa fee. Which costs the same as a short-stay visa.
Type C: Short stay Schengen visa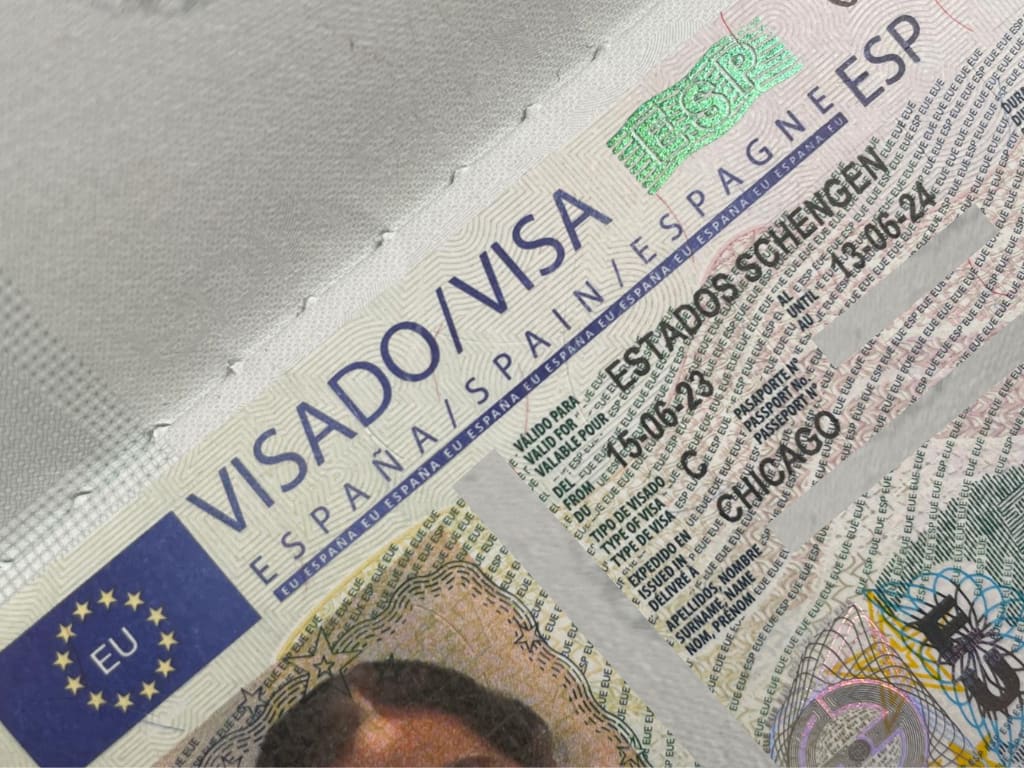 The Type C or Short Stay Schengen Visa is the most common Schengen visa because it is the one people search for as the "Spain travel visa" ( for those visiting Spain) or the permit needed by any citizen from a non-visa-exempt country into a Schengen country. 
This visa is granted in three formats:
Single-entry Schengen visa (indicated as "1" on the visa sticker) travelers can only enter the Schengen area once. It becomes invalid when the traveler enters the Schengen area, even if the permit expires. 
Ddouble-entry Schengen visa (indicated as "2" on the visa sticker), the validity period permits twice entry into the Schengen area. You may exit and re-enter the Schengen area within the visa's time limit, so after the second exit, the visa becomes invalid.
A multiple-entry Schengen visa (indicated as "MULT" on the visa sticker) allows its holder to enter and exit the Schengen area multiple times within a maximum of 90 days, every 180 days
🛃 The requirements for the short-stay visa will be specified by the end of this article. 
Type D: Schengen national long-stay visa
The Schengen national long-stay visa is not a travel visa. This is the visa or residence permit that each European country will ask for when a foreigner intends to study, live or work in the EU. 
This type of visa is meant for people staying more than 90 days and is granted for a year. The difference between visa Types B and D is that the latter is issued in the consulate of the corresponding country. At the same time, the former can be delegated to official agencies such as BLS International, an official agency in charge of issuing short-stay visas in Ecuador. 
There are several types of national long-stay visas, and I will link you to the ones to the most demanded ones 👉**:**
Requirements and tips for applying for the Schengen visa
As promised, this section is dedicated to all the requirements and tips for the short-stay Schengen visa. This type of visa can be issued at the Consulate of Spain or official agencies, but that will depend on the country.
For example, in cities like Guayaquil, Ecuador, travel visas to Spain must be issued at BLS International, an official agency in charge of processing short-term traveling visas. The price for their service is $135, almost double compared to the fixed price set by the consulate of $85 (€80) dollars. 
Another example would be Rafaella, an Ecuadorian student in Chicago, Illinois. She had to deliver her application and extra documentation to the Consulate of Spain in downtown Chicago to travel to Spain for Spring break. The process had a price of $85.
So, depending on your city, you can apply for a Spanish short-term visa at an agency or the country's consulate. 
When applying for a short-term Schengen visa, you need to deliver your documentation to the country's offices where you are staying most time. Or the first Schengen country you are entering. 
Remember to check our charts! We have listed all the countries that need a Schengen visa. If your country is not on that list, check the chart on the visa-exempt countries. Having a clear idea of what you need will help you save time and effort.
Reasons to apply for a short-term Schengen visa:
 Tourism
Visits to family and friends
Business trips, official visits
Studying in Europe for a short period (less than 90 days)
Trips made for medical reasons
Traveling to attend cultural and sporting events or take part in artistic projects
Requirements to apply for a short-term travel Spain to Spain
When applying for a short-term Schengen visa, you need to deliver your documentation to the country's offices where you are staying most time. Or the first Schengen country you are entering.
The documents to present in your Schengen visa application are the following:
Completed form for the Schengen visa Official Form for the short-term Schengen visa. 
Two identical photographs
A valid passport
Copy of your passport
Proof of your itinerary: flight bookings, hotel bookings, pre-planned and paid activities.
Documents proving your financial solvency. Whether you are self-employed or working for a company, you must show your bank certificates, payrolls, the status of your bank accounts, and your credit card payments. 
Travel and medical insurance covering up to €30,000, including repatriation to your home country in case of a medical emergency or death. This is VERY important; make sure your medical insurance covers repatriation in case of death. Otherwise, they might deny your application. 
The application has a fee of €80 for people over 12 years old; and €40 for people between 6 and 12 years old. This fee is paid by cash or credit. 
You can apply for your visa up to 90 days before traveling.
My final tip on the short-term travel visa to Spain or any Schengen country would be to make a copy of EVERYTHING and double-check your documents with a checklist before going to your appointment. 
These processes are not refundable, so it is better to triple-check and ask as many questions as possible than pay twice.