Digital Nomad Visa Spain 2023: Requirements & Tips by a Lawyer
May 5, 2023
Updated:

May 30, 2023
Published: May 5, 2023
Being a freelancer or a remote worker wasn't a big hit before 2020, but now it has become a hot debate. Some companies hate it, some embrace it, and others choose to be politically correct and do hybrid modes. 
The truth is that being a remote worker has both advantages and disadvantages, but to be completely honest, I am a bit more biased and look more into the benefits than the problems. 
My first serious internship was in 2020; the only problem with remote working was knowing when to stop, but then again, I loved the freedom it gave me. 
A year later, I got a full-time on-site job, and that opened my eyes to the benefits and luxuries of being a remote or hybrid worker. Long story short, many people, including countries, have seen the benefits of being remote. 
What better for an attractive country than to have people living and spending money in their territory for a longer period than a trip and with a better budget than a student?
That is why Spain approved the Digital Nomad Visa in January 2023, making it possible for non-Europeans with full remote work to enjoy the Spanish lifestyle. I only see a win-win situation here!
 In this article, I will explain the Spain Digital Nomad Visa, who can apply for it, the types of Digital Nomad visas, the benefits, the requirements, the steps, and plenty of notes to get your application right. Important contact numbers at the end of the article!
What is the Spain Digital Nomad Visa?
The Digital Nomad visa is a temporal residence that allows foreigners to live in Spain for a year. This visa results from the Star-up Act in Spain to encourage entrepreneurship and foreign investment. 
Spain was not the first country to implement it, but it was one of the most awaited ones.
In the first year, the Spain Digital Nomad Visa is given for 12 months, and after that, you can renew for up to five years. 
Who can apply for the Digital Nomad Visa in Spain?
Just like I mentioned before, the Digital Nomad Visa in Spain is meant to attract international freelancers and digital entrepreneurs to boost Spain's digital entrepreneurship. 
Anyone can apply for a digital nomad visa in Spain if they meet all the requirements. When I say anyone, I mean that doesn't belong to the European Union or the European Union Economic Area. 
Citizens of the EU are free to travel and stay in any other European country with fewer requirements.
On top of that, future applicants have to meet certain specific criteria to be eligible for the Digital Nomad Visa. 
Types of Digital Nomad Visas
The truth is there is only ONE digital nomad visa in Spain, but in this article, I would like to mention two other visas that can get you to live in Spain without a work contract from a company. 
These visas are the Golden and the Non-lucrative visas; we have written specific articles for each of these travel authorizations, but it is worth clarifying the differences and defining them, so you can choose one that suits your circumstances better. 
Golden Visa in Spain: This visa is a residence permit meant for non-EU citizens that want to live and work in Spain. The main requirement for this visa is for the interested person to invest a minimum of €500,000 in real estate or other assets.
Non-lucrative visa in Spain: This residence permit allows non-EU citizens to live in Spain without working or studying. The non-lucrative is mainly directed to retirees or individuals that can fully support themselves in Spain. 
🛃 Read more about each of these visas in the following articles:

Golden Visa Spain 2023: Requirements & Tips by a Lawyer

Non-lucrative Visa Spain 2023: Requirements & Tips by a Lawyer
The similarity between these visas is that people from a non-EU country can get a longer-term permit to stay in Spain. And the main differences (of course) are the requirements; if you don't have more than €500,000 to invest, then the Golden Visa is not for you! 🤕
Requirements to get the Digital Nomad Visa
There are many specific requirements to be eligible for the Digital Nomand Visa in Spain. For instance, if you have lived in the country for five years, you do not qualify for the DNV. 
 There is also a minimum study qualification for this visa. The applicant should be accredited as a graduate or postgraduate from universities, professional training, and business schools or have at least three years working. 
These are just two of the requirements you must meet before choosing this visa to visit Spain. I will list everything else below!
Requirements for the Spain Digital Nomad Visa
Proof of your digital nomad status.
This means that you need justification from your company that you have been hired as a remote worker and that you can complete your job via the Internet in Spain. 
Pay attention to the small details! The company you work for most has been in business for a year, and you should have been hired for at least three months.
Proof that at least 80% of your income comes from a foreign company.
For freelancers, only 20% of their earnings can come from Spanish clients.
Proof of financial self-sufficiency. 
You must show that your earnings are enough to sustain your lifestyle in Spain. The minimum wage in Spain is €1,167, and digital nomads need to earn 200% more. This means a person applying for a digital nomad visa in Spain should have a salary of €2,334 per month, or €28,000 yearly. 
Income brackets for families:
Family of 2: €4,085 per month
Family of 3: €4,668 per month
Family of 4: €5,250 per month
The income bracket increases if you plan to move to Spain with your partner and kids. For example, the first person that comes with you should represent an increase of 75%, and the second the 25%.
All these numbers approximate the earnings you should have if you wish to apply as a Digital Nomad in Spain. 
Full health insurance
The most important coverage of your insurance should be the possibility of re-expatriation in case of death. 
Clean criminal record
Proof of a clean criminal record for the past five years.
Minimum stay requirements
As mentioned, you should have lived in Spain for at most five years. If you have, there might be other types of visas more suitable for your situation. 
Step-by-step application for the Spain Digital Nomad Visa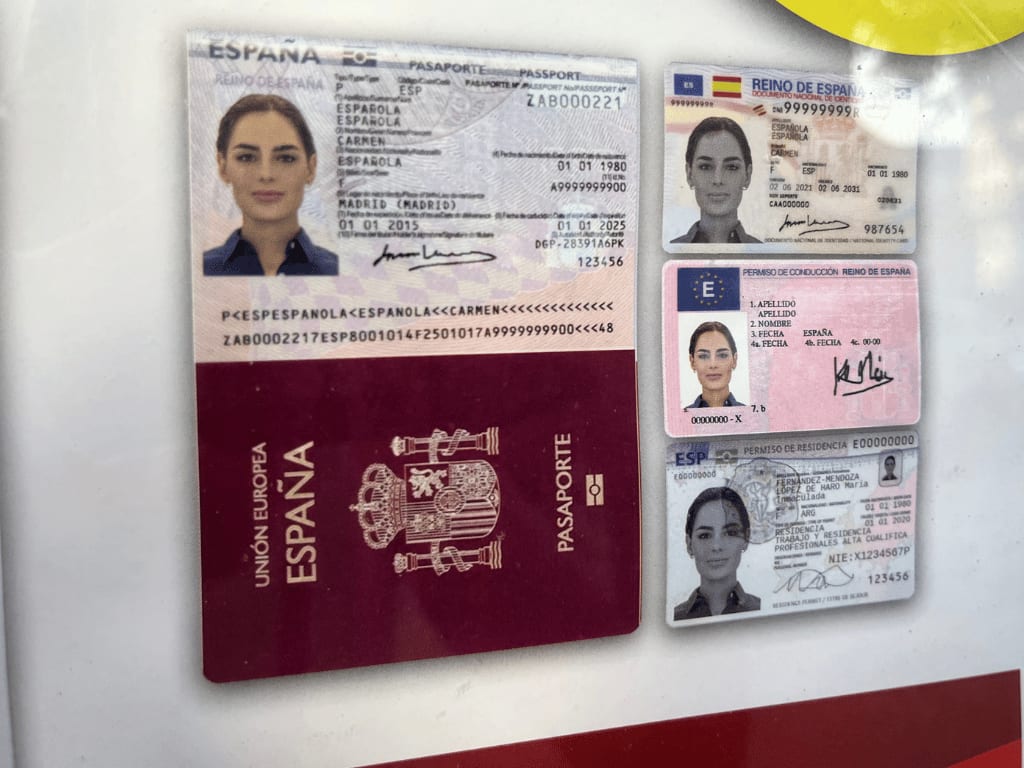 1. Gather all the documentation and requirements
Application form
Company contract
Health insurance
Bank certificates
Criminal record of the past five years
Receipt of the administrative fee, number 790 038
2. Get an appointment to deliver all your documents
To apply for this visa, you can do it in two ways, either from your home country or from Spain. If you apply from your home country, the appointments will depend on the local embassy, so I advise you to check the following website to find the Spanish embassy in your country, 👉Embassies Worldwide.
If you apply from your home country, you will get a year's visa that will let you change into the residence after it expires; if you use it from Spain, you will get a three-year permit, renewable for two more years. 
3. Collect your visa
It will take approximately 15 to 45 days to get your visa. The Spain Digital Nomad permit is supposed to have a fast-track process that gets it ready in 20 days. 
You will get a notification via email or sms that will indicate that it is time to collect your visa. 
Once in Spain, you must apply for two more documents: the NIE and the NIF. The NIE is the Spanish identity card allowing you to move all around the EU, and the NIF is the Tax Identification Number allowing you to complete any procedures relevant to the Spanish Tax Agency. 
4. Get your NIE
Your valid passport with visa and copy
Three passport photos
Proof of address in Spain. This process is called "empadronarse," which means officially registering where you live 👉 This is done at your neighborhood's municipality. 
Application form and copy 👉 Formulario EX17
Receipt for payment of the administration fee (TIE first concession)
Even if you stay for a year, get your NIE as soon as possible. Spanish bureaucracy is time-consuming, so get your appointment for the NIE during your first month.
5. Get your NIF
The NIF is the tax identification number needed by anyone who needs to contribute to the Spanish Tax Agency. Spain holds a double taxation policy with some countries, which means that if you pay taxes in your home country with a foreign income, you won't be taxed in Spain. 
The Digital Nomad Visa in Spain includes a special tax policy. If you stay more than 183 days, you must register to contribute with taxes. 
You are eligible for a special reduced tax rate of 24% on Spanish income if you earn around €600,000 per year for the first four years of your stay in Spain. Any payment above this is subject to a 48% rate. In addition, if you are a freelancer, your taxes are different, and you should consult with the Agencia Tributaria, the official government entity. 
Things to know before living in Spain
Spain is a beautiful country, so if you decide to come to live here, I want you to be fully informed on different aspects that can make or ruin your stay. I will link to some articles that will keep you up to date on what to know before your move to Spain.
---
Okay, this is everything you need to know about the Spain Digital Nomad visa. This is a brand new permit, so don't be surprised if some stuff changes; we will still ensure that this article is up to date on every detail.
Here I will also leave you the website of our trusted lawyers KP Abogados. If you call or write, ask for Diego, he is an expert on visa subjects in Spain.
In addition, I will leave you the official phone number of the Imigration Spanish office, specialized in the Digital Nomad Visa.
📲91 363 23 30 | Ask for Digital Nomad Visa Information