13 Mind Blowing Spanish Festivals Worthy of Your Bucket List!
December 27, 2022
Updated:

April 17, 2023
Published: December 27, 2022
Besides being a country full of spectacular landscapes and incredible gastronomy, Spain is the country of parties and festivals!
Our culture attracts millions of visitors every year who want to learn more about some of the typical traditions of the country. And there is no better time to experience the local culture than during the traditional festivals celebrated in Spain throughout the year!
Each Spanish festival is unique, with characteristics representative of the place. You can enjoy all kinds of celebrations, religious, cultural, and even food festivals!
Do you want to know which 13 festivals you can't miss? Let me show you the best celebrations and events you can enjoy in Spain yearly!
P.S.: I have also included a calendar with the festivals, their location, and dates so you can keep track of everything!
---
Spanish Festivals Calendar 2023
| Festival | Location | Date (2023) |
| --- | --- | --- |
| La Tamborrada | San Sebastián | January 20 |
| Carnaval | Different parts of Spain | February 15-26 |
| Las Fallas de Valencia | Valencia | March 15-19 |
| Semana Santa | Different parts of Spain | April 2-9 |
| La Feria del Caballo | Jerez | May 6-13 |
| Moros y Cristianos | Different parts of Spain | April 22, 23 and 24 |
| La Feria de Abril | Sevilla | April 23-29 |
| Festival de los Patios de Córdoba | Córdoba | May 2-14 |
| San Juan | Different parts of Spain | June 23 |
| San Fermín | Pamplona | July 6-14 |
| La Semana Grande | Bilbao | August 12-19 |
| Feria de Málaga | Málaga | August 12-19 |
| La Tomatina | Buñol | August 30 |
1. La Tamborrada - Drum Festival
This is undoubtedly the noisiest festival in the country!
In San Sebastian, a big parade is held in honor of the province's patron saint, whose name is San Sebastian.
The "tamborrada" takes place every year at midnight on January 20, when the flag is raised in the "Plaza de la Constitución." Men, women, and children take to the streets to play the drums for 24 hours!!
Besides joining the drum group and playing, you can also enjoy the processions that take place in the city.
Once the flag is collected after 24 hours of music, the festival is over. It's a fun and exciting party, very different from the rest of Spain!
2. Carnaval - Carnival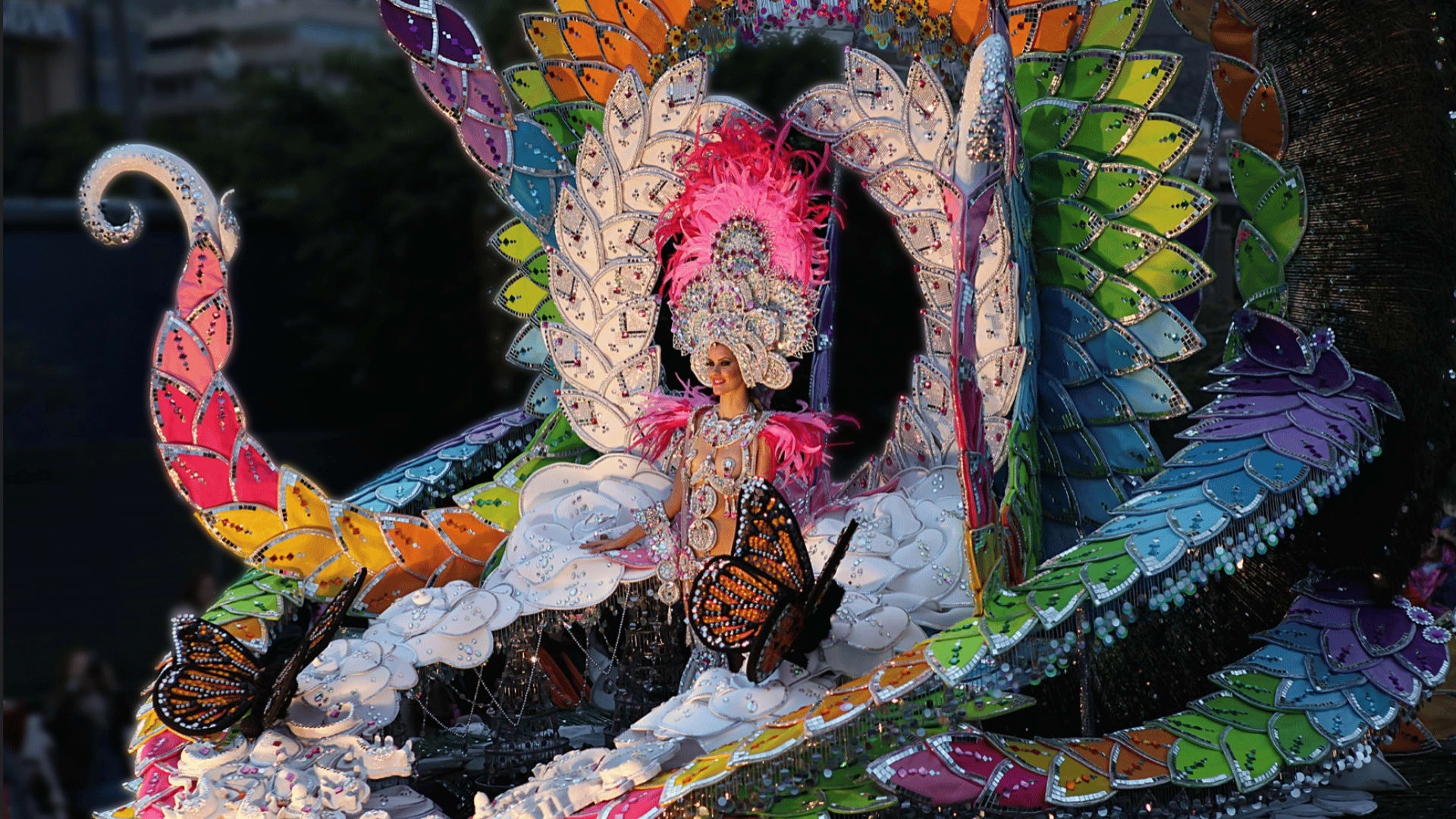 This is the most extravagant party in Spain! The carnival of Tenerife, Cadiz and Isla Cristina (in Huelva, Andalusia) are some of the most popular ones, full of rhythm and color!
Tenerife is known as the carnival capital of Europe. It is the Brazilian carnival of Spain! This celebration takes place during the whole month of February, and the island is filled with bright colors and fun.
You can enjoy a significant number of parades, concerts, and daily parties!
People from all over the world come to this carnival looking for an authentic and unforgettable experience!
Carnival is the perfect festival to attend with friends and family!
If you want to find out all about Carnival in Spain and how it is celebrated in some of the cities, check out this article!
The Authentic Carnival in Spain and the 5 Places You Can't Miss
3. Las Fallas de Valencia - Valencia Falles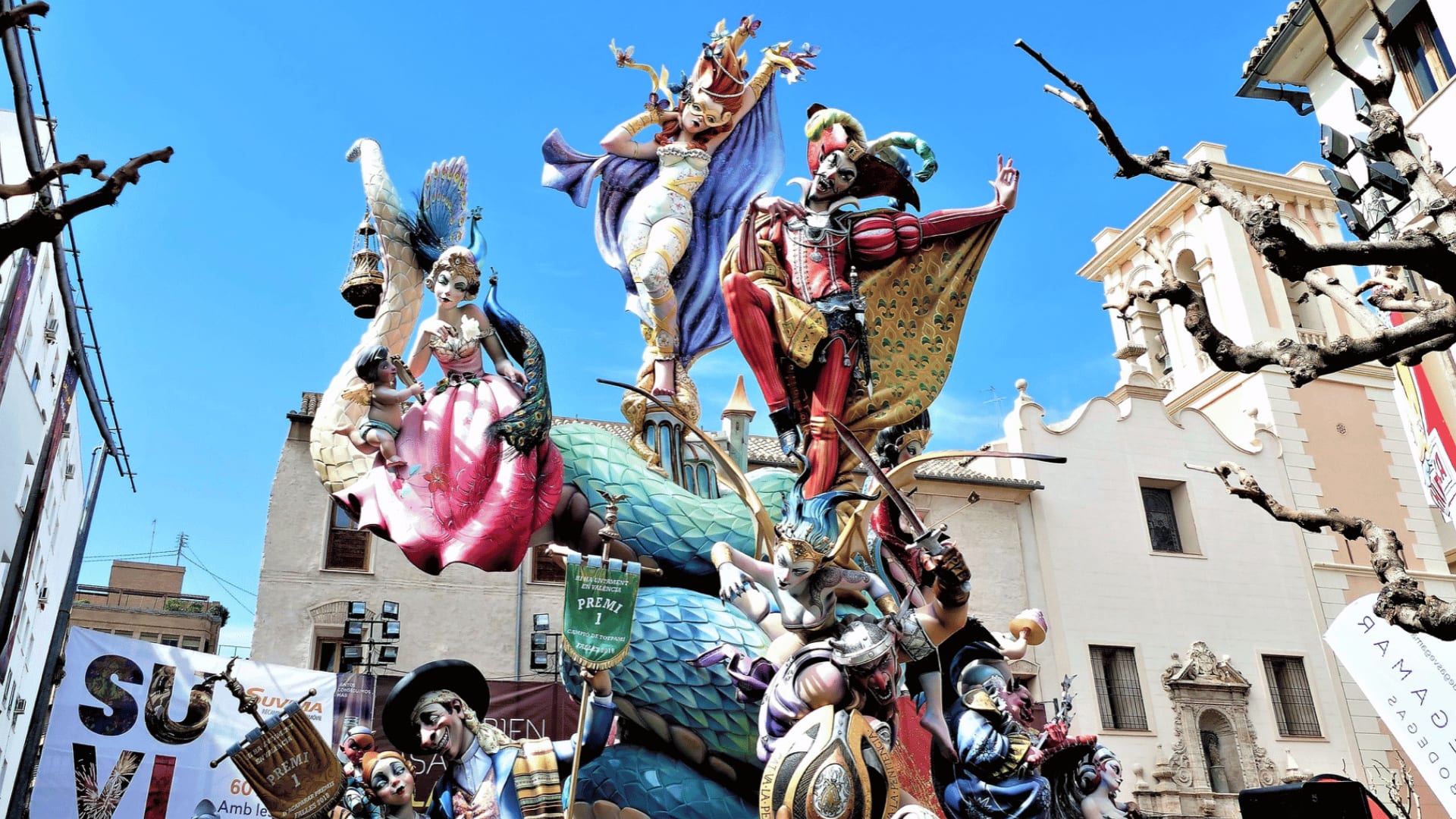 If you want to see an actual bonfire, you can't miss Las Fallas in Valencia! It's a party that lasts five days!
In March, the streets of Valencia are filled with giant colorful paper figures, which have been painstakingly handmade throughout the year.
These statues are the result of satires or pop culture events that have taken place during the year. On the last night, most of the sculptures or "fallas" are burned. Only a few are saved, which are those that end up in the Fallas Museum of Valencia.
In addition to seeing the Fallas, it also highlights the spectacles and fireworks given during the day. And to end this crazy festival, you must attend the last night's light show!
It is one of the most popular festivals in Spain! And every year it gets bigger and better!
4. Semana Santa - Holy Week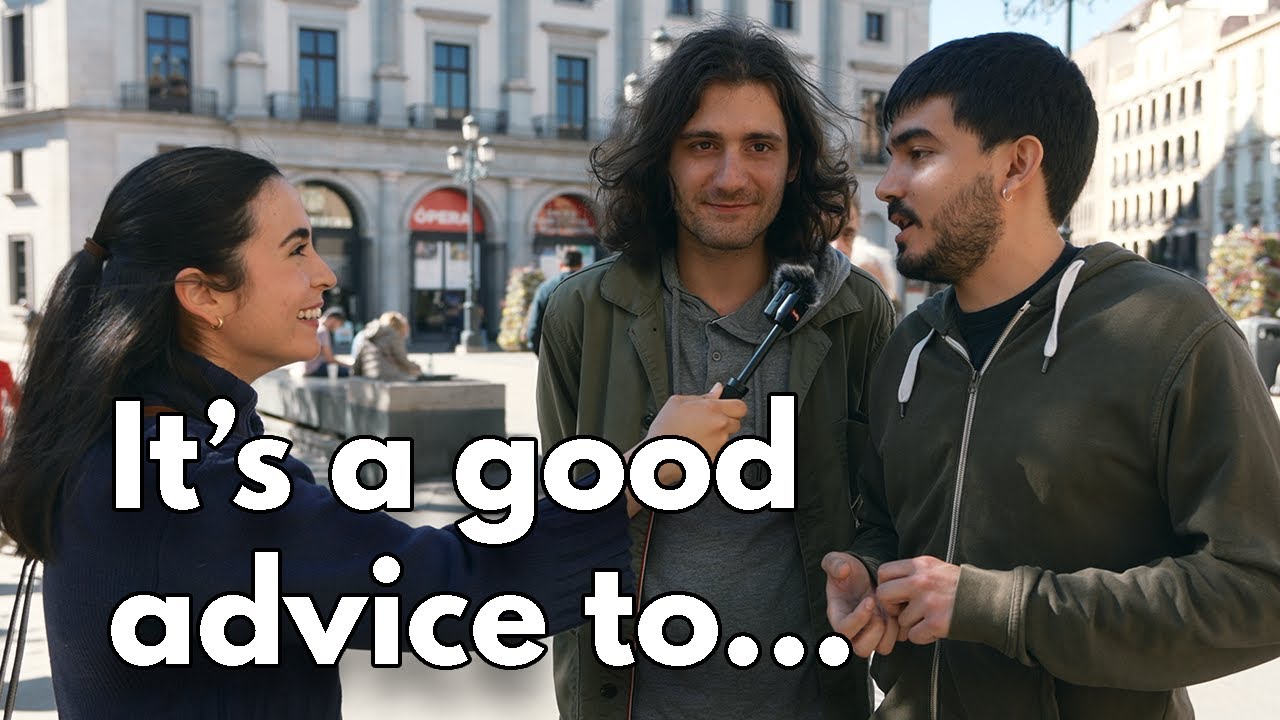 It is one of Spain's most famous traditional and religious festivities that takes place in April. It is a festivity celebrated for centuries throughout the country and whose appearance has been maintained over the years.
During Holy Week, impressive and elaborate processions take to the streets, where members of local parishes walk through the city accompanied by music bands. They carry figures and ornaments representing Jesus Christ and the Virgin Mary.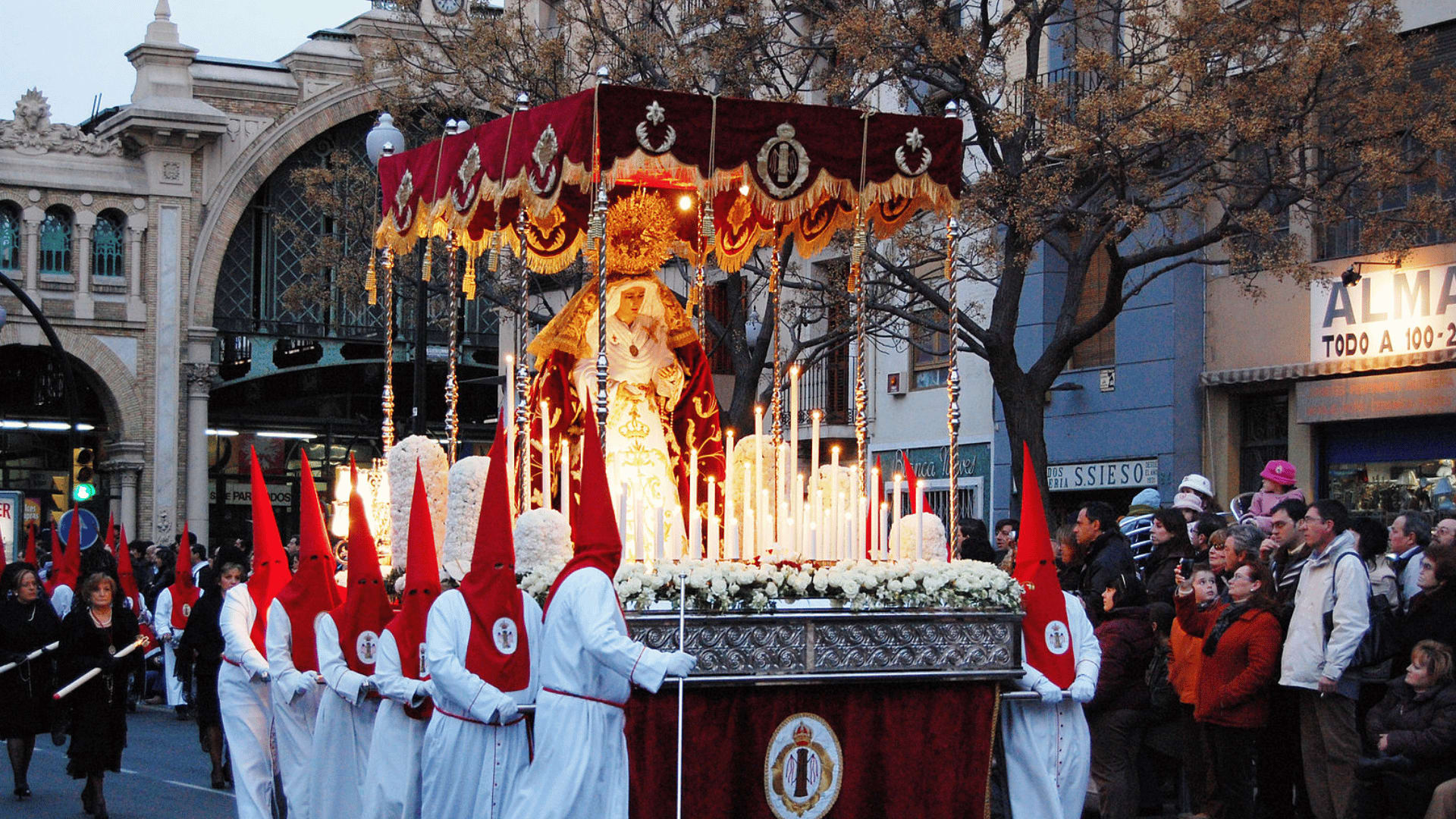 Although Holy Week is celebrated with processions in many cities in Spain, the most spectacular are those of Seville and Malaga. Although the ones in Valladolid and Leon are also gorgeous!
Whether you are religious or not, this is a celebration that you should attend at least once in your life! It creates a lovely atmosphere where everyone is very united.
5. La Feria del Caballo - Horse Fair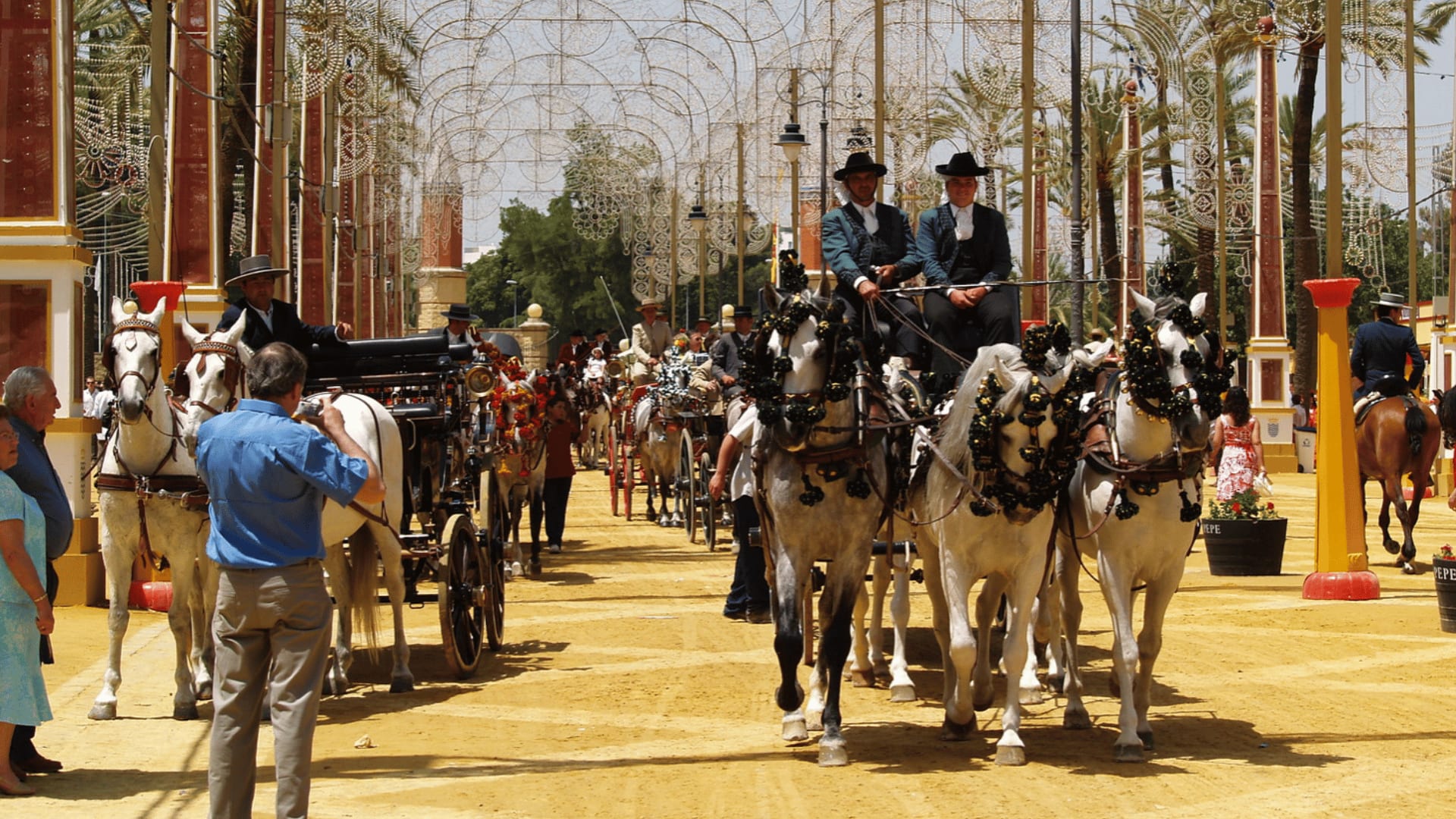 Flamenco performances, joyful celebrations, and the best of Andalusian gastronomy this is what you will find at the Jerez Horse Fair. And not only that! You will also see hundreds of horses parading through the streets!
The celebration lasts for a week and starts with lighting the fair's front pageant. You will see the women dressed in the typical flamenco costume and the men in the traditional short dress.
In this festivity, dancing will not be missing! So go practice some flamenco steps to be ready before you come!
If you have the opportunity to attend, it is 100% worth it!
6. Moros y Cristianos - The Moors and the Christians
In any textbook on Spanish history, you will find that Spain was dominated by two opposing cultures for many years, the Christians and the Moors.
The battles that took place thousands of years ago between these two cultures are represented during this festival at the end of April. It is an event celebrated in several cities in Spain, mainly in the east and southeast, being its principal place Alicante.
It is also celebrated in Murcia, Albacete, Granada, Almeria, Jaen, and other areas bordering the Valencian Community.
This celebration holds mock battles during the day, followed by a party at night.
The best-known festival is the one from Alcoy, which has also been declared a festival of International Tourist Interest. The festival of Alcoy honors St. George and originates in the battle that confronted the city's inhabitants with the Arab warlord Al-Azraq.
It is one of the best festivals to immerse yourself in part of the history of our country. Perfect to come with the family or with your partner!
7. La Feria de Abril - April Fair of Seville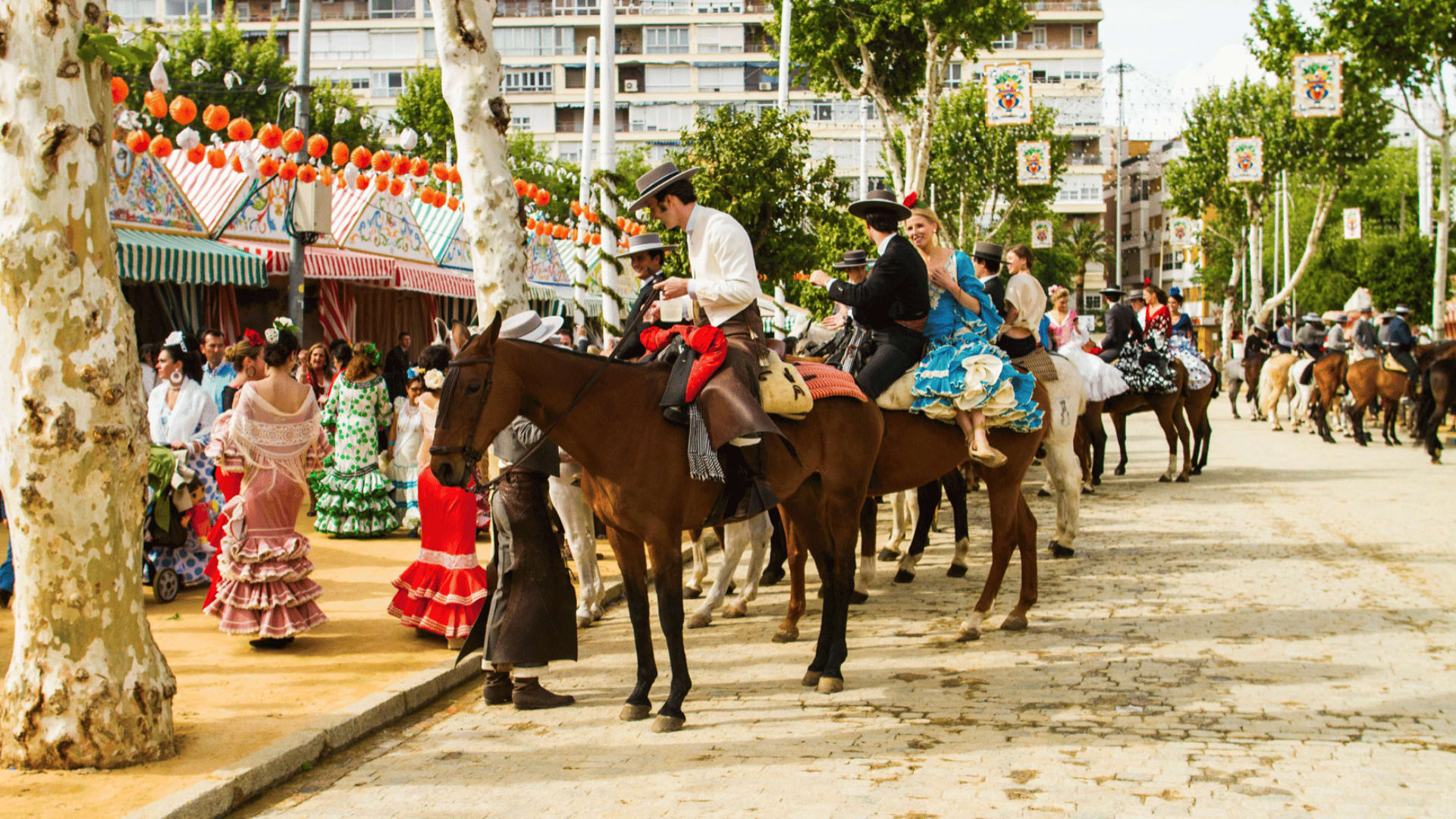 Get ready to experience one of the best flamenco shows!
The April Fair of Seville is the most symbolic festival in Seville. It is another celebration that you must attend at least once in your life to really get into the country's culture. I'm sure you will fall in love!
This fair lasts for a week and starts with the lighting of the entrance to the fairgrounds at midnight.
This celebration started years ago as a humble cattle fair. However, now it is a place where everyone dresses up and rides around on horseback or in horse-drawn carriages.
You will see a whole enclosure full of booths ("casetas" in Spanish"), most of them private, although you will also find some public ones.
If you want to get the most out of the fair and enjoy the best of Andalusian art, you have to dress like them, with a flamenco or gypsy costume if you are a woman or a short dress if you are a man.
If you want to know what a Flamenco dress is like, take a look at this post, where I give you all the details! Plus, you will discover the other typical regional costumes of Spain:
During the day, the Feria is a family celebration where children and families eat together in the "casetas" while listening to flamenco music. And at night, it becomes a massive party where the young people are the protagonists, who will be dancing and drinking until the wee hours of the morning.
It is one of my favorite festivals! I have repeated several years, and the atmosphere that is created is just awesome!
The best thing to do is to get to know someone there so they can take you to their booth.
8. Festival de los Patios de Córdoba - Cordoba Patios Festival
The festival of the Patios of Cordoba takes place the first week of May.
During this festival, the owners of the most beautiful patios open them to the public so people can admire their beauty. This ancient tradition has been held every year since 1918.
The festival brings joy and music to Cordoba, plus a great wave of tourists who want to participate and enjoy this colorful fair. It is one of the most charming festivals in Spain!
Besides this festival, you can also get to know the beautiful city of Cordoba, its incredible history, and its delicious gastronomy.
If you want to discover Cordoba, plus other cities in southern Spain, take a look at this article!
9. San Juan - Saint John's Eve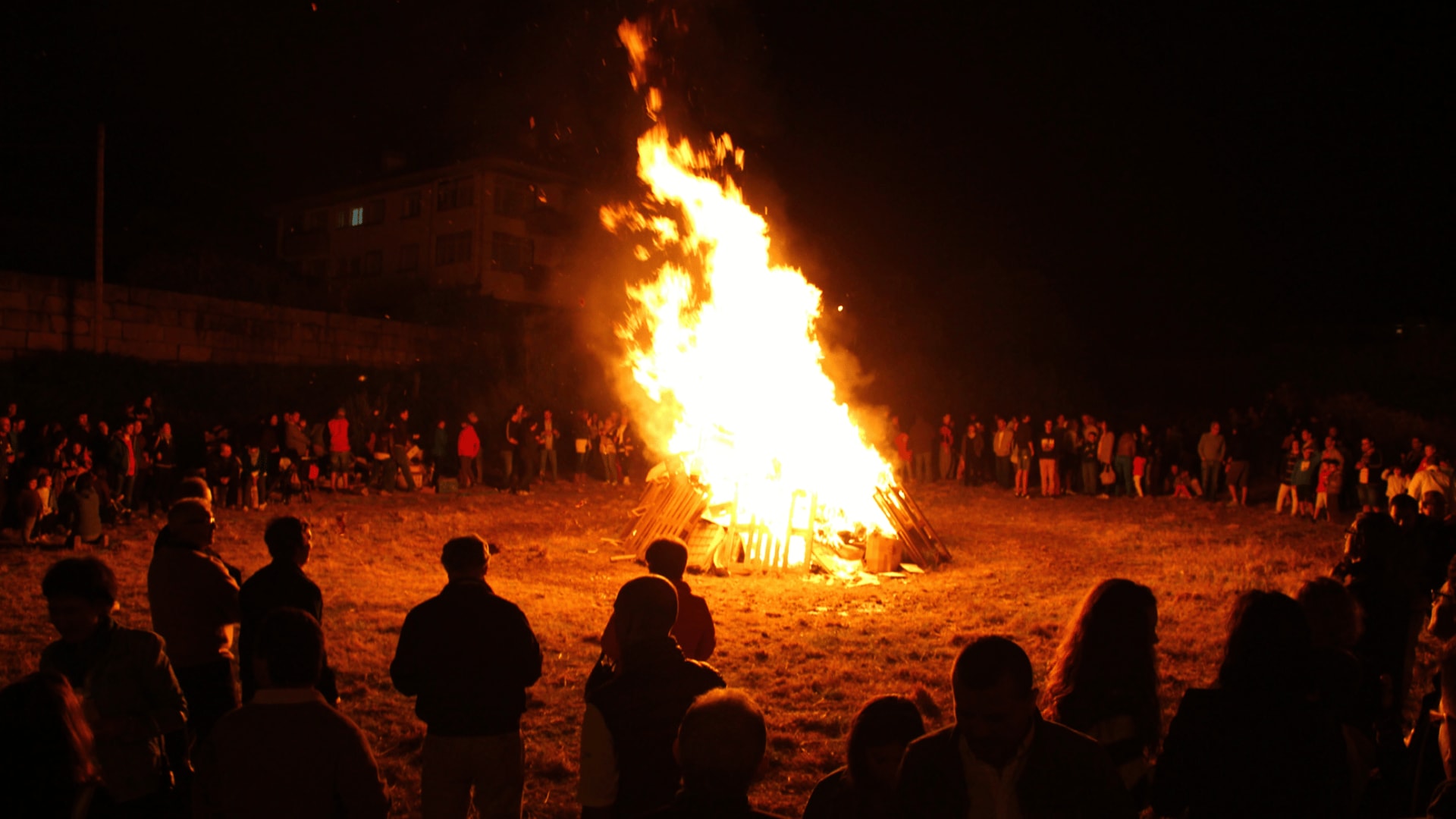 On the night of June 23rd, Saint John's Eve is celebrated, marking the beginning of summer. 
The beaches of some areas of Spain, such as Valencia, Alicante, and Barcelona, are filled with bonfires and fireworks displays.
It is a magical night full of customs and superstitions. At midnight, many people jump over the bonfires and waves. According to the area's locals, this custom will bring good luck. 
This festival varies depending on the area; for example, in Galicia, sardines are typically cooked in the bonfires' ashes. 
This is one of the most essential traditional Spanish festivals!
10. San Fermín - Pamplona Bull Run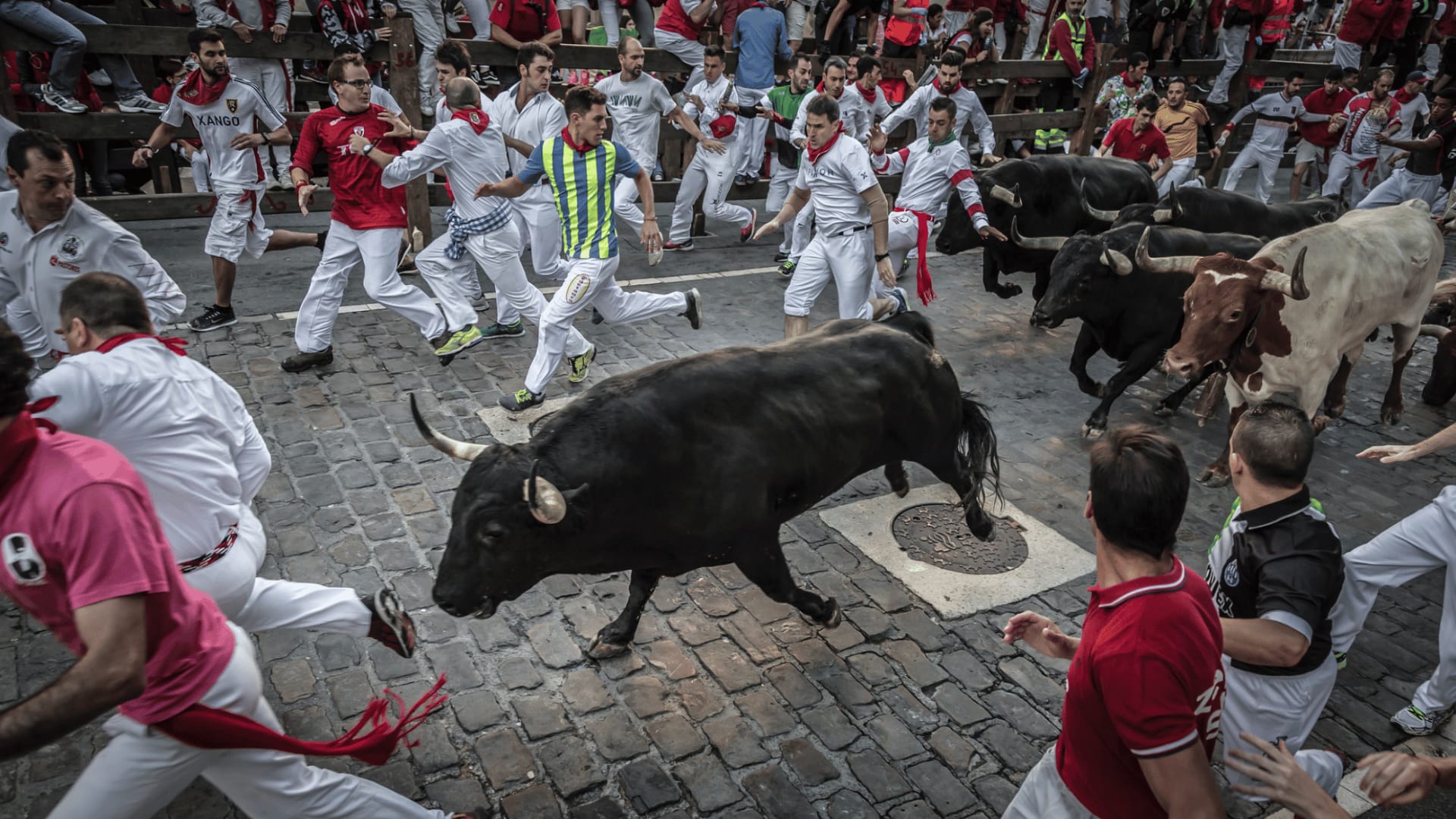 San Fermin is one of the best festivals in Spain that takes place every year at the beginning of July.
It is a festival attended by Spaniards and people from all over the world!
This famous festival starts every day at 8 o'clock in the morning with a bull run. In the bull's run, a group of bulls is released, and hundreds of people run in front of them. The goal is to reach the bullring without being caught by the bulls. Only the bravest will dare to run in front of the horns of these animals!
Even if you are not going to run, you should take a good position if you want to see this spectacle live.
The first official celebration of San Fermin took place in 1591, although it was more discreet than the current one.
Nowadays, it is not only about the running of the bulls but also about the massive party that takes place in Pamplona with thousands of people.
During the festival of San Fermin Pamplona, do not sleep; you will see people in the streets at all hours, either eating or drinking.
If you want to know more about Pamplona and other cities in northern Spain, take advantage of this article!
Cities in Northern Spain: 12 locations and best spots to visit
The locals prepare themselves to run the bulls throughout the year, so if you are not experienced enough, running in front of them can be very dangerous.
11. La Semana Grande - The Semana Grande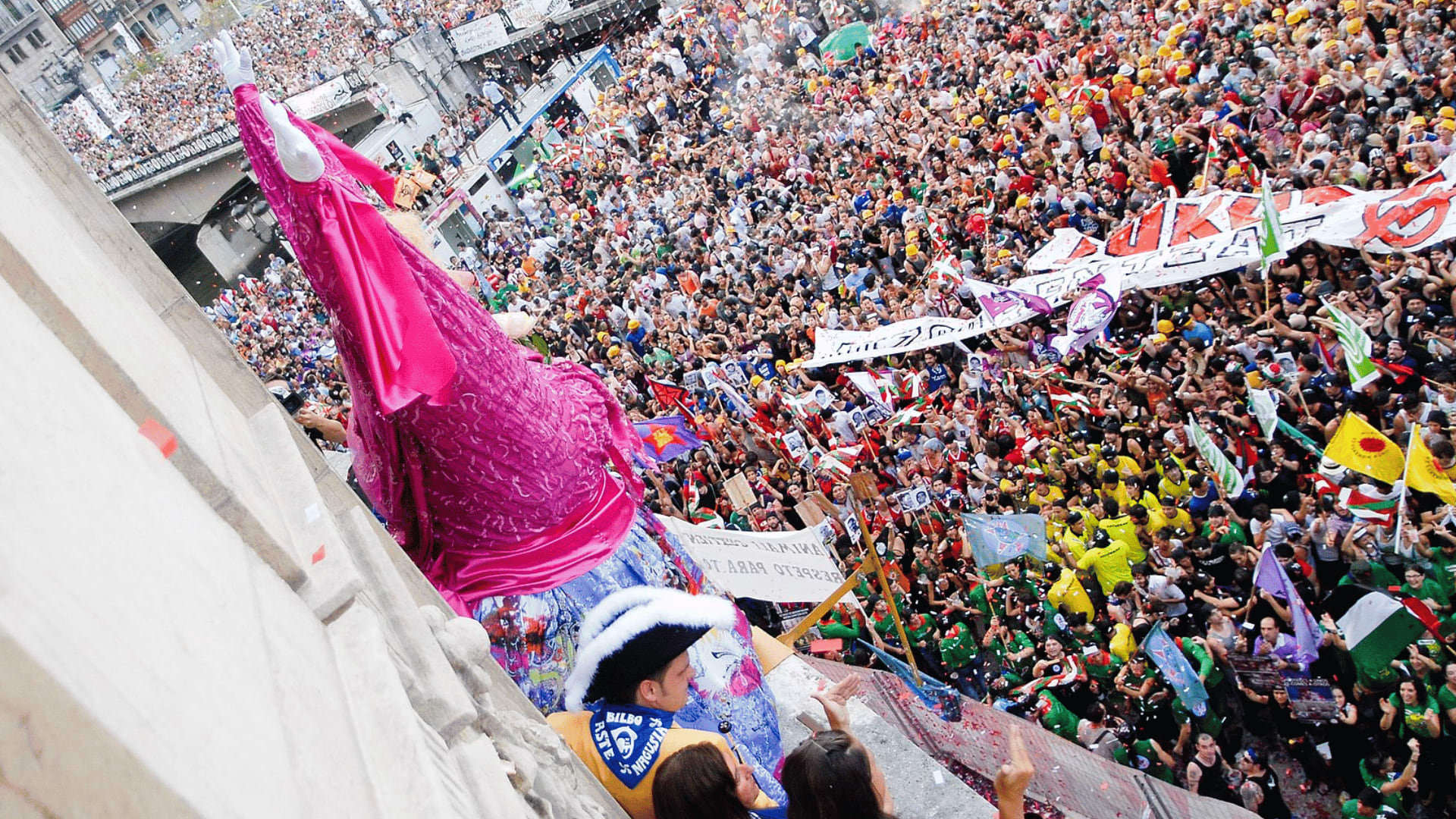 This festival is also known as "Aste Nagusis" (in Basque) and is celebrated for 9 days in August.
It is one of the most important traditional festivals in the north of Spain, with concerts, performances and many shows all over the city. You will even have fireworks every night except for the last one.
On the last day, the closing ceremony takes place, which consists of putting the "Marijaia" (the mascot of the Semana Grande) in a boat and setting it on fire.
It's a peculiar party and more recommended for families.
12. Feria De Málaga - August Fair In Malaga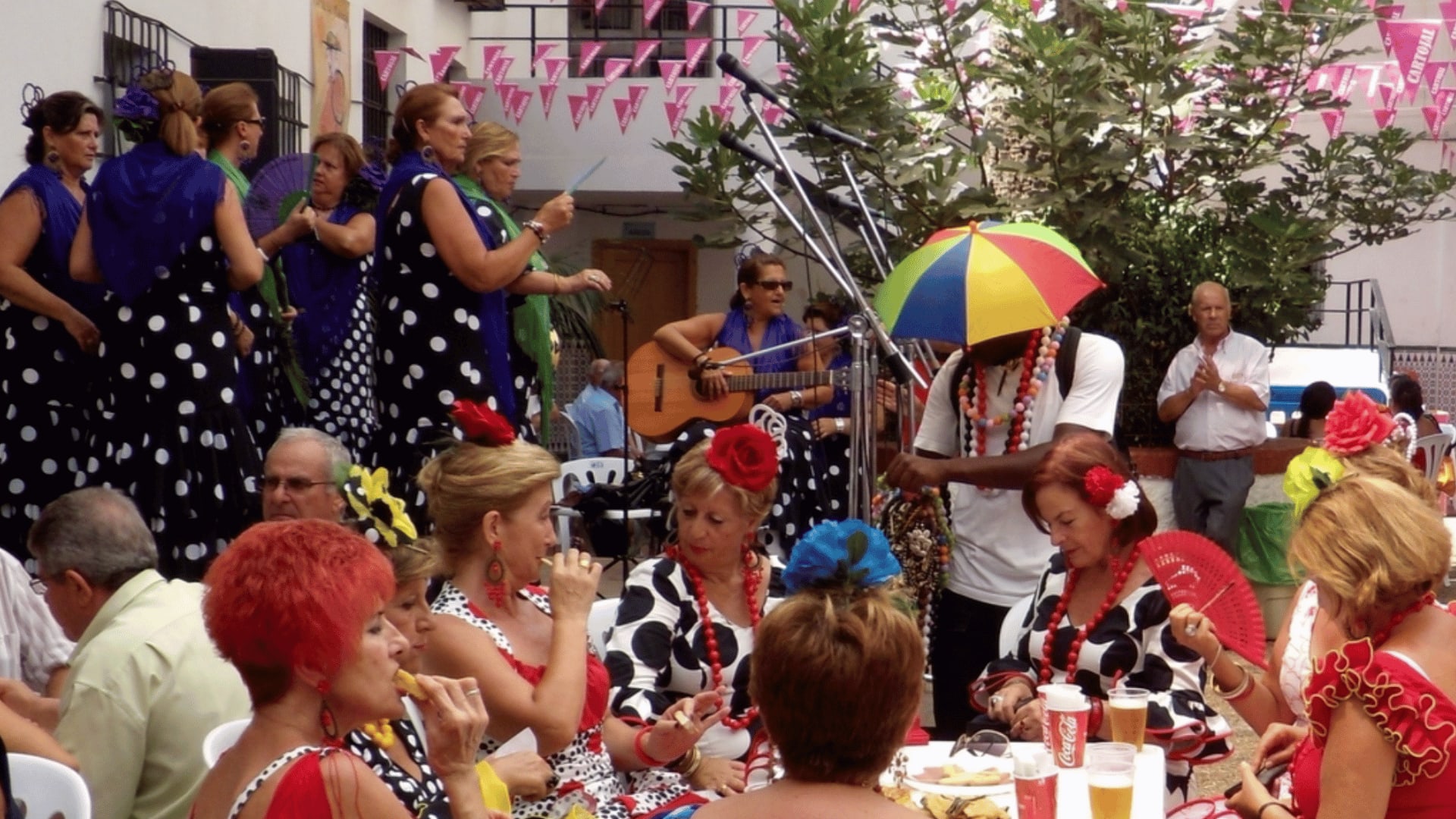 Welcome to the best Spanish party in August!
During the week of the Feria, there are lots of fun activities and events. It is, without a doubt, the best time of the year to spend some incredible days on the Costa del Sol.
You can attend the festival at any time of the day and immerse yourself in the cultural richness of Spain. The Day Fair takes place in the center of the city. It is characterized by its markets, traditional dances, and music. While the Night Fair is held on the city's outskirts with different food stalls, attractions, and places to dance.
Come with your partner, family, and friends to enjoy this incredible celebration!
13. La Tomatina - Tomato Fight Festival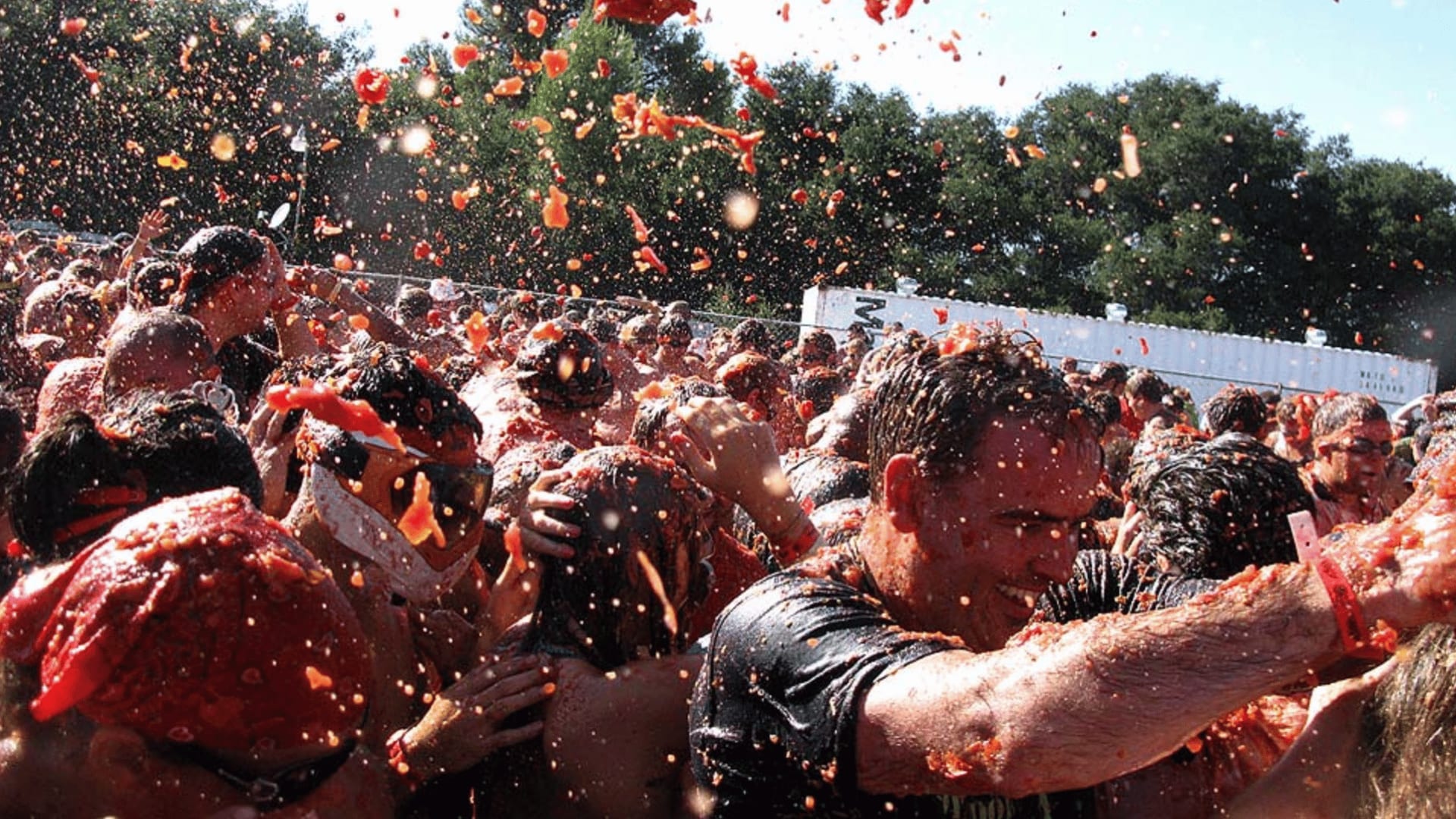 Would you like to get involved in a tomato war?
Then don't think twice and come to this fun and peculiar festival that has been celebrated for 70 years!
On the last Wednesday of August, thousands of people throw tomatoes at each other. This event marks the end of a week of parades, fairs, and markets.
Many people visit Spain to attend this festival! Crazy right?
The best thing to do is to take a trip with friends and join this fun party! Just bring clothes you don't mind too much because you might have to throw them away later!
The number of participants is limited to 20,000, and tickets sell out very quickly, so be sure to get them early!
---
Spain has festivals for everyone! Whether you come with your partner, friends, or family, you can find festivals that suit your needs. In this post, I have included the 13 festivals that, in my opinion, you cannot miss, and that would be great if you could live at least once in your life!
Have you been to any of the festivals on the list? Which one would you like to go to? We would love to read you!
If you have the chance, try and experience one of these unforgettable traditional festivals in Spain on your next trip!