Cities in Northern Spain: 12 locations and best spots to visit
October 11, 2022
Updated:

March 9, 2023
Published: October 11, 2022
Mountains, Vulcans, forests, rivers, valleys, beaches, lakes… Everything that you could ever imagine we have it in Spain.
I'll tell you everything about Northern Cities in Spain on this post. Places to go, landmarks, famous historical locations, and gastronomy to discover! And you'll agree with me that Spain is blessed with incredible nature, landscape, paradisiac views, surprising and diverse places you only see in movies (literally).
BUT, I want to focus on the Northern Cities for this one… since there's a misconception that the North zone is full of cold people, cold places, nothing to do, and most individuals might think that anything worth visiting limits the big and southern cities.
You'll have to see some places for yourself to believe it, and dishes will leave you drooling. Everyone always says that the North has delicious gastronomy (and some generous portions too!)
So… let's take a trip to the upper part of the Iberian Peninsula.
---
1. San Sebastián, País Vasco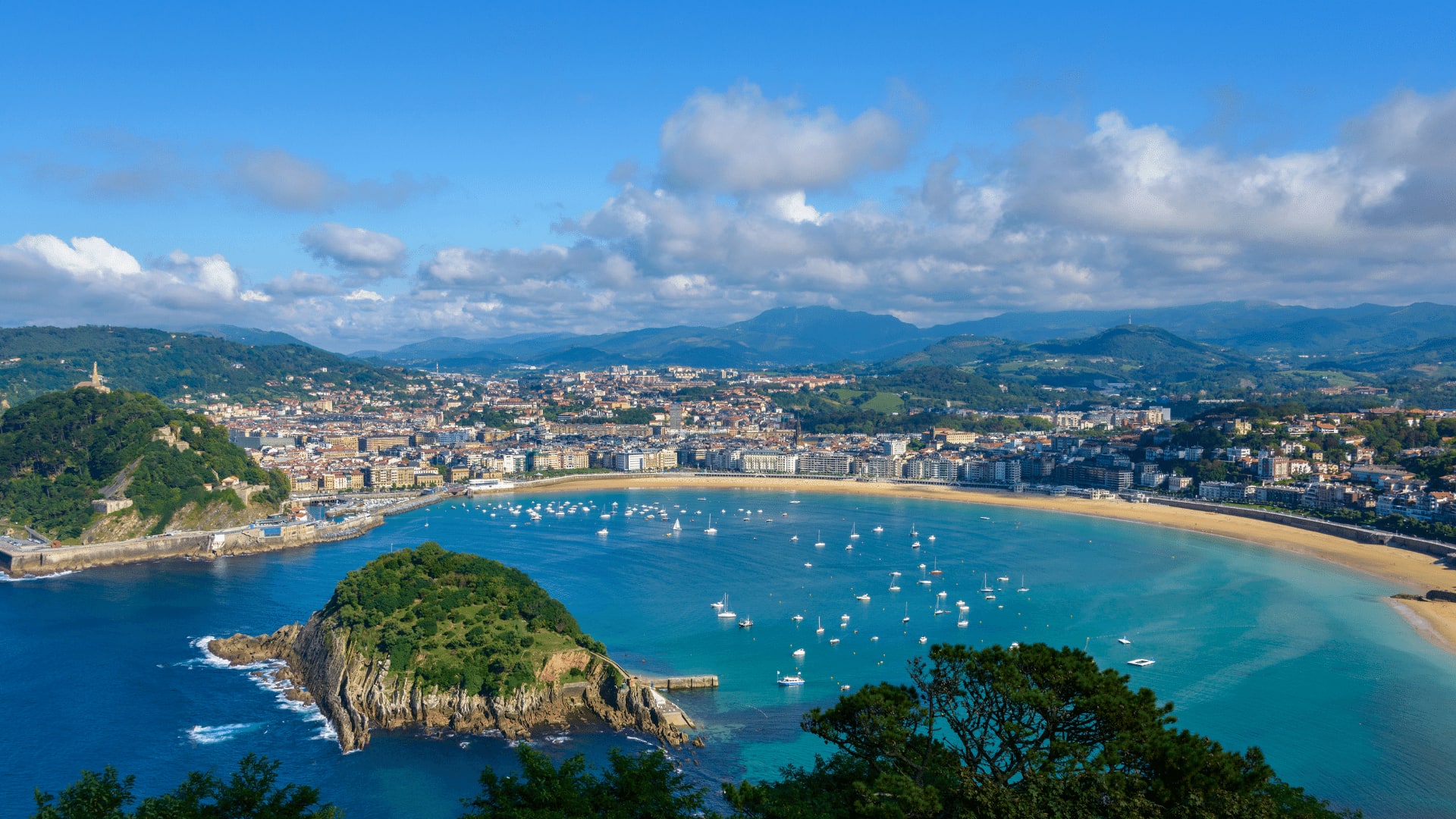 San Sebastian (Donosti in Euskera, their language) is a cosmopolitan but relatively small city of approximately 186.700 inhabitants. 
This city is unique thanks to its delicious gastronomy, stunning urban beaches, and French architecture. It has complete leisure and cultural offer, allowing visitors and tourists to have an excellent time in this city. It's ideal for a weekend getaway or a "bridge" during a national holiday, so you grasp the idea of ​​everything it has to offer. 
Beaches you MUST visit if you ever go to San Sebastian are:
La Concha Beach / (Playa de la Concha): perfect for spending a lovely afternoon walking on the sand.
Zurriola Beach: Best for surf lovers!
Ondarreta Beach
Landmark and Historical Places to visit:
Iglesia San Vicente
Artzain Onaren Katedrala
Old town hall
Castillo de la Mota
Plaza de la Constitución
San Sebastián is also known for The International Film Festival in September, where international stars arrive in the city! And if you're lucky like me, maybe you can find Chris Hemsworth at the entrance of the emblematic Maria Cristina Hotel! (I have proof at the back of this post :) )
Moreover, this city is also the world capital of gastronomy and pintxos!!! (which are basically the same as Spanish tapas, but how they call it in the north). San Sebastian is home to the highest concentration of Michelin stars per capita in the world!!
I suggest you continue your visit by tasting the traditional pintxos in the so-called "Parte Vieja." BUT good pintxos are in almost any corner of the city! -Not only in the old town. 
We could talk about ages about ideal places for pintxos and restaurants in San Sebastian, but let me highlight some of my favorites:
Txepetxa
 La Cuchara de San Telmo: "Pintxo de Foie"
La Viña: This place has the BEST Cheesecake or "Tarta de Queso" ever. Recognized internationally by many… including the New York Times, as the "Flavor of the Year." 
Ezkurra: Try the "Ensaladilla Rusa"
Atari: Solomillo 
Order any Pintxo that says "Foie" or "Solomillo," and you'll thank me later!
---
2. Santander, Cantabria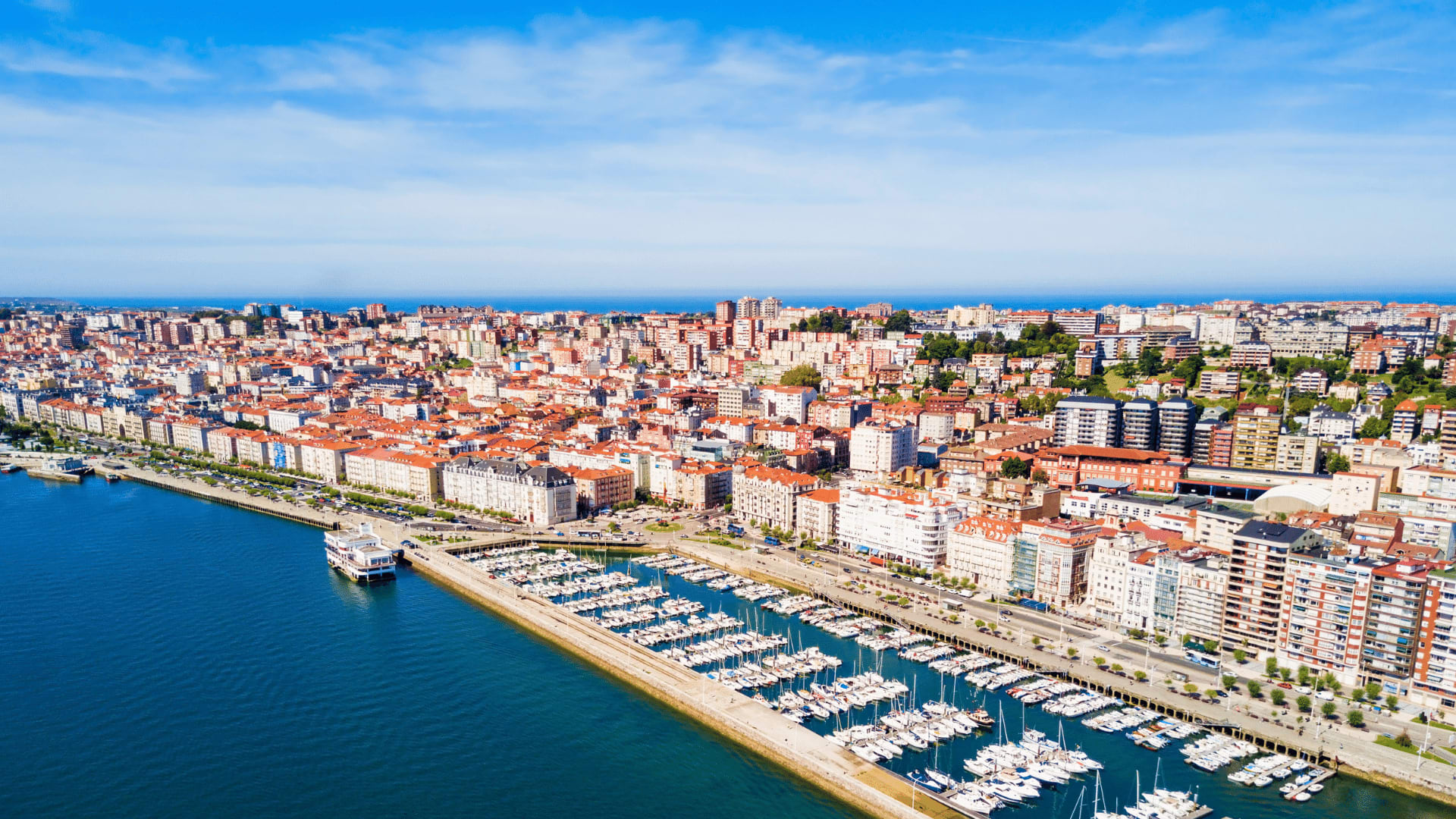 The charming city of Santander is the capital and largest city of the Autonomous Community of Cantabria. It's on the north coast and has many beaches, ferries from Great Britain, and a small historic center. Santander can be considered small. The distance from one end to the other is about 4 miles. And, within the city center, everything is basically within walking distance.
Landmarks and Historical Places:
Palacio de la Magdalena
Prehistoric and Archaeological Museum of Cantabria
Maritime Museum of Cantabria
"Nuestra Señora de la Asunción de Santander" Cathedral
Centro Botin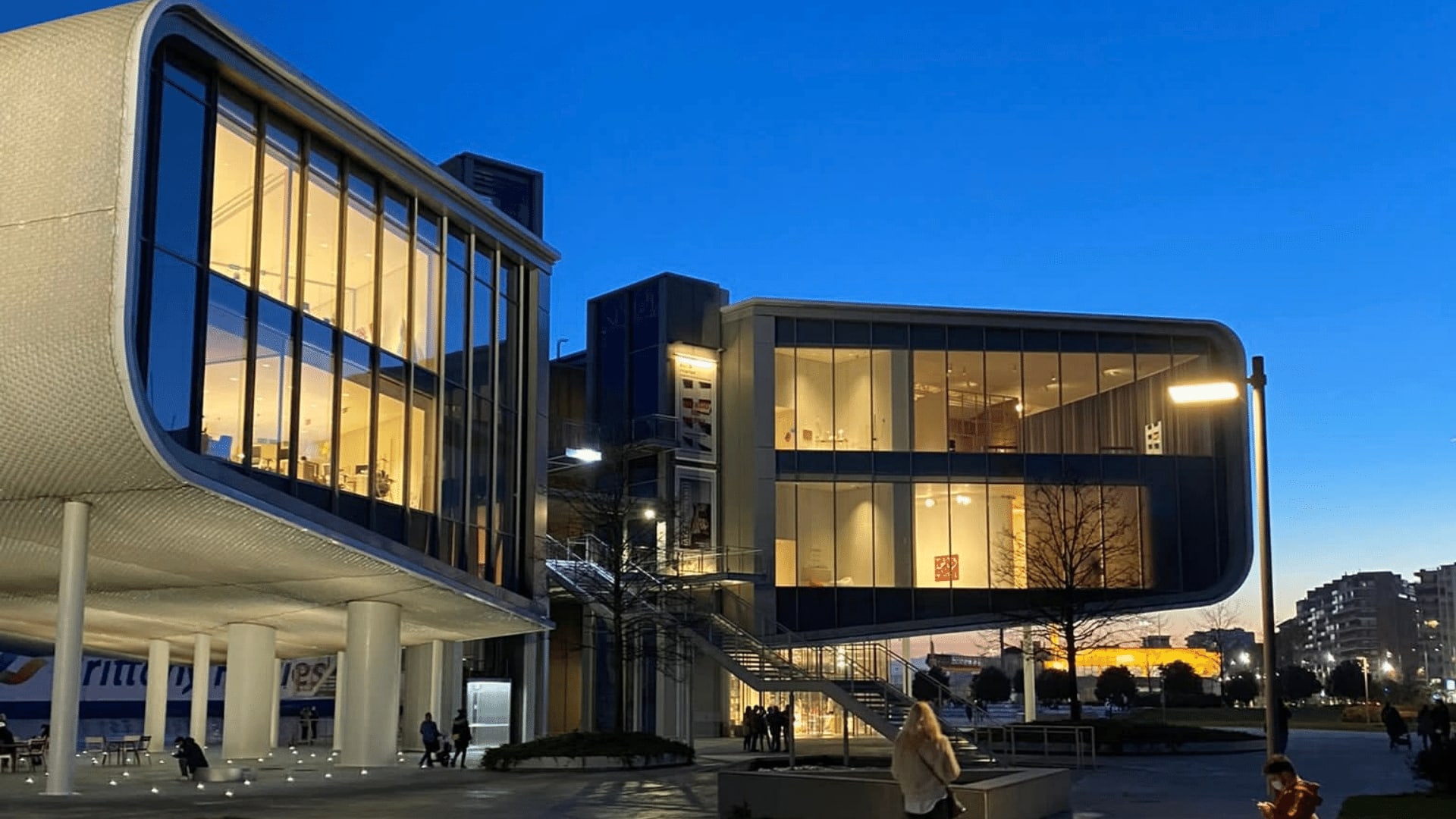 Important info for art and architecture lovers: Centro Botin is the city's most important art center. The gallery is in a futuristic building, highlighting art in many different forms, from videos and photography to painting and sculpture. Visitors can explore some of the works of many international artists, such as Carlos Garaicoa, Mona Hatoum, and Joan Jonas. 
Streets to visit:
"Plaza de José Antonio (Plaza Pombo)"
"Paseo de Pereda"
Castelar Street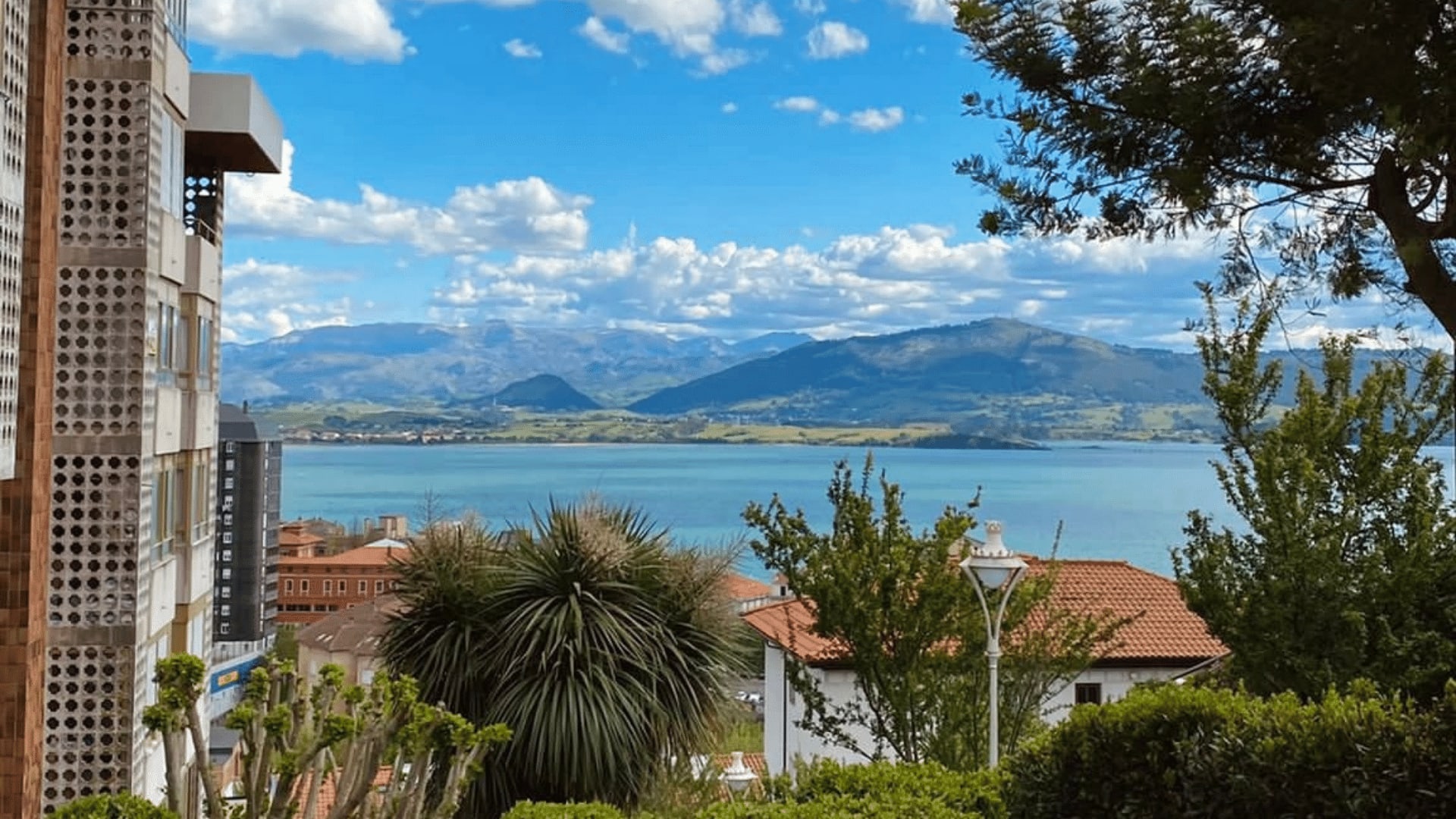 Beaches to visit:
Magdalena Beach 
Sardinero Beach
Camello Beach
---
3. Santiago de Compostela, Galicia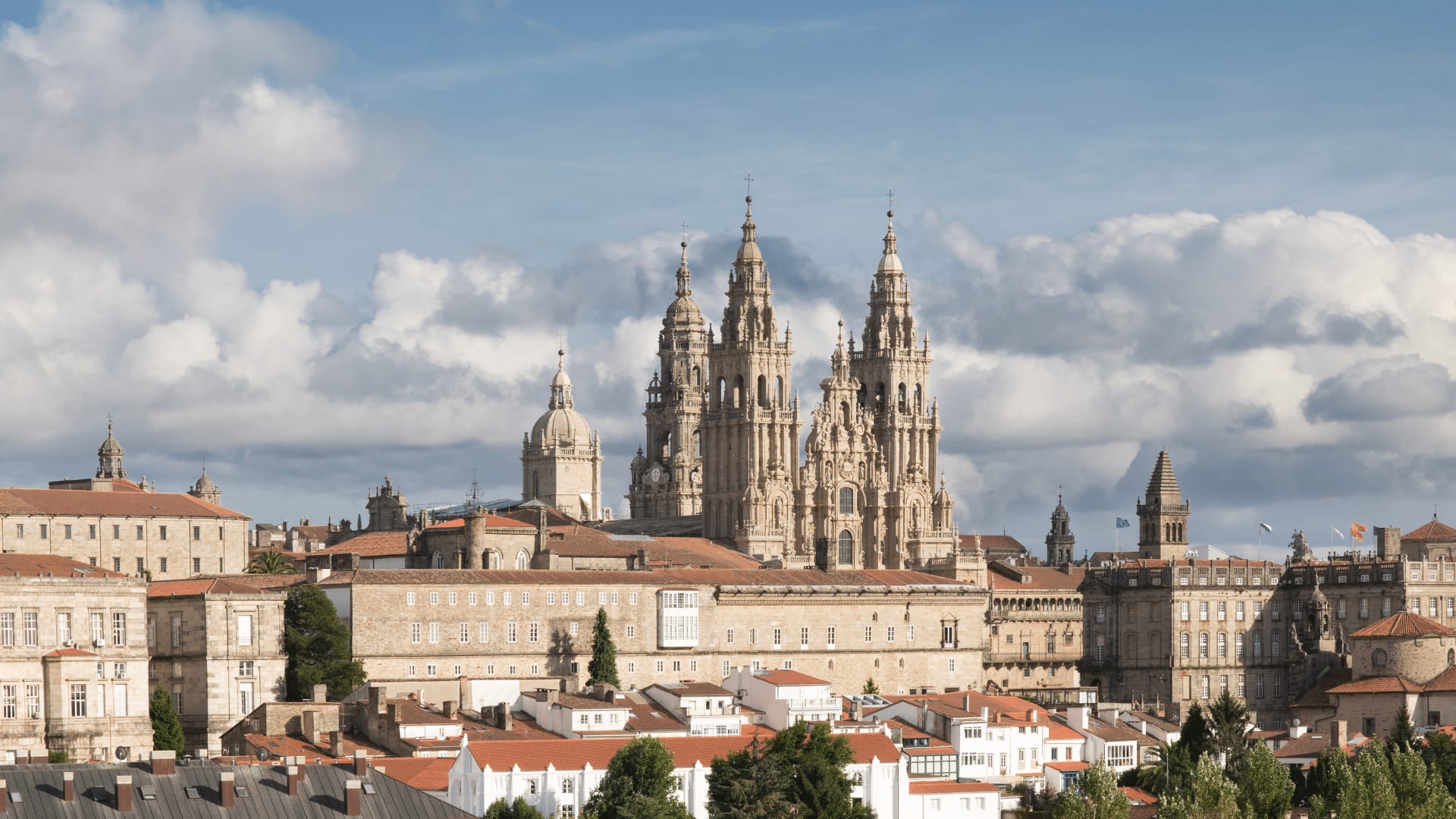 Santiago de Compostela is the capital city of Galicia, in the northwest of Spain. It's well-known for having many historical sites, and the city is also one of the most important places in Catholicism, where one of the 12 Apostles of Jesus was buried. It's famous for the Way of St. James, or "Camino de Santiago," a Christian pilgrimage route ending in Santiago. 
The city's official languages are Galician, which has many similarities to Portuguese since it's so close to the border, and Spanish. 
Landmarks and Historical Places to visit:
Praza do Obradoiro
"Santiago de Compostela" Cathedral
Rajoy Palace
Quintana Square
Catholic Kings Hostal
Cathedral Museum
Galician Center of Contemporary Art
Gastronomy:
Santiago de Compostela is well-known for having fantastic gastronomy and a wide variety of plates and dishes to die for!
You should definitely try the following:
"Vieiras Gratinadas"
"Caldo de Grelos Gallego"
"Pulpo a la Gallega"
"Empanada Gallega"
You might wonder what "Gallego" means that you have never eaten it before… Me neither! :p That word refers to natives from the Autonomous Community of Galicia. They're called Galicians or "Gallegos" in Spanish. 
---
4. Oviedo, Asturias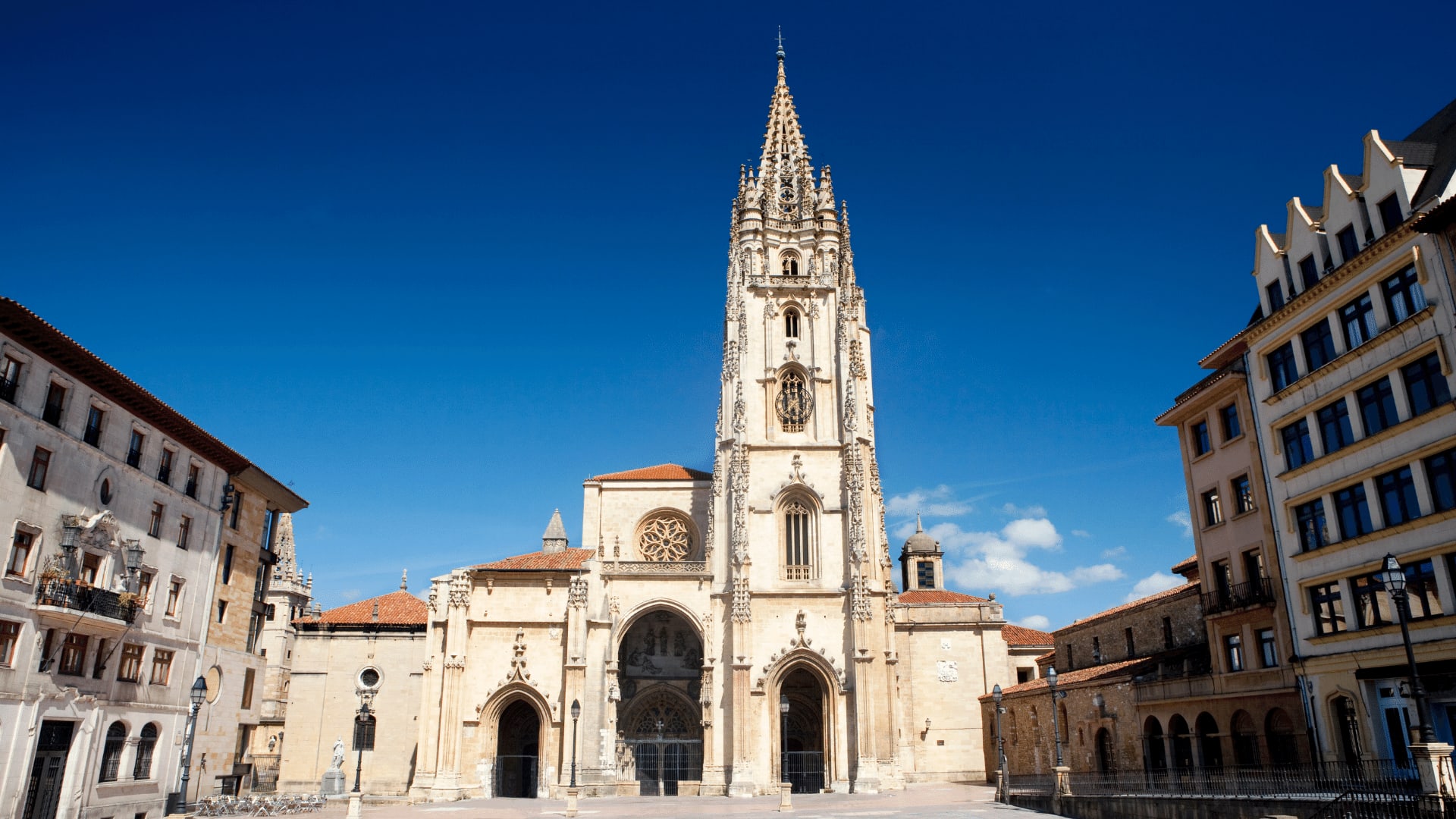 The city of Oviedo, located in the heart of the province of Asturias, is known for many historical monuments, Pre-Romanesque art, gastronomy, nature, and culture. 
The old town of Oviedo, The "Casco Antiguo," has some beautifully restored buildings and squares. Most of the city center can only be visited by walking. (Like many other cities in Spain) because cars are not allowed in the streets. 
Some of the most outstanding landmarks in Oviedo are:
Cathedral of San Salvador
Museum of Fine Arts
Monte Naranco, where you'll find Santa María del Naranco and San Miguel de Lillo
Plaza del Fontán
El Campo de San Francisco
As for the culture, many activities and local festivities highlight local food, folk groups, and local costumes, so keep these dates in mind if you really want to get to know Asturias' culture.
Traditions and Culture in Oviedo:
"La Hoguera de San Juan" - June 23 , they have bonfires all over the city and in the Square of the Cathedral. 
"Fiestas de San Mateo" - September 19. A procession takes place through the main streets in honor of the Asturian emigrants in which, at the end of the day, people can enjoy watching some fireworks in Parque de Invierno.
Fair of La Ascensión - May. It's a fair dedicated to the Spanish countryside. Many arts and crafts markets, local producers, and folk groups play music in the streets.
La Balesquida or Countryside Tuesday - First Tuesday of Whitsun. They do a procession in front of the Cathedral, and then they hand out traditional food. 
---
5. Bilbao, País Vasco
Bilbao is the largest city in the Basque Country. It has a population of about 350,000 people. It's actually one of the best places to deeply understand and experience the ancient culture and language of the Basque people. 
Places to visit:
Guggenheim Museum - It is a MUST for modern art fans!
Bellas Artes Museum 
Begoña basilica
Basque Museum
Moyua Square
St. James Cathedral 
Church of San Anton
Maiona stairs
The only UNESCO World Heritage site in Spain listed in the industrial category is found in Bilbao! It is called the Vizcaya Bridge -Also known as Puente Colgante. The city offers tons of things to do. It has world-class museums, mouthwatering food, mesmerizing history and culture, and friendly locals. But I must say Bilbao is a gloomy city, though the weather is never an excuse for Spaniards to enjoy life to the fullest. 
I suggest you take a nice walk through the city since it has impressive modern architecture surrounded by green countryside. And, if you get hungry, remember what we talked about, pintxos! They are excellent in Bilbao as well. They eat pintxos either for breakfast, mid-morning snacks, before lunch, or even starters. Pintxos are for whenever you crave them! 
---
6. Zarauz, País Vasco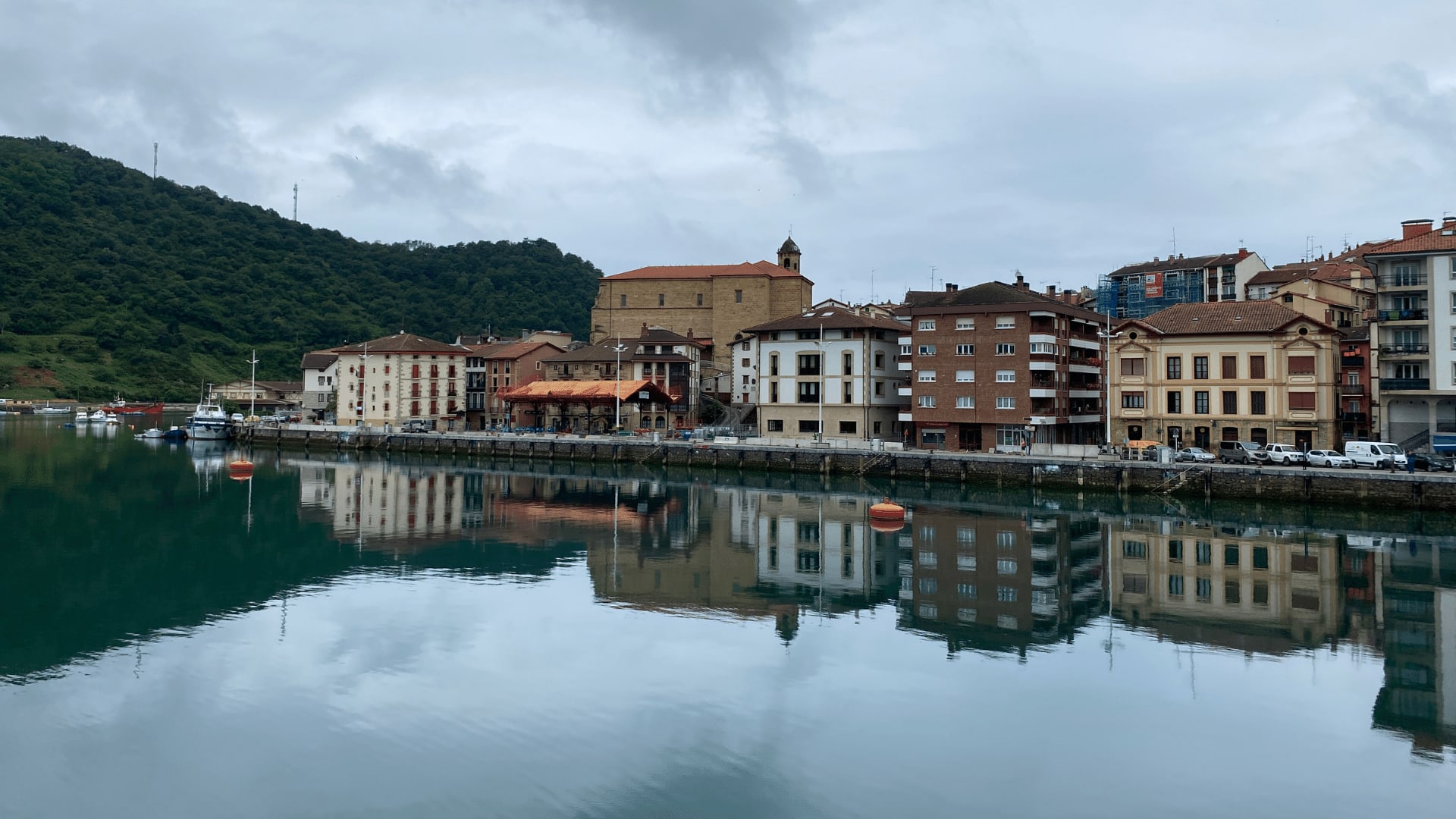 Zarauz (Zarautz in Euskera, the official language) is located in Northern Spain in Guipúzcoa, (in the Autonomous Community of the Basque Country). This tourist village is the perfect destination for surf lovers, and the main thing to see is Zarauz Beach, the longest one on the coast of Guipúzcoa. The city has approximately 25000 inhabitants, considered part of the metropolitan area of San Sebastian, and it's pretty easy to get to Zarauz from San Sebastian or Bilbao. 
Best Parks to visit:
Park of Pagoeta
Vista Alegre
Torre Luzea
Best Places to visit:
Palacio de Narros: The summer spot of the Queen Isabel II of Spain and the Queen of Belgium, Fabiola!!! This place is located in front of the main beach. 
The old town
Church of Santa María la Real
Luzea Tower
Bay of Biscay - Perfect beach for surfing!
Zarauz offers a broad range of accommodation and hospitality services so everyone can enjoy local gastronomy! Fish is the base of every typical dish and the best time to visit this place is June or August since festivities around those dates take place, and the city welcomes lots of people!
---
7. Hondarribia, País Vasco
The fascinating city of Fuenterrabia (officially Hondarribia, in Euskera) is a city and municipality in the Basque Country. It's in the extreme northwest of the province of Guipúzcoa. And also a place where you can enjoy a nice dip at the beach while looking at France!
Yes, you've heard that right! The bay is formed by the mouth of the Bidasoa River in the Bay of Biscay, basically the international border between Spain and France.
The city is mainly a tourist and residential location, perfect for a daytime getaway.
Places to visit:
Beach of Fuenterrabía
The Old Town
Zuloaga Palace
Calle Mayor (Main Street)
Plaza de Armas
Iglesia parroquial de Santa María de la Asunción y del Manzano
Ermita de Santa Engracia
Santuario de Nuestra Señora de Guadalupe
Ermita de Santa Bárbara
Valeria, 23 years old from Ecuador: Hondarribia is one of those places that makes you fall in love when you get there. It has the most incredible views ever, a fantastic atmosphere, and it's the perfect place to see the "best of both worlds" (France and Spain). The city feels like a combination of a modern beach town with old and influential historical culture. I'm sure it surprises anyone that goes there!
---
8. Vigo, Galicia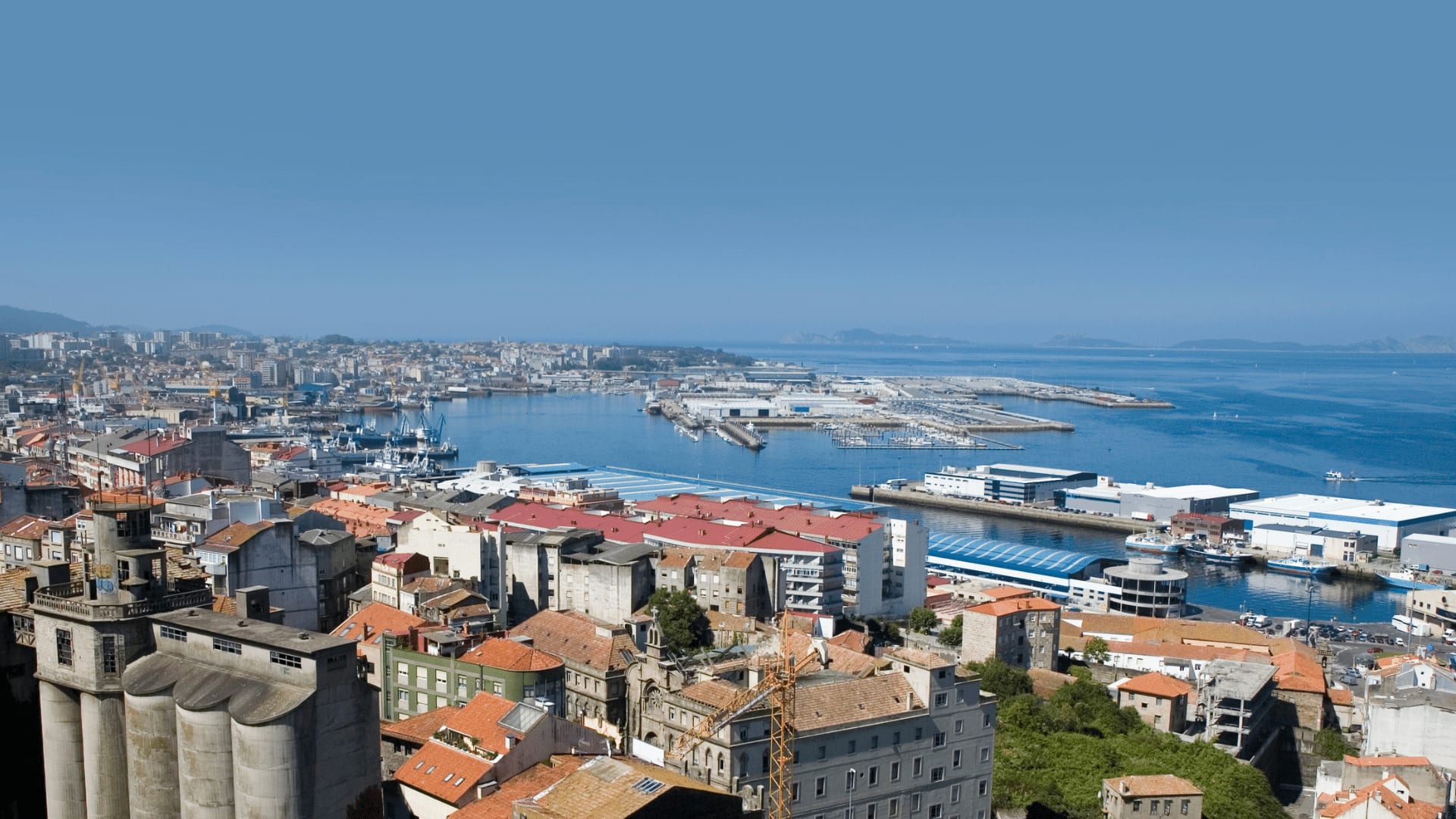 Vigo is known for being one of the most important Roman centers in Pontevedra and one of Galicia's most significant industrial cities. Many Roman ruins remain in multiple neighborhoods and parishes. 

Romanesque churches to see:
Santa María de Castrelos
Santiago de Bembrive
San Salvador de Coruxo
Remarkable buildings:
Museum of Contemporary Art
San Sebastian Fortress
Santa Maria Church
Porta do Sol
Jules Verne Monument 
Municipal Museum of Vigo
Places to go:
Barayo Natural Reserve: (Beach, Estuary, River, and Cliff)Senda Costa Naviega
Otur Beach
Playa de Flexulfe
Interesting fact: In the municipality of Vigo, we can find The Cíes Islands. A paradisiac place for nature lovers! The islands are one of the most visited tourist places in Galicia. And make the National Park of the Atlantic Islands of Galicia formed by 3 islands: Monteagudo, Do Faro, and San Martiño. In this gorgeous paradise, we can highlight "Playa de Rodas," which was awarded "The Best Beach in the World" by the well-known newspaper "The Guardian."
---
9. Pamplona, Navarra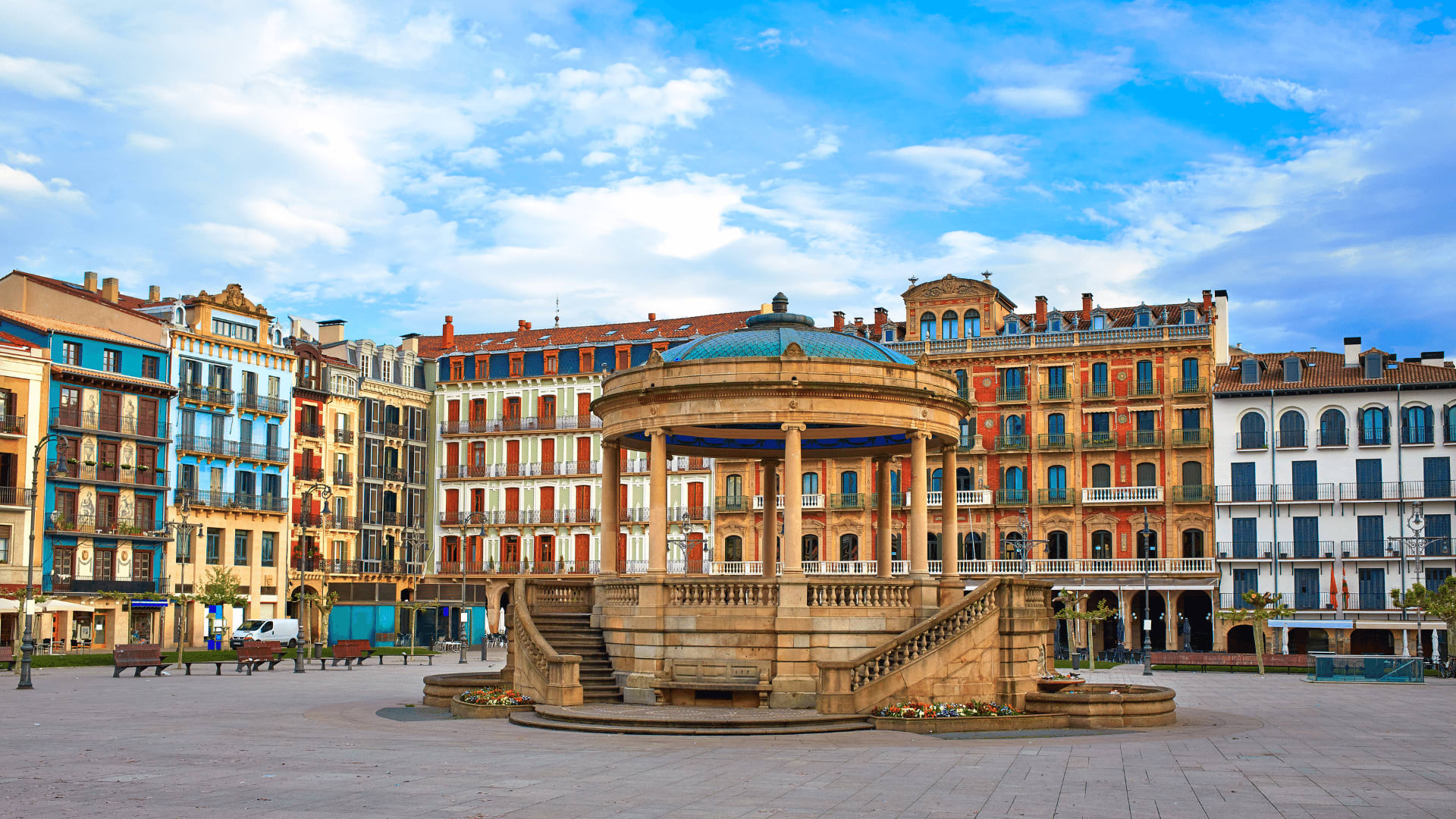 Pamplona is a comfortable, welcoming, green and safe city in the Autonomous Community of Navarre. It is ranked the highest in environment and recycling cities in Spain & Europe. The city has lots of beautiful parks, historical buildings, and rivers. (a good place for hiking with lots of walking routes!) Also, The Way of St. James ("El Camino de Santiago") begins in this city.
Pamplona is famous for the "San Fermín Festival" or the running of the bulls. This traditional celebration and festivity take place the first week of July. And is probably one of the reasons why everyone has the stereotype of Spaniards being all bullfighters.
Around these dates, the city is driven by music, drinking, and an unbelievable number of people celebrating in the streets. However, Pamplona is very peaceful and quiet for the rest of the year. Although there are lots of places to visit and good food to eat!
The gastronomy in Pamplona really represents the variety of Navarran products. Lots of traditional recipes have been adapted and modernized to delight our palates! -I must mention that roasted peppers and veggies from Navarre really hit differently. 
Landmarks and sights:
Plaza del Castillo
Ayuntamiento de Pamplona
Museum of Navarre
Plaza de Toros: the bullring, which still used for bullfights.
Pamplona Cathedral: A gothic cathedral constructed during the 14th and 15th centuries. The history and architecture of the building can be found in the Museum next to the Cathedral.
Ciudadela Park: a public park and a fortress with exhibits.
Places you must give a try:
Bar Gaucho: "Pintxo de Foie""Pintxo de Foie".
Baserriberri  
Asador Katuzarra
Asador Martintxo
Iruñazarra
Café Iruña

An absolute MUST if you ever go to Pamplona is trying the famous "Pastas Beatriz," which are basically the best puff pastries filled with chocolate you've ever have in your entire life. 
Dishes you should try:
Espárragos de Navarra
Cogollos de Tudela
Cochinillo Asado
Alcachofa de Tudela
Pimiento del Piquillo de Lodosa
As for the hikes and cycling routes in Pamplona:
Pamplona - Puente La Reina
Fuerte San Cristóbal
Sierra del Perdón
Valentina, 27 years from Argentina: I lived in Pamplona for 5 years to study, and I'll tell you a bit about my experience as a student. I come from Argentina, and this town has something special regarding security and living standards. They are excellent, and I always felt very safe while living in that city. I was surprised that it was so small and more like a "town" in terms of stores, available places to eat, international spots, and so on. However, there was always something fun to do and beautiful landscapes to watch!

The University is one of the main highlights of the city. It has an extensive and incredible campus awarded one of the most promising green campuses in all of Spain. So, in my experience, this city is excellent for students looking for an outstanding education. Since Pamplona gives the perfect setting for enjoying and having a proper learning environment.
---
10. Laredo, Cantabria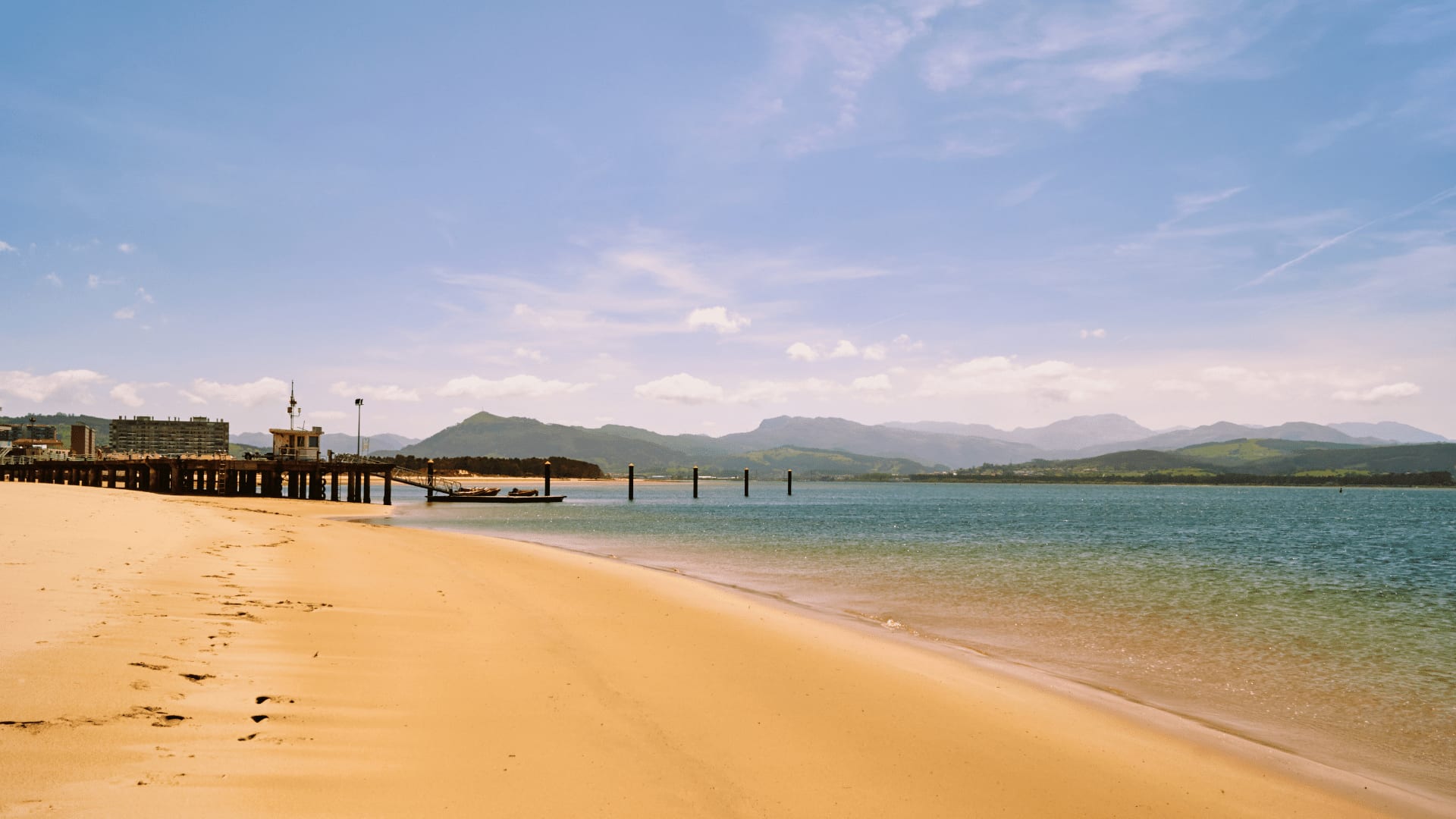 Laredo is located in a privileged spot of the province of Cantabria, specifically in the oriental coastal side. It is surrounded by mountains and refreshed by the Cantabrian Sea. And has beautiful sandbanks and Natural Protected Areas.
The city is one of the "Four Sailor Villages" with San Vicente, Castro Urdiales, and Santander.
Beaches worth visiting:
Playa de La Salvé
Playa de Aila
Playa de Regatón
It becomes a tourist spot in summer, attracting 90.000 visitors while there are only 13.000 inhabitants regularly. 
Places to go:
Santa María de la Asunción Church
Puebla Vieja
Carlos VI Square
---
11. Cudillero, Asturias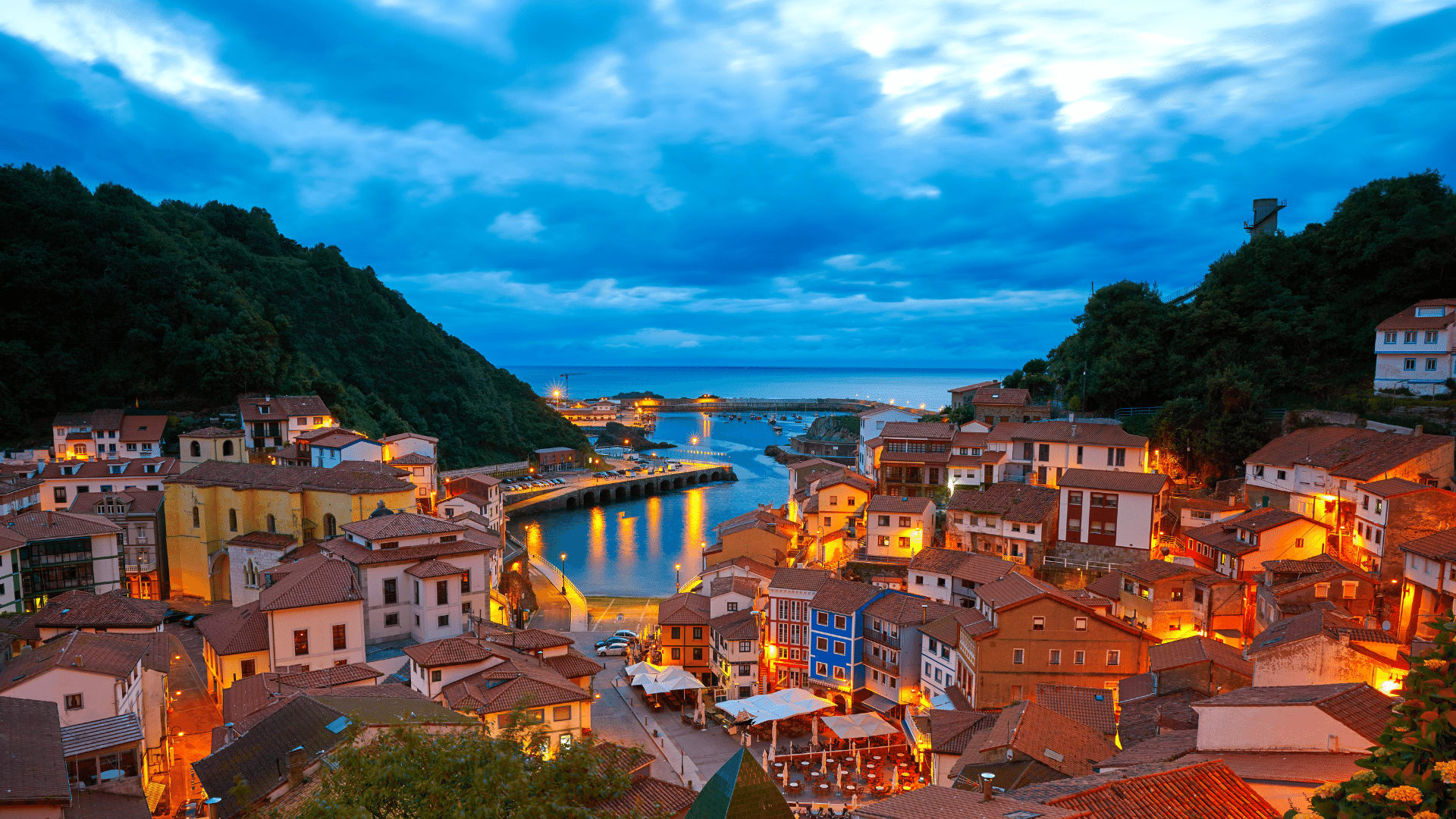 Cudillero is a beautifully colored town that makes you feel like you were in a fairy tale while visiting. The best place to see it is in Summer! When the sun is out, and rain is no longer present. Here's when residents and visitors bring the streets and squares to life. The first thing you should do as soon as you arrive is walk to the top of the hill to get a view of the village.
Places to visit:
Plaza de la Marina.
The Lighthouse
The chapel of Humilladero
The fishermen's taverns
Architectural Site of Los Selgas
Church of Santa María in Soto de Luiña
Gothic parish church
La Garita
La Atalaya
El Pico
---
12. La Rioja, Logroño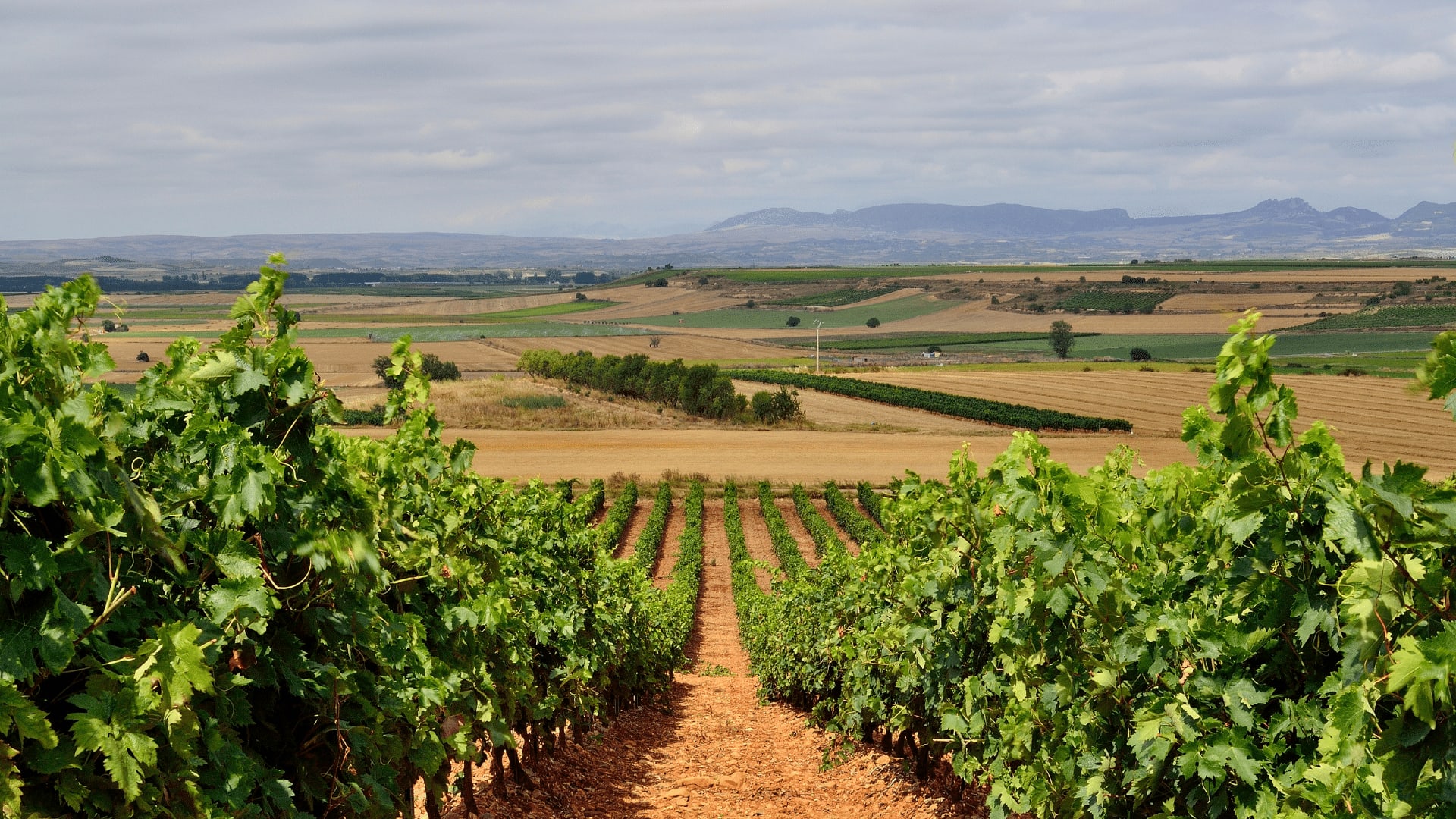 La Rioja is widely known for being the Best Wine Region in Spain and locates near the Ebro river while occupying different municipalities of La Rioja, the Basque Country, and Navarra and can be divided into Rioja Alta, Rioja Baja, and Rioja Alavesa. 
The authorized grape varieties of the Rioja Qualified Designation of Origin are: "Tintas," "Blancas," and "Tempranillo." 
La Rioja is the first official denomination of Origin (D.O) since 1925. This guarantee seal proves it was produced entirely in a specific wine region. And ensures that the production process meets officially regulated quality criteria. (in short terms, it is formally recognized as an excellent land for producing high-quality wine).
Vineyards in La Rioja:
Bodegas Muga 
Bodegas López de Heredia
Bodegas y Viñedos Tritium 
Bodegas Lecea
Bodegas Campo Viejo
Bodegas Campillo
Bodegas Marqués de Murrieta
Bodegas Marqués de Cáceres
---
See? I told you that Northern Cities in Spain have a LOT to offer. And don't worry… I didn't forget about Chris Hemsworth's picture in San Sebastian. ;)
Let me know if you bump into another artist during the International Film Festival too! :)