Top 9 Most Famous Spanish Golf Players Of All Time
January 13, 2023
Updated:

February 9, 2023
Published: January 13, 2023
At the top of all the world rankings, some of those excellent golfers are made in Spain. Here's the ultimate list of the best Spanish players in this fascinating sport!
Even if you're not a fan, I'm sure you'll be surprised to learn about the talent and recognition these Spanish people have achieved over time.
In this article, you'll find everything about them, their lives, and even some of the newest Golf players in today's world that are building their legacy while leaving their mark on international championships.
I hope you have your green jacket washed and ready to discover what these famous Spaniards have achieved.
1. Severiano Ballesteros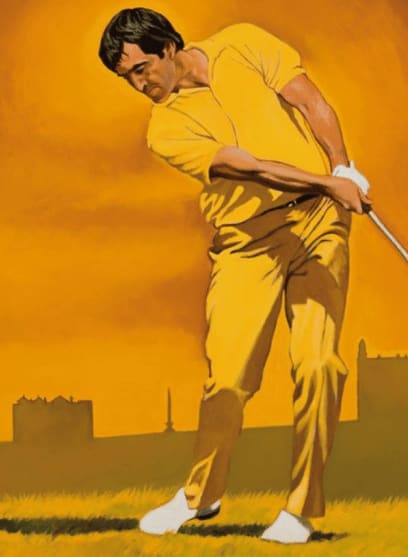 Severiano Ballesteros was born on April 9 1957. He was born in a small fisherman's village in Santander. This area is very popular for being one of the greatest golfing traditions in Europe. Due to his natural talent, determination, and hard work, Ballesteros has been one of the most important figures when talking about this sport. 
He started using a 3 iron his brother gave him when he was a kid. After practicing a lot on the beach, he got some great shots. When he was 10 years old, he participated in his first caddy tournament. He improved quickly in just 2 years and even won the event at 12 years old! 
At 16 years he turned professional. His career achievements include 93 tournament victories, including five Majors: 
The Open Championship (in 1979, 1984, and 1988).
Masters Tournament (in 1980 and 1983). 
Five World Match-Plays.
Two World Cups.
Played Nine Ryder Cups Matches. 
As people describe him, he was able to play with courage and imagination when he was facing a complicated situation. In 1978 his triumphs in the USA, Kenya, and Japan made him a true international icon.
At the age of 20, he had already won on five continents. In 1979 in the Ryder Cup, Seve and Antonio Garrido were the first continental players allowed into the team. They represented all of Europe. He has won two green jackets, one in 1980 and the other in 1983 —If you're not a fan, you might be wondering what this means in Golf.
The green jacket represents the champion of the Augusta Masters. It is one of the most charismatic prizes for its value in the world of sport.
His efforts have been recognized, and he has won many different medals, such as:
Príncipe de Asturias de los Deportes in 1989.
Olympic Order of Merit in 1998. 
Spanish Athlete of the Century in 2000.
He retired in 2007, and in 2008 he was diagnosed with a brain tumor. On May 7, 2011, he passed away. 
2. Miguel Angel Jimenez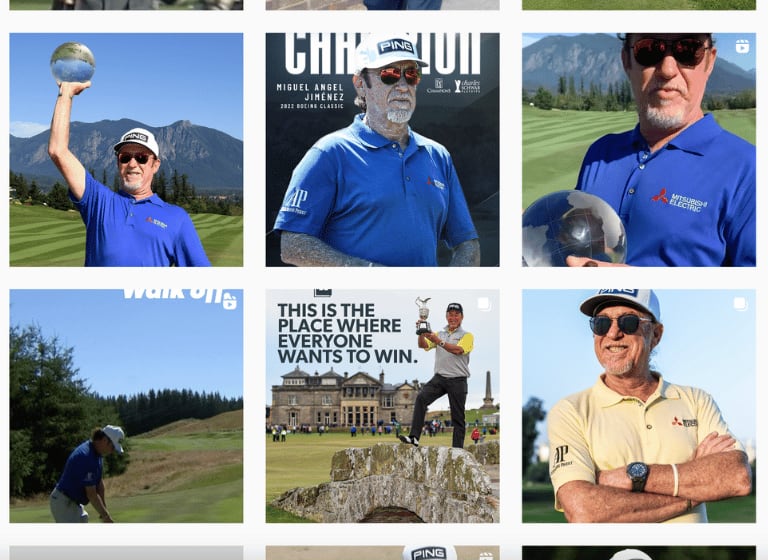 Miguel Ángel was born on January 5, 1964, in Málaga. When he was 15 years old, he decided to drop out of school, and he started working in a garage, collecting golf balls, and caddying at a local golf course to earn his own money.
Whenever he had the chance, Miguel would hit balls. At this moment, he realized that he loved the sport. The Spanish Open came to the Golf Club in 1979, and Miguel was able to watch his idols compete, including Ballesteros (who we've talked about before).
And he was inspired by watching Ballesteros practice Golf, so in 1982 Miguel became a Professional Golfer at 18 years.
After a few years of competing from one place to another around Spain, Miguel aimed his sights on the European Tour. He secured his full playing rights in 1988 at the Qualifying School.
Nowadays, he has achieved 29 Tour victories, 21 being on the European Tour and 8 on the PGA TOUR Champions.
He has the record for being the Oldest Winner on the European Tour. Especially after winning the national Spanish Open and having the most significant number of European Tour tournaments ever played by a Professional.
Miguel achieved his dream of winning The Senior Open in 2018 on the Old Course at St Andrews, the Home of Golf. Another highlight of his golf career was competing in four European Ryder Cup Teams.
Miguel is very proud of everything he has achieved thanks to this sport and believes he owes everything to it. That's why he created a golf club that allows children to play Golf from an early age to anyone interested.
3. Ángel Miguel Gutiérrez 
Ángel Miguel was born in Madrid on December 27, 1929. He was born after the war, and at that time, he had to work to help his family (like every other kid). As a teenager, he was already working in the world of Golf, soaking up its techniques and traditions. 
He saw this sport as admirable and began practicing it daily and competing in small golf competitions. During this time, golfer players were hardly known. Together with his brother, they promoted Golf in Spain when it was tough to promote it. 
He began to excel in amateur tournaments until he became a professional in the year 1953. He became one of the most prestigious Spanish professional golfers during the fifties and sixties.
Ángel Miguel won:
Three Spanish Open (1955, 1961, and 1964)
Six Spanish Professional Championships (1953, 1954, 1955, 1957, 1963, and 1965)
The Mexico Open 1959
The Chile Open 1962 
The Argentina Open 1962, and 6 others around the world. 
His biggest achievement was winning the Canada Cup (now called the World Golf Cup) in 1958. In this same edition, he was classified 2nd in the couple's modality with his brother Sebastián Miguel.
He has the record of Spanish Professional Champion and was awarded the Medal of Sporting Merit and the Medal of Merit in Golf. He represented Spain on nine occasions in the World Cup (as mentioned before), 
Once he retired, he developed the Rio Real Golf project, which became one of the most attractive in the world. It is an incredible golf resort in Marbella in Costa del Sol, where thousands of people go yearly. There he continued working as a golf coach for a few years. In 2009 he died in Marbella due to lung problems.
If you want more information about the best Golf Resorts in Spain, this post has it all:
4. José María Olazabal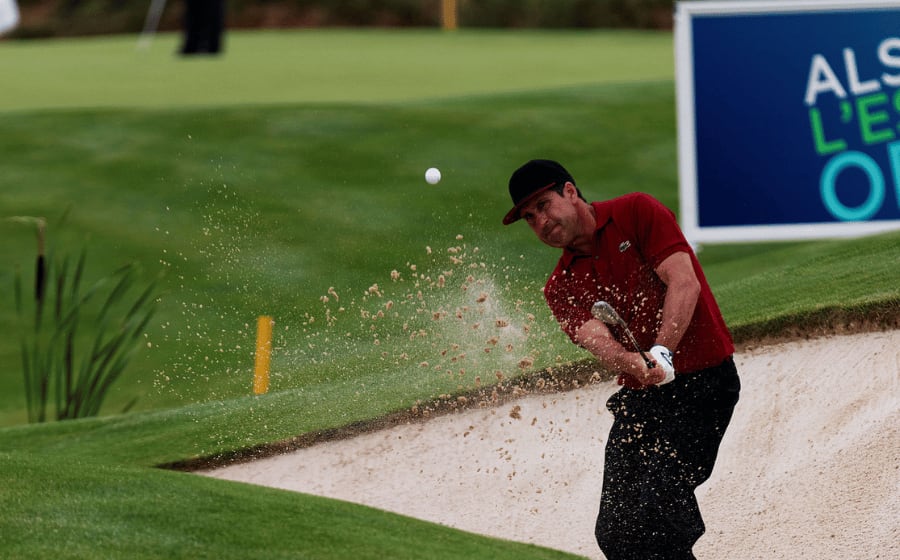 Jose Maria Olazabal was born in the Basque Country on February 5, 1966. He was the son of the family of caretakers of the Real Club de Golf de San Sebastián and was like this how he found his passion for playing Golf. In 1985 he won his first professional victory, the European Masters, and began a brilliant career. 
In his career, we can remark on his triumph in the Augusta Masters (in 1994 and 1999), the World Series of the American circuit (1991), and fifteen titles in the European circuit. In addition, he participated in the European triumphs of the Ryder Cup in 1987 and 1991. 
In only nine years, he exceeded three million pounds sterling in earnings. During these years, everything was going great until 1955, when he had a foot injury that kept him inactive for two years. 
Just like Ballesteros, Olazabal won two green jackets when he won in Master Augusta, one in 1994 and the other one in 1999. When everyone thought his career was over, he was able to be back, and in 1999 he won the Masters at Augusta for the second time in his life. 
He won the French Open in 2001, the oldest tournament in continental Europe. That same year he won his second victory in Hong Kong. 
Nowadays, Olazabal is one of the best golfers in Spain, together with Ballesteros. At 56 years old, he is now enjoying playing Golf and practicing for the significant tournament he still plays, the Master tournament. 
5. Sergio Garcia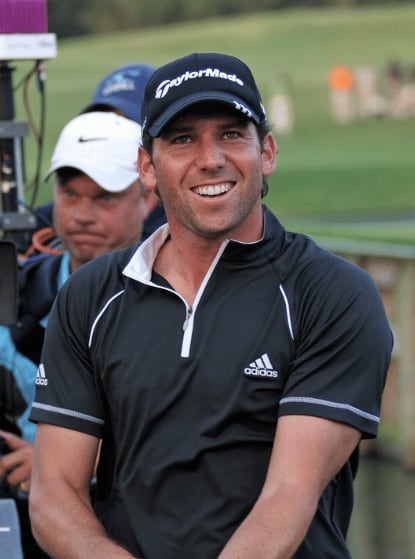 Sergio García Fernández was born in a town in Castellón on January 9, 1980. He is best known as "El Niño" ("The Kid") for starting his golfing career very young and being very talented.
He achieved more than 65 victories in the amateur field. Sergio began as a professional golfer in 1999, being the youngest player with the fewest tournaments to qualify for the Ryder. He was also the youngest player to compete in a PGA USA and finish second. The youngest to earn American and European Tour cards simultaneously.
In 1999, his first year as a professional, he achieved two victories, the Irish Open and the Linde German Masters. He was second in the Byron Classic, the Loch Lomond, and the USPGA.
In 2001, won the Mastercard Colonial, the Buick Classic of the American circuit, and the Lancome Trophy, all in the same year! He triumphed in The Players Championship (May 2008), and (as some say) his most outstanding achievement was his contribution to the European team's triumph in the Ryder Cup in 2002, 2004, 2006, and 2012. 
It was in 2015 that he achieved second place in The Players Championship and fourth place in the Los Angeles Open. In 2017 they gave him the green jacket as the champion of the Augusta Masters.
He became the first Spanish in the 21st century to bring the 5th green jacket to Spain after the green jackets that Ballesteros and Olazabal had achieved.
In 2018, he was recognized as "Revelation Sportsman of the Year" at the Laureus Awards. And at 43 years old, he continued with his career, and on June 8, 2022, he resigned from the American Tour to participate in the LIV Tour.
6. Elvira Larrazábal 
Elvira Larrazabal was born in Vizcaya, Bilbao the 28th of October, 1933. She was the first female Golf professional in Spain and the first to obtain a teaching license from the Spanish Federation in 1958. She started at the Real Sociedad de Golf de Neguri, where her father, Angelín, was a teacher. But things for her were not as easy as they were for men. 
At that time, only a very few women could practice and compete in Golf, as this sport was seen more for males. Another factor that didn't help was that Golf was seen as an elite sport, especially the Neguri club where Larrazabal's dad worked. 
This club was in a spectacular location close to the coastal area of the Basque oligarchy; it was only frequented by members of the club belonging to the Bilbao elite. Larrazabal began her golf career in childhood and was the only woman in the Neguri club.
After much work and progress, she won all the championships between 1952 and 1955 and different European championships. She is considered an absolute pioneer in Spanish sports.
After all these years, she began working at the golf course, where she worked as a teacher for 7 years until 1965. In 1965 she decided to stop her golf career so she could take care of her sick daughter.
7. Carlota Ciganda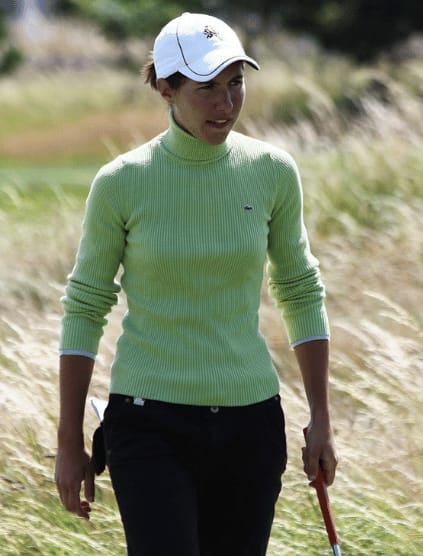 Carlota Ciganda was born June 1 of 1990 in Pamplona. She has been able to be one of the few female Spanish professional golfer who plays on the Ladies European Tour and the LPGA Tour. She started playing Golf when she was 5 years old, encouraged by her father. 
They gave her a scholarship to the University of Arizona, where she studied for a Business degree. While studying for her degree, she was also an amateur player.
For example, she won the British Ladies Amateur tournament in 2007. She also won the European Ladies Amateur Championship twice, in 2004 and 2008. 
She was the national champion in different junior categories from 2000 to 2008 (except 2005). She became second in the Espirito Santo Trophy team in 2008 (before being a member).
She was the best Spanish participant in several professional tournaments, such as:
The 2007 Open De España Femenino (eighth position)
The 2008 Tenerife Ladies Open, where she finished third, only three strokes behind the winner, Rebecca Hudson.
Ciganda decided to turn professional in May 2011. And, in 2012, the year of her debut on the LET, she won the Order of Merit and was named Player of the Year and Rookie of the Year. 
8. Jon Rahm Rodriguez
Jon Rahm Rodriguez was born in Bilbao on November 10, 1994. When he was a kid, he practiced various sports such as shoveling, soccer, and kung fu.
One day in 1977, his father was invited to the Ryder Cup in Valderrama. He was so impressed by the European team's victory that he became a member of the Larrabea club. Rahm decided to be part of the club just like his father. At this moment, he realized his passion for the sport. His first contact with the world of Golf was in 2004 at the Martiartu Sports Club. Later, the whole family joined the Larrabea Golf Club.
He began to develop his golf career. His competitive eagerness and hard work allowed him to achieve more important sporting successes. And, The Royal Spanish Golf Federation included him in its national teams. 
Just like Carlota Ciganda, he got a scholarship in Arizona. He remained the number one golfer in the World Amateur Ranking for 50 weeks — something very few people have achieved—.
In 2014 he was an individual winner of the Eisenhower Trophy. He was voted best amateur golfer of the season two years in a row. This was the first time anyone had achieved this.
A few years later, he started working as a professional and won 33 victories, 11 on the PGA Tour, 16 on the European Tour, and another six on the Asian Tour.
He had won once at Augusta Masters and six times at the Ryder Cup with the European team. Nowadays, he is still fighting to achieve a green jacket.
9. Jorge Campillo 
Jorge Campillo was born June 1, 1986, in Cáceres. His passion for Golf started when he was a kid when he attended a Spanish national training center. At 18 years old, he was elected to play college golf at Indiana University in the United States, where his passion for Golf increased. 
He became one of the most successful players in that university's history, winning nine intercollegiate titles and being named to the Golfweek First Team All-American squad. As an amateur player, he won the Boilermaker Invitational in 2006, the Sofitel Biarritz Cup in 2007, and the Adidas Hoosier Invitational in 2009, among many other wins.
Later, he graduated from college, decided to play professional Golf in 2009, and began playing on invitations to the European and Challenge Tours. He is now a Spanish professional golfer. Campillo also won on the tour of 2019 the Trophée Hassan II by 2 strokes, which was his first European Tour win after 229 European Tour starts. Later in 2020, he won the Commercial Bank Qatar Masters. 
As people describe him, Jorge strives hard to achieve his objectives, and he is achieving them little by little. He is not one of the elite golfers. Still, he definitely has the potential, especially if he continues to play and work the way he's been doing.
As you can see, Spanish people are very talented and have stood out internationally in many other sports, not only Golf. Rumor has it that we are one of the bests in football (which is true). I suggest you visit our articles to understand what's the deal with this sport in Spain. Is it really "a thing"? Find out here: