Why is the Mediterranean Sea called like that? 5 Unknown Facts
November 21, 2022
Updated:

February 7, 2023
Published: November 21, 2022
The Mediterranean waters have witnessed the development of great civilizations, the birth of important empires, and the rise of massive cities that emerged from the trade routes this sea provided.
Today, we'll learn why the Mediterranean sea is called Mediterranean, the origin of the name, and some other names it has received throughout history.
Stay tuned because I have prepared an infographic with the evolution of the name over time, and because along the post I will show you other related articles that will probably solve all your doubts about the Mediterranean Sea.
Get ready because we are going to refresh ourselves with the most blessed waters for the ancient civilizations.
---
1. Why is the Mediterranean Sea called Mediterranean?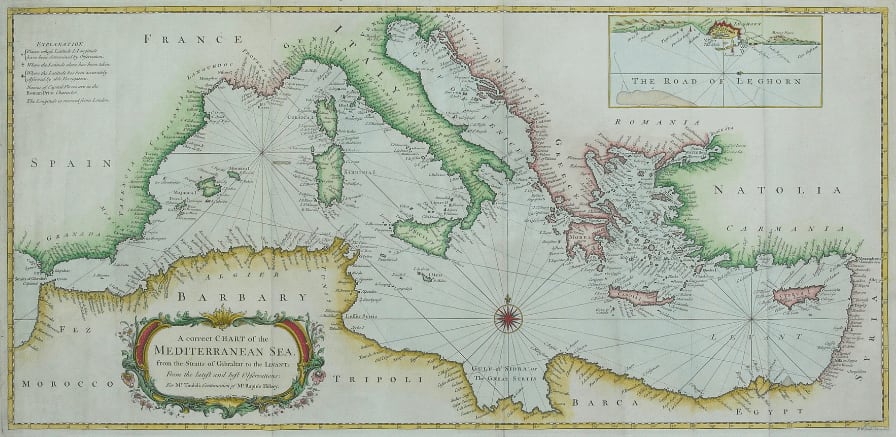 The Mediterranean sea is called "Mediterranean" because it comes from the Latin "Mar Medi Terraneum," meaning "sea in the middle of the lands."
As seen by the Romans, "Medi" meant middle, and "Terra" meant land, earth, or the world.
Fact #1: The Mediterranean Sea covers an area of 2.5 million square kilometers
The name accurately describes the Mediterranean sea since it is an intercontinental sea between Europe, Asia, and Africa. Its waters bathe the coasts of 22 countries and have several important ports of high activity. This sea connects to the Atlantic Ocean through the Strait of Gibraltar, where a lot of water exchange occurs. Here, Atlantic waters (less salty) enter the Mediterranean basin creating a surface current. Then, the Mediterranean water, which is saltier and denser, sinks deeper and exits through the Strait of Gibraltar in depth.
Fact #2: The Mediterranean is one of the world's main biodiversity hotspots.
If you want to know what's the salinity of the Mediterranean Sea, you should definitely read the following post:
Fact #3: Other significant contributions come from the rivers of the Mediterranean basin, such as the Nile, the Rhone, the Ebro, and the Po River.
---
2. Evolution of the name Mediterranean Sea throughout history
Fact #4 According to Isidore of Seville, a Spanish historian who lived in the 7th century, the Mediterranean is called Mediterranean because it is literally a "sea in the middle of the lands." —He is not wrong tho.
The Mediterranean Sea was a true blessing for many ancient civilizations throughout history, and for this reason, the sea has received hundreds of different names.
There are some heritage manifestations in the shape of manuscripts, stones, papyri, printed matter that allow us to know the ancient names this sea has received.
Here is an infografic so you can see it from a visual perspective!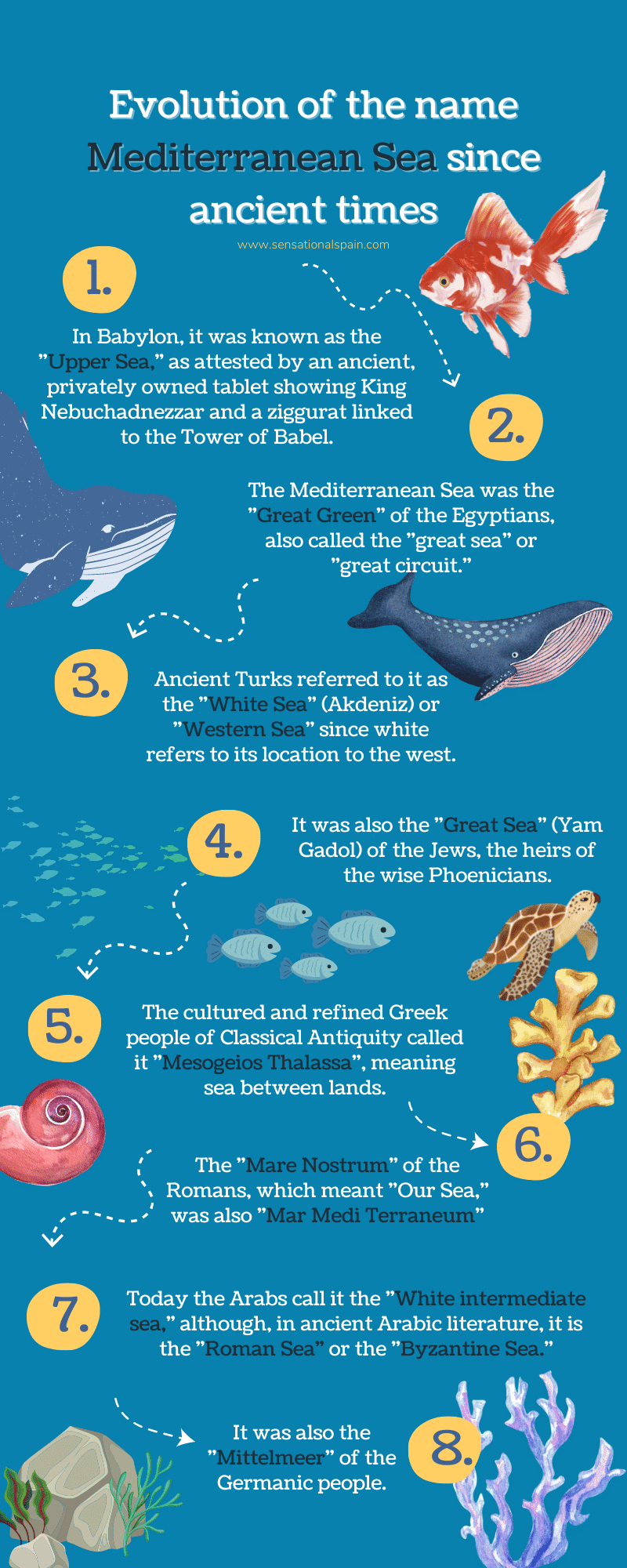 If you're still interested in other names the Mediterranean Sea has today (and other curious facts), this post can be helpful!
11 Fascinating Mediterranean Sea Facts You Always Wanted to Know
Fact #5: The Mediterranean Sea has been one of the most important seas for human beings because it is shallow and has few currents, which facilitates navigation, movement of people, and transportation of goods. It has formed kingdoms and cities!
---
As I always say, knowledge is one of the first steps for embracing and preserving our heritage. I'm glad that you have read the post and learned a little more about the Mediterranean Sea and its main characteristics. Remember that I have other articles that can be of your help, in case you are looking for some specific data, here I are the links: