13 Best Restaurants in Barcelona: A Food Lover's Guide
March 22, 2023
Updated:

March 23, 2023
Published: March 22, 2023
The list you have been waiting for is a foodie guide to restaurants in Barcelona!
This list contains a bit of everything, international and Catalan restaurants for your soon-to-be trip to Barcelona. All the food here is insane, but I have two favorites; read until the end to know which.
After reading this article, you will have 14 new places to book (if you want to avoid queue) and a watering mouth that won't be able to wait until landing.
I hope these restaurants in Barcelona will save you some thinking time and make your trip smoother!
1. La Flauta
📍Rambla de Catalunya, 91
💸 €€
La Flauta is the perfect place to have tapas at a comfortable table. The traditional thing to do in Spain is to have some tapas standing in a bar or, with the usual good weather of Barcelona, have them on the terrace. 
This restaurant has two locations in Barcelona, but my favorite one is the restaurant located in the Rambla de Catalunya. I felt they offered more varieties of montaditos (tapas), and the food was fresh.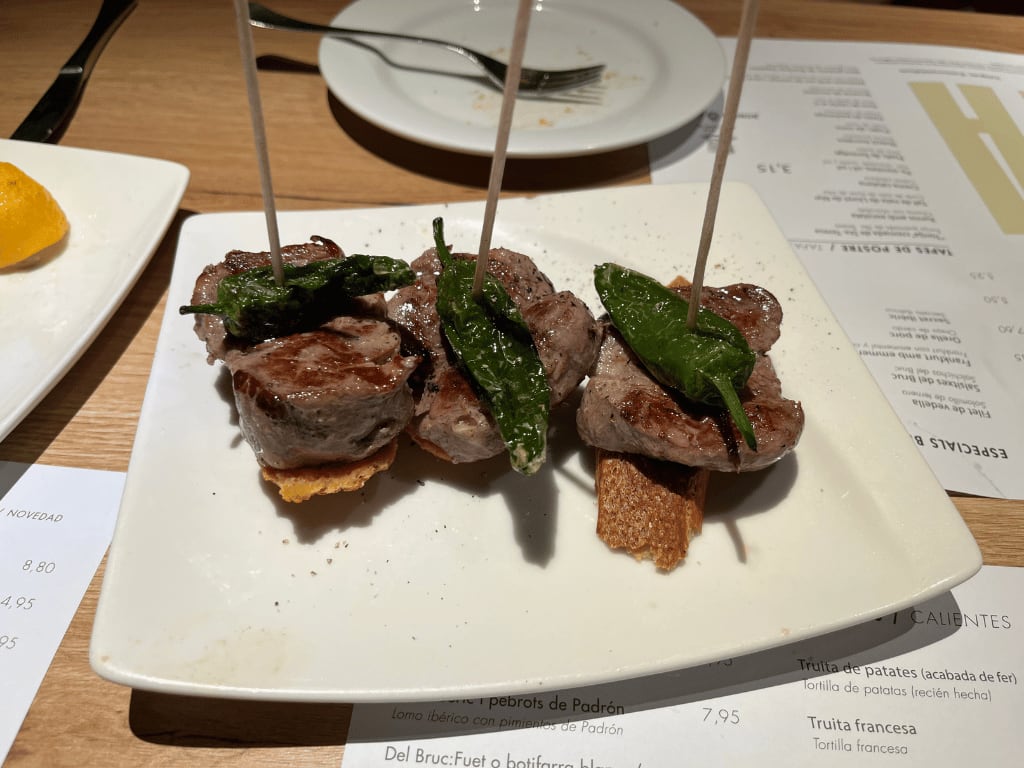 If you go for lunch, you will probably find a queue, the last time I waited for minutes, it was worth it. However, if you go for dinner, I recommend doing it around 7:30 because it will be empty. And that is because Spanish people have dinner between 9:00 and 10:00 pm!
Get the montaditos of the day with some croquetas, patatas bravas, and for dessert their famous torrija filled with crema catalana.
2. Boa Bao
📍Pl. del Dr. Letamendi, 1
💸 €€€
I know most of you opened this article expecting Spanish food, but you can't miss Boa Bao. The restaurant opened in Barcelona in 2019 after success in Lisboa and Porto. 
The concept, the decoration, the food, the drinks, everything is delicious. I ate at this restaurant in Barcelona with a group of three. At the receipt was around €30 each with a drink, an entrance, and a main dish.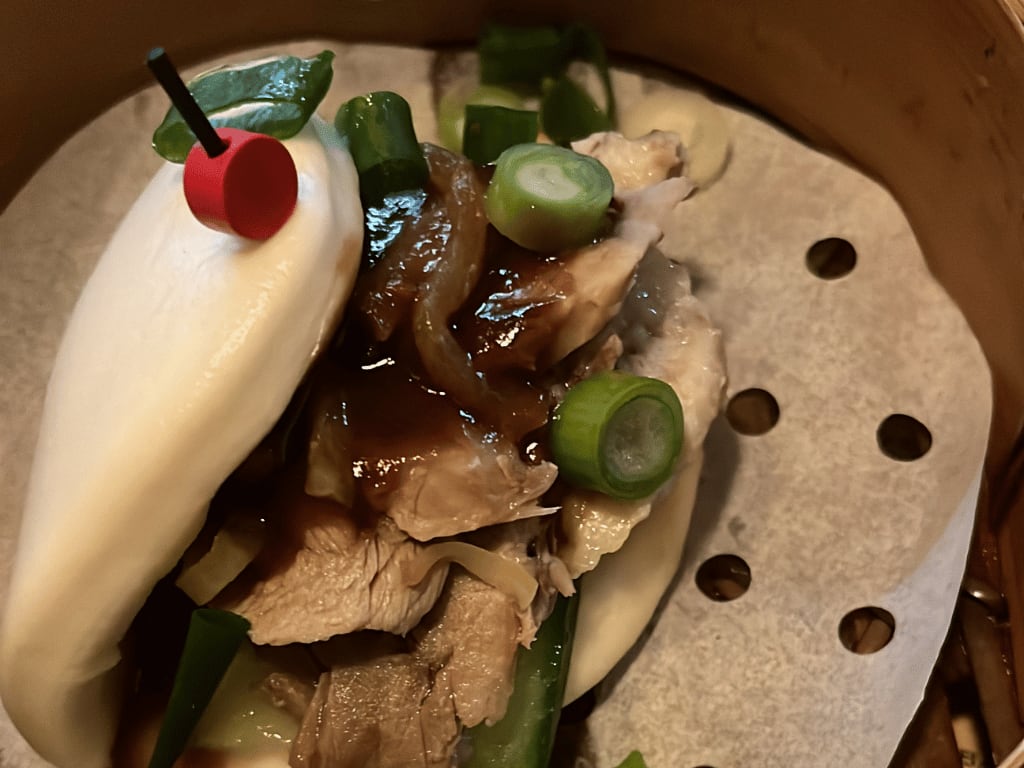 The interior decoration goes back to the Asian markets of the 1920s and their food in Pan-Asian, so you will find a variety of exotic tastes and dishes. 
My top recommendation would be to get the duck bao and the chicken curry with fried rice.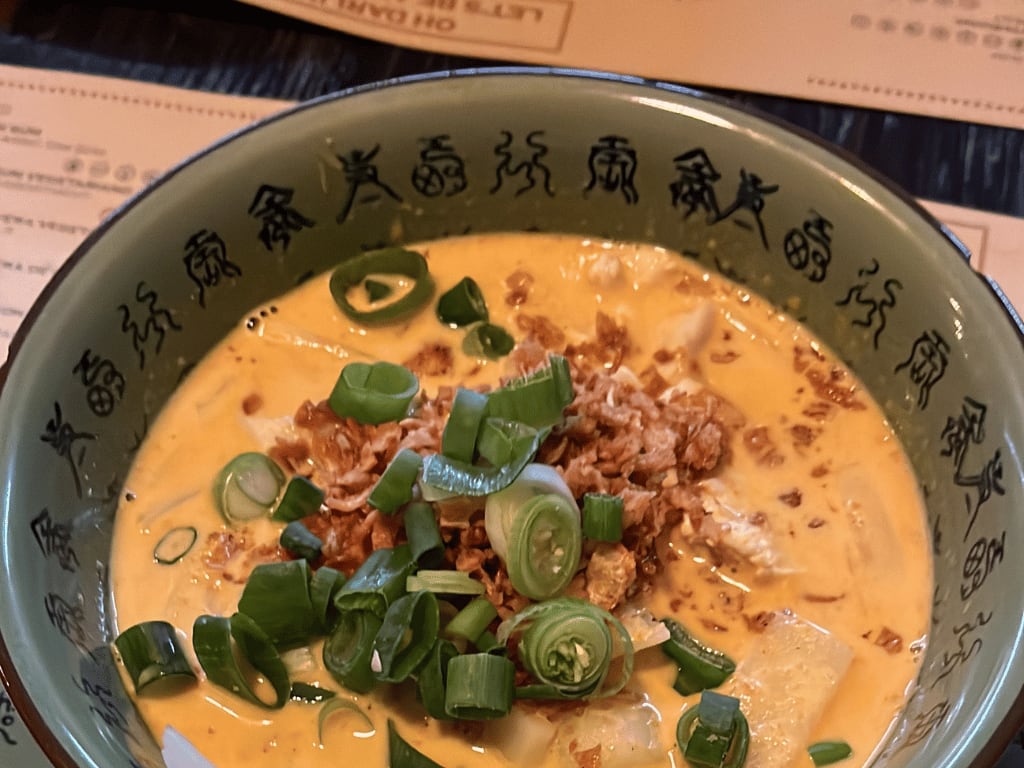 3. Boca Grande
📍Passatge de la Concepció, 12 💸 €€€
Boca Grande is a complex restaurant and landmark of Barcelona's nightlife. It was opened over 10 years ago, in the summer of 2011.
It has a spectacular design, the work of Lázaro Rosa-Violán, which creates a very peculiar atmosphere inside the restaurant. Boca Grande has become very popular in the last few years due to the excellent service and the high quality of its cuisine.
You will also find a high-level wine cellar and one of the best cocktail bars in Barcelona: Boca Chica. Which makes any stay at Boca Grande an authentic experience.
This restaurant in Barcelona has become one of the favorite places for many celebrities and tourists.
"One of the best in Barcelona. Dinner, cocktails, dancing …. drinks all in one. Excellent food, attentive service, and good value for money. I recommend booking in advance because it is always full," says Sergio.
4. Vinitus
📍C. del Consell de Cent, 333 and Aragon Street and Consell 
💸 €€
Vinitus is one of my favorite restaurants in Barcelona; they have quality tapas with fresh and local products.
This is one of the best value-for-money restaurants in Barcelona, so you would want to know about it. 
The restaurants are lovely, bright, and diaphanous; they welcome thousands of people who make the queue at the entrance. Everyone wants to try all the options its menu offers, seduced by its eagerness to "tapas."
Vinitus is the restaurant in Barcelona that ends up being a regular.
 What do they like so much about this restaurant? First of all, the excellent value for money of its gastronomic offer (primarily starring tapas), the "good vibes" that you will find, and then its impeccable treatment offered by the staff. 
The raw material used in the Vinitus Restaurant is fresh and of high quality, and you can check it by observing the bar where their products are exposed.
5. Els 4Gats
📍Carrer de Montsió, 3
💸 €€
If you want to immerse in Dalí's world while enjoying a signature dinner Els Quatre Gats is your place. 
It was inaugurated in 1897 and was the core of the modernist movement; today, Els Quatre Gats is one of Barcelona's most famous and recognized restaurants. Whenever I go to Barcelona, I like to come here at least once. 
It is located in the heart of the Gothic Quarter, the city's historic center. 
Since it was opened, it has been trendy; in the past, it was frequented by great artists of the town as Gaudí, Manolo Hugué, Isaac Albériz, Enric Granados, and Lluís Millet, among others. 
Nowadays, this restaurant is mandatory not only for tourists but also for locals when they are looking for a traditional Catalan gastronomic restaurant. The fantastic chefs here use fresh, high-quality ingredients to create innovative and delicious dishes for everyone.
Anyone that visits are impressed by the interior design, building, and delicious tapas for a nice afternoon. 
This is an ideal place to enjoy a relaxed lunch, a romantic dinner, a casual get-together with friends, or informal after-work meetings. 
6. Salvaje
📍 C/ d'Enric Granados, 86
💸 €€€€
This is your one if you are looking for a restaurant with modernist architecture and signature cocktails in a wild atmosphere.
It is a restaurant with 3 main pillars of the Salvaje restaurant experience: exotic architecture, good Asian food full of fusion, and a relaxed atmosphere that lights up as the night progresses. 
After this new concept, Salvaje was opened in Barcelona and succeeded in Miami, Bogota, and Panama. 
This is not a simple restaurant where you will eat well, but you will also discover unique signature cocktails while you let yourself be surprised by the live shows that take place in the restaurant while you are eating. 
The first thing that will catch your attention about Salvaje is its decoration. You will find vegetation, wood, sculptures with natural references, designed lamps that do not lose the Asian essence, and furniture of different styles, among which rustic and African stand out.
 It has an innovative interior design and, as the restaurant's slogan says, "awakens your wildest side" while enjoying a very special gastronomic experience.
Everyone loves the food and the details with which it is prepared!
7. Gresca
📍C/ de Provença, 230
💸 €€€
This list could have caught the authentic and legendary restaurant Gresca, mentioned in the Michelin Guide and located in the heart of Eixample. 
The restaurant consists of two parts. On one side, we have the Gresca Restaurant, where you will find a more "signature" menu; on the other, you will find the Gresca Bar, where you will be able to see how the staff makes authentic works of art. 
The Gresca Bar is more straightforward but has fresh and quality food. Here the dishes are in the form of the typical Spanish tapas. It has a limited menu, but you will find traditional Spanish food. 
On the other hand, in the Gresca Restaurant, you will find an extensive and varied menu. 
Important! Remember to try their bikinis, they are specular, and many customers describe them as the best they have ever tried. They have an extensive wine list, so if you love this drink, this place in Barcelona is for you.
8. Gala 
📍C/ de Provença, 286
💸 €€
Gala is definitely one of my favorite restaurants in Barcelona. If you are one of those persons who like posting pictures on Instagram, I can assure you this place will drive you crazy. 
Restaurant Gala Barcelona is one of the most trendy restaurants in Barcelona. It is in a perfect location, a very central but not too crowded spot in the city. 
Gala Restaurant is known for its impressive decoration. Here, a merry-go-round, a hidden ballroom, a fountain in the shape of a nose, and a dining room (which could well be a small theater) together form a delightful atmosphere. 
The restaurant is divided into four rooms. One of them is open-air. 
You can have lunch, dinner, or an afternoon drink on the patio with a spectacular fountain in good weather conditions. 
This space is so aesthetic that it is as daring as it is surrealist, in the purest Dalí style. Did you know that it is called Gala because that was the name of the artist's muse?
Gala's menu features traditional Mediterranean cuisine but also includes a sushi section. You will find traditional dishes cooked with the best products but in a simple way. 
Dalí didn't like too sophisticated words, but he loved Catalan cuisine, so the menu was designed as a tribute to him.
9. Fismuler 
📍Carrer del Rec Comtal, 17
💸 €€
The restaurant Fismuler brings you the best gastronomy of Barcelona. This restaurant of the group La Ancha opened its doors with Mediterranean cuisine in El Born, one of the most famous neighborhoods in Barcelona.
This is one of the best restaurants in Barcelona and Madrid; I've been to both of them, and I don't know which one I like the most. Nino Redruello and Patxi Zumárraga own this superb restaurant; both were former students of El Bulli.
The restaurant is located on the first floor of the Hotel REC Barcelona, near the Arc de Triomf, in an open space with beautiful architecture.
Fismuler's menu is not very extensive; it has simple elaborations but many techniques behind it. The menu changes daily depending on the whims of the market. Their products are based on natural, organic, and zero-kilometer products.
Every morning the chefs go around the market looking for new products to surprise the diners every day.
While having a nice meal, you will be accompanied by a live music program to liven up the dinners. If you are looking for a nice place to eat in Barcelona, you can't miss going to Fismuler; I can assure you that you will love it.
10. El Trapío
📍C. de l'Esperança, 25
💸 €€€
This is one of the most charming restaurants in Barcelona. It has a very cozy interior and a beautiful garden, which is why El Trapío is one of the most charming restaurants in Barcelona. 
It has a spectacular exterior with a beautiful modernist residential tower from 1880, serving its diners for over 40 years. 
The pond that decorates the huge terrace doesn't go unnoticed; this is another place used to enjoy lunch or dinner in summer with family or friends. 
You will find restaurants with quality, local products, and market cuisine that offer exquisite dishes such as steak tartar, hake, foie gras, or the typical chips, among other delicious dishes.
11. Can Travi Nou
📍Carrer de Jorge Manriqu
💸 €€€
Can Travi Nou is a perfect restaurant with a cozy and elegant atmosphere; each dish is carefully done by expert chefs who use innovative culinary techniques to deliver authentic and surprising flavors to everyone's mouth. 
A gastronomic experience of quality and tradition, with more than 30 years of experience, within a Catalan farmhouse renowned for its rustic spaces in contact with nature. 
This is a good choice if you are looking for a room for weddings, birthdays, events, and celebrations for large groups. Many customers have described it as "a paradise in the middle of Barcelona."
12. Maná 75
📍Pg. de Joan de Borbó, 101
💸 €€
Maná 75 is a restaurant with paellas and rice dishes with the taste of the coast on your plate. The interior is designed in a modern, bright, and original style.
Maná 75 is located in the Barceloneta neighborhood and very close to the W Hotel.
Among the first things that stand out is its cozy interior. Many people also say it is one of the places with more natural light in Barcelona, which allows the magic of the Mediterranean to seduce you and captivate you regardless of the time of year you are. 
The motto of this restaurant is "Mediterranean Gastronomic Experience." 
You can have the typical Spanish "tapas" served in the purest Spanish style (don't miss the patatas bravas, squid, and croquettes). Also, you have to try their rice which is their specialty, and fideuás.
"SPECTACULAR food and staff!" says María, a 45-year-old woman.
13. Can Culleretes
📍Carrer d'en Quintana, 5
💸 €€
Can Culleretes is the oldest restaurant in Catalonia, and you can't miss going there when you are in Barcelona. It is in a privileged place close to Las Ramblas, between Carrer de Ferran and La Boqueria. 
According to the Guinness Book of Records, this is the second oldest restaurant in Spain. 
It was opened in 1786; this establishment has endured over time thanks to a simple formula: traditional cuisine, excellent customer service, and good value for money. 
The interior will take you back to the modernist era, with consumerist paintings in the lounges and photographs of famous people who have eaten at the restaurant. 
Its traditional Catalan cuisine, which includes dishes such as meat or spinach cannelloni with cod brandade, escudella with carn d'olla, and homemade stews, is very appropriate given the history and tradition of the restaurant.
---
You may have noticed, but my two favorites are La Flauta and Boa Bao, I truly enjoyed all their dishes and hope you get a chance to try them.
Remember to save or share this article with your traveling partners and decide with times which restaurants in Barcelona you will want to book ahead!