15 Best Tips & Tricks to Discover Barcelona like a Local
March 16, 2023
Updated:

March 27, 2023
Published: March 16, 2023
Thousands of visitors are caught off guard because they arrived unprepared. When preparing for a trip to Barcelona, there are a few things you should know to plan your trip with more knowledge and avoid any mishaps.
From tips on how to get around the city to how to get into the best clubs and discos without paying admission, In this article, I have listed some of the most useful tips and tricks you should know before booking a flight to Barcelona.
Most of them are only known to a few first-time travelers. And I promise they will 100% improve your experience in the city.
Let's see how many of these you already know!
---
1. Take advantage of the Tax-Free Shopping Refund for tourists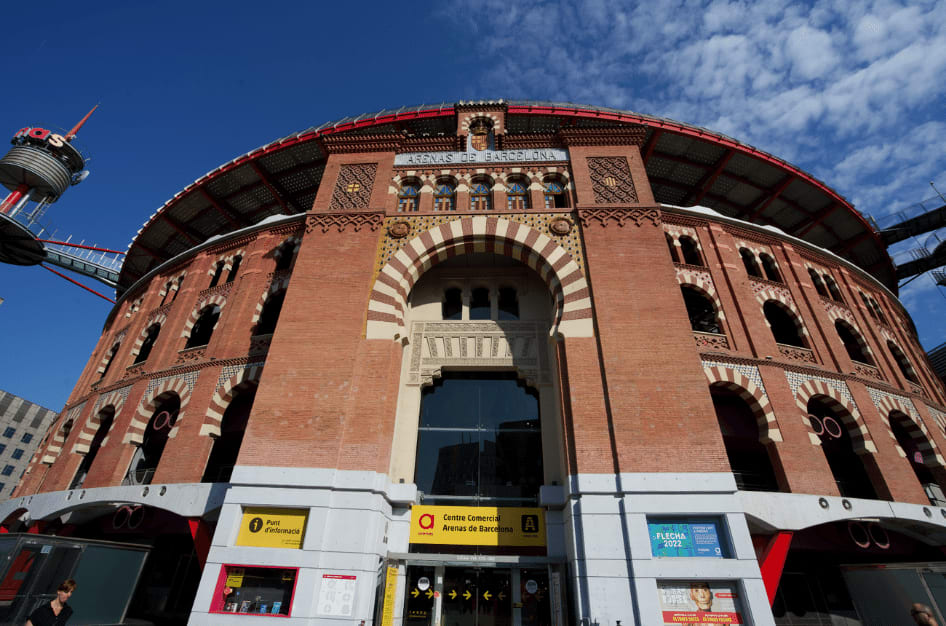 Only a few people know about this benefit. If you are a permanent resident outside the European Union and come to Spain, you can enjoy Tax-Free shopping.
But what does it means? It means that you get refunded the Tax out of your purchases!
🧾And yes, the VAT (Value Added Tax) is invisible to the consumer. All goods within the European Union automatically include the VAT in the regular price. Therefore, people outside the EU don't have to pay it and can benefit from a refund.
This trick can save you 21% off the price of any item purchased when the entire bill exceeds €90.15.
👉 And remember that the service only applies to items you intend to return to your country, which means you can't apply this to services!
If you need help knowing where to shop in Barcelona, here are Jimena's top recommendations:
13 Best Shopping Places in Barcelona: Streets, Outlets and More 
---
2. Download the TMB App for easy transportation
An incredibly helpful tip I would have appreciated knowing before visiting Barcelona for the first time.
Download the TMB app, the city's official public transport page.
Here you will find everything you need for planning and staying informed when traveling on public transport.
🎫 You can also validate tickets using your phone, purchase tickets, and collect them on the metro machines.
It is the most helpful thing in the world because it gives you information on waiting times, whether there are disruptions to your journey, and where you need to get off.
🚍 Like Google maps, it calculates the best routes to get where you want to go with the advantage that it is super accurate and in real-time since the App connects to the city's transport network. You can anticipate delays much more quickly over Maps.
---
3. Use these platforms to find accommodation 🏠
We all know that looking for accommodation in a big city like Barcelona can be chaotic.
But it doesn't have to be that way if you help yourself by using the right platforms. The most typical intermediaries are Idealista, SpotaHome, and Badi. These are reliable sources to look out for. 
After looking at one of these portals, almost everyone I know found a place. 
Idealista is very nice since it has over 1,500,000 announcements displayed on its platform and App daily. It is clear to navigate and offers several filters to be as specific as possible.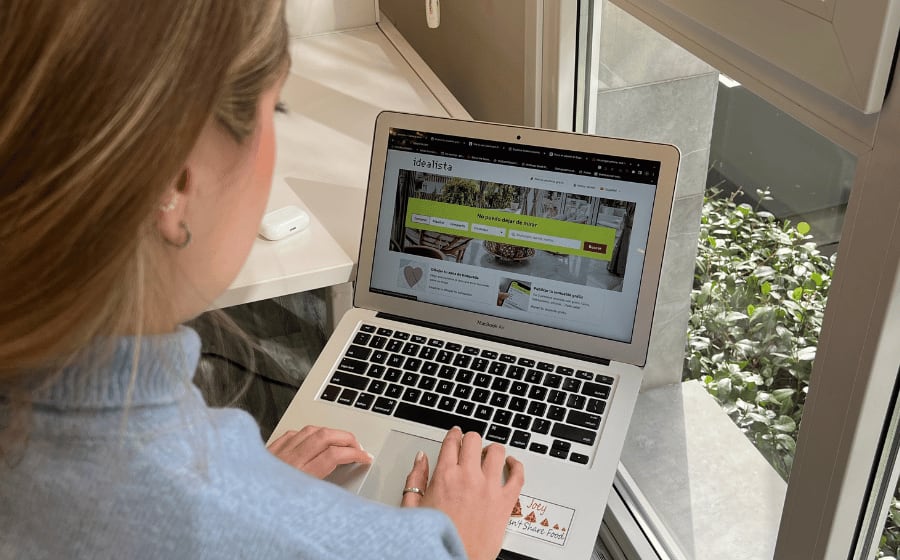 It also allows you to write, call, or email the owners, and you usually get a quick answer from the landlord, company, or agency.
On the other hand, Spot a Home also makes it easy for ex-pats and students to book housing. The options are more limited compared to Idealista. Still, it is super reliable. 
The last one would be Badi, you can rent any room for at least 32 nights, as long as 11 months, and the entire pre-booking process can be done online. Great for a shared flat with roomates! (Badi picks them for you)
For more information regarding this topic, along with the best tips and tricks for finding accommodation and requirements, read here:
9 Best Housing Platforms in Barcelona for Students and Expats
---
4. Take the metro, train, and bus whenever possible, and avoid taxis!
People will choose different transportation methods depending on their destination and the time to reach it. 
Due to the heavy traffic, I recommend using public transport for journeys that are too long to be completed on foot.
But, if you're in the middle of the city center, you'll appreciate walking around the streets of Barcelona instead of hopping into a taxi, which can be very expensive if you're on a budget. 
🚖 The base fee for Taxis in Barcelona is €2.25, and the price per kilometer is €1.18 during the day and €1.40 during the night. 
I do not recommend Uber or Cabify since I think they don't work as well as they do in Barcelona than in other cities.
However, they can sometimes be convenient if you have to get to dinner quickly, or grabbing a taxi after a night out is also understandable. Otherwise, you better walk, take the metro or bus. 
Also, look out for these transportation cards, which benefit travelers. 
Hello Barcelona Travel Card
Hello Barcelona Travel Card + Aerobus
T-Casual Card
T-Usual
T-Día
T-Familiar
T-Día
T-Group
This way, you'll also save a lot of money. Here are the best ways to move around Barcelona for every type of traveler:
Moreover, you can use public bikes. They work well, and people can rent them in two ways. By paying a flat rate, €50 for the entire year. Or by Usage, paying €35 and allowing the App charge you depending on your time on the bike.
(I'll show you later the best ways to rent scooters!)
In case you want to use a taxi, order it through Free Now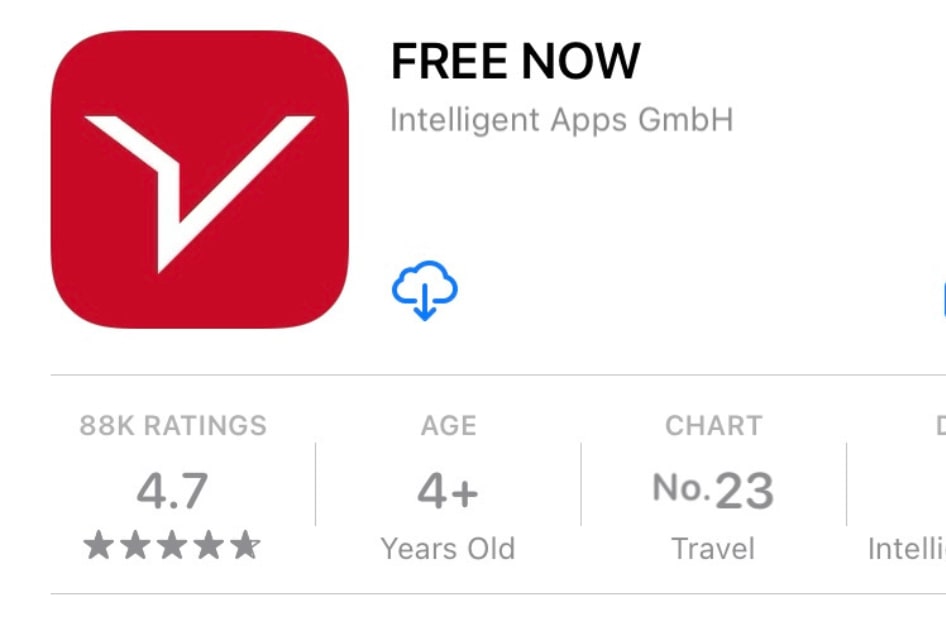 ---
5. Be wise while doing groceries. Shop at these Supermarkets
If you are staying in Barcelona for a long time, it may be convenient for you to do your shopping to eat at home most of the time. However, a tip that comes in handy when it comes to grocery shopping is the best supermarkets to shop at.
Some are looking for convenience, others quality, prices, or variety. Anyway, here I leave you the best places to go to do your shopping and that you make the most of it.
Mercadona: is a Spanish supermarket chain found in most of the country. It stands out for the good quality of its private label and low prices.
Carrefour Express: You might find many of these across the city. Their main advantage is convenience. But not necessarily the best prices since it highly depends on location. 
Supermercats Sorli: Fresh products, wide assortment, and local products. However, a bit expensive compared to others. 
Aldi, Al Campo & Lidl: These are great supermarket chains known for always having low prices. 
Now that you know the main differences between popular supermarkets in Spain, I recommend buying at local markets, especially fruits, vegetables, and fish. 
Since you're traveling to a different city, one of the best ways of doing a gastronomic tour besides restaurants or bars is the local markets. You'll find authentic local products representing Catalonia and how locals do their groceries. 
In this article are the best ones you can't miss, from the most touristy and famous ones to the most local and affordable markets in Barcelona. 
---
6. Get some comfortable shoes. You'll walk a lot
This tip is a classic. Honestly, you would be surprised to know how many people don't do it and regret it after.
Mainly because, generally speaking, it is very common to feel like you are walking on a runway through the streets in Spain.
People are well dressed and, in Barcelona, clothing has a lot of personality since it is a very authentic, open city that receives a lot of cultures from different parts of the world.
So it is normal to feel tempted to pack the best outfit. But, this does not necessarily implies uncomfortable walking. Bring a pair of comfortable walking shoes, since this is what you'll do the most while visiting the city.
I have created this specific tip for those in a hurry and needing help figuring out what to do or where to buy.
In this article, I leave you a guide to the most used shoes in Spain and where to find them. You can easily find these stores in Madrid, Barcelona, and other big cities.
I still remember when we packed up to visit Barcelona, and Jimena brought some boots that made her uncomfortable throughout the trip. It wasn't very pleasant… and it takes away your trip's comfort and tranquility. Just saying!
---
7. Visit Museums when there's free entrance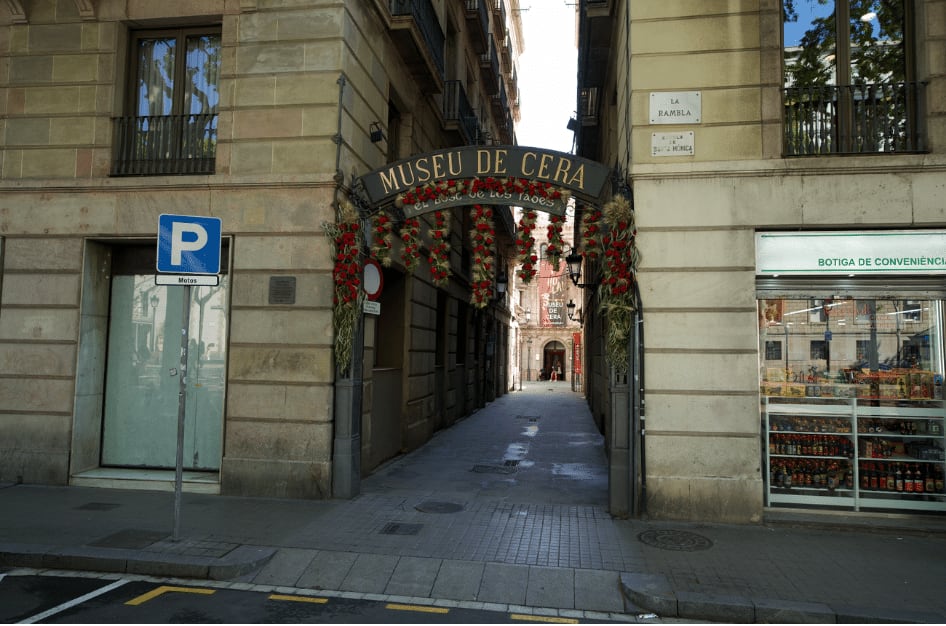 Before visiting, one of the best tips you can get is to look for the free dates and hours of museums in Barcelona.
Some of the free dates for visiting are the following:
Museum in Barcelona
Free Entrance
Museu Nacional d'Art de Catalunya
- First Sunday of the month
- Saturdays from 3:00 pm
- September 11
- May 18 (Museum Day)
Museu d'Història de Barcelona
- Sundays from 3 to 8 pm
- First Sunday of the month
- February 12 (Santa Eulàlia)
- September 24 (La Mercè)
- May 18 (Museum Day)
Monestir de Pedralbes
- First Sunday of the month
- Sundays from 3:00 pm
Centre de Cultura Contemporanea de Barcelona
- Sundays from 3 to 8 pm
- February 12 (Santa Eulàlia)
- May 18 (Museum Day)
- May 14 (Museum Night)
- September 24 (La Mercè)
Picasso Museum
- Thursday from 5 to 9 pm
- First Sunday of each month, from 9 am to 7 pm
- May 18 (Museum Day)
- September 24 (La Mercè)
Museu del Disseny de Barcelona
- First Sunday of the month
- Sundays from 3:00 pm to 8:00 pm
Museu de la Música
- First Sunday of each month (all day)
- Sundays from 3:00 pm
- Thursdays from 6:00 pm to 9:00 pm
- February 12 (Santa Eulàlia)
- May 18 (Museum Day)
- June 21 (Music Day)
- September 23 and 24 (La Mercè)
- November 22 (Santa Cecilia)
Museu Marítim de Barcelona
- Sundays from 3 pm
- February 12 (Santa Eulàlia)
- May 18 (Museum Day)
- September 24 (La Mercè)
Jardí Botànic
- Sundays from 3 pm
- First Sunday of each month (all day)
- February 12 (Santa Eulàlia)
- May 18 (Museum Day)
- September 24 (La Mercè)
Also, you should book in advance! For example, getting tickets for the famous Sagrada Familia can be difficult at the last minute, especially in the high season. Avoid running out of tickets by booking in advance.
In addition, you can get early bird discounts, avoid last-minute markups and special promotions, and benefit from combination deals such as free guided tours, discounts at gift shops, or complementary drinks or snacks.
---
8. Be careful with pickpockets in these places
I know, although it is a beautiful city, it has a bad reputation for pickpockets in tourist areas. However, these people are generally not violent, so you don't have to be scared at all, and I swear it is not an unsafe city overall.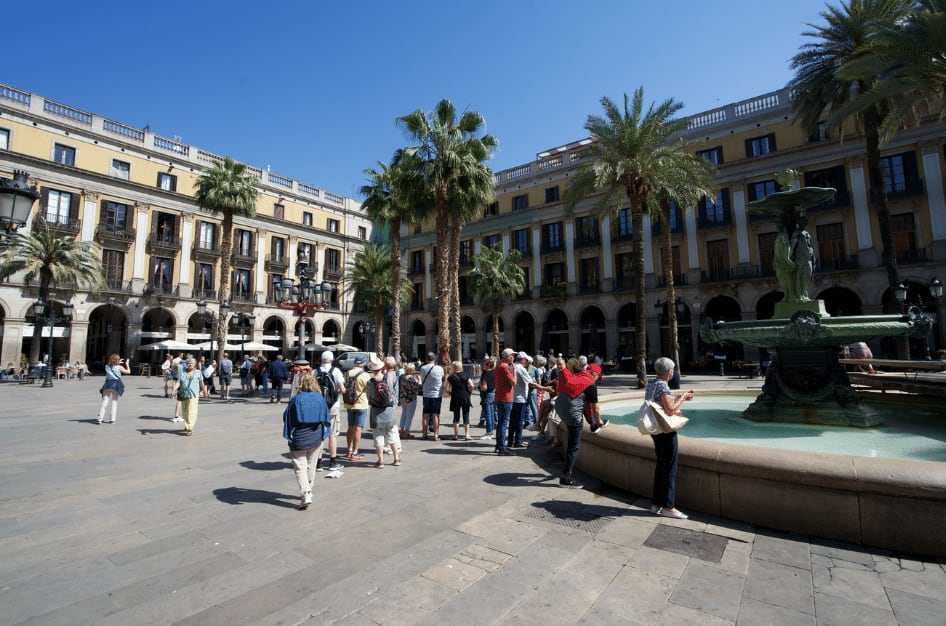 Yet, these people target handbags, phones, and wallets, which they try to steal without the owner noticing. 
👀You just have to take some simple precautions, and everything will be alright. Some tips to take care of pickpockets:
Try to avoid carrying your wallet or phone in a back pocket.
Keep bags closed and with you in cafes/coffee shops.
Pay attention to your phone or cameras at the cafe tables.
Beware of strangers approaching or touching you at any time. This is often intended to distract you before they rob you. 
Don't keep all your money in the same place.
These tips are mainly in the most touristic places, such as La Rambla, La Sagrada Familia, La Boquería, and public transport. Always watch your things, and nothing should happen to you.
---
9. Enter nightclubs without paying an entrance fee by Friend List
🕺🏽The famous nightlife in Barcelona is one of the most fun in the world. Worth the hype. In a few places, it works out as well as in this city.
At the same time, it can sometimes be expensive to party. Paying for the entrance tickets (usually includes a drink of your choice), the drinks inside, bottles, and tables can be pricey if you are on a budget.
But, you do not necessarily have to pay for admission. It is possible to access nightclubs for free if you are on a friends list.
And how do you get this? Well, different platforms and people are dedicated to making nightlife accessible to everyone. Here are some of them:
@rumbalist_bcn: Enter nightclubs without paying an entrance fee with a guest list. For example, Bling bling, til 1:30 am, free entry just by saying Rumba List at the entrance. Downtown: free VIP for girls by sending a Dm on Instagram. Opium, free access. 
Nightlife Barcelona: It is as easy as choosing the Club where you want to go; sign up, and you will receive a confirmation by email at the door of the Club, show the email, and say "I am on the Friends List" to the Doorman with your identification. If you are of the right age and have the appropriate dress code, you will enter with your friends without any problems!
You Barcelona: You can get free access to the best parties, clubs, and VIP lists here. 
---
10. Know the best time of the year to visit Barcelona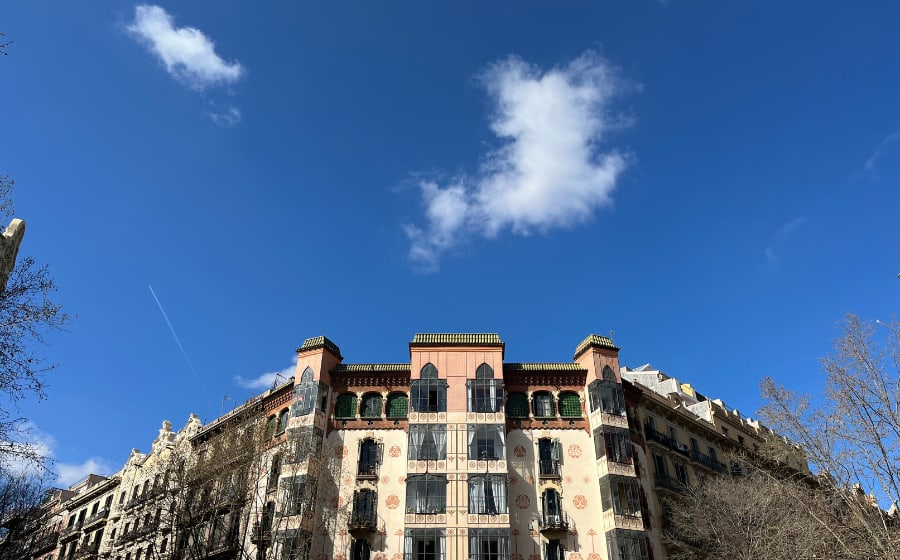 The best time of the year to visit Barcelona will depend on many things. 
However, if you're looking for the best prices, pleasant weather, and few crowds, visit Barcelona in its shoulder season, from late March to April or from late September to October.
Take a look at the best activities you can enjoy during these seasons:
Barcelona in Spring: 9 Reasons Why It is My Favorite Season
I would say this is an ideal time to enjoy a beautiful trip and have a relaxing time while visiting the city. Also, as it is a low tourist season, there are fewer waiting periods at tourist attractions and savings on travel budgets. The best of both worlds!
🛫However, you should not expect to see the city at its liveliest, as they usually happen during the high season, from May to early September, which is also the best season to enjoy the spirit of Barcelona with outdoor events thanks to its sweltering sunny days with the sun out till 9 pm. 
🛩️Lastly, the low season in Barcelona begins in November to early March, when the sea is also out of bounds, but it's the perfect place to go shopping in Barcelona since there are discounts everywhere. You can also delight in the Christmas festivities and art and music concerts.
You can see related information about weather, seasons, and holidays in the following articles:
Prepare for Barcelona Weather: Advice from a local + 7 Tips!

List of Public Holidays in Barcelona (2023 and 2024 calendar)
---
11. Get out of Barcelona! Visit nearby towns and discover Catalonia
Catalonia's beautiful towns and villages are among the best things it offers its visitors. Walking and getting lost through the hidden streets and the beautiful beaches is the perfect plan for any vacation trip.
I added this tip to the list since many towns and getaways are less than an hour away from Barcelona! And only a few people know about them.
🏖️ My top picks for you are the following:
Sitges: Approximately 42 min away from Plaça de Catalunya.
Caldes de Montbui: Approximately 42 min away from Plaça de Catalunya. 
Sant Pol de Mar: Approximately 43 min away from Plaça de Catalunya. 
If you want to keep reading about this topic, read this article, which might be helpful:
This year, one of our team members traveled the whole coast of Spain and recorded incredible walk videos. And this is one of my favorites, a beautiful beach in the town of Sitges!
So no excuses for getting a little further from the city on your vacations.
---
12. Ride a scooter by downloading Cooltra App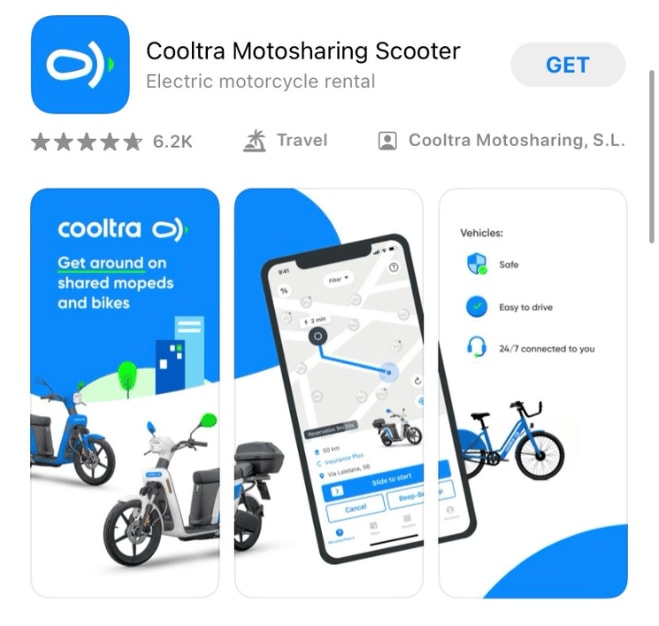 Discovering the city of Barcelona is best when you do it by scooter! Especially the Barceloneta side, which can be chaotic occasionally.
Cooltra offers scooter rentals at unbeatable prices. It will allow you to move fast and quickly around the city. Avoiding traffic jams, forgetting schedules, and crowds in public transport.
Without even mentioning saving the money you would spend on cabs, gas, and parking! 
🛵 You only have to choose the store and the dates, select the scooter type and extras you want, and that's it. 
I promise this is the perfect plan to do with friends or on a date. You will have a great time, and the laughs won't be lacking. 
---
13. Use the Aerobus from the Airport to reach the city quicker
The Aerobus is the Barcelona Airport express shuttle bus that will quickly take you to and from the Airport and city center.
I highly suggest you get the Barcelona Transport Pass. It includes tickets for the Aerobus. It includes unlimited metro, tramway, bus, and train transport, and you can choose the pass that suits your needs, whether it is 48 hours, 72 hours, 96 hours, or a 120-hour ticket duration. 
There are marked signs outside the arrivals gate at both terminals in the Airport. Once you step outside, look for the big blue bus that says "Aerobus."
The Aerobus Tickets to T1 and T2 prices are the following:
💵 Single ticket: €6.75
💵 Return ticket: €11.65
📍You can purchase the tickets on the buses or at the vending machines close to the stops.
If you arrive at Barcelona airport and prefer to take the AEROBUS instead of the metro to get to the city, consider the Barcelona Transport Pass, the Aerobús ticket, or the Hola BCN Travel Card. 
For a typical 3-day stay, buying a Hola Barcelona card is a great deal! Just by making 2 or 3 trips per day by metro, bus, or tram, you'll already be saving money!
---
14. Tips are not an obligation in Barcelona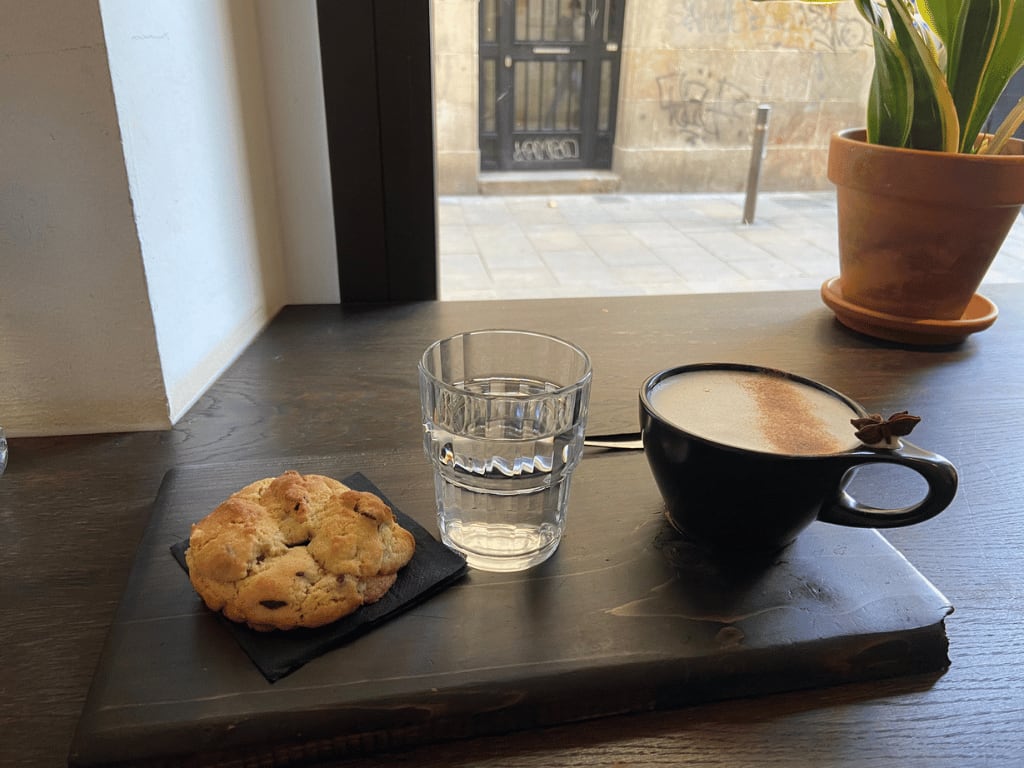 Tipping customs vary depending on the city you are in. And, if you are unfamiliar with the cultural norms of the country you visit, you may find yourself in uncomfortable situations, especially when money is involved.
Barcelona does not include the tip in the final price at restaurants and hotels. However, any kind of tip is welcome by the employees.
💶 It is usually between 5 - 10% of the total bill if you want to tip.
---
15. Download Ubeeqo to rent a car in Barcelona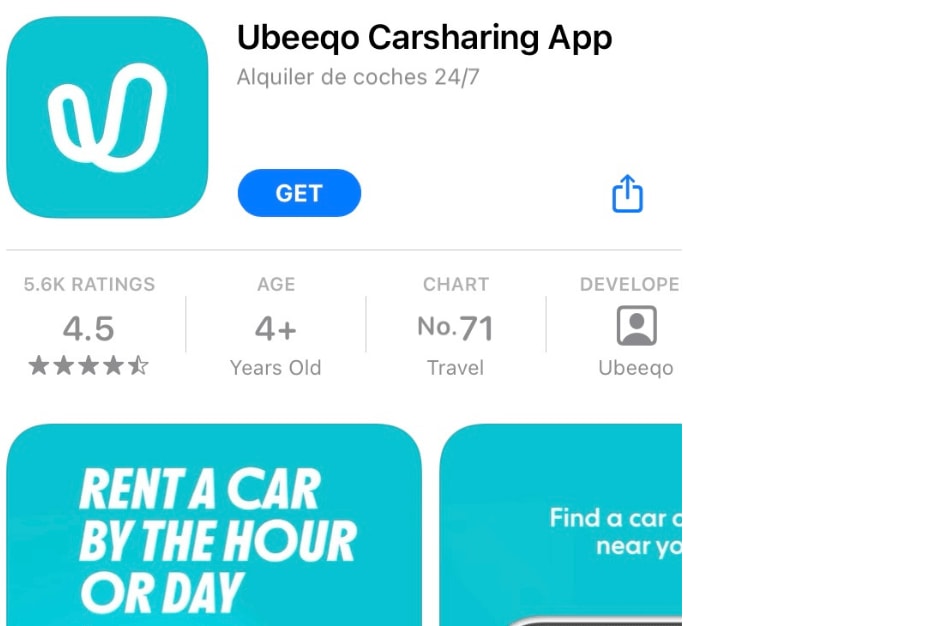 The Ubeeqo Carsharing App is a good option if you want to rent a car to travel around Barcelona, which is the most recommended when planning a trip to this city.
🚘 First, download this App or register on their website. Here you will be asked for personal information and upload a photo of your driving license and a selfie where you can be seen holding the permit.
Then the App will check your data, and the process can take 1-2 days approx.
Finally, you must choose a card to open the car if you have poor mobile coverage in the parking lot.
Then you choose the car you want to rent in the App, select the Ubeeqo parking that suits you best, and choose the time to pick up your vehicle.
Lastly, you can pay with debit or credit cards, and you will be charged automatically when you make a reservation!
Remember that you should not download the App at the last minute. They will ask for your ID and need time to review your documents.
However, if you want to rent a car using the traditional way, watch this video I made, which explains it well!
---
I hope this article was helpful! Now you're ready to discover Barcelona like a local. Let me know in the comments which tips or tricks shocked you the most and which ones you look forward to applying on your next visit.
If you have any doubts, don't hesitate to contact us. We'll be more than happy to help you plan your trip and answer your questions and curiosities about Spain.
Arreglar