9 Spanish Cities with Surprisingly Good Christmas Lights
October 25, 2022
Updated:

March 29, 2023
Published: October 25, 2022
What is Christmas for you? And by that I mean, how does it make you feel when to see your phone strikes December the first of each year?
I got you thinking, didn't I? If one of your first answers is "joy" or "best time of the year," this article will take you to the right places.
In this article, I will share with you the nine cities with the best Christmas lights in Spain, plus there is one city that even includes a tour!
I hope you'll enjoy this post as much as I did writing it! Christmas is the best time of the year, and the city's lighting work makes it extra magical.
And it's not just me that thinks so! We went out to the streets of Madrid to ask Spaniards how they celebrate Christmas. This is what they had to say: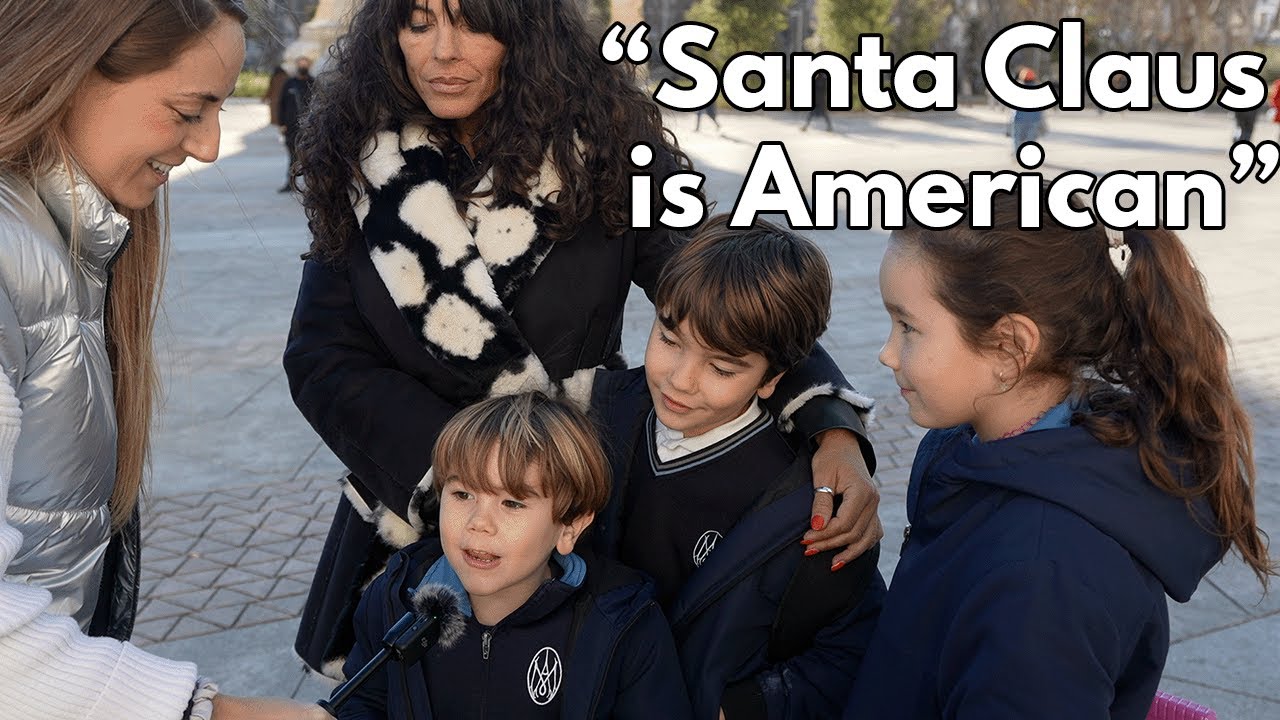 So, for me, Christmas has meant different things in the past years. Back when I was in college, December the first would mean exam time. It was a combination of feelings! Knowing Christmas was around the corner, I had to divide my time between exams, wanting to go out for some hot chocolate, and Christmas shopping. After graduation and the beginning of adult life (you know what that is like), Christmas meant family time and getting a bit of rest.
But anyway, in all that, the ever-changing mix of activities, meanings, and feelings. The Christmas lights have always been my favorite thing to see; I know many of you out there agree with me on this one. There is just something so magical about having your usual street light up with stars, mistletoes, and trees.
I won't make this longer. The list is right here and if you visit any of these cities, let us know! We love sharing Christmas excitement!
1. Madrid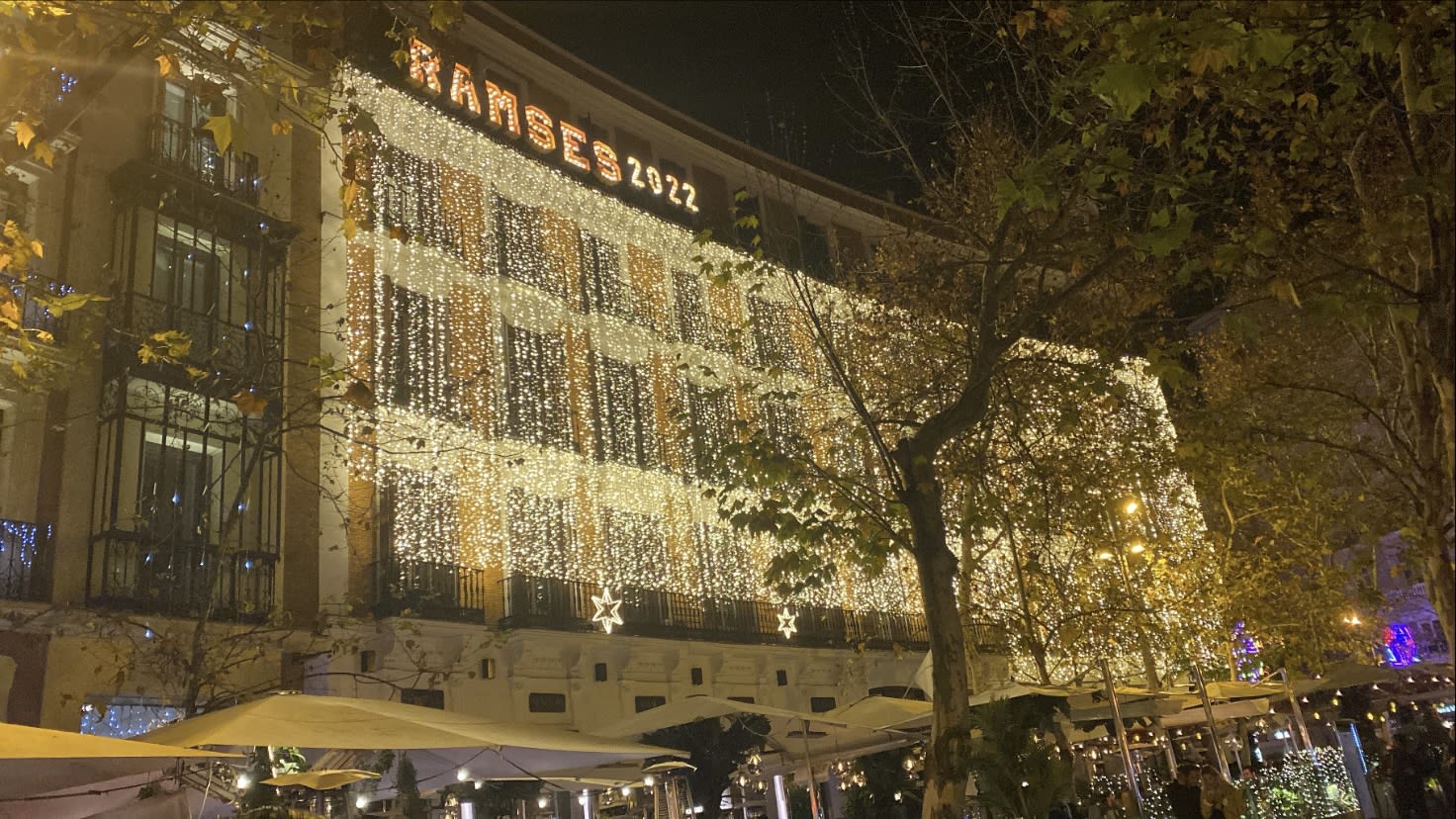 Madrid gets exceptionally magical during the holidays. I dare say that the Christmas lights we have in Spain are so lovely, it is worth having a tour of them!
So, where should you go to in Madrid? Well, everywhere. I mean it! From the luxurious neighborhood of Salamanca to crowded Gran Vía, every corner of the city gets decorated with Christmas lights that will make you feel like one of those Netflix holiday movies. 
If you only have one day and find yourself super close to the city center, then walk the streets of Preciados, Arenal, del Carmen, and Plaza Mayor. The Christmas lights will make you feel jolly! Those are all near each other, and I recommend ending the stroll with the Christmas market in Plaza Mayor. That is to die for! You know what? Forget what I said! The final stop should be San Ginés to enjoy some "chocolate con churros" on a cozy night. 
If you have more than a day, you should see the 12-meter light sphere in the Metropolis building. It is made out of 43,000 LED lights! Another magical activity is visiting the Royal Botanical Gardens. Nature turns magical with some beautiful work of lighting!
Now, remember I mentioned a light tour? Madrid has one! It is called Naviluz, a one-hour bus ride through the most excellent light decorations in the city. Buy your tickets in advance here!
2. Barcelona
Barcelona is the second magical city on this list. When I was little, I would watch movies like "Home Alone" and be so impressed by the lights displayed outside each mansion. Well, I get the same "awed" feeling I got as a kid when I visited Barcelona on Christmas.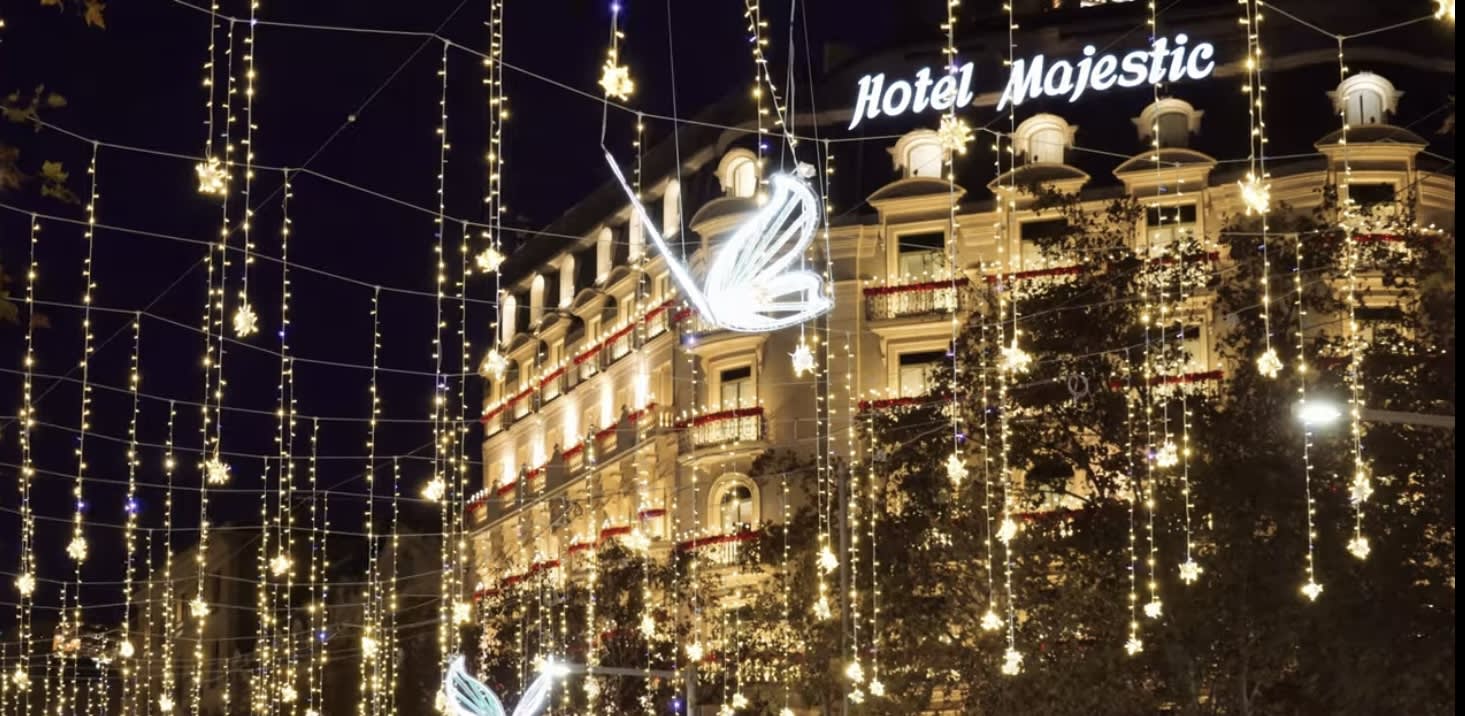 Barcelona has ten districts with the best Christmas light you'll see in your life! I am not exagerating. Each neighborhood decorates with designs that make people feel like they are in Santa Claus village. So, if you are traveling through Catalonia during the December holidays, make a stop in Barcelona. It will be worth it.
These are the lights districts you have to visit in Barcelona:
Ciutat Vella
Eixample
Saints-Monjüic
Les Corts
Sarrià- Sant Gervasi
Gràcia
Nou Barris
Horta-Guinardó
Sant Andreu
Sant Martí
As I said before, these are districts, which means that there is more than one street fully decorated with what I like to call aerial lights. For example, in the Eixample, you'll find the famous and high-end street of Passeig de Gràcia, where you'll see sparkling butterflies flying over you. I am not exaggerating. This street is spectacular. Also, in the Gothic Quarter, you'll find Plaça Catalunya (Plaza Catalonia), which has one of the city's more impressive Christmas lights displays. It is nice to sit with your friends, family, or partner.
In addition, the Corte Inglés mall puts up a giant light tree outside the Avenue of Portal del Angel. Barcelona is another city with stunning Christmas lights you shouldn't miss!
3. Vigo
For those who haven't heard of Vigo, you'll learn about it here and never forget it. Vigo is a city on the northwestern coast of Spain, right over Portugal. 
Why are you not forgetting about Vigo? Because this city either goes big or goes home. And it always, and I must emphasize, always go big! So big that astronauts know the Christmas season began when they see the small Galician territory light up from space. Yes, exactly what you just read. The International Space Station can see how Vigo transforms into a city of Christmas lights.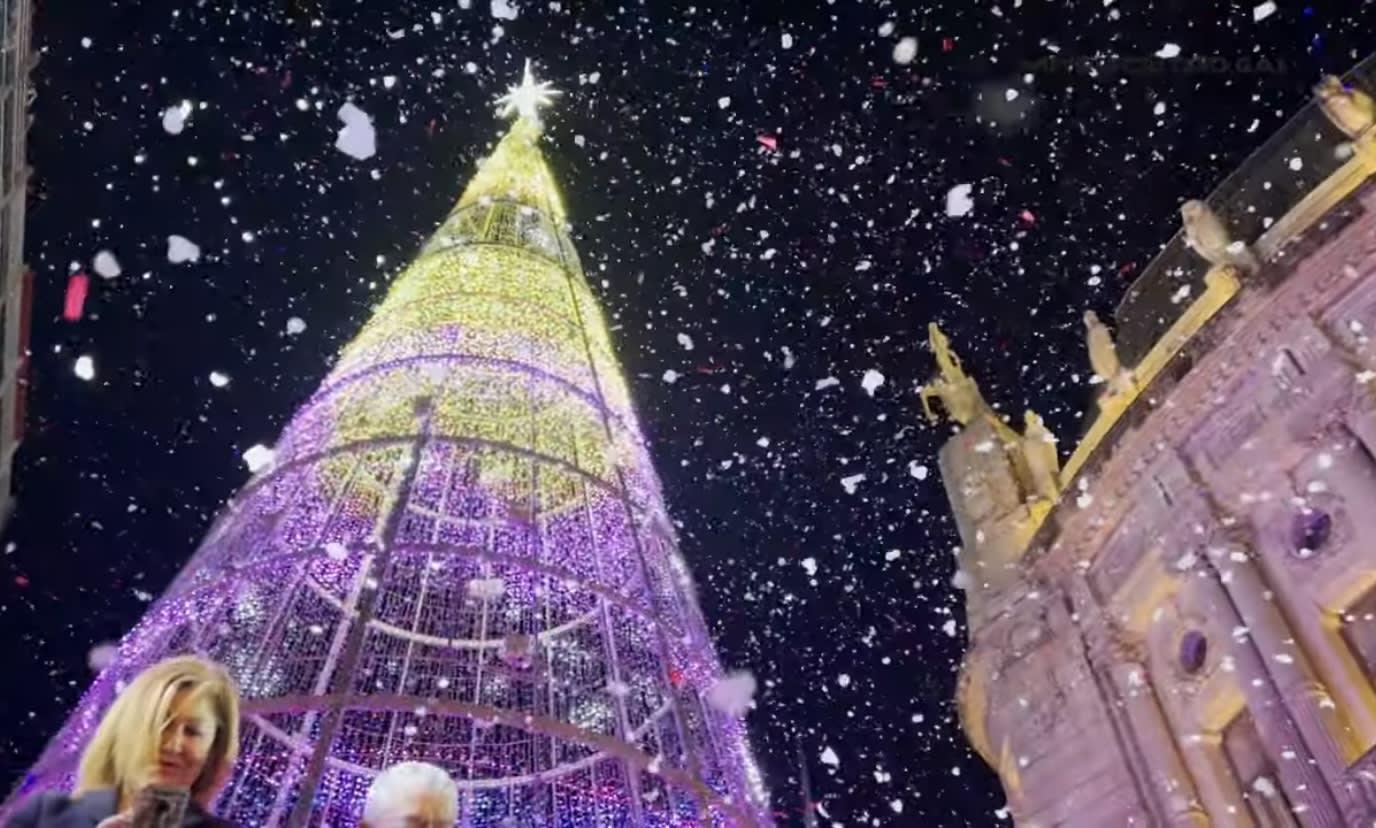 How is this possible? The city uses eleven million LED lights to transform into a magical town from mid-November to January 7th. In most Spanish cities, Christmas is over on January 7th because it is the day after the Three Wise King day, which is a huge deal here (even more than Christmas itself).
Check it out!
Celebrate "Día de Los Reyes Magos" for a Magical Time in Spain
Most of the decorations in Vigo are pretty iconic, but I must stand out the fully illuminated ferris wheel at the end of the Plaza de Compostela street. But that is not the only giant thing they have on display. You can also enjoy the 12-meter Snowman, which is made of only lights; a (wait for it) the 30 meters (!!!) Christmas tree decorated, yet again, only with lights; and a big Christmas present in their Gran Vía. In the same Plaza de Compostela, you'll find a charming Christmas market that offers artisan products and great food. 
In addition to that, the other three places to have in mind are the "Calle del Príncipe," "la farola de Urzáiz," and the plazas in the "Casco Vello."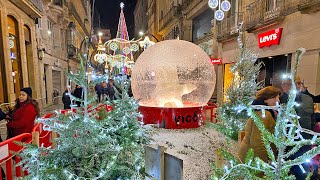 4. Valencia
For Valencia going big means something different. They might not go big with the number of decorations in the city, but they have one place that makes a trip completely worth it.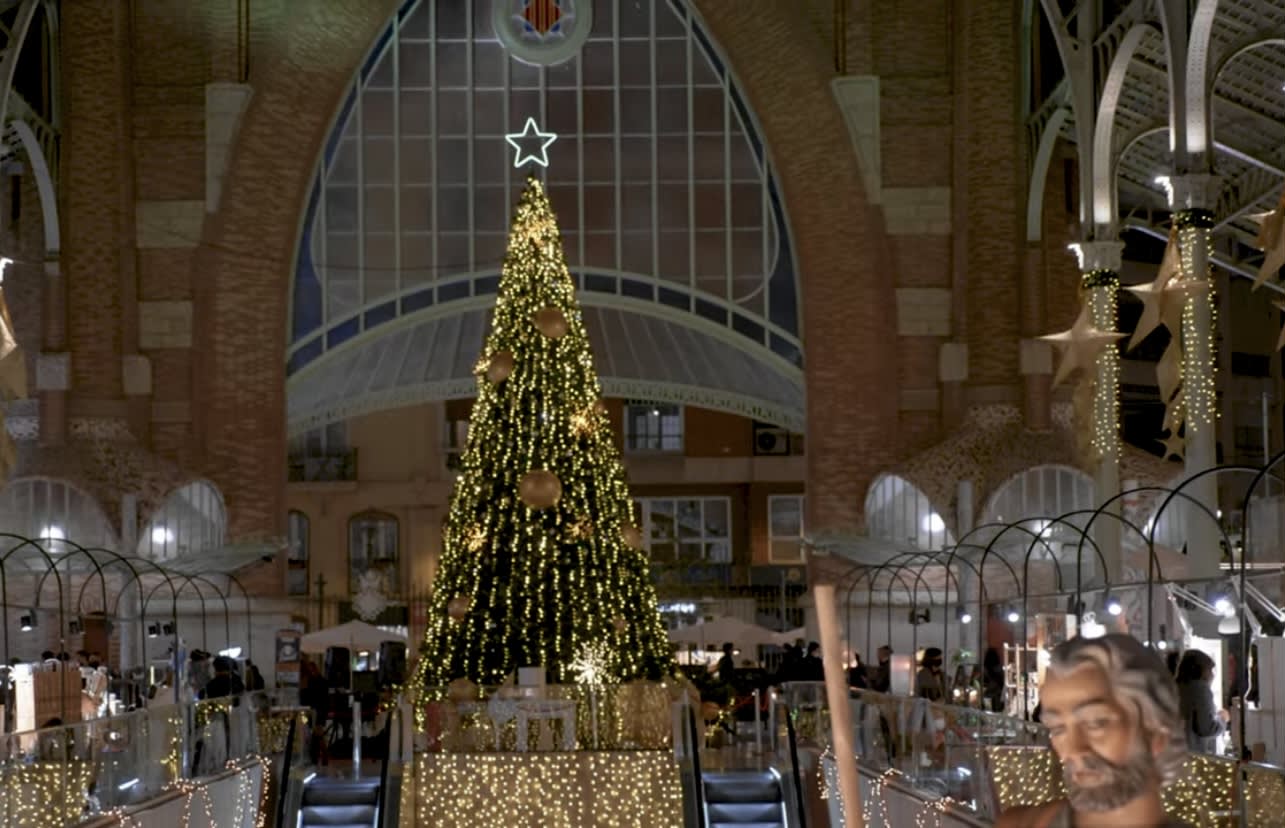 Just like all the cities above, the capital of the Valencian Community decorates its street with flying lights and baubles, but there are three main things to see there: the markets, the nativity scenes, and "Les Ilums de Vivers." 
Valencia has two main Christmas markets that you will love. The Craft Fair in the Plaza del Ayuntamiento and the Craft Show in the Colón market; you'll find beautiful handmade gifts to buy 'local' in both markets. There is something else! Next to the Craft Fair, the city's mayor puts up a giant skating rink to have a complete movie Christmas experience.
Oh! If you were also wondering what we watch on Christmas, you should read this:
11 Spanish Christmas Movies to enjoy a Lovely Family Evening
If you are a fan of Nativity scenes, then Valencia is your place to be. The Mediterranean city has the tradition to hand-craft the crucial stages of the bible that precede Jesus's birth and, later on, sharing their art with everyone. 
And, for those looking for a fairy tale experience, you have "Les Llums de Vivers." Set up in the historical Jardins des Vivers, the park uses lights and technology to create a fantasy environment for a magical evening in Valencia. 
5. Málaga
There is one thing you need to know about the Christmas lights in Málaga.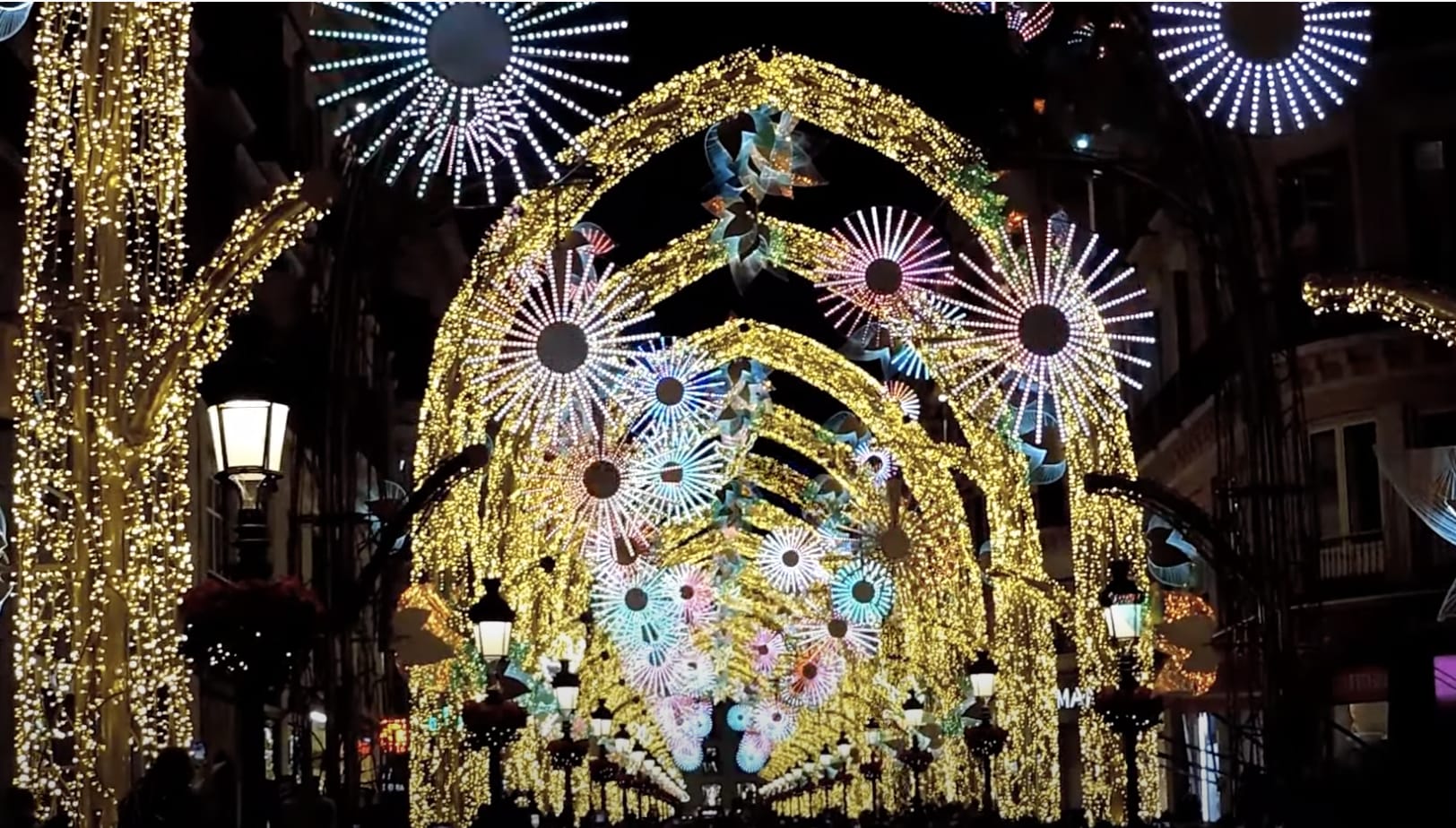 The people, or better said, the company in charge of designing the lighting displays of this southern city, is the same company that puts up the lights on New York's Fifth Avenue. 
I think that is enough for you to know how it is beautiful. This city used approximately 730,000 thousand LED lights for Christmas!
Málaga's most famous street on Christmas is the "Calle Larios." On the last Friday of November, the people that walk through that street will enjoy a starry ceiling. Remember what I said about the flying butterflies in Barcelona? Well, "Calle Larios" creates the same effect with a light ceiling that resembles the stars, and with some baubles floating around from time to time. 
Other streets to keep in mind if you go see the Christmas lights in Málaga:
Calle Marqués
Sagasta
Souvirón
Plaza de Camas
Calle Herrera del Rey
Puerta del Mar
Calle Moreno Carbonero
Calle Álamos
Calle Granada.
While strolling through this street, you could also stop by the seven giant trees spread in the city. The smallest one is six meters, and the tallest one is eighteen meters. The city puts up two types of trees: traditional Christmas trees and Almendros. The first ones are located in Parque Huelin, Plaza de la Marina, Plaza de la Constitución, Plaza Enrique García, and of course, in the Calle Molina Lario. The other two Almendros are in Plaza del Teatro Cervantes and the Calle Alcazabilla. 
6. Seville
Sevilla, the capital of our southern region of Andalusia, is our seventh Christmas light destination in Spain. Before Christmas, I visited this city last year, and it left me very happy.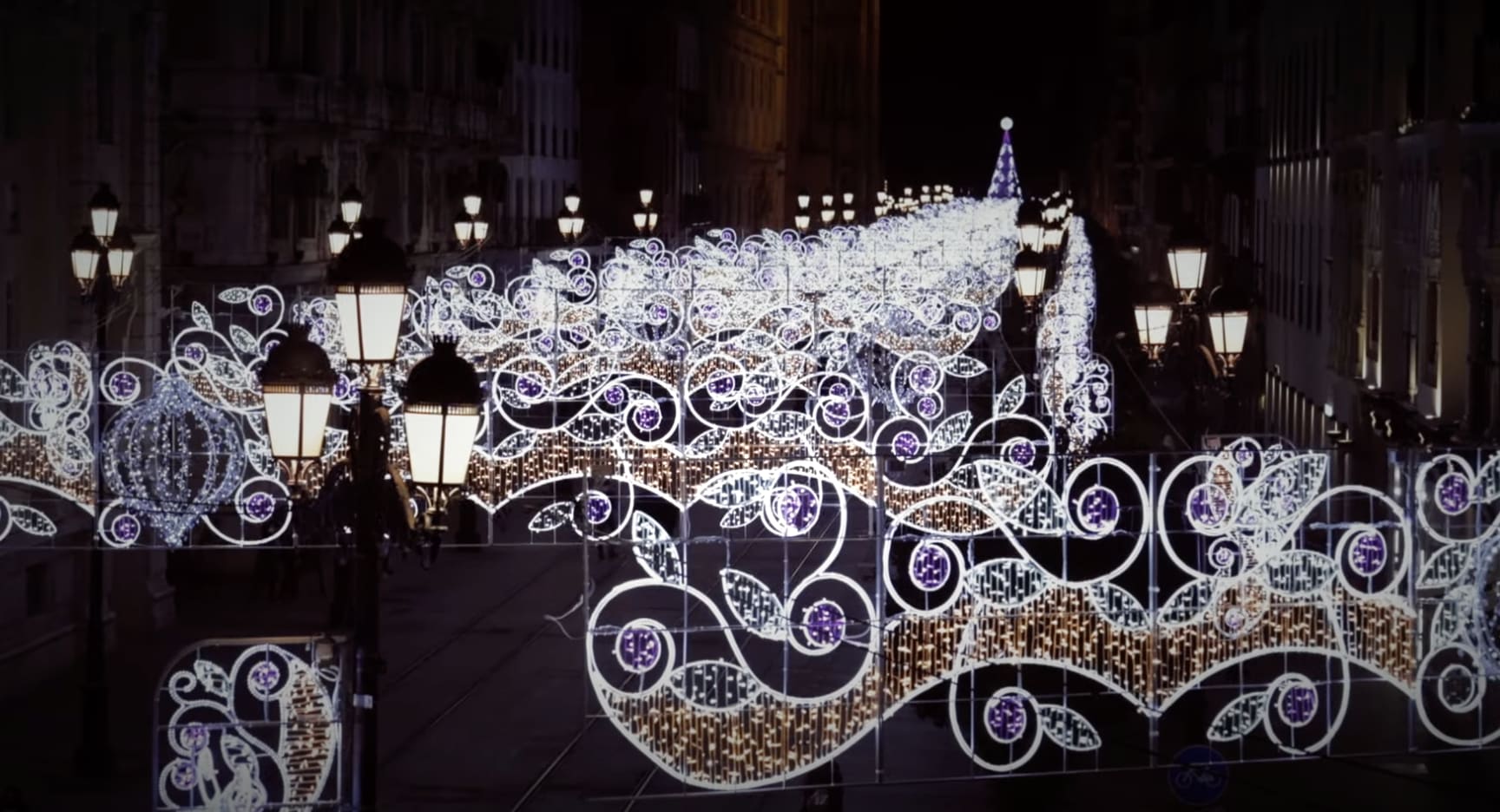 It was the perfect definition of Christmas in Southern Spain. The weather was cool enough to wear a jacket but not freezing. I walked across Triana's bridge and got a fantastic view of the people trying to get some sun rays in December. I remember that the Triana neighborhood didn't have many Christmas decorations. Still, once I got to the "Casco Antiguo" (city center), I was reminded that we were close to Christmas day.
The streets are decorated with Christmas light motifs like baubles, snowflakes, and stars. In Seville, you can enjoy 288 streets and plazas with Christmas lights. The great "encendida" (lit) happens a bit later than the other cities, but that allows that amount of places to be covered in sparkling Christmas spirit. 
Some of the most visited streets are:
Avenida de la Constitución
Tetúan
Sierpes
Laraña
Alfonso XII
Campana
Plaza del Salvador
Asunción.
7. Zaragoza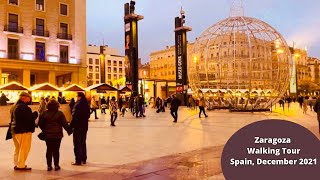 Zaragoza is the capital of the region of Aragón, and I think it is a city that will make you feel at home. Unlike all the other cities going big with lights like New York. Zaragoza will give you the feeling of a miniature Christmas village from the movies.
The Christmas lights in this city are mainly in the Plaza del Pilar. There you'll encounter the tree of wishes, from which hundreds of light strings extend to the outer perimeter of the plaza. The tree of wishes received its name from hand-written paper that people add to the branches through the month of December. So, if you need a little favor from the Christmas spirit, don't forget to visit Zaragoza!
Next to the Plaza del Pilar, you can go ice skating, visit the Christmas market, stroll through the nativity scenes, and (best for last) slide in the snowy toboggan.
8. Palma de Mallorca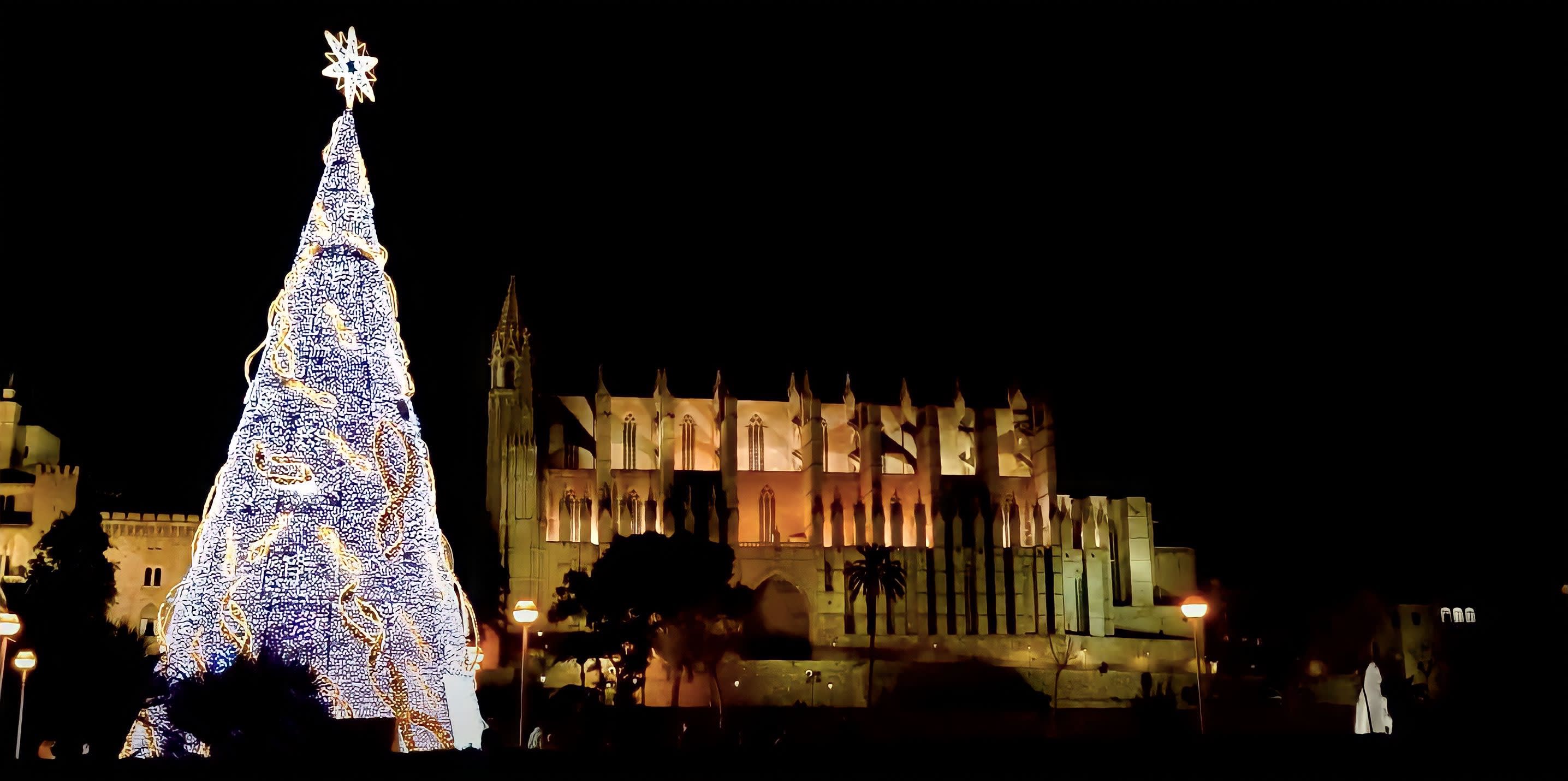 Palma de Mallorca is the capital of the Balearic Islands in the Mediterranean Sea. Just like in Sevilla, the Christmas season in Palma de Mallorca is not as cold as in the central and northern parts of the country. But we don't need the cold to feel the Christmas vibes!
The most iconic Christmas lights in Palma de Mallorca belong to the giant tree in "Parc de la Mar," which includes a tunnel in the middle for people to take a picture inside. Besides the jolly Christmas tree, people in Palma de Mallorca enjoy the lighted trees in Passeig des Born and Las Ramblas. Plus, the essential Christmas market in Plaza Mayor. 
9. Murcia
Last but not leat, Murcia! Just like in Zaragoza, the environment that you feel in this city is the one of a homy village in a Christmas movie. Murcia is the region's capital under the same name on the eastern coast of Spain.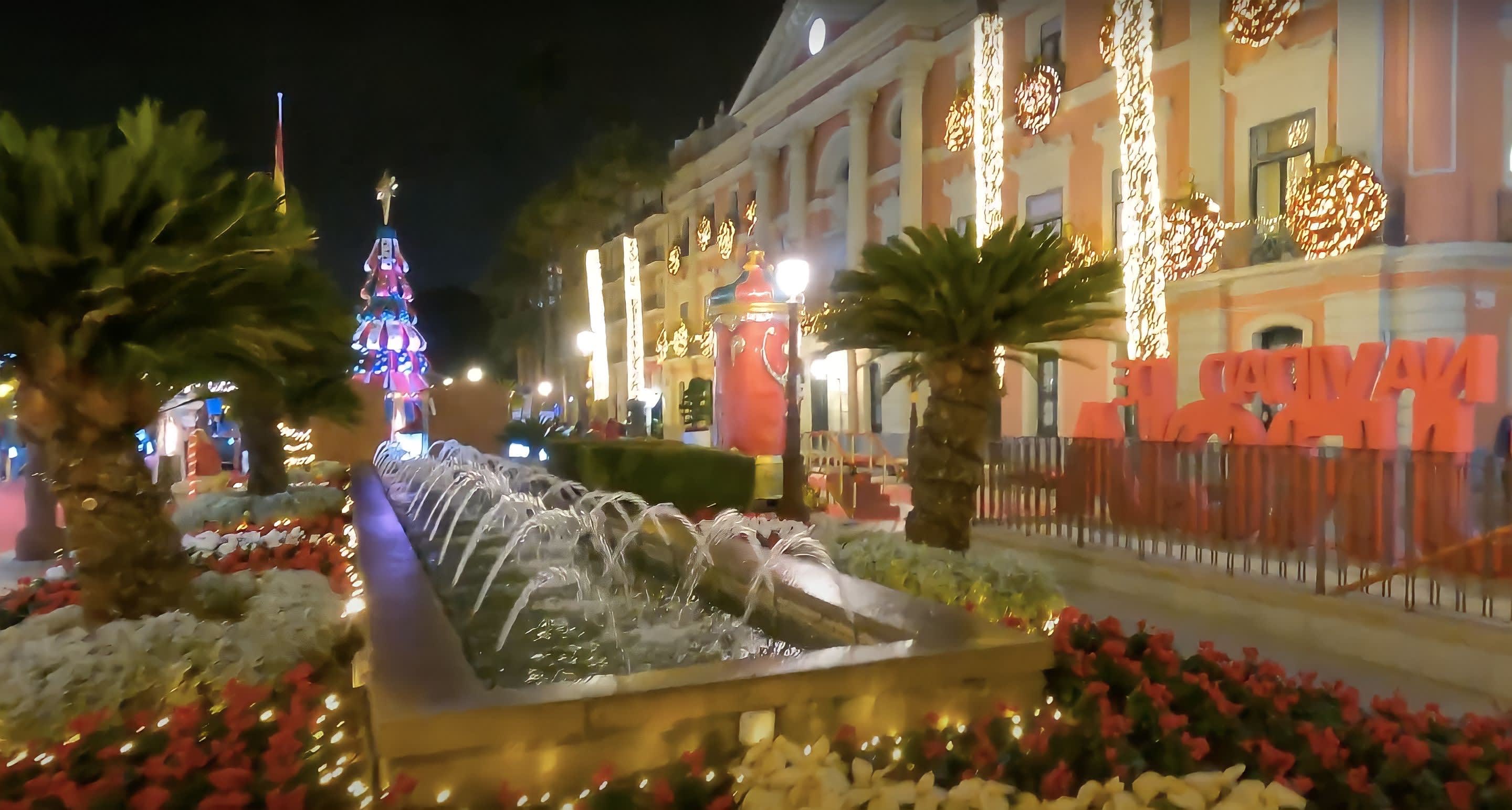 Once the last day of November hits, the city is dressed up for the holiday season. The Circular Square (city center) shows off a Christmassy red carpet, motif lanterns, and Christmas lights decorating trees and buildings. Murcia takes the Christmas light business a bit lowkey, but you always visit The Craft Fair there. For them, that time of the year is meant to show off their craftsmanship, culture, and traditions. At the fair, you'll be able to find handmade nativity scenes.
And those were the nine cities for Spain's best and more surprising Christmas lights! My personal favorite is Vigo, mainly because once you are there, you get the sense of having entered Santa Claus's village in a movie.
Christmas in Spain is unforgettable, and our cities' effort into the lightning is magical. If you visit any of these cities, let us know! We would love to read you!