Is Spain in Latin America? It's Actually a Good Question
October 4, 2022
Updated:

January 23, 2023
Published: October 4, 2022
The question that many people ask generates so much confusion. Did you think so too? Many people position Spain in Latin America by speaking the same language as most Latin American countries.
Actually, it's not something that offends me particularly. Still, for the general culture, it would be good to clarify that Spain is part of the European continent.
Although we have a lot of things in common, and we share many customs and traditions (even more than with other European countries), we also have our differences.
In this post, we will go into more detail about the differences between Spain and Latin America and their history.
Are you ready to start with a little history lesson? I promise to make it entertaining, so I hope you enjoy it!
1. Is Spain a Latin American country?
This is a more common question than you might think, generating a lot of confusion. By speaking the same language as many Latin American countries, many people tend to place Spain directly in Latin America, which is a mistake. Latin America is part of the American continent where Romance languages, such as Spanish, Portuguese and French, dominate. They are called Romance languages because they come from Latin, the official language of ancient Rome. It occupies the south of North America and practically all of South America, Central America, and the Caribbean. It's composed of a total of 20 countries and 14 territories, most of them being Spanish speaking with some exceptions which we'll see below.
And Spain is predominantly located in southwestern Europe, with parts of the territory in the Atlantic Ocean and across the Mediterranean Sea. Most of Spain is situated on the Iberian Peninsula. Its territory includes the Canary Islands in the Atlantic Ocean, the Balearic Islands in the Mediterranean Sea, the autonomous cities of Ceuta and Melilla in Africa, and three more Spanish territories in Africa.
2. Differences between Spain and Latin America
Although the roots of both cultures have very similar origins and we share the same language, there are also some differences:
Latin America, as part of the American continent, comprises several countries, each with different customs and people. And Spain, despite being a single country, and being part of the European continent is divided into different autonomous community.
As you already know, we share the same language with some Latin American countries, BUT there are also differences. Some vocabulary and expressions vary significantly between Latin America and Spain, and even between Latin American countries.
Most of them are Spanish-speaking, but there are exceptions. In Brazil, they speak Portuguese; in Haiti, the official languages are Haitian Creole and French; in French Guiana, the official language is French. Also, we have to mention Belize, where the official language is English, and St. Lucia, where they speak English and French.
Let's read Valeria's opinion, 24 yo, from Ecuador:
"When it comes to language, in Latin America, the name of one thing can be different in every country. But what I feel is different about our Spanish and Castilian are the words and directness. I think Castilian has an extensive vocabulary that allows people to express themselves better. By directness, I mean that Spanish people take no shortcuts in saying what they believe. In Latam, we are so afraid of being rude or disrespectful that we add many unnecessary "nice" words before getting to the point."
The truth is that all Latin American countries and Spain have spectacular gastronomy! Spain is characterized by a Mediterranean diet that is lighter than the one offered in Latin America. And Latin American countries have a great variety of exotic products, such as fruits you will not find in Spain. It's very typical to accompany food with rice and spices. The best thing to do is try the food from both continents and draw conclusions!
Valeria, 24 yo, from Ecuador says:
"Gastronomy is what I miss the most. I miss local fruits like papaya, mango, and avocado. Here those are much more expensive. Also, our meal times are different, we usually eat three times a day, and our "merienda" is a simple snack we eat anywhere."
There are some traditions and customs that are very similar, if not the same. But there are also other things we didn't know about each other that surprise us when we see them.
Here we can use the "siesta" as an example. Something in some parts of Spain is very common, but for a Latin American, itsn't. In fact, it can be a cause for anger!
Let's see Maria Cristina's experience, 21 yo, from Dominican Republic:
"I used to live in Pamplona, a town in Navarre. And every time I needed to run some errands or buy something quickly at a pharmacy, it was just impossible.

Almost all establishments were closed from 1:30 p.m to 4:30 p.m, and this was usually my lunch break between classes at uni. So, I suggest you research open/closed places beforehand, so you don't waste time. In this town, they take the Spanish Siesta very seriously."
The economic status is not the strong point of either Spain or Latin America, but there's indeed a big difference between them.
Many Latin American countries have a big inequality and little dynamic growth. Something that hasn't affected Spain so drastically but if we aren't careful it could happen to us in the future.
Security and development:
Spain is much safer than all Latin American countries. And it's also much more developed. Some countries like Chile and Argentina have better economies and human development than many other Latin American countries. Most are still in the process of growth and still have many challenges to overcome. Salvador, Venezuela, and Honduras have the highest homicide rates in the world. As well as Brazil and Guyana have five of the ten highest crime rates in the world.
Valeria, 24 yo, from Ecuador says:
"In Ecuador, I have to do everything by car because it's safer, and the cities weren't designed to be walkable. I find it amazing that I can walk back home at any hour while in my country here in Madrid. That would be unthinkable."
3. When did Spain conquer Latin America?
I don't know why this is one of the dates that always stuck in my mind at school and that I never forgot. Do you remember the exact date? Well, just in case, I will remind you a little bit but without boring you. Latin America was conquered by Spain on October 12, 1492, with the arrival of Christopher Columbus in the West Indies. But the first European colony to be established in the New World was on the island of Hispaniola, "La Española," which Columbus reached on December 5, 1492. At that time, the island of Hispaniola was divided into two countries, Haiti and the Dominican Republic.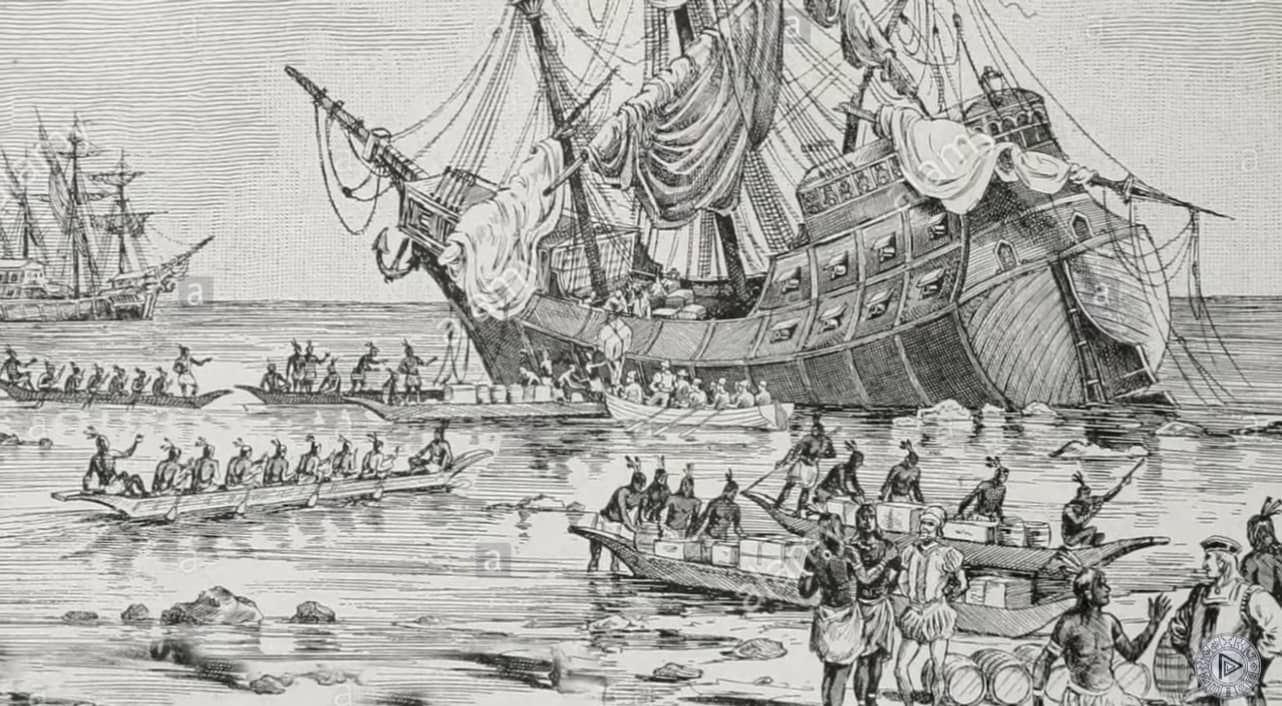 The Spaniards invaded more territory from this first conquest and formed small colonies all over the discovered continent.
But it was then that a problem arose with Portugal, which was the other great expansionist power. Portugal also wanted to increase its territory and claimed its right to expand westward, just as Spain did. At that time, the Catholic Monarchs reigned in Spain and claimed their rights to the conquest of the new continent. Finally, both Crowns, the Spanish and the Portuguese, reached an agreement known as the Treaty of Tordesillas (1494). Spain and Portugal agreed to divide their territories through this pact. They decided that all the lands located nine hundred miles west of the Cape Verde archipelago would be colonized by Castile. At the same time, the territories east of that line could be conquered by Portugal. That's why in some Latin American countries, they speak Spanish, and in others, like Brazil, they speak Portuguese. Now it makes sense, doesn't it?
I would just like to add one more thing that I think is important for you to know. There were two critical moments during the conquest of Latin America. The first with the invasion of the Aztec empire, what we know today as Mexico, was carried out by Hernan Cortes (1519-1521). And the second one was the conquest of the Inca empire in Peru by Francisco Pizarro (1532-1533).
4. Parts of Latin America that were Spanish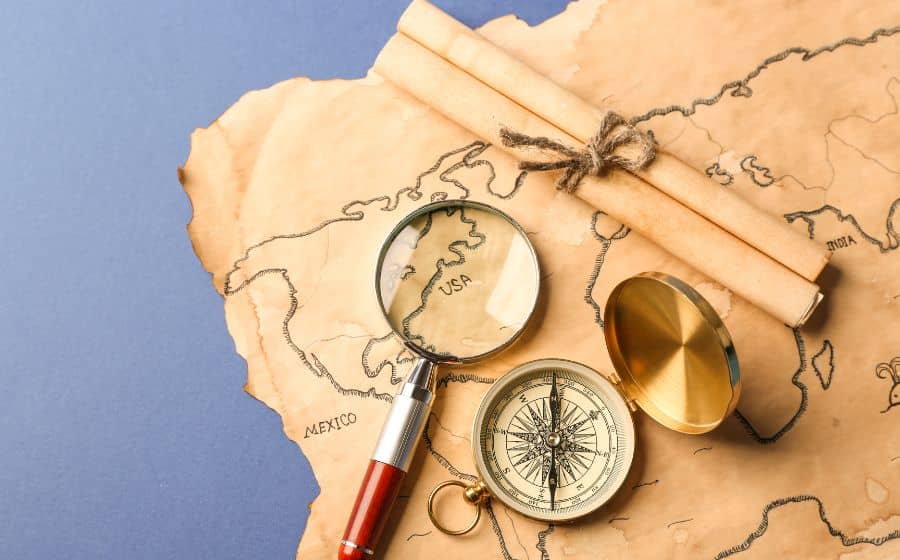 Here I will explain in a very concrete way the territories that were part of the Spanish Empire since its colonization until they finally achieved their independence.
Viceroyalty of New Spain: here, I refer to the country of present-day Mexico, which at the time was called New Spain and was composed of the states of California, New Mexico, Arizona, Texas, Nevada, Florida, Utah, and part of Colorado, Wyoming, Kansas, and Oklahoma. These states belonged to Mexico until 1848 when the United States took them over. Although in the case of Florida, Spain ceded it to the United States through the Adams-Onís Treaty. Spain held power over these territories from 1519 to 1821.
Captaincy General of Guatemala: it was formed by the territories of Guatemala, Belize, El Salvador, Nicaragua, Honduras, Costa Rica, and the Mexican state of Chiapas. The independence of Central America took place in 1821.
Spanish Louisiana: this territory was ceded by France. However, Spain did not hold it for long (1762-1801). It included regions of the present states of Louisiana, Arkansas, Oklahoma, Kansas, Nebraska, South Dakota, North Dakota, Wyoming, Montana, Idaho, Minnesota, Missouri, and Iowa. But most of these territories were never fully controlled by Spain. Still, they were under the power of the native peoples until the 19th century.
Captaincy General of Venezuela: The Kingdom of Venezuela included the territories of present-day Venezuela, Guyana, Trinidad, and part of Colombia.
Viceroyalty of New Granada: the present-day countries of Panama, Colombia, and Ecuador.
Viceroyalty of Peru: present-day Peru, part of Bolivia, Ecuador, Colombia, Chile, and Brazil.
Viceroyalty of the Río de la Plata: what we know today as Argentina, Paraguay, Uruguay, and part of Bolivia. Spain had no total control of the pampas, the Chaco, or Patagonia. Still, it remained under the power of the native peoples until the 19th century.
Captaincy General of Chile: also known as the Kingdom of Chile, and in its beginnings as Nueva Extremadura. Here we refer to the current country of Chile (for some sources, also eastern Patagonia). But as in the case of the Río de la Plata, Spain never obtained majority control. This territory was dominated mainly by the "Mapuches" and other native peoples until the beginning of the 19th century.
Island territories: the present-day countries of Cuba, Puerto Rico, the Dominican Republic, Haiti, and the Bahamas (until 1670). Also included are Jamaica and the Cayman Islands (until 1655), St. Kitts, and Nevis. And in addition, other countries we know today as Antigua and Barbuda (from 1493 to 1632), Barbados (from 1518 to 1624), Dominica, St. Lucia (from 1504 to 1654), Grenada (from 1498 to 1674), and Trinidad and Tobago.
5. When did Latin America become independent?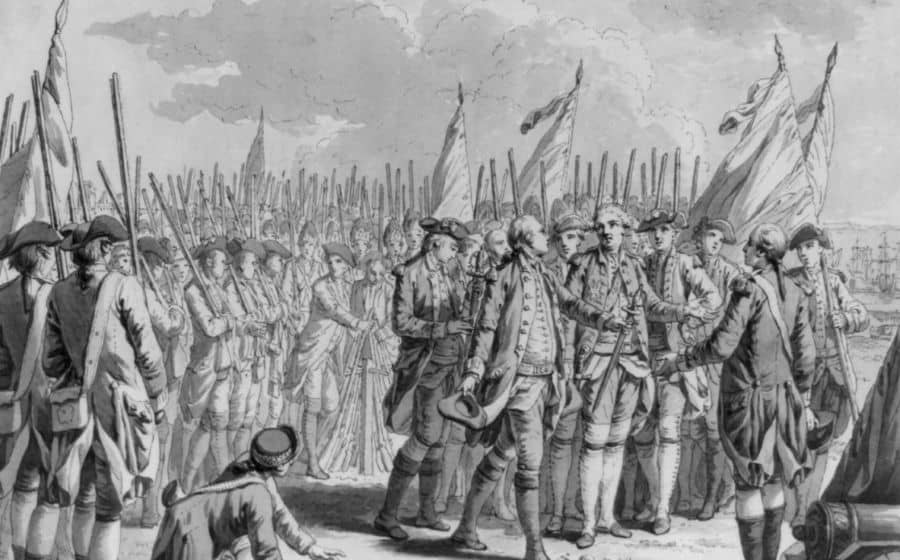 Latin American independence took place in the late 18th and early 19th centuries. But first, let's see what prompted Latin Americans to become independent and recover their territory. It started in France with the Declaration of the Rights of Man and the Citizen. According to Art. 1, "Men are born and remain free and equal in rights." This law was approved during the French Revolution (1789-1799). In addition, the basic principles defended during the French Revolution were legal equality, economic freedom, religious tolerance, and that all people have inherent rights.
Another critical fact was reflected in the Declaration of Independence of the United States during the American Revolution in 1776, which stated that "All men have inalienable rights." According to the Declaration of Independence principles, the country was entitled to self-government. And also to a series of inalienable rights such as life, liberty, and the pursuit of happiness.
What was being defended in both revolutions were the rights of human beings, the right to liberty, and equality. These facts caught the attention of Latin Americans since when both revolutions took place, Latin America was still part of the European colonies.
The critical factor leading to decolonization was the significant difference in social groups in Latin American countries. In particular, in Saint Domingue society, the French whites, although not many, occupied the top of the social pyramid. They were the ones who had the economic and political power of the country. And at the base of the pyramid was the great majority of the population of Saint Domingue, most of them enslaved Black people born in Africa.
It was then that the Haitian Revolution took place (1791-1804). I say Haitian because only a part of the population rebelled, and Saint Domingue was divided into two (Haiti and Dominican Republic). The enslaved people, influenced by the French and American revolutions, revolted and, after a long struggle, achieved the independence of Haiti in 1804. However, the Dominican Republic did not become independent until 1844! This slave revolt was the first in the history of the New World.
The rest of the Latin American colonies lived in a society very similar to Saint Domingue, where the Spanish whites had political and economic power. The Haitian Revolution was the one that incited the rest of the colonies to revolt and fought for their independence.
So we could say that the Latin American colonies began to generate independence movements from the French Revolution, the Independence of the United States, and the Haitian Revolution.
The first colonies to become independent were the South American ones, the Central American ones, and the Caribbean ones. As I told you before, the first was Haiti in 1804, and the last was Belize in 1981.
Here's a map of the Latin American countries and the dates on which each of them became independent.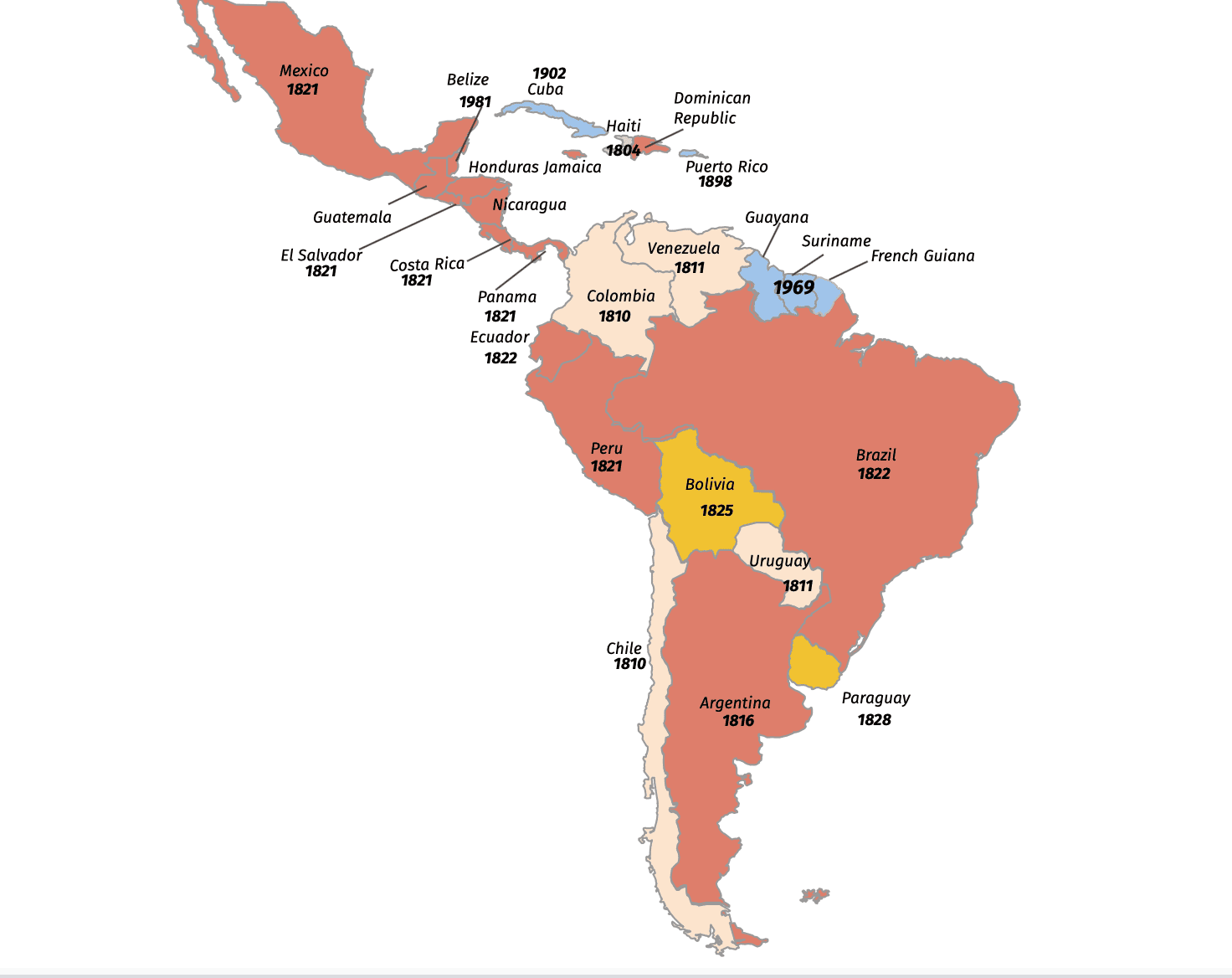 I hope that if you have any doubts about this topic, this post has helped you to clarify them. Some of the events have a sad component because of how they developed. And although today they are part of the past, it is part of our history, of the history of Spain, and it is good to know what really happened. Having more knowledge about this subject makes us respect and value the current situation more. Thank God nowadays, things are not solved as they were before, and the current relationship between Latin American countries and Spain is incredibly good.