Spain Borders: The Neighbors that share our peninsula, oceans, and controversy
October 3, 2022
Updated:

February 14, 2023
Published: October 3, 2022
Do you think there is any piece of land free of ownership? I used to think this was a big world, with many things yet to be discovered and maybe land that simply belonged to the Earth. Is that too naive?
I guess it is. But let's not be dramatic. You are here to discover Spain's borders, both the know-general ones and the less considered ones. 
After reading this post, you will know Spain's natural, European, African, and disputed borders. Additionally, you'll know the beautiful places close to our neighbors. 
Get ready to be amazed by some geography, we might not be in the 15th century, but that doesn't mean territorial fights are not over in Western Europe. 
Spain is located in Southwestern Europe, and with 505,992 km2, it is the 4th largest country on the European continent. Spain also is the biggest country on the Iberian peninsula, occupying almost 85% of the territory while sharing with the other three countries and a colony. While some people believe so, Spain is no longer part of Latin America. However, my country has some territories spread worldwide that might confuse people.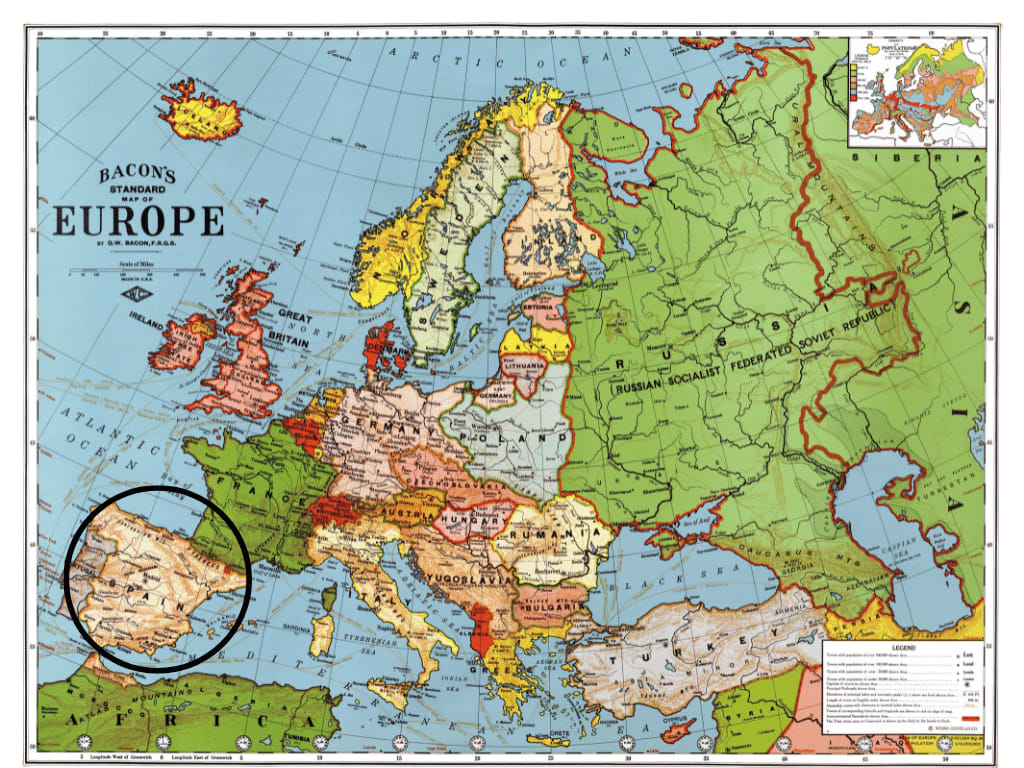 Natural Borders
Spain's natural borders are the Pyrenees, the Bay of Biscay, the Mediterranean Sea, and the Atlantic Ocean. 
The Pyrenees mountain range acts as a natural border between the Iberian peninsula and the rest of Europe. To be more specific, it means that it works as a natural barrier between Spain and France. 
As I mentioned, Spain is part of the Iberian peninsula, which means it is surrounded by three bodies of water: the Bay of Biscay, the Mediterranean Sea, and the Atlantic Ocean. 
The Bay of Biscay belongs to the Northern part of the Atlantic Ocean and baths the coasts of Galicia and Cantabria. This water is shared with France and supplies the famous sea baths that previous royalty used to take in the Basque Country.

The Bay of Biscay is a natural border that baths beautiful beaches like San Sebastian, Saint-Juan de Luz, and Biarritz (the last two are part of the French-Basque coast). 

The Atlantic Ocean is the most enormous natural-water border influencing Northern Spain's weather. Anyone from America that has gone through this vast border knows that it adds many hours to the flight.

For example, people traveling from the west coast of the United States will have a minimum of a 7-hour flight. In contrast, people from the East Coast may experience a 12-hour flight. This is how far Spain can be from different places in the USA.

The Mediterranean Sea is the most beloved natural border of all. Not only by Spaniards but by everyone that comes to visit our beaches. Thanks to that sea, we have such nice weather most of the year, especially in summer. 
European Borders
Here is where it gets a bit spicy. Nowadays, we get along with all of our neighbors, but there was a time when we would fight for every single piece of land. We had a little land dispute some years ago, but we'll get into that later. The thing is that even if we have defined and respected borders with the surrounding countries, there are some controversial grey areas still unresolved. 
So, Spain's European borders are Portugal, France, Andorra, and the UK. 
Portugal
Spain's oldest European border is with Portugal. This territorial elimination is called "La Raya" (The Stripe), and it's 1,214 km.
"La Raya" was established in 1297 by the Treaty of Alcañices. This border comprises several towns whose identities flow between Spanish and Portuguese cultures. This happens especially in Olivenza, the most Portuguese village in Spain. From its foundation in the 13th century to 1801, it belonged to Portugal. But it all changed when in May 1801, Spain decided to invade Portugal. The peace treaty gave us Olivenza because it was on the Spanish side of the Guadiana river. 
And regarding rivers, 60% of Spain's border with Portugal is rivers. The float from the "Meseta Central" (Spain) to the Atlantic through Portugal. The rivers are Guadiana, Tajo, Duero and Miño. 
France and Andorra
Spain's border with Andorra is 64 kilometers long. We have no territorial dispute with them! The country is located in the middle of the Pyrenees, a natural feature we share.
Now, when it comes to France, it is a whole different story. 
The border between Spain and France is 656 kilometers, and it was established in 1659 with the Treaty of the Pyrenees. This treaty ended with the Franco-Spanish war that had begun in 1653. Here is where the interesting thing comes to life. The Treaty of the Pyrenees negotiations were held on Pheasant Island, an island of 0.00682 km2 located in the Bidasoa river. 
What is it that I find fascinating?
The island was the host of the negotiations, and I think it meant so much for both countries that neither wanted to give it up. Again, it is 0.00682 km2!!! That it. Pheasant Island now belongs to France for the year's first half and Spain for the next half. Every time it's time to "pass ownership," a ceremony is held on the island. 
Then, the negotiations of the treaties weren't entirely over until 1660 with the final decision over Llivia. This enclave, part of a country surrounded by foreign territory, belongs to Catalonia but is located in France. Llivia is not considered a city but a small town with 13 km2. It belongs to the province of Cerdenya, and only 29.7 km separates the enclave from Spanish territory. 
Do you know why this happened? Because when the negotiations were happening, Spain agreed to give 33 cities back to France. As Llivia is not a city but a tiny town, we kept it!
Gibraltar
When do you think about the Iberian peninsula? How many countries do you think are on it? Two? Three? Or Four and a colony? 
Gibraltar is THAT colony. It is a 6.8 km2 headland in the Sout of Spain that used to belong to our country until 1713.
What happened? Well, in 1700, our former King Charles II died without heirs. He had appointed Phillip the V, grandson of King Louis XIV, his heir. This signified the creation of a superpower (the Kingdom of Spain and its colonies with the Kingdom of France). The rest of Europe didn't want this to happen, so the Spanish War of Succession began. 
In 1704, Dutch and British soldiers established Gibraltar to keep the Mediterranean Sea open for them, and nine years later, Spain had to sign a peace treaty giving away that land to end the war. For years, each country claimed the territory until 1967, when the citizens voted to stay with the UK instead of Spain. 
African Border
Let's move on to another curiosity about our borders. Okay, here I talked to you about how the Iberian peninsula was occupied by the Ummayad Caliphate for hundreds of years. So, it wasn't enough when the Reconquista Wars ended and Spain had recovered all its land. The Spanish kingdoms went on to invade Morocco. That left us with territorial borders outside Europe. 
So, the most known Spanish cities in Africa are Ceuta and Melilla. Both are surrounded by Morocco and separated by a fence that 8 and 12 km. Both towns have around 76,000 and 78,000 people, respectively. Ceuta and Melilla are the only cities in Africa that are considered part of the European Union. 
There is much more information about Spanish territories in Africa that I bet you didn't know, including one island that experienced an armed conflict in 2002. 
Unique Places to visit from Spain to Neighbor Countries
Suppose you are traveling close to "La Raya" or the Pyrenees and have extra time. In that case, you can go ahead and visit our neighboring countries. 
The Stripe is known for its beautiful small towns that share Spanish and Portuguese identities. Castelo de Vide is small municipality two hours away by car from Caceres (Extremadura), where you can see Roman ruins and beautiful Medieval fortifications.

In the "Raya," there is also a charming municipality named Elvas where you can relive a feeling of Medieval times. It is one of the most fortified in Europe, with two star-shaped fortresses surrounding the city. Elvas has been declared a World Heritage site by UNESCO.

If you are ever around the Spanish Pyrenees and want to see a bit of France, you should visit Lago Gaube and Collioure. Lago Gaube is a beautiful lake in the Pyrennees 1.800 meters above sea level. This is a destination for hiking lovers because that's the only way to see it. The lake is 3 hours away by car from the Spanish city of Jaca.

The second place close to the Pyrenees is Collioure, a small town only 1h30 away from the Spanish city of Cadaques. This town has a beautiful castle by the sea, and it was visited by Henry Matisse, so much so that their museum of modern art has one of his pieces. 
Okay! Now you know Spain's natural, European and African borders. I make a way deeper case of it in the posts below. If you are a history expert, we would love to hear from you, and we are very open to any new suggestions.