7 Best Housing Platforms in Madrid for Students & Expats
February 20, 2023
Updated:

July 6, 2023
Published: February 20, 2023
Looking for housing in Madrid can be a tiresome process. Some people have a lot of luck, and others must look for the right spot day and night for quite some time.
Between 2022 and 2023, I had to move twice to Madrid. The first time I was completely new, I needed to learn the average prices of long-term rentals in Madrid or the cost of living in general. The second time I had already been in Madrid for quite a few months and acquired some valuable information.
In this article, I will share my experience finding an apartment in Madrid, the platforms I used, and some tips you must remember.
Online rental or housing platforms can be overwhelming, but Sensational Spain is here to help!
The seven online rental platforms and social media I list below have been mediums I have tested to find an apartment. The truth is that only one has never failed me. Nothing is perfect, but I found my two recent apartments on that platform.
I will tell you which of the following is my go-to for housing in Madrid soon enough, so please pay close attention! But before diving into each platform, let's clarify some of the terms used in the tables below.
Intermediate vs. Owner: Most online rental platforms are intermediaries between a student or an expat in Spain looking for an apartment, and the landlord of the property. The platform connects the person with an agency or an independent landlord. On the other hand, certain companies, like Homiii, own apartments and have their own rules. 

Prices: The prices in each table approximate the minimum and maximum prices in each platform. 

⚠️ Attention! When you browse each platform is important to know that there could be rooms for 800€ as much as apartments for 800€.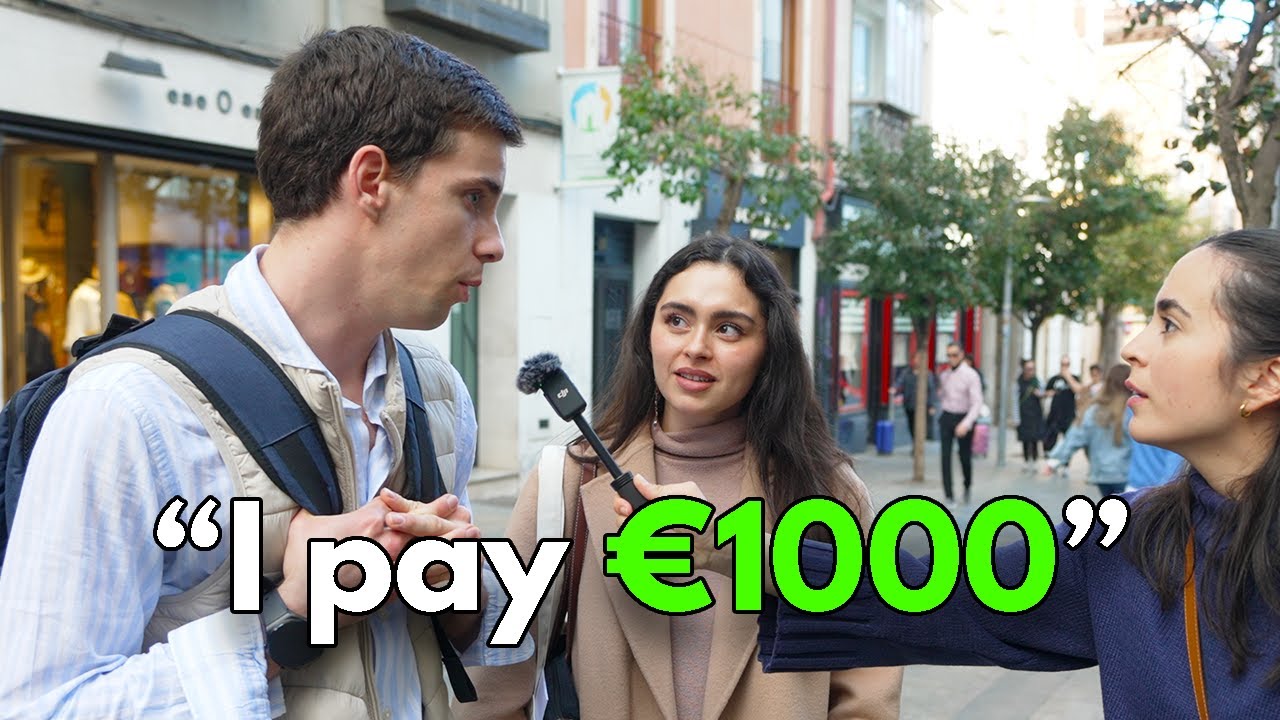 | Type of platform | Intermediary |
| --- | --- |
| Languages | 18 |
| Min price | 350 |
| Max price | 3,000 |
| App | Yes |
---
I am not going to keep the mystery going longer. The two times I needed housing in Madrid, I found my new home in Idealista. The first time, I found a room in Homiii through Idelista; the second time, I found a three-bedroom that connected me to an agency.
Idelista has more than 1,500,000 announcements displayed on its platform and application. It is straightforward to navigate and offers several filters to be as specific as possible.
When you enter the website, you will find a big navigator with three main options to fill out: type of rent, type of housing, and city. If you are an ex-pat or a student in Madrid, you'll be looking to rent rooms or homes (apartments). Once you fill that out, you will be taken to the rooms, and on your left side, you will find a bar with many more filters that will narrow your search.
Idealista allows you to write, call, or email the owners, and you usually get a quick answer from the landlord, company, or agency.
| Type of platform | Owner |
| --- | --- |
| Languages | 2 |
| Min price | 415 |
| Max price | 945 |
| App | No |
---
Homiii is a coliving service in Madrid. The company owns apartments for 4 to 8 people in almost all the famous neighborhoods of Madrid. 
Unlike Idealista, Homiii offers rooms exclusively in Madrid and Getafe. So, their search bar is straightforward: introduce the dates you will need accommodation. It will automatically show you the available rooms in the corresponding neighborhood. 
Homii is a niche platform for young people in Madrid, so the filters are limited. 
I felt very comfortable with Homiii. My apartment was big, my room spacious and cozy, and all my compañeros (flatmates) were very friendly. The only downside is that it is too expensive. My apartment was in Mocloa- Aravaca and each of my mates paid an average of 700€. 
Even though the fee includes all the other expenses, such as heating, wifi, electricity, water, AC, and emergencies, an average of 700€ is a high fee, and you can find housing for less. 
If you are an expat, stay for 3 to 6 months; the comfort of the apartment plus the events of the companies will help you meet people while enjoying Madrid. Take advantage of those months to get to know the city and find something cheaper in a neighborhood that suits you more. If you are an exchange student, I recommend you stay for the 6 to 9 months of your program.
| Type of platform | Intermediary |
| --- | --- |
| Languages | 6 |
| Min price | 320 |
| Max price | 3,580 |
| App | Yes |
---

I used Spot a Home to find my second rental home in Madrid, but the options were limited compared to Idealista. Or at least, they were for my requirements. 
However, I would say that Spot a Home is a merge between Homiii and Idealista because, unlike Idealista, it provides a personalized service with a lot of information for the client and displays more housing options than Homiii. 
The online rental platform offers housing for more cities in Spain besides Madrid and other countries. However, it has more than 9,000 properties in the Spanish capital. 
Like Homiii, Spot a Home also makes it easy for ex-pats and students to book housing.
You only need to follow four simple steps: 
Browse and choose your room
Reserve the accommodation  
Payment confirmation
Voilà
The room is yours!
| Type of platform | Intermediary |
| --- | --- |
| Languages | 8 |
| Min price | 220 |
| Max price | 500 |
| App | No |
---
Erasmusu is an extension of Spot a Home that focuses on students, specifically Erasmus participants.
This housing platform works a bit differently. As a student, you can match with other roommates or look only for accommodation in the city of your exchange.
To be honest, I didn't browse much in Erasmusu because I was looking for a three-bedroom apartment. Still, I find it very easy to navigate; it has plenty of options with many affordable rooms (under 500€), and if you search with the filter of roommates, you can know who you will be living with in advance.
| Type of platform | Intermediary |
| --- | --- |
| Languages | 13 |
| Min price | 150 |
| Max price | 3600 |
| App | No |
---
Housing Anywhere is also an international platform with around 4,000 accommodations in Madrid.
Housing Anywhere is the international version of Idealista; it shows a variety of studios, private rooms, apartments, and even shared rooms in Madrid. 
It has plenty of comfortable apartments, and around 1,400 of the rentals in Madrid include expenses. However, pay careful attention to the extra fees. I noticed that in Housing Anywhere, some accommodations include additional costs, and others don't. 
For example, some rooms would include an administration fee of 100€ at move-in and a cleaning fee of 100€ at move-out. Also, some landlords ask for deposits that figure double the monthly payment of the apartment. 
| Type of platform | Intermediary |
| --- | --- |
| Languages | 9 |
| Min price | 450 |
| Max price | 1,500 |
| App | Yes |
---
Like Housing Anywhere, Uniplaces offer housing in different countries, displaying around 4,000 accommodations in Madrid.
Uniplaces has a very simple search bar, you only need to insert your city and date of arrival, and the platform will show the available places to stay in Madrid. 
What I found very useful in this platform is their policy of 'Tenant Protection.' Let me tell you why. Platforms like Idealista, Housing Anywhere, Spot a Home, and Uniplaces work as intermediaries for landlords. Some people rearrange the rooms to make them appear nicer in the photos than they really are. That's why, if you have someone that could check the property for you, ask them to do it! You won't regret it. 
Uniplaces 'Tenant protection policy ensures that the landlord gets your first month's rent 24 hours AFTER you have confirmed that everything is okay and the room is exactly what you expected. 
In addition, for those out there that need to apply for a student visa, Uniplaces provides official documents that certify you have accommodation in Madrid.  
| Type of platform | Intermediary |
| --- | --- |
| Languages | 6 |
| Min price | 390 |
| Max price | 3,000 |
| App | No |
---
Enalquiler is another accommodation intermediary with around 5,000 offers in Madrid. Regarding browsability, the website of Enalquiler is less intuitive and has limited filters. 
When it comes to housing, the rooms and apartments look older and less conserved than the ones in other platforms, especially compared to Spot a Hoem and Housing Anywhere. 
Little information is displayed to the user, usually in tiny letters. And (warning) the pictures in Instagram look way better than the actual rooms in their platform.
---
Now, let's look at some clarifications and tips for housing in Madrid ❗❗
Accommodations in Madrid usually come in handy with extra fees; the most important to know are two: the agency's or platform's administration fees; and the fianza or "insurance money," which is an amount that covers any damage during your stay. The usual is a month of fianza, from two onwards is a lot!
Some landlords or platforms offer cleaning services. For example, Homiii would charge you 50€ for monthly cleaning and expenses, and Housing Anywhere charges 100€ when you leave. 
Only pay if you have seen the rooms or property in live videos or person, or check that they offer a protection policy. 
Be sure to read every detail about the apartment and ask as many questions as you need to; it is essential that the platform, agency, or landlord show transparency when answering your questions. 
Other vocabularies you should keep in mind are amueblado (furnished), sin amueblar (not furnished), cocina equipada (equipped kitchen), and baño completo (bathroom with shower). 
My choice for expats and students that comes to Spain 💡
If this is your first time in Madrid, I personally recommend you to go for platforms like Homiii, Spot a Home, Uniplaces, and Housing Anywhere. These platforms are specialized in international visitors in Madrid and offer protection policies that will make you feel safer when reserving your accommodation. 
If you are an expat with long-term rental plans in Madrid, go for the platforms above, and once you have immersed yourself in the culture and asked for some advice, you can expand your search to online rental platforms like Idealista and Enalquiler. 
---
I hope you can find your future home in Madrid with one of these platforms! Let us know is you need any help booking accommodations in Madrid or if you need further advice.