18 Best Tips & Tricks to Experience Madrid like a Local
February 13, 2023
Updated:

March 29, 2023
Published: February 13, 2023
 Passport, toothbrush, charger, money…wait…are you bringing a universal adapter to Madrid? Did you change your dollars for euros? No? Okay, you have got to go through this list of tips and tricks to know before visiting Madrid. 
From Spanish words to travel adapters, I want you to be as ready as possible for your journey to Madrid so that you can enjoy one of my favorite cities in Spain. 
Knowing the following 18 things I will list below will help you experience the city like a local and avoid making too many touristy mistakes. 
It doesn't hurt to double-check your packing and to-do list! So, let's get to it!
1. Know your transport options from Madrid's airport 🛫
Madrid's airport, Adolfo Suárez Madrid-Barajas, is pretty close to the center, and there are plenty of ways to get you from the airplane to your accommodation in the city. 
Private transport
Taxi- Fixed fee of €30 to the city center.
Uber
Cabify
Public transport
You can travel by train from the airport T4 to Madrid's city center. The best lines are the C-1 (10 stops) and C-10 (20 stops), with stops in the main stations such as Chamartin, Nuevos Ministerios, Recoletos, Atocha, and Principe Pío. 
Check if your hotel is close to one of the previous stations or if any of the stations connect to a metro line that will get you to your accomodation.
The prices range from €2,60 for a single ticket to €5,20 round trip.
The bus from Madrid Barajas T4 to the city center has fewer stops than the train, but it may be more convenient for you. The Exprés Aeropuerto is a recognizable yellow bus from the airport terminal to Atocha, Plaza de Cibeles, and O'Donnell. It has a price of €5, and you can also pay with your credit card. 
2. Consider buying public transport cards🚌
Although Madrid is a very walkable city, you will be exhausted by the end of the day. So, to avoid over 10 for a taxi or Uber ride, be prepared! Get a Madrid Tourist Travel Pass or a 10-journey pass for your trip; those will save you a lot of money!
In the article on tips to travel to Madrid on a budget and transportation in the city (linked below), we give recommendations on how to get around the city and get a public transport card. 
If you want to experience the authentic madrileño lifestyle, you need to get a public transport card to get you anywhere. 
Transportation advise in Madrid right here!
How to Get Around Madrid + 8 Tips I Wish Someone Told Me

Experience Madrid on a Budget: 7 Money Tips on 2023
3. Optimize your days by planning in advance🤓
Four days is the average time people stay in Madrid. Of course, you are more than welcome to stay as long as possible (there will always be things to do), but I am giving you the expected average to optimize your time in Europe.
Make a list of everything you will want to visit and organize what would be your optimal days.
Trick? Ask yourself, what type of traveler are you? How do you like to get to know a city? Do you prefer the red bus to walk or maybe take a private tour? Are you like me, that wants to make every minute count and doesn't get back to the hotel until late at night, or are you more chill and would like to have a siesta after lunch? 
Depending on the type of traveler you are, make a list of things you want to. For that, go to our articles on Madrid landmarks, things to do, markets, and museums to get a complete idea of your options. 
Then, organize your day in three: morning, afternoon, and evening, and fill in the activities you want to do. I will leave you an example right here 👇with the articles to boost your brainstorming.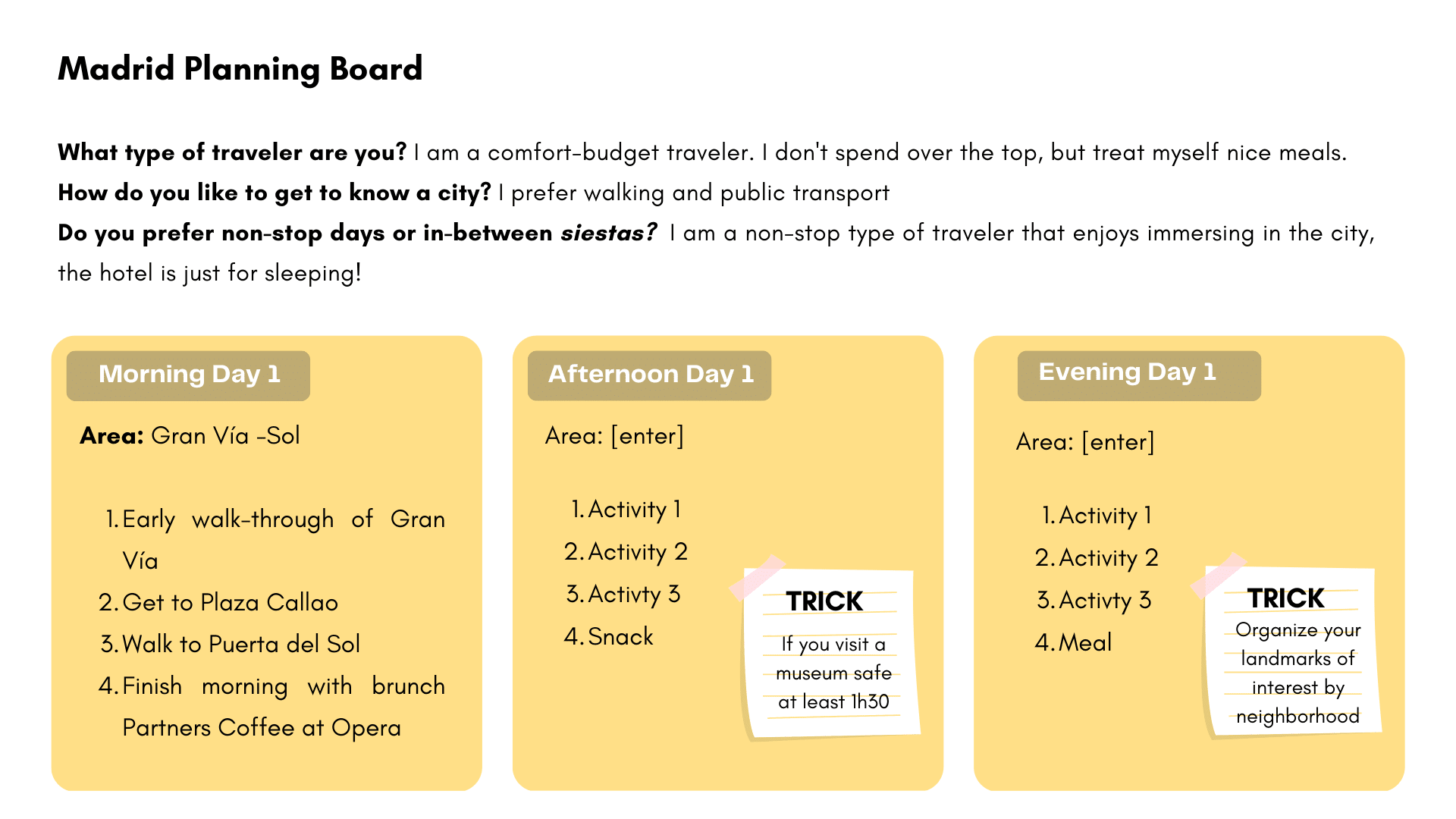 18 Best Landmarks in Madrid Totally Worth Visiting in 2023 
12 Best Markets in Madrid to Explore Food and Crafts
4. Check the weather before traveling⛅
One of the things most people love about Spain is our weather. We are known for our Mediterranean lifestyle and beaches, but the truth is that the weather in Spain can vary a lot depending on the autonomous community. 
And today, we are focusing on Madrid. Depending on the season you visit the Spanish capital, you must choose your clothes wisely. For example, you might have heard that Madrid is not as cold as Washington, D.C., but that doesn't mean we don't have -1 temperatures!
So, I will list the possible weather you may encounter in different months of the year:
January, February, and March: Its the coldest time of the year, you might find a bit of rain, and the temperature goes from -2°C (28.4°F) to 16°C (59°F). So, it might not be New York in the winter, but it gets cold, and you should bring appropriate clothes. 
April, May, and June: This period may start with little rain and cloudy days, but as we go into summer, the weather starts getting warmer. I recommend asking the staff at your hotel or hostel for these months for their recommendation. 
July, August, and September: HOT. That is everything you need to know. Bring a lot of sunscreens because it is important to protect your skin. Madrid can reach temperatures of 40°C (104°F), come very light, and prepare to sweat!
October, November, and December: October has nice temperatures, dropping from 30°C in September to 19°C (66°F) to 11 °C (51°F). It will be cooler if you come close to November and December, but not as much as January.
Here you can get more information of the weather in Madrid!
What's the climate in Spain? Our Real Weather and Temperature
5. If you see a 'Menú del día' order it!🥘
Traveling on a budget or not, a 'menú del día' or menu of the day will always make your day. 
Luch or 'la comida' is Spain's biggest and longest meal. It usually has three parts: first, second, and dessert, including a beverage and coffee. The average price of a menu of the day is around 12 - 15 euros, and I promise you will be satisfied for the rest of the day. 
6. While in Madrid, open your mind (and your belly) to different meal times😴
Be prepared to eat at a different time than you do at home. Spaniards usually have five meal times, and no one messes with them. 
So, keep an open mind for the different schedules you will find in Spain. For example, the first to meals of the day are breakfast and 'almuerzo' (second breakfast), which happen around 8:00 and 11:00, respectively. 
Then comes lunch from 13:30 to 13:30 approximately. Just like we mentioned before is the biggest meal, and don't be surprised if, after 16:00, restaurants are closed.  
Try a siesta before the merienda, and you will feel rejuvenated!.
The last two meals of the day are the 'merienda' or afternoon and dinner. The 'merienda' happens around 17:00 to 18:30; it usually involves coffee, churros with chocolate, or any pastry. And, then, dinner happens from 21:00 to 23:00, so expect the restaurant to re-open its doors as late as 20:00 for dinner. 
7. Don't eat at Plaza Mayor (I am serious!)⛔
Plaza Mayor is one of the most visited landmarks in Madrid; it is a five-minute walk from Puerta de Sol, and a characteristic feature of it is the multiple restaurants surrounding the wide plaza.
It looks tempting to sit there, but it may be a little sunny, and you want the afternoon warmth to hit you up. But, even as enticing as it looks to sit down in a restaurant of Plaza Mayor, just don't do it. 
Restaurants at this landmark are usually overpriced for the quality of the food. Instead, walk a bit more and try multiple tapas in Mercado San Miguel or take the metro to the Antón Martín market and try one of their delicious Asian stalls. 
If you want a complete list of landmarks in Madrid and cool markets to eat at, check the following articles!
18 Best Landmarks in Madrid Totally Worth Visiting in 2023 
12 Best Markets in Madrid to Explore Food & Crafts
8. Learn some Spanish before traveling 🇪🇸
Madrid is a cosmopolitan and modern city whose citizens are used to English-speaking tourists. But the truth is that Spaniards are not very fluent in English, so your experience in the city would be way better and more comfortable if you practiced some basic Spanish before visiting. 
I am not saying to need to get a course; that's only if you want to master it! Instead, download Duolingo and learn some basic vocabulary to help you navigate the city better.
Some examples are:
Hello: ¡Hola!
Good morning: ¡Buenos días!
Good afternoon: ¡Buenas tardes!
How are you?: ¿Qué tal!
Where is (address)?: ¿Dónde esta (dirección)?
How much is this?: ¿Cuánto cuesta esto?
You get the idea!
9. If you are traveling on a budget, come in Madrid's off-season❄️
Madrid is the most visited city in Spain, so you will always see tourists. However, as with any other city, there is a year when tourism slowdowns a bit, and its considered the city's off-season.
Well, if you are dying to visit Madrid, come during its off-season, there are plenty of activities and accommodation in the city is more affordable than usual.
Are you planning to come any time soon?
Experience Madrid on a Budget: 7 Money Tips on 2023
10. Book accommodation close to a Metro line🚇
It doesn't matter if you are traveling on a budget or with enough resources to get around; you should always ensure that your hotel is close to a metro line. 
Madrid's metro is the best in the country, no doubt. It's (almost always) clean, on time, and in order. In a city where beauty hiddes in its narrow streets, you will want to walk it all, and being close to a metro line will save you time and money.
11. Book trips and events in advance📅
What's the best way to win time? Book activities in advance. 
If you know where you want to go and visit, either a museum or a guided tour to Segovia, book it in advance. Buying specific stuff online will always be cheaper and time-saving than getting it done on the same day. 
12. Don't order a sangría, order a tinto de verano🍹
I know it's very common for people to tell you that you must try the sangría when you come to Spain. But, instead of drinking the typical touristy beverage, go for the local alternative: tinto de verano.
The tinto de verano is the favorite beverage across Spain, no kidding. The difference between sangría and tinto de verano is that the latter doesn't have liquor or sugar.
The tinto de verano is easier to prepare as it is only red wine, soda, ice, and lemon. It's easier to prepare, and it will always taste good, besides it is super refreshing for a summer afternoon in Madrid.
13. Know the difference between a tapa and a ración 🥨
The difference between a tapa and a ración is that the first is a sample of the second one. 
So, a tapa is a traditional appetizer that you get in Spain when you order wine or caña (beer). The idea is that with a tapa, you can taste different things, and if you like, you can order a ración to share with friends. 
The ración is a more generous dish that your order to share with your family or friends. If you solo travel and hit a bar, stick to tapas. But, if you are traveling with friends and family, order raciones to share, which will give you more variety and flavors for an excellent price.
14. Put your wallet and essential documentation where you can see it 👛
If you have to remember, three rules when traveling in Madrid or any other European city are:
Don't take your passports with you.
Don't put the wallet in the front pocket.
Keep sight of your bags. 
If your hotel has a safe box, write down the passwords and keep your passport in there until the end of your trip. For this, I recommend you to have a copy of your passport and go out with that.  
No, you can't leave the wallet at the hotel, but never put it in your pants' back pockets or your bag's first pocket. 
Remember! Put your purse as close to you as possible if you have a secret compartment in your backpack that is the designated place for your money. 
Finally, always keep sight of your belongings. If you sit on a terrace, don't leave your bag hanging from the chair or the phone on the table. I will let you about an experience with my friend, who will call Daniela. 
Daniela was having lunch at a bar in Chamberí, a very chill neighborhood. She had left her phone on the table, and a woman approached her, trying to sell some bracelets. The woman put the bracelet board on the table; Daniela said she wasn't interested, and the seller left and took her phone with the board. 
Lesson: Always keep your stuff with you!
15. There is no need to buy bottled water 🚰
Okay, there is no need for bottled water if you are not from another European countries. The truth is that I have had friends from Norway, Croatia, and the Netherlands that don't like Spanish tap water. They constantly complained that the water in their countries was better, so they bought bottled water. 
But tap water in Spain is fine, so bring a reusable bottle of water and fill it up at the hotel or hostel. It will save some ten euros daily. 
Additionally, to reduce the use of single-use bottled water in catering and hotel establishments, the Spanish government made it mandatory for restaurants, hotels, and cafes to offer tap water for free. 
So, next time you hit a restaurant, you say you want to water. The waitperson might offer you a bottle but insist on the tap water instead. 
16. Plan day trips from Madrid🏰
Madrid is a stunning city, but the truth is that unless you visit every museum. Two to three days are enough to see it for the first time, especially if you are coming on a tight Eurotrip schedule. 
But, if you are staying for longer, I recommend you to plan some day-trip cities you can go to close to Madrid.
These are:
Toledo
Segovia
Alcalá de Henares
Ávila
Cuenca
Chinchón
All of these cities are less than two hours away from Madrid. You can get there by interurban bus, train, or car. 
Don't be afraid of early mornings! Take an early bus or train, sightsee a new city and come back for dinner.
17. Get sunscreen to avoid burning🧴
If you visit the city from June to September, bring strong sunscreen. Every year the UV rays get more intense, causing a lot of harm to your skin. The problem is that the time of the year that Madrid is the most affordable is also the time of the year with a lot of heat.
Get a strong sunscreen and a portable fan to keep you up during the heat hours.
Another trick? Wake up very early! The morning is fresh, so be an early bird and visit the landmarks open 24/7. When the heat starts to get intense, maybe around 11:30 to 15:00, go to a museum, for brunch, for a nap, and continue the outdoor sightseeing at 16:00. 
18. And, to finish, don't forget the universal adaptor 🔌
I don't know how often I have heard people say they forgot or didn't know that the power plug sockets in Sapin were different. 
In Spain, the power plug is called "Schuko," with a power voltage of 230 V and a frequency is 50 Hz.  
Don't forget to lend or buy a universal adaptor for your devices, especially if you take all the pictures with your phone while also being in charge of Google Maps. 
In case you do forget about it, no worries! Your main options to get a good one are Amazon, El Corte Inglés, or ask at your hotel reception.
---
I hope these tips and tricks help you get around Madrid like a local. Knowing things like the day's menu, metro lines, or a few Spanish words will make your trip smoother and more enjoyable.
If you need any help organizing your trip, contact us! We are more than happy to help!