23 Iconic Bars in Madrid with the Best Drinks & Vibes
February 8, 2023
Updated:

October 11, 2023
Published: February 8, 2023
Madrid is a cosmopolitan city. That is also home to fun and entertainment, but also to the 15th-best bar in the World, according to the World's 50 Best Bars Ranking.
I'll guide you through the most trendy locations in Madrid to have drinks and tapas that will mark the beginning of the best nightlife you've ever had.
From high-end spots to delight yourself with exquisite cocktails to fun, cheap, authentic dive bars that are best to go to with your friends.
I'll uncover the "places to be" you can definitely NOT miss when visiting the city, along with a map with more than 57 bars you should write down in your list in case you need help knowing where to grab a drink in Madrid.
Also, I'll give you some insight into what locals think are great bar options if you want to hang out where Madrileños spend the after-work hours, enjoy a good atmosphere, and "el tardeo, vermú y las copas."
PS: In case you were looking for free itineraries, we have created 11 to travel all Spain and I linked them at the end of this article.
Salmon Guru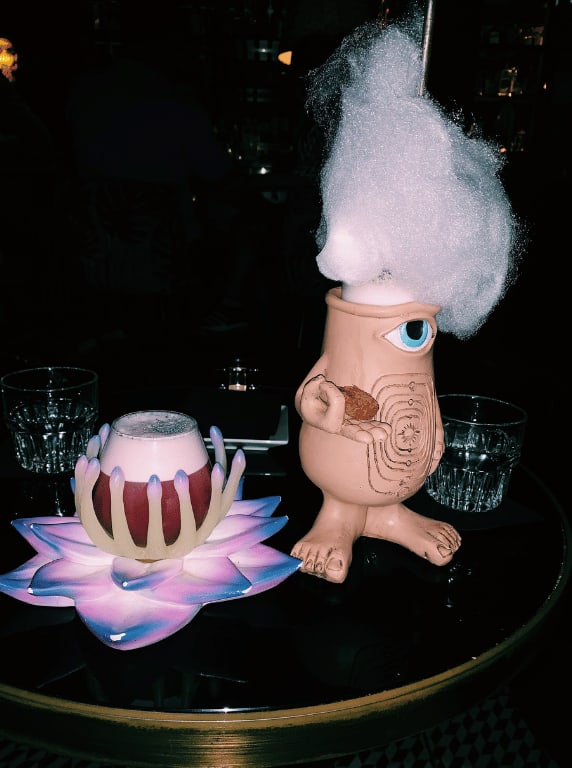 Calle Echegaray No 21, 28014 Madrid Spain
+34 910 00 61 85
$$ - $$$
Salmon Guru is on the list of the World's 50 best Bars in the 15th position. 
It is a very well-known bar with a good reputation. Their cocktails are fun, different, unique, and tasty, and the ambiance makes it a funky and retro-style bar.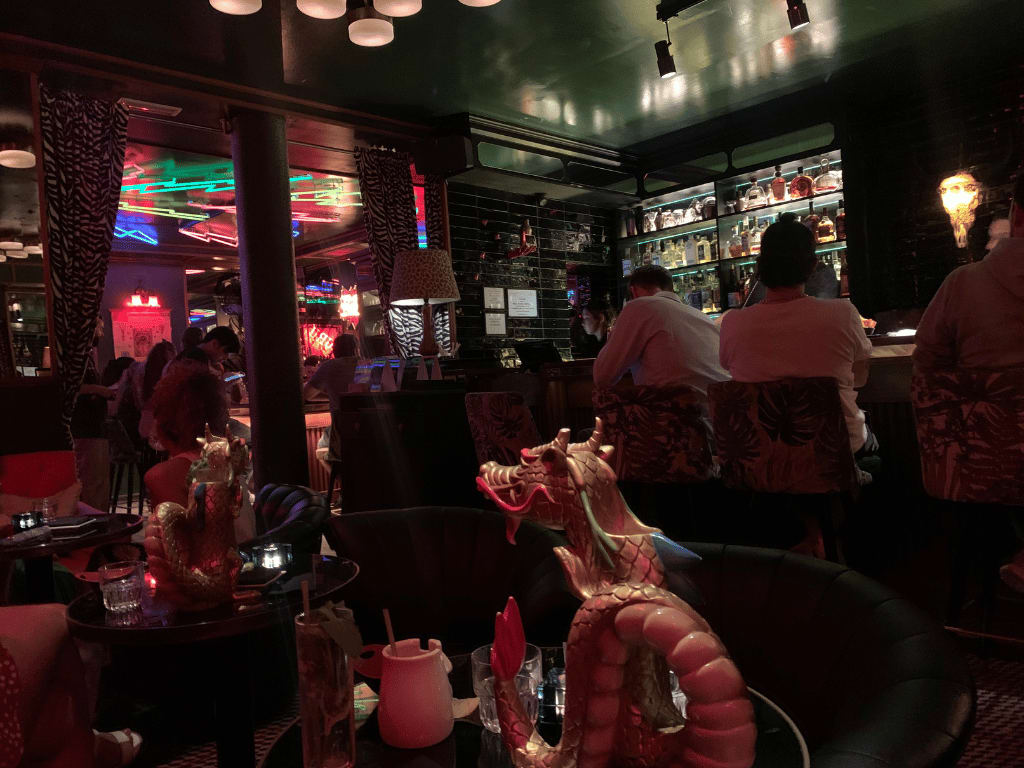 It's one of those places where you feel good vibes from the very first moment you walk in the door. Besides, they probably tell you at the entrance that the bar "is full," so you will most likely have to wait 10 minutes, but that's part of the hype.
Definitely worth a try, and the cocktails have an outstanding presentation!
Harrison 1933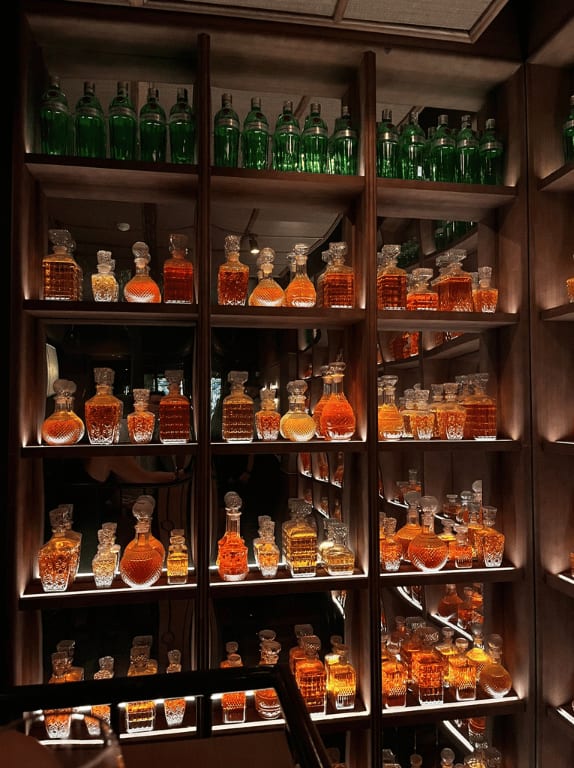 C. de Recoletos, 16, 28001 Madrid
+34 911 08 99 50
$$ - $$$
Harrison is a cocktail bar of the Larrumba Group based on the concept of Post-Prohibition in the U.S. This moment, defined by the Cullen-Harrison Act, is honored by this bar in one of the best areas of Madrid with a super exquisite and exclusive atmosphere. 
Perfect if you go with a small group of friends, and it's also great for having dates. Around 12am, it gets more vibey with music and a downstairs area for chill dancing. 
Macera
Calle San Mateo, 21, 28004 Madrid 
+34 910 11 58 10
$$
Macera is definitely your place if you're looking for original flavors and careful elaboration in Madrid. It was recently chosen by the New York Times as a place to go for a drink in Madrid.
Here you will find quality drinks with peculiar distillates.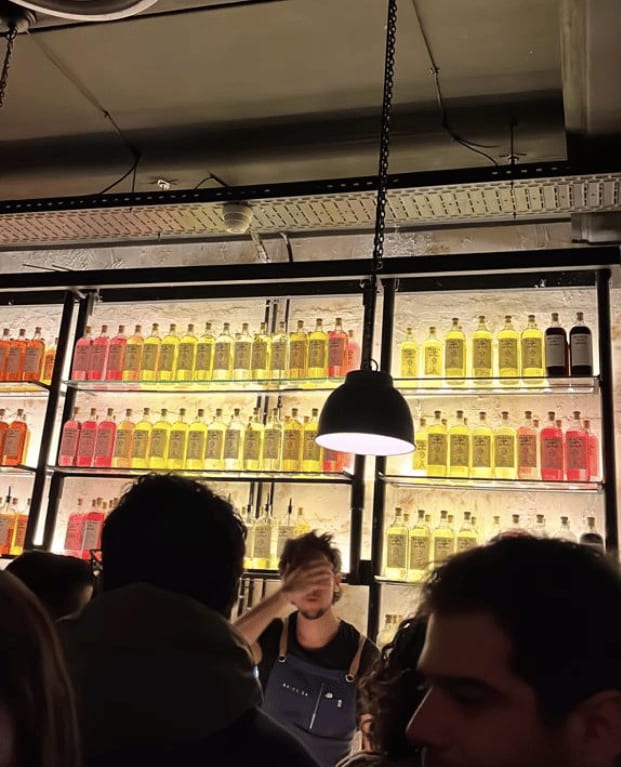 There is an excellent atmosphere. However, depending on the day you go, it can be messy to get your drink since it can get too crowded, but Macera's cocktails and drinks are 100% worth it. 
Tony 2 Piano Bar
Calle del Almirante, 9, 28004 Madrid
+34 915 32 00 11
$$
Many people agree that Tony 2's vibes are out of this World. 
After going inside, you'll experience the joy of becoming one with everyone in the place while singing along to the timeless songs played by the pianists with drinks in hand until 6am. 
I recommend this place after having a nice dinner or enjoying an evening with friends. Tony 2 is the perfect place to go after getting excited to continue the night with a fun plan that is out of the ordinary, and the club is not what you're looking for. 
There is a small line at the entrance, but you always end up getting in. There's an entrance fee of 13 Euros, and the ticket includes a drink of your choice. 
Another plus is that you can go literally any day of the week, and it is just as lively and crowded.
Jungle Jazz Club - Amazónico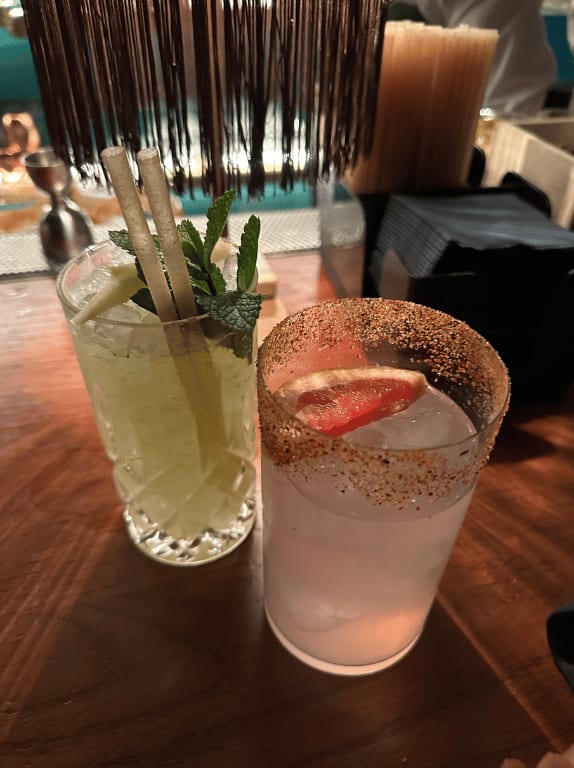 C. de Jorge Juan, 20, 28001 Madrid
+34 915 15 43 32
$$$$
The Jungle Jazz Club by Amazónico is an elegant and warm space that offers its visitors thebest jazz ever, combined with a music mix from the Caribbean, Africa, or Latin America. 
The cocktails are great and are accompanied by a good atmosphere, super exclusive and high-end.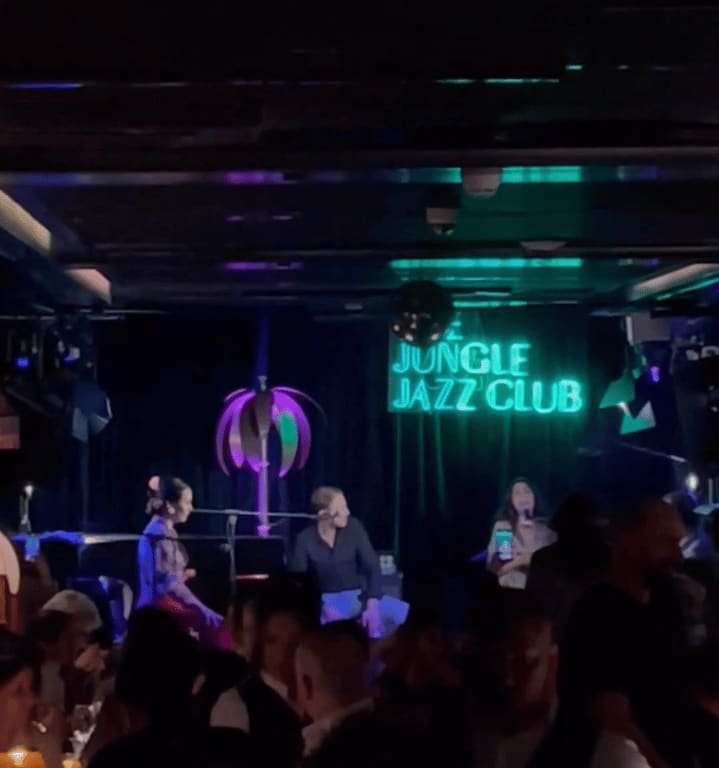 I asked the bartender to make me a personalized cocktail with notes of mint, mezcal, lemon, and cucumber. Incredible experience!
The Madrid Edition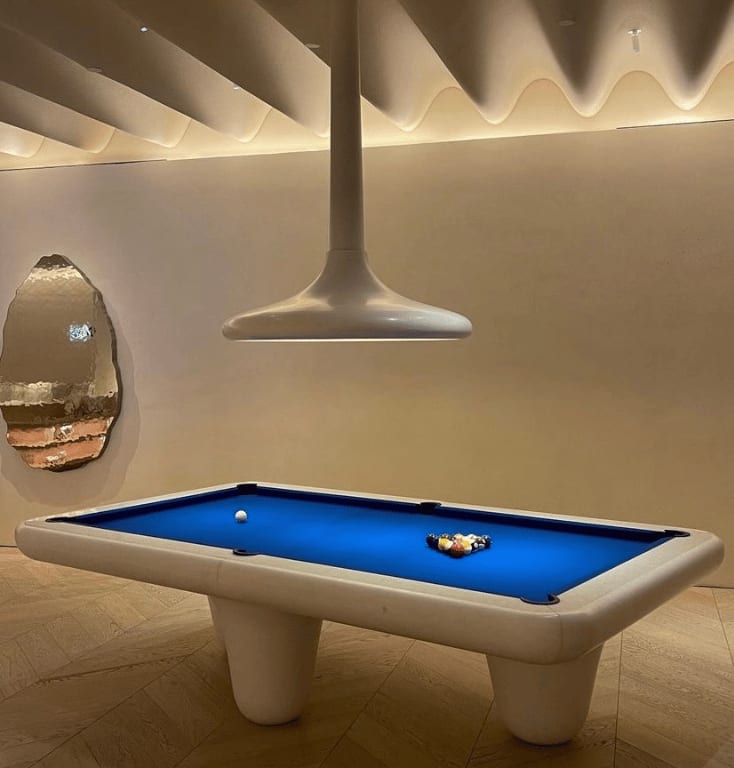 Pl. de Celenque, 2, 28013 Madrid
+34-919-545-420
$$$$
The Madrid Edition is a luxury hotel that also features a dynamic space perfect for evening drinks. 
The design of the place is really impressive. It is all custom designed by the best architects and interior designers. You will be surrounded by unique and authentic pieces that will make your experience super intimate and warm. 
ISA Gastrobar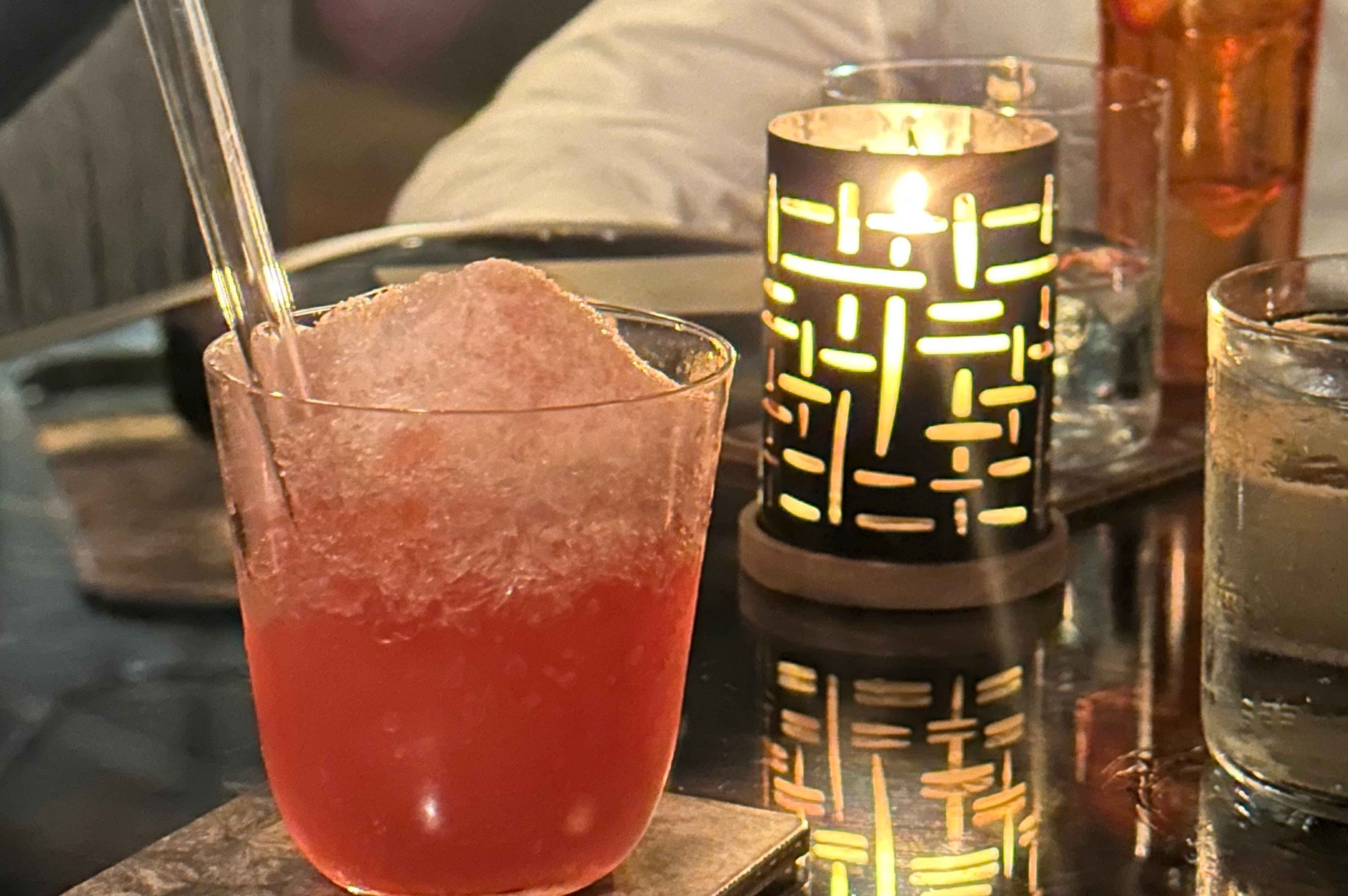 C/ Sevilla, 3. Madrid
+34 91 088 333
$$$$
ISA is the Gastrobar of the Four Seasons Hotel in Madrid. It is super creative and elegant. It creates an excellent atmosphere to socialize and enjoy delicious cocktails and tasty tapas that are a mix of Asian and Mediterranean cuisine worth trying!
The menu could be more extensive, but more than enough. 
Another thing that could be improved is that it is a little pricey for the quantities. Although it depends on what you are looking for. Also, live music and well-known DJs go three times a week, and the service is excellent.
Bribón de Madrid
C. de Alcalá, 54, 28014 Madrid
+34 620 88 67 82
$$$
This trendy restaurant has the classic dishes of Madrid's gastronomy. 
Bribón de Madrid is perfect for visitors who want to get to know the most authentic and distinguished Madrilenian lifestyle.
As you will see, prolonged meals that end in "sobremesas" are a thing in Spain. After a few drinks, you finish your dinner in a fun way with a cool atmosphere and even with a live DJ during the weekend.
Remember this concept. We have similar articles mentioning many restaurants that gain "atmosphere" in the evenings and clubs that are also bars and vice versa.
Bar Trafalgar
C. Alburquerque, 14, 28010 Madrid
+34 609 702 673
€€
This is the new trendy bar in Chamberí, a space, halfway between traditional bars and modern places in the capital.
Bar Trafalgar gets a good atmosphere day and night, offering wines, champagnes, vermouths, beers, spirits, and cocktails in a circular bar.
Perfect for "el tardeo, vermú y las copas."
In addition, there are some delicious dishes and tapas that fit the social environment perfectly.
Bienmesabe
Calle de Sta Engracia, 72, 28010 Madrid
+34 918 27 52 42
€€ - €€€
Bienmesabe is the perfect meeting place for tapas, lunches, dinners with friends, and afterworks.
Its service and cuisine are accompanied by a simple and comfortable decoration that invites you to have good times in a casual but pleasant atmosphere. 
It always fits in any plan and has the right quality-price ratio. Moreover, it's very convenient since it has several locations around the center of Madrid.
Teje Y Maneje
C. de Ponzano, 16, 28010 Madrid
+34 687 077 115
€€ - €€€
Teje Y Maneje is an authentic brewery with a large bar where you can enjoy a few afterwork drinks, and have a good time with friends.
The place is very original as it has a marked art deco style, a good atmosphere, good value for money, and excellent music.
El Secreto de Ponzano
C. de Ponzano, 48, 28003 Madrid
+34 910 070 327
€€
As you can see, Ponzano is one of the most trendy streets to go partying or have a drink in Madrid. Here is another recommendation for this street:
El Secreto de Ponzano is a good choice of a bar if you want to go for a casual drink and enjoy a variety of tapas with hearty portions at a reasonable price. 
Good atmosphere "de copas" as it's said in Madrid.
Pinzano
C. de Ponzano, 36, 28003 Madrid
+34 910 528 908
€€
Pinzano is a bar where you will feel comfortable having a beer, wine, or a drink with your friends any day. 
Another spot to visit if you are in Madrid, particularly if you have been recommended Ponzano street and need help knowing where to go. 
You will not fail with this bar as it is super cozy, and you can feel at home socializing with your friends. 
In addition, it is also a restaurant with a very interesting and traditional cuisine concept, so you have delicious options for tapas. 
Barbara Ann
Calle de Sta. Teresa, 8, 28004 Madrid
+34 918 195 561
$$ - $$$
Barbara Ann is a very cool bar, fun, different, and with a strong personality where music and food are the keys to the generated atmosphere. 
It falls into the category of restaurants that gain ambiance over the course of the night. The vibe is super cozy, and the staff, who are (mostly) artists, perform live performances and dances at midnight. 
Barbara Ann makes it to this list as an enjoyable and creative bar, so many people are often trying to get in, and it's occasionally full. 
Still, it is a fantastic option if you're looking to get entertained while socializing. And it's perfect for a date night!
Gota Wine Bar
C. de Prim, 5, 28004 Madrid
$$ - $$$
Gota Wine Bar is an innovative project that offers high quality wine & food in a minimalistic ambiance and exclusive atmosphere.
The concept gives me London or New York City vibes while featuring the best natural wine produced and cultivated by locals.
Sal Mestiza
Calle de Lagasca, 103, 28006 Madrid
€€ - €€€
A little piece of Mexico in Madrid. Sal Mestiza is one of the best places to go for drinks if you're craving Mezcal drinks, Tequila, and a few Mexican dishes on the side.
You should definitely try the Mezcajamaica, made from hibiscus water and Mezcal. The atmosphere is exclusive while maintaining a mix of "casual" but high-end, cool, and trendy environment.
Rosi La Loca
Calle Cádiz, 4, 28012 Madrid 
+34 915 32 66 81
€€ - €€€
Extravagant dishes and a maximalist, colorful and quirky décor are the main features of Rosi La Loca. 
In this Resto Bar, you are sure to have a crazy and fun experience from the moment you enter the place. 
They offer very good food at affordable prices. The waiters are super friendly, and the service is fast. 
But, without a doubt, the most notorious feature of this restaurant is its original concept that calls so much attention from the outside, and you only understand it when you live it. 
Café Comercial
Gta. de Bilbao, 7, 28004 Madrid
+34 910 88 25 25
€€
Cafe Comercial is another must on this list. It offers its visitors a renovated traditional cuisine to be enjoyed at any time, the bar or restaurant. 
In addition, this place claims to be "Original and Castizo," referring to the restaurant's relationship with the city of Madrid since 1887. 
El Cuento Bar
Calle de Diego de León, 7, 28006 Madrid
+34 650 84 47 35
€€
I'm sure that almost every Madrileño who loves a good drink has at least one good story in El Cuento Bar.
It is one of the go-tos in the Salamanca neighborhood. They play Spanish music, and there are DJ sessions along with darts equipment. 
Usually, people are standing around having drinks and socializing. Most of its public is young people since it became the place to be for doing predrinks before a night out. 
Bulla Madrid
P.º de La Habana, 5, 28036 Madrid
+34 911 03 35 70
€€
The concept of dining and dancing that we have been talking so much about during this article arrives again under the name of Bulla.
This place has it all in one place: a fusion restaurant, a bar-cocktail bar, an open and closed terrace, and, to end the night, the club.
Bulla's cocktail menu stands out for its fruity, sweet, and refreshing products that go beyond the traditional. Definitely a must in Madrid. 
Maloney's
Calle de Bretón de los Herreros, 61, 28003 
+34 615 66 64 32
€
Maloney's is the ideal choice when you want to go to a cheap, fun bar to have a good time with your friends without caring about anything else.
Honestly, it is an authentic shady bar. You either love it and have the night of your life with your close friends, or you hate it and regret your experience above all else, but there's no in-between. 
It has a small room with a beer pong table and a small bar table, but you should give it a try if this sounds what you're looking for. 
El Chapandaz
C. de Fernando el Católico, 77, 28015 Madrid
+34 915 49 29 68
€
El Chapandaz is a bar known for serving exclusive cocktails and its famous Leche de Pantera. 
It is cheap and different but stands out for its great festive atmosphere, music, and original decoration. 
In short, this is an example of a mythical pub that has seen several generations of young people grow up in Madrid since it opened in 1971.
I'm sure you can have a great time, and if you don't, don't worry, the bartenders will cheer you up.
La Pequeña
C. del Gral. Oráa, 27, 28006 Madrid
+34 669 49 89 75
€
La pequeña is a restaurant bar that is, indeed, small. 
In reality, it is a pub/bar/restaurant where you can eat and drink very well for a highly affordable price.
It is located in the heart of the Barrio de Salamanca. It is also one of the typical bars of Madrid, and the amount of food is very generous.
In conclusion, a cozy, traditional bar in a good area of Madrid where they give you what you order. Fair enough.
---
If you are also looking for itineraries, we have created 11 itineraries for you to travel Spain! Click to get a planned trip (all free)!