Discover the 13 Best Sculptures in Spain You Need to Check Out
November 14, 2022
Updated:

July 11, 2023
Published: November 14, 2022
Are you traveling to Spain anytime soon?
Don't worry, I am not spying on you, but if you looked up sculptures or statues in Spain, it means you are going to do some visiting, and I want to help you not miss a single sculpture.
In this post, I will share with you the 13 best sculptures in Spain (plus the other 10!) that you need to check out when visiting us.
So, open your Google Maps and mark the ones you want to visit. And! As a manifestation exercise, use the tag "Trip to Spain."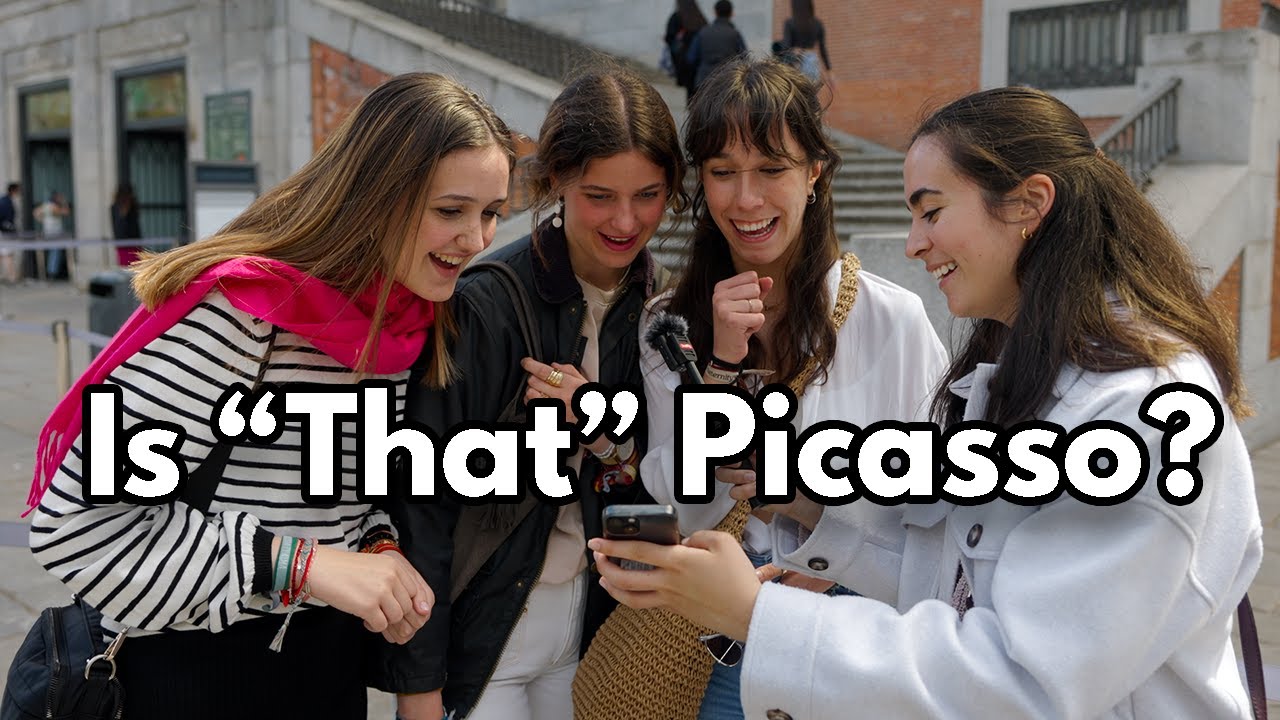 Famous Statues in Spain
Monumento a Colón
1. Madrid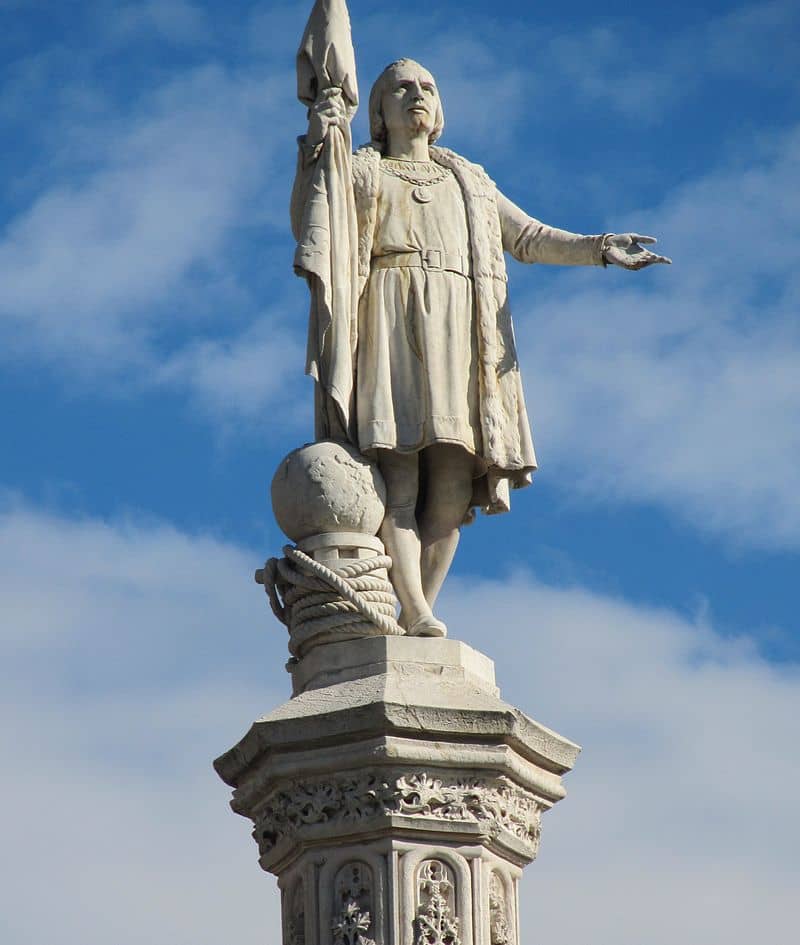 "Monumento a Colón," or Columbus Monument, is located in the Columbus Plaza on the boulevard of "La Castellana." This monument is one of the most popular in Madrid as it's close to Serrano Street (luxury shops). 
This statue was born out of a public contest to create a unique gift for the wedding of Alfonso XII and María de las Mercedes de Orleans. The winners were the artists Arturo Melida and Jerónimo Suñol, who created it between 1881 and 1885.  
Some details about this monument. It is seventeen meters tall with a 4x4 base; the materials used for its construction were stone and white marble. The sculptors that made it followed an Isabelline Gothic style, decorated with characteristic elements of the 15th century (ogee and pointed arches, pinnacles, tracery, cardinals, etc.) and various heraldic symbols.
The 4x4 base tells the story of Columbus in carved art.
2. Barcelona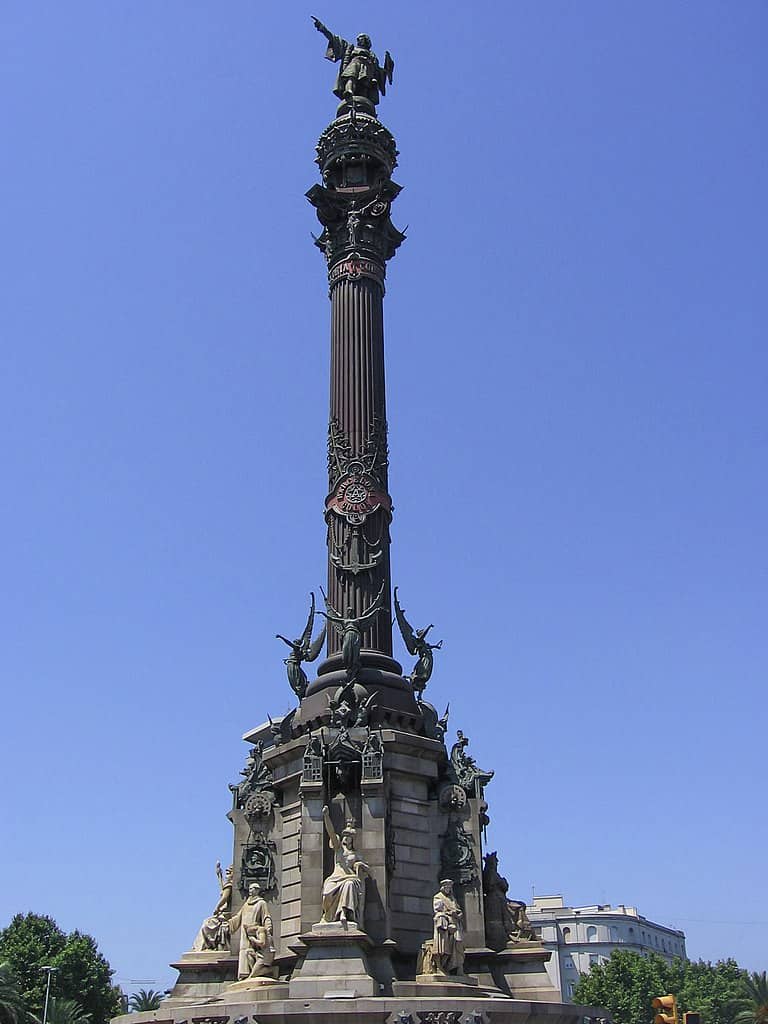 Unlike the monument in Madrid, the city of Barcelona commissioned this Columbus statue for the Universal Exposition of 1888. 
Gaietà Buigas designed this Columbus Monument along with more than ten other sculptors who contributed to this iconic piece. Some general characteristics are: it is 56 meters tall and made of bronze. The latter material had to be donated by Madrid and the Palace of Montjüic because the public funding wasn't enough. 
Sensational fact: The monument hides an elevator inside the tower. It used to take people just under the feet of Columbus to get a 360 Degree view of the city. However, this iconic lift experienced trouble for a while and has been out of service.
3. El Ángel Caído
A mysterious monument to the devil is hidden in the forestry landscape of Retiro park. Goosebumps? Yeah, I thought so!
Well, the statue of the Fallen Angel is located in Retiro Park, very close to the entrance with the same name. The sculptor responsible for this piece was Ricardo Bellver, he designed the statue as a student, and the state selected it for the Exposition Universelle of Paris in 1878. The material of the original sculpture was plaster, but the state replicated it in bronze.
The Fallen Angel is 7 meters tall (pedestal included), and if you must know is supposed to be 666 meters above sea level!
Sensational fact: The Fallen Angel in Retiro is supposed to be the only statue in the world "dedicated" to the devil! So, this Spanish statue is a MUST when you visit!
4. El Oso y el Madroño
I bet that if you ever made a list of places to see in Madrid, "La Puerta del Sol" was part of the top ten. If it weren't, we would have a little problem, but that is nothing we can't solve because that is what we are here for!
"El Oso y el Madroño" or the Statue of the Bear and the Strawberry, I would say, is the main attraction of "La Puerta del Sol." It is a very simple statue, but it simultaneously represents two heraldic symbols of Madrid. The sculptor of this piece was Antonio Navarro Santafé, and it was inaugurated in 1967.
The Bear and Strawberry Tree statue is made of stone and bronze; it weighs approximately 20 tons and is 4 meters high.
5. El Encierro
Now we will move from Madrid to the north in Pamplona, Navarra. Pamplona is the city of the bulls, the city that once a year gets worldwide attention because of its iconic party. San Fermines is a seven-day celebration where the main attraction is the dangerous bull-running, in which people run in front of bulls in a very narrow street.
Well, this tradition has been part of Pamplona for years, so they needed a statue to commemorate the yearly event. In Spain, "El Encierro" refers to running in front of the bulls, so the statue's name describes what it is.
Rafael Huerta Celaya designed "El Encierro" and inaugurated it in 2007; since then, it has become an iconic attraction in Pamplona. This statue is made of bronze and seeks to share a frozen image of what happens in San Femrines.
6. Toro de Osborne
"Toro de Osborne" is not a "statue" like the others, but it is a very iconic sign in Spain. The Osborne bull was originally a billboard of the Osborne Group for its brandy. However, the symbol is so ingrained in Spanish culture that it was never taken down.
The black bull is supposed to be angry and is fourteen meters high. This bulls have no specific location, so if you spot one go for the shoot!
7. Monumento a Miguel de Cervantes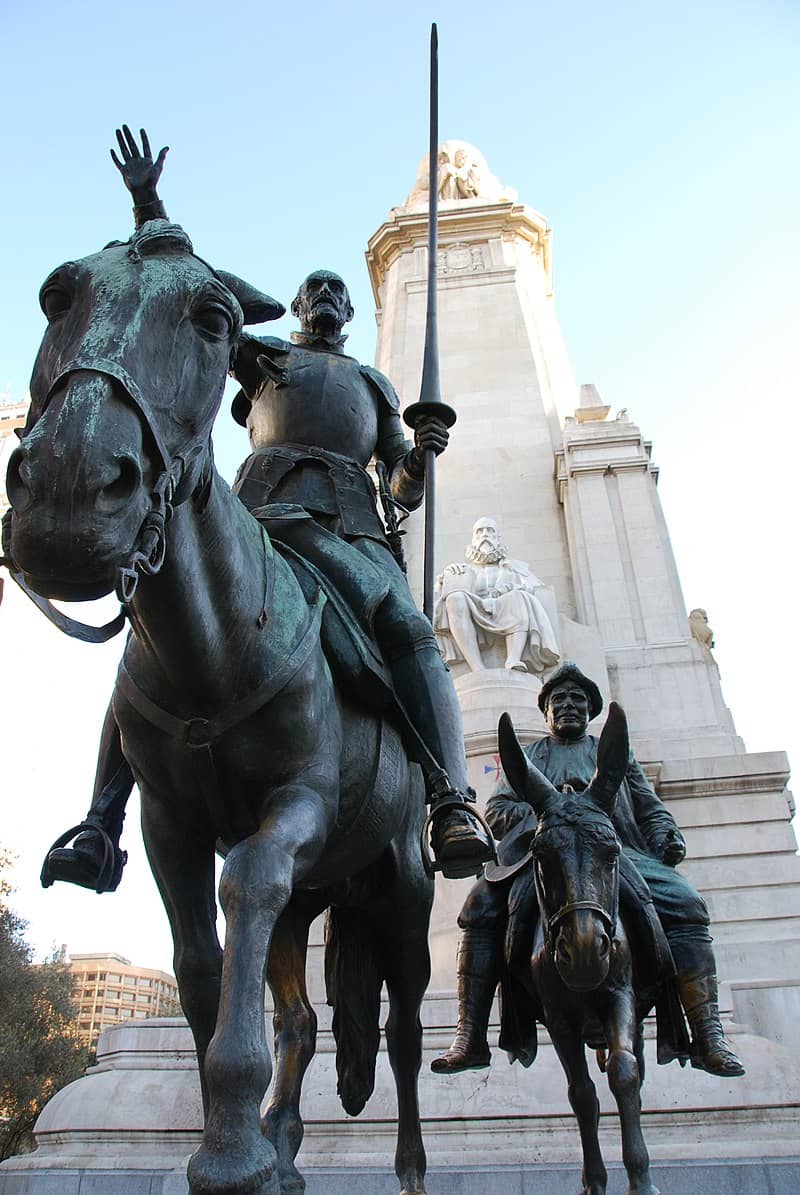 The Monument for Miguel de Cervantes has some curiosities in its story, and I will explain them a bit later. So this colossal statue is located in the center of Plaza de España at the south end of Gran Vía. It is 22 meters high and is made of Novelda white stone. 
So, in 1915 the state launched a contest to create a monument that would honor Miguel de Cervantes on his 300 anniversary. The architect Rafael Martinez Zapatero won the competition and teamed up with the sculptor Lorenzo Coullaut Valera to design it completely. However, financing issues arose, and the monuments weren't inaugurated until the 1950s.
What elements are part of this monument?
A statue of Miguel de Cerventas
Don Quixote riding his horse Rocinante 
Sancho Panza
Dulcinea
Gitanilla (in honor of another of Cervantes' stories)
The ball of the world
The curiosity in its story is that Spain asked for money from Hispanic-speaking countries to build the monument. At the time, they argued that they should contribute because Spain spread the language and the ball of the world in the monument represented precisely that. 
---
Unique Statues in Spain
9. Día y Noche
"Day and Night" are sculptures created by Antonio Lopez. The baby head represents the day with open eyes, and the night is the statue with closed eyes. In 2002, the state commissioned Lopez a sculpture as part of Atocha's remodel. Nevertheless, while he was working on it, Madrid suffered from a terrorist attack on March 11, 2004. The event inspired Lopez to create something different.
The result was two sculptures 3 meters high, each representing the passing of time and the loss of 11M.
You can find these Spanish sculptures in one of Atocha's entrances. If you ever travel to Spain, Atocha is the central train station, so I think you won't miss this unique Spanish statue.
10. Bihar
"Bihar" means tomorrow in Basque, and it was part of a marketing campaign from the bank BBK. I know this sculpture is temporary, but it was so shocking that it is worth mentioning.
BBK wanted to create awareness of sustainable actions, and they chose to depict the future. The bank and its communication agency LLYC partnered with the Mexican sculptor Rubén Orozco to create this piece.
Bihar is made of resin and fiberglass, and it weighs approximately 120 kilograms and measures 1.7 meters high by 1.92 meters wide. It was located in the river of Bilbao, where people could easily spot it.
11. Diablillo del Acueducto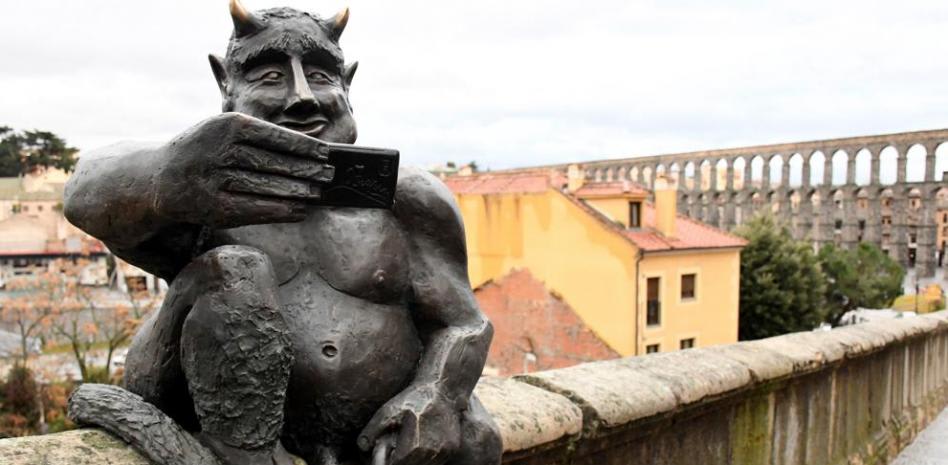 The Little Devil of the Aqueduct, or "Segodeus," is a sculpture located in Segovia, Castile-La Mancha, to commemorate the urban legend of the aqueduct.
I will leave you the legend right here:
"Legend has it that a Segovian girl was exhausted after dragging her pitcher through the city's steep streets when the devil appeared to offer her a deal. She would give him her soul if, before the cock crowed, the water would reach the door of her house. The young woman soon repented and prayed as much as she could. At dawn, with only one stone of the aqueduct still to be placed, the devil lost his bet, and the girl confessed everything. The Segovians then sprinkled their new infrastructure with holy water and received it delightfully".
That is the story of the 80cm bronze statue in Segovia. Do you want to know something funny? The municipality decided to make it as it took a selfie to encourage tourists to do the same.
12. La Abuela Rockera
The Rocking Granny is a statue in honor of Ángeles Rodriguez Hidalgo. It is less than three meters high, made of bronze, and was inaugurated in 1994.
The Rocking Granny is located in the Madrilenian neighborhood of Vallecas, where Ángesles used to live. She was very popular within her community because of her passion for Rock and Heavy Metal. Ángeles used to accompany her grandson to rock concerts and was a loyal fan of the local bands.
After she passed away, the community of Vallecas organized a concert to fund the statue, which Mario Scasso designed.
As you can see in the picture, the Rocking Granny is missing two fingers. Some people vandalized the statues days after it was inaugurated.
13. Parque de Gulliver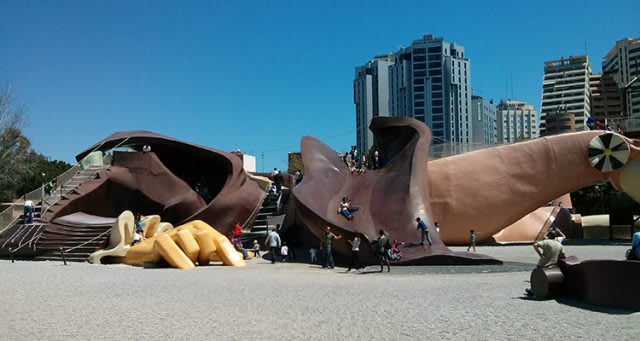 The interactive Gulliver statue is located in the City of Arts and Sciences, Valencia. This statue honors the book Gulliver's Travel by Jonathan Swift, specifically the scene where the giant arrives in his city, Liliput, and is tied to the ground.
The same dynamic is represented in the park; visitors can climb the 70-meter, fiberglass giant with ramps, slides, and stairs.
The interactive statue was commissioned by the Valencia City Council, constructed by architect Rafael Rivera and lap artist Manolo Martín with a design by Sento Llobell.
If you visit Valencia, you must go see this Spanish statue and have some fun!
14. Mazinger Z
Do you recognize this character? In the 70s, the Japanese series Mazinger became so famous in Spain that the architects of a neighborhood in Tarragona decided to build a statue that would attract families.
The statue is 10 meters high, made of fiberglass, and empty inside. The original idea was to make it a viewpoint of the city, but it didn't work out in the end.
The Mazinger from Tarragona is another of Spain's unique statues you should visit.
---
Best Sculptures Parks in Spain
I know we are not here to talk in-depth about architecture or history. For that, I would recommend you to read this article:
The Retiro park, or "El Parque del Buen Retiro," is one of Madrid's main attractions and recreational spaces for locals. It has an area of 1.28 square kilometers and a perimeter of 4.5 kilometers, and more than fifteen thousand trees. Yes! If you visit or live in Madrid, "el Retiro" is the perfect place to retreat, breathe cleaner air, and disconnect in the middle of the city.
If you want to add more parks to your list, check this out!
In a nutshell, Retiro Park was meant to be one of the most outstanding recreational villas in Spain, but things happened along the way, and the complete building was never finished. It all began in 1630 when Count Duke Olivares gifted the territory to King Phillip IV to create a recreational villa, a perfect place to rest. Retiro suffered different events through the years, such as serving as a war-headquarter in the 19th century, being down for maintenance, and more. I think that one of the most important dates in its history is 1767, when the park opened to everyone. 
Now let's dive into the relevant sculptures and statues you can find in the Retiro. 
If you enter through "Puerta de España' (Spain's Entrance), you will walk the "Paseo de la Argentina" (Argentina's Stroll). There you will see thirteen statues of Spanish kings. 
Continue the stroll straight, and you will get to the "Big Pond." There is the statue/monument of Alfonso the XVII. This king reigned from 1874 to 1885. The monument's construction began in 1902, was finalized in 1922, and took more than twenty sculptors to finish it.
After visiting the "Big Pond," take a right (if you entered through Puerta de España), and you will find the statue of "El Ángel Caído" or the Fallen Angel. I already mentioned this Spanish statue, so now you know where to find it. 
Sensational fact: The Big Pond was built for entertainment. The king would host simulated navy wars and shows.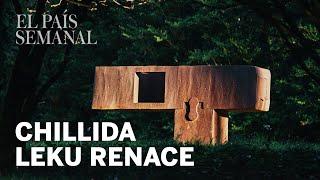 Eduardo Chillida was a sculptor from San Sebastian, Basque Country, who once dreamed of sharing his art with the world while blending it with nature.
The park-museum Chillida Leku opened its doors in September 2000, and the artist could see his masterpiece in contact with more people for two years before he passed away in 2002. The Chillida Leku Garden closed its door due to a financial crisis in 2010; and re-opened nine years later.
Now, you can visit this beautiful park full with sculptures in Hernani (very close to San Sebastian), and judge yourself the mystery in each piece. Chillida Leku has an extension of 11 hectares of land, where more than forty sculptures of monumental size mix with nature.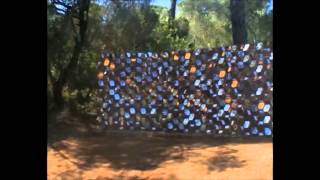 The Montenmedio Contemporary Art is a space for people to experience art in nature. Like the Chillida-Leku, this non-profit organization wants people to have a different art experience by creating a place full of various sculptures or landscape projects. The park museum has pieces from Olafur Eliasson, James Turrell, and Marina Abramović. The sculptures are spread along the territory for people to encounter them as thet go.
To visit, you've got to travel south! The NMAC is located in Vejer de la Frontera (Cadiz), Andalusia, and the tour around the park might last between 1 or 2 hours as yuo literally will walk 30 hectares of land. 
Avenida del Mar
"Avenida del Mar" is not a park but it is an important scultpture boulevard in Andalusia. Marbella is a stunning, cosmopolitan city known for its high-end fashion streets, luxury hotels, and parties. However, for those who enjoy the local kind-of experience and explore the city center, you will find a pleasant surprise. 
Close to the yacht harbor lies the "Avenida del Mar," a charming boulevard with ten sculptures by Salvador Dalí. The list of sculptures are:
Naked woman climbing the stairs
Horses with stumbling people
Mercury
Perseus
Don Quixote seated
Gala pregnant
Gala leaning out of the window
Trajan on horseback
Man on dolphin
Cosmic elephant.
And that is it! Now you know 13 Spanish sculptures that you must check out, plus the other ten from Salvador Dali. I hope this post was helpful, and don't forget to create your map. That is the best way to begin organizing future trips.