9 Best Neighborhoods in Barcelona: Students, Expats & Tourists
March 13, 2023
Updated:

March 23, 2023
Published: March 13, 2023
Barcelona offers a lot of colors and facets for each type of traveler.
If you are a student, tourist, or expat who wants to stay in Barcelona, this article is for you. Here I will show you the most recommended neighborhoods to stay in Barcelona. You will decide if you want it to be a temporary or permanent stay. But I promise you that all these places have a unique and special charm.
This article will help you decide better when choosing your next home. Since this is one of the determining factors when judging whether you like living or visiting a new city.
I will tell you the good and the bad about the areas I recommend. You will see that Barcelona has a place for everyone. Let's discover it:
---
1. L'Eixample
🚇 Metro: L2, L3, L5
📸 Landmarks: La Sagrada Familia, Casa Batlló, Casa Milà, Plaça de Catalunya, Passeig de Gracia
🌆 Things to do: Walk from Diputación street to Diagonal and eat at Brunch & Cake.
L'Eixample is one of the most attractive districts of Barcelona since its the most populated and central. 
It stands out for its modern architecture and has some of Barcelona's best-known streets and squares, such as Paseo de Gracia, Gran Vía de las Corts, Balmes street, and La Rambla.
And, of course, the most iconic stops of the Basilica of the Sagrada Familia and Casa Milà, to name a few.
Among the advantages of living in this neighborhood, it is one of the safest districts in the city. It has a lively life due to its great cultural and architectural offer. So you can walk through its illuminated avenues at any time of the day.
Again, this is probably not your neighborhood if you want to avoid tourists and busy areas. The city's main attractions make tourists everywhere, and they will make up the vast majority of people when you walk down the street.
I like this neighborhood because you have everything, absolutely everything, nearby. Supermarkets, pharmacies, schools, municipal markets, sports facilities, and much more surround this area.
Price-wise, this is a sought-after neighborhood. It has a lot of demand but also a lot of supply. L'Eixample is an ideal option to live in if you can afford it. 
Oh, and if you visit this neighborhood, please, stop at Brunch & Cake for brunch. You will love it!
---
2. Gràcia
🚇 Metro: L2, L3, L4
📸 Landmarks: Casa Vicens Gaudí, Park Güell, Casa Rocamora, Casa Llojta del Mar, Mercat de la Llibertat.
🌆 Things to do: Go to the Jardí del Silenci, an outdoor civic center.
Gràcia is one of Barcelona's most popular and active neighborhoods. Thanks to its large size, the district has a wide variety of points of interest available to all those who love art and history, where you can go with your friends or family to have a good time. 
This neighborhood gives you the feeling of living in a town within a big city. It is definitely a point of reference for young people and students. 
Thanks to its lively and festive atmosphere, there are many entertainment venues, restaurants, bars, and clubs. So, the festive atmosphere attracts many, while others hate it because of the noise, especially on weekends, and parking problems.
Additionally, you can find bookstores, organic bulk supermarkets, and vegan and flexitarian restaurants. 
The rental price is around 850 per month. This neighborhood is also well-connected, so you can travel to any other part of Barcelona. It connects with the metro, bus, and train, so having a car is not essential if you live in Gràcia.
To sum up, if you want to live well connected, have places to visit in your neighborhood, and enjoy many leisure activities and a unique atmosphere in the heart of Barcelona, this is your place.  
👉🏻 Recommendation for tourists: Eat typical Catalan food at Cal Boter. It is an excellent typical restaurant in Barcelona with good service, prices, and authentic dishes.
Another thing you should know is that the neighborhood has lots of cozy cafés and brunch spots! Like this one: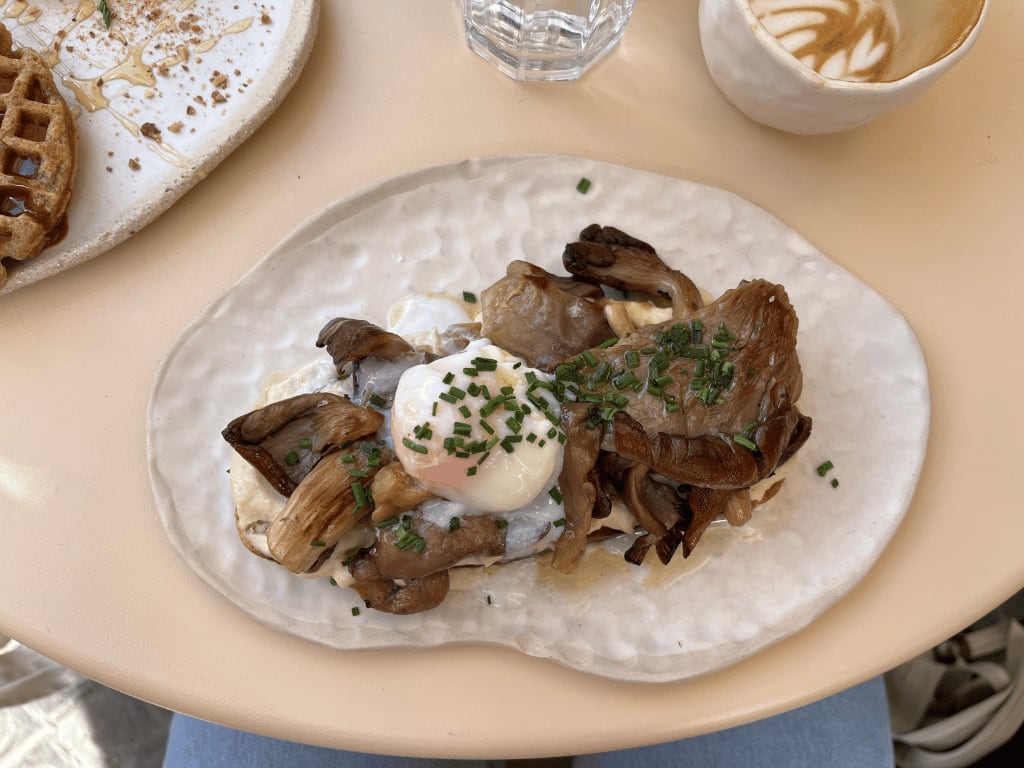 ---
3. Les Corts
🚇 Metro:  L3
📸 Landmarks: Plaça España, Camp Nou Football Stadium, L'Illa Shopping Centre.
🌆 Things to do: Take the Camp Nou Experience tour. Visit the museum, see the trophies, legendary objects, and stands, and even sit where the players sit. 
Les Corts is a luxury residential area with various international schools. It is safe and very well communicated with the city center.
This area may not be as pretty as others in Barcelona as its tourist offer is not as wide as that of other districts of Barcelona. However, neoclassical buildings, good facilities, and historic, picturesque areas are worth visiting.
Also, Les Corts is an important financial business district in Barcelona with many good hotels and restaurants. Also, on the Diagonal is a large shopping complex called L'Illa to go shopping. If you're interested in other places to go shopping in Barcelona, read here:
Overall, it is an excellent place to live if you visit Barcelona and want to settle there for a while and have the necessary income. Since this is an upper-middle-class residential area and gateway to the city from the southeast. 
In fact, Pedralbes, one of Les Corts's 3 main areas, is one of the most exclusive and luxurious places to live in Barcelona. 
Ideal if you're looking for tranquility, comfort, proximity, and quality of life. Great for families as well. 
Oh! And as for Camp Nou, there are two types of tickets, one with a free audio guide (€26) and another with a guided tour (€49). Here's a sneak peak:
---
4. Sarrià-Sant Gervasi
🚇 Metro:  L6, L9
📸 Landmarks: La Parròquia de Sant Vicenç de Sarrià, Parque de Atracciones de Tibidabo, Temple of the Sacred Heart of Jesus, Museo de la Ciencia CosmoCaixa, Jardín del Turó del Putxet.
🌆 Things to do: Visit the Collserola tower, the highest viewpoint in Barcelona, to enjoy an impressive view of the city.
The Sarrià-Sant Gervasi district is the largest in Barcelona. It is quiet and away from the places most frequented by tourists.
This is a prestigious neighborhood in the upper area of Barcelona where a family atmosphere stands out since it was a comfortable neighborhood for the Catalan bourgeoisie of the 19th century.
It is ideal for nature lovers. You will have plenty to choose from among the numerous urban parks, gardens, and the Collserola mountain!
You'll get a calm, tranquil atmosphere in a city with as much life as Barcelona. Still, the neighborhood has numerous restaurants, bars, and famous historical shops on its main street.
It is a very aspired neighborhood as it encloses people with the most purchasing power in the city. Also, a great option to establish with kids to have a family. 
---
5. Gothic Quarter
🚇 Metro:  L1, L4
📸 Landmarks: Cathedral of Barcelona, Picasso Museum, Basílica de Santa María del Pi, Plaça del Rei, Plaça de Sant Jaume.
🌆 Things to do: Visit Galeríes Maldà. It is a shopping center with themed stores and unique things from Harry Potter, Dragon Ball, and Game of Thrones.
The Gothic Quarter has a unique energy. It transports you to the city's early years, and each building has a distinctive architecture.
In addition, living in this neighborhood between El Raval and El Born is the dream for many international artists since the Gòtic is one of the epicenters of Barcelona's cultural agenda. 
One of the biggest cons of this neighborhood is that, due to its beauty, it attracts a lot of noise and tourists, which for many, is a disadvantage. Also, it could be cleaner compared to other neighborhoods in Barcelona.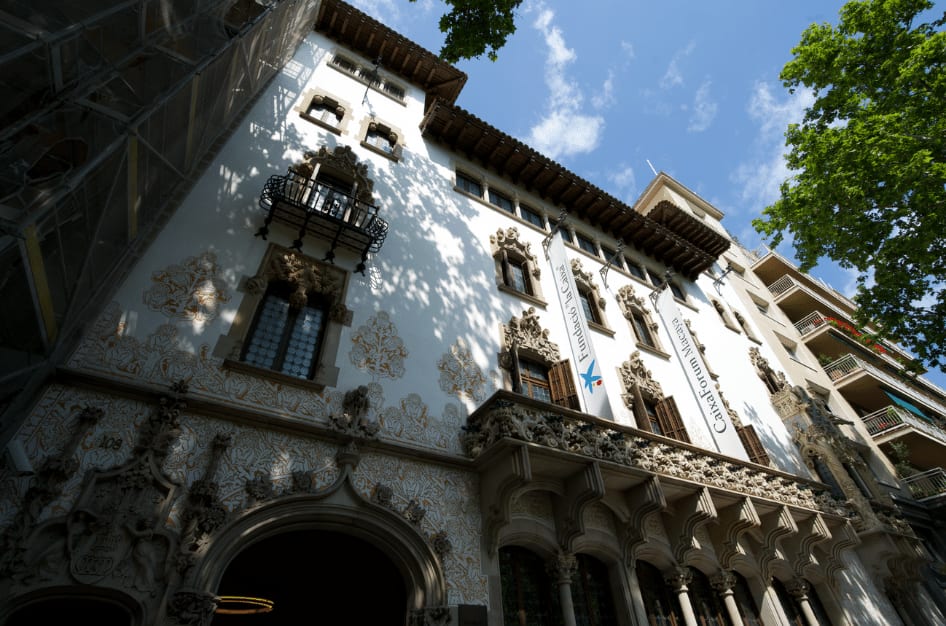 However, it has cultural and social life every day of the year, with art centers such as Arts Santa Monica and Artevistas Gallery or the famous Gaudí Exhibition Center.
---
6. El Poblenou
🚇 Metro: L4
📸 Landmarks: La Rambla del Poblenou, New Encants Flea Market, Parroquia de San Francisco de Asís.
🌆 Things to do: Experience the Palo Alto Market. It takes place on the first weekend of every month. It has various food trucks, music, drinks, different design projects, and great vibes to hang out with a group of friends or family.
It is a tranquil and familiar neighborhood but simultaneously dynamic, with many living on the street: bars, restaurants, and shops. It is gorgeous, remodeled, and well-cared for. Almost no crime compared to other zones, there is good public transport, and it has beaches across the avenue. 
This neighborhood was the center of Barcelona's Industrial Revolution at the beginning of the 20th century. Nowadays, Poblenou is considered an example of cities that seeks to bring life, businesses, and residents back to urban fields.
Living in Poblenou puts you at the forefront of design, culture, and international business. And, as it is a space of urban renewal, you can find many new-build homes for sale. 
Also, one of the most extraordinary things about this neighborhood is walking along the Rambla del Poblenou until you reach the sea!
---
7. La Barceloneta
🚇 Metro: L4
📸 Landmarks: Port Cable car, Playa Sant Sebastià, Museu d'Història de Catalunya, La Estrella Herida, W Barcelona Hotel, Escultura el Peix d'Or, Barceloneta Beach.
🌆 Things to do: Go along the entire coast, walking around the port to enjoy the stunning views of the Mediterranean.
La Barceloneta is the fishing neighborhood of Barcelona. Very similar to that of any fishing village on the Catalan coast. It has narrow and closed streets and a familiar atmosphere. 
Nowadays, it is a more modern and open neighborhood. It went from being a working-class and fishermen's neighborhood to one that lives on tourism.
The neighborhood has its downsides and challenges for the future, such as fixing streets, improving lighting, mass tourism, and inequalities. Still, living near the beach is considered a dream come true. 
Therefore, if you want to enjoy a calm atmosphere, eat on the terraces, and watch how life goes by in the city, Barceloneta is the right neighborhood for you. 
I'm sure you can find some great deals here if you're looking for the tourist/local mix type of place or a local spot for internationals.
That big building you see over there in the video is home to one of the best hotels you can stay in the city! Find out here:
---
8. Sants-Montjuïc
🚇 Metro: L10S
📸 Landmarks: Magic Fountain of Montjuïc, Poble Espanyol, Montjuïc Castle, Joan Miró Foundation, Palau Sant Jordi, Museu Nacional d'Art de Catalunya
🌆 Things to do: Enjoy fantastic views from the top of the mountain in the Montjuïc castle.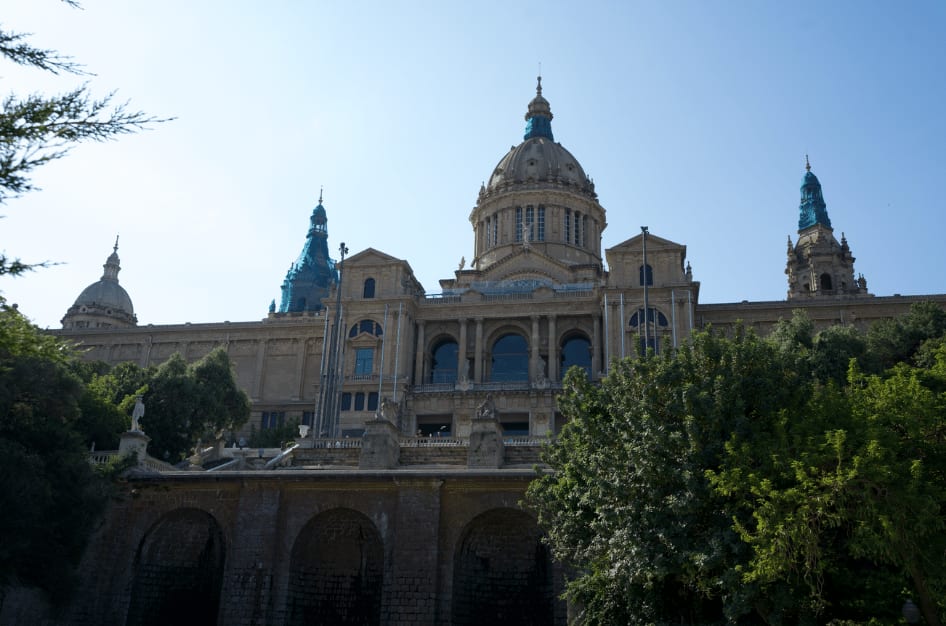 It is the oldest and most populated neighborhood. It has few tourist attractions, as it stands out for having lots of green areas and commercial offers. 
This district has good connections with the rest of the city, as it is predominantly residential. Although it has kind of a "village vibe." You have everything nearby and good Metro, train, and bus connections. 
You can expect this neighborhood to be culturally diverse. Profiles and nationalities are constantly changing, and it's a very tolerant environment. Plus, it is surrounded by nature!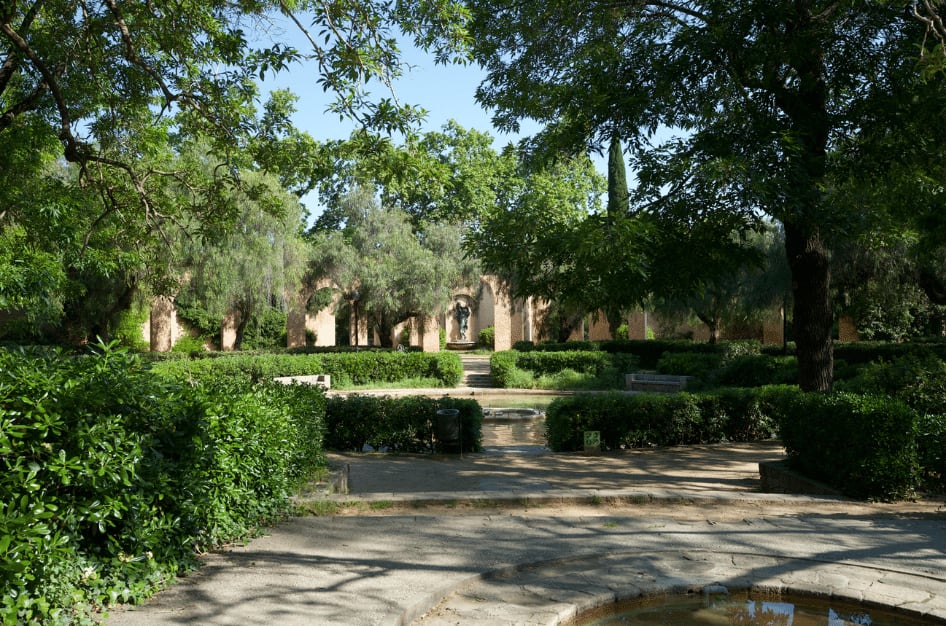 A downside is the traffic and noise on weekdays if you own a car. Also, the neighborhood gets relatively dirty. 
On the bright side, it is a comfortable neighborhood. Has two markets nearby with good fresh products, traditional bakeries, pastry shops, etc.
---
9. El Raval
🚇 Metro: L1, L2, L3, L4
📸 Landmarks: La Boquería Market, Güell Palace, Gato de Botero Sculpture, Barcelona Museum of Contemporary Art, Centre de Cultura Contemporània de Barcelona
🌆 Things to do: Visit the Caixaforum Museum, a modernist industrial building converted into an exhibition center. 
This place is a bit controversial. It is an authentic neighborhood with personality and full of life to enjoy Barcelona on a budget. 
Indeed you can find low-priced places to stay with easy access and connection to the main tourist spots in the city. But, At the same time, it is one of the areas known for pickpockets and thieves, especially at night. So, you must be careful and stay in the dimly lit alleys.
It is a very alternative place, which I recommend visiting if you visit Barcelona. It is historical, with many bars, restaurants, and quirky shops.
In addition, if you stay here, you will be very close to the most famous markets in the city, such as Sant Antoni and La Boqueria. If you still do not know the famous markets of Barcelona, visit this article.
I recommend this neighborhood to experienced tourists and backpackers looking for an authentic experience of what it is like to live in a common area in Barcelona. 
Moreover, this zone has been experiencing a cultural resurgence, offering excellent nightlife and being one of the most multi-ethnic hotspots in the entire city.
---
You see, each neighborhood is very different. Ultimately, your decision will depend on what you value most: price, location, communication, and cultural or leisure offers.
But I'm glad you stayed until the end of this article to see what Barcelona has to offer! This city is among the most tourist-friendly cities in the World!
If you are interested, these other articles can help you when visiting Barcelona. Hope they are helpful! :)
Living in Barcelona: 7 Tips You Need to Know Before Moving