15 Best Tourist Landmarks in Barcelona Worth Your Visit
March 28, 2023
Updated:

March 30, 2023
Published: March 28, 2023
With 9 World Heritage buildings, Barcelona receives more than eight and a half million tourists yearly, and the number continues to grow annually.
This destination has a lot to offer. Now, nobody likes to waste time visiting Landmarks that aren't worth it, but I promise you that the ones I mention have no waste.
From colossal structures to parks, museums, palaces, and monuments, almost every corner of Barcelona is a landmark, and you will find out throughout the article.
Here I bring you the best Barcelona attractions you cannot miss on your next visit, those that will leave you speechless and open some space in your heart for the beautiful city of Barcelona.
---
1. La Sagrada Familia
📍Park Güell, Carretera del Carmel, 23A - 08024 Barcelona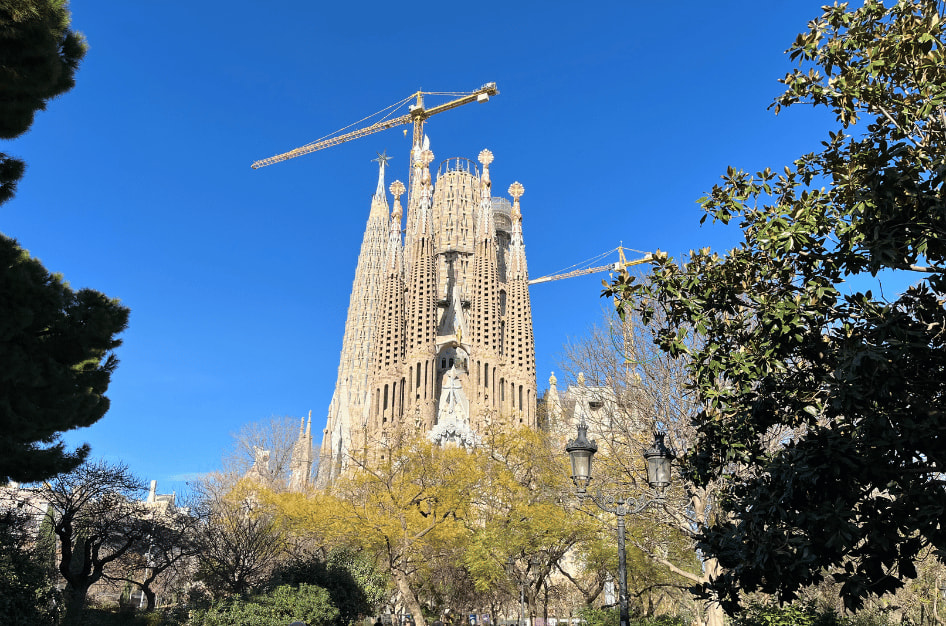 The Sagrada Familia is the best-known and most characteristic monument of the whole city of Barcelona. 
Besides being the most significant symbol, it is also the maximum exponent of modernist architecture created by Antoni Gaudí, the most renowned Barcelona architect. 
The construction of this exuberant temple began in 1882 with a neo-Gothic style. A year later, they gave the project to Gaudí, who completely rethought it. 
Sadly, Gaudí died in 1926 and left this masterpiece unfinished. Yet, thanks to the plans that remain, other artists and donors are continuing the project so it can be finished one day! 
Thousands of tourists come every day to contemplate the curious but unfinished temple. Since there is always a long queue to visit it, you can buy tickets online to save time and ensure your entrance.  
It is a must-visit in the city. To learn some tricks for visiting this landmark, read the following article:
📅 Opening Times:
From November to February: from 9:00 am to 6:00 pm.
March and October: from 9:00 am to 7:00 pm. From April to September: from 9:00 to 8:00 pm.
🎟️ Entrance Fees:
Adults: 26€ (27,90 US$).
Students and under 30 years old: 24€ (25,80 US$)
Senior citizens: 21€ (22,50 US$)
Children under 11 years old: free admission.
Sagrada Familia + towers: 36€ (38,70 US$)
Without queues: 50€ (53,80 US$)
---
2. Casa Batlló
📍Pg. de Gràcia, 43, 08007 Barcelona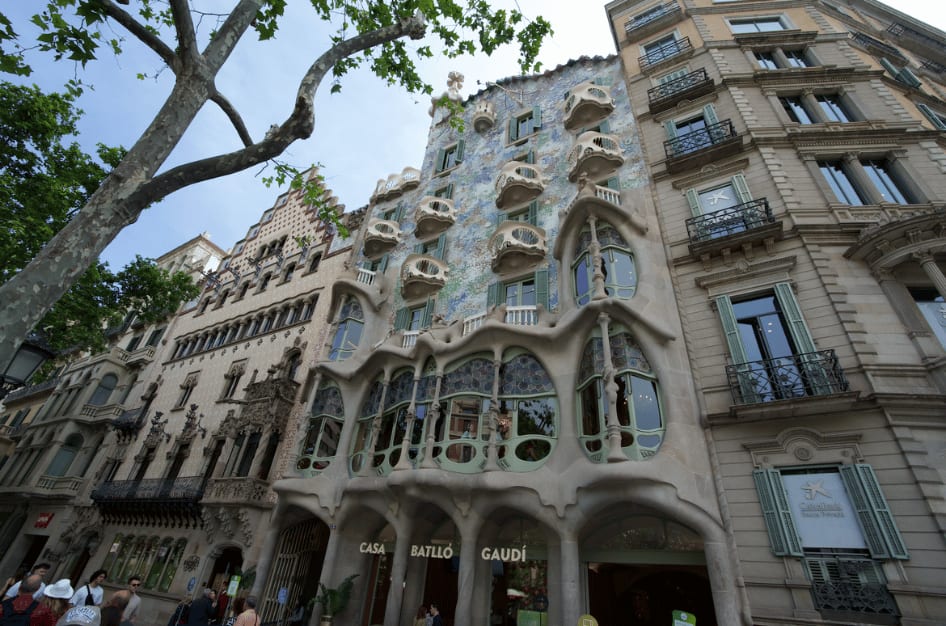 Casa Batlló is a UNESCO World Heritage Site and an icon of Barcelona. Here you'll learn about Gaudí's work and modernism at its best. 
This place is also one of the most valued cultural and tourist attractions, and it welcomes 1 million visitors a year!
The building was designed in 1877 by Emilio Sala Cortés, Gaudí's teacher, and there were plans to demolish it. However, Gaudí decided to keep it and give it "his touch."
Nowadays, Casa Batlló was chosen Best Monument of the World 2021 (Yes, over the London Tower, the Milán Duomo, and the Empire State so you can have an idea.)
It would be best if you got the audio guide. You'll get an extremely educational and inspirational experience. Also, make sure to bring your earphones!
📅 Opening Times: From 9:00 am to 8:00 pm
🎟️ Entrance Fees:
Blue: Ticket + Audioguide 35€
0 - 12 years free entry
13 - 17 years/students 29€
People over 65: 32€
Silver: Ticket + Gaudí Dôme + Virtual Reality Tablet 43€
Gold: All inclusive Fast Pass + Gaudí Dôme + Virtual Reality Tablet 45€
---
3. La Pedrera-Casa Milà
📍Pg. de Gràcia, 92, 08008 Barcelona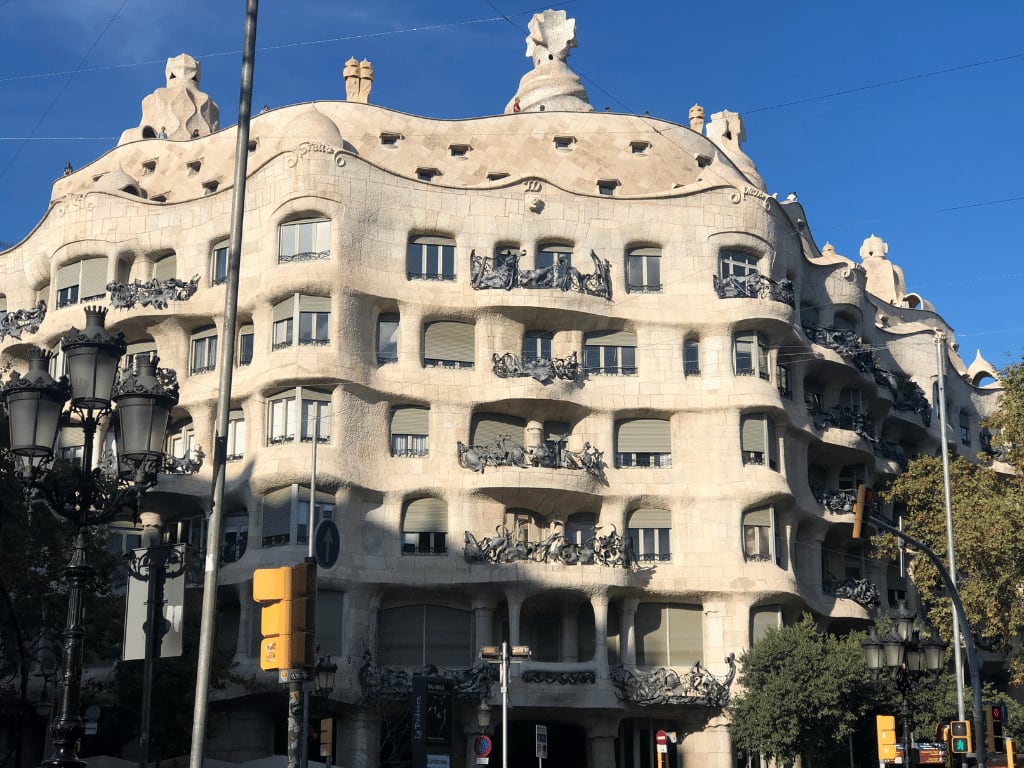 Casa Milà, commonly called "La Pedrera" by locals, is the last civil work of Antoni Gaudí. It began in 1906 and ended in 1912.
The house's original name was Casa Milà because of the Milà family who owned the place. And the nickname "La Pedrera" comes from its external appearance, where mainly stone was used for the facade and balconies.
It is worth visiting the inside of Casa Milà. I did the night experience, and I highly recommend it. They will guide you through each room, giving complete information.
A curious thing about the building is that it does not have a single straight line. And it also has one of the most iconic terraces due to the sculptural chimneys and air vents.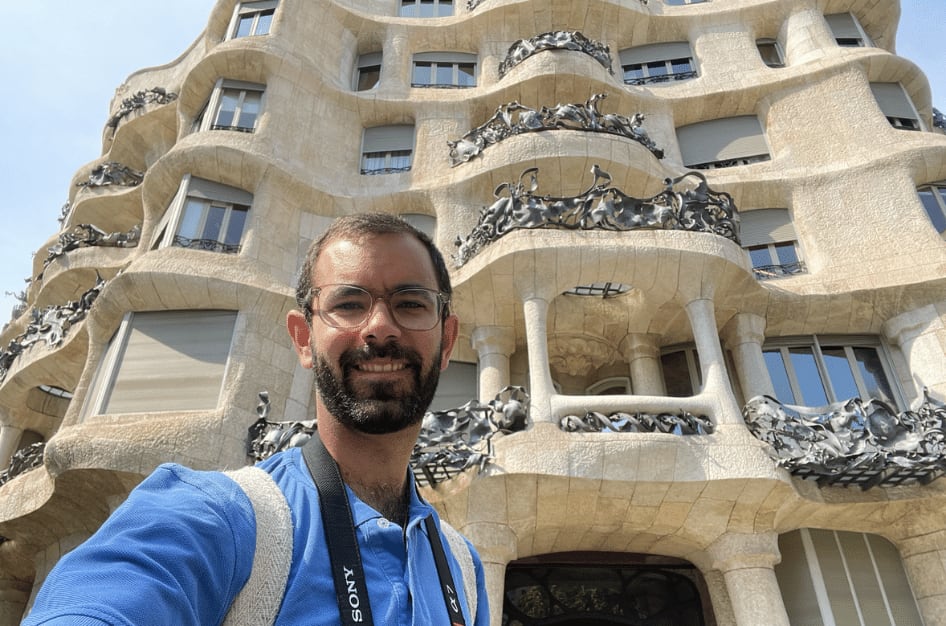 It was fascinating to watch and hear about how this place was made. There's a Gaudí's Room, where you can learn about the architect and enter other rooms to see how wealthy 20th-century families lived. So worth it!
📅 Opening Times: From 9:00 am to 8:00 pm
🎟️ Entrance Fees:
Tickets La Pedrera Essential: 25€
Tickets Full Experience (VR and extra floor) 35€
Tickets La Pedrera Night Experience 35€
Students and 65+: 19€
0 - 6 years free admission and 7 - 12 years: 12.50€
---
4. Park Güell
📍Carrer d'Olot, 5, 08024 Barcelona, Spain
We've already mentioned Gaudí's masterpieces a lot, but this man was a genius. 
Park Güell has one of the most colorful and vibrant structures you will ever see! This place has incredible architecture and stunning mosaic patterns. 
It is a garden, a meeting place, and one of the main tourist attractions in Barcelona. And, on top of everything, it also has one of the best views of the whole city.
This place is up on a steep hill, so be prepared to have a walk and climb some stairs. Still, the sights are unforgettable.
You can stay in the park as long as you like once inside. Some of the things you can do in Park Güell are the following:
Sit and enjoy a moment of silence
Take a picture of the trencadís dragon
Enter the Casa del Guarda
See the Pórtico de la Lavandera (The Laundress Portico)
See the Austrian Flower Gardens.
Take a guided tour
Go to the Mirador (sightseeing).
Have a picnic
Go on a date
📅 Opening Times: 
From May to August: last entry at 9:00 pm.
From April, September and October: last entry at 7:30 pm.
In January, February, March, November and December: last entry at 5:30 pm
🎟️ Entrance Fees:
| Rates | Prices |
| --- | --- |
| General ticket | 10€ |
| Children from 0 to 6 | 0€ |
| Children from 7 to 12 | 7€ |
| Over 65 and "Targeta Rosa Reduïda" card | 7€ |
| "Targeta rosa" card | 0€ |
| People with disabilities | 0€ |
| Acompanying people with disabilities | 7€ |
---
5. Camp Nou
📍C. d'Arístides Maillol, 12, 08028 Barcelona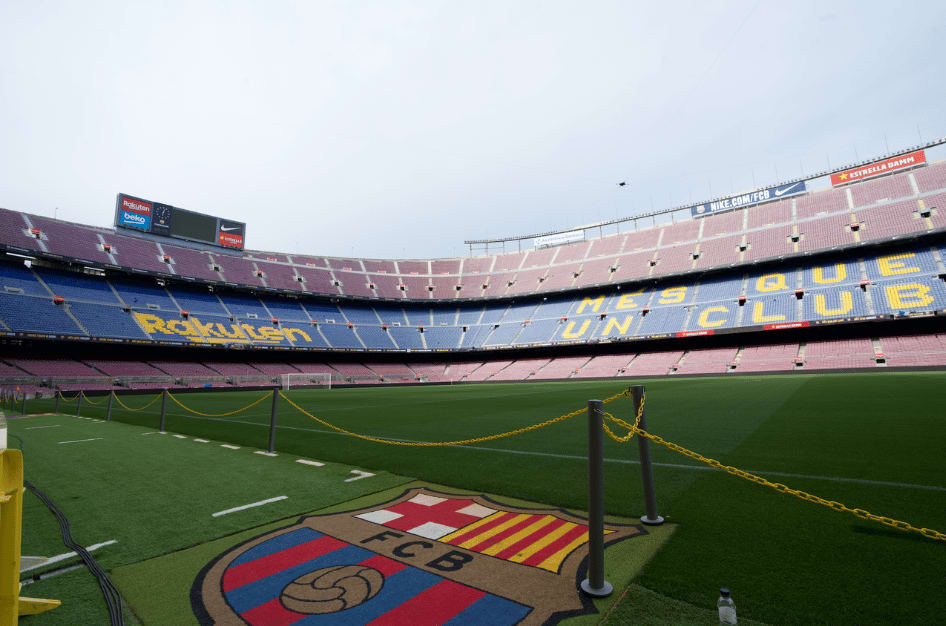 Rumor has it that football in Spain is more than a passion; it is a way of living.
You can experience this by visiting Camp Nou, Barcelona's amazing stadium, and the museum of one of the most successful soccer clubs in the world, FC Barcelona!
FC Barcelona is part of the identity of the Catalan people. Barça "més que un club", which means "more than a club".
It is a very enriching experience since you can understand why the club strongly represents this city. And, the stadium tour is worth a visit, even if you're not a big football fan. 
The ticket includes entering the museum, the impressive football stadium, and the interactive zone overlooking FC Barcelona's greatest moments.
Buy tickets in advance and schedule your visit for early morning, around 10:00 am. That would be the best time to go!
📅 Opening Times: 
From January to March 18: Monday - Saturday 10:00 am - 6:30 pm; Sunday 10:00 am - 2:30 pm
From March 19 to October 16: 9:30am - 7:30pm
October 17 to December 18: Monday - Saturday 10:00 am - 6:30 pm; Sunday 10:00 am - 2:30 pm
December 19 to December 31: 9:30 am - 7:30 pm
🎟️ Entrance Fees:
Tickets for the "Camp Nou Experience": 28€
Camp Nou Experience + Robokeeper: 37€
0-3 years: free entry
4-10 years: 21€
People over 70+: 21€
---
6. Cathedral of Barcelona
📍Pla de la Seu, s/n, 08002 Barcelona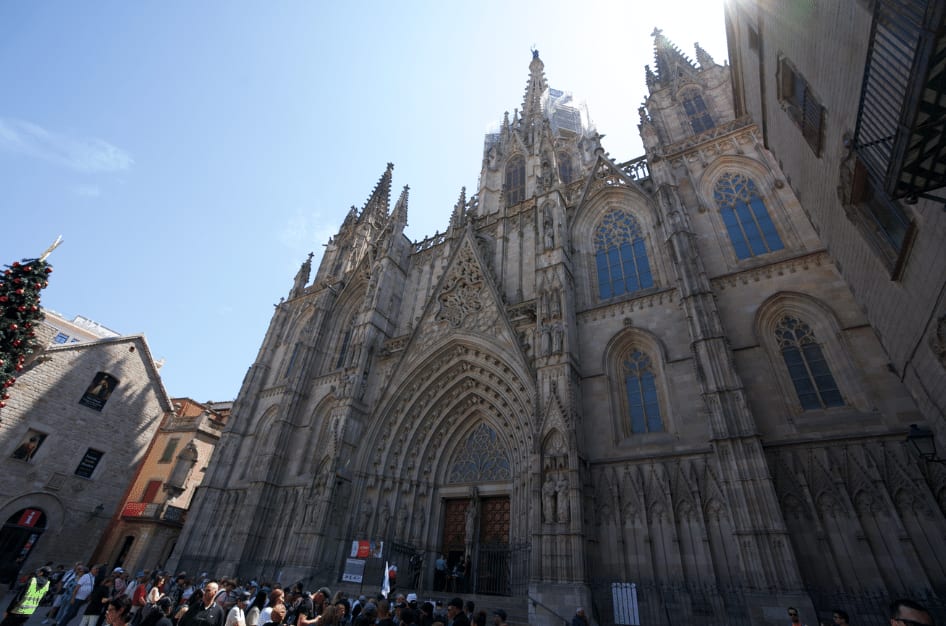 The impressive Cathedral of Barcelona is an important landmark you must visit during your stay in the city. It is a massive Gothic Revival Church that measures 300 feet long by 174 feet high.
At the Barcelona Cathedral, you'll find monuments and chapels dedicated to more than 140 saints.
A must-do once inside is taking the elevator to the rooftop! You can get spectacular 360-degree views of the city. To see the best rooftops in the city, visit this article:
The 11 Best Rooftops in Barcelona: Drinks and Stunning Views!
The visit can take up to an hour to see everything. And it would help if you went early to avoid crowds or very late. Also, this church is for worship and prayer, so if you're touring*,* expect to be lectured. 
As this is a religious place, it has traditional dress code rules you must follow, such as covering your shoulders, having dresses/shorts/skirts at knee length, removing any caps or any headwear, and avoiding tank tops or "revealing clothing." 
Either way, for those who can't bear the heat during the summer months (almost everyone), you should know there are people selling shawls for cheap money at the entrance. 
**📅 Opening Times:**👇🏻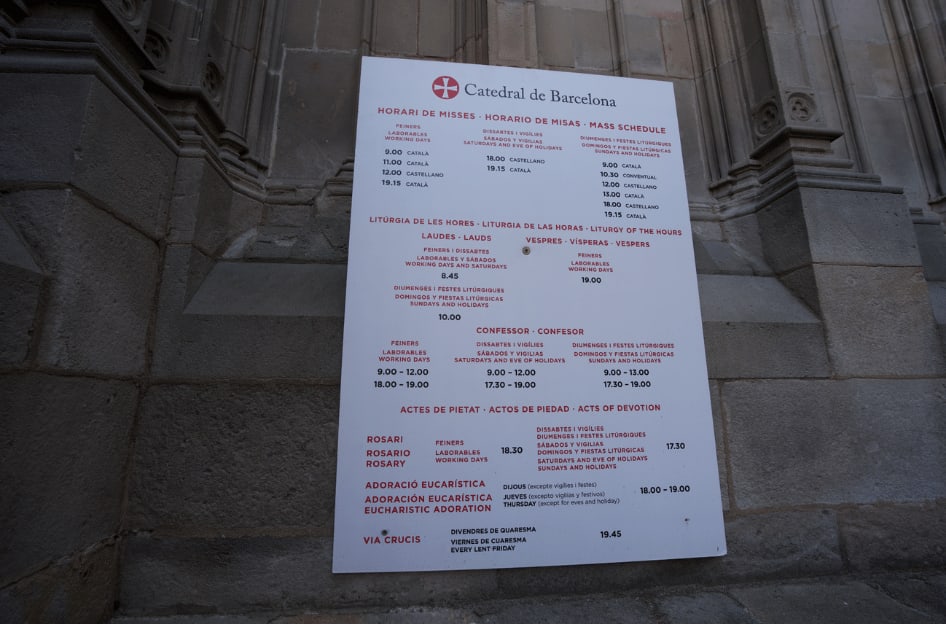 On weekdays: from 9:30 am to 6:30 pm. (access will be closed at 5:45 pm)
On Saturdays and festive vigil: from 9:30 am to 5:15 pm (access will be closed at 4:30 pm.)
On Sundays and festives: from 2:00 pm to 5:00 pm (access will be closed at 4:30 pm.)
🎟️ Entrance Fees:
Regular tickets at selected times cost 7€
5€ if you come in groups
Chor entrance + Acces to the rooftop + Chapter hall + Virtual Audioguide+ Diocesan Museum: 15€
Vespertin Visits with limited capacity + Access to the terrace*: 24€
A visit to the roof as well as the chorus cost an additional 3€
---
7. Palau de la Música Catalana
📍C/ Palau de la Música, 4-6, 08003 Barcelona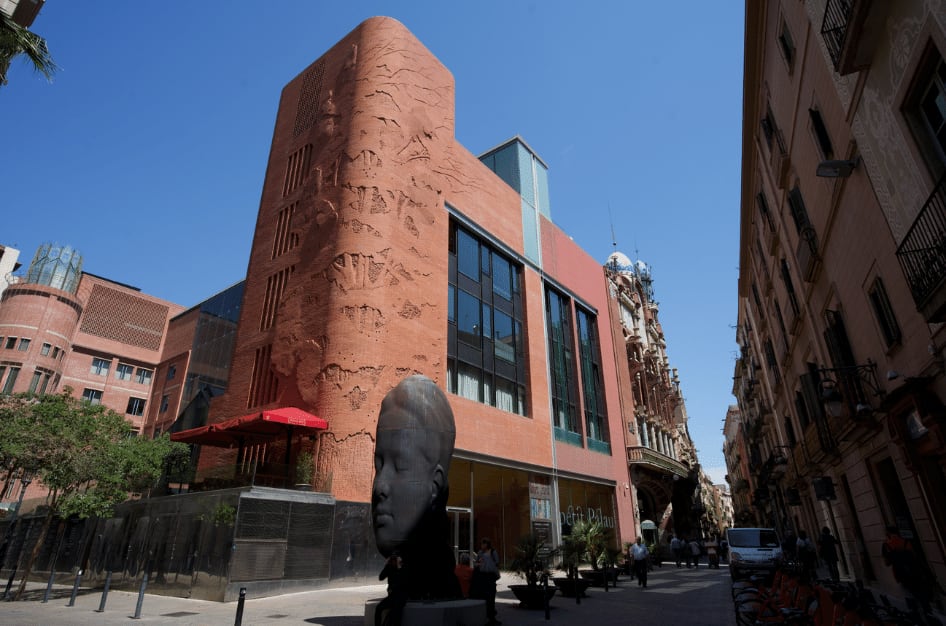 The Palau de la Música Catalana is an architectural gem of Catalan modernism.
It was built between 1905 and 1908 by the modernist architect Lluís Domènech i Montaner.
This famous building is in the Sant Pere district, one of Barcelona's most beautiful areas.
This place is truly one of the world's most beautiful concert halls because the architecture and decoration are breathtaking. 
I recommend you get the Self-guided tour tickets, so bring your headphones to listen to the audiobook on your phone.
You can expect concerts from symphonies, opera, Cançó (Catalan music), chamber music, flamenco, to jazz. 
It was declared a UNESCO world heritage in 1997.
📅 Opening Times: From9:00 am to 8:00 pm.
🎟️ Entrance Fees:
Self guided tour tickets for adults: 15€
0 - 11 years: free entry
Tour guide: 19€
---
8. Montjuïc National Palace
📍Carretera de Montjuïc 66, 08038 Barcelona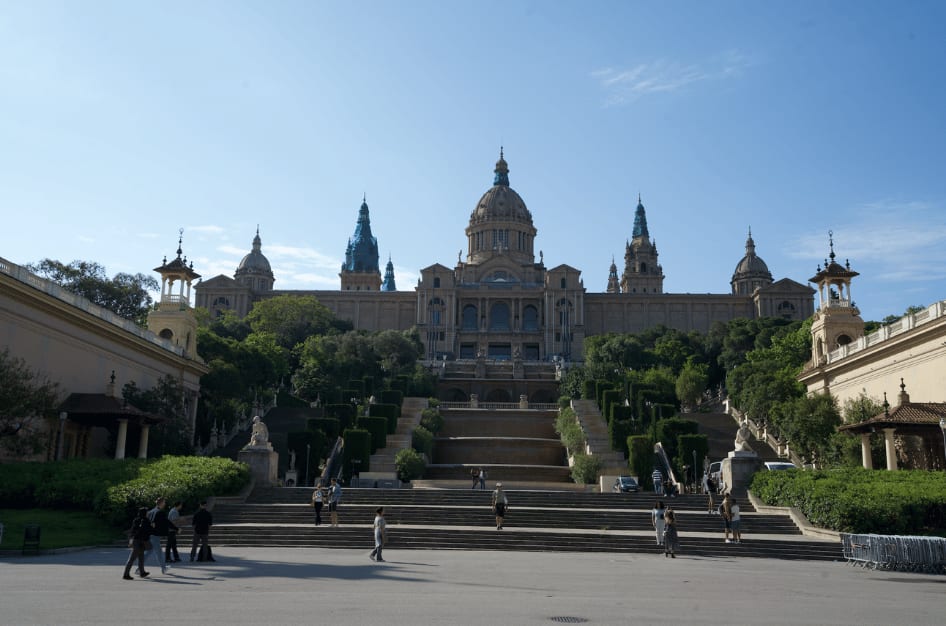 The majestic building of the National Palace of Montjuïc is an absolute must-visit for anyone in Barcelona! Due to its size and location, it can be easily spotted from afar. 
This place has a magic square with cascading waterfalls, surrounded by Roman columns in a building home to plenty of artwork collections. 
Also, make sure to attend the fountain show of music and lights from 9:00 pm to 10:00 pm on Thursdays, Fridays, and Saturdays. It's amazing!
The best thing to do is climb up to enjoy breathtaking city views. Also, you can find small shops at the top.
In summer, exhibitions, concerts, and cinema screenings occur at Montjuïc Castle. Discover the program on their official webpage. For more plans and fun activities like this, read the following article:
For only 2 euros, you can access the basic exposition and the terraces. Still, I recommend the 12 euro ticket to live the entire experience. 
Also, you can enjoy a relaxing afternoon at the Parc de Montjüic.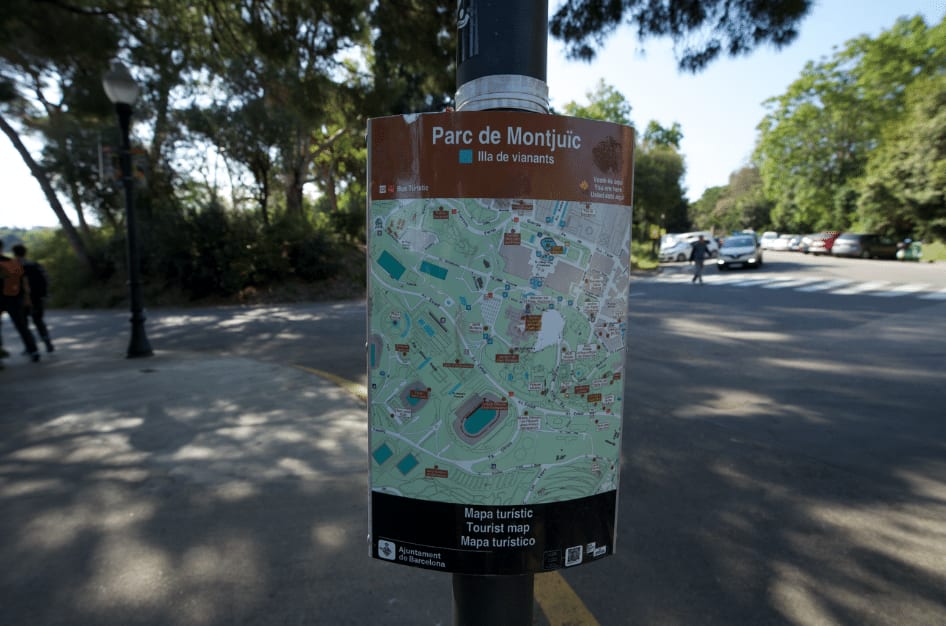 📅 Opening Times: From 9:00 am to 8:00 pm.
🎟️ Entrance Fees:
General admission fee: 9€
Reduced admission fee: 6€
Free admission: Under 8 years old, Sundays after 3pm and every first Sunday of the month.
General admission with guided tour: €13
Reduced admission with guided tour: €10
Guided tour on free access days: €4
---
9. Mercado de La Boqueria
📍Park Güell, Carretera del Carmel, 23A - 08024 Barcelona
The energetic Boqueria Market is a labyrinth with more than 300 stalls offering all kinds of typical products of the gastronomy of Barcelona.
This is one of Europe's largest and most famous food markets, built-in 1840.
You will find a wide variety of fruits and vegetables, fish and seafood, meat, preserves, vegetables, cheeses, and other local products. 
However, visit this article to know where to live the most authentic experience of a local market in Barcelona:
It will guide you through the best and most important markets in Barcelona so you can choose the one that suits you better!
All the stalls you will see offer fresh products, Catalan specialties, and plenty of tapas and drinks, so you can have a good time immersing yourself in the Catalan culture.
📅 Opening Times:
From Monday to Saturday: from 8:00 a.m. to 8:30 p.m.
Closing days: Sundays, January 1, Good Friday, Easter Monday, May 1, Easter Monday Granada or second Easter, June 24, August 15, September 11 and 24, November 1, December 25 and December 26.
🎟️ Entrance Fees: Free!
---
10. Basilica of Santa Maria del Mar
📍La Rambla, 91, 08001 Barcelona
The exterior of the Basilica of Santa Maria del Mar represents the austere Catalan Gothic style. It has long been considered the Cathedral of seafarers.
It is undoubtedly worth visiting. I recommend planning a visit while strolling around the El Born neighborhood. When you see the building, you'll understand why you have to go inside!
The facade is just impressive. It is said that the whole population of the Ribera quarter participated in the construction.
Just like in the Cathedral, short skirts, pants, and bare shoulders are prohibited, so bring something to cover your shoulders, knees, and legs.
This visit should take you at most 20 minutes or half an hour!
📅 Opening Times:
Monday to Sunday from 10:00 a.m. to 8:30 p.m.
From Monday to Saturday from 10:00 a.m to 6:00 p.m. and on Sunday from 1:30 p.m. to 5:00 p.m., admission must be paid.
🎟️ Entrance Fees:
Visit inside the temple + gallery space museum + crypt: 5€
Visit inside the temple + gallery space museum + crypt + towers + roofs: 1 person 10€ / 2 people 15€
---
11. Ciutadella Park
📍Passeig de Picasso, 21, 08003 Barcelona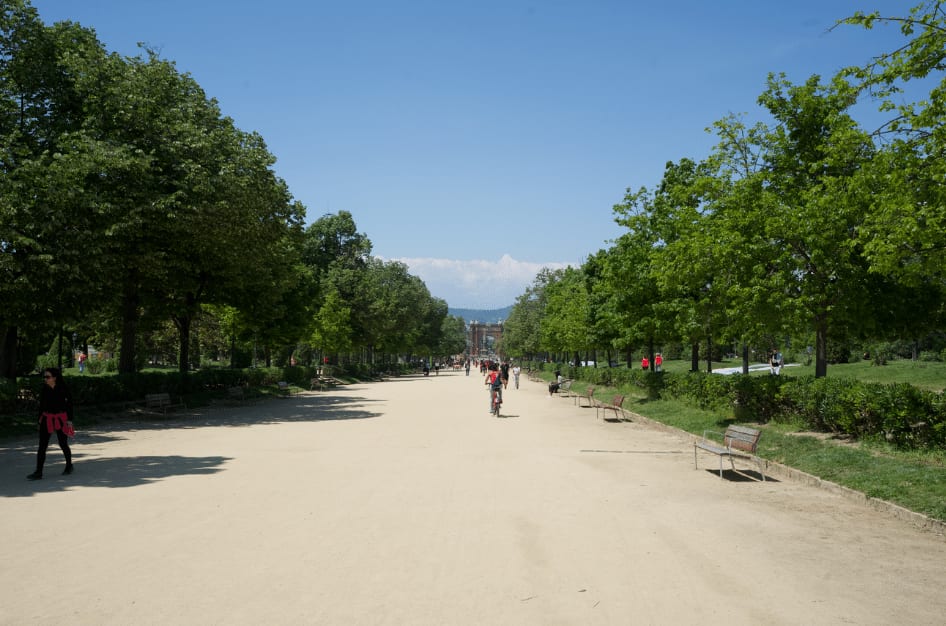 The Parc de la Ciutadella is Barcelona's central park.
Besides being a gorgeous park with many historical and important monuments, it is a recreation area for Barcelona's residents and visitors.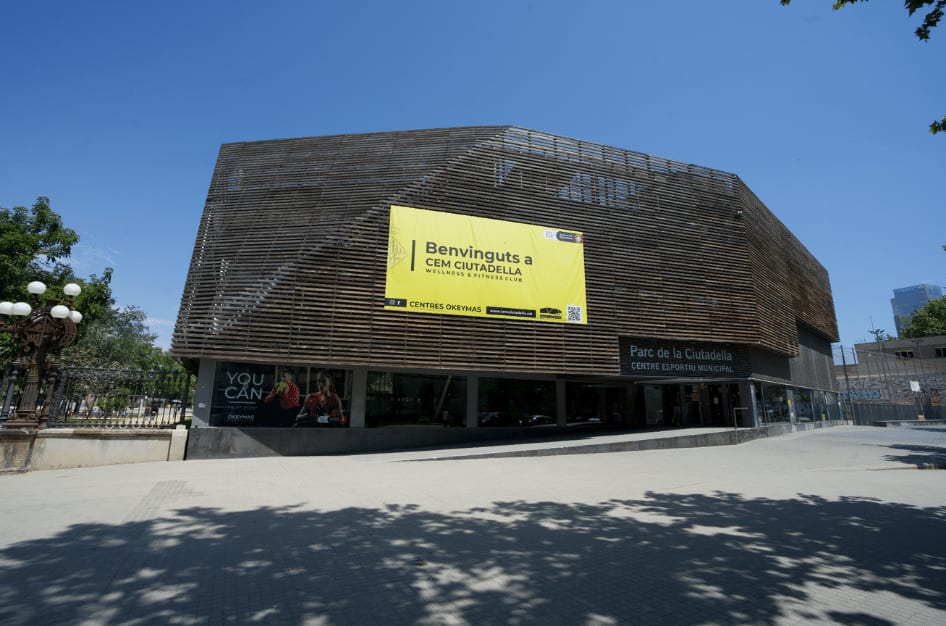 Without a doubt, the most important monument of this park is its Monumental Waterfall. Also, the Castle of the Three Dragons, Barcelona Zoological Museum, Museu Martorell, and many sculptures from renowned artists. 
This park is a beautiful place to sit, relax, and enjoy your surroundings.
You can also have a date, enjoy a picnic, watch the sunset, lie in the grass watching the trees and birds, or have a nice walk, rent a boat, cycle, and do many other activities! It's fantastic to have such ample green space in the city. 
📅 Opening Times:
From November to March, from 10:00 am to 7:00 pm.
From April to October, from 10:00 am to 9:00 pm.
🎟️ Entrance Fees: Free!
---
12. Museu Nacional d'Art de Catalunya
📍Palau Nacional, Parc de Montjuïc, s/n, 08038 Barcelona
This iconic museum is a must-visit landmark in the city. It is located in the emblematic Palau Nacional de Barcelona, (that we saw earlier) offering a magnificent collection of Romanesque art.
You should expect to see beautiful paintings, sculptures, furniture, and photography.
The pieces in the museum are unique and exciting to see. It is a key spot to understanding Catalan and Spanish art.
Visit this article to discover the most important museums in Barcelona!
There's old art from three different periods on the ground floor, and on the first floor, you'll find modern art.
Also, you can access the roof terrace and enjoy their restaurant and an outdoor cafe with amazing views! You can even see Sagrada Familia, which is far from the museum.
📅 Opening Times:
In Winter: from October to April, from Tuesday to Saturday, from 10:00 am to 6:00 pm; Sundays and holidays, from 10:00 am to 3:00 pm.
In Summer: May to September, Tuesday to Saturday, 10:00 am to 8:00 pm; Sundays and holidays, 10:00 am to 3:00 pm.
Closed on Mondays, except holidays.
Closed annually: January 1, May 1, and December 25.
🎟️ Entrance Fees:
General admission: 12€. Access the building, visit the permanent collection, temporary exhibitions, and terrace.
Feliu Elias ticket: 6€
Mey Rahola ticket: 4€. Access to the exhibition and the rooms of the modern art collection II.
Anglada Camarasa ticket: 4€. Allows access to the exhibition and the rooms of the modern art collection II.
Basic ticket: 2€. Access to the building, the viewpoint terraces, and the self-guided tour of the building spaces (ask for the material available throughout the year).
Free admission for children under 16 and over 65 years old, buying the general admission.
You should read this article to see when to enter museums for FREE!
---
13. La Rambla Street
📍Port Vell at one end and Plaça de Catalunya at the other.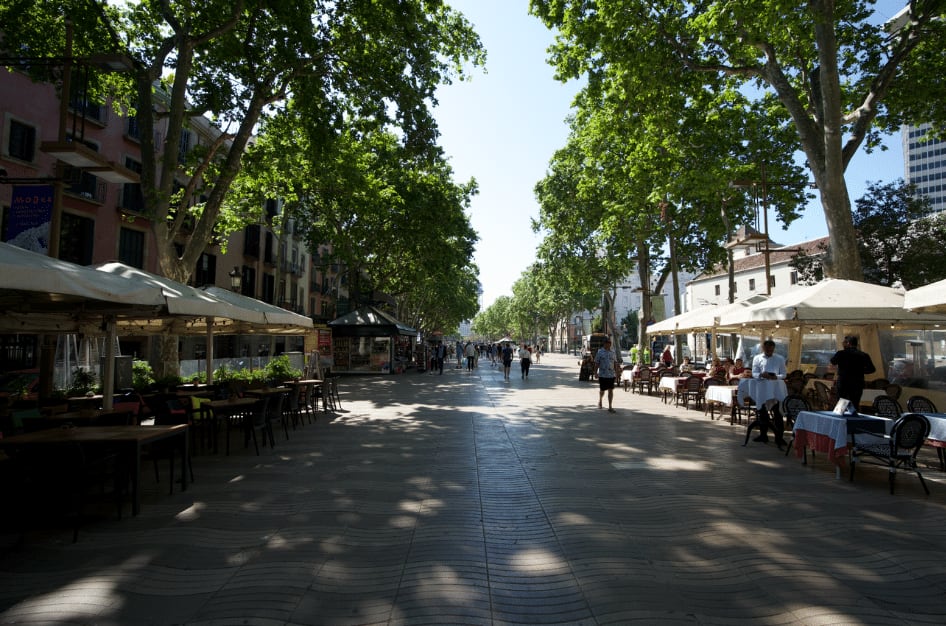 Considered the main street in the Eixample district, La Rambla de Catalunya is the most transited street in Barcelona.
This is your place if you want to watch the world go by. Many shops and vendors are in the middle of the street, which is a pedestrian walkway, giving the place its unique essence.
You will see many shops, luxury brands, multiple fashion boutiques, and many restaurants to wine and dine. However, they can be overpriced. To enjoy a good feast in Barcelona, visiting one of these restaurants would be best:
However, if you fear crowds, visit this area in the morning or off-season, as the masses can be overwhelming.
It starts in Plaça de Catalunya, over here: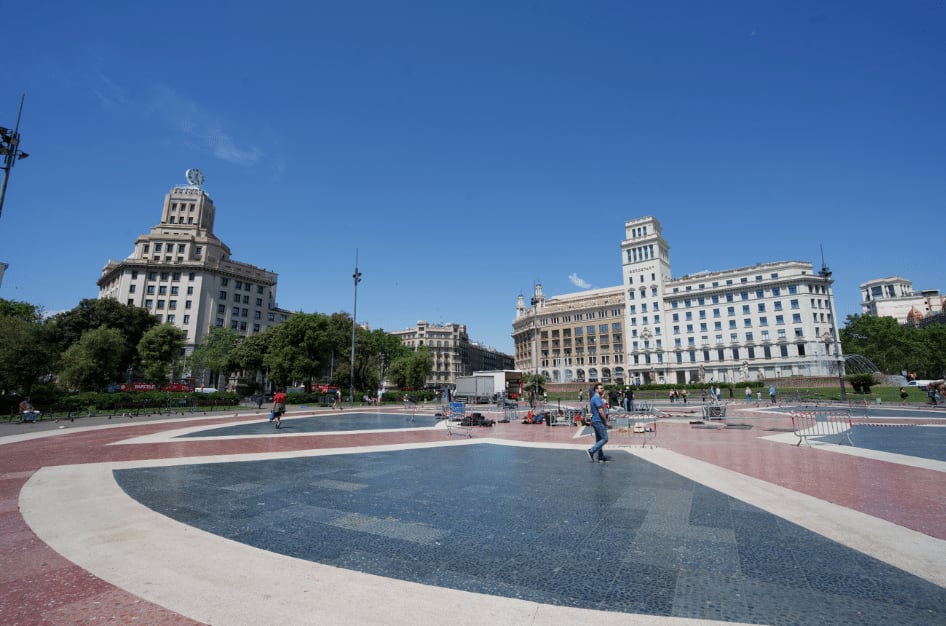 Ending in Port Vell:
I recommend this walk as you can appreciate a lively and energetic street in the city. I recommend making a pit stop to enjoy wine, cheese, tapas, and ham!
If you're here, you can't miss visiting these famous spots:
📍La Rambla, 51-59, 08002 Barcelona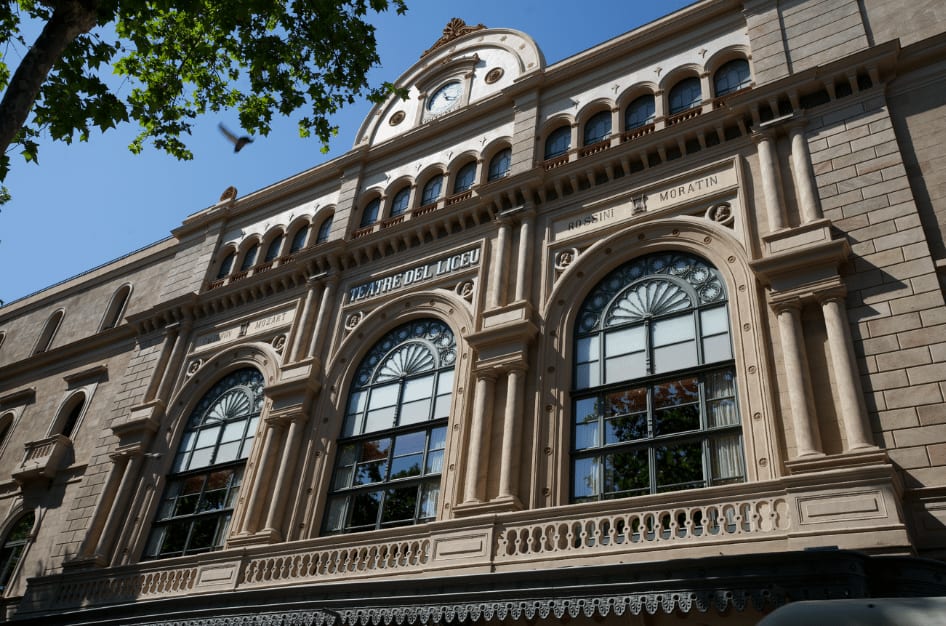 📍Carrer Nou de la Rambla, 3-5, 08001 Barcelona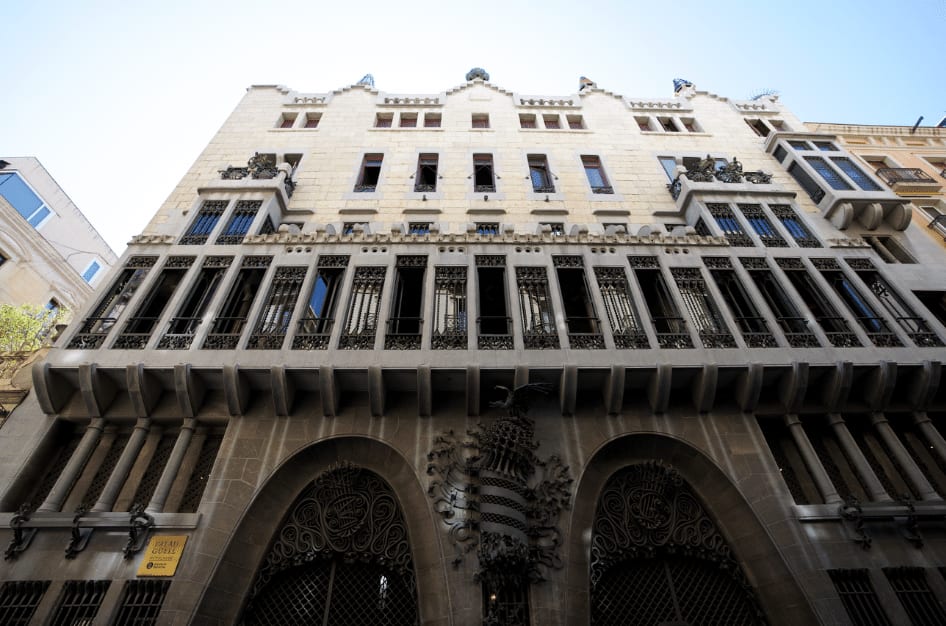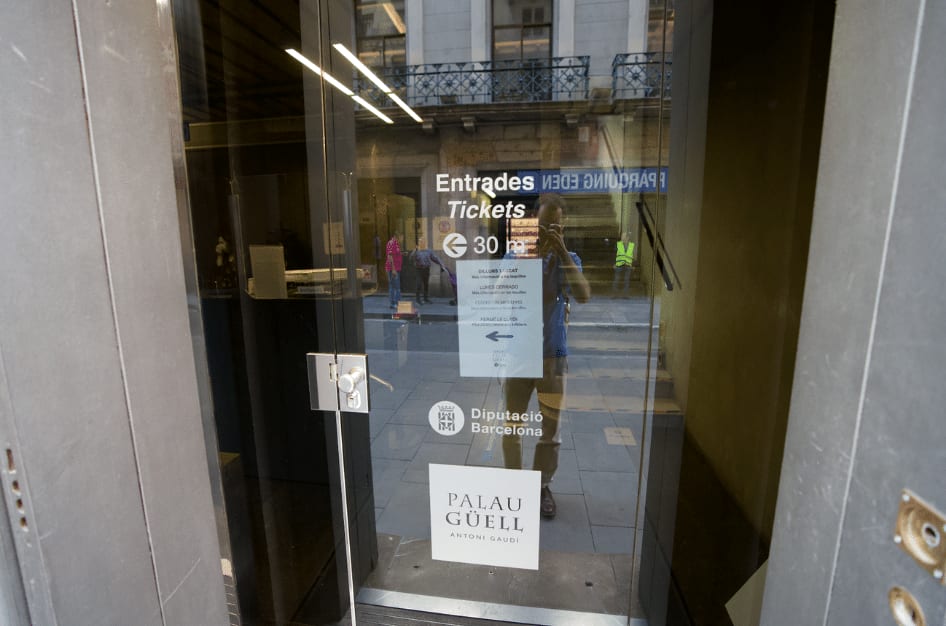 📍Pl. de Colón, 28001 Madrid
One last thing, at night, Las Ramblas turns into another location, where bars open their doors, and music and lights brighten the street.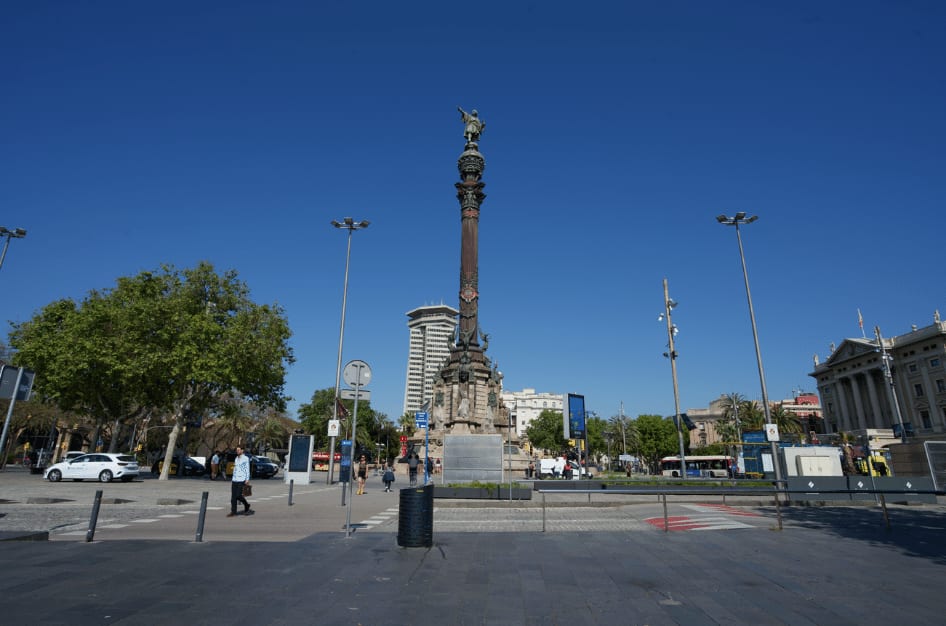 📅 Opening Times: All Day.
🎟️ Entrance Fees: N/A
---
14. Barceloneta Beach
📍Passeig Marítim de la Barceloneta, 16, 08003
This iconic beach brings life to the Barceloneta neighborhood, the most maritime district. You can't miss visiting this beach as it is one of my favorite spots in the city and among the most important landmarks in Barcelona.
The sand is grainy and dry, so it doesn't stick to you. There's a beautiful sight and plenty of cafes and restaurants.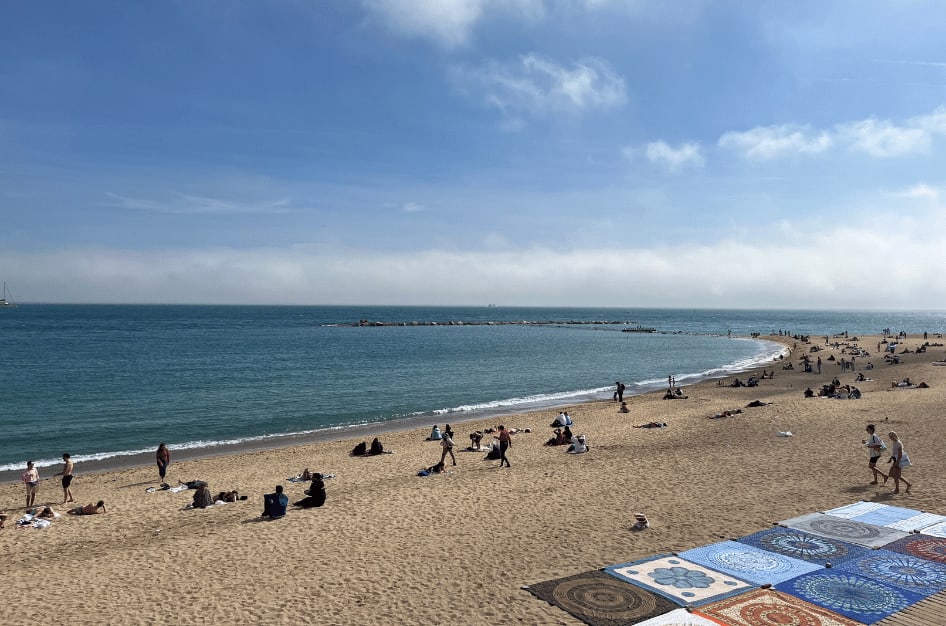 Some available services are an open gym, shower options, lifeguard, information point, luggage storage, adapted showers, public toilets, children's play area, sun loungers, parasols, drinks and ice cream kiosks, bicycle parking, restaurants, and wifi.
Moreover, there is a gym area and a place to play beach volleyball, ta-ka-ta, and ping-pong.
People will generally visit this beach from around 11 am - 12 pm. So I recommend going around 8 am - 9 am. It will be quiet and clean then, but do not anticipate before the hour since you can see many drunk people coming out from clubs!
🚏 How to Get there? 
Bus 45, 59, D20, N8, N28 (Platja de la Barceloneta Stop)
Buses N8, N28 (Platja de la Barceloneta Stop)
Buses 45, 59, D20, N8, N28 (Pg Mariti Stop)
📅 Opening Times: All day.
*All beach rescue and first aid facilities on Barcelona's beaches are open to the public from 10:30 am to 6:30 pm.*
🎟️ Entrance Fees: The entry fee for beaches in Barcelona is free.
To know everything about Beaches in Barcelona, read the following article:
---
15. Arc de Triomf
📍Passeig de Lluís Companys, 08003 Barcelona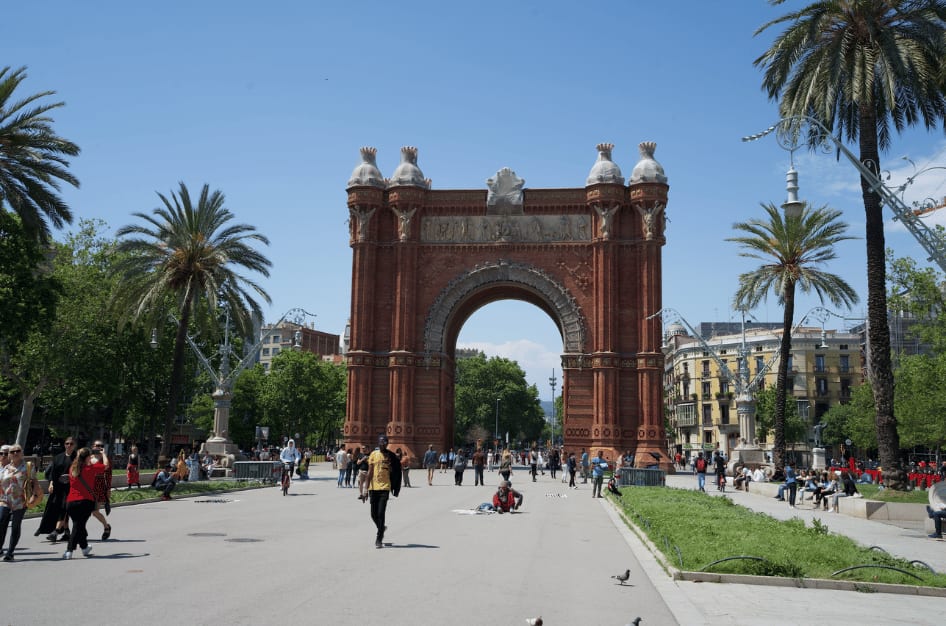 The Arc de Triomf was built as the gateway to the Universal Exhibition fair in the Parc de la Ciutadella in 1888.
The building is incredibly majestic to watch. It has become one of the city's iconic landmarks; you can only visit the outside. While you're there, you'll realize that the whole environment is full of vibrant energy in all aspects!
The Arc de Triomf in Barcelona is freely accessible 24/7 and is open to the public, making it a very budget-friendly landmark to visit and picture… Just saying!
People can walk in the square and sit on benches or rocks. It has a very accessible location with many buses stops nearby and is close to other main landmarks.
There are street musicians and painters in front of the monument. Then you can head down to La Ciutadella park and enjoy its lovely peaceful garden!
📅 Opening Times: Open 24 Hours
🎟️ Entrance Fees: Free!
---
So many landmarks and only one beach. Not bad for a city known for its sunny days on the Mediterranean coast. And these landmarks are just a few…
Did you expect it like that?
Now that you know that Barcelona is much more than its beaches, you must experience it! Let me know any questions you might have in the comments, and we'll be happy to help you.