9 Breeds Made in Spain: Who let THESE dogs out?
October 22, 2022
Updated:

February 14, 2023
Published: October 22, 2022
Who doesn't love dogs? Exactly, we all do. They are every Spaniard's best friend.
Spanish dog breeds have spent hundreds of years keeping farms, families, and livestock safe from predators.
This post will show you everything about authentic breeds only found in Spain. What are they like, a little bit about their history, and where do they originate. (I was shocked when I discovered that their temperament is not just a coincidence)
So, pay attention because we're about to take these dogs out!!
---
1. Spanish Galgo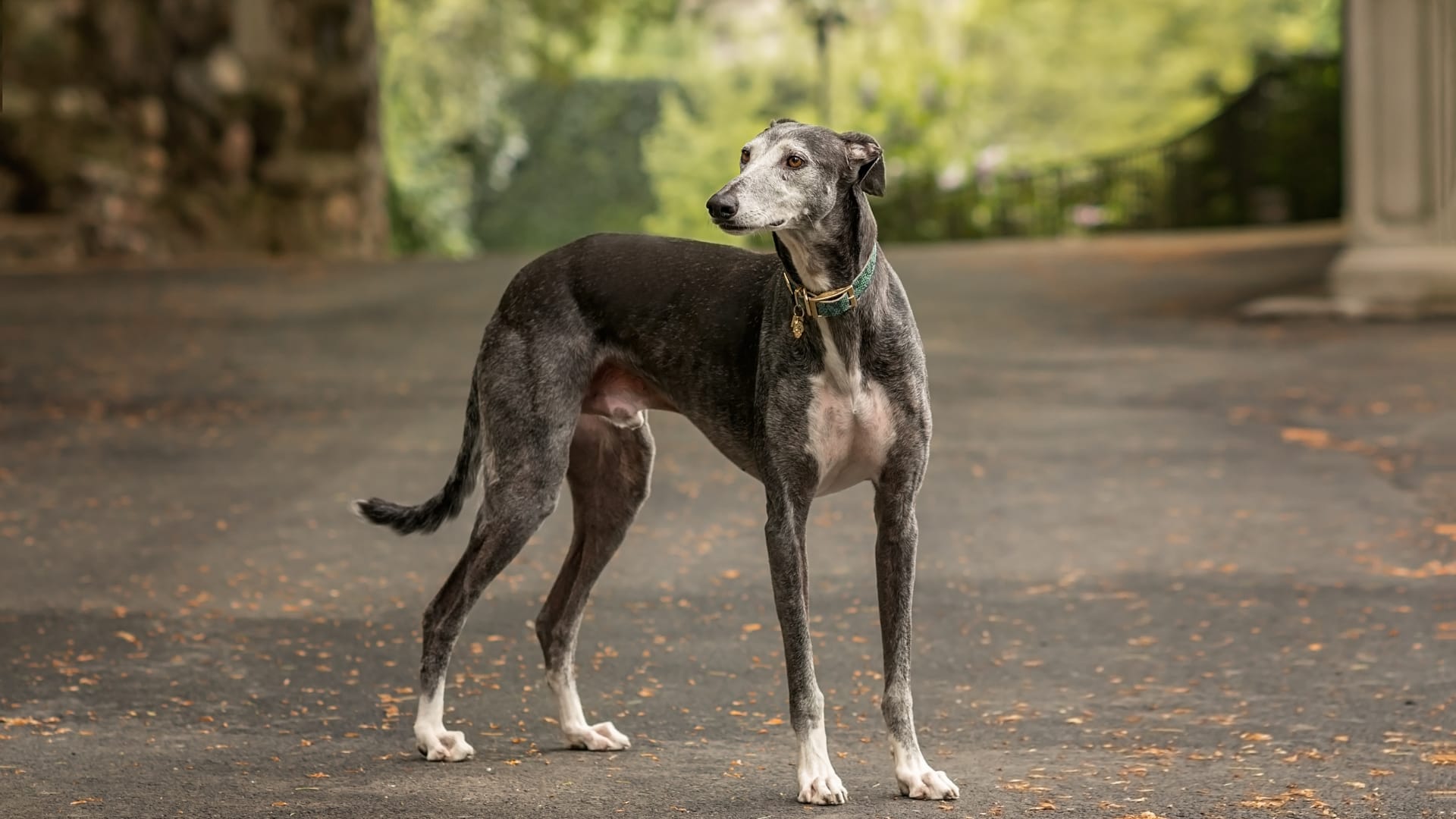 The Spanish Galgo traces its earliest roots thousands of years back, potentially descending from Egyptian dogs brought to the Iberian Peninsula by Phoenicians as early as the 9th Century B.C. However, it wasn't until the 10th Century A.D in Spain that its first images were documented through artworks and writings from the time. Given its innate abilities to hunt, which stood out from the rest, it was perceived as a highly valued breed in the ancient noble circles. In fact, in the 17th Century, the Spanish Galgo was depicted by Spanish writer Miguel de Cervantes in his world-famous epic novel Don Quijote as the protagonist's loyal hunting companion. Talking about literature, you'll be surprised to know that Spain has excellent writers that are recognized internationally and iconic plays that are considered classics of the Hispanic Culture. I have a whole article about it. Go check it out: 
This breed is exceptionally athletic, has good swiftness and endurance, and doesn't need much exercise. Even with such aspects, they aren't at all aggressive. In fact, far from it. Given their moderate energy level, they are known to be calm and affective dogs who can become very close and loving companions. Whether laying on a couch or going for a run at the park, the Spanish Galgo breed makes up one of the most loyal companions a dog owner would want. 
---
2. Podenco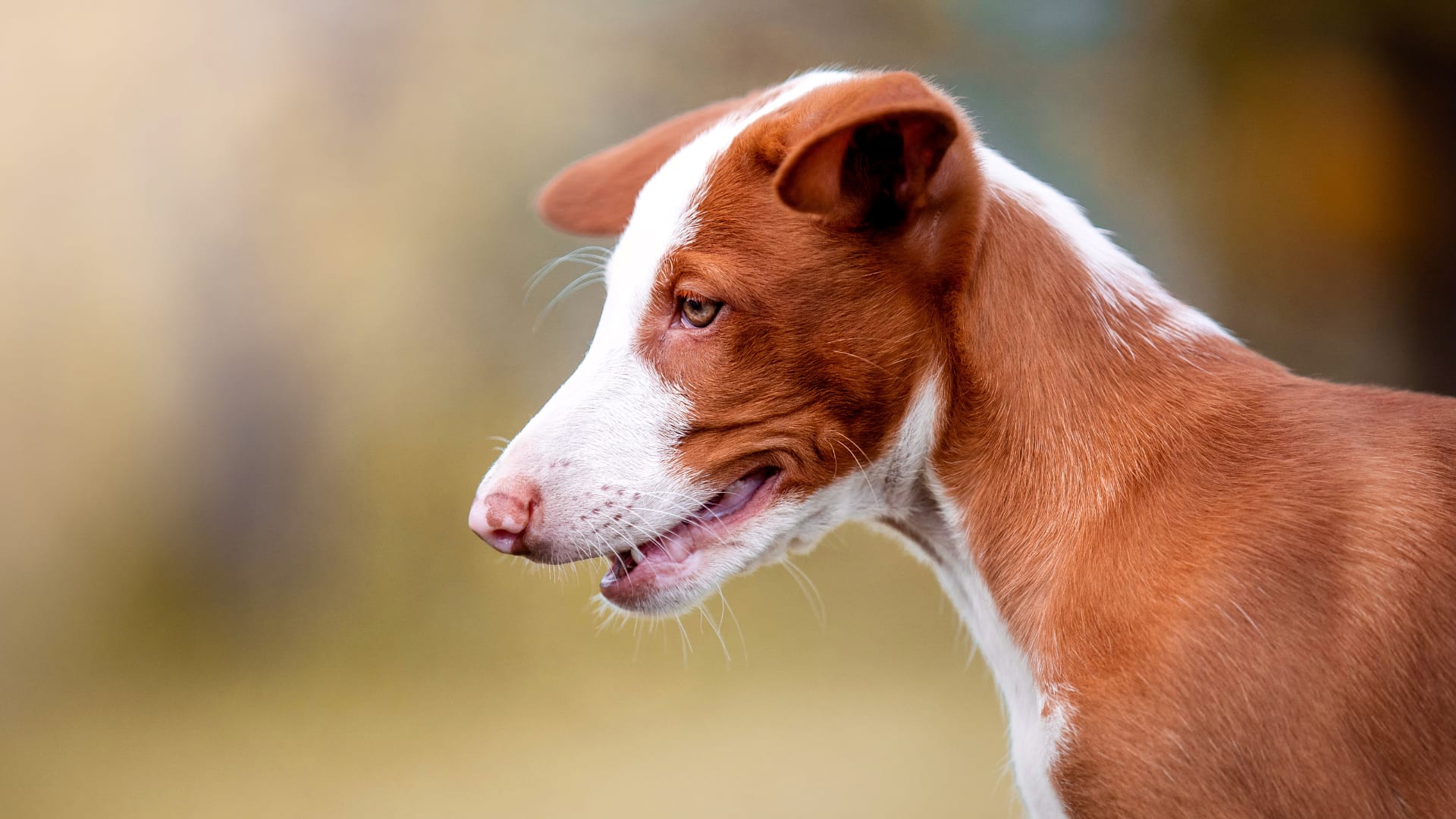 As its name already hints (with podenco meaning "hound" in Spanish), these dogs are some of the best hunters out there. Having a highly developed sense of smell, sight, and hearing, they are often used for hunting rabbits. Several subgroups of this same breed vary mainly in size and appearance, such as the Ibizan, Valenciano, Andaluz, and Canario. However, they all share the prick ears, their highly developed senses, and as the Spanish Galgo and are said to have descended from dogs brought by the Phoenicians during the 8th Century BC from Egypt to Spain. They have also found similar-looking dogs in the tombs of ancient Egyptians, including Tutankhamun himself. Compared to the Spanish Galgo, they have more energy, are more robust, and are therefore better suited to rougher terrains, making them a perfect fit for a hunting dog. 
Unfortunately, even with their playful and non-aggressive character, in the present days, they aren't as valued as before, seen often more as an instrument rather than a dog for homes. For this reason, many of them tend to learn how to survive in the streets, where they continuously suffer abuse and abandonment. Interestingly, they are some of the most empathetic breeds, being very sensitive to the moods of others.
---
3. Maneto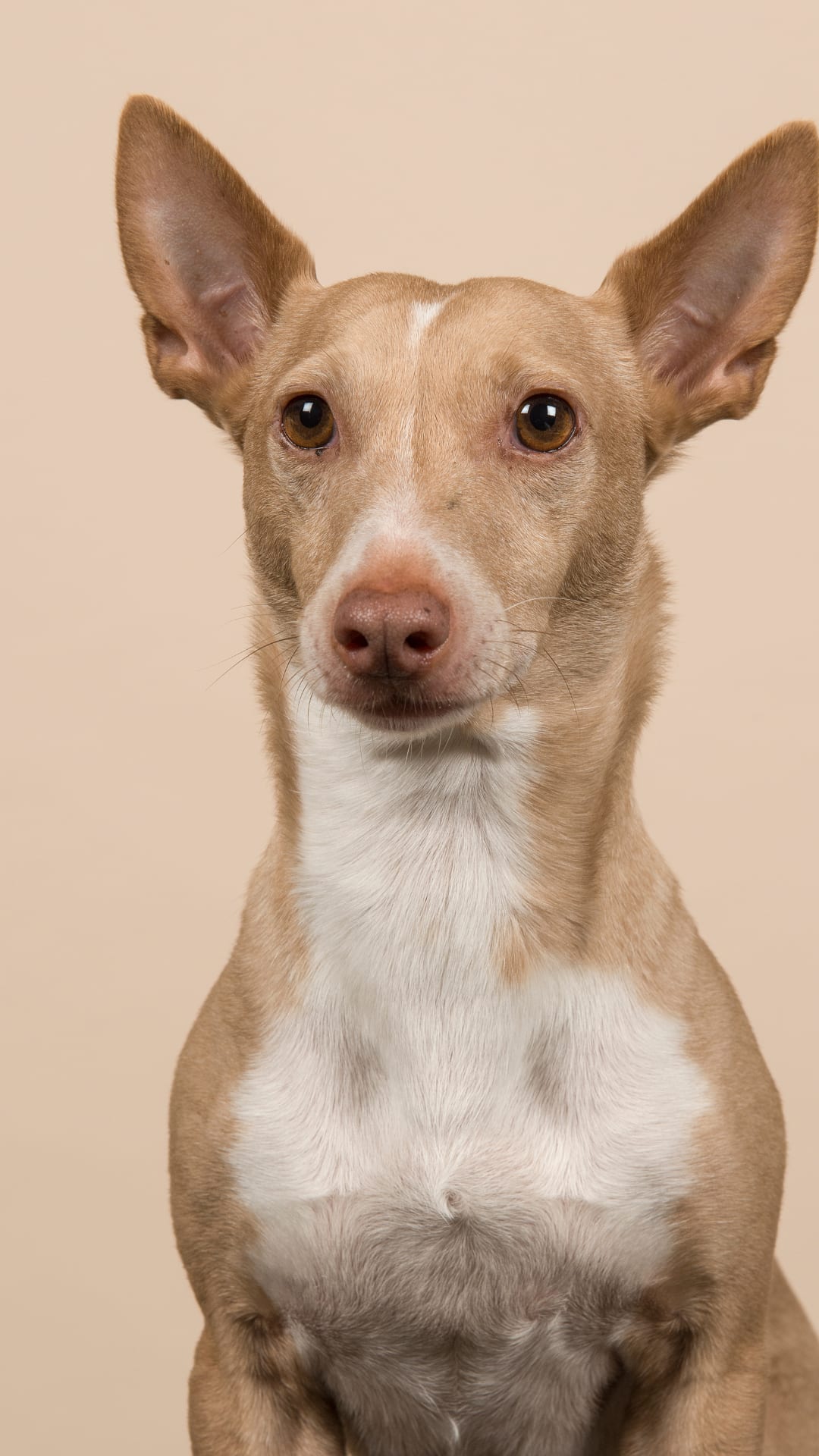 Maneto is another dog breed often used for rabbit hunting, given its small size, short legs, and agile body. It is native to the Southern Spanish region of Andalucia. It is said to have descended directly from the previously mentioned Podenco Andaluz, which has a larger dimension. Its robust body and short legs made it an ideal dog for hunting in terrains with thick vegetation, where larger dogs have more difficulty entering.
---
4. Spanish Water Dog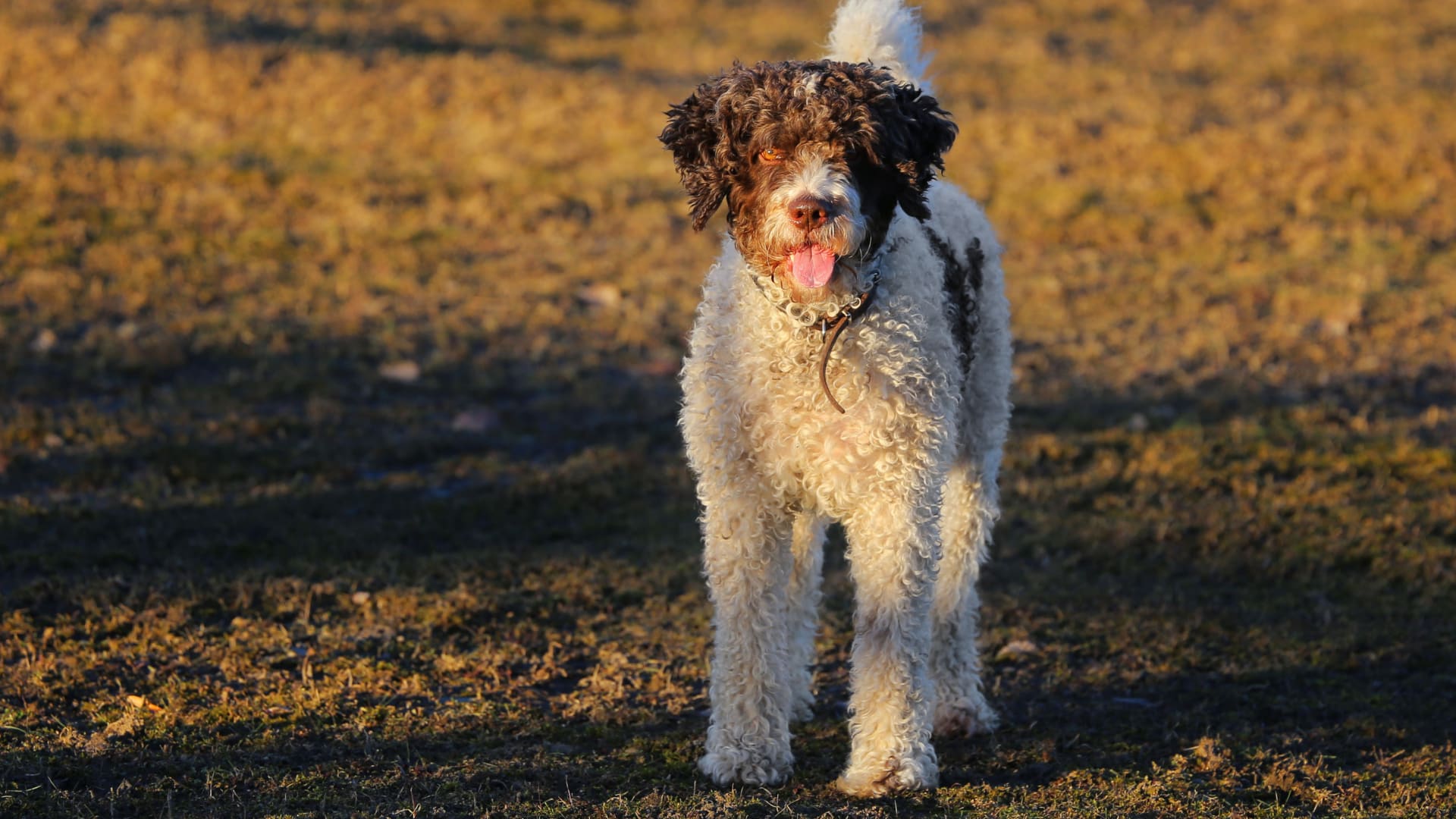 This breed is characteristic because of its curly coat that covers its body. Bred as a dog to guard, herd and even eliminate vermin (parasitic worms and insects that harm crops), it developed strong natural instincts that make it an ideal sheepdog and protect for many. They are loyal, affectionate, and intelligent. 
There are three different groups of Spanish Water Dogs in Spain that have their own specific characteristics. One of these is native to the northern provinces of Asturias and Cantabria, and they tend to be smaller in size and lighter in color. It is also known as the "Cantabrian Water Dog". 
The second group comes from the western region of Andalucia, characterized by its long and thin cords. The third and last group went from the Andalusian "sierras" (mountain range). These are the strongest and largest sorts of Spanish Water Dogs, as their primary activity is herding.
---
5. Spanish Sabueso
Spanish Hound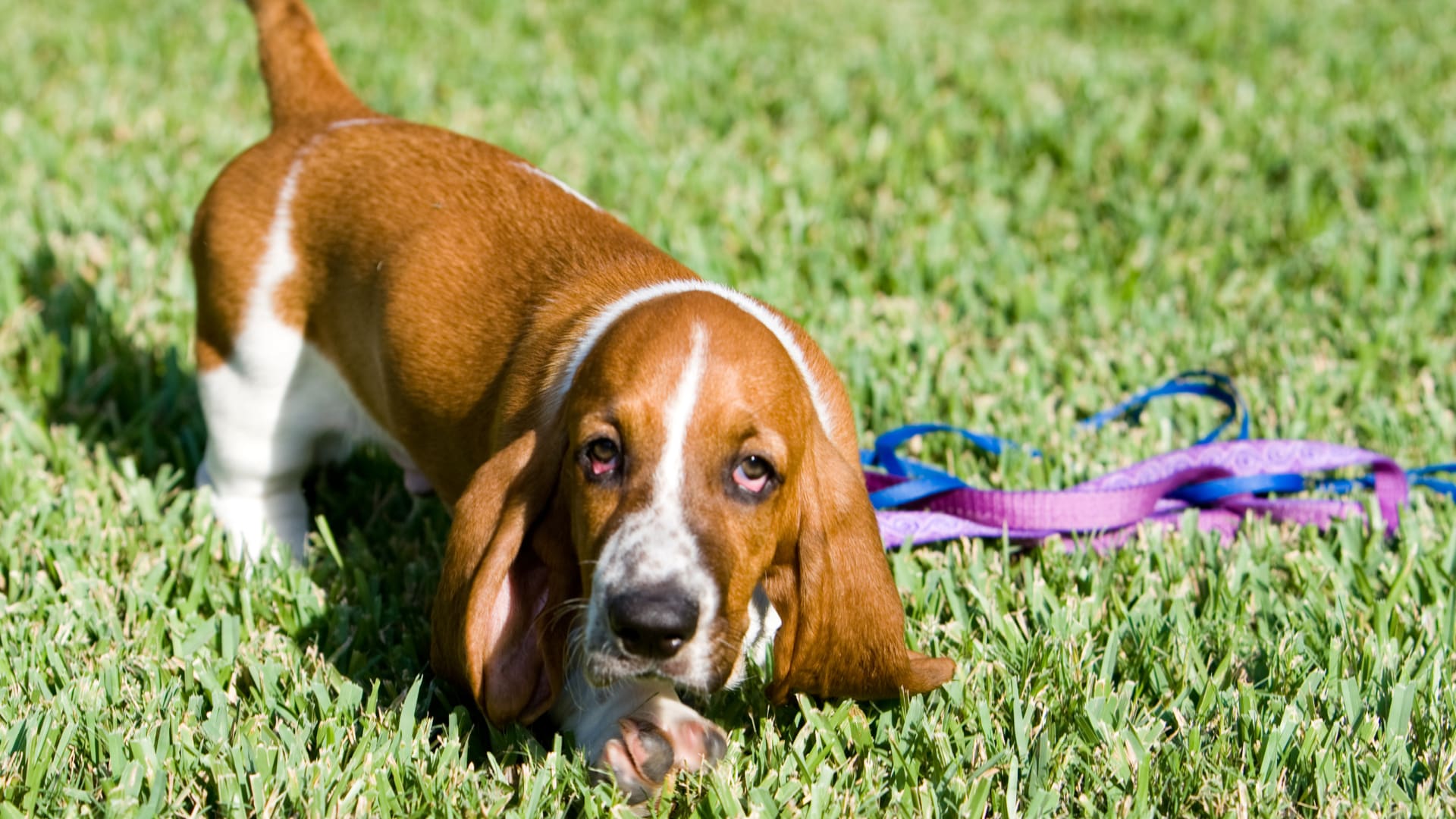 This dog's origins can be traced back to the 14th Century and was popularly used for both big game hunting (deer, elk, moose, etc.) and small game hunting (squirrels, rabbits, hares, goves, etc.). It is native to the far north of the Iberian Peninsula, a very mountainous region. This dog is medium-sized, and its colors are usually orange and white, similar to the beagle —one of the reasons why it's distinctive is its loud howl. Interestingly, hunters can know the different stages of a hunt by listening to its voice, which goes from a loud, long bay to choppy short barks when it has found its prey. 
There is a misconception about them not being good family pets, yet they have very affectionate, calm, and friendly characters, which makes them fantastic companion dogs.
---
6. Mastín
Spanish Mastiff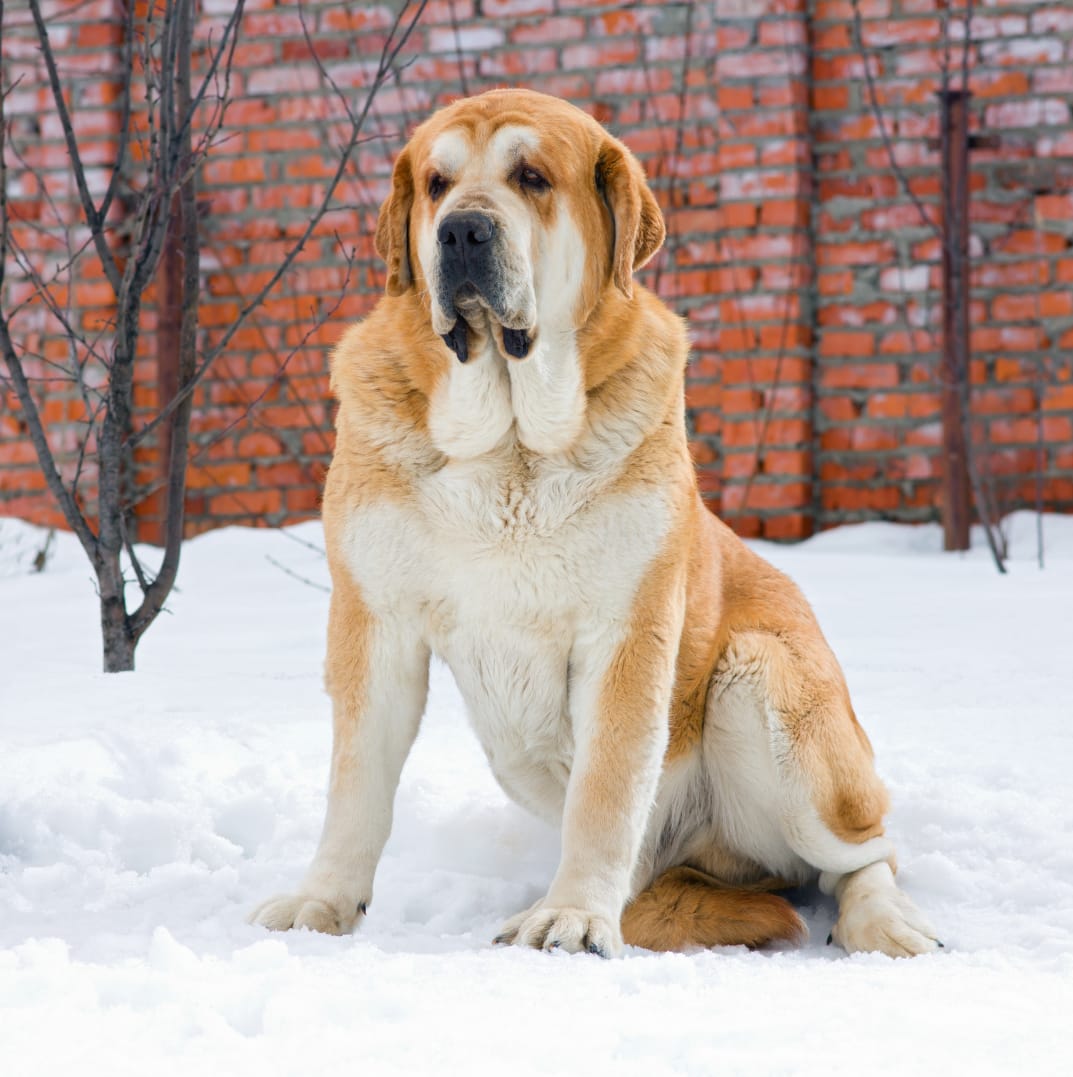 Then we have the robust Spanish Mastiff. It is a large and powerful breed. Its skull is large and bulky, and its roots trace back thousands of years. However, it is well known that in medieval times, this dog used to accompany the herds of sheep crossing from northern to southern Spain, defending cattle from attacks by wolves and other predators. 
Its facial expression seems serious and vigilant, similar to its temperament, which tends to be devoted to its family but has more difficulty accepting strangers, constantly wary of them. However, all these characteristics make it the perfect home protector. 
Interestingly, in Las Meninas by Diego Velazquez (leading artist of the Spanish Golden Age), one of the most analyzed works in Western painting, we can see a little Spanish Mastiff in the right corner of the art piece. 
---
7. Pachón Navarro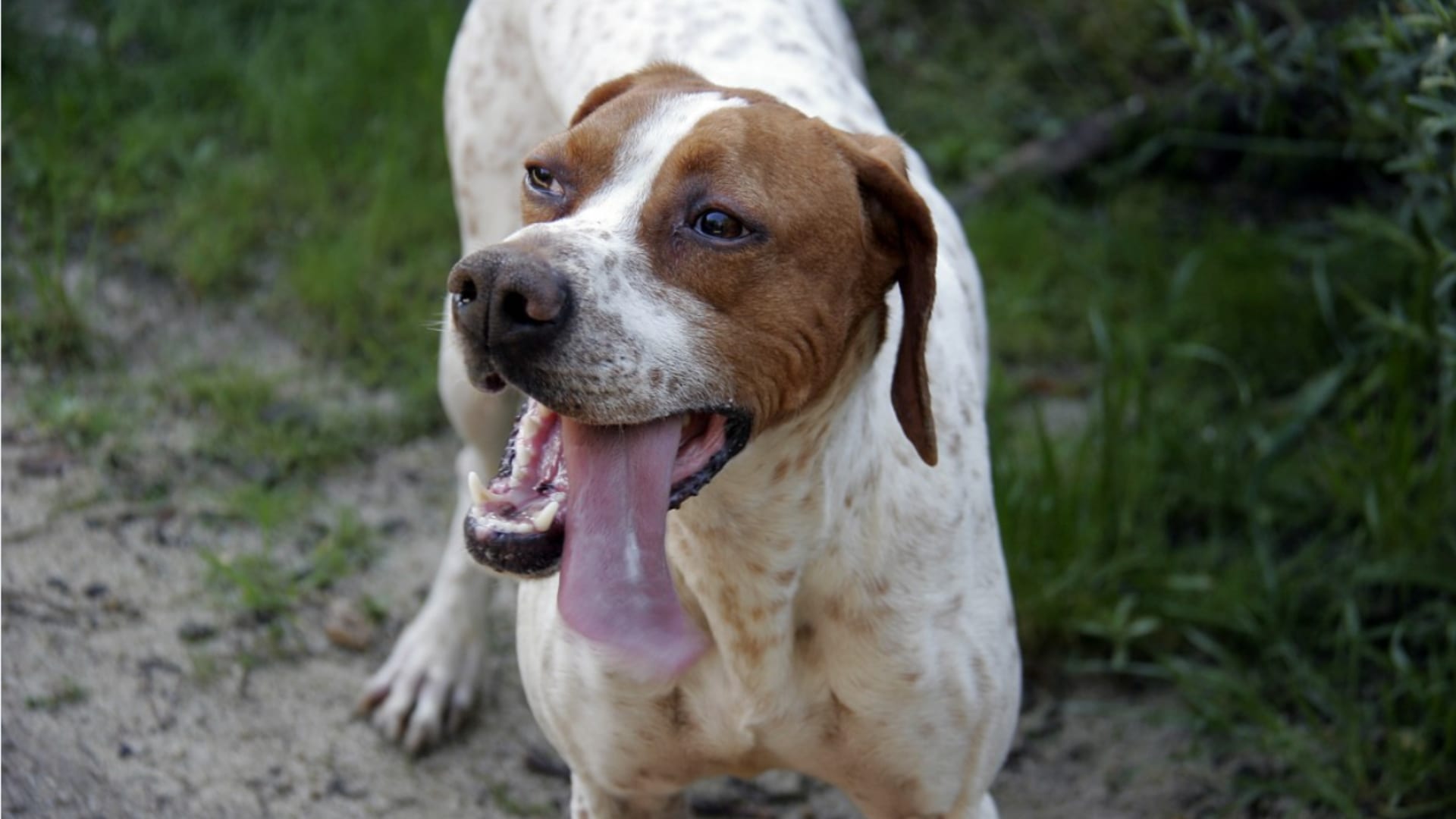 The Pachón Navarro is another Spanish hunting breed native from the region of Navarre in Northern Spain. It is a "pointer dog," which refers to the dog's instinct to point with his snout toward the direction of its quarry by stopping and aiming toward it. These dogs were selectively bred from dogs with abundant pointing and backing instincts. 
It is considered large in size, with its weight ranging from 44 lb to 66 lb. And, talking about its character, the Pachón Navarro is regarded as a calm dog and a benevolent one, but at the same time, it has great strength and energy for hunting. However, it is essential to mention that Pachón Navarro doesn't deal well with loneliness, so make sure to have enough quality time with your mate. 
---
8. Perdiguero de Burgos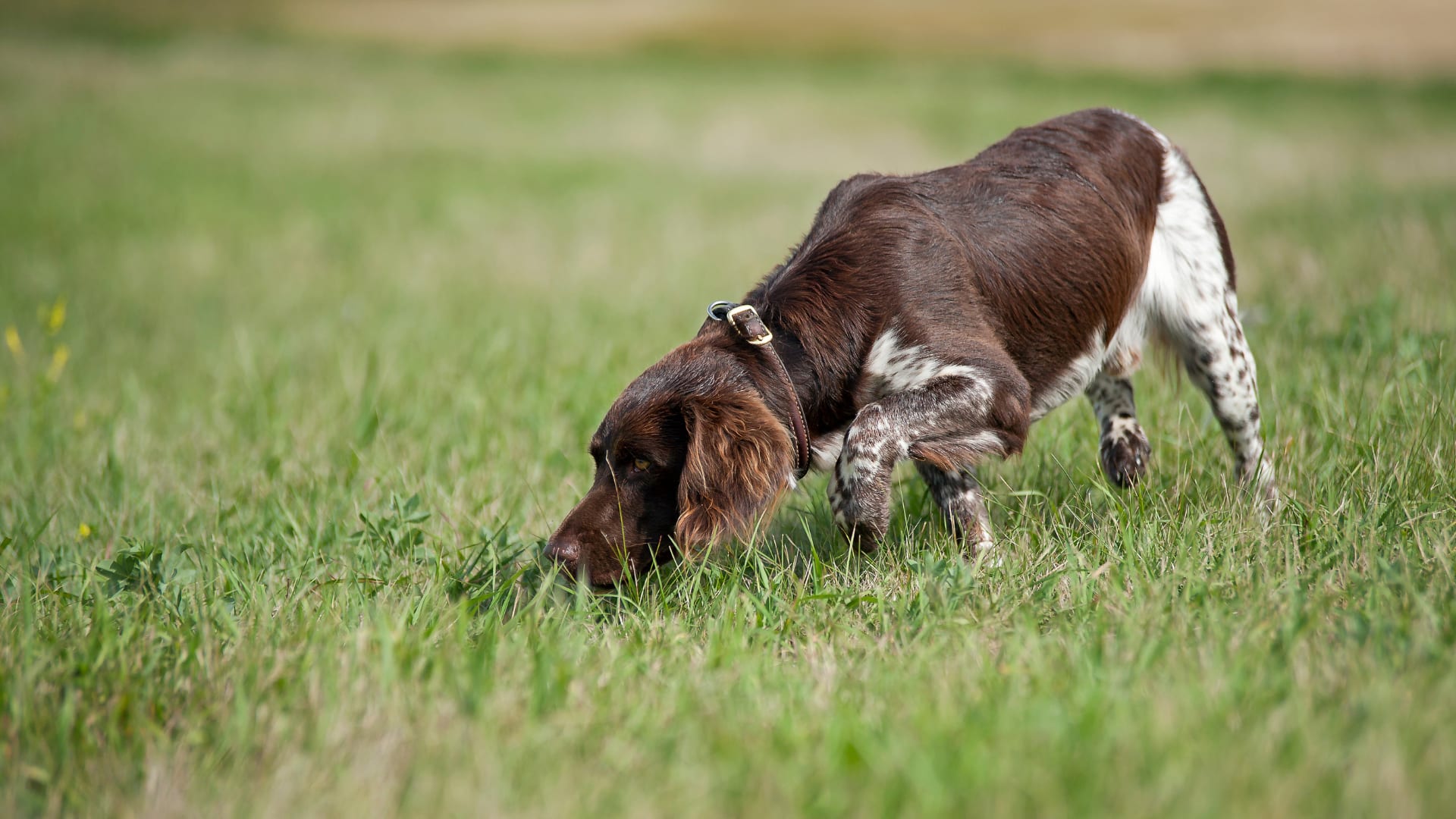 As its name suggests, this dog breed originates from Castille's historical region, specifically the Burgos province. Its roots trace back to the 16th Century, likely descending from the Spanish Hound and the Panchón Navarro. The Perdiguero de Burgos was historically used for deer hunting, yet today it is used primarily for hunting hare, quail, and partridge (small game). 
Its temperament is gentle, silent, and rarely disturbed. It is said to be very obedient. Its colors are usually white and tan or white and liver (or dark brown). Like other dog breeds of this group, this dog's hunting abilities are used exclusively in the countryside, where the hare is mostly found.
---
9. Ratonero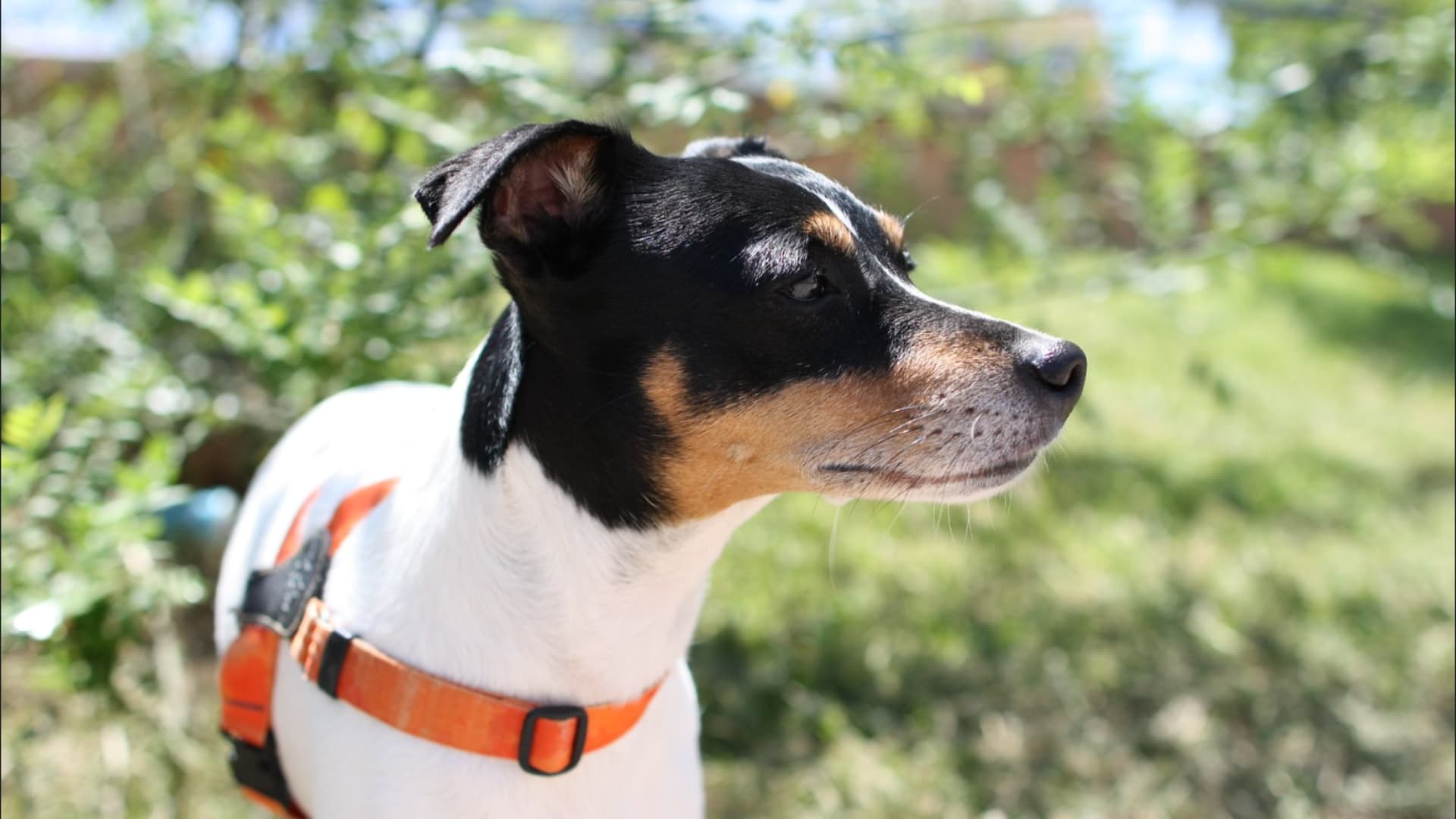 Valencian Terrier
The Valencian Terrier, In Spanish, it's called Ratonero Valenciano, which means rat-hunting dog. It is a breed of dog that is native to the region of Valencia, as the name indicates. Indeed, in that region, it was traditionally used to catch many rodents, such as rats, mainly in plantations and farms where plagues were common. Regarding its origins, there are mixed theories… One suggests that they could have originated from the British Fox Terriers mixed with native dogs. However, it is unsure. It is considered a small dog, yet it is very athletic and muscular. Usually, its colors are a mix of black, white, and fire.
Ca Rater Mallorquín
Then we have the Ratonero Mallorquín, this dog breed is found on the island of Mallorca in the Balearic Islands. It is believed that they came into existence after Valencians migrated to Mallorca early in the 20th Century for the cultivation of rice in the wetlands of that region, possibly bringing Valencian Terriers with them. In fact, in Spanish, both of these breeds are called "Ratoneros" which refers to rat catchers often used in plantations (as I explained earlier), meaning they were very picky and loved hunting rodents. They're also considered to be great hare and rabbit catchers. Moreover, its small size and muscular feet help it jump to challenging heights, making it a great hunter, similar to the Valencian Terrier.
His awakened, nervous and intelligent character makes it an excellent guardian dog, in addition to his warm and affectionate behavior with his owner!!
---
10. Alano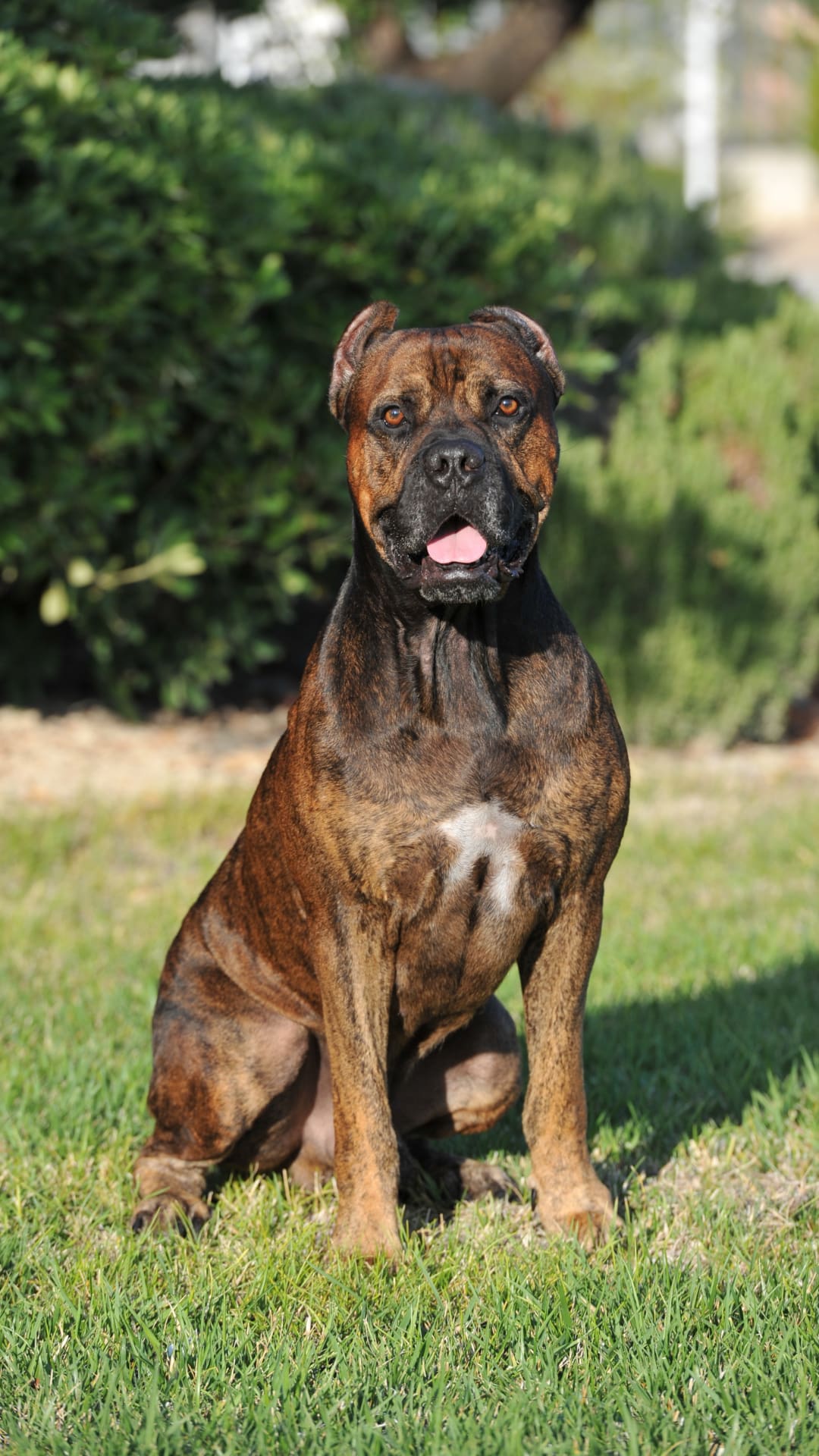 Last but not least, we have the Spanish Alano. This dog is one of the most famous Spanish breeds in the Iberian Peninsula. It was anciently used for big game hunting, as well as for protection and the guarding of homes. It is believed that it descends from an ancient dog breed named alaunt, which was used by the Alani of the North Caucasus as a war dog and a bullfighter. In the same way, the Spanish Bulldogs were used as war-dogs by the Spanish explorers in their conquest of the Americas. 
Centuries later, world-famous Spanish painter Francisco de Goya depicted a dog of this breed in the bullring in his series La Tauromaquia of 1816. As you might see, we have many creative people here in Spain. I have some articles about famous Spaniards and what they've done that I'm sure will surprise you:
In terms of size, it is considered a large dog with a strong head. Like most hunting dogs, it is cautious with what stands near him; however, it's still a calm, gentle, loyal dog. Although he was excluded from bullfighting at the end of the 19th Century, with the industrial revolution and globalization, it became less "needed."
People were afraid this dog could be in danger of extinction this past Century. But fortunately, it was brought back to "normality" by professionals through a re-breeding process.
I hope you enjoyed learning about our beloved dogs. But I'm glad to tell you that Spain's biodiversity is much more abundant and varied. Our flora and Fauna are incredibly diverse and what I love the most are the different landscapes we can find depending on the region you're in. I have some other posts that might be of interest to you. Here are my favorites: