Spain in October: 7 Travel Tips, Activities & Weather
June 22, 2023
Updated:

October 10, 2023
Published: June 22, 2023
October is a great month to visit Spain; temperatures are mild as winter comes closer, and tourism is not in its peak season.
I find October the perfect month for strolling the streets and watching the leaves turn orange, burgundy, and yellow. You might have to carry an umbrella, but it is also part of the beauty.
If you visit Spain in October, I am sure you will fall in love with every corner of the country. Some days are a bit rainy, and others bring warm sun rays, but overall you feel like you are in a comfort movie when you know everything will be alright. 
In this article, I will list seven tips and five cities where you can experience the best of Spain in October. 
TRAVEL TIPS
1. GET TICKETS FOR THE BEST HALLOWEEN PARTIES IN MADRID AND BARCELONA
Spain is not a big fan of Halloween. The only time Spanish people are genuinely excited to wear disguises is for carnival. However, during the past years, Spain has welcomed so many internationals that the American celebrations of Halloween have made their way into some cities. 
In Madrid and Barcelona, the two biggest cities in Spain, you will find stores decorated with Halloween-themed objects and parties being organized everywhere. 
So! If you are in Spain in October and have a party mood, look up places like Îstar, ICON, or Kapital in Madrid, and Opium or Razzmatazz in Barcelona, and book your Halloween party.
If you are in Madrid, visit the cultural center, Casa Mexico, and look at their impressive exhibition of "Día de los Muertos."
Read more about parties in Madrid and Barcelona right here!
2. EXPERIENCE THE BEAUTY OF NATURE IN AUTUMN
Retiro Park in autumn is one of the most stunning views of Madrid in October. Just like out of a movie, Retiro turns into an orange palette, with yellowish and ochre colors that invite you to take romantic walks. 
It is not the best time to picnic, but you can get a hot chocolate at La mejor Tarta de Chocolate del Mundo or some good coffee at Nommad Cafe and walk through Retiro. 
Other beautiful pieces of nature where you can observe the autumn and enjoy a walk are Campo de Moro, Plaza de España, and Templo de Debod. Except for Campo de Moro, in Plaza de España and Templo de Debod, you can also sit to enjoy chilly autumn afternoons with a cup of coffee or hot chocolate.
You can get your beverage at Starbucks, Faborit, and The Fix (calle Luis Fernanda).
3. EXPERIENCE THE NATIONAL DAY OF SPAIN
Remember that October 12th is the National Day of Spain; Spaniards commemorate the day Christopher Columbus arrived in America. Even though this could be considered a controversial day, it has been celebrated for over 88 years.
On this day, Spanish people celebrate with a military parade, where essential figures such as the king and the president of Spain attend.
If you visit Madrid or Barcelona on October 12th, remember that it is a national holiday, so two things might happen: stores are closed, and travel essentials (flights, trains, and accommodation) have higher fees.
Read more about this national holiday in our featured article:
4. VISIT ZARAGOZA FOR "FIESTAS DEL PILAR"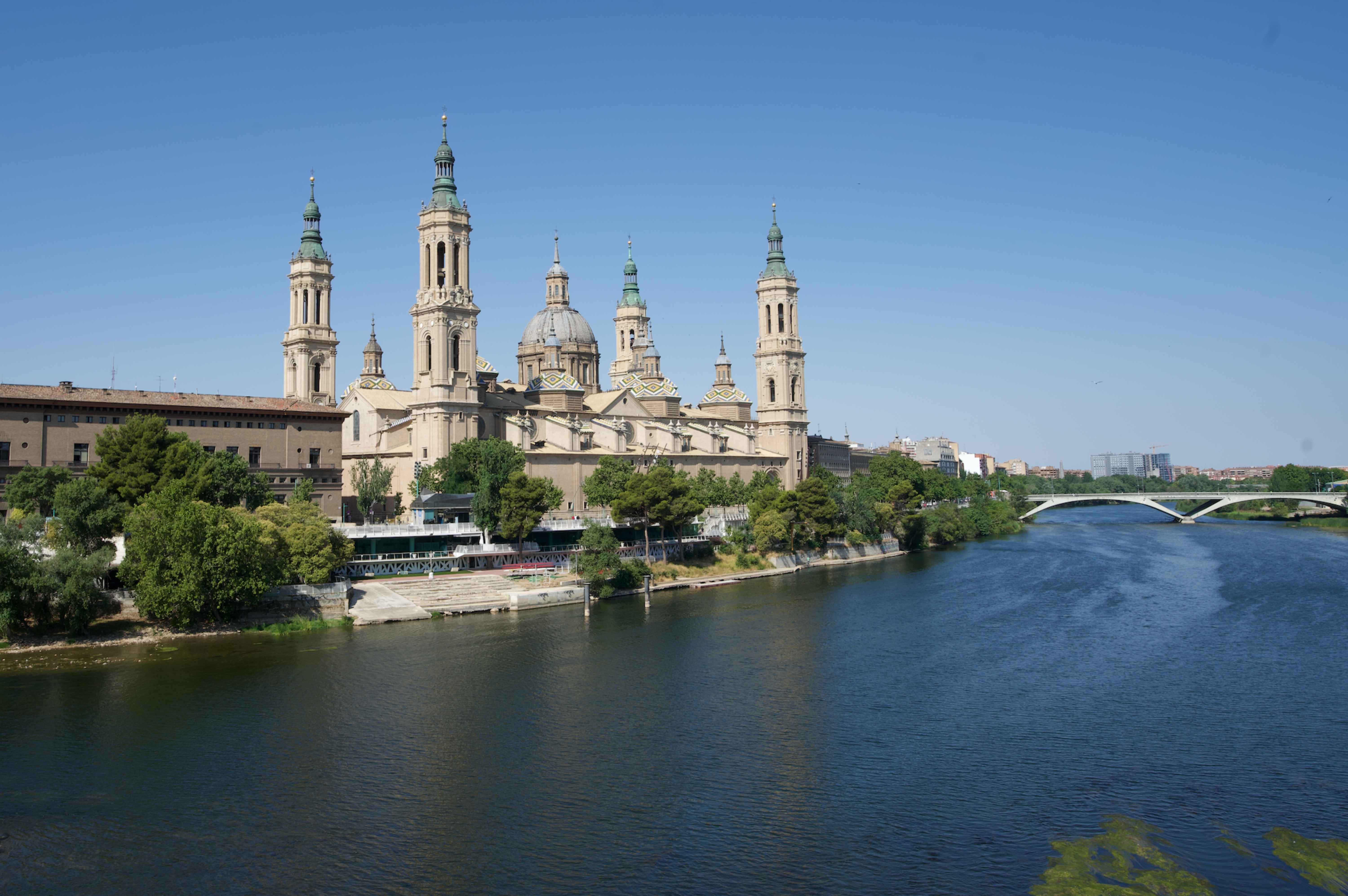 The "Fiesta del Pilar" commemorates "Our Lady Virgin of the Pillar" on the day of Her appearance to the Apostle James the Greater in AD 40 while he was preaching in what is now Spain.
Nowadays, the celebration lasts a week from October 7th to October 15th, being her official day on October 12th.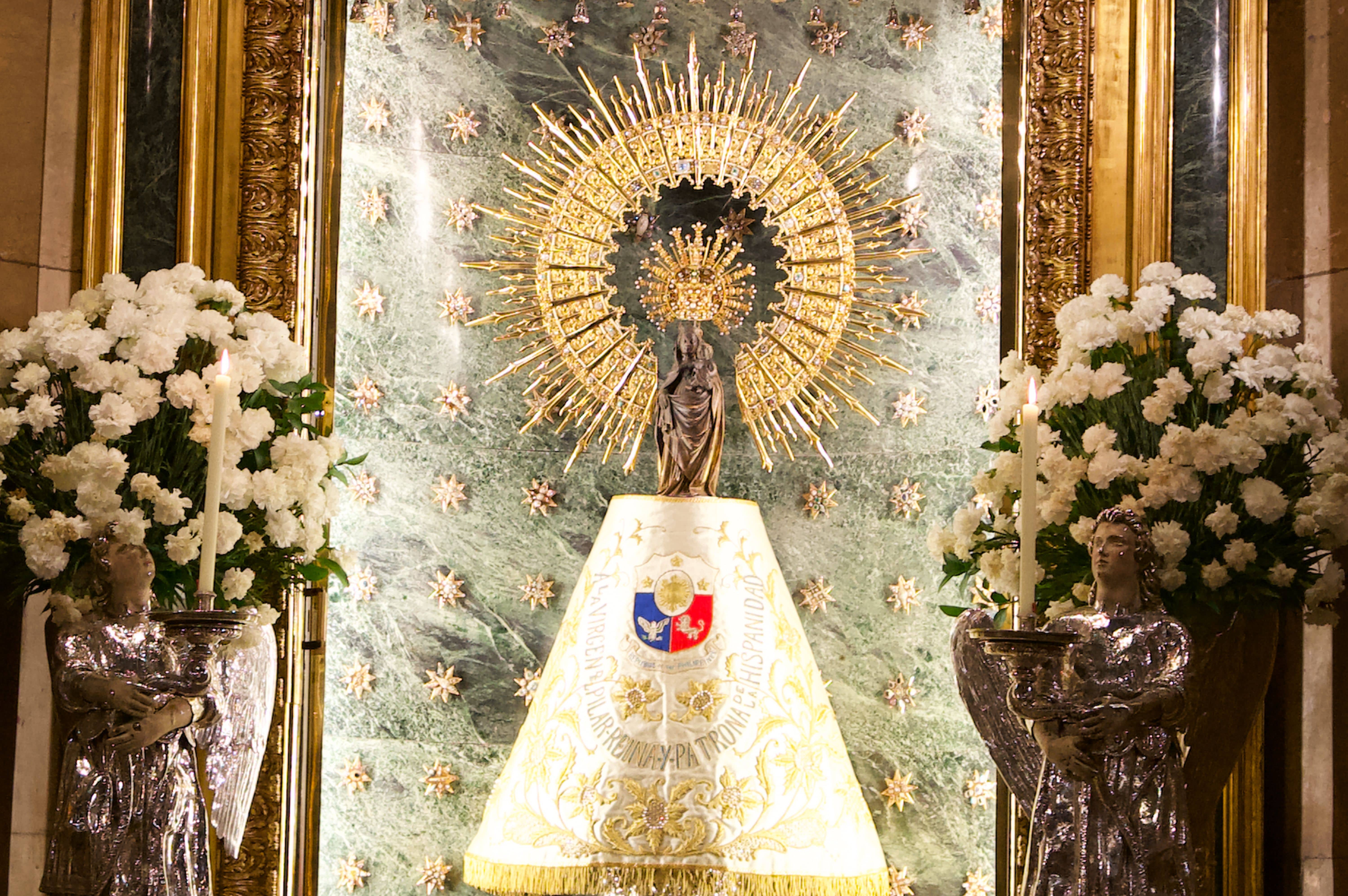 People in Zaragoza celebrate for ten full days with exquisite gastronomy, parades, live presentations, religious events, and fireworks. 
If you want some good food, then you need to go to the fair at the Plaza de los Sitios, where you will find a variety of food trucks, the traditional "Carpas del Ternasco de Aragón," and the "Muestras de Zaragoza." I recommend you try the ternasco (pork), the Aragonese crumbs, and the torrijas. 
Additionally, if you want to participate in the traditional religious ceremonies, you must wake up early for the "Rosario de la Aurora." You would walk less than 1 KM while praying the rosary on your way to the Virgin's Basilica.
Once there, I recommend you stay and experience the beginning of the Flower Offering, from 7h00 AM to 20h45 PM. 
Finally, on the last day of "las fiestas," the city closes the celebration with fireworks and begins the countdown for the following year.
You have two affordable ways to get to Zaragoza: train and bus. If you go by train, check out Iryo and Ouigo. Both train companies tend to offer better prices and services than Renfe.
| October 12 - 13 | Ouigo | Iryo | Renfe |
| --- | --- | --- | --- |
| Madrid - Zaragoza | €40.00 | €76.00 | €110.40 |
---
5. BOOK SOME VINEYARDS IN THEIR BEST SEASON
The harvest season in Spain is between August and October, but the best moment to enjoy a vineyard is between the final days of September and the first week of August. 
We already have a featured article with the best vineyards in Spain, so check it out here:
If you visit Spain in October, explore some vineyards for two to three days. The country has 138 official wine designations and over 4,000 wineries; wherever you go, you can visit a vineyard if you do your previous research. 
However, there are specific vineyards renowned as the best in the world, which are more than worth visiting if you are a wine enthusiast. 
For example, I highly recommend renting a car, traveling to Logroño for a weekend, and visiting the best vineyards in La Rioja. You can choose between the iconic Marqués de Riscal, Marqués de Murrieta, and Bodegas Muga in this area. All of them offer visits to the vineyards, pairings, and gastronomic experiences that will become the highlight of your trip.
You can get to La Rioja from Madrid and Barcelona, but if you only visit the Catalan capital, I recommend Bodegas Codorniu and Bodegas Torres. You can also experience great wine tours and gastronomic delights, such as dinner at the Celleret at Bodegas Torres. 
If you are in Barcelona, you can also attend the Wine and Cava Festival in Sant Sadurni d'Anoia in the first days of October.
| Wine Festival | Location | Date |
| --- | --- | --- |
| La Rioja Wine Harvest Festival | Logroño, La Rioja | Late September |
| Harvest Festival of Jumilla | Jumilla, Murcia | August |
| Harvest Festival of Toro | Toro, Zamora | Early October |
| Fiesta del Vino Albariño | Cambados, Galicia | October |
| Wine and Cava Fair | Sant Sadurní d'Anoia, Catalonia | October |
| Wine Festival of Bullas | Bullas, Murcia | Late August |
| Wine Battle in Haro | Haro, La Rioja | June 29th |
---
6. TAKE ADVANTAGE OF THE SEASON
Many things improve in Spain from September to October, from the weather to prices. October is the perfect month between the scorching summer and the soon-to-be freezing winter when also prices increase because of the holidays. 
Good weather will make your time in Spanish cities more pleasant, especially if you want to visit Andalusia. Autumn in October is the perfect season to travel to Malaga, Granada, Cordoba, Seville, etc., to enjoy pleasant, warm afternoons with a tinto de verano on a terrace and chilly nights. 
Prices are still decent and affordable for planes, trains, and accommodation. And don't forget about the summer liquidation; you can get the outfits for the next hot season at half the original price. 
7. DRESS FOR THE SEASON, NOT THE WEATHER
Once you set foot in Spain, you will notice that Spanish people are fashionable. Regardless of the volatile weather in the first days of October, autumn is autumn, which means boots, jackets, pants, and a more obscure color palette that matches the season. 
So, if you want to blend in, don't wear Bora Bora's or shorts. Pay close attention to what people in the street are wearing, and you will look like one more local!
ACTIVITIES
1. MARBELLA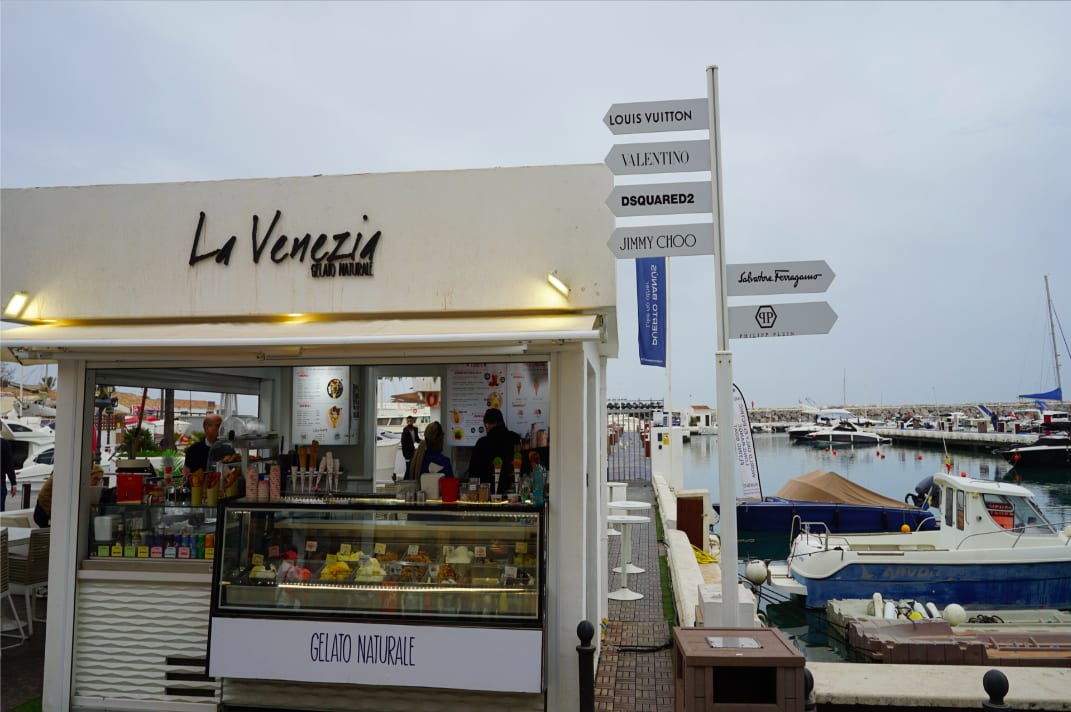 Marbella enjoys delightful weather in October, with temperatures ranging from 22° to 15°. With days at 20 degrees, you can wander through the charming Old Town, stroll along the picturesque promenade, and discover historic landmarks like the Castle Walls and Ermita de Santiago.
Another must-visit is Marbella's Puerto Banús. Here, you can admire impressive yachts, shop at high-end boutiques, and indulge in a sumptuous meal at one of the waterfront restaurants.
Enjoy an afternoon at the Arab-inspired Hammams in Marbella for ultimate relaxation. Relax in the steamy baths and pamper in rejuvenating spa treatments.
One of the highlights of visiting Marbella in October is the sight of the almond trees in bloom. As the countryside comes alive with delicate pink and white blossoms, you'll be surrounded by nature's enchanting gift.
In addition to the city itself, near Marbella, you can discover the stunning white villages of Andalusia, such as Ojén and Mijas, which offer a glimpse into traditional Spanish summer culture.
Whether you seek beachside relaxation, cultural experiences, or pure luxury, Marbella promises an unforgettable journey in the coast of Andalusia.
2. CUENCA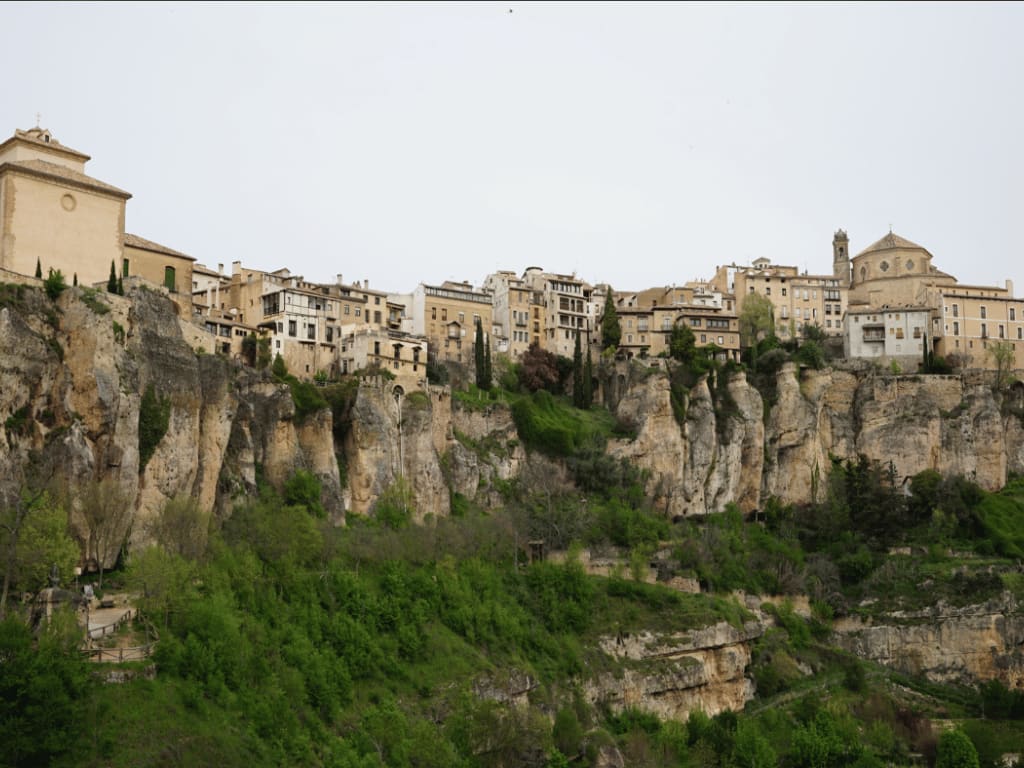 In the heart of Castilla-La Mancha, Cuenca offers a magical blend of historical landmarks, breathtaking landscapes, and cultural experiences that will leave you in awe.
In October, Cuenca welcomes visitors with mild and pleasant weather, with temperatures ranging from 18° to 10°.
Getting to Cuenca from Madrid is easy, with various convenient transportation options. You can hop on a comfortable Renfe train, and in just 1.5 to 2 hours, you'll find yourself in the heart of this enchanting city. Alternatively, you can take a bus ride that takes approximately 2 to 3 hours or opt for the freedom of renting a car and embarking on a delightful 2-hour journey along the A-3 road.
The most iconic landmark in Cuenca is the iconic Casas Colgadas (Hanging Houses), which seem to defy gravity as they cling to the cliffs overlooking the Huécar River Gorge. The Hanging Houses symbolize Cuenca's unique architecture and a sight not to be missed.
The Cuenca Cathedral is a majestic blend of Gothic and Romanesque styles. Its intricate façade and stunning interior will transport you to a bygone era, offering a glimpse into the city's rich heritage.
Take a stroll through Cuenca's Old Town, a UNESCO World Heritage Site, and lose yourself in the medieval ambiance. Cross the Hanging Bridge (Puente de San Pablo) for breathtaking views of the Hanging Houses, offering perfect photo opportunities.
Cuenca in October promises an enchanting adventure filled with historical wonders, surreal landscapes, and cultural treasures.
3. GIBRALTAR
Suppose you're searching for a distinctive destination for your October trip to Spain. In that case, Gibraltar offers an extraordinary experience with its fascinating blend of British and Spanish influences and iconic landmarks.
During October, Gibraltar enjoys pleasant weather, with temperatures ranging from 22° to 17° degrees, making it an excellent time to explore this small but vibrant city. So, it s the perfect destination if you want a different place to visit close to Spain. 
How do you get to Gibraltar?
You can fly directly from Madrid to Gibraltar International Airport in just 1.5 hours, providing a quick and convenient way to reach the city. 
Alternatively, a scenic road trip by car takes approximately 6-7 hours, allowing you to enjoy the Spanish countryside. 
Once in Gibraltar, start your journey by visiting the Rock of Gibraltar; you can get there by taking the cable car and marvel at the breathtaking views of the Strait of Gibraltar, Spain, and Morocco. The Rock is a geographical wonder and home to St. Michael's Cave, a stunning network of caverns boasting impressive stalactites and stalagmites.
Now, you must be careful with the Barbary macaques, Europe's only wild monkey population. Explore the Gibraltar Nature Reserve, where you can witness these playful monkeys roaming freely in their natural habitat.
Some say Tarifa I the southernmost point in Spain and that when you get there, you can see Morocco on the horizon. However, something similar can be experienced in Gibraltar at its Europa Point. Europa Point Lighthouse is a must-visit for a panoramic view of the Mediterranean Sea and the Atlantic Ocean.
For history fans, the Great Siege Tunnels offer a fascinating journey into the city's military past. The tunnels were carved during the 18th century when France and Spain tried to recover Gibraltar from the British.
Another landmark is the Moorish Castle, an ancient fortress offering glimpses into Gibraltar's historical significance.
Gibraltar in October is a great option to do something different while visiting Spain!
5. TARIFA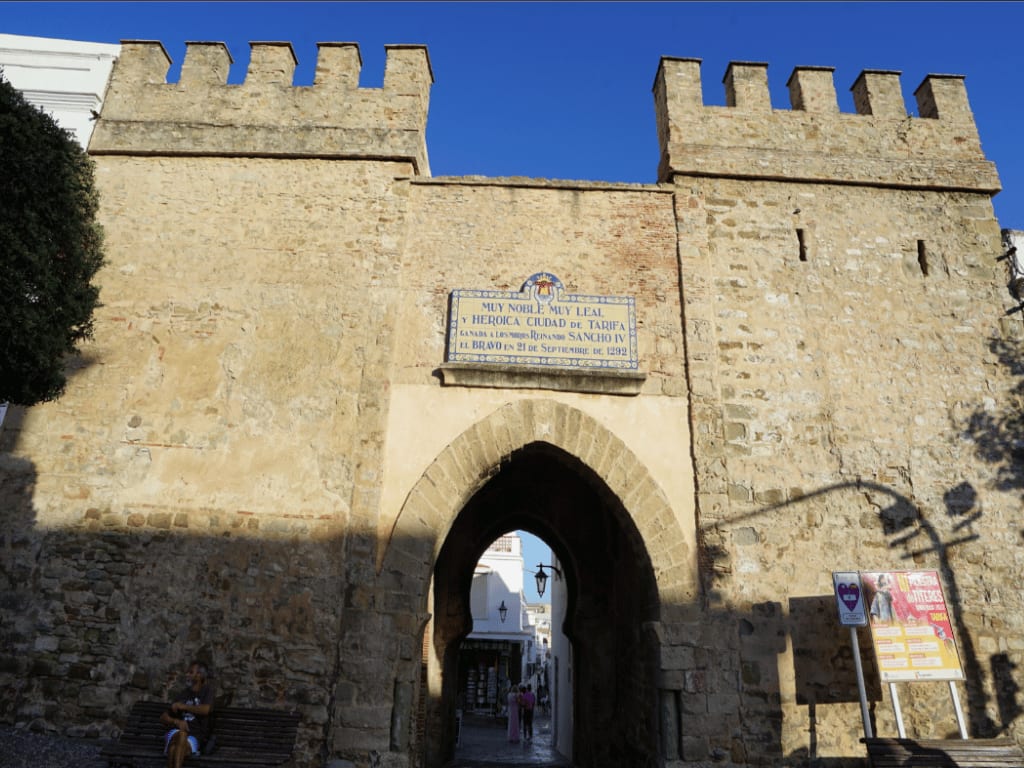 Tarifa's weather in October goes from 21° to 17°, offering an ideal climate to enjoy beaches, such as Playa de los Lances and Playa de Valdevaqueros. 
If you are interested, there are two ways to get there: by train and car; both take approximately six hours. 
Rent a car and experience a roadtrip through southern Spain!
If you want to try some water sports in autumn, Tarifa is perfect for windsurfing and kitesurfing. Its consistent winds make it an ideal time for beginners and experienced windsurfers to keep getting into the ocean way past summer. 
What can you see in Tarifa? The Casco Antiguo and the Guzmán el Bueno Castle are must-visit places that reflect the city's history. 
Remember what I said about Tarifa being the southmost tip of Spain? Just a short ferry away, you can visit Tangier, Morocco. Attention! Remember to check the requisites of entry to Morocco.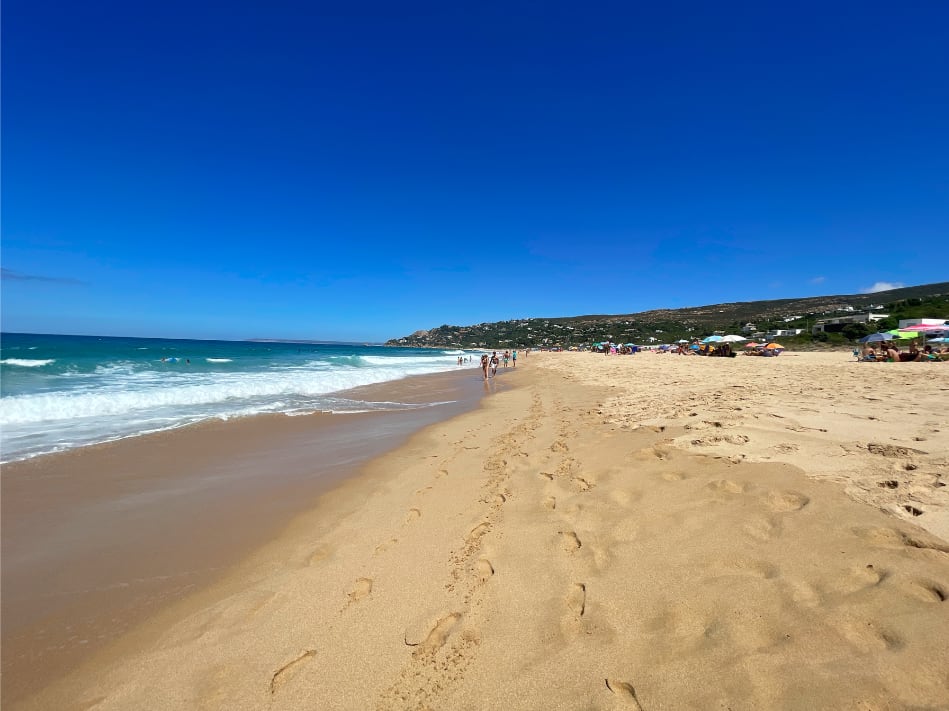 Read more: Travel to Tarifa: 5 Best Activities, Food & Attractions
WEATHER
Depending on the time and location of your visit, temperatures might be hotter or cooler. For example, if you visit during the first few days of October, the weather might still be mild; having a light sweater or jean jacket is enough. But, if you come by the last days of October
In this article, I have given you one city, Cuenca, that will receive you with cooler temperatures than the other four, which privilege a location in the south of Spain to make it very comfortable to spend some autumn days.
If you want to know more about the other three months of autumn, check our articles below!
Spain in September: 9 Travel Tips, Activities & Weather
---
| Region | Minimum Temperature (°C) | Maximum Temperature (°C) | Minimum Temperature (°F) | Maximum Temperature (°F) |
| --- | --- | --- | --- | --- |
| Andalusia | 14°C | 23°C | 57°F | 73°F |
| Aragon | 10°C | 20°C | 50°F | 68°F |
| Asturias | 12°C | 18°C | 54°F | 64°F |
| Balearic Islands | 17°C | 24°C | 63°F | 75°F |
| Basque Country | 12°C | 19°C | 54°F | 66°F |
| Canary Islands | 19°C | 26°C | 66°F | 79°F |
| Cantabria | 12°C | 18°C | 54°F | 64°F |
| Castile and León | 9°C | 19°C | 48°F | 66°F |
| Castile-La Mancha | 12°C | 22°C | 54°F | 72°F |
| Catalonia | 13°C | 21°C | 55°F | 70°F |
| Extremadura | 13°C | 24°C | 55°F | 75°F |
| Galicia | 11°C | 18°C | 52°F | 64°F |
| Madrid | 9°C | 19°C | 48°F | 66°F |
| Murcia | 15°C | 24°C | 59°F | 75°F |
| Navarre | 10°C | 19°C | 50°F | 66°F |
| La Rioja | 10°C | 20°C | 50°F | 68°F |
| Valencian Community | 15°C | 24°C | 59°F | 75°F |
---
That's it! Now you have seven tips and five city activities to enjoy autumn in Spain. Remember always to check the weather before leaving for a new city and be patient! This month begins with warm temperatures and ends with chilly winds that require more than a hoody.
If you have visited Spain during this month, let us know your experience! We love reading you and sharing tips with other fellow travelers.