Travel to Tarifa: 5 Best Activities, Food & Attractions
October 2, 2023
Updated:

October 17, 2023
Published: October 2, 2023
Tarifa is the go-to destination for my family's vacations. Even though I live in Madrid, I eagerly await the opportunity to wake up in this stunning paradise every year.
It is a small town in the south of Spain that enjoys a privileged region full of nature, heritage, and much to see.
Walking through the old town of Tarifa is finding yourself in a beautiful Arab village with white houses, narrow streets, squares, terraces, and alleys where you'd love to get lost and spend the whole day.
Plus, the serene Mediterranean sea surrounding it is often called "the windiest of Europe," which only adds to its charm since it is perfect for practicing water sports.
After one or two mojitos by the beach, you'll quickly realize that Tarifa is a fantastic vacation spot worth spending an entire month discovering. Let me show you why.
---
What is Tarifa?
Tarifa is an Andalusian city in Southern Spain, located in the province of Cádiz. It is the southernmost city in Europe, meaning that you can see África on a clear day from certain viewpoints, as it is only separated by 14 km across the Strait of Gibraltar.
Also, Tarifa, "the beautiful land of winds", is a paradise for all Spaniards eagerly awaiting pleasant weather to enjoy its warm beaches, numerous activities, and stunning views.
Some recognize this place as a hub for surfing, windsurfing, and kitesurfing, while others appreciate it as one of the most spectacular destinations for hiking and mountain adventures.
Best Things to do in Tarifa
1. Casco Antiguo de Tarifa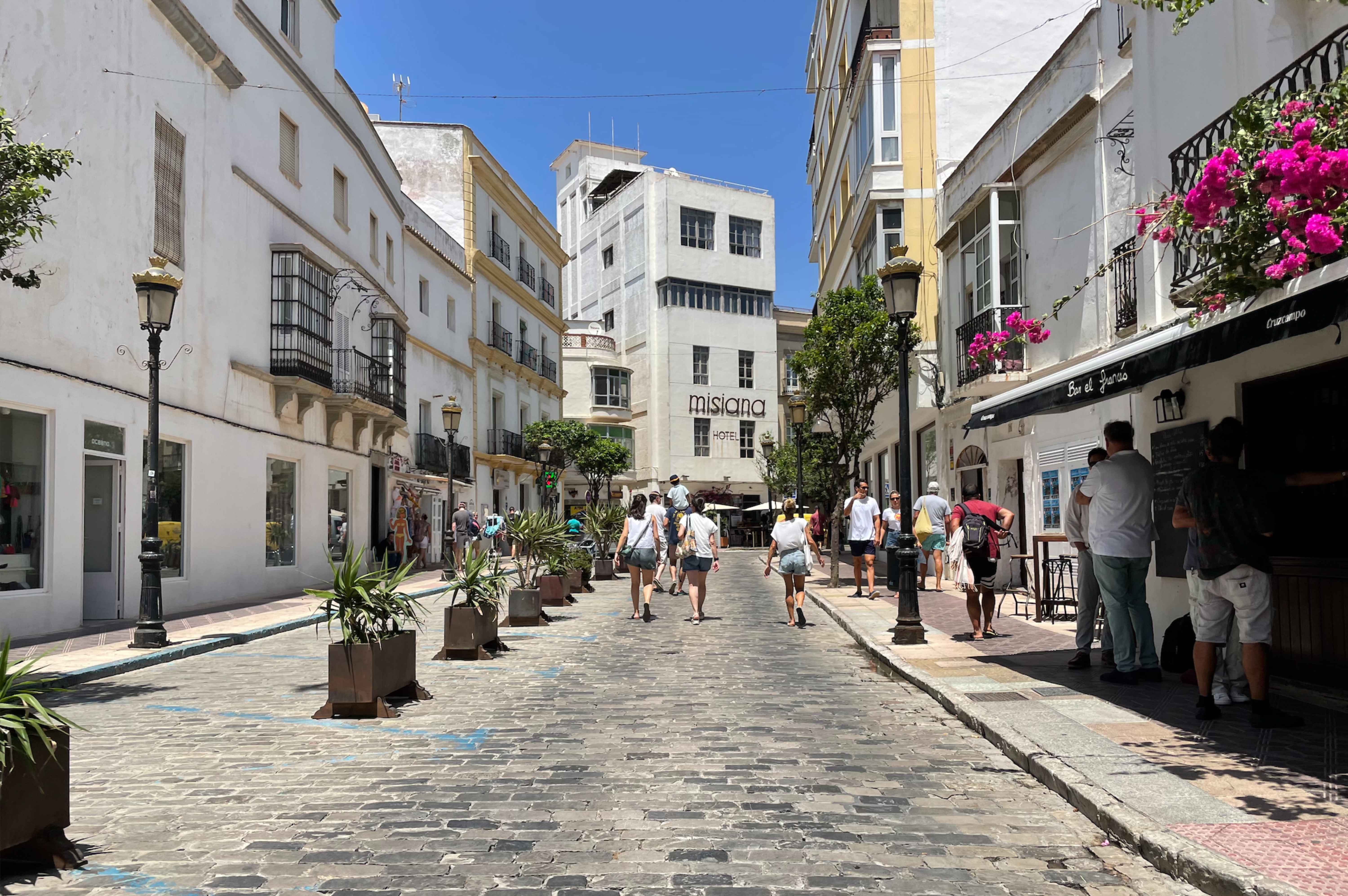 One of the most important attractions of the beautiful town of Tarifa is visiting its old town. Get lost in its streets, walk and discover the city's colors, appreciate the beautiful landscape, and pass through the Puerta de Jerez.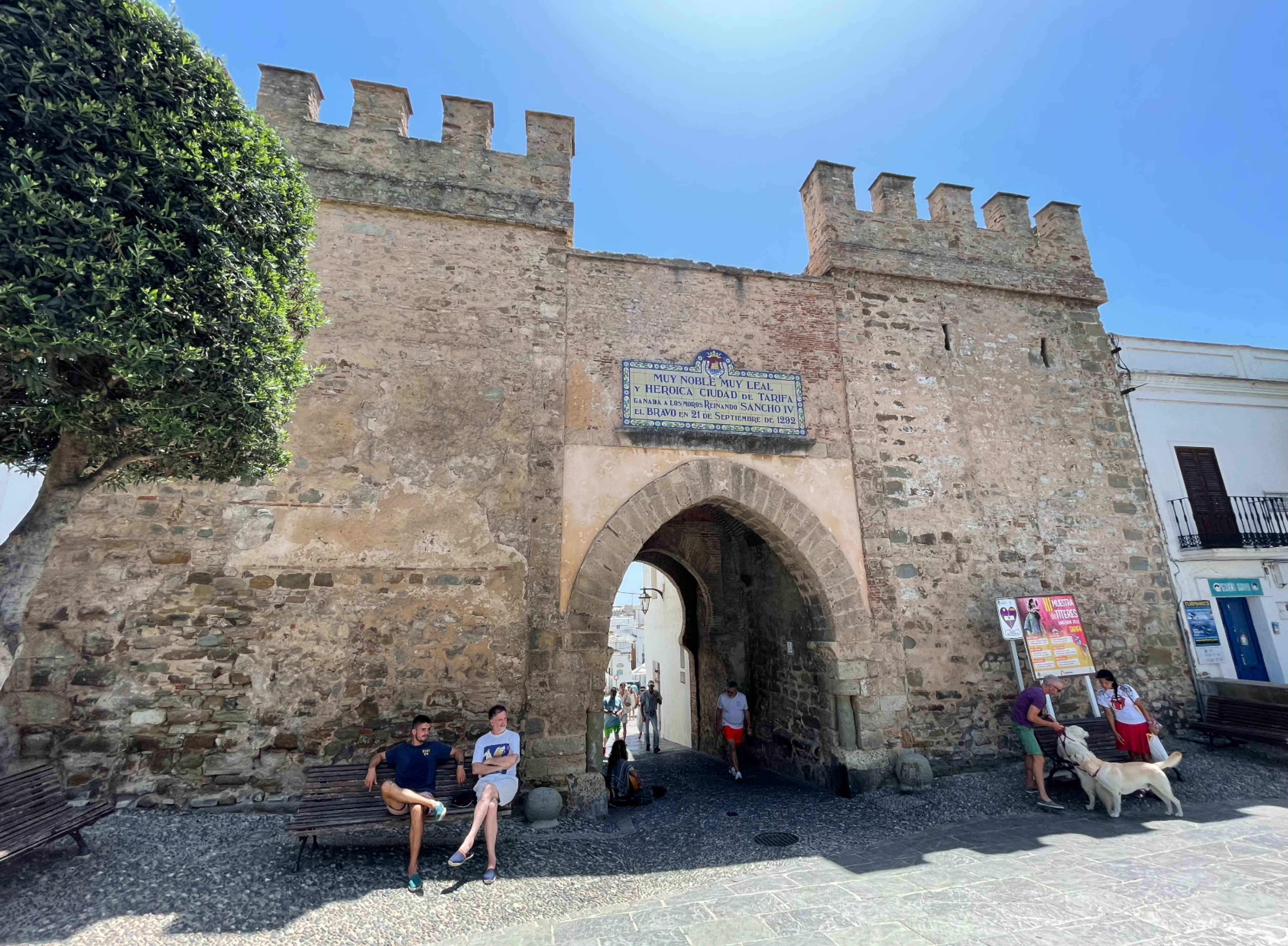 Plus, the historic center houses much of the city's leisure activities. You will find many businesses such as local stores, perfect for buying souvenirs or gifts for your loved ones back home, bars and restaurants where you can have a good time and wait for the night, and more places that bring the city to life. (Yes, people party in the city center.)
This historic center of Tarifa was declared an Asset of Cultural Interest as a Monumental Complex in 2003. And, if you don't have a guide by your side, here are some of the main monuments you should snap.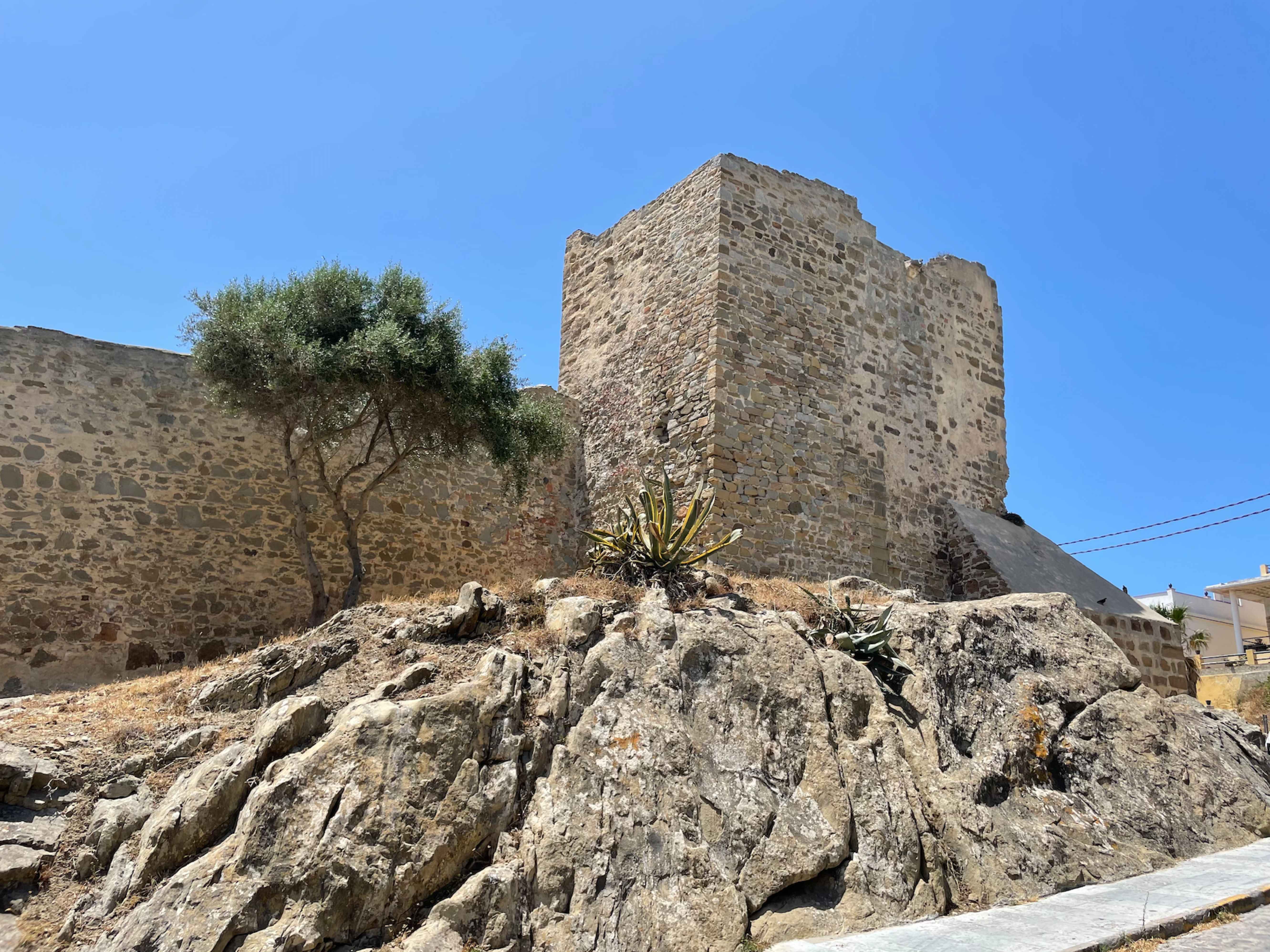 First is El Castillo de Santa Catalina, a 19th-century castle resembling an artillery fort.
It was used in World War II and the Spanish Civil War as a bombing target. It then belonged to the navy, which turned it into the Control Center for the passage of ships through the Strait of Gibraltar. Today, it's a meteorological observation center.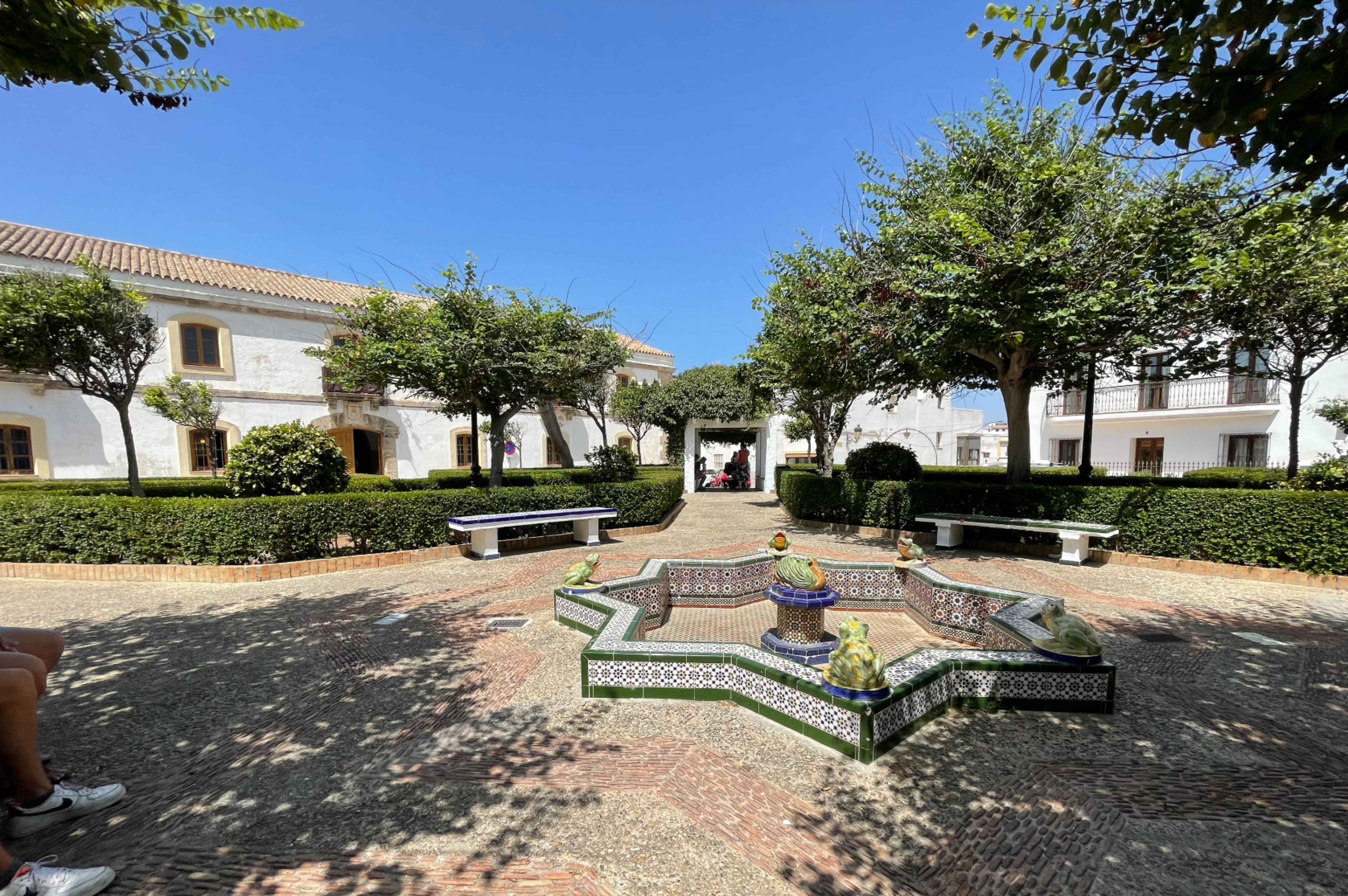 Also, you can't leave without strolling through the pedestrian section of the Paseo de la Alameda. Look at the Guzmán el Bueno's monument, the Mercado de Abastos, and the churches of Santa María, Santiago, and San Mateo.
2. Relax in Idyllic Beaches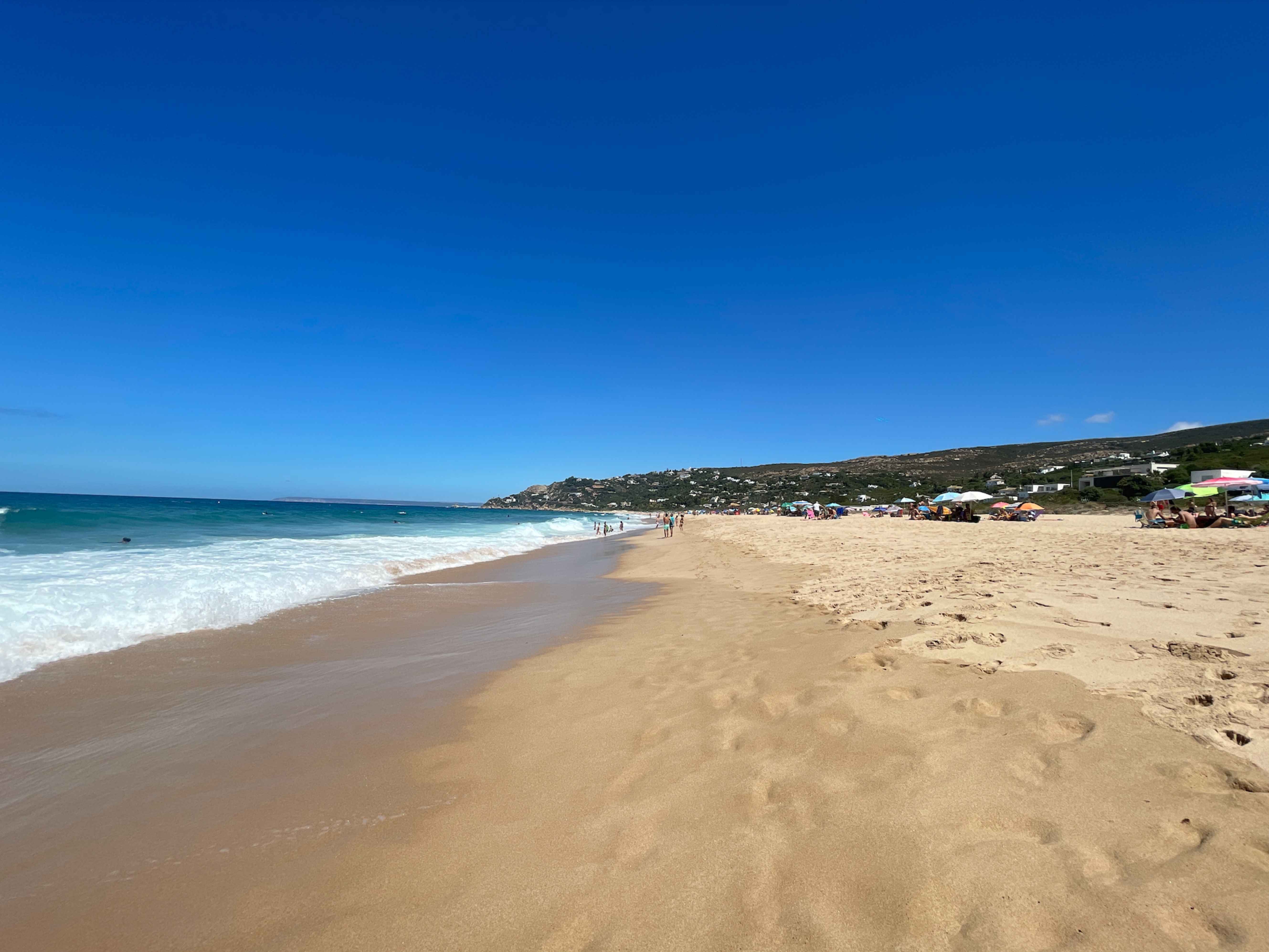 There is not a single summer when I don't dream about being in Tarifa. Besides having some of the most beautiful beaches in Spain, the landscapes surrounding it are breathtaking, definitely among the best in the south of Spain.
In addition, the beaches on this coast are super well maintained and are natural tourist attractions.
Also, keep in mind that Tarifa is the ultimate destination for kitesurfing, surfing, and windsurfing in Spain.
It's also known as "the Wind capital of Europe" due to the strong Levante wind that blows in this town, making it an ideal area for these sports.
We usually visit the following beaches:
Punta Paloma Beach: Fun fact: there is an abundance of "fango" or mud here, and many people spread it all over their bodies due to its supposed properties.
Bolonia Beach: One of my favorites, with turquoise blue crystal-clear waters and long spaces of white sand.
Valdevaqueros Beach: Known for its huge dunes and cliffs.
Playa de los Lances: A favorite among windsurfers, making it one of the best in the world for this sport.
Playa El Cañuelo: This is the last remaining wild beach in the area and doesn't have easy access, making it a perfect getaway for those who want to reconnect with nature.
3. Enjoy Andalusian Cuisine
This region offers one of the most incredible culinary delights in Andalusia.
Here, you can eat tasty food. From casual, affordable restaurants to high-end dining experiences, Tarifa definitely has many places with breathtaking views and great service to have lunch or dinner.
El Lola is very typical and probably one of the most recommended. But you can only say you've been to Tarifa after first trying their delicious ensaladilla de langostinos (prawn salad).
This place is a tavern in the city's heart that preserves local traditions in a trendy and pleasant atmosphere.
Bibo Beach House is simply the best. The chef, Dani García, is one of the most important in Spain and has this restaurant in the capitals of Madrid and Barcelona.
This chef is from Málaga, so his cuisine is 100% authentic and traditional, with a modern touch that goes well with the spirit of Tarifa.
The brioche de rabo de toro is fantastic, and as if that were not enough, Bibo is located in a beach house with front row views to the sea!
If you want an authentic tavern in Tarifa, visit El Caballo, a traditional neighborhood bar outside the tourist area. Everything is fresh and homemade here, and the tostadas de atún are to die for!
The place is not pretentious from the outside, so it is not touristy, and many locals frequent it. Still, the experience you will get here is authentic, and the prices are unbeatable.
4. Hike, Natural Wonders & African Views
Tarifa is located in a very green and natural area. This allows you to go hiking, take routes, go cycling, rock climbing, and enjoy walks in the Estrecho Natural Park.
The landscapes and vegetation here are diverse. Also, there is a beach nearby with free parking and a massive dune at the end of it.
You can see Africa from El Mirador del Estrecho on a clear day! The view is absolutely stunning and worth a visit.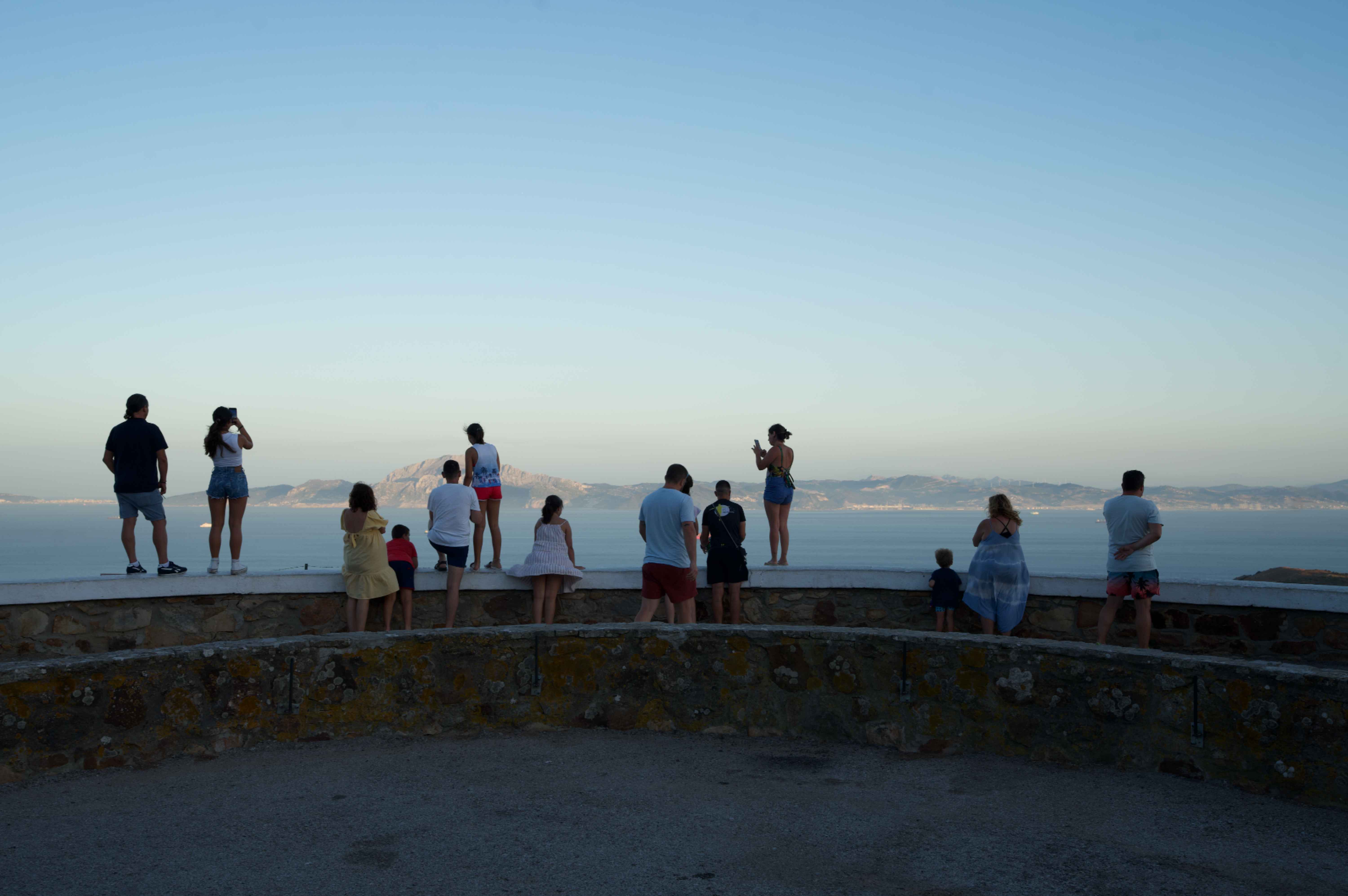 This park is the perfect place for true nature lovers and is excellent for birdwatching.
On the other hand, there's the Los Alcornocales Natural Park, where you can enjoy a picnic or go hiking with friends.
They also offer activities like rafting, canyoning, and cycling for the most adventurous. Alternatively, you can just relax and meditate while reconnecting with nature!
Just make sure you wear the proper clothing for these activities, such as suitable shoes and long pants, to avoid scratches or injuries.
5. Day Trips from Tarifa: Cádiz, Vejer, Chiclana, Conil, or Zahara de los Atunes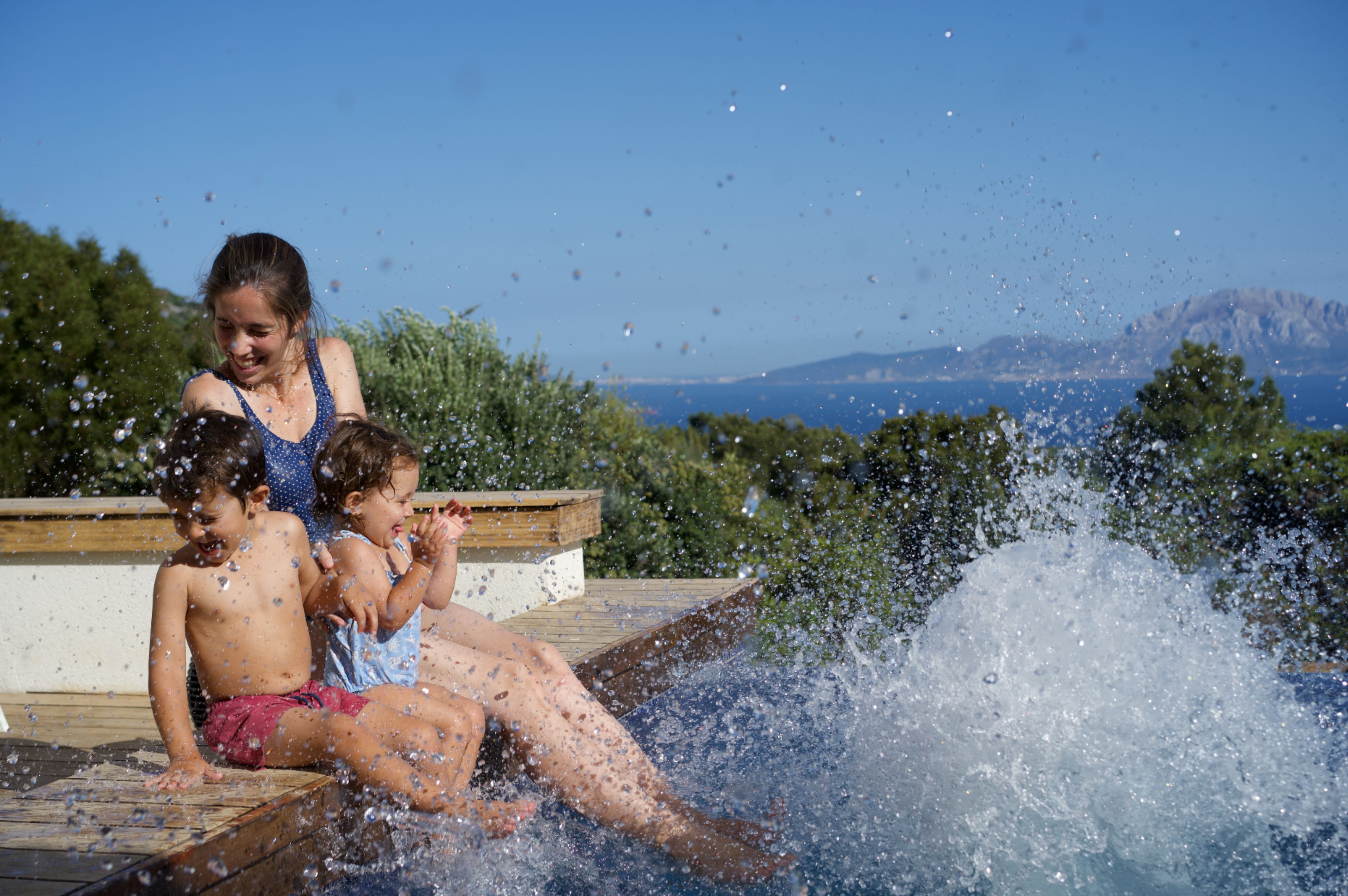 Let's see, renting your car is the best way to explore Tarifa. You can go at your own pace, and most importantly, you can discover nearby towns on the southern coast that represent the colors and flavors of Andalusia.
The best places for excursions from Tarifa are Vejer de la Frontera, Chiclana, Conil, or Zaraha de los Atunes. —All within less than an hour on very well-marked roads. The landscapes you will find are beautiful, it is worth it for any tourist, and you also eat incredible Andalusian cuisine.
In Vejer de la Frontera, you will find a very picturesque, typical white town with beautiful views on top of a hill.
In Zahara de los Atunes, you can find the most idyllic beaches and the best gastronomy.
Gibraltar is also less than 1 hour away, and you can see Africa from there!
And, of course, visiting Cádiz is also a must since it's where Tarifa is located. I have a dedicated article for this. (Read more)
Best time to visit Tarifa
Tarifa is a great idea at any time of the year. Let's see the pros and cons of each time of the year. 
Tarifa in Summer, during July, and to a much greater extent, August, are the peak tourist months and the highest temperatures you'll find in Spain! However, it's a great season to party and spend a hot and warm Mediterranean summer. 
Spring is also beautiful since the countryside is green in the months from the end of March to June. You can appreciate the blue sea and the sky with the landscapes and mountains. It is genuinely stunning for those who like nature.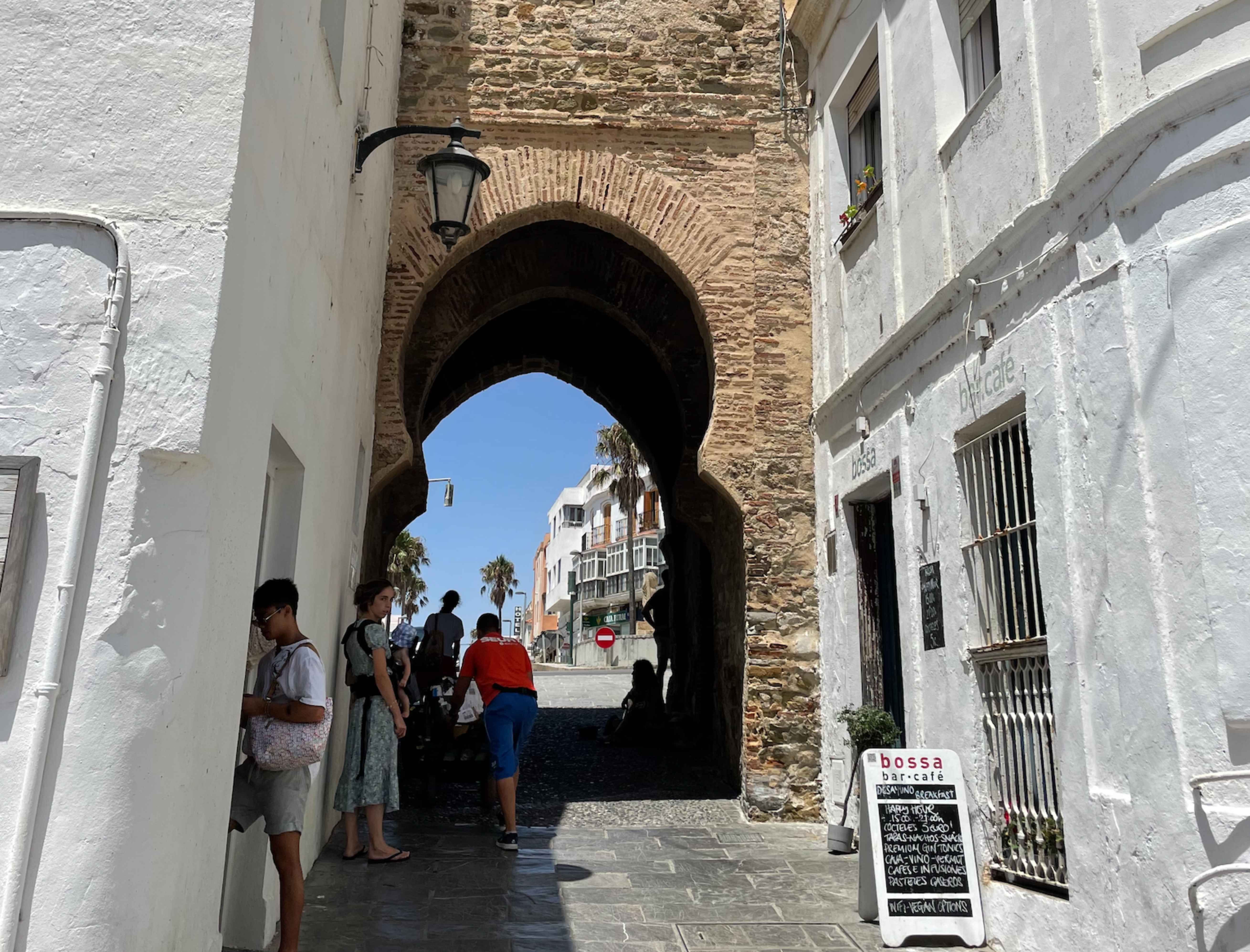 December, January, and February (winter) are the months with the most rain, whereas the "Levante Wind" dries out the fields in June. 
So, the best time to visit Tarifa is during Autumn: September, October, and mid-November. Or Spring, the months of April and May more especially.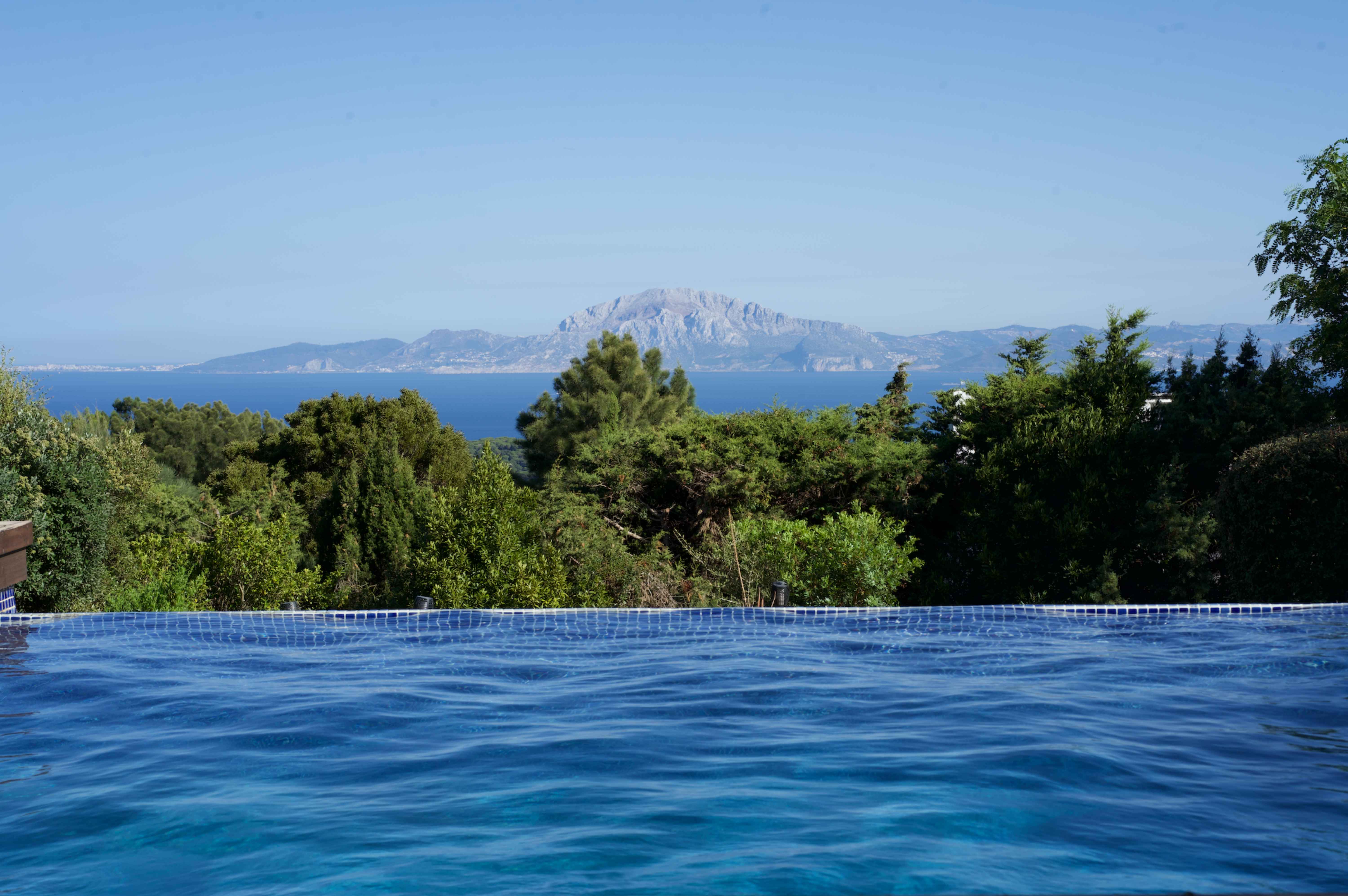 Tarifa's nature can be better appreciated in Autumn or Spring thanks to the climate and temperature, bringing life and color to the region. You can expect temperatures from 15°C to 25°C (59°F to 77°F) rather than a chilly winter or severe summer weather! 
Plus, Spring offers a possibility to experience the South of Spain during the festivities! The Seville Fair, the most important celebration in this region, takes place in April. And the nearby towns and cities of Seville celebrate it, too! What better time for a road trip?
How to get to Tarifa?
Okay, I have to be honest. Tarifa is far from having the best transport communication with other cities. But, you know what? That's just one of the reasons why it's a hidden gem, not packed by tourists, making your visit here even more special.
The city does not have an airport or a train station. There it is. I said it. But I don't want you to rethink your decision to visit it since it's a MUST, and after you get there, you'll understand why.  
However, you can fly from Madrid and head to other big cities with international airports, such as Jerez de la Frontera, Sevilla, or Málaga, which are like one or two hours away from Tarifa by car.
From Cádiz: Expect a 1-hour and 20-minute journey with no tolls.
From Málaga: Plan 2 hours on the road, and you'll need around 9 euros for tolls.
From Seville: It's about a 2-hour and 15-minute drive, and the toll is approximately 7 euros. 
From Madrid: It's a 7-hour drive, with a toll of about 13 euros.
From Barcelona: Be prepared for an 11-hour and 50-minute drive, and you'll encounter a toll of around 26 euros.
There are no buses to the city. The only ones I know are the one from Algeciras to Tarifa, which costs 3 euros (one way), and the one from Málaga to Tarifa, which costs around 17 euros.
A budget-friendly option to reach those nearby towns first is grabbing a Blablacar, a carpooling company, from a main city to a nearby city (Madrid to Málaga) and then taking the bus.
Where to eat in Tarifa
I already told you some of my favorite spots for a delightful gastronomic experience. However, these are my top recommendations for every occasion.
La Tarifeña for Local Breakfast
Cafe 10 for International Brunch
Chiringuito Volare for lunch in Tarifa
Bar el Frances for Casual Dining
Where to stay in Tarifa
Tarifa has various accommodations for all types of travelers and budgets. Booking and Airbnb are available so visitors can easily find a place to stay.
As it is a trendy destination for watersports, it can get a little crowded in summer and warm months, so book in advance to avoid missing out on deals and get cute finds.
Stay close to the city center if your priority is touring the area, party at restaurants, bars, and landmarks, and get to the beaches by car.
If you are a group of friends, consider renting a house since it works out very well when sharing expenses through Airbnb or Booking.com
You can also stay in front of the beach to wake up with paradisiac views of the Mediterranean Sea. Of course, these options are more expensive but highly recommended as the atmosphere and panoramas are stunning. Here are some options for each.
South Hostels: Budget-friendly hostel in Tarifa
Hotel Tarifa Lances, nice place to stay in Tarifa
La Residencia Puerto Hotel & Spa, Luxury accommodation in Tarifa
How much does it cost to visit Tarifa?
Request information: hello@sensationalspain.com
How much money you need for your trip to Tarifa depends on many things, such as how many people are traveling, the type of activities you want to do, accommodation, the duration of your stay, restaurants, and most importantly, the time of year.
To help you more accurately, please don't hesitate to reach out to us via email! Share the details of your desired trip to Spain, and we will provide you with a price estimate and offer local advice for all your travel needs.
Choose your Spain Itinerary
1 Day in Spain? 10 Best Things to Do in 24 Hours!
2 Days in Spain: Trip Ideas & Itineraries to Enjoy Your 48h
3 Days in Spain: What's the Best Itinerary for Your Trip?
4 Days in Spain - Best Travel Itineraries for Short Trips
5 Days in Spain: Itineraries to See (almost) Everything!
6 Days in Spain: The 3 Best Itineraries for Your Trip!
7 Days in Spain: The 3 Best Itineraries for Your Trip!
---
The atmosphere in Tarifa is unique and worth every penny and time. I promise this hidden paradise is where you'll want to spend your next vacation!
Don't hesitate to ask any questions in the comment section below. I'll be happy to help you! :)
Enjoy Spain!