Spain in September: 9 Travel Tips, Activities & Weather
June 20, 2023
Traveling to Spain in September? It is one of the best months to travel the country because summer is over, and most Spanish people are back to their real lives.
This means that traveling fares go drop, and demands drop!
In this article, you will find nine essential tips to travel to Spain in September, five key cities to experience the season's best activities, and a weather table.
If you are coming in September, you should book tickets in advance and after the first two weeks. That is when all of Spain has gone back to work, to school and universities, and tourism needs from you.
Travel tips
1. Go look for the sunflower fields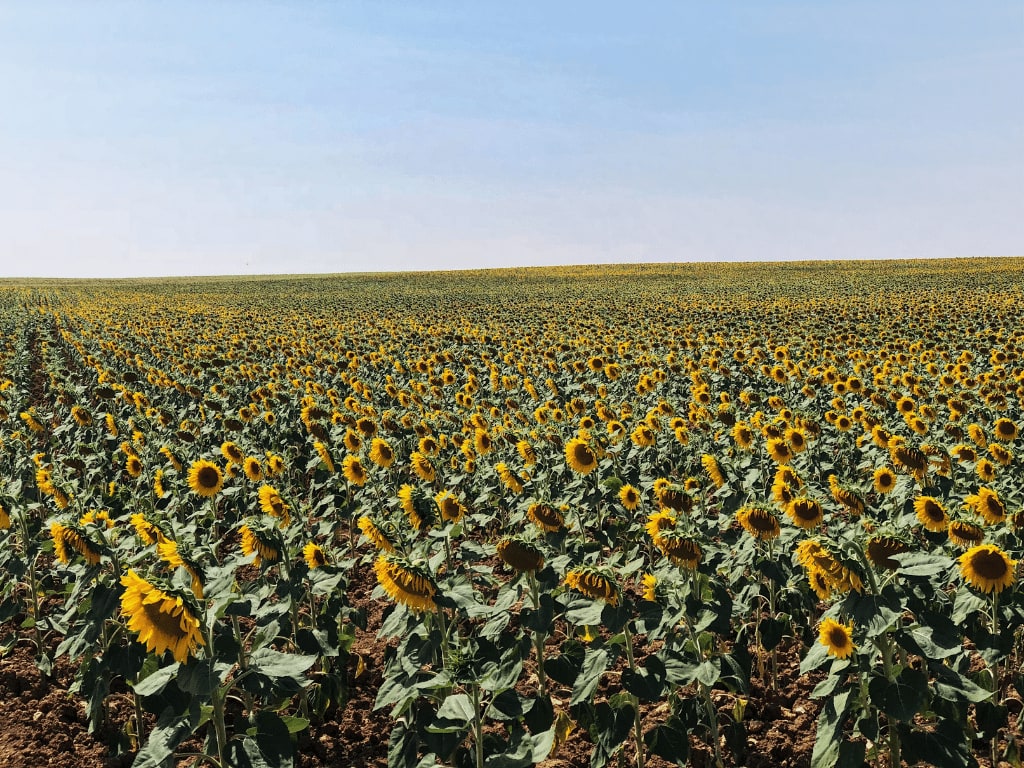 Unlike most flowers in Spain, sunflowers don't bloom only in Spring; the best season to see them is the middle of August and the beginning of autumn, which means the final weeks of September. 
So, where should you go look for sunflowers in Spain during September? 
Your first try should be Brihuega in Guadalajara (Castille-La Mancha). The best option is to rent a car or go to Guadalajara by public transport and then get a taxi to take you. The journey is a 50-minute drive, and you can take a fantastic picture with giant sunflowers. 
If you are not in Madrid, there are other places in Spain where you can admire sunflowers. The best cities are:
Carmona, Seville
Campo de Gómara, Soria
Guayedra, Gran Canaria
2. Go for picnics in every park
September has good temperatures all over Spain. In the north of the country, you should expect temperature ranges of 15.6-26.7°C, while the south will be hotter, around 21.1-32.2°C.
If you are in cities with no beaches like it is Madrid, organize a picnic to enjoy the sunny day.
Go to the closest Flying Tiger for a picnic tablecloth, get some delicious fruit, snacks, and good drinks, and put a nice-looking picnic in the Retiro Park, Templo de Debod, or Oeste Park in Madrid.
You can play simple games with rackets, balls, or cards in parks like Retiro and Oeste Park.
A picnic in a park is a relaxing activity to see life in the city.
3. Hunt some sunsets on the city's rooftops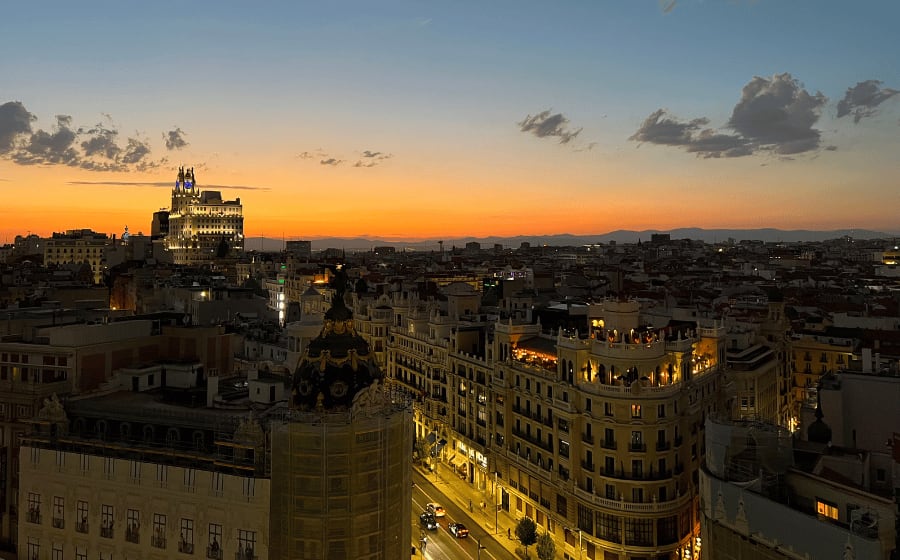 I remember this was one of my favorite activities during my first September in Madrid, and if you travel during this month, you will also enjoy it. 
In September, the sun sets around 20:30 in Spain. It is the perfect moment to look up and choose a rooftop to get some drinks while watching the sky turn gold and orange.
I recommend the rooftop at Dear Hotel and Roommate in Madrid Macarena; both are located in Gran Via after Callao. You can get to the rooftop for free and pay for your consumption. 
Here I will leave you a list of our featured articles on Spain's rooftops:
4. Keep sunscreen in your bags
Simple but important travel top, UV rays are still very high in September. So, apply sunscreen before you leave your hotel and take it with you throughout the day. 
Especially for the first weeks of September, carry sunglasses, a cap, and a hand fan to freshen up. 
5. Enjoy what's left of the summer activities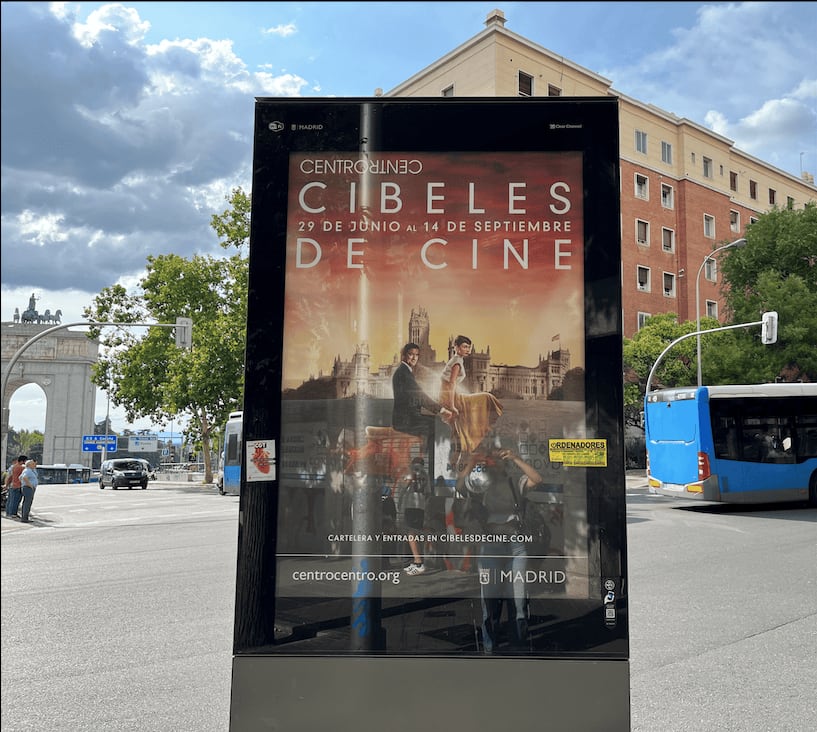 Every city organizes its activities during the summer. For example, you get open-air movies in Madrid in Plaza de España and Cibeles Palace. 
CentroCentro organizes movie nights in Cibeles Palace, and it's an amazing experience. You can get your movie tickets online and get popcorn and drinks when you get to the movie space. 
The sun sets around 8:30 and 9 in September, so the movie usually starts later in the night to get the dark effect of a movie theater.
6. Keep summer outfits with you
Attention here! With summer outfits, I don't mean swimsuits and flip flops, that is something you only wear to the beach. 
If you visit Spain in September, I recommend bringing fresh clothes, such as cotton and linen, which will help you keep a cool temperature during the heat hours.  
As you know, global warming has made summers longer and hotter, so in the center and southern cities of the country, you will still get high temperatures. However, if you go to the North, the weather will be more comfortable and a bit cooler at night.
7. Attend the San Sebastian Film Festival
A one-in-a-lifetime opportunity is to visit the San Sebastian Film Festival in the homonymous city of the Basque Country. 
San Sebastian is a dream city; the architecture perfectly blends French and Basque design. You have amazing food in the old town and quaint specialty coffee shops such as Old Town Coffee that make your morning twice as better. 
Every year since 1953, the city celebrates an international film festival that welcomes actors worldwide. In the past five years, actors such as Johnny Depp, Chris Hemsworth, Javier Bardem, and Penelope Cruz have visited the red carpet of Donosti. 
Check out the tickets for this year right here 👉 San Sebastian Film Festival
8. Attend 'San Mateo,' the wine festival of La Rioja
If you are a wine lover, you should pay attention to wine tourism in Spain. Logroño, the capital of La Rioja, is the protagonist of the "San Mateo" Wine Festival on September 21st.
If you are planning your trip around these dates, you should consider attending and adding wine tourism to your to-do list.
9. Look for better deals by the end of September
September is a month of new beginnings. I don't mean to be dramatic, but at least everything in Europe re-starts in September. Schools, universities, and work resume their duties after some nice vacation in August.
So, you can visit Spain in September for those who can't travel in August due to the high season.
Set a Google alert for prices during the last weeks of September and checks the delas for your destinations of interest.
Activities
Logroño in September
Just as I mentioned before, Logroño is the capital of the wine region of La Rioja. It is a quant and cute city worth visiting if you are on your way to the "Camino de Santiago" and a wine enthusiast looking for the best vineyards in La Rioja. 
I recommend visiting Logroño alongside other cities in Spain; it is a city you can see in a day but a great place to get accommodation if you plan to do a wine tour. 
How can you get to Logroño? You can go from Madrid or Barcelona to Logroño by bus ( 3-4 hours), by train (4-6 hours), and by car (3-4 hours).
What can you do in Logroño in September? If you plan to travel to Spain during the last two weeks, I recommend visiting Logroño on the 21st of the month when the wine festival of San Mateo takes place. 
The festival is inaugurated with rockets from the City Town Hall building, lasting seven days.
You will experience fireworks displays, parades, music bands, and live music in honor of the soon-to-be harvest season for the vineyards. 
What else can you see in Logroño? My favorite part of small Spanish cities is the old towns. In Logroño, you can do some bar hopping for delicious pintxos on Laurel Street, one of the main gastronomic areas in the old town. 
On top of that, you should visit:
The Stone Bridge
The Iron Bridge
The Church of Santa Maria de Palacio
The Church of San Bartolomé
The Cathedral of Santa María de la Redonda
The fortress walls "Cubo de Revellín"
San Sebastian in September
I will start this section by saying that San Sebastian is my favorite city in Spain. A je ne sais quoi makes you fall in love with all its corners. 
September is a perfect time to visit San Sebastian. The wave of tourists has decreased compared to August, and you can still enjoy plenty of suns and cool water. 
The most famous beach is La Concha, but you have two other alternatives: Zurrieola and Ondarreta.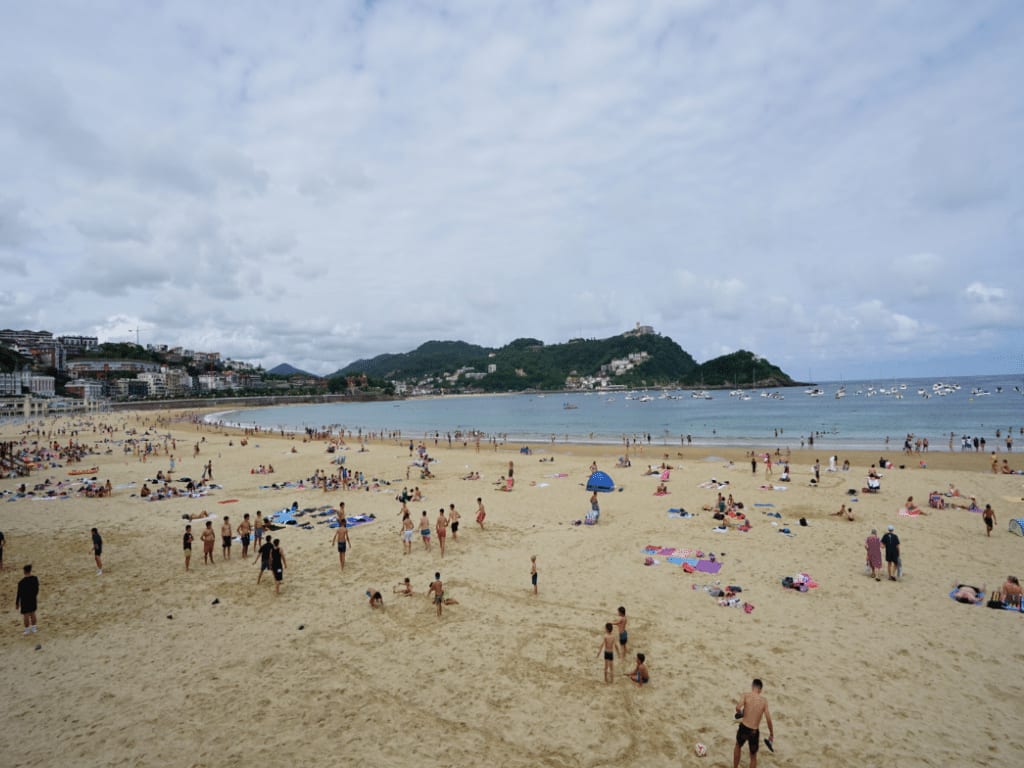 You should visit the Igueldo Mountain, where you will experience the old funicular cableway and one of the oldest theme parks in Spain. In the same part of the city lies the landmark of "Peine del Viento," which will give you a beautiful ocean view. 
Don't skip the old town and go hunt for some delicious pintxos! I recommend Gorriti and Baztán and head to The Boulevard for some delicious gelato. 
Just an hour away by bus is Hondarribia (Fuentarrabia in Spanish), a breathtaking coastal town right next to France. You can take the bus to the Gipuzkoa Plaza.
Valencia in September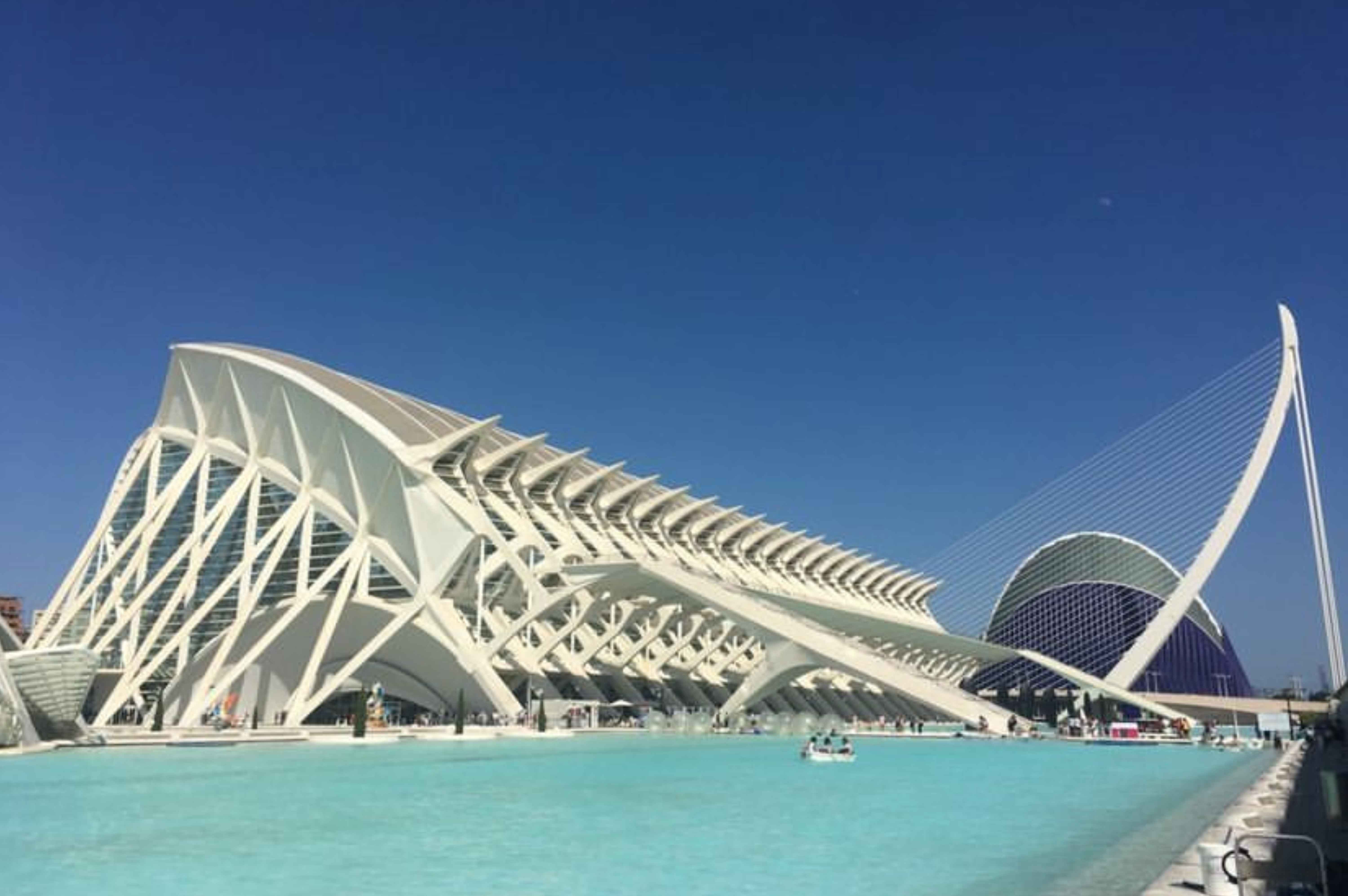 Valencia is another great place to escape in September. You can find round trips from Madrid starting at 18 euros a person. The train ride is short, 1h50 minutes away from the Spanish capital.
You must try the paella in Valencia because the original recipe comes from there! Another traditional Valencia treat is the** horchata with fartons***;* to be honest, it is not my favorite pastry, but plenty of people find it delicious. 
If you visit the neighborhood of Russafa, you must go to the Blackbird Coffee Shop. It is a specialty coffee shop with the best breakfast I have ever had, especially the best handmade donuts.
In September, Valencia has perfect weather of 28° and 18°, which allows you to walk the city's most charming places and landmarks. For example, you must see the Miguelete, the Lonja de la Seda, Valencia's Cathedral, the Serrano Tower, the Central Market of Valencia, and the City of Arts and Sciences. 
If you are a fan of animals, then go ahead and visit the Oceanographic, take advantage of the sun, and visit the Platja de Llevant, which is very close. Just a twenty-minute ride by public transport!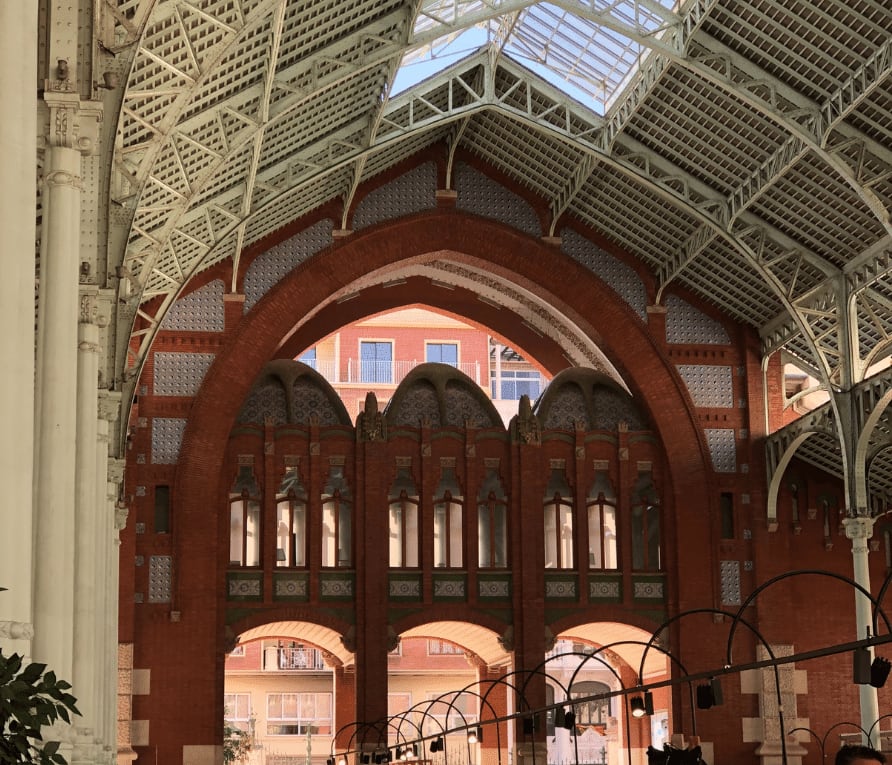 Most vents that take place in September in Valencia are:
Candlelight concerts
Open-air concerts
Mediterranean Sound (music festival)
Bilbao in September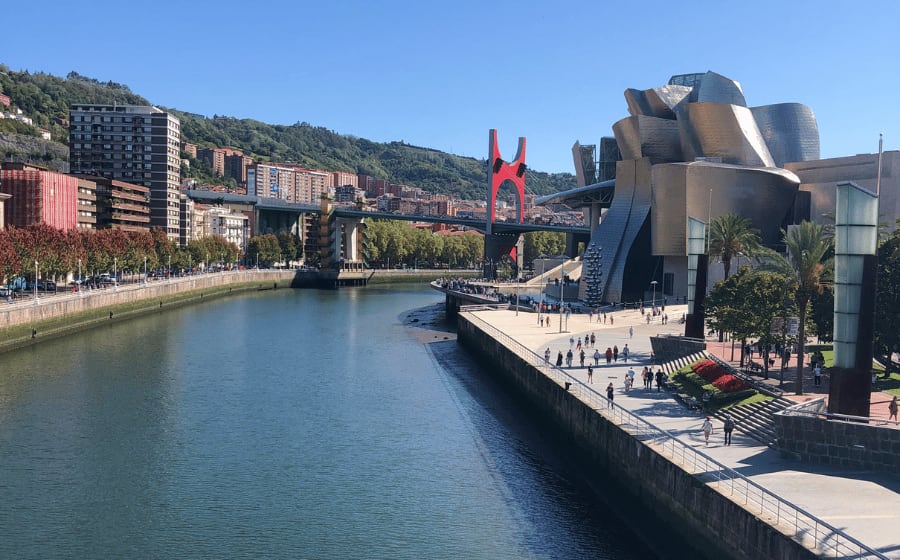 In the vibrant Basque Country, Bilbao is an excellent destination to explore in September. Bilbao offers a memorable experience with its stunning architecture and delicious cuisine. 
You can reach Bilbao from Madrid by train, which takes approximately 5 hours. In Bilbao, you can't miss the region's famous pintxos, a delightful variety of Basque tapas in numerous bars throughout the city. Visit the Old Town (Casco Viejo) and look for Guri Toki and Sorginzulo. 
Bilbao is home to the Guggenheim Museum, designed by architect Frank Gehry; it is known for its impressive titanium exterior and unique collection of contemporary art. 
I remember visiting Bibao during the last days of September, and I took a fresh skirt and T-shirt with me. The temperatures range from 16°C to 24°C, which makes it an ideal time to walk the city. 
What can you do in Bilbao? Visit the Cathedral of Saint James, and walk along the La Ría (Bilbao's river). 
Consider taking a day trip to the nearby coastal town of Getxo, just a short metro ride away from Bilbao. Getxo has picturesque beaches, charming old streets, and the famous Vizcaya Bridge, a UNESCO World Heritage site. Dare to walk the suspension bridge, built in the late 19th century, offers panoramic views of the area and is an engineering marvel.
Santander in September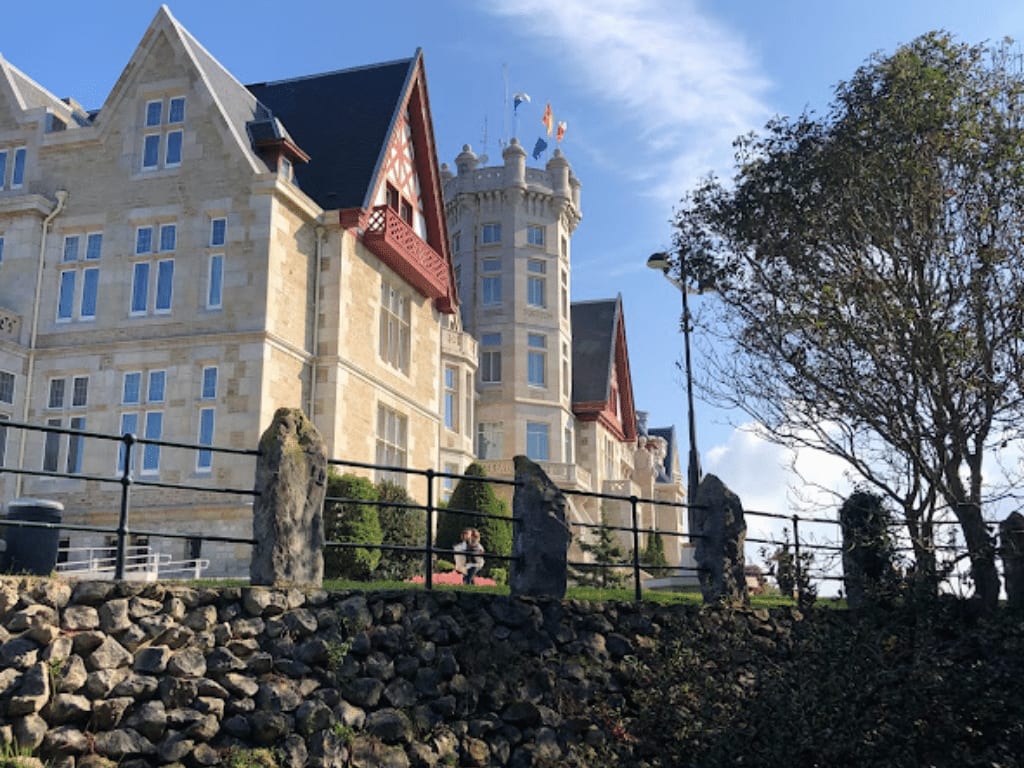 Santander is the capital of the autonomous community of Cantabria. In the North of Spain, between Asturians and the Basque Country, Santander is an ideal destination to explore in September.
If you rent, you can easily reach Santander from major Spanish cities, such as Madrid, by train, airplane, or car. 
Some traditional foods you must try in Santander are the rabas de calamares (squid) and the Quesada (cheese dessert).
If you are a seafood lover, head to the Puerto Chico area, where numerous seafood restaurants offer fresh and delectable dishes.
In September, the weather in Santander ranges from 20° to 25° for walking and enjoying its beaches, such as Magdalena Beach or Sardinero Beach. 
What else can you do in Santander? Stroll along the Paseo de Pereda, a beautiful waterfront promenade, and admire the stunning views of the bay and the elegant Palacio de la Magdalena.
Also, explore the Gothic-style Catedral de Santander, known for its ornate architecture and breathtaking interior. Visit the Centro Botín, a contemporary art center renowned for its striking architecture, impressive exhibitions, and views of Magdalena Park.
Two incredible day trips from Santander are Comillas and Santillana del Mar. Both are beautiful hidden gems of Cantabria, and Comillas houses a stunning masterpiece by Antonio Gaudí.
Weather
This article has suggested activities in cities in different regions of Spain, each with similar temperatures.
Even though I have suggested cities in different autonomous communities of Spain, temperatures remain pretty similar throughout September in Spain.
If you travel to the North in the last days of the month, remember to take light jackets because the nights could be cooler.
I have created a chart with the approximate temperature that you can experience in Spain if you visit in September. Remember that all of these are approximations, and don't forget to check the weather map when you are closer to the day of travel.
---
| Region | Min Temperature (°C) | Max Temperature (°C) | Min Temperature (°F) | Max Temperature (°F) |
| --- | --- | --- | --- | --- |
| Andalusia | 19°C | 31°C | 66°F | 88°F |
| Aragon | 12°C | 26°C | 54°F | 79°F |
| Asturias | 13°C | 20°C | 55°F | 68°F |
| Balearic Islands | 20°C | 28°C | 68°F | 82°F |
| Basque Country | 15°C | 24°C | 59°F | 75°F |
| Canary Islands | 22°C | 28°C | 72°F | 82°F |
| Cantabria | 14°C | 22°C | 57°F | 72°F |
| Castilla-La Mancha | 15°C | 29°C | 59°F | 84°F |
| Castile and León | 12°C | 25°C | 54°F | 77°F |
| Catalonia | 17°C | 27°C | 63°F | 81°F |
| Extremadura | 15°C | 29°C | 59°F | 84°F |
| Galicia | 13°C | 22°C | 55°F | 72°F |
| La Rioja | 13°C | 26°C | 55°F | 79°F |
| Madrid | 13°C | 28°C | 55°F | 82°F |
| Murcia | 19°C | 30°C | 66°F | 86°F |
| Navarre | 13°C | 25°C | 55°F | 77°F |
| Valencian Community | 21°C | 29°C | 70°F | 84°F |
---
I hope these tips and activities come in handy to help plan your trip. If you have visited Spain in September before and have any suggestions, we would love to hear from you!
Additionally, we would be more than happy to help plan your trip! Just text us in Whatsapp or an email, and we will get back to you.