Love In a Bite: 7 Spanish Christmas Cookies for Jolly Days
September 21, 2022
Updated:

February 14, 2023
Published: September 21, 2022
Have you ever eaten a cookie with pig fat? No? Well, in Spain, we do.
But don't worry, they are mouthwatering! If you try out any Spanish Christmas cookies, your friends and family's reaction will be merry and bright.
Christmas food can be repetitive, and a slight change always improves it. After learning about these 7 Spanish Christmas cookies, you will get enough creative fuel to make your holidays more jolly. 
So, I hope you ate before reading this because you might get hungry fast!
1. Polvorones & Mantecados 
Before talking about each type of cookie, let's clear this up. Sometimes people confuse polvorones with mantecados and vice versa. They are very similar but not exactly the same. Polvorones and mantecados are pastry cousins if I can call them that. 
What are polvorones and mantecados?
Polvorones and mantecados are classic Spanish Christmas cookies. Both recipes are prepared with pork lard (pig's fat) because it provides a firm texture. 
This doesn't mean they will break a tooth. Actually, both cookies melt in your mouth. While the outside is firm, both are dusty and soft on the inside. 
What is the origin of polvorones and mantecados?
Once upon a time in the 16th century, a group of nuns lived in the Clarisas' Convent in the village of Estepa (Sevilla, Andalusia). When the not-so-cold winds of November entered their convent, they knew the day of Saint Martin was approaching. 
Saint Martin's Day (November 11) marked the beginning of the pig-killing season- sounds terrible, believe I know- and Clarisa's nuns had to do their part. 
But one year, something different happened. After they had separated all the fat from the meat, they realized there was too much, so much that they had to do something different. So, while thinking about what to create, one of the nuns realized they also had an excess of flour. And…ding…ding…ding! Their solution was to make some cookies that we call mantecados.
As you can see, the traditional killing of the pigs was made in November. These cookies would then be prepared in December and commercialized at Christmas.
The difference between Polvorones and Mantecados 
Now that you know the origin of these cookies let's see some differences. 
The difference between mantecados and polvorones is that the first ones are made with pork lard (fat), flour, and sugar. And polvorones are prepared with pork lard, almonds (always), toasted flour, and sugar glass. 
While the great-great-great grandparents of today's cookies were created by the nuns. It was Filomena Micaela Ruiz, or "La Calchona," who made a successful business out of it. 
In the 19 century, in the small village of Estepa, "La Calchona" thought it would be a great idea to increase sales by expanding her market through her husband. Filomena's husband was a diver, and she would send the cookies with him. 
She also figured out a way of making the cookies more resistant. Remember the toasted flour? She realized that if she did that, the humidity was extracted from the ingredient, and the cookies would last longer. That's how we went from having mantecados to polvorones. 
The rest is history.
Best places to buy Polvorones and Mantecados
Mantecados Felipe II (Vitoria, Basque Country). This pastry store has won 5 Monde Selection Awards thanks to its superior quality.
La Colchona (Estepa, Sevilla). The original and classic cookies can be found here.
La Despensa del Palacio de Estepa (Estepa, Sevilla). 
Also, I'll link you to two videos if you want to try these recipes at home.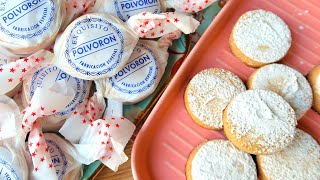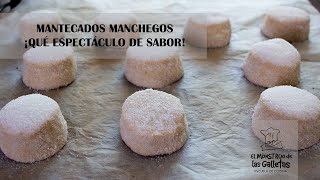 2. Alfajores de Medina Sidonia
How do you imagine alfajores? Some people are disappointed because when they think of alfajores they picture the Argentina ones. Do you remember them? Those look like sandwich cookies filled with dulce de leche. You can see the difference in the picture below. 
What are Alfajores de Medina Sidonia?
Alfajores de Medina Sidonia are traditional Christmas finger-shaped cookies from the village of Medina Sidonia in Cadiz (Andalusia). 
The Alfajores de Medina Sidonia are made of honey, almonds, flour, grated bread, and a bunch of species such as cinnamon, sesame seeds, cilantro, clove, and green anise or matalauva. After the batter is ready, it is divided into finger-like shapes to be immersed in the syrup. 
Something key about their preparation is that we must wait until the honey is almost boiling to add the rest of the ingredients. 
I am not sure if people from that village consider them Christmassy as they can eat them all year long. 
What is the origin of Alfajores de Medina Sidonia?
These Christmas cookies go as far back as the Iberian Peninsula dominated by the Umayyad Caliphate. Back when all of Spain was known as Al-Andalus. 
This is kind of a wild guess, but I have my reasons. The origin of the alfajores is Arabic. For them, these long cookies were an energy bar for long trips. After all, in their times, it must have only been a mixture of nuts, flour, and honey. 
Our Alfajores de Medina Sidonia recipe has been given the European IGP recognition (protection of geographical indication) that certifies its quality and tradition. 
Best places to buy Alfajores de Medina Sidonia
Of course, the best places to get your alfajores are in Medina Sidonia. So, if you are ever in Cadiz, don't doubt visiting.
Aromas de Sidonia 
Sobrina de las Tejas XIX (this one is listed in the Repsol Guide for Spain). 
Here is the link if you want to try these recipe at home.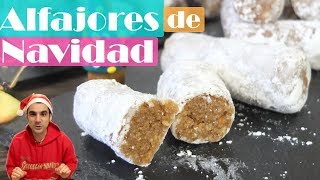 3. Roscones de Vino or Wine Biscuits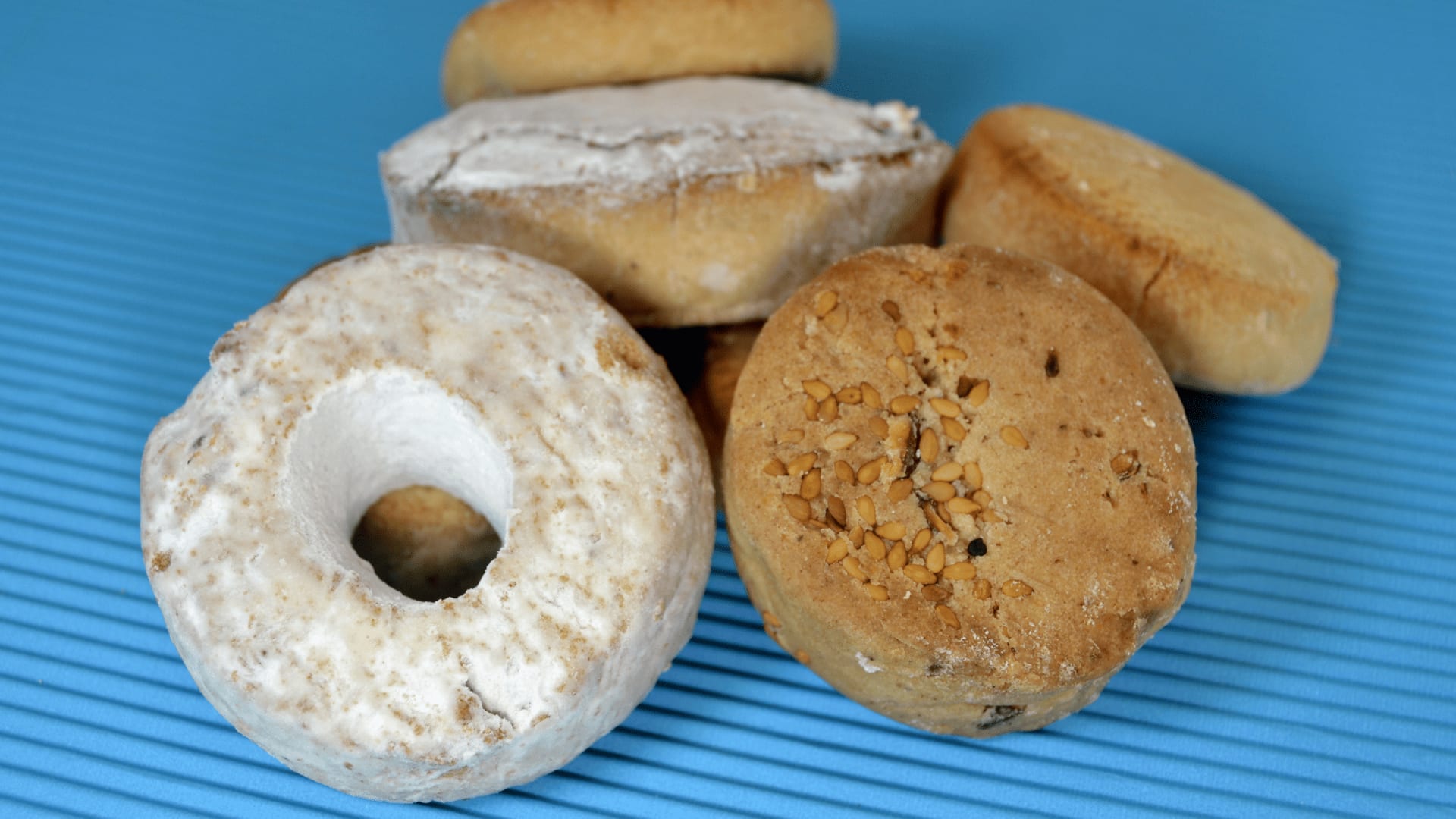 I wish I had a unique story for each Spanish Christmas cookie, but sometimes their background is pretty simple. Or better yet! Still unknown. 
Another famous Christmas cookie in Spain is the Roscones de Vino. I know they look like donuts, but their texture is more cookie-like. 
What are Roscones de Vino?
Roscones de Vino are a traditional Spanish Christmas pastry made with white wine and pork lard (of course!). 
The original recipe for the roscones is to fry them, but some people prefer using the oven. 
What is the origin of the Roscones de Vino?
As I mentioned, their story is unknown, but they come from Andalusia once again. This recipe is traditionally from Malaga but is also top-rated in Castilla- La Mancha. 
Best places to buy Roscones de Vino
I should tell you that these cookies can be found in most Spanish bakeries or patisseries, but I am listing the top ones. In this case, I only have one for you. 
Hermanos Montañez Gomez (Malaga, Andalusia). 
Here is the link to the video recipe!!!
4. Almendrados or Almond Cookies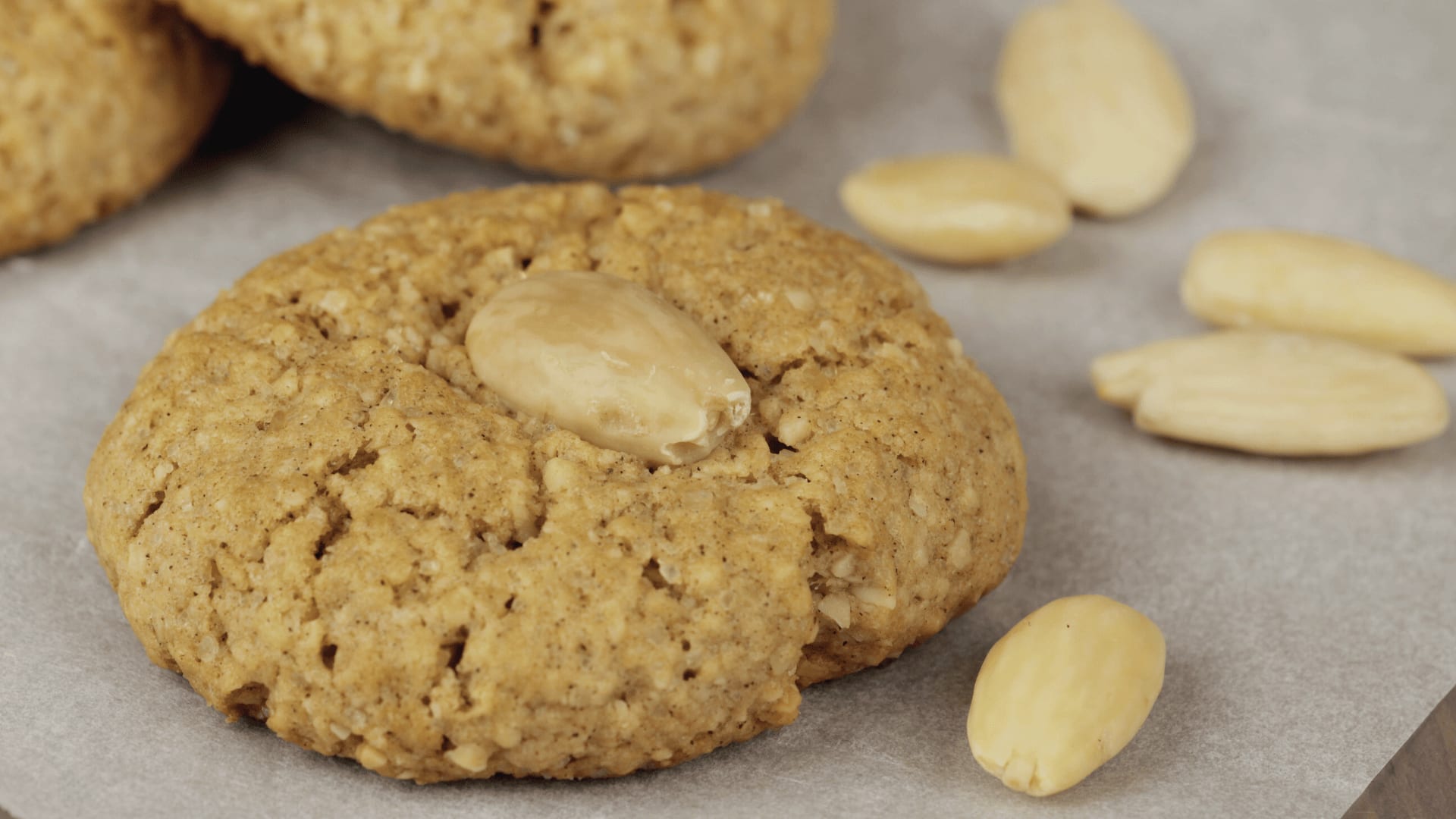 Almendrados or Almond Cookies are one of my favorites because they are super simple to bake. 
What are Almendrados?
Almendrados, or Spanish almond cookies, are a traditional recipe usually eaten at Christmas. People typically have them with coffee or hot chocolate.
The ingredients of these Christmas cookies are almonds, sugar, eggs, lemon and cinnamon. So, no pork lard nor flour! I think this means they are vegetarian-friendly and gluten-free.
What is the origin of Almendros?
The myth says their origin is Sephardi. So, if my history timeline is accurate, this recipe is a part heritage of the Jewish Community that lived in Spain around the 11 and 15 centuries. Besides that, those cookies are pretty common in Alicante (Community of Valencia)
Best places to buy Roscones de Vino
These cookies are way easier to find. You can get them in:
Any supermarket when the Christmas season begins. 
El Sabor de la Abuela (Alicante, Valencia)
Here is the link to the video recipe!!! Easy peasy!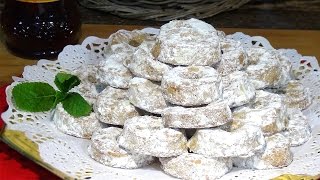 5. Nevaditos or Powder Sugar Cookies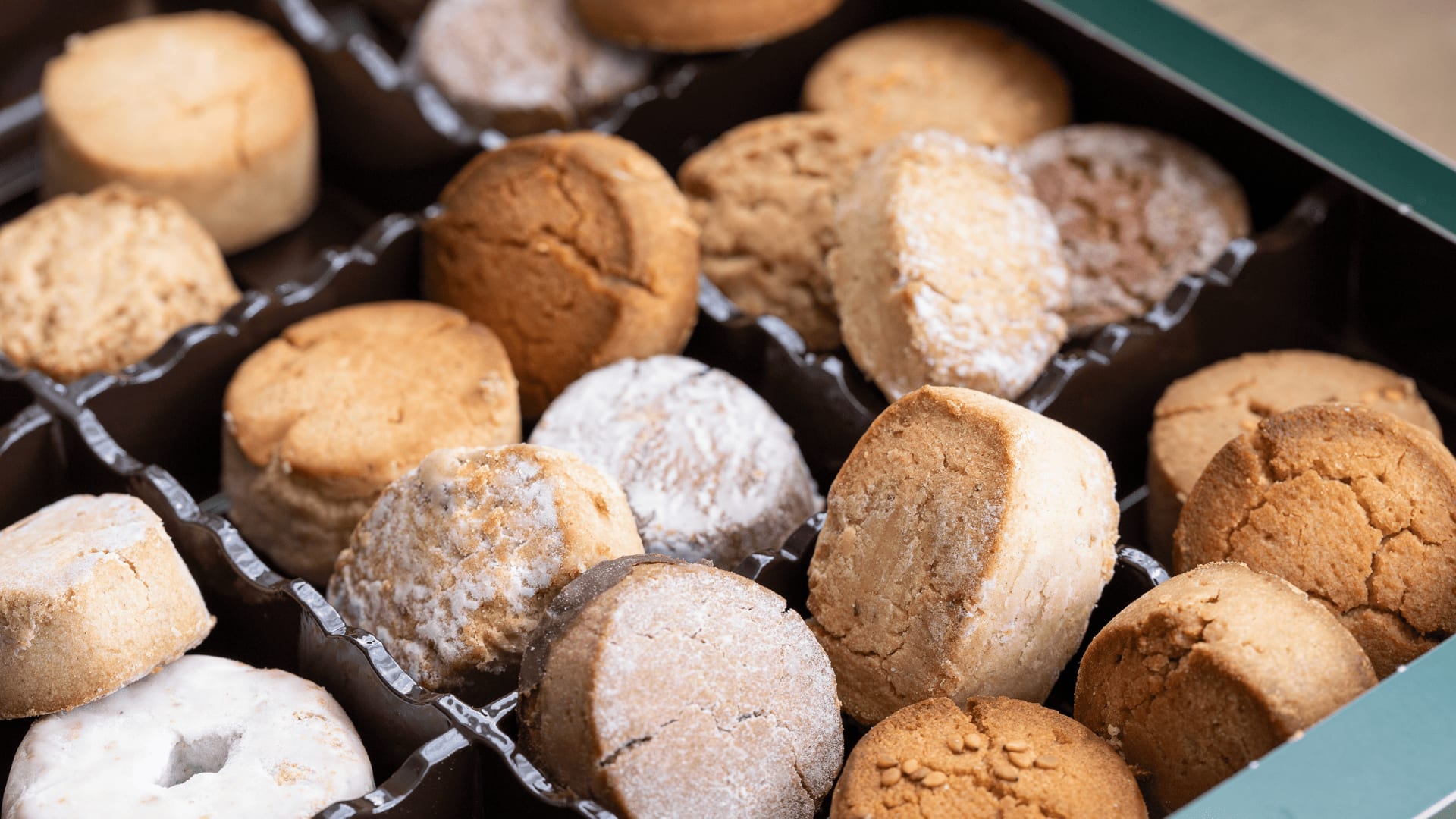 Okay, to be honest. If you want to surprise your friends and family with something different, and you are a risk, you should stick to the recipes with pork lard.
Yes, nevaditos also have animal fat. But again, they are suuuper tasty. 
What are nevaditos?
Nevaditos are Spanish Christmas cookies similar to mantecados but with a wild twist. These powder sugar cookies are made with pork lard, flour, sugar, and white wine! Is a combination between mantecados and roscones de vino.
After the cookies are baked, we have to wait for them to cool down and spread powdered sugar. This makes them look like snow has fallen over them, and then the name nevaditos (snowy). 
(As you may notice, I am skipping the origin because I have no interesting story to share with you)
Where to buy nevaditos?
Once again, you can find them in any patisserie around November or December. But, and you might not believe this, Spanish people loved the ones in the typical business boxes. 
Yes, the ones that our grandmas used to keep at home. We really love the nevaditos in the assorted cookie box from Reglero. 
I found this recipe from a very charming grandma. But you should skip until minute 2:20 to begin cooking.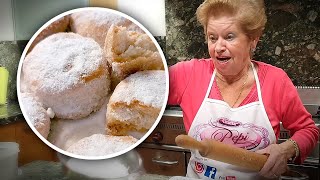 6. Borrachuelos or Drunk Cookies
I am starting to see a pattern in our choice of ingredients for Christmas cookies. I guess most of these Spanish Christmas cookies aren't child-proof!
What are borrachuelos?
Borrachuelos are Spanish Christmas cookies made of flour, olive oil, anise, cinnamon, pumpkin jam or sweet potato (filling), white wine, and grain alcohol. Now you know why the name borrachuelos, it translates to drunken cookies!
After filling the cookies, they are shaped into half moons, fried, and left to cool down. For a final touch, we sprinkle icing sugar. 
What is the origin of borrachuelos?
Once again, I don't have a story for you, but they are traditional from Malaga and Cordoba. We don't only eat them at Christmas but also during Holy Week. 
You can find borrachuelos in any pastry during both holidays. 
Here is an easy recipe to follow at home: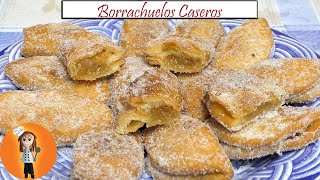 7. Mazapanes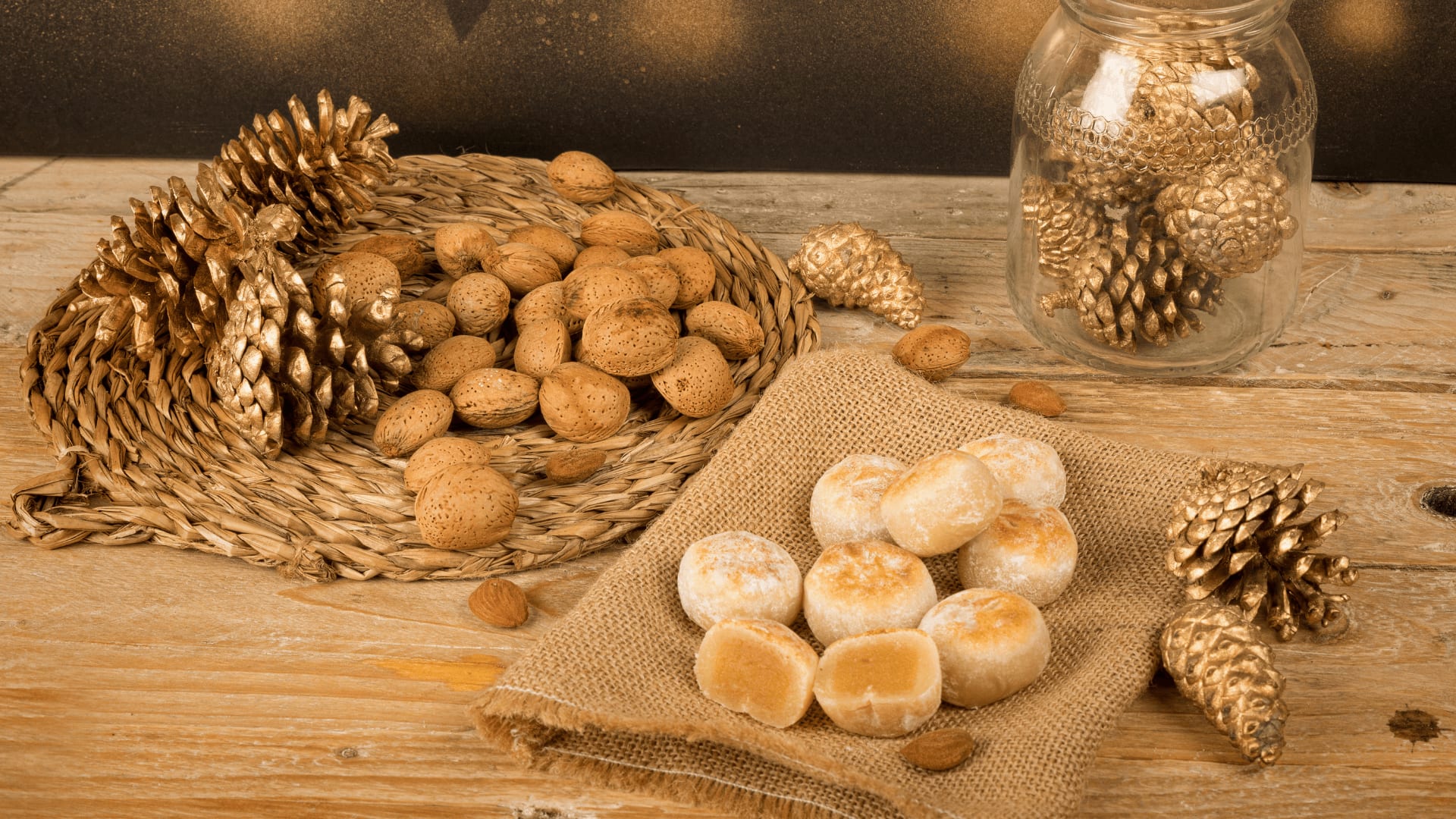 The final cookies of our list. I hope you are not concerned about the pork thing. I promise they are great, and the final results are excellent. 
What are mazapanes?
Mazapanes are flourless Christmas cookies very typical in Spain. Mazapanes are super easy to make because they only have three main ingredients: almonds, sugar, and egg. That's it! Super simple for a quick Christmas bite. 
What is the origin of mazapanes?
I did find a story for this cookie! So, in the 11-century, nuns from the convent Clemente Real in Toledo wanted to make something different for the homeless people. Their recipes usually include flour, but they were entirely out of the ingredient that day.
But that didn't stop them, and they came up with mazapanes. 
Where to buy mazapanes?
The best mazapanes in Toledo are found in:
Clemente Real Convent
San Telesforo Convent (over 212 years making mazapanes!)
The best mazapanes in Madrid are found in:
Pasteleria Plaza Mayor
Casa Mira
La Mallorquina
And our final video of the day!
And that's it, friends! We have seen how to give love in a bite through Spanish Christmas cookies. All of the videos I have linked to the post have subtitles in English and are easy to follow, so you can try them at home.