7 Spanish Comedy Movies You Won't Stop Laughing With
November 3, 2022
Updated:

February 14, 2023
Published: November 3, 2022
Have you ever laughed so hard that your belly started to hurt? Well, this is what will happen to you as soon as you start watching one of our comedy movies!
Something we love in Spain is to laugh and even more when it comes to ourselves! Spain has some of the best comedies, and we can't deny that when it comes to this film genre, we know how to do it very well.
We Spaniards are super ingenious in inventing scenes of surreal and complicated situations where everything seems to happen to us, and we think, why me?? Or even to show stages of everyday life and how we act in front of those situations! We can quickly turn an ugly situation into something funny! And that's what Spanish film directors try to transmit to their audience with every comedy movie they create.
What better way to have a good time than with a funny movie? The best way to disconnect and have a good laugh! Here are 7 of my favorite comedies!
---
Before you check them out, here's the list with the movies sorted according to the best score on IMDb as of today (2022).
If you want to know more about the American film rating system and parental guide, click here.
List of Comedy Movies
| Movies | Year | IMDb score | Film Rating |
| --- | --- | --- | --- |
| Champions | 2018 | 7,2 | PG |
| Perfect Strangers | 2017 | 6,9 | PG-13 |
| Toc Toc | 2017 | 6,8 | PG-13 |
| Spanish Affair | 2014 | 6,5 | PG-13 |
| Father There is Only One | 2019 | 6,0 | G |
| Honeymoon With My Mother | 2022 | 5,8 | PG-13 |
| We Need To Talk | 2016 | 5,8 | PG-13 |
---
1. Champions - "Campeones"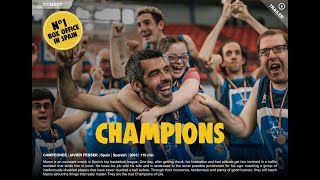 Champions is a 2018 comedy-drama film directed by Javier Fesser. It's a production of Morena Films, Movistar+, and Peliculas Pendelton, which also has the participation of Universal Pictures International Spain and the TVE channel.
In this film, Marco (the well-known actor Javier Gutierrez), is a professional basketball coach assigned to a new team of people with intellectual disabilities. What starts as a difficult challenge will end up becoming a life lesson.
The film was so good that it was chosen to represent Spain at the 91st Academy Awards in the Best Foreign Language Film category.
And not only did it sweep the 2018 Goyas, but it has also become one of the best Spanish films of the 21st century. In fact, Hollywood is thinking of remaking the movie with Bobby Farrelly.
One of the Hollywood Reporters critics wrote the following about the film:
"That kind of pleasingly punchy reverse logic is typical of Javier Fesser's fifth feature, which aims both to entertain and to tackle prejudice head on. The emotionally uplifting result, which has "labor of love" written all over it, has been Spain's biggest box office hit to date of 2018."
The movie is available on iTunes, Google Play, and Amazon Instant Video.
Champions received 13 awards and 31 nominations.
2. Perfect Strangers - "Perfectos desconocidos"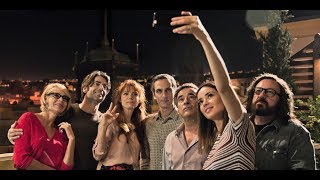 Perfect Strangers is a 2017 Spanish film directed by Álex de la Iglesia. It's the Spanish version of the 2016 Italian film "Perfetti sconosciuti" by Paolo Genovese.
In this fantastic comedy, you will enjoy outstanding performances of characters such as Belén Rueda, Eduard Fernandez, Ernesto Alterio, Juana Acosta, and Eduardo Noriega.
This movie is about four couples, lifelong friends, who meet for dinner. However, it won't be a quiet dinner. They decide to play a game that consists of leaving all their cell phones in the middle of the table, and all incoming calls and messages will be answered and read out loud… How do you think it will end?
I'll let you find out for yourself!
One of the users left this review on IMDb:
"The plot is simple, but funny. The movie shows how complicated our ordinary lives can be and how technology has taken center-stage of our day-to-day lives as well as become tools for deceit and betrayal."
The movie is available on Freevee, Prime Video or Apple TV on your Roku device.
Perfect Strangers received 2 awards and 15 nominations.
3. Toc Toc - "Toc Toc"
Toc Toc is a 2017 Spanish comedy film directed by Vicente Villanueva, produced by LAZONA and ATRESMedia, and distributed by Warner Bros Pictures.
In this entertaining movie, you will find great performances by characters such as Rossy de Palma, Paco León, Inma Cuevas, and Oscar Martínez, among others.
The plot is about a group of patients with obsessive-compulsive disorder (OCD) who are in a waiting room while waiting for their doctor to arrive. Imagine what that becomes… It becomes an absolute odyssey!
The movie was a massive success at the box office, with a total of 7.2 million dollars, surpassing the one million viewers mark!
Let's take a look at two of the many comments from IMDb users:
"As an OCD person, I recognized myself in every single character. Loved them and laughed with them. Highly recommend!"

"It's one of the best comedies I have ever watched. But the film is not just a comedy, but a pretty smart approach to therapy for people with OCD."
The movie is available on Netflix.
Toc Toc received 1 nomination.
4. Spanish Affair - "Ocho apellidos vascos"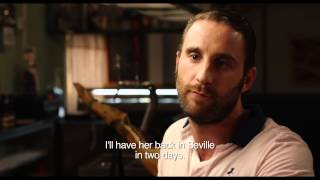 Undoubtedly one of the biggest box office successes of Spanish cinema!
Spanish Affair is a Spanish film directed by Emilio Martínez-Lázaro with a screenplay by Borja Cobeaga and Diego San José. A movie starring the funny Dani Rovira, Clara Lago, Carmen Machi, and Karra Elejalde.
This comedy tells the story of the typical Andalusian boy and the typical Basque girl, referring to the stereotypes between the north and south of Spain. Both meet by chance in Seville at a bachelorette party, and that's when the guy from Seville falls in love with the Basque girl and decides to try to conquer her.
It has some outstanding shots where the Spanish humor is present all the time and where you can see the differences between the Basque and the Andalusian character.
I'm sure any Spaniard can identify with some of the scenes in the movie.
A movie that will make you understand our humor better and that will make you laugh a lot!
One of the IMDb users shares his opinion about the movie:
"This is indeed a very funny Spanish comedy, with good acting by all the leads, a solid script boasting plenty of amusing situations and dialogues that never become too over- the-top or superficial, and some beautiful shots of both País Vasco (Basque Country) and Andalucía (Andalusia).

A word of warning, though: This film plays with local accents and stereotypes, current and past Spanish politics, and memes that you will have to be familiar with ahead of time to understand the gags."
The movie is available on Netflix.
Spanish Affair received 11 awards and 14 nominations.
5. Father There Is Only One - "Padre no hay más que uno"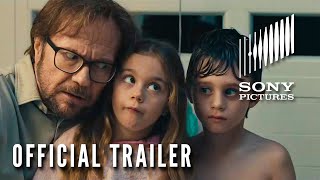 If you are looking for a family comedy, here it is!
Father There Is Only One is a 2019 Spanish comedy film directed and written by Santiago Segura and starring himself. It's a remake of the Argentine comedy 10 Days Without Mom, directed by Ariel Winograd.
This movie tells the story of Javier, a father in charge of his whole family since his wife decided to go on a trip alone. This will be a great challenge and a real adventure for Javier and his children!
A very entertaining and funny movie!
Check out this review on IMDb:
"Normally comedies are unintelligent, or use dirty jokes, slapstick… This comedy was funny, just tender enough to be cute without causing diabetes, and fun all the way through. Really, really recommended."
The movie is available on Prime Video, Vudu or Apple TV on your Roku device.
Father There Is Only One received 1 award.
6. Honeymoon with My Mother - "Amor de madre"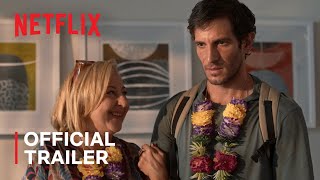 Honeymoon with My Mother is a Netflix original movie directed by Paco Caballero with incredible characters like Quim Gutierrez, Carmen Machi, Celia Freijeiro, Andrés Velencoso, and Edeen Bhugeloo.
This funny comedy of recent release was filmed on the spectacular island of Mauritius just before the pandemic.
Can you imagine being jilted at the altar on your wedding day? Well, this is precisely what happens to José Luis. And not only that, his mother, who doesn't want the money for the honeymoon to go to waste, decides to accompany him and take advantage of the trip with her son… Do you think they will end up pulling each other's hair out?
This is your best option if you want to have a good laugh and enjoy a simple comedy!
One of the IMDb users shares the following opinion about the film:
"At first I thought nothing new with the storyline.
Then stayed on because great locations on Mauritius … Then stayed on because the mother's character is very funny And then loved how the storyline developed."
The movie is available on Netflix.
7. We Need to Talk - "Tenemos que hablar"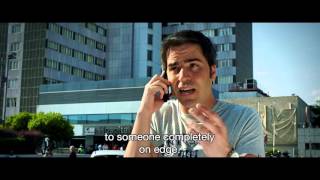 We Need to Talk is a 2016 Spanish romantic comedy directed by David Serrano de la Peña and starring well-known actors such as Michelle Jenner and Hugo Silva.
This comedy was positioned among the 20 highest-grossing Spanish films, comprising 1,336,858 euros and 206,816 spectators.
The plot is about Nuria (Michelle Jenner), who has everything to lead a perfect life and be happy. A dream house, a lot of success at work, and the perfect boyfriend she will marry. But the only drawback she has in her life is that she is not divorced from Jorge, her previous partner (Hugo Silva). I won't tell you anything else!
I invite you to watch it because although it doesn't have a very good score on IMDb, it's worth it, and you'll have fun!
Let's take a look at this IMDb review from one of the users:
"Genuinely funny, natural and true. Huge fan of Michelle and Hugo, and was excited to see them once again on the screen. Straight away in love with the entire cast. Tenemos que hablar is a beautiful film which is genuinely funny, natural and true in regards with life and relationships. A film you can see multiple times and never be tired of it."
The movie is available on Amazon Video, Apple iTunes and Google Play Movies.
We Need to Talk received 1 award.
Is there any comedy you have seen that is worth watching and does not appear on this list?
There are other excellent comedies, such as The Executioner (1963) or Women on the Verge of a Nervous Breakdown (1988), which I have not mentioned here. There's a simple reason, I focus on those I know you can watch on some of the platforms available in your country.
We could include more movies, and as always, the list would never end, but these are the best so far and the ones with the best ratings on IMDb, so I hope you enjoy them!