Seville in Autumn: 13 Best Activities to "Fall" in Love!
April 17, 2023
Updated:

April 18, 2023
Published: April 17, 2023
People say, "Sevilla tiene un color especial," but I'm sure Autumn uncovers its most beautiful colors!
During this season, the city experiences a "false Spring" where the trees are bare and the cold never fully appears. Visitors can enjoy milder temperatures and have lovely walks through the streets.
Besides national holidays and cultural events, Seville offers several dates and occasions, offering us unique plans for this time! In this article, I'll give you the best activities you should include in your bucket list to enjoy the city to the fullest.
And, although "La lluvia en Sevilla es una maravilla," it rains relatively little. Also, there are still people visiting the city, with the advantage of being much more comfortable than when it is packed with crowds.
What other reasons are you waiting for?
Let's take a look at the season's best plans:
---
1. Enjoy the Best Autumn Festival: Nations Festival
Every autumn in Seville since 1993, it takes place one of the favorite plans for the Sevillians, the nation's festival.
It is an event that revives the international spirit of the 1992 Seville Expo, where thousands of countries set up their stands with cultural, gastronomic, and leisure activities for everyone.
You will also experience concerts with international artists.
Plus, it is an excellent opportunity to try different food like kangaroo burgers from Australia, Chinese sushi, or Canadian putting, among other delicious dishes.
This festival is held every year in the beautiful Prado de San Sebastián Garden, very close to the Plaza de España.
It starts at the end of September and lasts until November, making it one of the highlights of the Sevillian autumn.
---
2. Eating chestnuts while strolling downtown
Autumn truly arrives when the chestnuts are harvested, and chestnut trees invade the streets of Seville with their particular salty smoke.
Eating freshly roasted chestnuts outdoors is something extraordinary that I love to do. There are many areas in Andalusia where chestnuts are grown, including Seville.
Strolling through Sevilla, the Setas, the Campana, the Plaza Nueva… while you are tasting them is one of the great pleasures of life that is one of the things I love to do during this season.
And, if you're planning a roadtrip, here are the best places to find chestnuts near Seville!
---
3. Fly over the fields of Seville in a hot-air balloon
Cappadocia in Seville? Kind of!
Autumn is not only a good time to fly over the fields of Seville in a hot air balloon. It is THE most spectacular time to fly over the city, I promise!
I have many friends who did it in Autumn while visiting Seville. They all say it is an incredible experience and want to repeat it.
In Autumn, you can see the yellow fields while the sun's rays break through the small hills of Seville; it has a lot of charm.
My friends recommended the one from Green Aerostación, which includes breakfast, a flight baptism diploma," 60-90 minutes of flight, a toast with cava, Photos, and Videos in HD with GoPro, water, and a hat.
"Trees, houses, colorful plots, mountains that sink as we rise and parade majestically when the wind moves us."

- Green Aerostación*, a company from Seville specializing in hot air balloon flights.*
Worth the experience!
---
4. Have a scary night at Isla mágica
Seville is a place full of history and, with it, legends and mysteries. If you add that in Autumn, some people celebrate Halloween, everything becomes more tetric, especially for the little ones.
The city has very narrow streets, the street lamps play at making terrifying shadows, and of course, the falling leaves are always present. There is no better time to make this walk in the autumn nights.
Suppose you are traveling with children and want to do something during Halloween. In that case, Isla Mágica is the perfect plan for you. The entire park becomes a terrifying amusement park and is transformed to set the atmosphere according to this day.
It is located in Isla de la Cartuja. It offers various activities and special events where you will have a great and scary time.
---
5. Experience "The White Night"
A night full of free activities? Count me in!
Every year, on the first Friday of October, you can enjoy the famous "White Night."
From museums, exhibitions, concerts, theatres, tourist routes, or even live a magnificent gastronomic experience that will help you learn more about the city and get carried away by its great cultural offerings.
Regarding historical heritage, monuments, landmarks, and important attractions such as the Archivo General de las Indias and La Giralda will be free. So, it's a great time to visit Seville to save some cash. You can see many other money-saving tips in the following article:
---
6. Visit the Seville cathedral during its best Season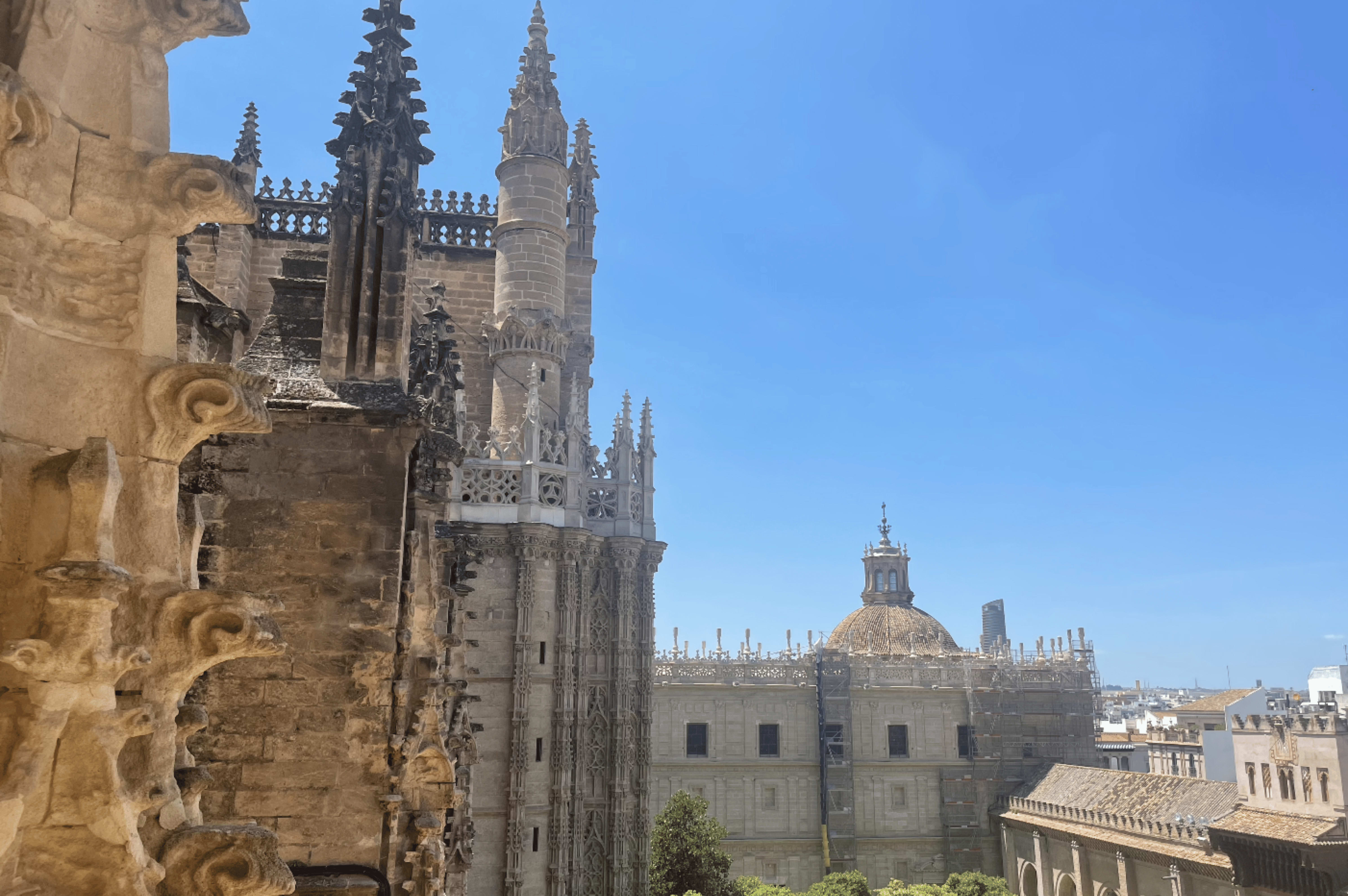 One of Seville's most famous and spectacular buildings is the Cathedral of Seville, the monument par excellence of the city.
It is incredible that this Cathedral is the largest Gothic cathedral in the world and was declared a World Heritage Site by UNESCO in 1987, along with the Alcázar of Seville. Read more in the following article:
It has several special celebrations in Autumn, most of them in October. For example, on October 10, they commemorate every year with a celebration for the anniversary of its completion on the same day but in 1506.
Two days later, on Columbus Day, a floral offering is made at the tomb of Christopher Columbus in the cathedral.
A remarkable characteristic of visiting the cathedral of Seville is that there are fewer tourists in Autumn, which makes the view much more comfortable.
Ques will be almost nonexistent at this time. Isn't this fantastic?
Plus, one of the city's best views and spectacular sunsets in Autumn takes place in The Giralda, its excellent bell tower.
---
7. The Candlelight Events
Linking Autumn with music and culture is ubiquitous, and this wasn't an exception for Seville.
Due to the suitable temperatures in these months, Seville hosts an exciting musical event besides flamenco: The Candlelight events!
It consists of a series of concerts in more than 90 cities worldwide, including Seville, composed of classical music performances on an improvised stage surrounded by candles and usually in essential places in the city.
In the case of Seville, it takes place in the famous "Setas de Sevilla."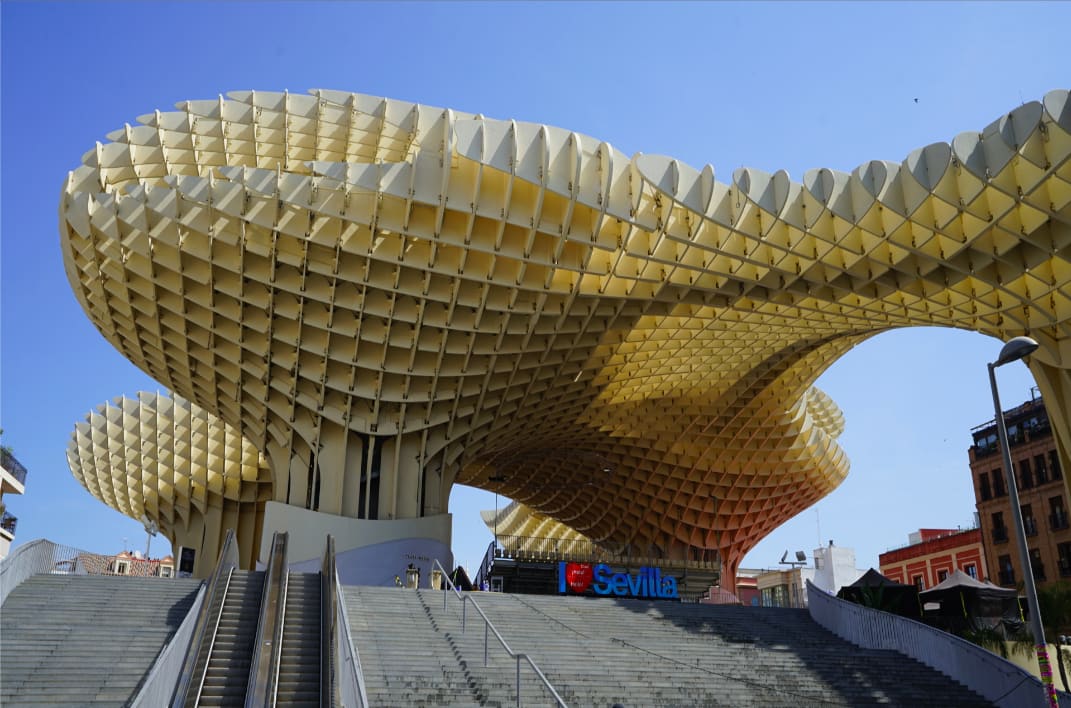 Candlelight bets on classics, pop and rock, and even soundtracks. The purpose of Candlelight is to make people vibrate with the best recitals.
Professional musicians, carefully selected repertoires, and magnificent stages decorated with hundreds of candles create an intimate and unforgettable atmosphere here.
Take advantage of this opportunity, and don't miss this incredible experience!
🎟️ Entrance Fees: From 15 € to 25 € (depending on which you choose)
---
8. Celebrate the Velá de San Miguel
📍Triana Bridge
From September 29 to October 2, Velá de San Miguel takes place in the Muelle de la Sal.
To know the origins of this festival, we have to date back to the 13th century when Alfonso X decided to celebrate two seasonal fairs in Seville: Spring and Autumn.
There will be four days with multiple programmed activities and stalls such as craft stalls, cakes, nougat, and caramelized nougat stalls or a charity raffle, among many other things.
You should not miss coming to spend some time enjoying this famous festival.
---
9. Enjoy Free Attractions: Open House Seville
The iconic architecture festival lands in Seville, a unique opportunity to sneak into more than thirty incredible buildings in the city. The International Architecture Festival Open House is in Seville in the third week of October.
It is a fun event that will allow you to enjoy historic and contemporary buildings such as; palaces, private residences, offices, luxury hotels, and other structures.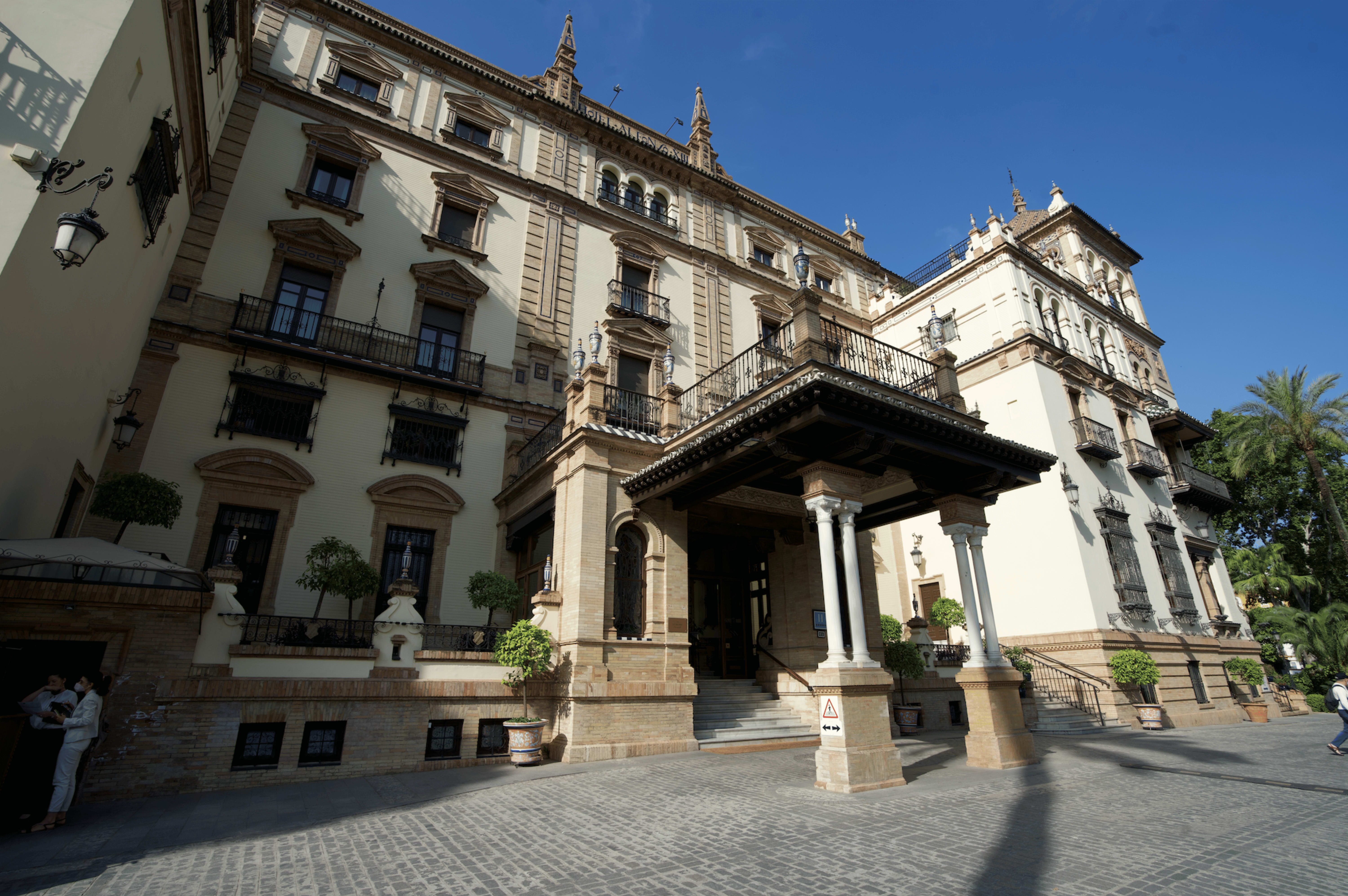 They organize this fair to promote knowledge of the city, highlight the urban space, and get to know the architecture and design of Seville.
You will have free access, guided tours, and a vast number of activities around architecture that will bring visitors from all over the country to get to know this exciting and different face of the city.
It is an experience that offers the possibility of rediscovering Seville without spending money. Isn't this great?
---
10. Explore Maria Luisa Park at its peak
Parks are a fantastic place to enjoy the fall season, so I recommend you visit Maria Luisa Park during Autumn.
Maria Luisa Park is located in the city's heart and is not just a regular park. Actually, it is the most beautiful park in Seville, and it is one of the most beautiful parks that can be found in Spain. (Without exaggerating!)
In Autumn, it is dyed with the typical reddish colors of the season and brings out even more of its beauty. The park has several floral areas, fountains, and squares worth strolling through.
If I were you, I would take a guided tour around the park because it has very curious corners that may go unnoticed if you go alone, like sculptures, viewpoints, and ponds.
Also, the famous Plaza de España of Seville is located in this park and is one of its biggest attractions. Maria Luisa Park is the city's lung, so you can't miss coming here, especially during Autumn.
---
11. Have an Autumn pleasant walk in the Triana neighborhood
Triana is one of the most famous neighborhoods in Seville, as it is incredibly picturesque. This little neighborhood gathers all the essence and magnificence of Seville, and in whose streets you can enjoy everything the city offers.
Triana has many bars and restaurants where you can taste true Sevillian gastronomy. I recommend eating at Abades Triana.
Moreover, you can explore the beautiful streets and squares full of life, along with authentic stores and businesses.
You can visit this neighborhood all year round, (of course) but it is in Autumn when it is most worthwhile. Autumn is the beginning of the cultural season. In the area of Triana, this is celebrated.
Firstly, this time Triana is a synonym of flamenco in its bars. Secondly, places like its famous corrals or the typical Sevillian courtyards open their doors in Autumn to visit them.
Triana neighborhood is a mandatory place to visit while you are in Seville, but in the Autumn months, even more. If you're interested in the best neighborhoods to go in Seville, this article is for you:
10 Best Neighborhoods in Seville: Students, Expats, Tourists
---
12. Experience the famous flamenco biennial
Seville is known for many things worldwide, but flamenco is one of the best-known reasons. It is part of the essence of Seville, and Autumn is the best time to experience it, as it is when the Biennial of Flamenco takes place.
From September to October (about a month and a half,) different flamenco shows of all kinds are held in various stages of the city, both pure flamenco and the new trends of this musical genre. And posters are formed with the best flamenco artists.
Music, singing, guitar playing, and dancing unite for several weeks in the city. The event that takes place every two years, but if you are not lucky to see it, don't worry because you can always visit the Museum of flamenco dance or attend a show. See more in the following article: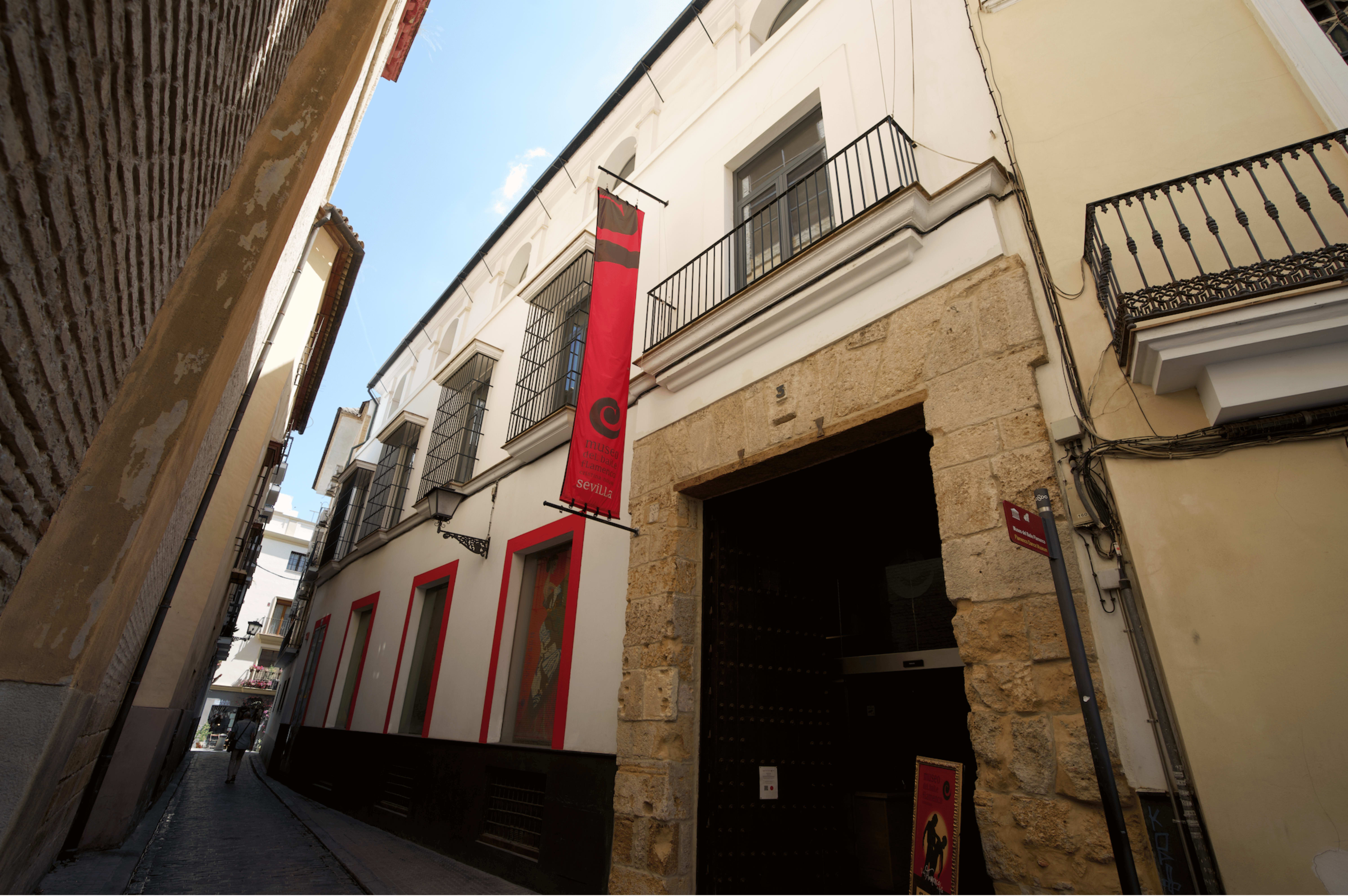 And I'm sorry, but you have no choice other than to watch a flamenco show while you're in the city. And if you coincide with the Biennial of Flamenco, much better!
---
13. Pick olives in a Sevillian olive mill
One of my favorite activities every time I visit this beautiful city is to harvest olives in an olive oil mill in Seville in Autumn. Plus, it's a great activity to enjoy with kids.
From September to December, it's the time when they harvest olives for both table and oil. And Seville is known for being an outstanding land that provides product quality in that sense.
You can go on an excursion to an olive mill where you will learn lots of unknown facts about the "liquid gold" and where, besides tasting it, you can become a picker for a day with a ladder and a basket.
More than a fun and authentic experience on your trip to Seville during Autumn.
---
I hope this list got you ready and steady to buy that tickets to visit Seville in Autumn. With all of these plans, you could never get bored. Plus, it's cheaper than Spring and Summer.
What else do you need? Come to Seville!