7 Hilarious Spanish Comedy Series That Will Crack You Up
October 17, 2022
Updated:

February 14, 2023
Published: October 17, 2022
If you want to know which are the best Spanish comedies that will crack you up, you are in the right place!
Undoubtedly, our series stand out for the laughter and black humor we see in many of them. Most of the series deal with daily life issues and how the characters manage their problems and cope with different situations.
Spanish society is characterized by laughing at itself, at things that happen often. In fact, in moments of anguish, sadness, or despair, us Spaniards always laugh at ourselves and try to get something funny out of every situation.
So press play and enjoy these 7 comedies of all times! I'm sure you'll have a great time!
Ohh!! I almost forgot! Before you keep reading, you should know I listed them according to the 2022 IMDb highest score.
---
First, you should know that most of the series you will find in this post are Restricted, so I recommend parents check them before watching any of them with young children.
If you are unfamiliar with the American film rating system, click here to better understand.
List of Spanish Comedy Series
| TV Series | Year | IMDb score | Film Rating |
| --- | --- | --- | --- |
| 1. Aquí no hay quien viva | 2003-2006 | 8,1 | R |
| 2. Los Serrano | 2003-2008 | 7,5 | R |
| 3. La que se avecina | 2007 | 7,5 | R |
| 4. 7 Vidas | 1999-2006 | 7,1 | R |
| 5. Los hombres de Paco (Paco's Men) | 2005-2010 | 7,0 | R |
| 6. Aida | 2005-2014 | 6,5 | R |
| 7. Farmacia de guardia | 1991-1996 | 6,5 | PG-13 |
---
The attached videos don't appear in English, as they are not available on YouTube, but you can always set the subtitles to the language of your choice!
Let's start!
1. "Aquí no hay quien viva"
The best moments of the series in 7 minutes!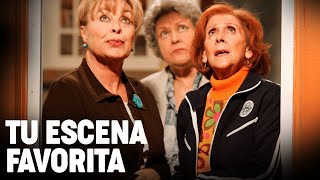 It was undoubtedly one of the most successful Spanish series in history! This Spanish TV series of the humorous genre tells the life of a particular community of neighbors living in a building located in the center of Madrid.
According to critics, besides the impressive work behind each script, one of the keys to the successful series was that all the characters have practically the same protagonism. If you are one of those who pay attention to the soundtracks of movies and series, I would love to know your opinion about the soundtrack of this series. The soundtrack of "Aquí no hay quien viva" gave the series its own style and contributed to creating its personality.
"Aquí no hay quien viva" became Spain's most watched series of the 2000s!
After 5 seasons and 91 episodes, the series aired its last episode in 2006. And then, the TV channel Telecinco decided to broadcast in 2007 "La que se avecina" which we'll discuss later in this post. It's an adaptation in which a large part of the team of actors, producers, writers, and technicians of "Aquí no hay quien viva" participated.
The awkward situations that are created in many of the episodes will remind you of many scenes from everyday life and will make you die laughing!
The series had a total of 20 awards and 23 nominations.
Currently, you can watch "Aquí no hay quien viva" on platforms such as Netflix, Amazon Prime Video, HBO Max, and Atres Player.
2. "Los Serrano"
Official trailer!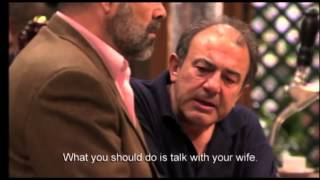 The success of "Los Serrano" wasn't only national; it even crossed borders! This may seem silly, but in 2003, when the series premiered, it wasn't as easy as it is now because there were no social networks or platforms like Netflix.
Undoubtedly "Los Serrano" marked a before and after in our country. It was one of the series that practically everyone watched and commented on. I remember everyone saying: "Did you see yesterday's episode? OMG!!" Or you would even hear people humming the famous song of the series sung by Fran Perea, "Uno más uno son siete, quién me lo iba a decir!"
The series landed in the Spaniard's homes and stayed for 8 seasons!! Its 147 episodes narrate the life of the Serrano family living in the fictitious neighborhood of "Santa Justa." The story begins when a widowed man with three children marries his first love, who is divorced and has two daughters, and they decide to start a life together. The series mixes two very different worlds that at first won't fit together but where love and friendship play a crucial role.
This series was created by Daniel Écija and Alex Pina. Pina also produced the famous Money Heist series, which has been a national and international success. In "Los Serrano," you can see how the series adapts to the moment and how the plots are adapted to the new social trends. You can see well-known characters such as the famous actor Alfredo Landa and Elsa Pataky, a Spanish actress and Chris Hemsworth's current wife. You will also see Belén Rueda, who played Lucía's role. "Lucía" was one of the characters that most marked allowing Belén Rueda to make the leap to the big screen with the famous movie "Mar Adentro."
If you want to watch a Spanish series that shows the reality of a family where unity, pain, and love play the leading roles, "Los Serrano" is your option!
The series received 4 awards and 15 nominations.
Currently, you can watch "Los Serrano" streaming on Amazon Prime Video and Mitele.
3. "La que se avecina"
The best outtakes of the series!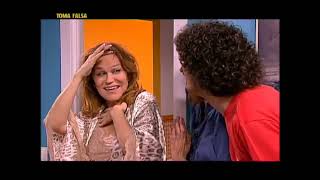 "La que se avecina" is a comedy aimed at a young and adult audience. Like much Spanish comedy series, it tells the story of a group of neighbors living in a fictitious residential area. What makes the series very funny are the often surreal situations that begin to originate with the arrival of new tenants.
You will always laugh because the series shows setbacks and discussions of these people present in our daily lives. It's a series where they discuss different social issues, and black humor plays a vital role, so you have to watch it with an open mind!
Believe me, you will have a great time watching it! It's super funny, and I'm sure you will feel identified with some of the characters!
"La que se avecina" has 12 seasons from 2007 to today, so get ready to spend afternoons and evenings on the couch watching all the episodes! If any faces are familiar, it's because there are also actors from the series "Aquí no hay quien viva."
The series received 3 awards and 9 nominations.
You can watch "La que se avecina" on Amazon Prime Video, Disney Plus and Mitele.
4. "7 vidas"
Curious facts about the series "7 vidas"!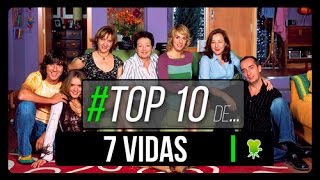 "7 vidas" marked a before and after in Spanish TV. It became one of the first sitcoms recorded with a live audience. It was in January 1999 when we began to enjoy this series with the presence of actors such as Amparo Baró known in the series as "Sole," Javier Cámara playing the role of "Paco," Toni Cantó as "David," Blanca Portillo as "Carlota" and the famous Paz Vega as "Laura." It's a series set in Madrid, which tells the daily life of a group of neighbors and the story of David, a young man who wakes up after 18 years in a coma. When he opens his eyes, he finds himself in a world that has completely turned upside down and in which he has to discover his own identity. He will have to integrate into a society he didn't know and faced a new life. This series of 15 seasons and 204 + 1 special talks about life in general, daily conflicts, and family and friendship relationships.
It's true that when the series started, it didn't have a big audience, but over time it had incredible success, and the reviews were great! The quality of the script was so good, and more and more people started to watch it. In fact, the series was on TV for 7 years! 7 vidas was the longest-running weekly TV series for a few years until "Cuéntame cómo pasó" surpassed it.
I don't know if anyone noticed, but there was a big difference in the intro from the first to the last season. Who noticed it? The first season played with the historical facts of the 80s, but the last one opted for an intro with more of a video clip aesthetic.
The series received a total of 23 awards and 28 nominations.
Currently, you can watch "7 vidas" on Amazon Prime Video.
5. "Los hombres de Paco" - Paco's Men
Official trailer!
This series is somewhat peculiar, but I wanted to include it in this list because it began as a parody of the National Police Force, and as the episodes went on, it became a kind of thriller with comic touches. It was broadcasted on the famous Spanish TV channel Antena 3. It was created by the well-known Daniel Écija and Alex Pina, the same people who made "Los Serrano." With 10 seasons and 133 episodes, you will be involved in a sitcom that combines crime and family plots using a light-hearted comedy tone and a good dose of black humor!
The series tells the story of Paco Mirando, a police chief inspector who cannot deal with complicated situations due to his good-natured character. His team is made up of his two trusted men, Mariano and Lucas. The role of Lucas is played by Hugo Silva. He became one of the most desired men among the Spanish female audience!
The funny parts of the series are the incompetence of the team they form and the situations they have to face. But then, the series goes much further with deeper touches, and in some parts of the series, the drama is very present.
I hope you enjoy it because it's actually one of my favorites!
The series had a total of 2 awards and 6 nominations.
Now you can watch "Los hombres de Paco" on Amazon Prime Video, HBO Max and Atres Player.
6. "Aida"
Moments of one of the best characters!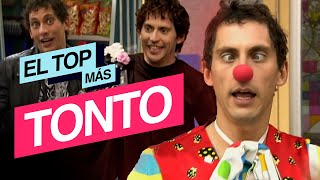 You are in front of the longest-running Spanish sitcom on Spanish television! A comedy series that emerged as a spin-off of the series "7 vidas," using the name of one of the characters for the title of this new series. Undoubtedly it broke audience records, gathering in its first episode 6,863,000 viewers! A real madness!
"Aida" tells the story of the García family, a peculiar working-class family living in a fictitious neighborhood in Madrid known as "Esperanza Sur." In its 11 seasons and 237 episodes (+8 specials), you will see traditional life situations between neighbors and friends and how they deal with their problems.
We were lucky enough to enjoy this series for nine years! And during all its seasons, it had a lot of viewers, among which I include myself! In fact, it was the audience leader in its first two seasons and was the most-watched Spanish fiction series during the 2006-2007 season. But this didn't stop here; the following season became the Spanish and foreign fiction series with the highest audience!
I encourage you to watch it because you will really have a good time laughing!
The series received 27 awards and 31 nominations.
Amazon Prime Video or MiTele are the two options currently available to access the series.
7. "Farmacia de Guardia"
The beginning of the series!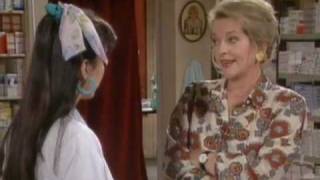 The oldest comedy series on our list! First, I advise you that the quality is not the same as the rest of the series I mentioned before, but it's worth it anyway. At least from my point of view!
Thursdays became the favorite day of many Spaniards because, after the 9pm news, we knew we had to watch "Farmacia de Guardia" with the family!
It's a series that tells the day-to-day life of a pharmacy, starring Adolfo Segura and Lourdes Cano, who were once a couple but then separated. Throughout the series, you can see that there's still tension between them. Although they appear with different partners, they begin to realize that what they really want is to return to being the family they once were.
In 1995 the last episode of "Farmacia de Guardia" was broadcasted, reaching 62.8% of screen share with an average of 11,527,000 viewers! And in 2006, a tribute was made for the 10th anniversary of the end of the series with a special episode. It broadcasted with 1,359,000 viewers and a 25.6% share!! It actually surpassed the famous series of "Los Serrano."
If you want a good time with your family, get ready for this incredible series of 5 seasons and 169 episodes!
The series received 13 awards and 12 nominations.
Sadly, "Farmacia de Guardia" is only available in Atres Player…
---
There are many more, but I think these series are the ones that have been the best in Spain, and that's why I think it's worth watching them!
Hope by watching some you understand a little more our Spanish humor!!