7 Spanish Movies That Your Kids Will Absolutely Love!
November 11, 2022
Updated:

February 14, 2023
Published: November 11, 2022
If you thought the US was the only country that could make cartoon movies that would appeal to people, you were wrong! Spain has some of the best movies for kids that I'm sure they will love!
Although you have to differentiate between Spanish and Latin American movies. Films like Coco, Encanto, or Ferdinand are great, and they are some of my favorites, but they are not Spanish. Although, as I just said, I love them and would totally recommend them! But if you are really looking for Spanish movies, you have to pay attention to this.
Spanish cartoon movies have years of history! Creative, funny, and tender films, some of them containing messages and life lessons that will surprise the whole family. Plus, it could be a fun way to learn Spanish! However, you also have the option to change the language or add subtitles.
So, what better plan for next weekend than to watch a movie together as a family? Here are seven proposals I'm sure you will enjoy and have a good time!
Here's a list of the Spanish movies your kids will absolutely love! I ordered them according to the highest score on the IMDb platform to date (2022).
Ohh! If you are unfamiliar with the American film rating system, click here to better understand.
List of Spanish Movies for Kids
| Movies | Year | IMDb score | Film Rating |
| --- | --- | --- | --- |
| Klaus | 2019 | 8,1 | PG |
| Tad, The Lost Explorer, and The Secret of King Midas | 2017 | 6,2 | PG |
| Justin and The Knights of Valour | 2013 | 6,0 | PG |
| Planet 51 | 2009 | 6,0 | PG |
| Capture the Flag | 2015 | 5,8 | PG |
| Ozzy | 2016 | 5,2 | G |
| The Missing Lynx | 2008 | 5,2 | PG |
Due to the rotation of movies in streaming services, I invite you to search for them on the different platforms available depending on your geographic location.
1. Klaus- "Klaus"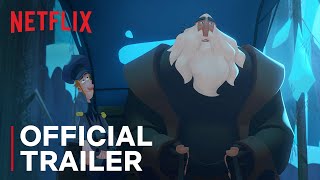 Although Klaus was nominated and failed to win the Oscar for Best Animated Feature, it managed to sweep the prestigious Annie Awards and even won a BAFTA! This Spanish animated film written and directed by Sergio Pablos has been an enormous success and won many viewers' hearts, including mine.
In the beginning, nobody bet on this movie, and even several studios didn't want to finance it because it didn't convince them and seemed risky.
But finally, Atresmedia Cine agreed to produce it, and it was in 2017 when Netflix got the rights to distribute it worldwide. Did you know that Klaus was the first Spanish animated film that Netflix produced? Even I was surprised!
The plot is based on a different take on the Santa Claus legend. The story is told through the adventures of Jesper, a letter carrier who has been sent against his will to one of the coldest places in the Arctic Circle. But when everything goes wrong, and it seems he's about to give up, he meets a mysterious carpenter, Klaus, with whom he will become close friends. I'm not telling you anything else!
Klaus has marked a before and after in the animation cinema of our country. An endearing and funny movie that will make the whole family fall in love! So if you and your kids haven't seen it yet, you know what the next film will be!
Check out this review from one of IMDb's users:
"Klaus is an amusing new twist on a very old story. It's a heart-warming tale with an uplifting message about kindness, featuring beautifully unique animation, interesting characters, and a clever plot. In the sea of generic Christmas movies that get churned out each holiday season, Klaus stands out because it tried something different and it succeeded."
Klaus received 11 awards and 26 nominations.
2. Tad, The Lost Explorer, and The Secret of King Midas - "Tadeo Jones 2: El secreto del rey Midas"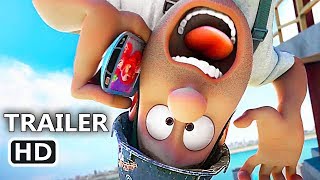 Tadeo Jones 2 is a 3D animated adventure comedy co-directed by Enrique Gato (who also directed the first Tadeo movie) and David Alonso. This fun movie was produced by Ikiru Films, El Toro Pictures, Lightbox Entertainment, Telefónica Studios, and Telecinco Cinema.
The world premiere of the film took place at the Annecy International Animated Film Festival on June 13, 2017. But it was on August 25, 2017, when Paramount Pictures released it in Spanish theaters.
Did you know that it had a worldwide gross of 35 million dollars against a budget of almost 12 million? It was undoubtedly a box-office success!
It indeed received some negative reviews, more specifically from American critics. However, the Spanish critics rated it better than the first film, and it even won the award for the best-animated movie at the 32nd Goya Awards!
Tadeo Jones is a professional bricklayer whose passion is archeology, so he travels the world searching for the most mysterious treasures. Tadeo doesn't travel alone but is accompanied by several characters, such as the famous archaeologist Sara Lavroff, his great dog Jeff and the funny parrot Belzoni.
In the movie, you will see some scenes recorded at some of the most emblematic places located in Granada.
Before you watch Tad 2, watch the first one with your kids to understand the thread of the story. I'm pretty sure everyone in the family is gonna love it!
One of the IMDb users leaves the following review about the movie:
"Reading the reviews in this in national newspapers, you'd think it was one of the worst films you could possibly see, but I saw it with my 6 year old today and all I can say is those reviews have either not actually watched the film or are biased against European cartoons for some reason. We liked enough to look up the other "Tad The Lost Explorer" on our streaming service when we got back from the cinema."
The movie received 4 awards and 1 nominations.
3. Justin and The Knights of Valour - "Justin y la espada del valor"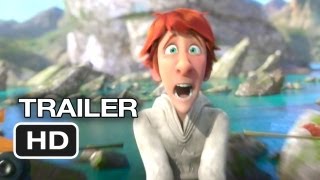 It's a 3D animated fantasy film directed by Manuel Sicilia and written by him and Matthew Jacobs. 
Kandor Graphics was responsible for the production, development, and animated creation. It was his second animated film after The Missing Lynx (2008), which we will discuss later. 
In addition, the movie counted with the participation of incredible figures such as Antonio Banderas, Kerry Fulton, Marcelino Almansa, and Ralph Kamp. 
Sony Pictures Entertainment was in charge of distributing the film in Spain. 
This medieval comedy set in a magical world tells the story of a boy, Justin, who dreams of becoming a knight, following the example of his grandfather. However, his father disagrees with this idea and wants his son to have a different future. But Justin will not follow his father's orders and decides to run away in search of his dream! Are you ready to find out what will happen?
Kids will love this movie!
Take a look at this review from one of IMDb's users:
"Justin and the Knights of Valour is very well executed and exciting adventure film. In costume and characterisation it has many similarities with Tangled, How to Train Your Dragon, and Brave. The artwork is very beautiful and imaginative, the script is intricate (for a children's film) and all the main characters are amusing and likable."
The movie received 3 awards and 6 nominations.
4. Planet 51 - "Planeta 51"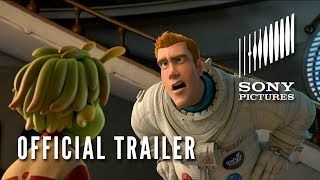 This animated science fiction film was directed by Jorge Blanco, written by Joe Stillman, the screenwriter of the famous movie Shrek, and produced by Ilion Animation Studios.
But it was Sony Pictures who was in charge of the US distribution. Planet 51 was the highest-grossing film worldwide in 2009! Can you believe it?
The film was shot with a budget of 70 million dollars, which made it the most expensive film produced in Spain in 2010.
Planet 51 received some negative reviews but did not stop it from winning the Goya Award for best-animated film in Spain.
In this movie, it won't be the aliens who will invade the Earth as it usually happens in most movies, but it will be the other way around. The human being will be the one who will break into the daily life of an alien family. The American astronaut, Captain Chuck, lands on Planet 51, thinking he has been the first to arrive. However, he gets a slap in the face when he finds out that green creatures inhabit the planet. What happens next? You will have to find out for yourself!
100% recommended and with which you will have a very entertaining time!
Check out this review from an IMDb user:
"Having seen almost every kid's animated movie out there, I found this movie to be very enjoyable and I loved seeing it. More importantly (at least if you're a parent) my kids loved this movie, and they don't like every kid's movie. It may not be the greatest movie of all time, but I would definitely recommend it and a great watch."
Planet 51 received 3 awards and 3 nominations.
5. Capture the Flag - "Atrapa la bandera"
I have the pleasure of introducing you for the second time to Enrique Dato, the well-known director of this animated film and also the director of the blockbuster movie Tadeo Jones.
When Capture The Flag was released in 2015, it exceeded one million viewers!! A real madness!
It has a soundtrack that catches the attention thanks to the great artist Diego Navarro. So here I leave you the name of one of my favorite songs from the movie "Only Love Is Revolutionary" (composed by The Rebels).
The film tells the story of a group of children who embark on a journey into space to the Moon with a goal. The goal consists of recovering the American flag before their enemy, who wants to take over the Earth satellite. Will they succeed?
I found it very interesting that the film's origin is part of the dream of one of its producers and screenwriters, Jordi Gasull. He's a great fan of the space world who, as a child, dreamed of adding Neil Armstrong's flag to his collection. Thanks to his contacts in NASA, some astronauts collaborated in the movie.
Let's take a look at these two user reviews from the IMDb platform:
"This animation is so unfairly underrated. This movie is for kids, but I enjoyed it very much because it brought me back to my childhood! There's no reason to compare this with masterpieces like Toy Story."

"Capture the flag is one of the most surprising animated films ever made, with an engaging and heartwarming story, positive and epic representation, well-crafted animation, and engaging characters."
Capture the Flag received 4 awards and 2 nominations.
6. Ozzy - "Ozzy"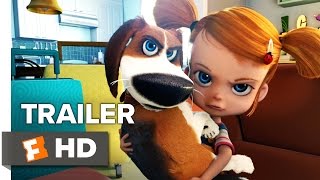 This 3D animated movie was directed by Alberto Rodriguez and Nacho La Casa and featured incredible dubbing characters. Among them, we can find the famous Dani Rovira, José Mota, Michelle Jenner, and Elsa Pataky.
Produced by Atresmedia Cine and distributed by Buena Vista International, the film had a total budget of 10 million dollars!!
The plot is about a very cheerful and friendly dog named Ozzy, whose owners have decided to leave in an "idyllic" canine spa while they go away on a trip. But once he is taken to the spa, he realizes it wasn't what he thought it would be; it was more like a dog prison! Will he return home safe and sound?
This adventure comedy will help your children learn more about the power of friendship to help them grow and overcome fears.
Although it is rated for all audiences, there may be some messages in the movie that young children may not understand.
This is what one of the IMDb users says:
"I was expecting this to be a family-oriented and suitable animated movie, however it turned out that it had some fairly more mature storyline to it, because it dealt with some topics that seemed a bit too heavy and appalling for a young audience whom might not fully understand the concept of it."
Ozzy received 3 awards and 3 nominations.
7. The Missing Lynx - "El lince perdido"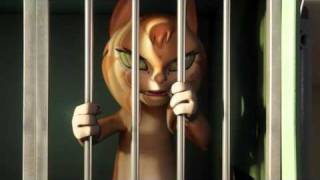 The Missing Lynx is an animation film directed by Raúl García Sanz and Manuel Sicilia Morales and produced by the company Kandor Graphics. It also had the pleasure of collaborating with the production company of Antonio Banderas (Green Moon). 
The media and the public received this film very positively, and it was considered the best Spanish animated film made until 2008. It even won the Goya Award for Best Animated Film in the 2008 edition!!
This cute animated film tells the adventures of a clumsy Spanish lynx named Felix and his gang of friends. Together they will go through various difficulties and try to escape from a poacher. Will Felix and his friends manage to get rid of this dangerous hunter and survive?
Your children will be delighted to watch this movie!
Something I think is important to highlight is that the film touches on the issue of animals that are in danger of extinction (such as our beloved and emblematic Iberian lynx), which is a nice message for all of us to be more aware of what is really happening.
If you want to know more about it and the animals that are part of the Spanish fauna, I recommend you check out the following article:
Exploring the Spanish Wildlife and Its 11 Emblematic Animals
This is the review made by one of the IMDb users:
"While the plot itself isn't innovative, the movie is refreshing, witty, and hilarious. There wasn't a boring moment in it. The characters and their interactions are well written and very entertaining. The animation is also great. And of course there's the underlying message about endangered animals, which is important."
The Missing Lynx received 3 awards and 1 nominations.
Have you already decided which movie you will watch with your kids next?
Even though the US is still ahead, you can learn a lot from Spanish cinema. So I recommend you give these movies a chance because they are worth it, and your kids will have a great time!
If you have any other movie in mind that is not on the list, share it with us in the comments!