How to Survive Barcelona on a Budget? My 7 BEST Tips
March 6, 2023
Updated:

March 23, 2023
Published: March 6, 2023
Looking for the best way to get the most out of your trip on a limited budget?
Traveling to Barcelona, one of the most tourist cities in the world, can be something other than an unrealistic dream. I'm here to show you the best ways to enjoy the amazing city on a Budget. If you save these tips and put them into practice when planning your trip, you will realize that you can explore and discover the city without overspending.
In this article, I will tell you all the secrets to finding the best dates for your trip, the best transportation tips, and cheap but good local food. I will tell you a lot of plans and activities for all types of the public that are affordable.
So, listen because I will teach you how to survive in Barcelona on a budget without breaking the bank.
---
1. Get a Hola Barcelona Travel Card to move around
The Hola Barcelona Travel Card is the best way to save money on transportation. 
It costs between 16 and 38 euros depending on the duration you select. It allows unlimited travel on all metro, TMB buses, and trams. 
This card includes the TMB buses from Barcelona Airport to the city center, the Airport metro from Terminals 1 and 2, and the Airport train.
You can purchase it online or at any of the vending machines at Barcelona's metro and train stations. It begins to be valid once you use the card for the first time.
The available options are:
48 H Travel Card
72 H Travel Card
96 H Travel Card
120 H Travel Card
Also, children until 3 years can travel for free through public transport. Still, from the age of 4, children pay the same rates as adults. So, if you are traveling with kids aged 4 and want to purchase a Hola Barcelona Travel Pass, select the adult rate. 
And sorry to break it to you, but if you find a free T-16 card for children from 4 to 16, it is only available for residents.
Other option for getting from the airport to the city:
Another option to go From EL Prat to the airport in the city center is to take the Aerobus (metro, bus, and taxi options too) for 5.90 euros.
On another note, to know how to move around Barcelona and the best way to get places, you should definitely download the TMP app from the Metropolitan Transports of Barcelona, and also Google Maps works well!
Please don't confuse it with the Barcelona Card Express, or the Barcelona Card. While the Hola Barcelona Travel Card only includes unlimited use of the Barcelona public transport, the Barcelona Card Express and the Barcelona Card include unlimited public transport, plus free and discount entries to main attractions and so on. It is convenient but more pricey. It depends on what you're looking for.
---
2. Book flights for shoulder or off-season: May/June, September/October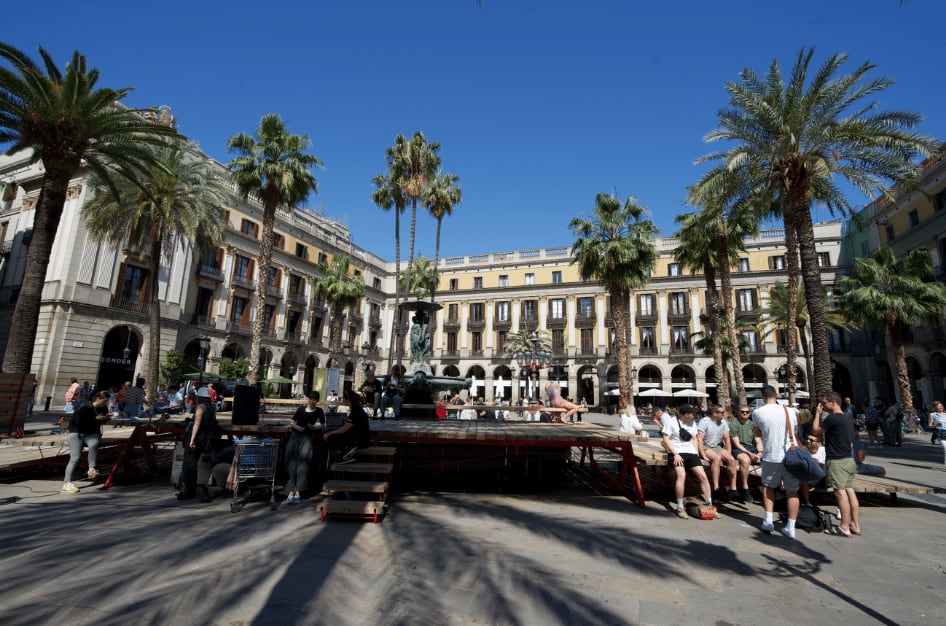 We all know that plane tickets can be the biggest reason for your bankruptcy or the reason you are traveling if you find a bargain.
Saving money on flight tickets is a classic to save as much as possible. Therefore, avoid visiting Barcelona in the high season. Which is From July-August-September, during summer. Although they began to get expensive in June.
As for the shoulder season, it's the period between the high (most popular) season and the low (least popular) season. Every part of the world has shoulder seasons, generally based on weather. (read more) In Barcelona, it is from March to May, September, and October. 
But, October-November and February-April is the cheapest time to visit Barcelona. See the best activities you can't miss while visiting the city during these seasons!
Barcelona in Spring: 9 Reasons Why It is My Favorite Season
However, considering the best weather months, I suggest something more in-between, such as May/June or September/October. You can find great deals if you book in advance. 
---
3. Stay in Eixample or Poblenou
Although where to stay cheap in Barcelona will always depend on the reason for the trip, your interests, and the specific budget, some places are known to save us a couple of euros in accommodation, so we can enjoy that in food or experiences instead.
Eixample and Poblenou are perfect places for a visit to Barcelona. They are close to the city center but in calmer areas.
Poblenou is a neighborhood by the sea that offers sun, sand, industrial architecture, and business centers integrated into typical neighborhood life.
It is a district with an intense cultural, social, and leisure life, with many places to visit. But ironically, it is more low-key, calm, and familiar, even though it is dynamic and has a lot of life on the street.
You can walk along the Rambla del Poblenou until you reach the sea. Throughout, you will see a lot of bars, restaurants, shops, and much more!
This neighborhood was, more than anything, an industrial area. These old factories have now been converted into lofts and galleries where artists and designers live and work, giving creativity to the site.
On the other hand, in l'Eixample, you can find cheap accommodation in one of the city's best and most central areas. Super well connected that will take you to the main attractions quickly and safely.
I highly recommend this neighborhood because it has the best of both worlds, promising opportunities, and is home to many of the most emblematic entertainment venues in the Catalan capital.
Such as the famous Passeig de Gràci, an avenue full of shops. In addition to restaurants and wonders of Gaudí, such as Casa Batlló.
If you want other recommendations, visit this articles👇🏻
13 Best Shopping Places in Barcelona: Streets, Outlets and More
✏️ Another general rule for accommodation is if you are looking for hotels, try to make it for 50 euros or less per night. It's probably a hostel, though. On the other hand, if you search well and look in advance, you can find budget hotels between 80 - 120 at night.
Check out our top picks in this article:
Also, if you need more help to know where to stay in Barcelona according to your tastes, area, location, and preferences visit this post. Here you have everything:
9 Best Neighborhoods in Barcelona: Students, Expats, and Tourists
---
4. Stay away from tourist spots to eat
Please, as much as you'd like to, I recommend avoiding Las Ramblas when it comes to eating and drinking. What you will find here are expensive, low-quality restaurants full of tourists. Locals (and travelers who already know about it) avoid this "tourist trap."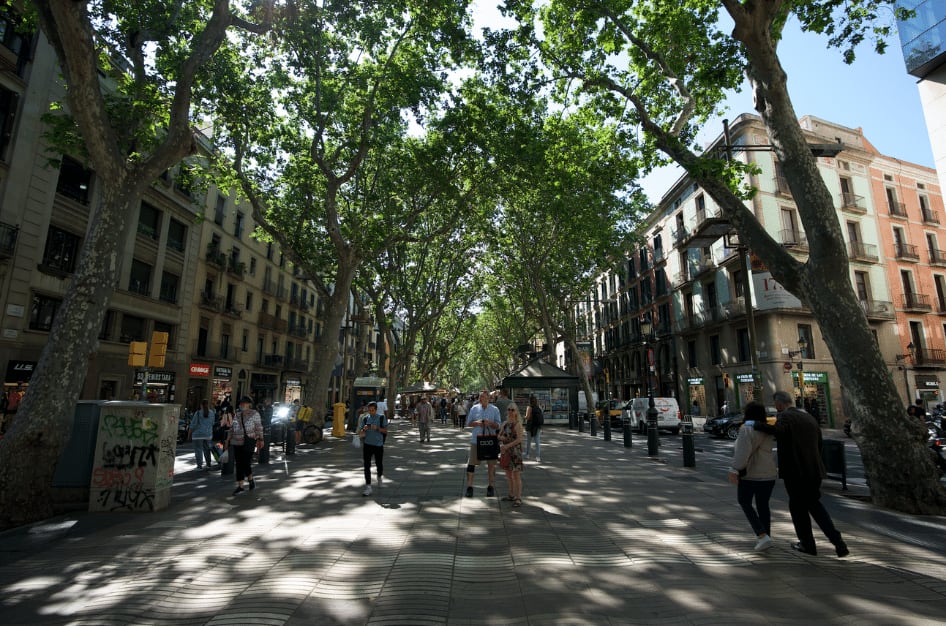 Also, avoiding beach bars and clubs such as Pacha and Shoko would be best. Although they are very cool, they will leave you broke in a second.
This doesn't mean you shouldn't go at all. But I suggest you save up until the last night, and if you still have the budget, then enjoy it in one of the best bars and clubs in Barcelona. Here you can see what they are:
Before going into detail, here are some general rules:
Ask for a caña: Avoid prepared drinks and branded beers when you go to a bar. Better ask for "a caña," which refers to beer from the barrel to the tap. It is just as good, and the most common thing is that they serve you 20 cl of beer. Perfect to extend a pleasant time in good company in a bar, and it can cost you 2 euros while a brand beer or something more elaborate a little more.
House wine: There are excellent wines for 2 or 3 euros in the bars of Barcelona. Just ask for a standard glass of wine, and they will ask if you want it white or red. They are usually delicious.
Agua de Grifo: Instead of an overpriced water bottle in a touristy place that can cost you around 2.5 euros, ask for free "Agua de Grifo" when you stop in a place. By law, everyone is allowed to ask for a glass of water, and they'll have to give it to you.
Order tapas instead of full meals: this one is a MUST!! If you come to Spain, you must fill yourself with tapas. This way, you ensure you try a bit of everything at a lower price. Among the best tapas in Barcelona are:
- Pa Amb Tomàquet
- Bombas de la Barceloneta
- Patatas bravas
- Jamón ibérico de bellota
- Buñuelos de bacalao (Cod fritters)
Now that you know this. Let's get into details:
El Born is one of Barcelona's fashionable neighborhoods, full of tapas bars and dedicated to Catalan gastronomy, perfect for your budget.
This area is known for having a lot of small tapas bars that keep the typical style of years ago. This concept of "bars of a lifetime" are places that are very loved by the neighbors and fill up with people every night, so arrive early to ensure your spot.
Another tip is to go to Poble Sec for lunch to get tapas. You can buy food for 1-2 euros and try a bit of everything.
Also, Gonzalez & Co has burritos at 5 euros every Tuesday & Wednesday from 7:00 p.m. After a full day of eating local food and tapas, you can enjoy huge portions of international food that will satiate your belly.
---
5. For a romantic date, rent a boat in the Parc de la Ciutadella.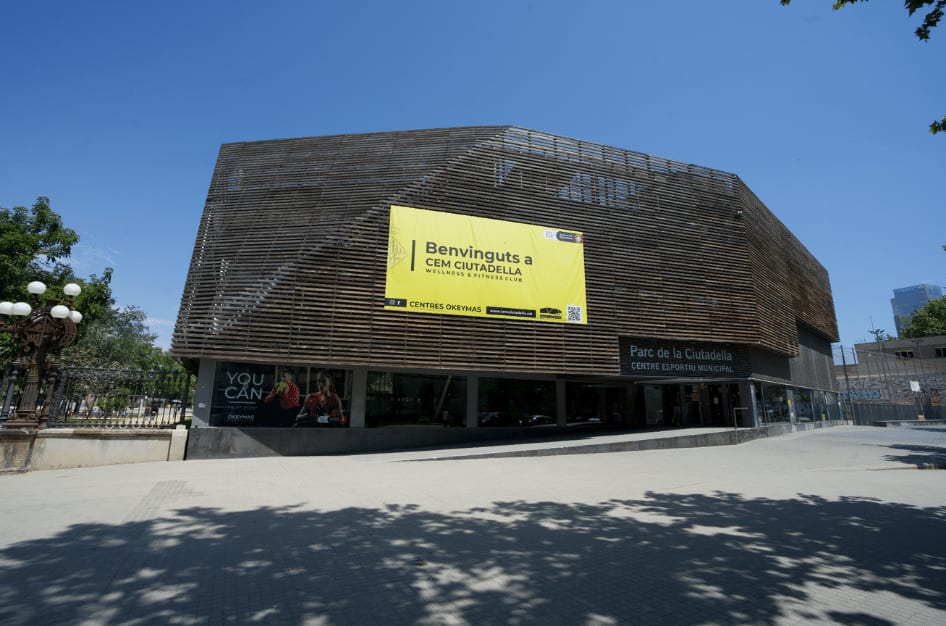 Renting a boat in Parc de la Ciutadella is one of the most lovely dates you can have with your partner. It is also perfect for going with children, who will also enjoy it to the fullest.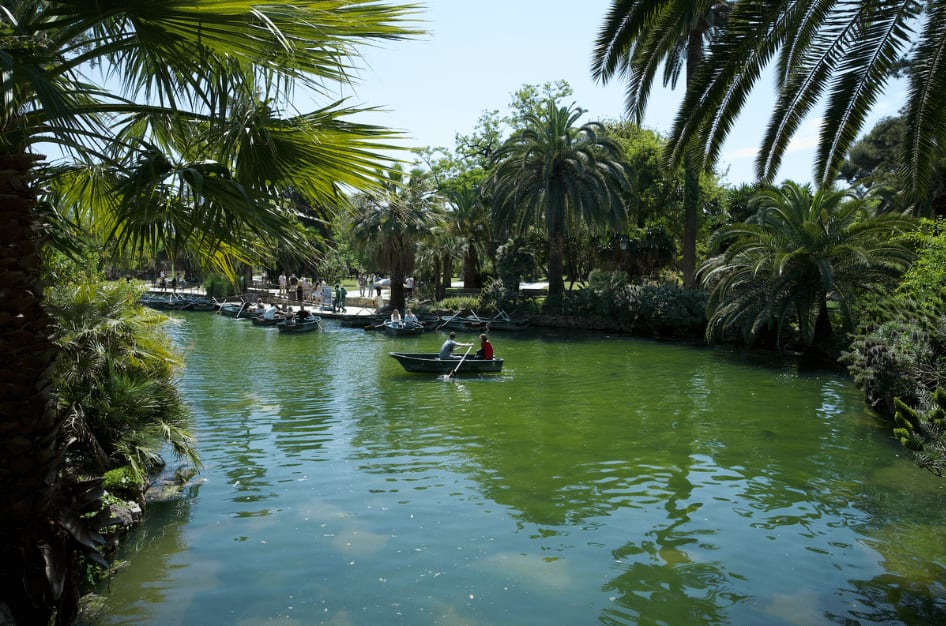 It costs €3 for 30 minutes per person, which is quite an absolute bargain. Indeed, the pond is not huge, but an excellent way to end the afternoon, especially at sunset, when you can enjoy stunning views surrounded by nature.
I'm sure you'll have a lovely half an hour pootling around it :)
But you might need more than this activity, so head on a nice hike to Tibidabo. It is a 3.8-mile loop trail in Barcelona, considered a moderately challenging route, as it takes an average of 2 h 8 min to complete. 
Also, it is a popular area for running, so you'll likely see many other people exploring it. 
And, if hiking is also not your cup of tea, here's another plan. I'm sure this one won't fail: Palo Market Fest.
This is a fun hipster market with many food stalls, live music, bars, and places to shop craft and clothing stalls. Perfect if you're on a budget and are looking for a different activity to enjoy on a date. 
It has a beautiful garden surrounded by many people. But it is so worth it. Such an entertaining plan, even with baby kids, since infants will not have much to do here.  
The food is also very cheap, and the entrance only costs 5 euros, and it opens on Saturday and Sunday from 12:00 p.m. to 10:00 p.m.
---
6. Buy tickets in advance
Buy tickets in advance. Online tickets often come with a discount. Also, if you do your research, some attractions are free on the first Sunday of every month or specific days. 
For example, you can also get the Barcelona City Pass, which includes access to top attractions like the Sagrada Familia, and offers up to 20% savings compared to buying them at the place. Sagrada familia can cost you 26 €, park guell 10 €, casa vicens 21 €, and so on.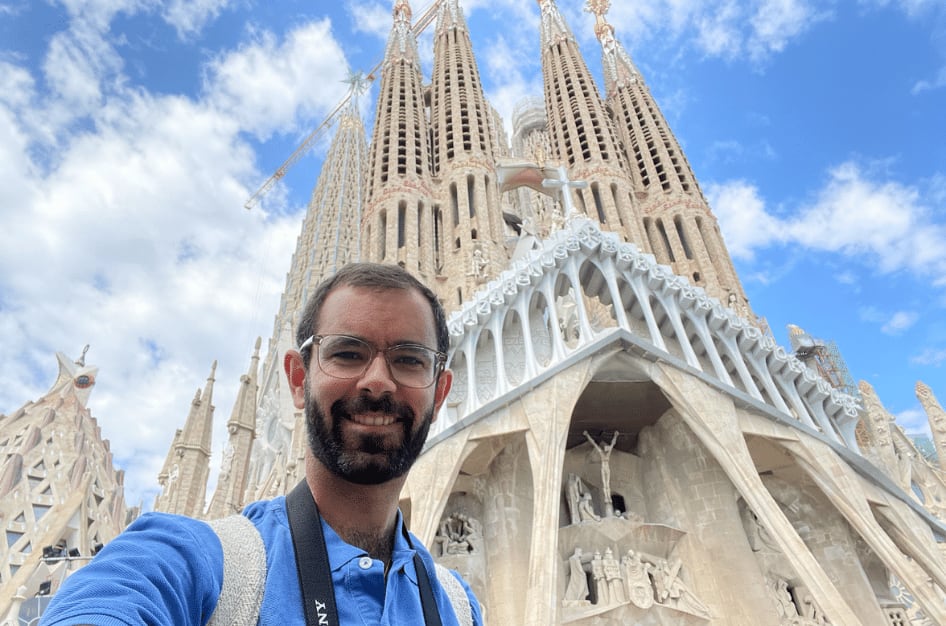 Besides saving money, this guarantees your entry since some attractions, such as the Park Guell, have a limited number of visitors allowed daily. But if you purchase the tickets in advance, you ensure you can visit them on your desired date and time. 
Another plus has to do with events, such as concerts, theater shows, and sports games. If you buy those in advance, you can get great seats and prices. For instance, if you purchase beforehand the Palau de la Musica Catalana tickets online, you can get the best seats. Just saying!! 
To sum up, buying tickets in advance is another way to experience the best of Barcelona on a budget. Get your early bird discounts, avoid last-minute markups, and take advantage of special transportation deals that combine admission to the attraction with reduced transportation costs. And enjoy special promotions and combination deals, such as free guided tours, discounts at gift shops, or complimentary drinks or snacks.
---
7. Make Budget-Friendly Day Trips from Barcelona
I strongly recommend you plan a day trip to other places in Barcelona, such as Tossa de Mar, Cadaqués, and Sitges. Please, visit the Costa Brava! They are usually very cheap, and it only takes you to grab a ticket from the bus or train station. In less than an hour, you're in a beautiful town discovering another Catalonia location.
For example, you should visit Tossa de Mar. This town is one of the best places to enjoy great beaches, stunning landscapes, and hidden paradisiac spots. The price of a one-way ticket is usually between 8 and 12 euros, depending on the company and the time of Day.
This place also has free attractions, including its beautiful beaches, the historic old town, and the Castle of Tossa de Mar. 🏰
Moreover, this destination has many affordable restaurants and bars to enjoy local and traditional tapas, beer, and wine at low prices.
You can even grab souvenirs, crafts, and jewelry without breaking the bank in their lovely local small shops and markets.
There are many other locations near Barcelona worth visiting. In this article I talk about my favorite ones depending on the type of activity you're looking for.
I always say this. Barcelona is a beautiful city in a priviledge region full of nature, art, history and hidden wonders. It would be amazing if you could discover as much as possible during your trip. Please, whatever you do with your budget, include a day trip, you won't regret it!
---
I hope this article was helpful, now that you know the best ways to save some extra cash during your stay in barcelona, the only thing left is booking the tickets and enjoy this incredible experience!
Any question that you might have, we would be very happy to read you in the comment section! :)
And, if you have other tips to save a little, leave it down there. :)