10 Best Shopping Places in Barcelona: Streets, Outlets & More
March 29, 2023
Updated:

March 31, 2023
Published: March 29, 2023
Many people who come to Barcelona are surprised and delighted at the variety and quantity of stores in this beautiful city.
It offers multiple stores and shopping areas to satisfy all tastes, from markets, luxury boutiques, shopping malls, thrift stores, handicraft stores, and even outlets!
In this article, I'll give you the best places to go shopping in Barcelona, so you can get into the right places and always find exactly what you are looking for.
Pay attention because I'll uncover the best places with nearby spots to eat, drink, and make a pit stop for a sweet treat.
And to the detriment of your bank balance, I suggest you visit this article to learn the best tips on saving some money while visiting Barcelona, so you have enough to spend on shopping!
---
1. Paseo de Gràcia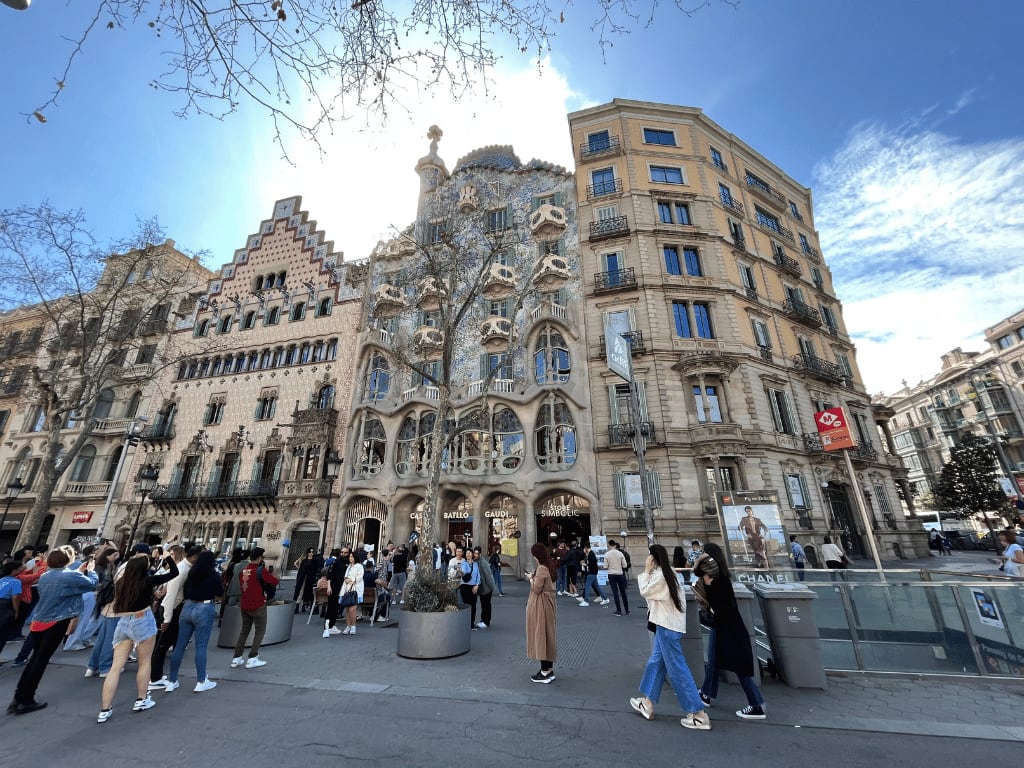 Paseo de Gràcia is one of the most emblematic boulevards of Barcelona and runs between Plaça de Catalunya and Carrer Mayor de Gràcia, along Barcelona's Eixample.
In this bustling street, there are concentrated the world's most famous high-end brands of fashion and accessories stores, making it the favorite road among luxury shoppers. 
Here you will find popular shops such as Gucci, Prada, and Louis Vuitton and renowned Spanish brands like Zara, Mango, and Desigual. 
But there are other things you will find; this boulevard is also famous for its cafes. Is there a better plan after a long shopping day than having a coffee? I don't think there is.
In Paseo de Gràcia, you can take a break in one of the many trendy cafes. Here you can see our top picks:
In addition, the street is also known for its spectacular architecture. The best examples of the city's modernist architecture are here, with building from Gaudi located nearby, such as Casa Batlló or La Pedrera.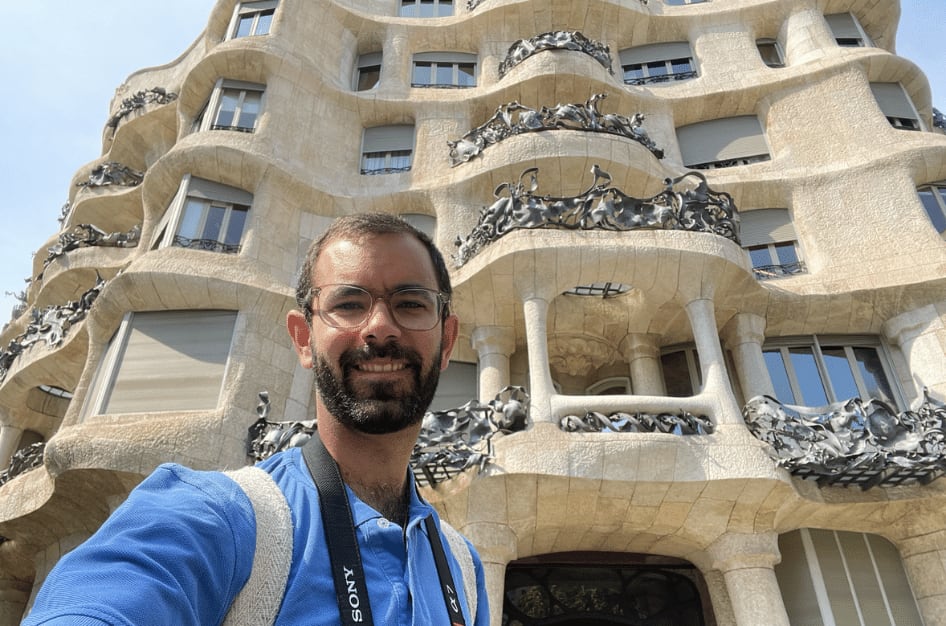 As you can see, Paseo de Gracia is a must-see boulevard where you can treat yourself to something special and enjoy a perfect evening. Come and discover everything this iconic street has to offer you!
---
2. Diagonal Avenue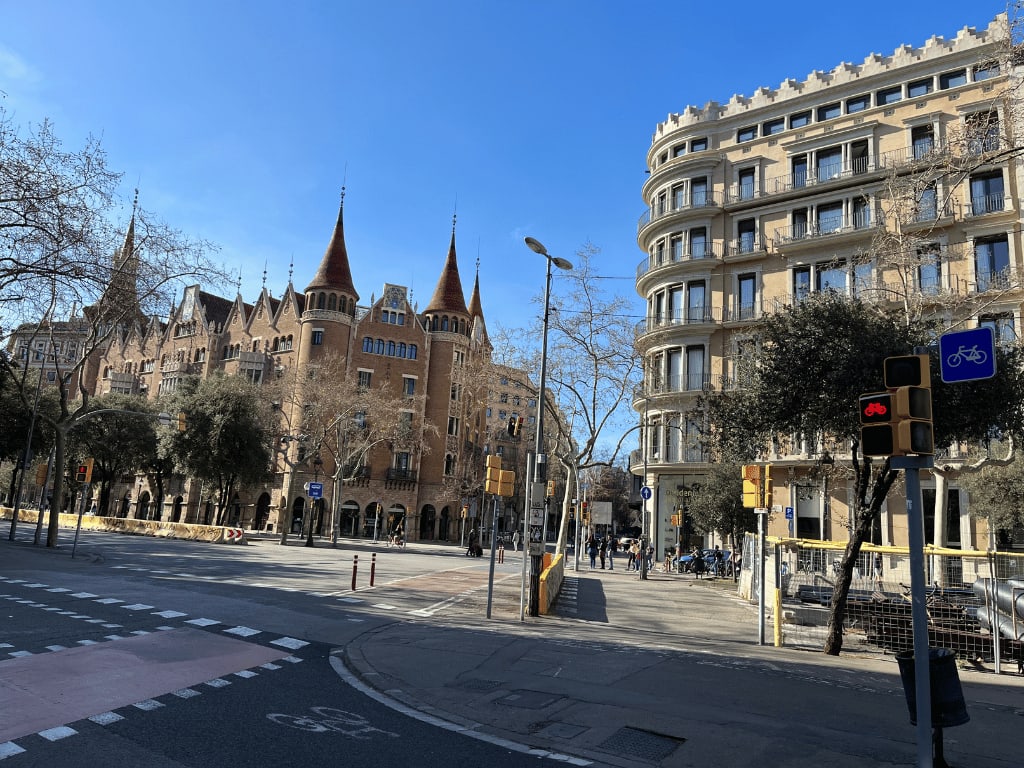 One of Barcelona's widest and longest avenues is Diagonal, 11 kilometers long and 50 meters wide. This street is a popular shopping destination for tourists and locals. 
As it is so big, you can rent some bikes and cycle along it, or several bus lines run along the avenue. It concentrates on many stores, shopping centers, office towers, and hotels.
If you are one of those people who love fashion. This is your avenue; you will find everything you need, from high-end designer stores to popular fast-fashion chains like H&M and Zara.
But that's not all; it also has one of Spain's most important department stores, El Corte Inglés, which we will discuss later. 
It is located in a privileged place close to the Sagrada Familia or the Gothic.
On this street, you will also find several museums, art galleries, and theaters, making it an excellent destination for people who like fashion and art lovers and are culture enthusiasts.
---
3. Plaça de Catalunya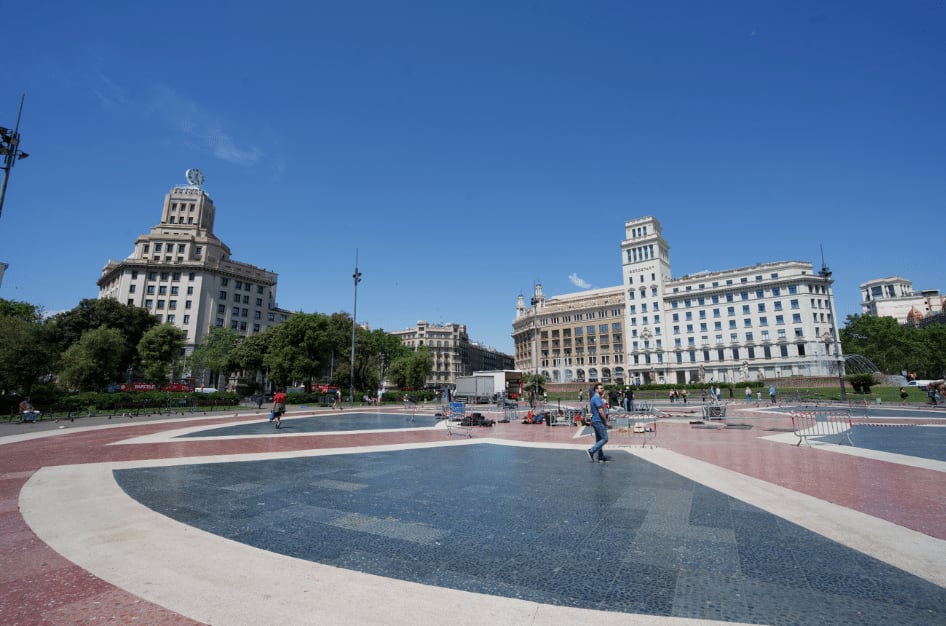 If I were you on your visit to Barcelona, I wouldn't miss going to Plaza Catalunya as it is one of Barcelona's most popular shopping destinations.
It is located in the heart of Barcelona, next to Portal de l'Àngel and Pelai street, which also stand out for their shopping options.
Brands lining this kilometer-long boulevard include names such as Misako, Mango, Zara, Sephora, Intimissimi, and Massimo Dutti, among many others, including the famous electronic shop FNAC.
There are as well traditional shops where you can buy souvenirs. 
I love this street because it is a great place to shop for luxury items or find unique gifts to take home.
Another factor that makes this one of my favorite city streets is that you will always see street performers, musicians, and other live performances throughout the day. 
In fact, you can't miss Portal de l'Àngel. This avenue connects Plaça de Catalunya with the old part of Barcelona. In Portal de l'Àngel, you will find some of Spain's most popular stores.  
Also, on this street stand the famous giant Cottet thermometer and the oldest fountain in Barcelona.
Due to its excellent location, you will have easy access to public transportation to explore other parts of the city!
---
4. Corte Inglés - Plaça de Catalunya 
Currently, there are eight Corte Inglés stores in Barcelona. These stores are located in different parts of the city, including the city center, the Diagonal Mar area, and other strategic locations.
You might be wondering what El Corte Inglés is? It is one of Spain's most extensive and well-known chain stores, and its presence in Barcelona is notable and famous. 
Today we will talk about El Corte Inglés in Plaça de Catalunya as it is located in a privileged place.
Everything you are looking for is here; they have makeup, accessories, clothing, pool and beach gear, kitchenware, furniture, appliances and electronics, everything you can imagine.
El Corte Inglés sells more than 700 national and international brands.
If you want to take home typical Spanish food, I recommend buying it at El Corte Inglés Gourmet Club. It is an area full of super-exclusive wines and spirits, artisanal olive oil, and irresistible, artfully decorated cookies.
---
5. La Rambla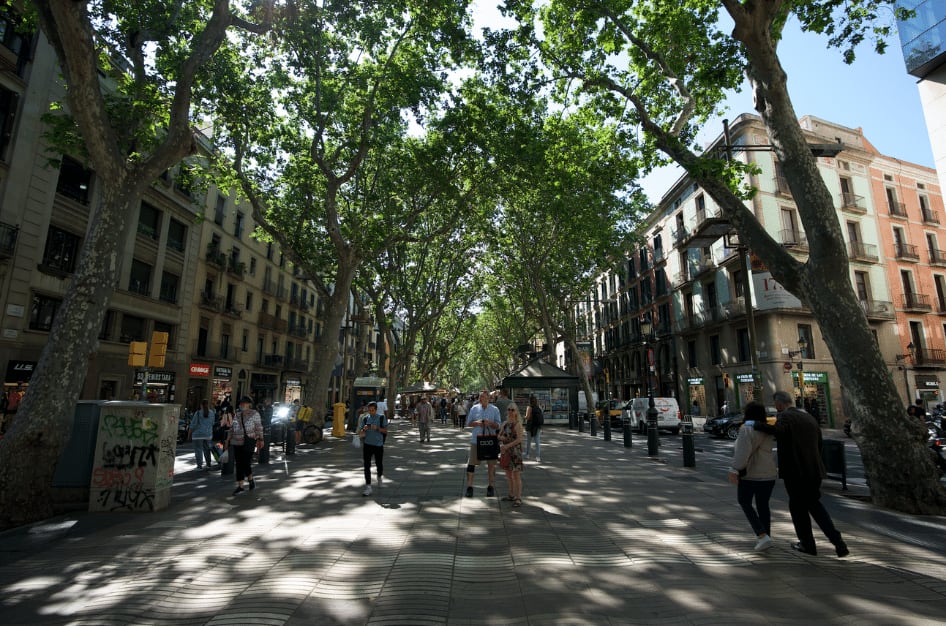 La Rambla is one of the most famous streets in Barcelona and connects Plaça de Catalunya with the old port.
It is also one of the most tourist places in the city, so it is fantastic if you are looking to buy some souvenirs. 
You will find designer stores, art galleries, exclusive hotels, and haute cuisine restaurants along the way. There are also stores of international brands as well as national brands. 
La Rambla is, in a way, the sister of Passeig de Gràcia. There are many fashion, accessories, lingerie, perfumery, footwear, decoration, toys, cosmetics books… 
It is a nice street to shop and stop for a drink in one of its countless terraces.
In addition, this street Is known not only for its numerous shops but also for its market. At number 91 of this street is the iconic La Boqueria market. Due to its modernist architecture and the typical products they sell, it is a must-see. 
Read everything about Markets in Barcelona here:
You can also find flower stalls along the Rambla, and newspaper and magazine kiosks are here, making it lively and busy.
Although La Rambla is a popular place for shopping, you have to know that it is also a busy tourist spot. Consequently, prices arise if we compare it to other city areas.
I recommend you go to La Manuel Alpargata, an authentic store in this area that sells the best espadrille.
---
6. Sant Antoni
Sant Antoni is a less touristic area. It is a vibrant, diverse, and authentic neighborhood known for its covered market and bohemian and artistic atmosphere.
It is a more local trade, but you can find designer stores, well-known brands, and traditional businesses with handmade products. 
If you're interested in the different neighborhoods around Barcelona, this article might be helpful!
9 Best Neighborhoods in Barcelona: Students, Expats and Tourists
If you are one of those persons who love reading, this is your street as you will find some of the oldest and most unique bookstores in Barcelona, which still operate in this neighborhood, and the famous Mercat de Sant Antoni. 
The Mercat de Sant Antoni also offers fresh products and is filled every Sunday with second-hand books and stamp stalls, and it is one of the largest markets in the city.
---
7. Rocca Village
Just 30 minutes drive from Barcelona, there is an open-air shopping mall with over 100 luxury stores. You can get there either by car, bus or taxi. 
What is unique about this shopping mall is that it is an outlet where you will find brands such as Gucci, Prada, Versace, Burberry, and many more, with discounts of up to 70%. 
In addition to fashion stores, La Roca Village also features homeware, sporting goods, beauty stores, and various restaurants and cafes to enjoy a break between shopping.
Its Mediterranean architectural style reminds me of a small Spanish village with cobblestone streets and stone buildings. 
In addition, this mall allows you to relax and have a great shopping experience away from the hustle and bustle of the city.
---
8. La Maquinista
The largest shopping center is La Maquinista Center in Barcelona and Catalonia. It has more than 230 shops. The most famous brands include Apple, Adidas, Foot Locker, Intersport, and Swarovski. 
Moreover, thanks to its many outdoor spaces, such as squares and avenues, it is easy to feel like you are in a small village. 
In fact, a stroll through La Maquinista is a perfect way to go shopping on a sunny day, as you'll be spending most of your time outside.
If it is one of those days that you want to avoid going shopping but you want to go to the cinema La Maquina also offers a multiplex cinema and a food court with good bars and eateries. 
Although it is located on the outskirts of Barcelona, La Maquinista is relatively easy to reach: you can get there by taxi, bus, or the red metro line, L1. 
---
9. El Born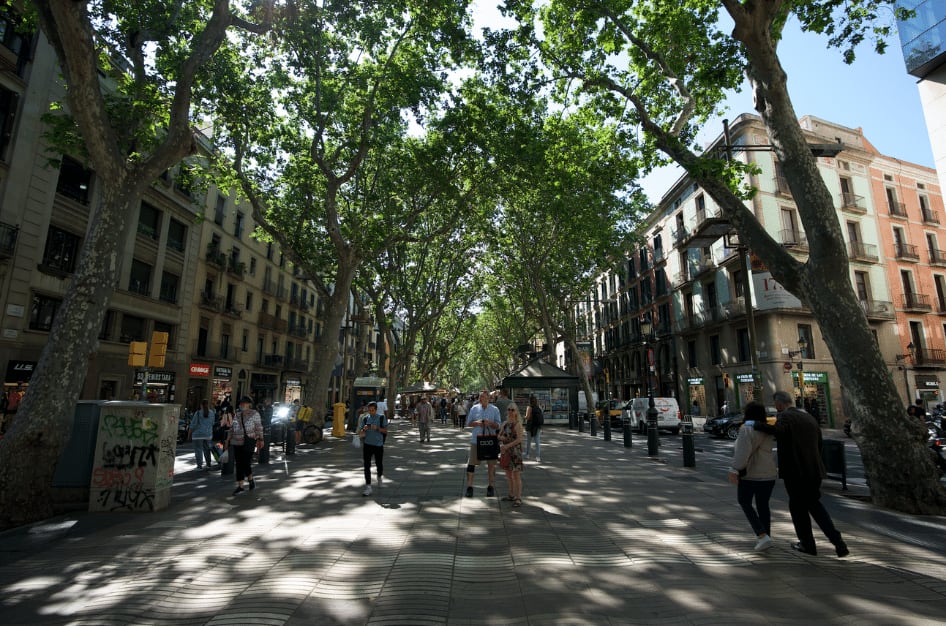 Between the Gothic Quarter and the Ciudadela Park extends the Born area, another of the oldest streets in Barcelona.
Despite being built in the old Barcelona, the traditional commerce of the Born has given fashion, accessories, and gifts stores nowadays with more avant-garde and exclusive lines, although with a bohemian and vintage air. 
This authentic neighborhood is full of quality stores with unique items and the spectacular creations of local designers shaping the city's fashion. 
The main shopping streets are Carrer del Rec, Carrer de la Princesa, Carrer dels Flassaders and Carrer de l'Argenteria.
In these shops, you will find handbags, designer jewelry, retro clothing, ethnic pieces, records, and much more. 
I will not be able to resist doing some shopping on these streets. End the day with a drink in a neighborhood's cozy cafes or trendy bars!
---
10. Plaça de Sant Josep Oriol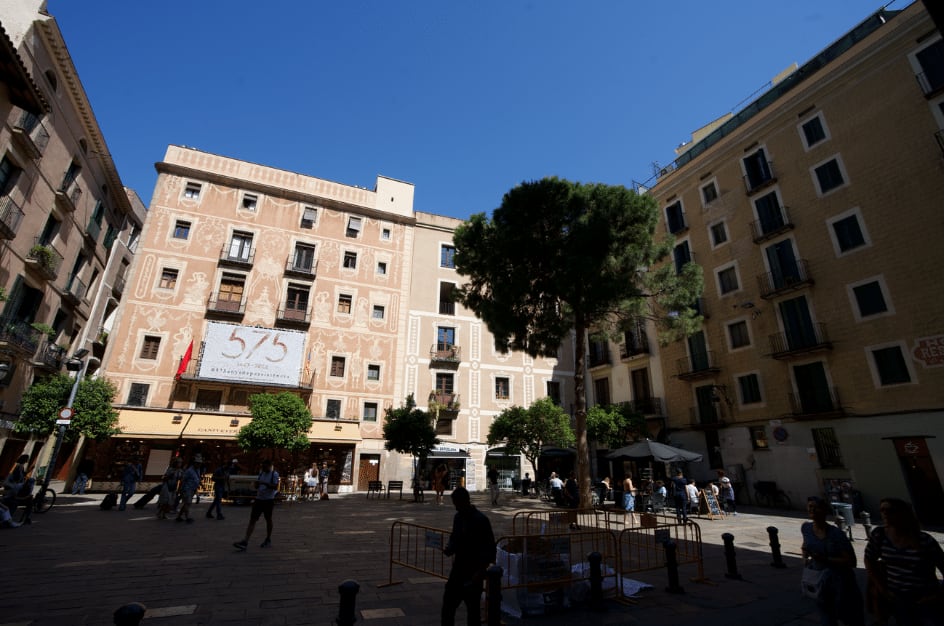 Plaça de Sant Josep Oriol is a charming esplanade in the historic Gothic Quarter next to the basilica of Santa Maria del Pi. 
You can't miss coming here on your visit. About 40 local artists set up their stalls before the church for the "Mostra d'art," a three-decade-old flea market every weekend.
This open-air craft fair is a fantastic opportunity to buy original art and handmade souvenirs.
Even if you will not buy anything, it's worth coming. It has a colorful atmosphere of lively and welcoming events. In addition, some artists draw caricatures of celebrities and visitors, and seeing the result is fun. 
The square is surrounded by some bars and restaurants with terraces, perfect for a drink while listening to the music of street artists.
---
Now that you know the best places to shop in Barcelona, the only thing left is to book your flight and come to Spain!
What do you think? Did you picture Barcelona like this? Let me know in the comments which street, mall, or store you recommend for finding the best deals so we can help our community.