The 17 Best Bars in All Spain (Madrid, Barcelona, etc.)
September 7, 2023
Updated:

September 11, 2023
Published: September 7, 2023
Spain is not just a travel destination, it's the perfect place for celebrating life!! and these bars are more than just places to drink… they are cultural experiences.
And what better way to immerse yourself in the atmosphere of a city than by exploring its most fantastic bars?
I've curated a list of the best bars in the country that are true gems for providing the best ambiance, exquisite cocktails, and great bartenders.
I warn you, here's the best of the best of Spain. You'll only find THE places you must go, no running around, and endless options. In the end, you only need THE PLACES you must add to your bucket list for unforgettable nights.
Still, if you want a broader recommendation of bars in each city, I've got you covered:
Now, let's sip into it!
---
1. Paradiso, Barcelona
The World's Best Bar 2022
The Best Bar in Europe 2022
A magical experience. This Bar revolutionized the art of crafting a cocktail and created a unique and immersive journey for all guests. 
The atmosphere has a speakeasy format; before even putting a foot in this place, you know it's one of a kind since the Bar is in front of a fridge door in an ordinary pastrami shop!
Once you're in, they have many cocktails inspired by discoveries and inventions of science. Seriously, they're delicious and exceed all expectations. 
There's a virtual queue. Scan the QR code and go somewhere nearby until they text you your table is ready. 
2. Sips, Barcelona
No.3 in The World's 50 Best Bars 2022
I mean, Barcelona is la crème de la crème when discussing top European cocktail destinations. 
When Sips opened in the city, I remember that everyone was so hyped about this place when they discovered the owners were the most fantastic bartenders in the World: Marc Álvarez and Simone Caporale.
Super friendly bartenders, fantastic drinks with a story behind them, creative and fun presentation. The best part is that you don't have to be a fan of cocktails to visit this place; they offer the same experience whether you like wine, beer, or mocktails!
3. Two Schmucks, Barcelona
A casual dive bar? Yes, it is. Two Schmucks is a relaxed place for low-key and quiet drinks during the week or the perfect place to begin your night. 
Their cocktails are so delicious that this place reached No.7 in The World's 50 Best Bars! The vibes are old-school hip-hop, R&B, and rap music, so the environment feels welcoming. 
Try the Irish coffee; it is fantastic! 
4. Salmon Guru, Madrid
World's 50 best Bars in the 15th position
It is a very well-known bar with a good reputation. Their cocktails are fun, different, unique, and tasty, and the ambiance makes it a funky and retro-style bar.
It's worth a try, and the cocktails have an outstanding presentation! I tried the famous drink with cotton clouds, another one that looked like an amphora, another that was a smoking dragon, and the last one was in the form of a beetle. All a 10/10.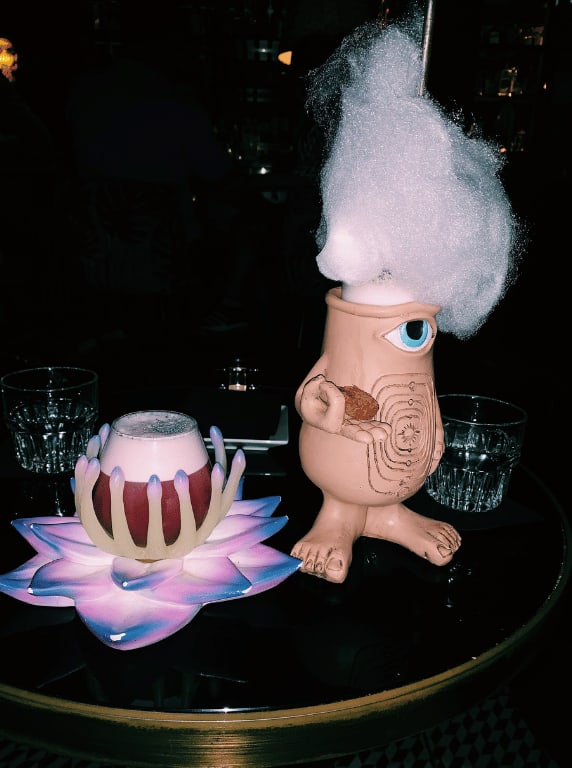 It's one of those places where you feel good vibes from the very first moment you walk in the door. Besides, they probably tell you at the entrance that the bar "is full," so you will most likely have to wait 10 minutes, but that's part of the experience.
5. 1862 Dry Bar, Madrid
Mixology enthusiasts love this place. Here, you will find classic cocktails, following careful preparation and using products so good that they result in an exquisite offer.
Plus, it has views of the Madrid skyline! You can't miss this Bar if you are in Madrid because the flavor of the cocktails is challenging to replicate. 
It is on the list from 51 to 100 of the 50 Best Bars, and I recommend that you order any classic, especially the 'Sour.' It will probably be one of the best you will try!
6. Macera Tallerbar, Madrid
Macera is definitely your place if you're looking for original flavors and careful elaboration in Madrid. It was recently chosen by the New York Times as a place to go for a drink in Madrid.
Here, you will find quality drinks with peculiar distillates. It has an excellent atmosphere. However, depending on the day you go, it can be messy to get your drink since it can get too crowded, but Macera's cocktails and beverages are 100% worth it. 
7. Overall, Ibiza
Overall offers its customers a gastronomic experience unlike anything they may have encountered on the Island before. 
It is located in the beautiful village of Santa Gertrudis. I really recommend stopping by if you're nearby!
The owners create and develop cutting-edge flavors of many drinks and dishes made on the spot according to the tastes of each customer.
And by that, I mean that Overall has its own curated library of liquid flavors, primarily made of local and seasonal products, with the latest technology. 
8. Boodiou, EIVISSA
Boodiou is the perfect place for craft cocktails, farm-to-table food, and drinks in Eivissa. They have their brand of distillates, and the owner is a fantastic bartender extremely dedicated to providing the most authentic service!
The interior has a retro decoration, very chic. There is a lounge bar, a terrace for people-watching, and a tasting space upstairs. You won't regret this place; it's a must in Ibiza.
9. Boadas, Barcelona
I can't write an article about the best bars in Spain without mentioning the iconic Boadas Bar in Barcelona, which has been operating since 1930. It is the oldest cocktail bar and is famous for having delicious martinis!
I mean, I'm talking about a place with the approval of many relevant figures such as Picasso, Dalí, Hemingway, and others of that time.
The bartenders are experienced and friendly, the drinks are very creative, and the atmosphere is cool, like a speakeasy.
10. Agabar, Palma de Mallorca
Did someone say margaritas? 
This place is rumored to have the best margaritas on the Island. It is so special because of its flavor and thanks to a unique sauce that they add to it. You have to try to believe it.
And, as a mezcal enthusiast, I can confirm that their Palomas and Micheladas have an authentic taste. They are experts on agave distillates!
A true gem if you're in Palma de Mallorca. The atmosphere is chic and welcoming.
11. Dr. Stravinsky, Barcelona
The truth is that Barcelona has an unbeatable bar scene in Spain!
Almost all of the menu is their production. In their first year, Dr. Stravinsky won The Best New International Cocktail Bar award from Drinks magazine and made it into the top ten international Tales of Cocktails awards.
Here, you will find different and original cocktails and proposals: new flavors and a perfect preparation.
The atmosphere is incredible, and the service is also outstanding.
12. Chapeau 1987, Palma de Mallorca
If you're looking for pub vibes, Chapeau 1987 is your place. This place is perfect for starting a night with friends or your partner and going with the flow.
You'll enjoy amazing drinks, a pleasant and friendly atmosphere to chat, great recommendations from bartenders, and a good location in Mallorca. It easily compares to any other spot in cities like London or some areas in NY.
13. The Secondroom, Seville
Now, let's head to the South!
The Second Room in Seville is one of the best bars in the city. The atmosphere is very cozy and relaxed, and the music is ideal.
You'll enjoy a lovely evening in Seville if you're a cocktail enthusiast.
Unlike Madrid and Barcelona, Seville has a different vibe that is not so cosmopolitan and international, so you'll find mainly traditional tapas bars and some trendy rooftops. Read more: 10 Best Tapas Bars in Seville for Local Bites & Drinks!
But this place is a true gem if you appreciate high-quality drinks.
14. Apotheke, Valencia
You're looking at the first speakeasy-style Bar in Valencia.
The Bar holds a fantastic location! It has a unique setting, hand-crafted cocktails, and the environment is a 10/10.
You can have dinner or just drinks. But honestly, I suggest you stay with their cocktail bar. 
15. Brassclub, Mallorca
With a huge variety of drinks, unique cocktails, and attention to detail, this place is a must in Palma de Mallorca!
Brassclub is a very stylish and sophisticated bar with vintage art deco decor and a very exclusive atmosphere in the middle of Paseo Mallorca near the city center.
It is the perfect place for evening drinks, a romantic date, or just enjoying the art of outstanding cocktails, surrounded by a fantastic ambiance.
16. Chester & Punk, Málaga
This Bar will not let you down. If you're into an alternative vibe for a cocktail evening in Málaga, Chester & Punk is just what you need.
It has super friendly and skilled bartenders in an exclusive, elegant, original atmosphere while daring and disruptive to the rest of the city's places. One of the best in Malaga, without a doubt!
17. Gin Fizz Cocktail Bar, Bilbao
We'll end this list in northern Spain! Gin Fizz is the right place if you want excellent cocktails in the city center, very close to the majestic Guggenheim Museum of Bilbao.
I'm adding this one to the list as many people often complain that it's hard to find sophisticated brews in Spain outside of the big cities of Madrid and Barcelona, so this last recommendation is here to prove you wrong and show you some hidden gems that offer high-quality and great service.  
---
Spain is a world reference in providing visitors with the best entertainment options and leisure activities. I do not doubt that you'll have a wonderful experience in any of the bars I've mentioned.
Also, keep in mind that Spain has THOUSANDS of bars. Even if I wished, I couldn't mention them all. But, as an experienced traveler, I can confirm these places are worth the hype and their reputation.
Let me know in the comments what your favorite Bar in Spain is! I'd love to hear from you :)